Grab your blender for this sweet and tangy Frozen Margarita recipe. It has everything you want from a traditional margarita, plus the option to add a little heat by rimming your glass with Tajin seasoning.
While you're blending this cocktail up, you might as well whip up a batch of my fruity Mango Margarita, or Watermelon Margaritas, too!
An Easy, Classic Frozen Margarita
What is the first thing you do when you go to a Mexican restaurant? Order a margarita?! Me too! It's honestly one of my favorite cocktails. It has so many levels of flavor and is always so refreshing. And somehow, it pairs perfectly with a big bowl of tortilla chips and salsa.
Have you ever wanted to try and make one at home? This is the only frozen margarita recipe you'll need. It's simple and traditional.
You really don't need much to make a frozen margarita at home. But, the important thing is that you use the right ingredients. That's how they really nail it at a Mexican restaurant. The best frozen margarita recipes have fresh lime juice, really great tequila, Cointreau, homemade simple syrup, and of course – salt! Or in this case, we're going to use Tajin for a little extra kick.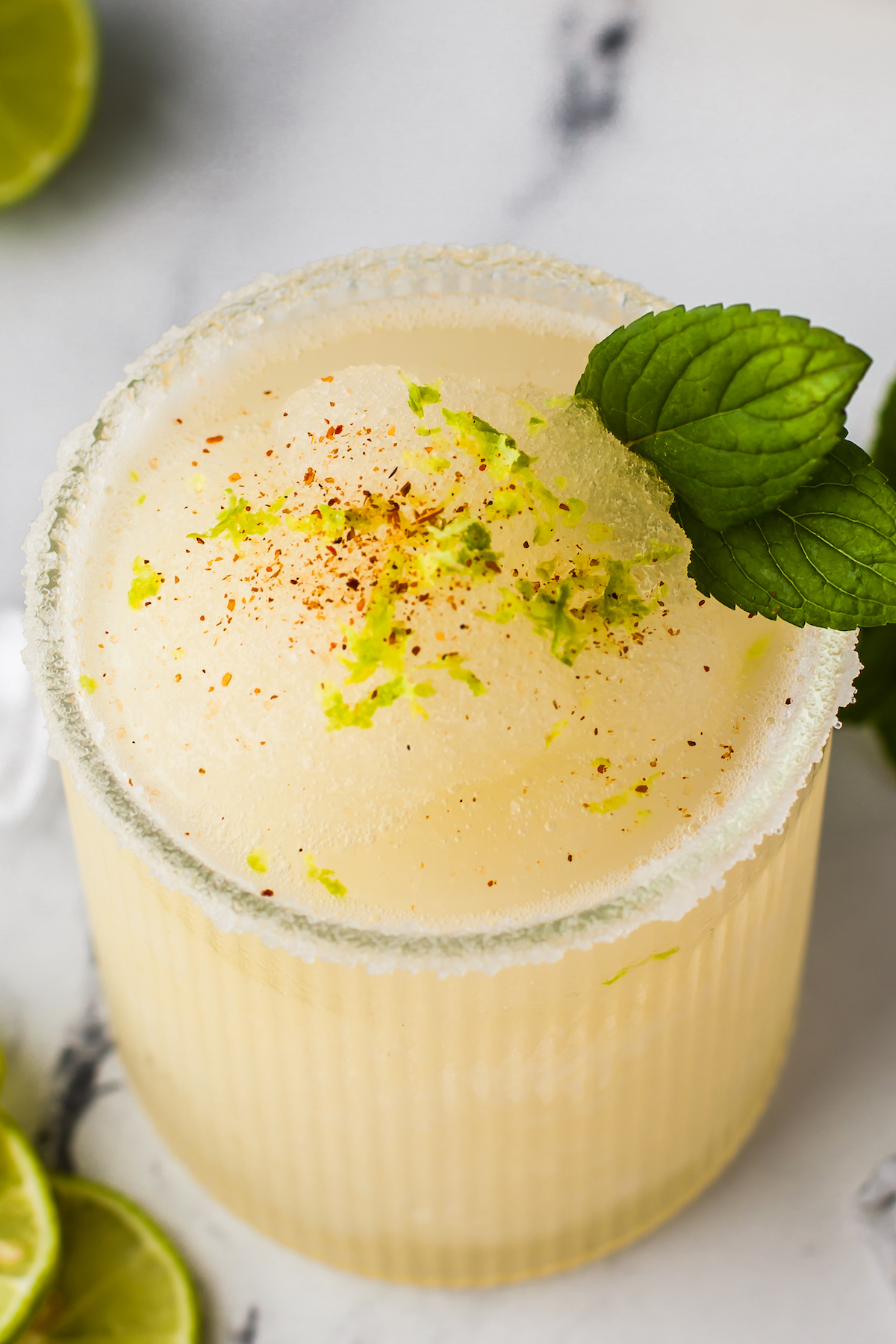 What's the Difference Between a Margarita and a Frozen Margarita?
When you order a margarita, you'll often have a choice between ordering it "on the rocks" or frozen. The difference is simple and all up to your preference.
A standard margarita will be served "on the rocks" – or simply in a glass with ice. The recipe ingredients will be shaken together and then poured over ice.
When you're feeling a little tropical and like you need a slushy drink, that's when you order a frozen margarita. The same delicious ingredients are blended smooth in a blender and then served. Who doesn't love a boozy slushy cocktail?!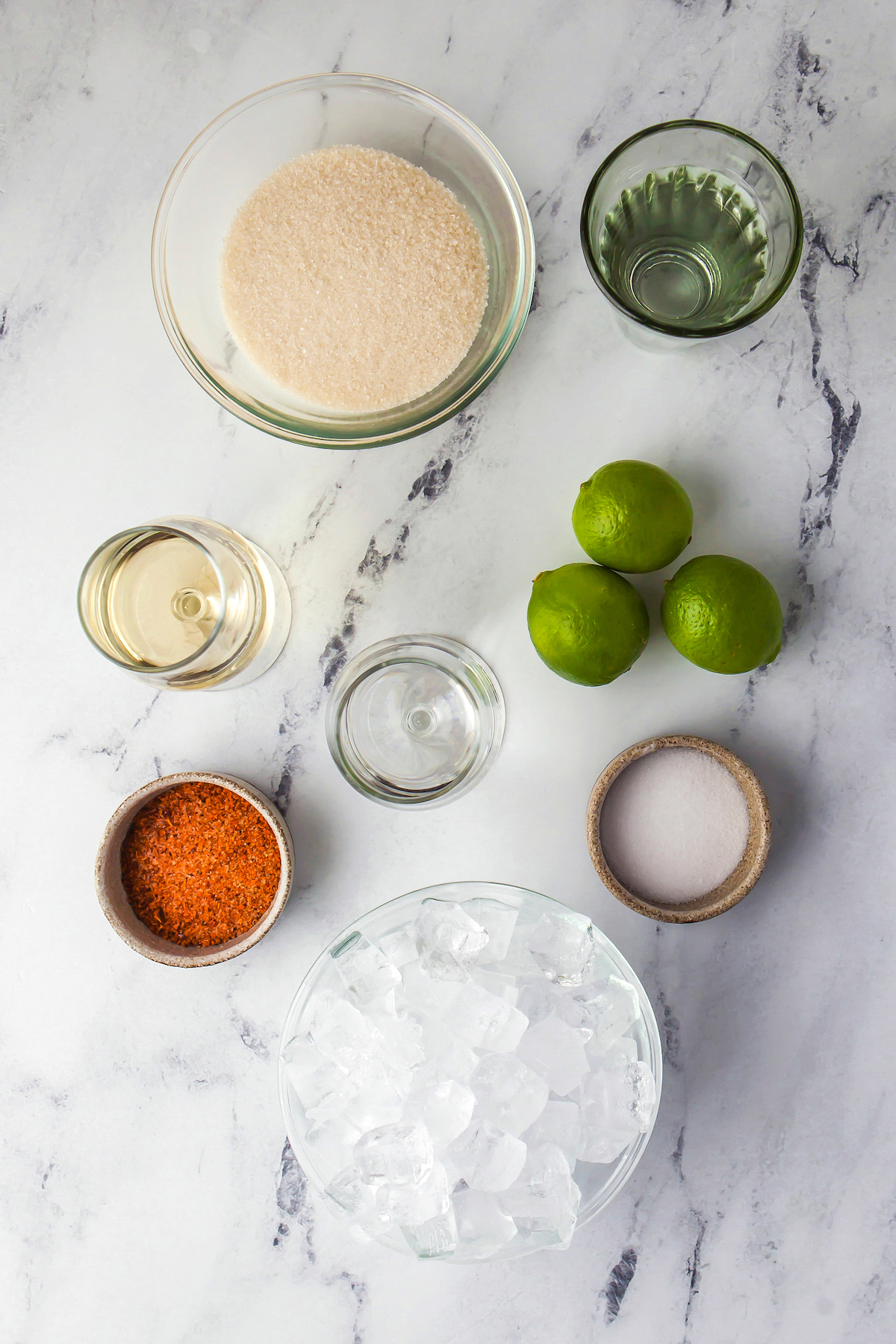 Ingredients
Remember, the key here is the use the best ingredients. And when I say "best", I mean fresh ingredients like the ones listed below (i.e. freshly squeezed limes only!).
Tequila: You can use any kind of tequila you like. I personally prefer a white tequila in my frozen margaritas, but use whichever brand or flavor you prefer the best.
Fresh Lime Juice: Freshly squeezed lime juice will add the most flavor to your margarita. Roll the limes on the counter first to soften them up and it will be easier to juice.
Cointreau: You can also use Triple Sec, but Cointreau is smoother and has a stronger flavor.
Simple Syrup: You can use store-bought simple syrup to save time, but it's super easy to make and can be made days ahead. I'll show you how to do it!
Ice: For blending to smooth perfection!
Salt or Tajin: I love to rim my glass with Tajin. But if you prefer using salt, I recommend buying margarita salt. It works much better than regular table salt because it's a coarser ground salt.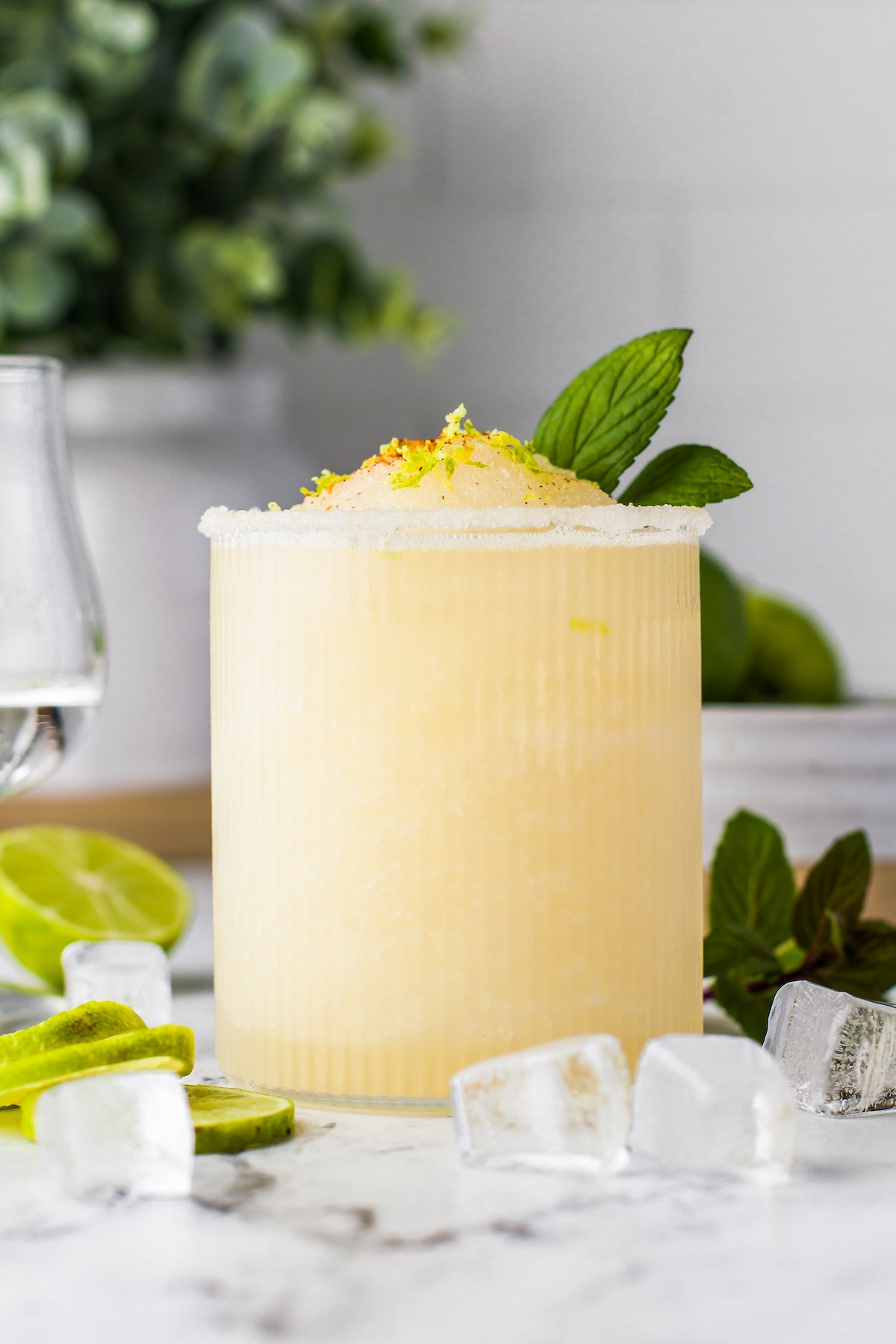 Let's Make a Frozen Margarita!
Now you have all the ingredients you need – let's blend this cocktail up!
First, let's make the simple syrup. Making your own simple syrup is really easy! Plus, you can make it a few days ahead of time (and use it for other cocktails, too!).
All you need to do is boil equal parts water and sugar. Once the sugar is dissolved and it's a syrup consistency, you're done! Make sure you let it reach room temperature before using it in a cocktail, though.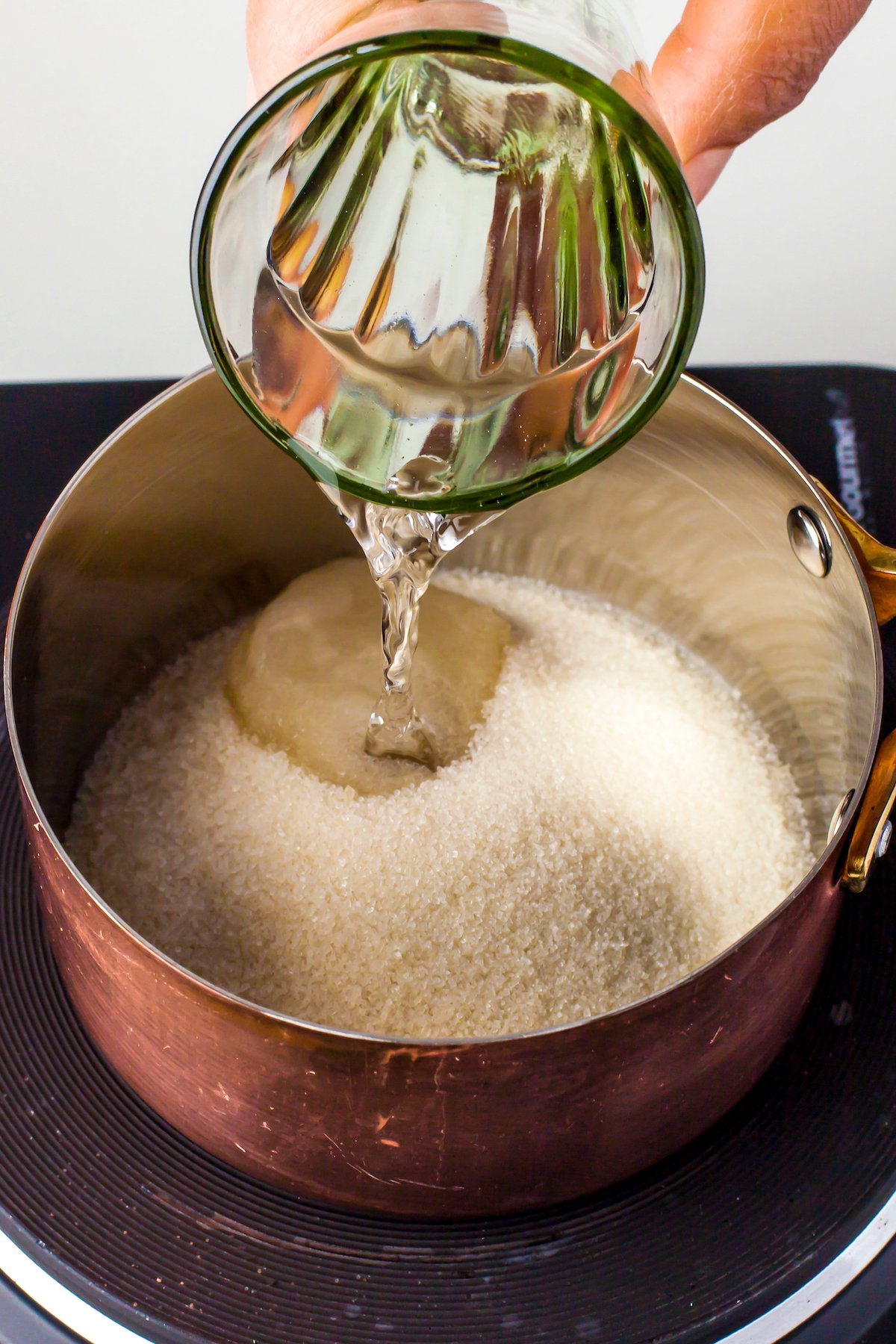 Next, prepare the salt or Tajin. Pour the salt or Tajin onto a plate. Then, rub a lime wedge around your glass so that the salt has something to stick to.
Rim the edge of the glass with salt. Then just set your glasses aside while you prepare the margarita.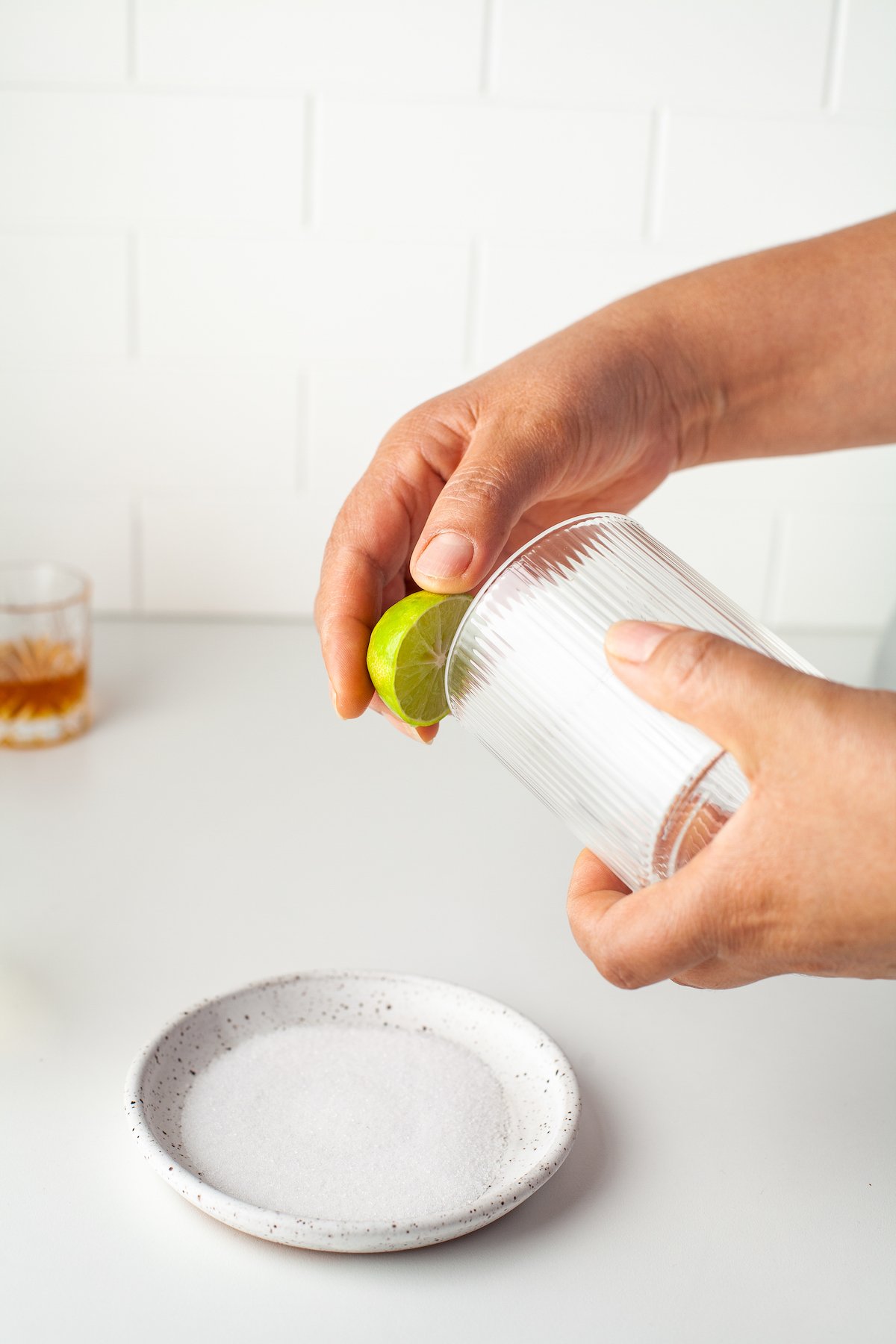 Add the ingredients to your blender. Pour the tequila, Cointreau, simple syrup, ice, and lime juice into the cups.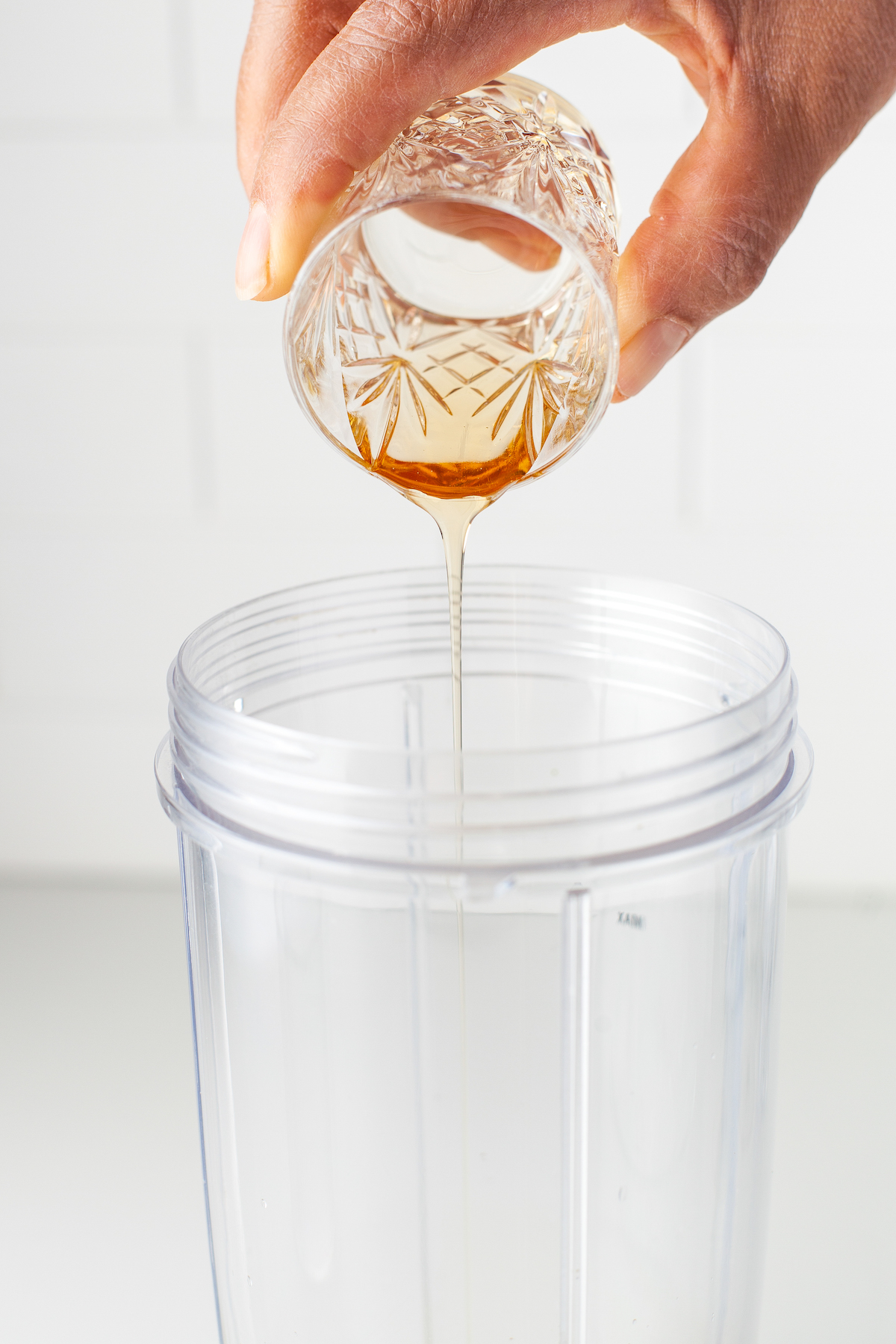 Blend it all up! Blend it on high speed until it's nice and smooth.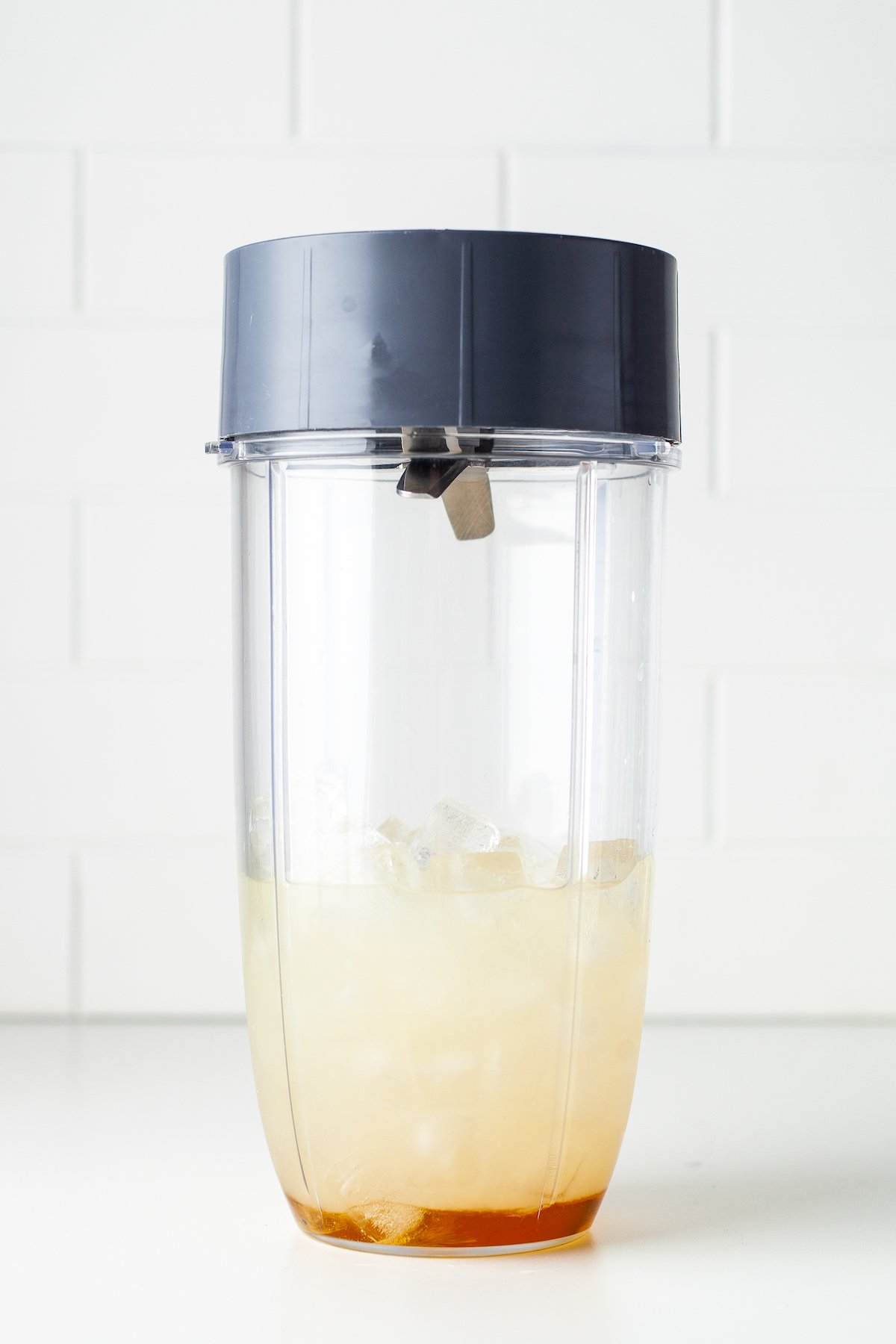 Serve with your favorite garnish. You can garnish with mint leaves, lime wedges, more Tajin, or even a floater tequila shot.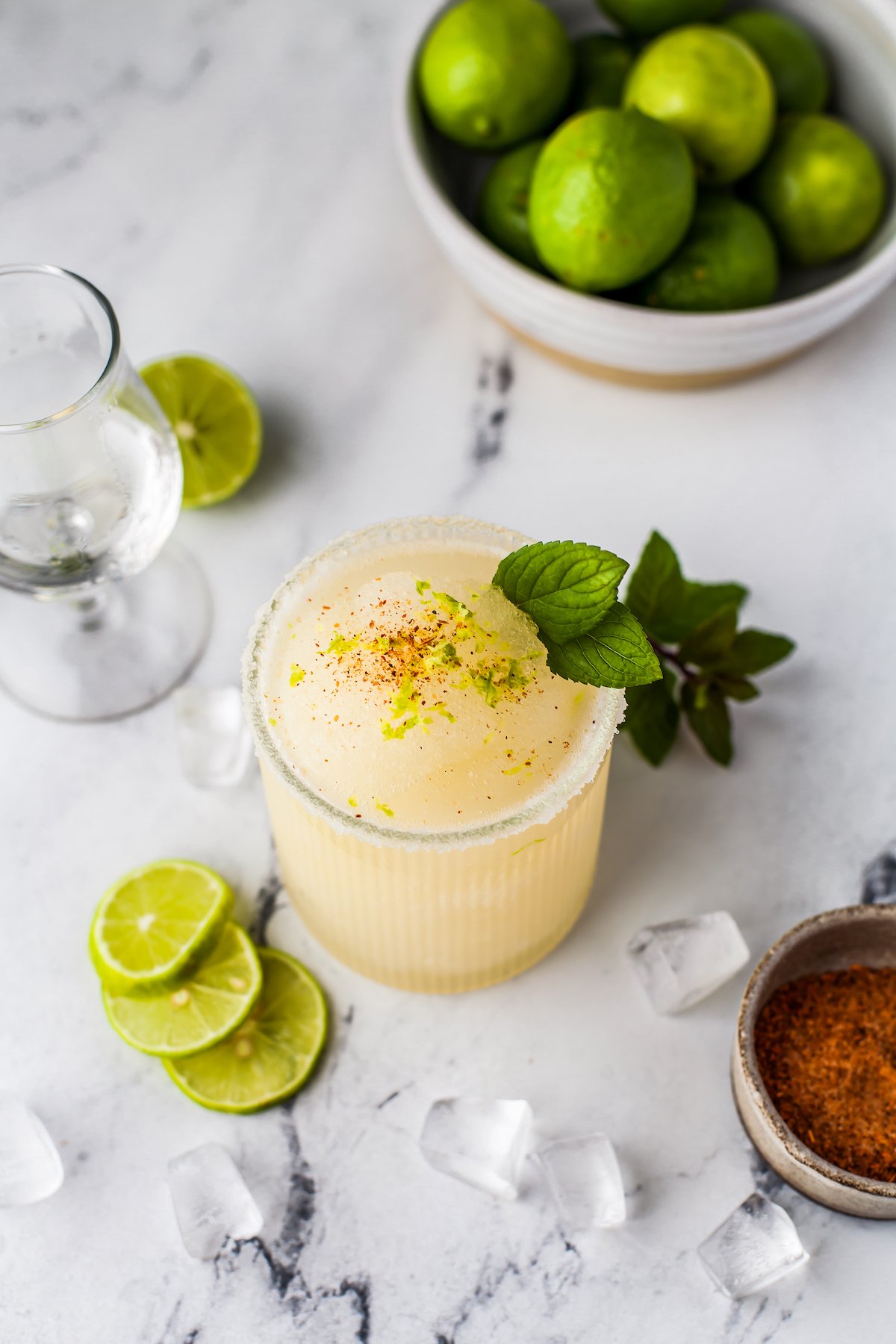 Helpful Tips
Here are a few tips so that you can make the ultimate Frozen Margarita:
Frozen Glass: You can put your glasses in the freezer for a few hours before making this recipe. It will help keep your Frozen Margarita cooler longer. Plus, it's always fun to drink out of a chilled glass!
Large Batches: You can use a larger blender to make a big batch for sharing. Just double, triple, or even quadruple the recipe!
Non Alcoholic: If you'd like to make this drink alcohol-free, you can substitute the liquor with orange juice or even kombucha! (Keep in mind if making this drink for someone who can not have alcohol of any kind, komboucha has a small amount of natural alcohol that is not listed on the label.)
What to Serve with Margaritas
This Frozen Margarita pairs perfectly with a lot of foods. Here are some of my favorite suggestions.
Freezing Leftover Margaritas
Can you freeze leftover margaritas? Sure! This frozen margarita recipe is great for making ahead and freezing until you're ready to serve.
I would suggest freezing them in individual portions rather than a big batch. You could do this with little mason jars. Then, just let them thaw a little bit before putting them back into the blender to freshen up. Or you could just drink them once they have thawed a bit…however you prefer!
Just be sure that you store them in the freezer and not the refrigerator. They will just melt in the refrigerator.
Frozen Margarita
A traditional Frozen Margarita made with fresh lime juice and tequila. Plus, this recipe includes homemade simple syrup.
Ingredients
Simple Syrup
½

cup

granulated sugar

½

cup

water
Frozen Margarita
2

oz

tequila

2

oz

fresh lime juice

½

oz

Cointreau

1

oz

simple syrup

2

cups

ice

1

tablespoon

salt,

or Tajin, for glass rim
Instructions
Simple Syrup:
In a small saucepan, add the sugar and water. Mix and place on low to medium heat and bring to a simmer. Cook for about 5 minutes, until it has thickened and you cannot see any sugar left.

Turn off the heat, and set it aside. Let simple syrup cool to room temperature (or store in the fridge) before using.  
Frozen Margarita:
Place your

tajin

or salt onto a flat small plate. 

Use a wedge of lime to moisten the rim of your glasses. Dip the edges of the rim of the glass onto the plate with tajin or salt. Set aside. 

Place your lime juice, Tequila, Cointreau, simple syrup, and ice in a blender. Blend until smooth. 

Serve immediately and garnish with mint or extra lime slices or a floater – an extra shot of tequila on top!
Nutrition
Serving:
1
,
Calories:
632
kcal
,
Carbohydrates:
123
g
,
Protein:
1
g
,
Sodium:
7116
mg
,
Fiber:
1
g
,
Sugar:
117
g
More Boozy Drink Recipes
This post may contain affiliate links. Read my disclosure policy.