Pineapple Coconut Mojito
Pineapple Coconut Mojito: the classic mint mojito is remixed with another tropical favorite, the piña colada, to create a new ultimate Summer rum cocktail!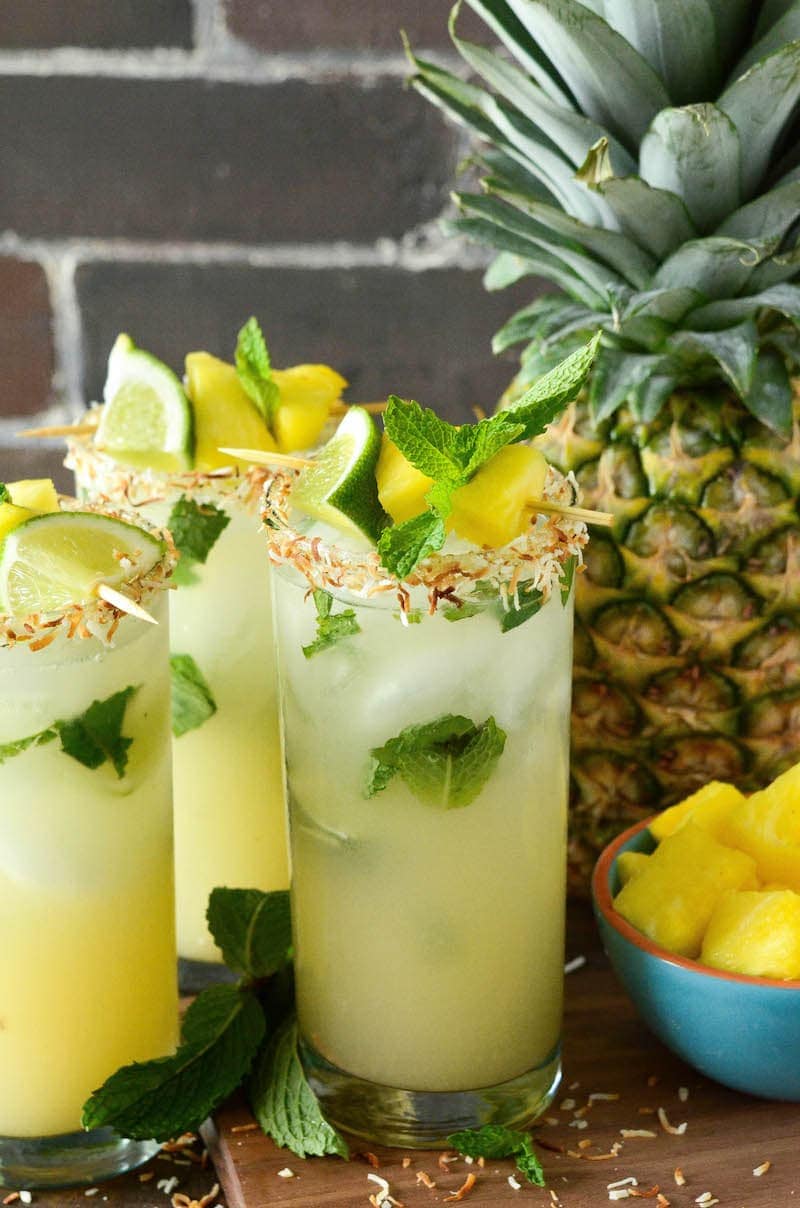 These Pineapple Coconut Mojitos are so gorgeous and really make happy hour happy!! I am so very excited to be sharing this new drink with y'all.
My favorite cocktails are rum based cocktails. Most people seem to go for a margarita or a vodka something or another. While I enjoy a good margarita from time to time (on the rocks with salt please!), I am loyal to rum 99% of the time.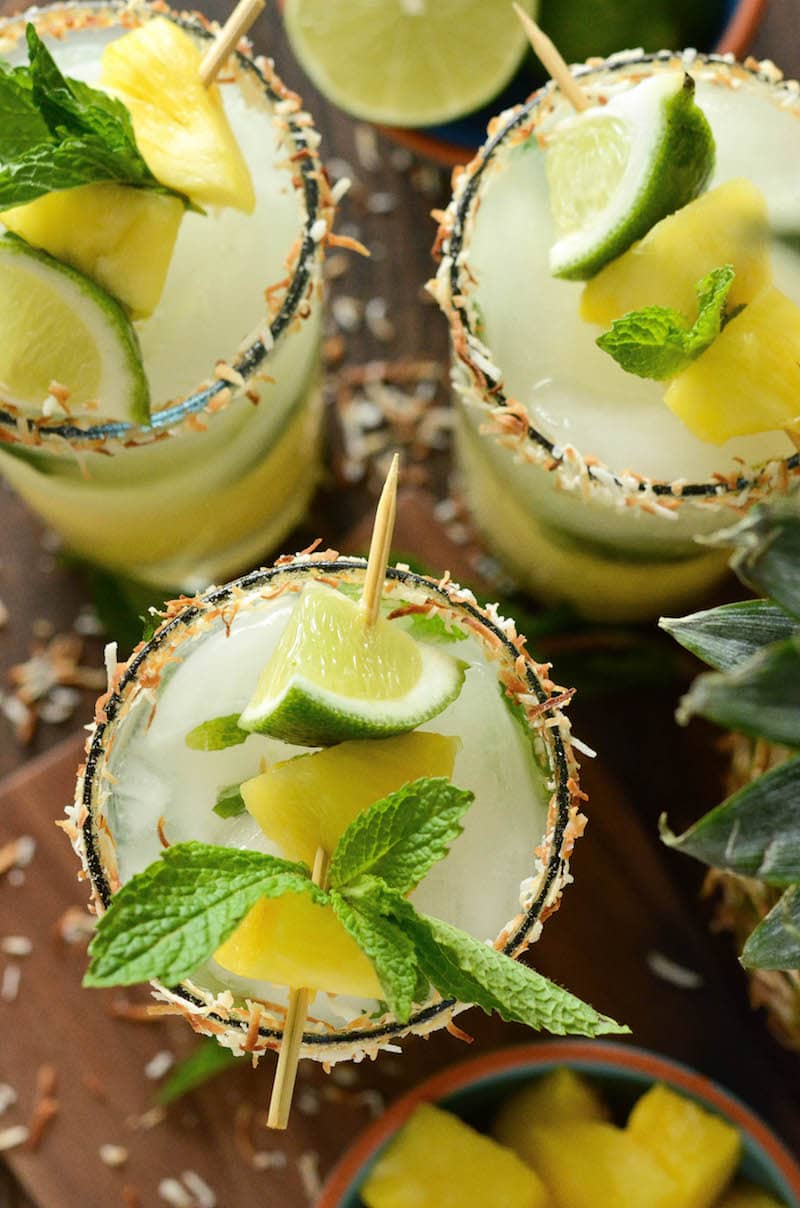 I was looking for a jar of pineapple juice last week (to make my favorite Boozy Piña Colada No Bake Pie) and I came across a jar of pineapple coconut juice. It was on sale, so I went ahead and picked it up.

I loved it so much, I decided to use it to combine my two favorite cocktails, a piña colada and a mojito, into one grand cocktail — a Pineapple Coconut Mojito!
P.S. If you are a pineapple & coconut lover, you MUST try this Twinkie, Pineapple & Coconut Cake this Summer. I know it sounds crazy, but it is SO dang good!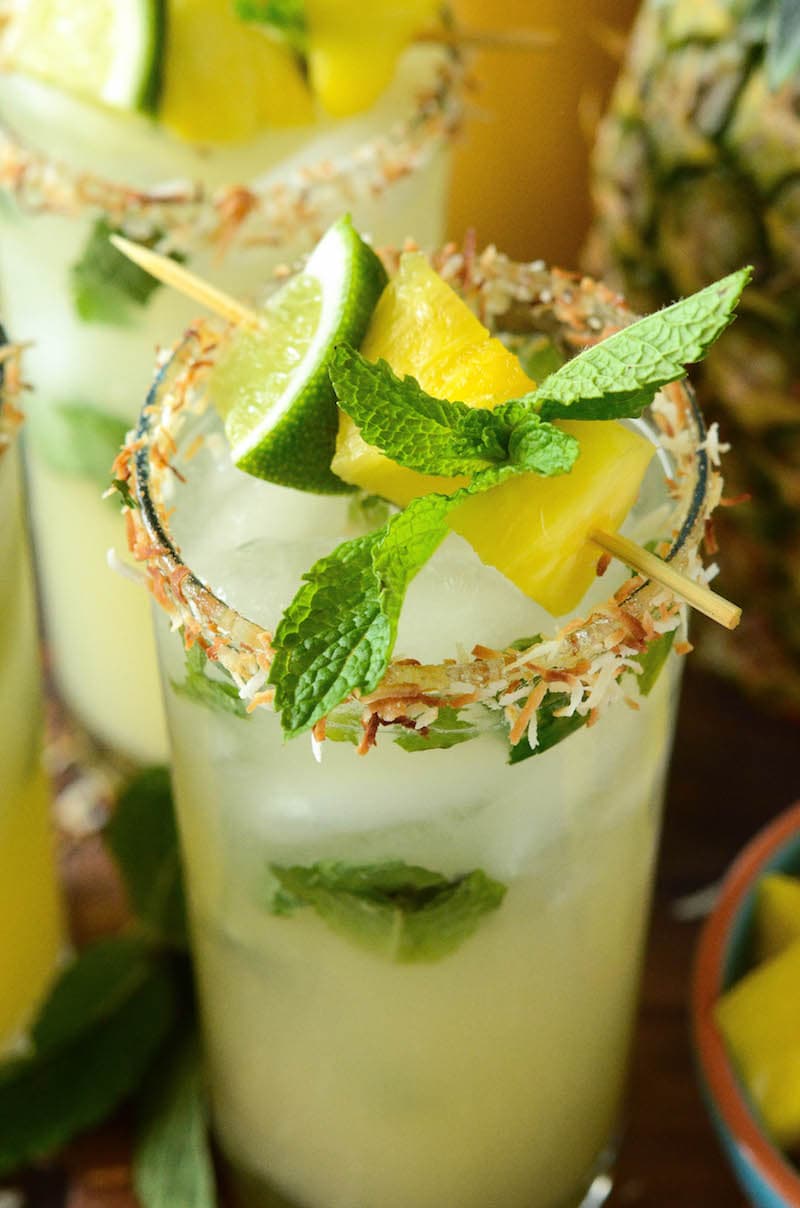 Usually when I make a mojito, I add a little sugar or simple syrup to the glass. However, with the already naturally sweet pineapple coconut juice, it's one less ingredient you need.
If you are not a fan of coconut, you can use straight pineapple juice. Also, if you like your cocktails to be lightly flavored, you can use half juice and half club soda.
Don't skip the honey and toasted coconut rim! It's as festive as it is tasty!
This Pineapple Coconut Mojito is the perfect Summer cocktail to enjoy as you sit on the porch watching your kids run wild…while pretending they belong to the neighbor. 😉
Make a single glass or an entire pitcher by quadrupling the recipe. Either way, it's going to be a delicious happy hour! Cheers, friends!
Pineapple Coconut Mojito Recipe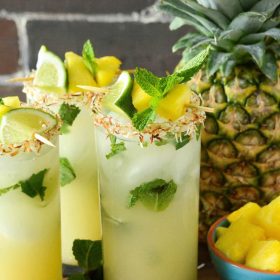 Ingredients:
honey
toasted coconut
8 fresh mint leaves
1 lime wedge
1 cup ice
2 teaspoons fresh lime juice
1/4 cup (2 oz) white rum
1/2 cup (4 oz) pineapple coconut juice
Directions:
Place toasted coconut on a small plate.
Rim the lip of a tall glass with honey and press into the toasted coconut. Set aside.
Place mint leaves and 1 lime wedge into glass.
Use a muddler (or bottom of  a wooden spoon) to crush the mint and lime to release the mint oils and lime juice.
Fill the glass almost to the top with ice. Pour the lime juice and rum over the ice. Top it off with pineapple coconut juice.
Gently stir. Garnish with extra lime, pineapple, and mint on a skewer if you're feeling fancy!