Blissful to drink, and blissfully easy to make, White Peach Sangria is the summer cocktail of your dreams! The combination of chilled white wine, peach nectar, and fresh fruit is both mouthwatering and gorgeous.
*This recipe is sponsored by Dixie Crystals. Thank you for supporting the brands that make this site possible!*
A Summery Cocktail, Perfect for Poolside!
When hot (and often humid) summer weather kicks in, bring on the sangria! This Spanish cocktail brings together beautiful chilled wines and fresh, ripe fruit – the ultimate combination for capping off another languid afternoon. If you're looking for something to sip by the pool, or brighten up the evening, or simply enjoy for its own sake… this white peach sangria is just perfect.
Made with crisp white wine and sweet peach nectar, white peach sangria is sophisticated while still being super easy to make. Fresh berries and sliced peaches make it pretty, as well as flavorful, and a little fizz gives the whole drink a sparkle. Cheers!
Does Sangria Have Liquor in It?
Yes, sangria is usually a combination of wine, fruit, and some sort of spirits like brandy or triple sec. In this case, I'm upping the peach flavor with peach schnapps – yummy!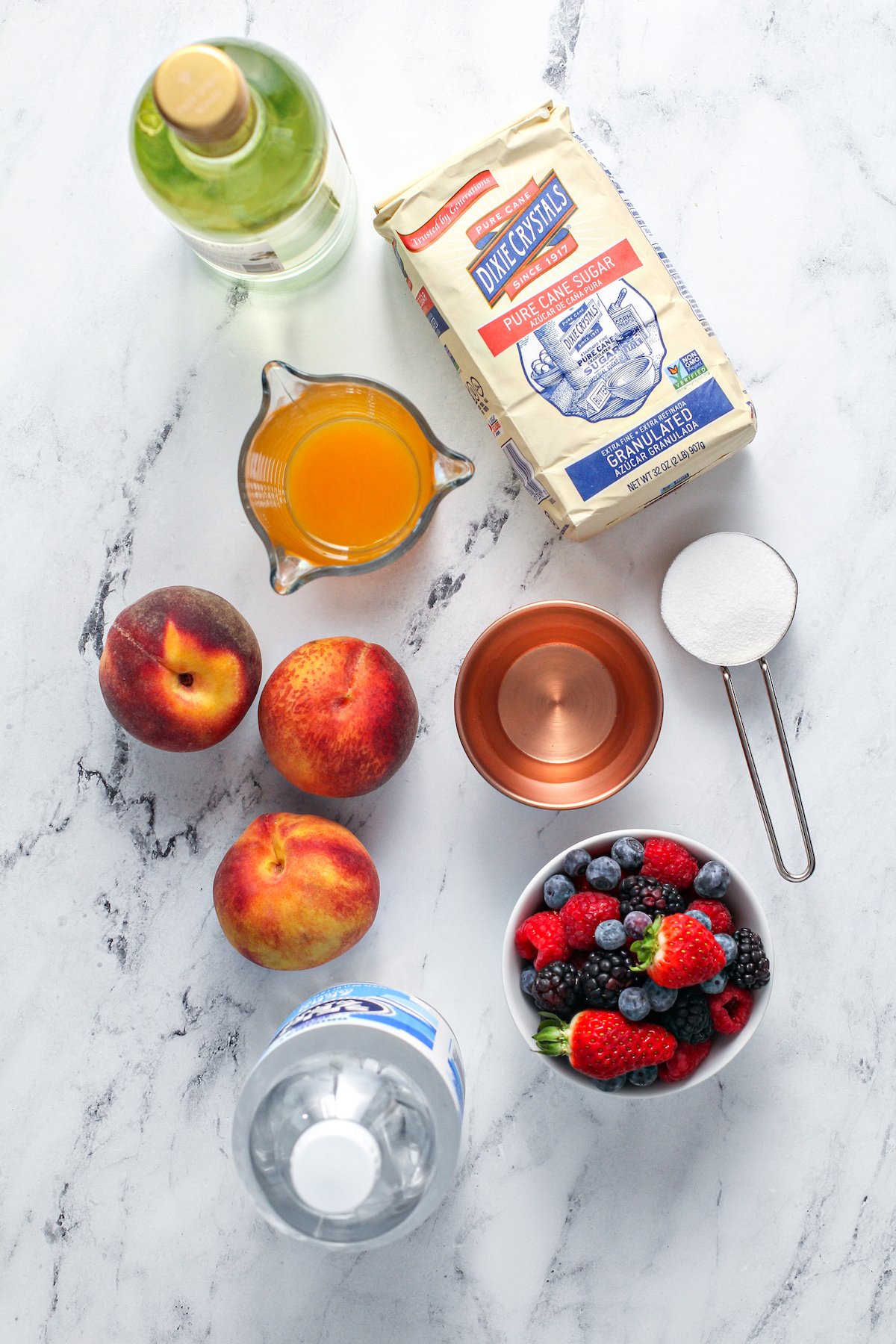 What Is Peach Sangria Made Of?
Let's take a closer look at the ingredients you'll need. Keep in mind that this recipe is flexible – you can still make a fantastic white peach sangria, even if you need to make a few substitutions. Here's what I like to use in mine:
White Wine: In order to balance the peach nectar and sugar, opt for a fairly acidic wine. I used Sauvignon Blanc.
Peach Schnapps: For plenty of peachy goodness.
Peach Nectar: More intense than just peach juice, peach nectar adds a wonderful peach taste to the drink.
Sugar: I use a little bit of granulated sugar to sweeten my sangria. Dixie Crystals is my preferred brand.
Sliced Peaches: You can use white peaches or regular peaches.
Berries: Any kind of berries.
Seltzer Water: For topping.
Which White Wine is Best for Sangria?
The wine you choose really depends on your taste – how sweet would you like the sangria to be? Since most sangria recipes call for sugar or simple syrup, and often sweet liqueurs and fruits as well, the wine tends to be on the dry side – think Sauvignon Blanc, Pinot Grigio, Riesling, etc. However, if you would like a sweeter wine, that's fine too. You can even substitute a rose, if that's what you have, and make a "pink" sangria.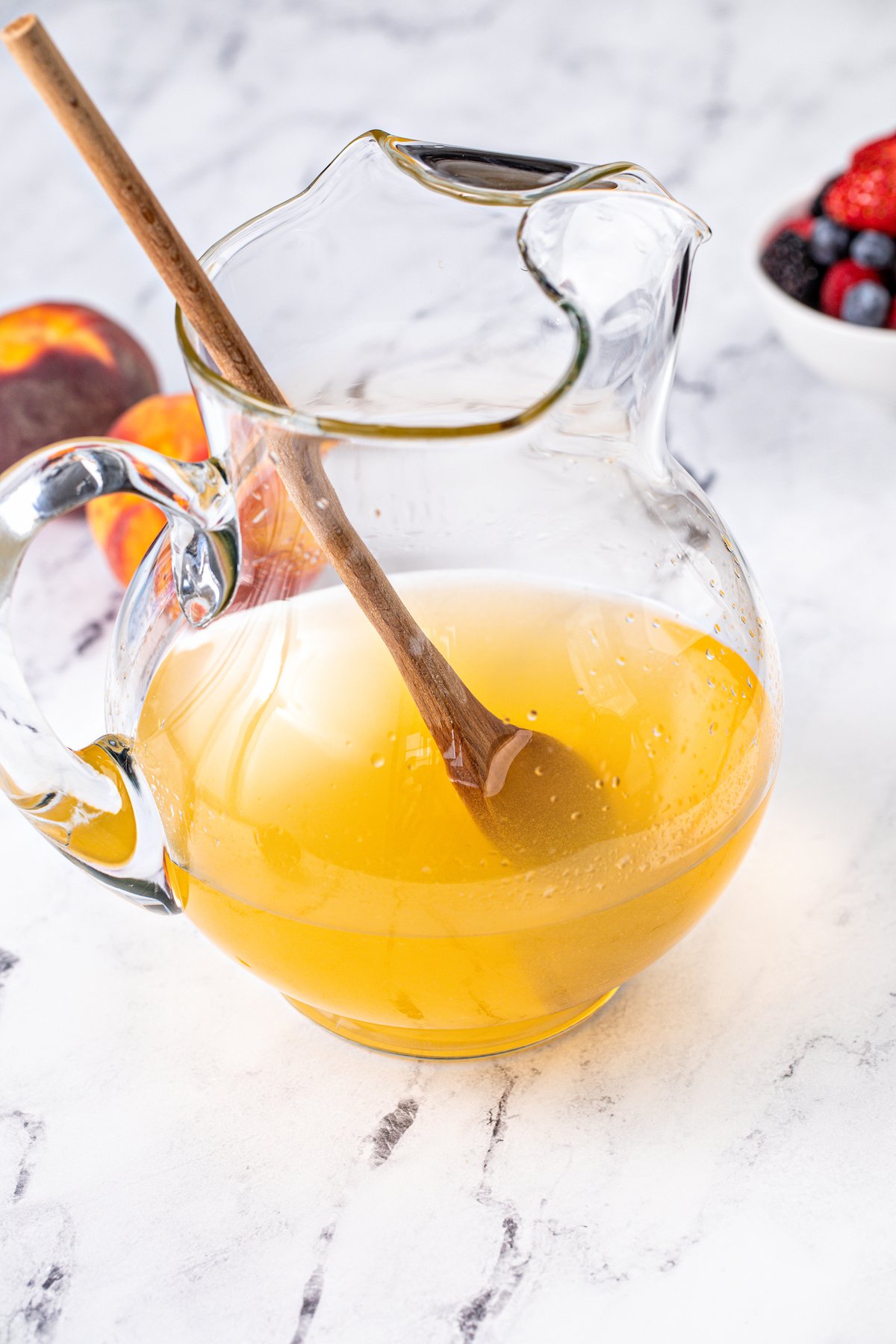 How to Make White Peach Sangria
Pulling together this drink is super easy, but keep in mind that you'll need a little bit of lead time for the sangria to chill in the fridge and get those flavors blending. One hour will do, but longer is better. Here's how to make it, from start to finish:
Combine the Main Ingredients and Let Them Mingle. To start, just combine the wine, peach schnapps, peach nectar, and sugar in a big pitcher. Give this a good stir, and let it rest in the fridge for at least an hour, or up to 12 hours. The longer, the better – but not more than 12 hours or the wine will begin to lose some of its freshness.
Add Fruit, and Adjust Sweetness. Shortly before serving, taste the sangria, and add more peach nectar if you need more sweetness. This is also the time to add in your desired fruits.
Serve Over Ice, with Seltzer. To serve, add ice to each glass, pour in some of the sangria (ideally with some of the fruit going in each glass) and top with seltzer water for some bubbliness.
Enjoy! Serve right away.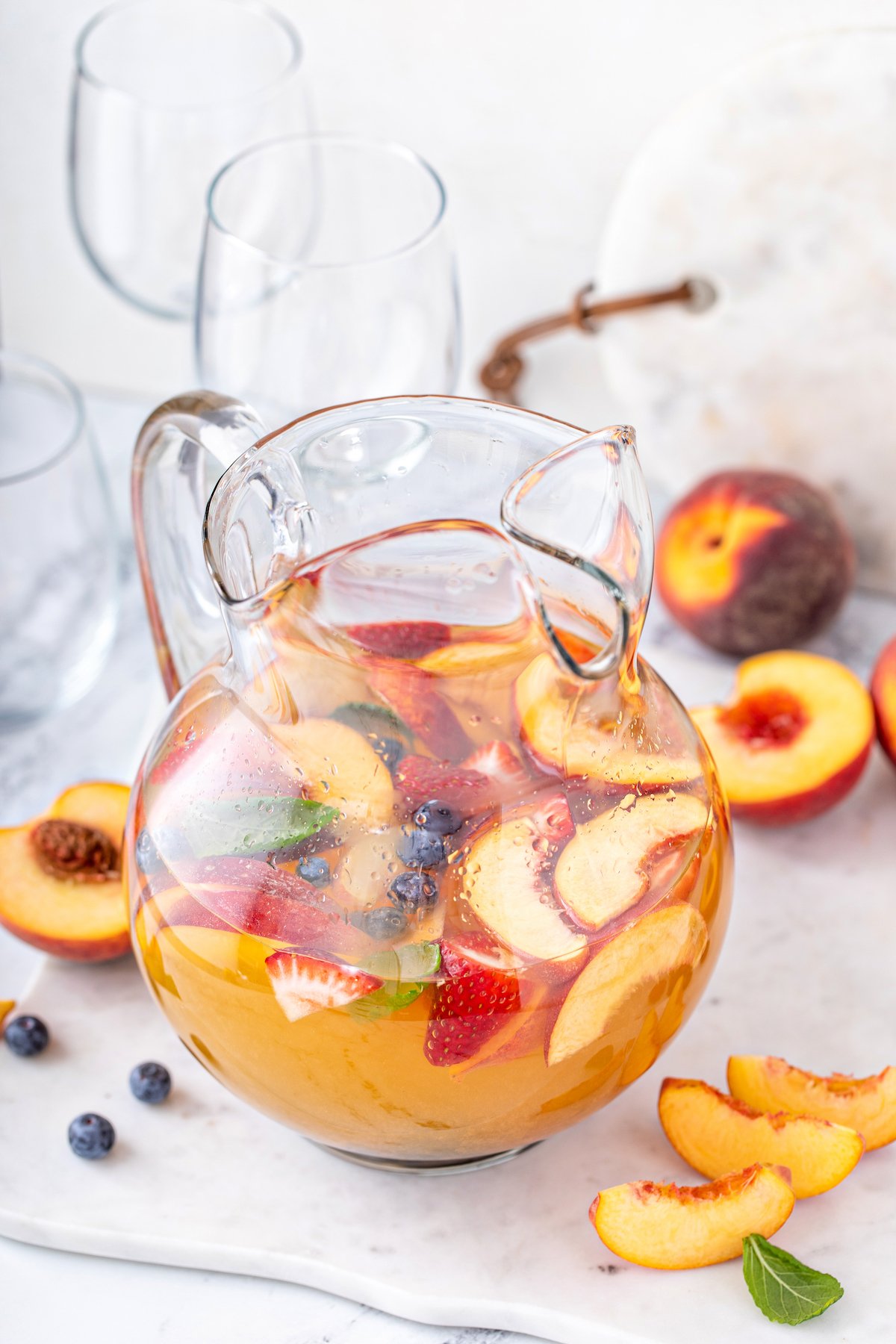 Tips for Success
What else should you know about making white peach sangria? Well, although it's so easy, I do have some extra tips and tricks to share! Read on for my best advice on making this fabulous drink.
Add Fizz, Not Sweetness: Since the drink itself is already sweet enough for my palate, I use seltzer to add fizz, but no additional sweetness. However, if you like a super-sweet sangria, you could top it with tonic water, ginger ale, or lemon-lime soda.
Fruit Options: If you need to substitute the fruit, go for it! I used yellow peaches, strawberries, and blueberries, but white peaches and other blackberries or raspberries would also be delicious, and pretty to look at.
Peach Nectar: You may not purchase this ingredient often, but I have found that many grocery stores carry it, usually in the juice aisle but sometimes in the international foods aisle. Goya is the most common brand.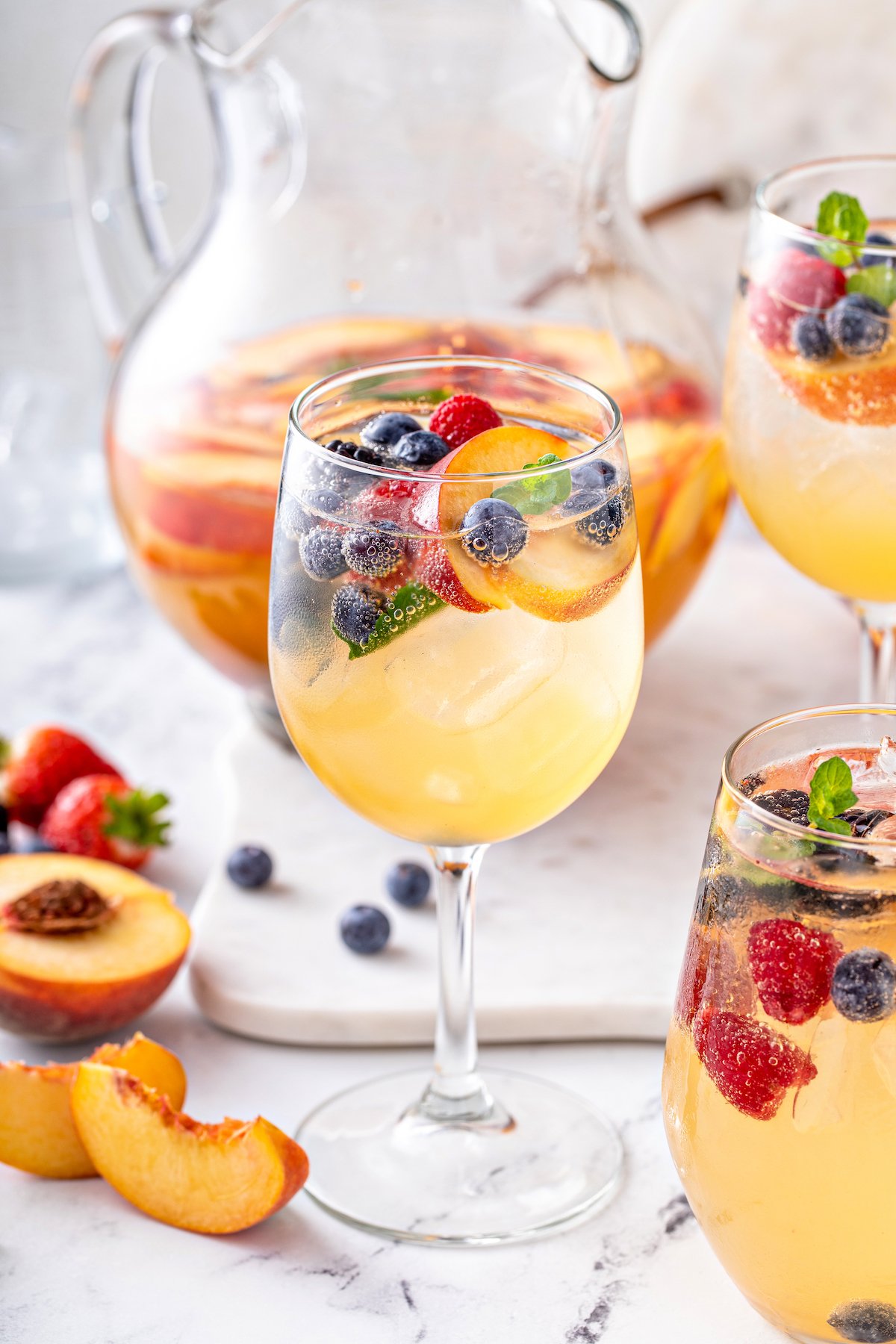 Appetizers to Pair with White Peach Sangria
It's nice to have some tasty snacks to serve with a drink like sangria, and these easy recipes are some of the best! You'll love how well they pair with this classic summer cocktail, and how simple they are to make.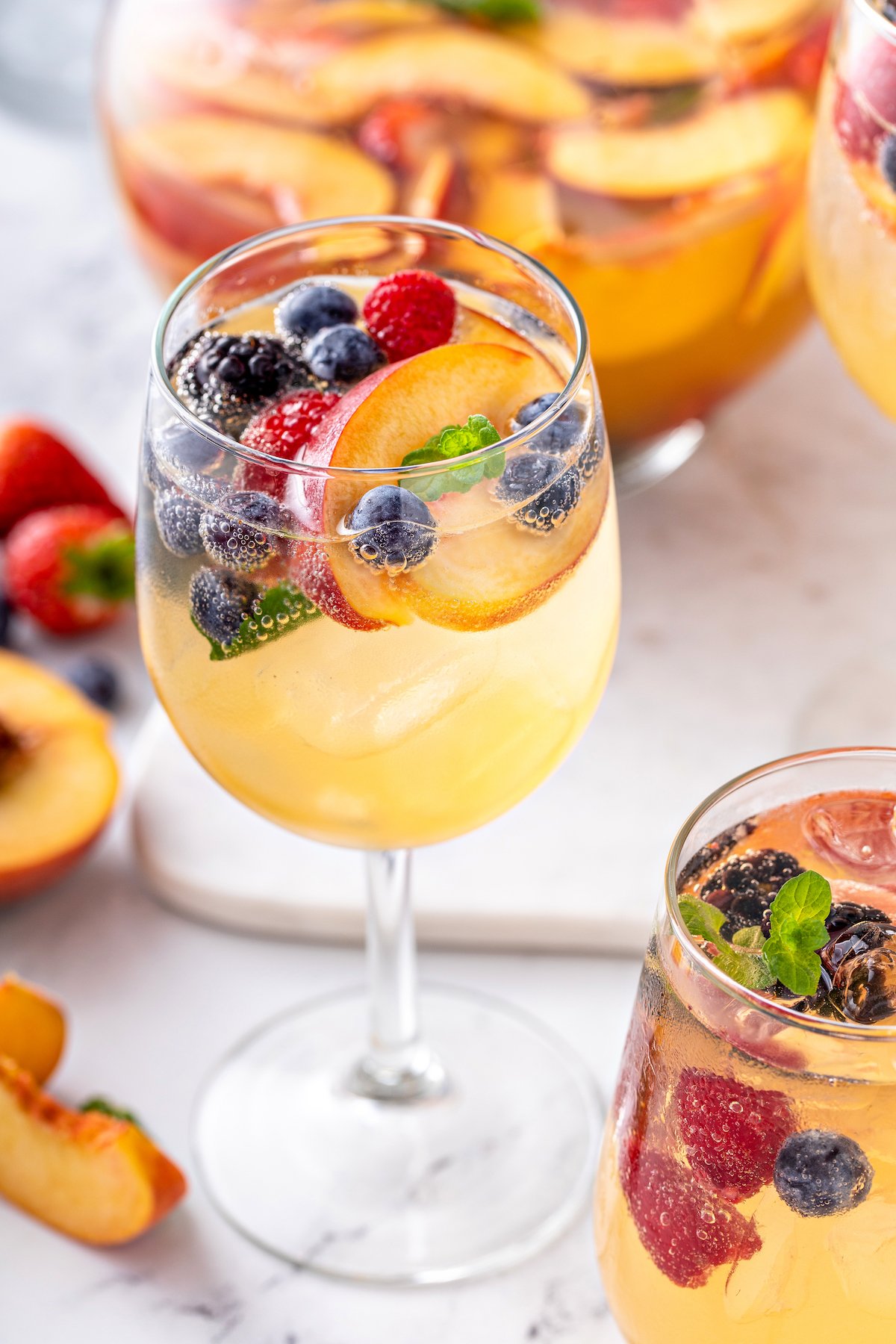 Storage Instructions
The wine in sangria can last, refrigerated, for up to five days – but the fruit may not make it that long! I recommend storing leftover white peach sangria for two days, three at the most. If it tastes at all sour, or if the fruit seems off, discard it.
Can I Freeze Leftover Sangria?
Actually, yes! It may not be quite as good as a freshly-made sangria, but it will keep for a little while in the freezer and be usable afterward.
Strain the sangria to remove any fruit, and then pour the liquid into small freezer bags. Freeze them flat (they won't completely freeze, but that's just because of the alcohol) for 3 months or so. To serve, thaw overnight in the fridge. I recommend placing the bags in another container in case they leak as they thaw.
Alternatively, break the frozen sangria into chunks and pulse it in a blender to make a yummy frozen cocktail!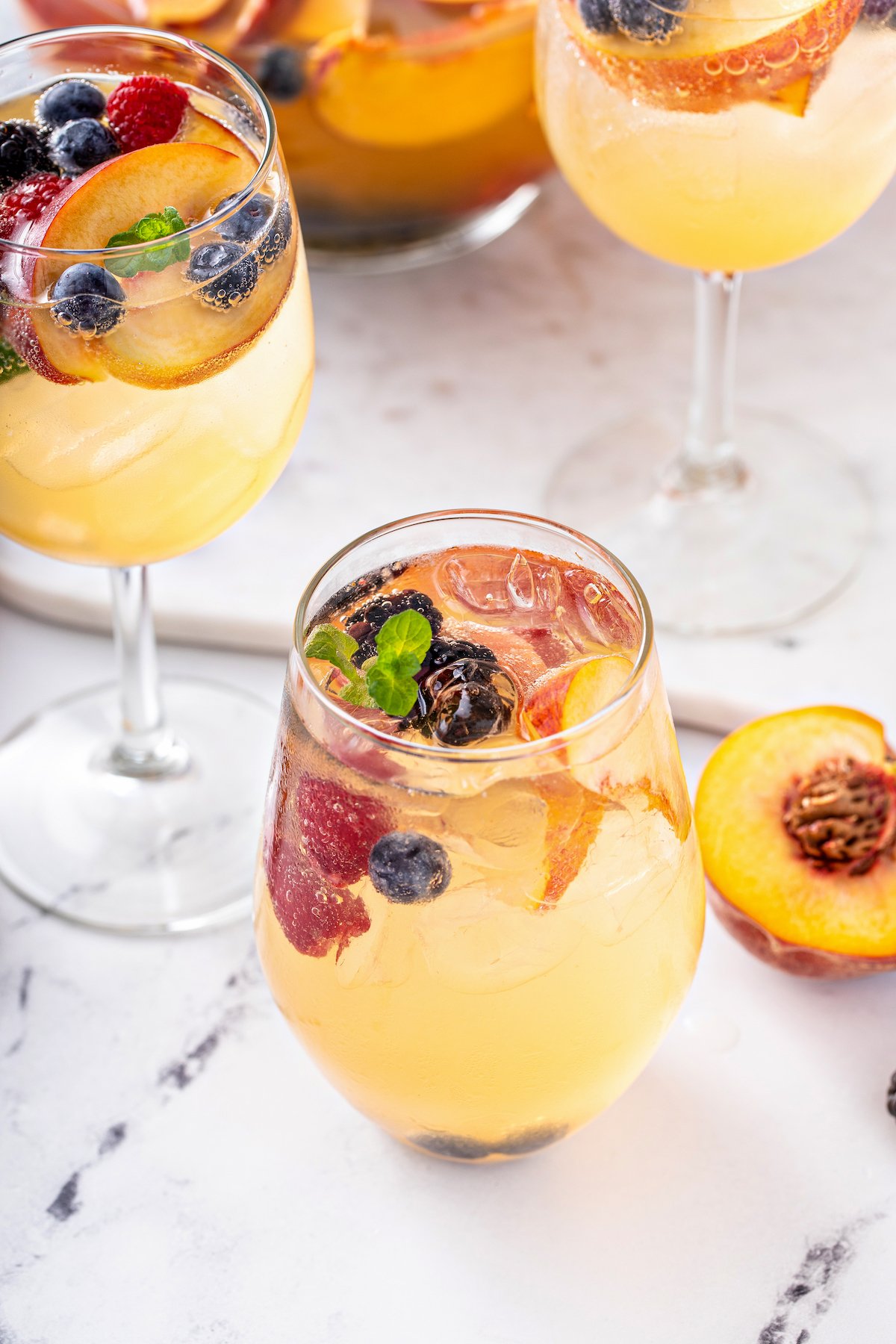 More Refreshing Summer Cocktails
Looking for more refreshing and summery drinks? Here are a few more favorites I think you will enjoy:
Yield:
1
Pitcher (6 – 8 Glasses)
White Peach Sangria
Blissful to drink, and blissfully easy to make, White Peach Sangria is the summer cocktail of your dreams! The combination of chilled white wine, peach nectar, and fresh fruit is both mouthwatering and gorgeous.
Ingredients
1

750 ml bottle Sauvignon Blanc white wine

¼

cup

peach schnapps

¼

cup

peach nectar

Sliced peaches

Mixed berries

Seltzer water

,

for topping
Instructions
In a large pitcher add wine, peach schnapps, peach nectar, and granulated sugar.

Stir to combine and let sit in fridge for at least 1 hour, but ideally for 12 hours.

Shortly before serving, taste the mixture and add more peach nectar if you need more sweetness and add your desired fruits.

For serving, add ice to a glass, pour in sangria with fruit and top with seltzer water.
Nutrition
Serving:
1
,
Calories:
117
kcal
,
Carbohydrates:
19
g
,
Protein:
1
g
,
Sodium:
3
mg
,
Fiber:
1
g
,
Sugar:
16
g
Categories:
This post may contain affiliate links. Read my disclosure policy.