Put a peach twist on your favorite summer cocktail with this delicious Peach Moscow Mule! It's delicious, refreshing and a snap to make. Serve it in a traditional ice-cold copper mug with sliced peaches on top for the ultimate summer cocktail!
Peach Moscow Mule
One of my favorite things to do in the summertime is hang out by the pool with my kids! It's pretty much the best way to beat the heat here in Florida. When the sun is beating down like crazy, it's great to just slather on some sunscreen and relax by the water. And while the kids are sipping on cold juice boxes, I like to sip on peach Moscow mules!
What makes these drinks so tantalizing is the homemade peach simple syrup. Sure, you can go buy a peach flavored syrup somewhere, but I promise it won't be as fresh and delicious as this homemade one! The store-bought fruity simple syrups are chockfull of artificial sweeteners, preservatives, and loads of other junk. You can taste the freshness with this syrup that only has real peaches, freshly squeezed lemon juice, sugar and water.
I've concocted the rest of the drink to be just the right levels of booze and bubbles to make every sip perfectly balanced. I hate when I order a mule and it's way too strong to even enjoy, but on the other hand, I hate when it's mostly just ginger beer! This recipe has the best amount of alcohol, ginger beer, and fresh peach flavor. It's incredibly delicious and easy to make, which means only one thing – it'll be nearly impossible to just have one!
Ingredients
For the simple syrup, you'll need:
Peaches – Make sure your peaches are fresh, peeled, pitted, and diced.
Lemon Juice – Use freshly squeezed lemon juice for the best flavor.
Sugar – Just plain white granulated sugar is all you need.
Water – It needs to be boiling.
The rest of the mule calls for:
Ginger Beer – This is the base of the drink that makes is so deliciously bubbly and refreshing!
Peach Simple Syrup – You can use more or less of your homemade concoction, depending on how sweet you like your drink.
Vodka – Remember, your drink will only be as tasty as the liquor you use, so steer clear of the bottom shelf!
Peach Schnapps – This is my little secret ingredient that both enhances the peach flavor AND the alcohol content.
Lime – Fresh lime juice is the way to go.
Ice – Feeling fancy? Use frozen peach juice instead.
Peach Slices – These make for the tastiest garnishes, especially if you allow them to soak in the drink.
Mint – I love garnishing drinks with mint, because it makes every sip a little aromatic experience.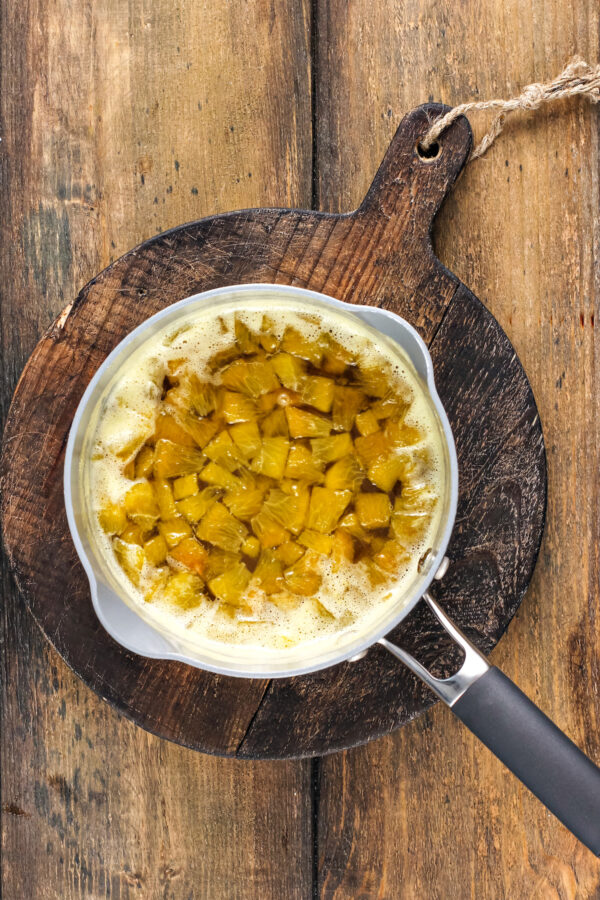 How to Make a Peach Moscow Mule
This fruity cocktail comes together in no time!
Boil. First things first – you'll want to make the peach simple syrup! Start by combining all of the ingredients and brining them to a boil in a medium saucepan. Boil everything for about 3 minutes, then remove from the heat and cover the pot to let the syrup seep for about half an hour.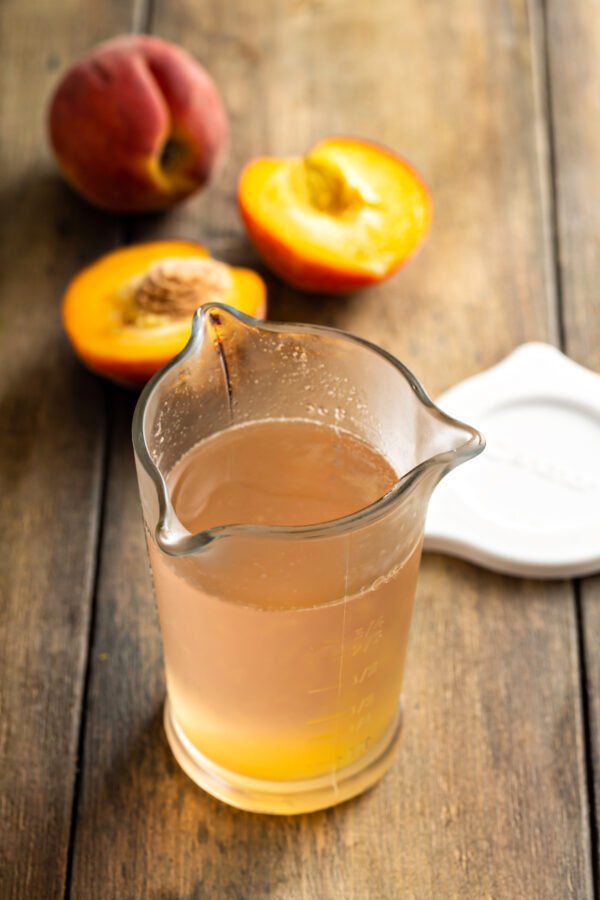 Strain. Strain the syrup into a glass container with a lid and let it cool completely. Discard the peaches.
Store or use. You can store the syrup for up to 2 weeks in the refrigerator, or use it right away!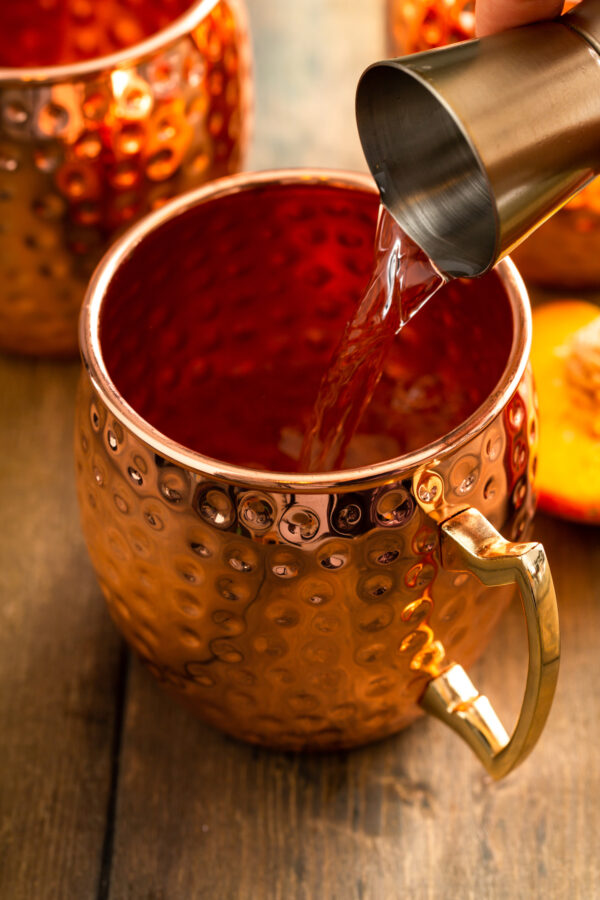 Time To Make The Moscow Mule!
Pour. Measure all of the ingredients, then pour them into a copper mug or your favorite glassware of choice.
Stir. Use a spoon to gently stir the mixture, and top with ice. Be careful not to stir too quickly, or you may make the ginger beer go flat!
Enjoy! Garnish with a sprig of mint and peach slices, if desired. Serve immediately, and enjoy!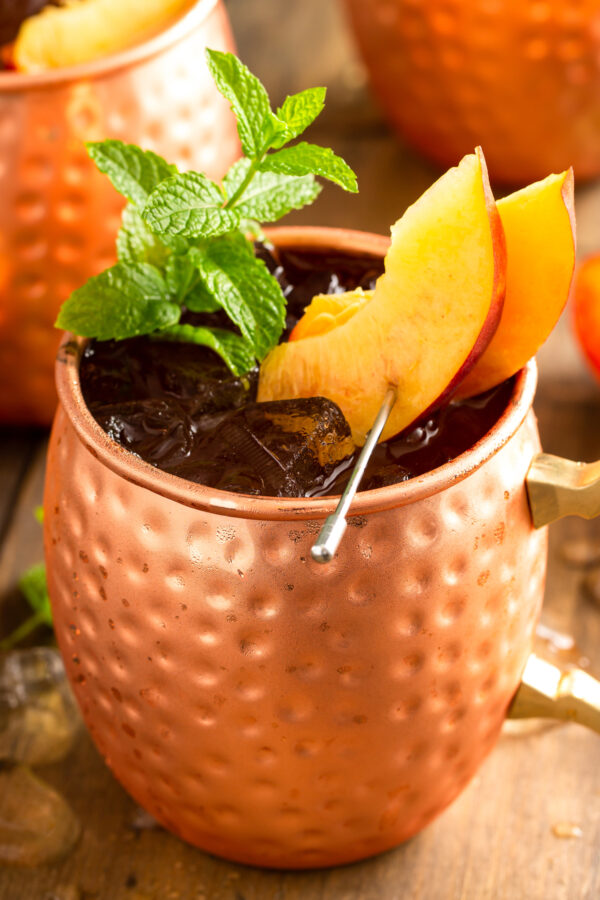 How To Make Ahead
You can make the peach syrup up to a week ahead of time. Then, you can make each cocktail fresh to order OR you can make an entire pitcher if you prefer!
To make a pitcher, you follow the same steps, but make a much larger quantity in a large pitcher. Pour into glasses and toast with your guests!
Moscow Mules To Go
If you want to make this cocktail to take on the go to a party, I would recommend preparing the syrup ahead and bringing it with you already prepared. Then the rest comes together very quickly!
More Refreshing Cocktails
It's summertime y'all, and that means it's time to sip on all your favorite fruity cocktails! Here are a few of my favorites: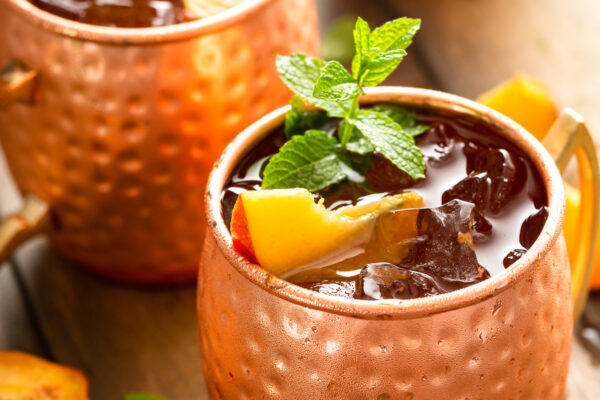 Peach Moscow Mule Recipe
Head on over to Dixie Crystals to get the full recipe I developed for them by clicking the button below:
This post may contain affiliate links. Read my disclosure policy.