This Tzatziki Recipe is so fresh, creamy, and easy to make! You'll only need a few ingredients to make this authentic Greek yogurt sauce with cucumbers.
Homemade tzatziki is perfect for serving with these Easy Chicken Gyros and this Greek Chicken Souvlaki recipe!
Why This Tzatziki Recipe Works
Everyone loves tzatziki, but they don't realize how easy it is to make at home! Here's why I'm such a big fan of it:
Super creamy. Made with full-fat Greek yogurt, this tzatziki sauce is so creamy and refreshing!
Tangy and citrusy. Homemade tzatziki is full of tangy and zesty flavor due to the fresh lemon juice and dill.
Quick and easy. You can make this Greek yogurt dip in just 10 minutes! It's so easy to mix together on short notice.
Perfect for parties. This tzatziki recipe is a huge crowd-pleaser! You can serve it with pita bread, veggies, crackers, and more.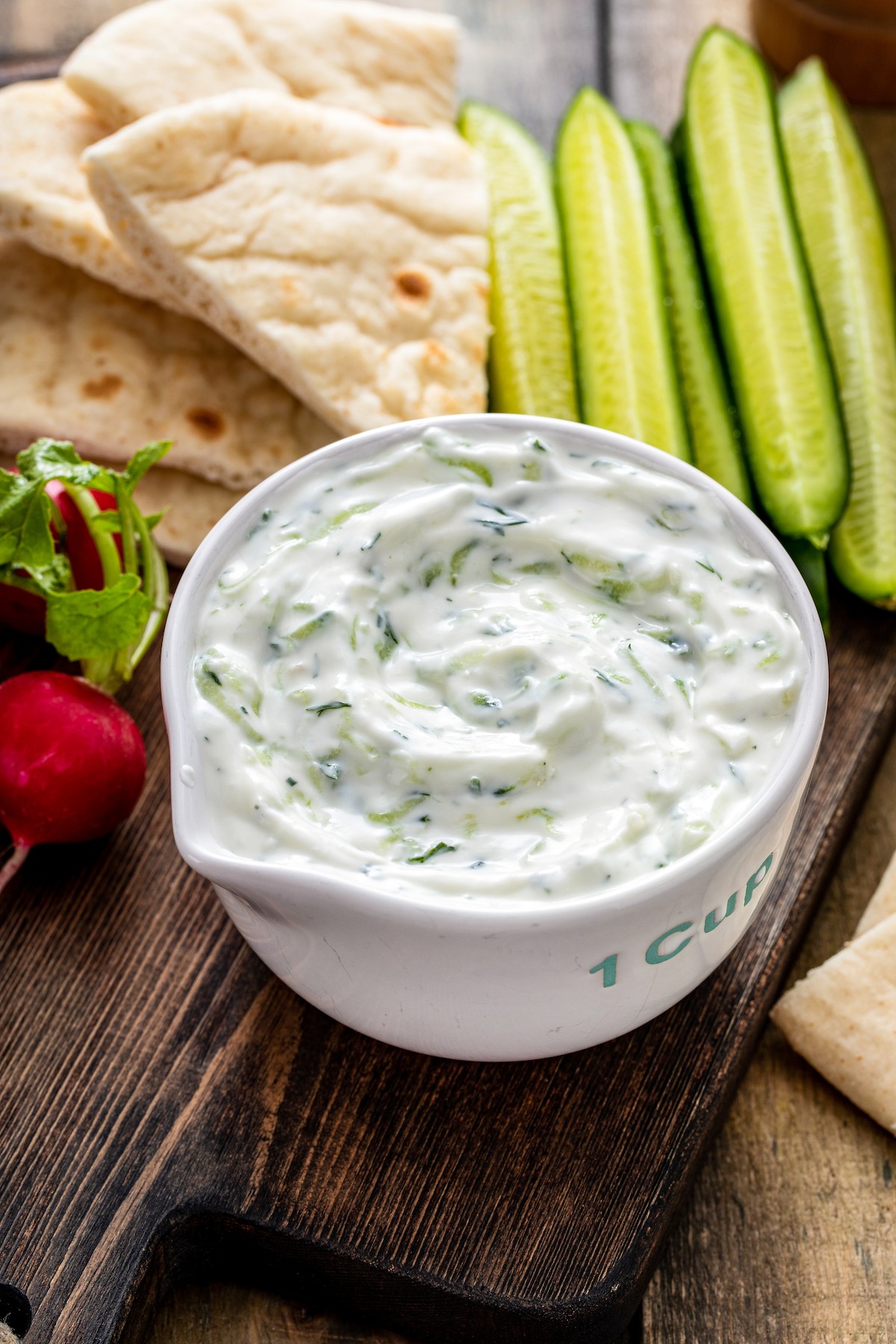 What Is Tzatziki Sauce?
Tzatziki sauce is a creamy yogurt sauce from Greece. Traditionally it's made with goat's milk or sheep's milk, but in the US, Greek yogurt is the go-to substitute.
For this recipe, Greek yogurt, cucumber, fresh lemon juice, dill, and garlic come together to make a thick sauce that pairs perfectly with just about anything. It's served chilled, so it's kept refrigerated until it is time to use it.
Tzatziki Pronunciation:
The best way for an English speaker to pronounce tzatziki is "tsah-see-key." Emphasize the "tsah" part and pronounce it like the end of the word "pizza." You can hear the pronunciation here.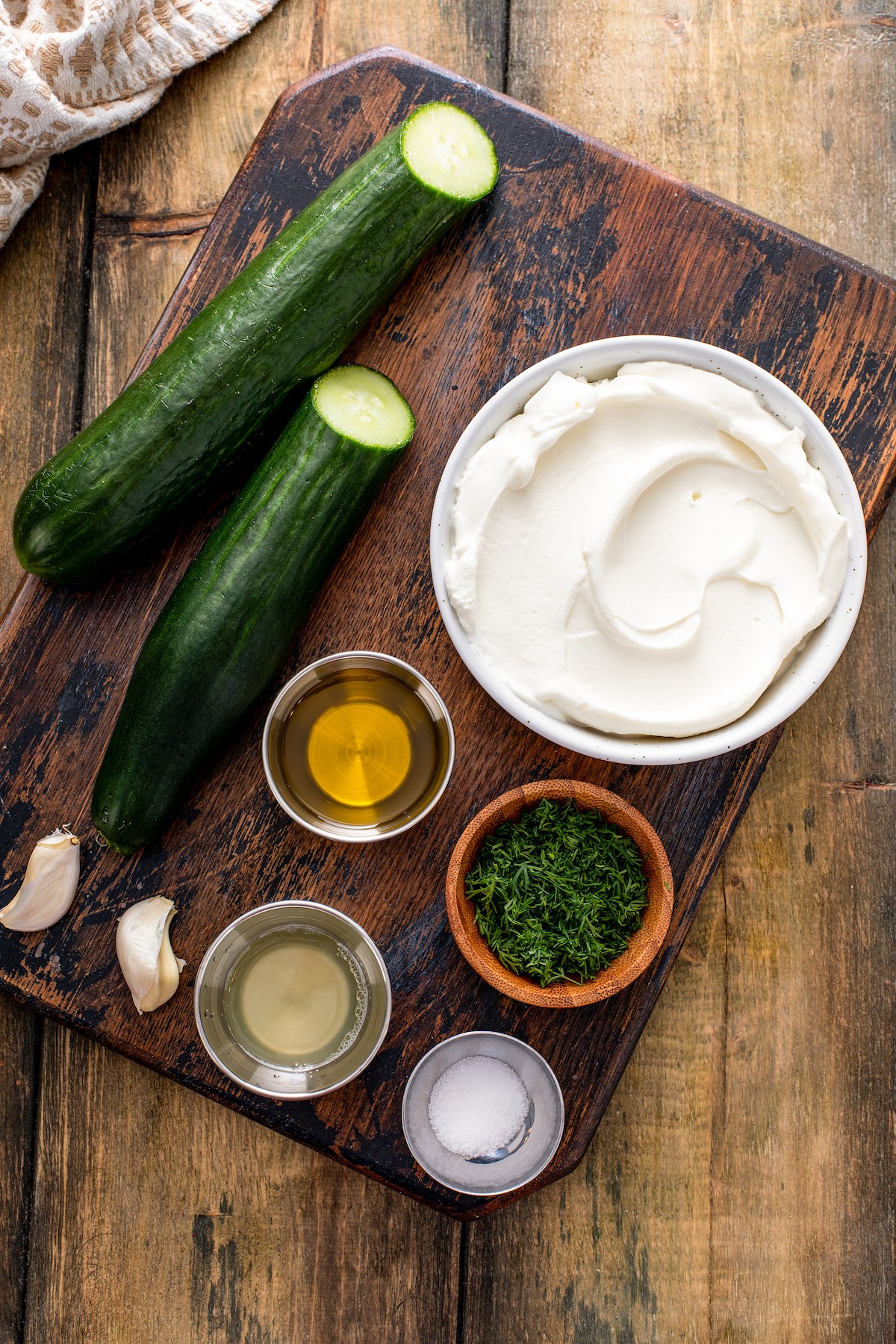 Recipe Ingredients
Here is a quick look at what you'll need to make this tzatziki recipe. For specific amounts be sure to scroll down to the recipe card.
Cucumber – There's no need to peel the cucumber since it will be grated before it is added to the sauce. Be sure to drain it well.
Full-Fat Greek Yogurt – You can also use low fat, but I find that full fat yogurt adds more body to the dip.
Garlic cloves – Mince them finely. If you'd like to use store-bought minced garlic that will also work, but the flavor is not as pronounced.
Extra Virgin Olive Oil – Or use another high-quality olive oil that will add bold flavor.
Lemon Juice – Fresh lemon juice is best in order to achieve the strongest, tangiest flavor.
Dill – Fresh dill and dried dill both work.
Salt – I recommend using Kosher salt.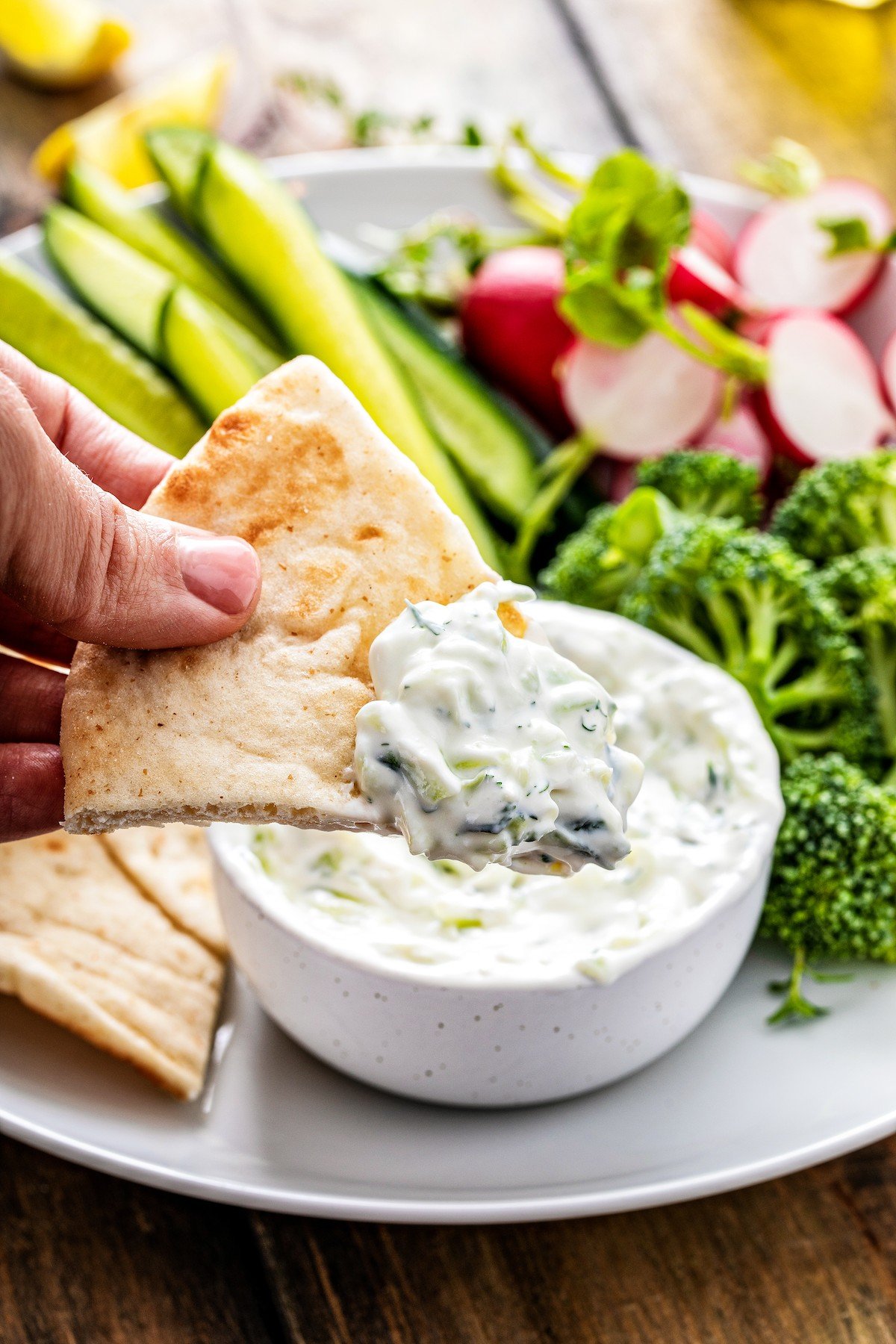 How to Make Tzatziki Sauce
Ready to make some creamy, tangy homemade tzatziki? Here's how to do it (the full set of directions can be found in the recipe card below):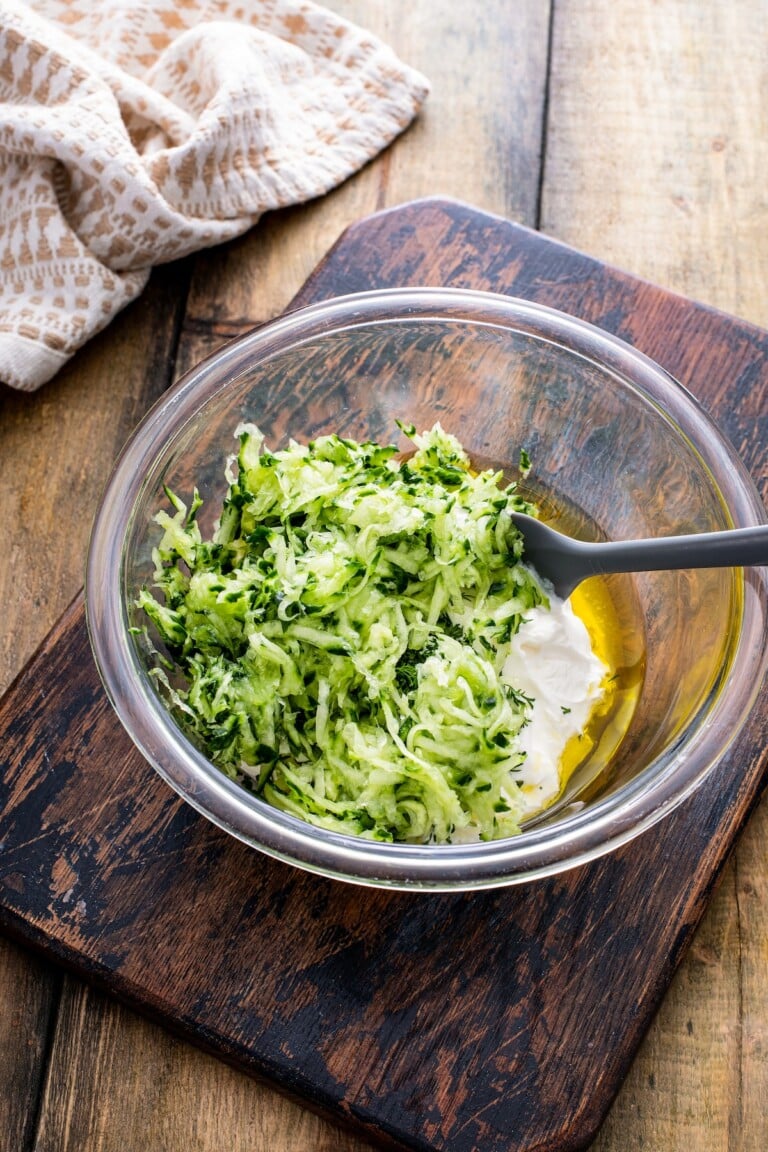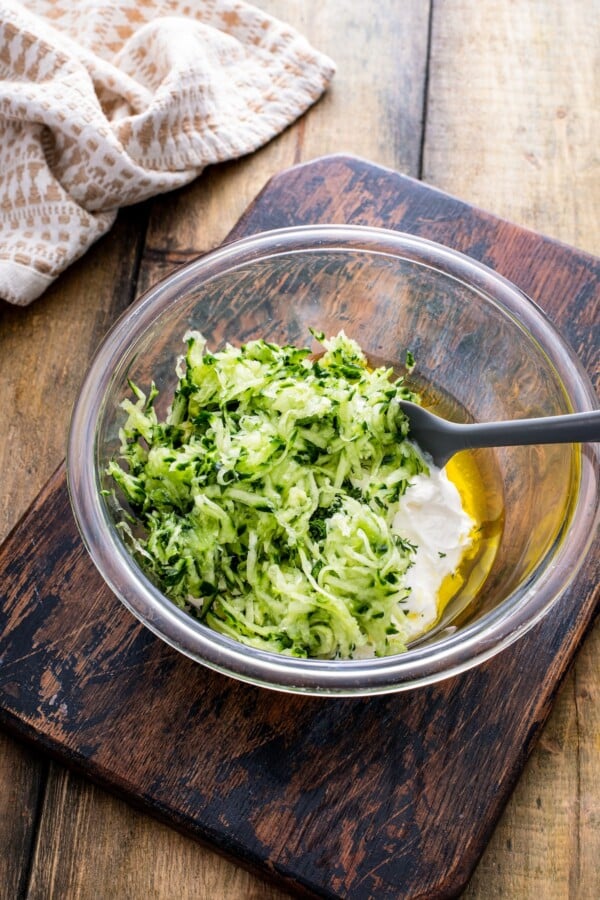 Grate and drain the cucumber. Use a box grater or food processor to finely grate the whole cucumber. Drain the shredded cucumber with a piece of cheesecloth, or a tea towel.
Add remaining ingredients. Combine the shredded and drained cucumber with Greek yogurt, garlic, olive oil, lemon juice, dill, and salt in a large bowl and mix together.
Chill. Cover and refrigerate the sauce overnight, or for at least 2 hours.
Serve! This sauce is best served chilled.
Watch This Homemade Tzatziki Come Together
Tips & Recipe Variations
It's a pretty simple process, as you can see. That said, there are a few quick tips that will be helpful to keep in mind as you tackle this tzatziki recipe!
Drain your grated cucumbers. The most important part of making tzatziki is that your cucumber is well-drained. If it isn't, your sauce will be too watery.
Substitute Greek yogurt for sour cream. Full-fat sour cream can be swapped for full-fat Greek yogurt for a richer tzatziki dip, if you like.
Make the sauce ahead. The more time the flavors have to mingle, the better the sauce tastes! Making this tzatziki recipe ahead and letting it sit overnight in the fridge is a great idea.
Frequently Asked Questions
Is tzatziki sauce healthy?
Tzatziki sauce is relatively healthy. Though it uses full-fat Greek yogurt, it is full of protein and calcium, and it contains probiotics, too.
Why is my tzatziki bland?
If your tzatziki sauce tastes too bland, try adding a little more salt, a little more dill, or a touch of garlic. Or, add in a small mix of the three.
Why is my tzatziki sauce watery?
As mentioned above, the most common reason that this happens is because the cucumbers were not fully drained. Once grated, make sure you squeeze out as much water as possible. To save a watery dip, try adding some more drained, grated cucumber with a little extra salt.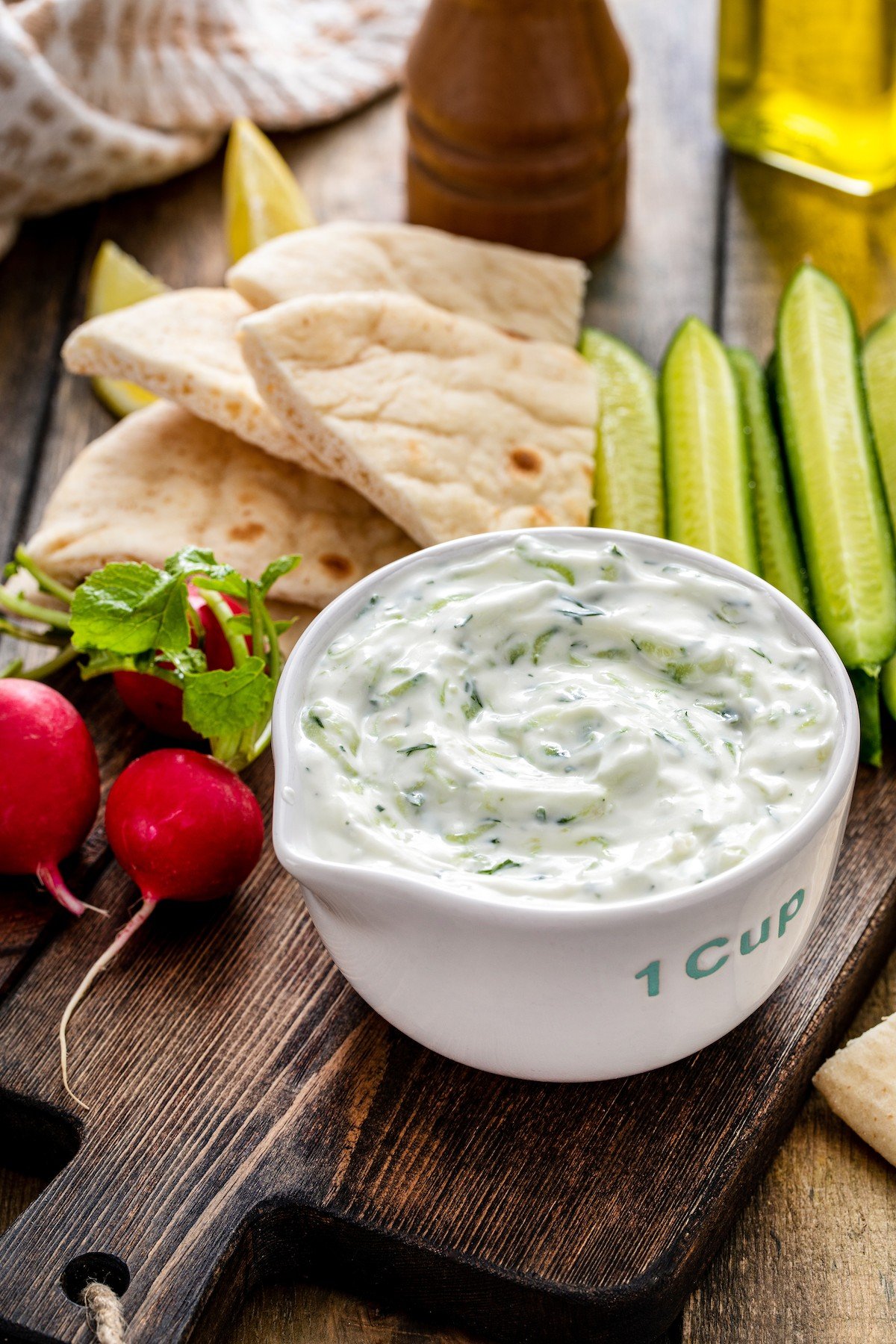 How to Use Tzatziki Sauce
Tzatziki is traditionally served as a spread with gyros, or as a dipping sauce for pita bread or kabobs. Here are some other ways that you can use tzatziki sauce:
As a vegetable dip. Serve it with toasted pita chips, raw veggies, cheese, and/or crackers.
In sandwiches. Instead of mayo (or in addition to it!), spread tzatziki sauce in your favorite sandwiches. Or, use it inside a falafel sandwich made with Homemade Pita Bread.
Drizzled over grilled veggies and cooked meats. I love using it with Baked Chicken, for example.
On baked potatoes. I have also been known to add tzatziki sauce to Baked Potatoes to give them a richer flavor!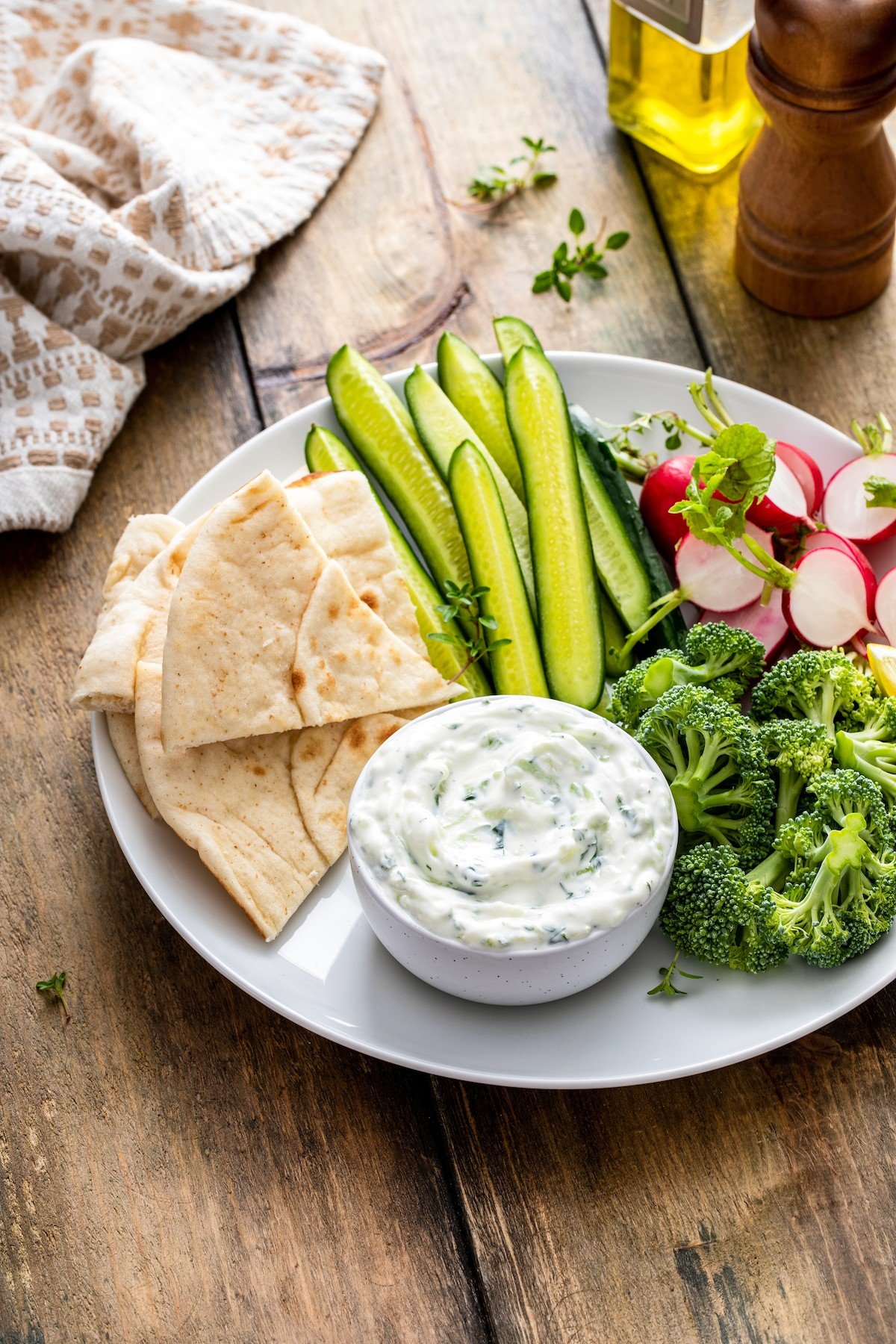 How to Store
Store your prepared tzatziki dip in an airtight container in the refrigerator for up to 5 days. You may notice a little separation after a day or two in the refrigerator. If you do, give the sauce a good stir and it should even itself out.
Can I Freeze This Tzatziki Recipe?
I don't recommend freezing cucumber sauce for later use. In my experience, the sauce does not freeze well because the cucumbers tend to get mushy from freezing and thawing.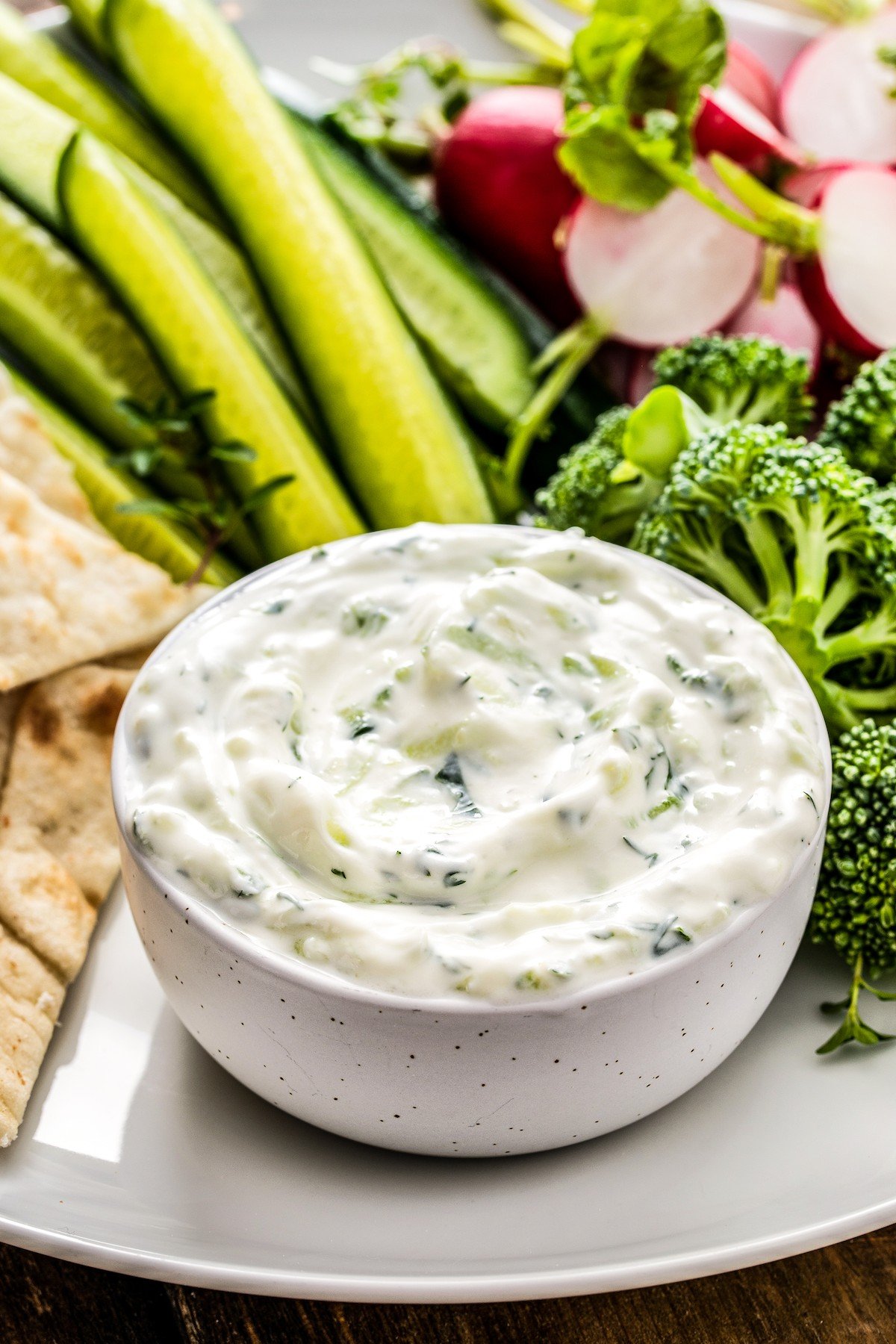 More Easy Homemade Sauces
Making your own sauces and condiments is so quick and easy! Here are a few more to try:
Tzatziki Sauce (Greek Cucumber Sauce)
This authentic Greek Tzatziki Sauce is a delicious cucumber and yogurt sauce that tastes amazing on almost anything. It's so easy to make using just a few simple ingredients!
Ingredients
1

large cucumber

,

unpeeled

2

cups

plain full-fat Greek yogurt

2

large garlic cloves

,

minced

2

tablespoons

extra virgin olive oil

1

tablespoon

fresh lemon juice

1

tablespoon

fresh dill

,

minced

¾

teaspoon

salt
Instructions
Using a box grater or food processor, grate the whole cucumber and use cheesecloth (or a tea towel) to squeeze out the extra liquid in the shredded cucumber.

Combine the shredded and drained cucumber, yogurt, garlic, olive ol, lemon juice and salt together in a large bowl.

Cover and refrigerate overnight, or for at least 2 hours.

Serve chilled with pita bread, vegetables, or gyros. Store in an airtight container for up to 5 days.
Nutrition
Serving:
1
serving
,
Calories:
122
kcal
,
Carbohydrates:
5
g
,
Protein:
7
g
,
Fat:
8
g
,
Saturated Fat:
2
g
,
Polyunsaturated Fat:
6
g
,
Cholesterol:
10
mg
,
Sodium:
292
mg
,
Sugar:
4
g
Categories:
This post may contain affiliate links. Read my disclosure policy.