This homemade Tzatziki Sauce tastes amazing on almost anything. It's an authentic Greek cucumber yogurt sauce that's so easy to make using just a few simple ingredients!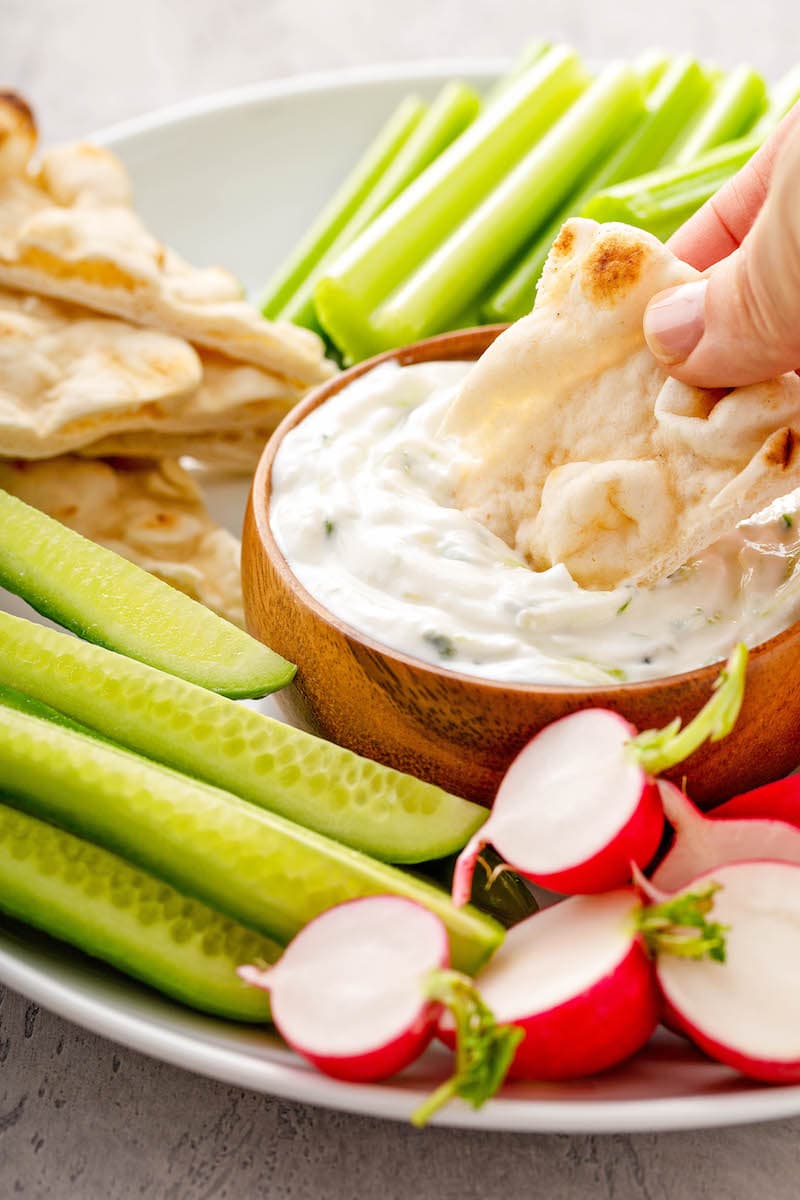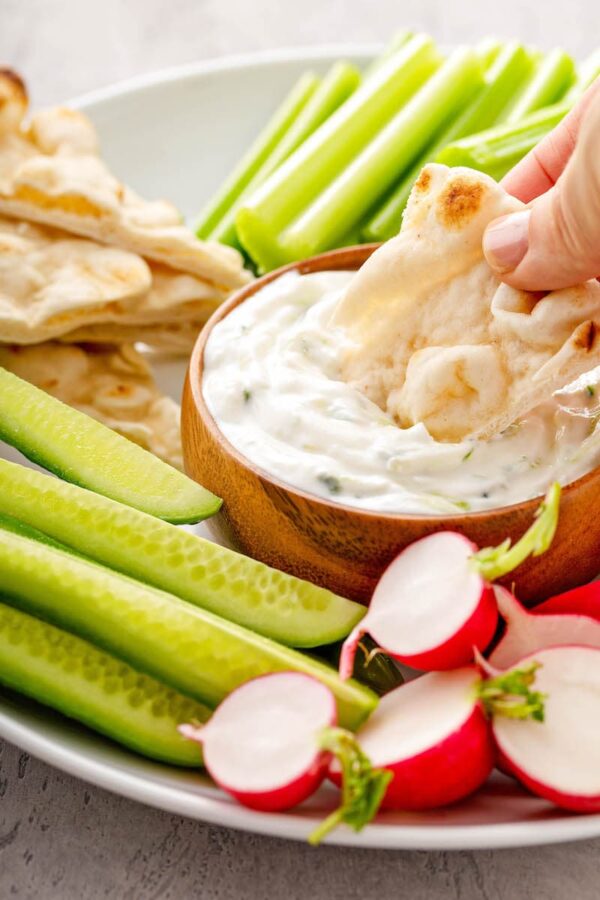 This Easy Tzatziki Is One Of My Favorite Homemade Sauces
Everyone loves Tzatziki, but they don't realize how easy it is to make at home! Homemade sauces are a favorite of mine because they give that extra touch to a dish. A few others you may want to check out are my favorite steak sauce, homemade enchilada sauce and honey mustard!
This sauce can also be used as a healthy alternative to mayonnaise or ranch dressing for sandwiches, wraps and as a dip. Once you learn how to make Tzatziki, you will want to have it around all the time. It's so flavorful!
What Is Tzatziki Sauce?
Tzatziki sauce is a traditional Greek sauce that's creamy and rich in flavor. In Greece it's made with goat's milk or sheep's milk yogurt. In the US, Greek yogurt is the go-to substitute.
For this recipe, Greek yogurt, cucumber, fresh lemon juice, dill and garlic come together to make a thick sauce that pairs perfectly with just about anything. It's served chilled, so it's kept refrigerated until it is time to use it.
How Do You Say Tzatziki?
The best way for an English speaker to pronounce tzatziki is "tsah-see-key." Emphasize the "tsah" part and pronounce it like the end of the word "pizza." You can hear the pronunciation here.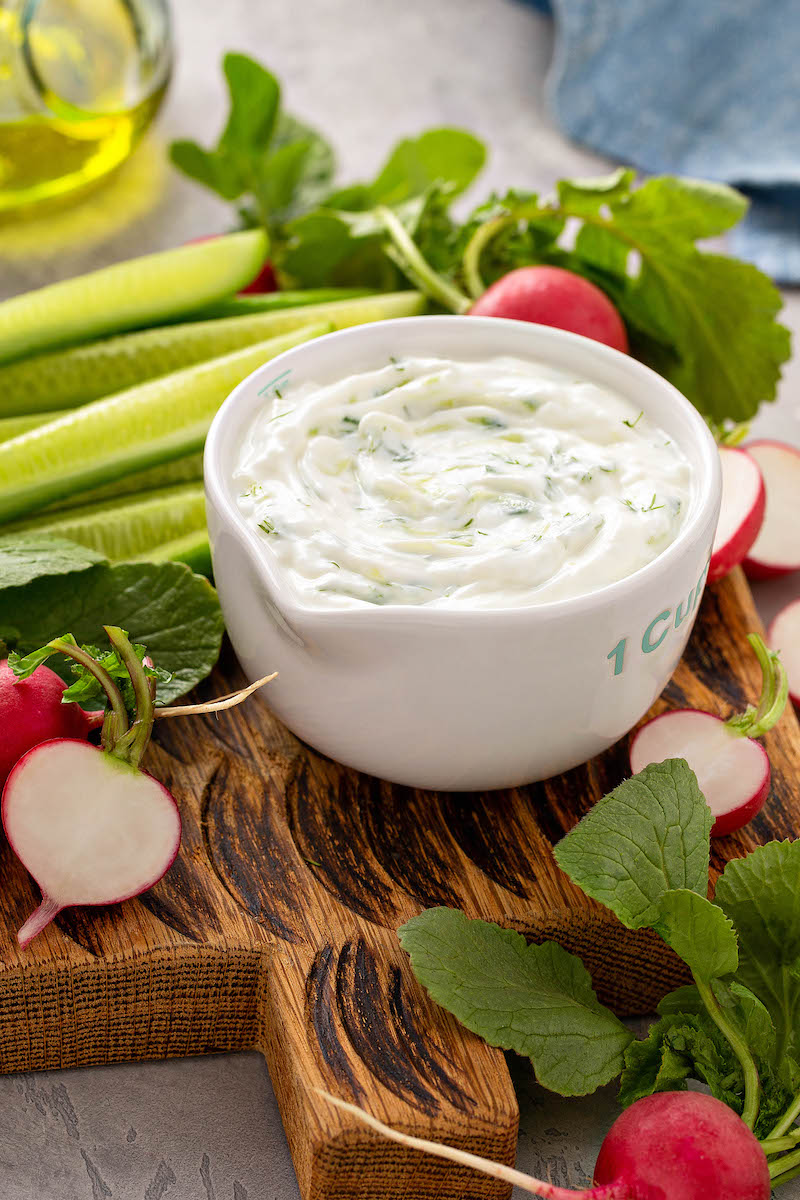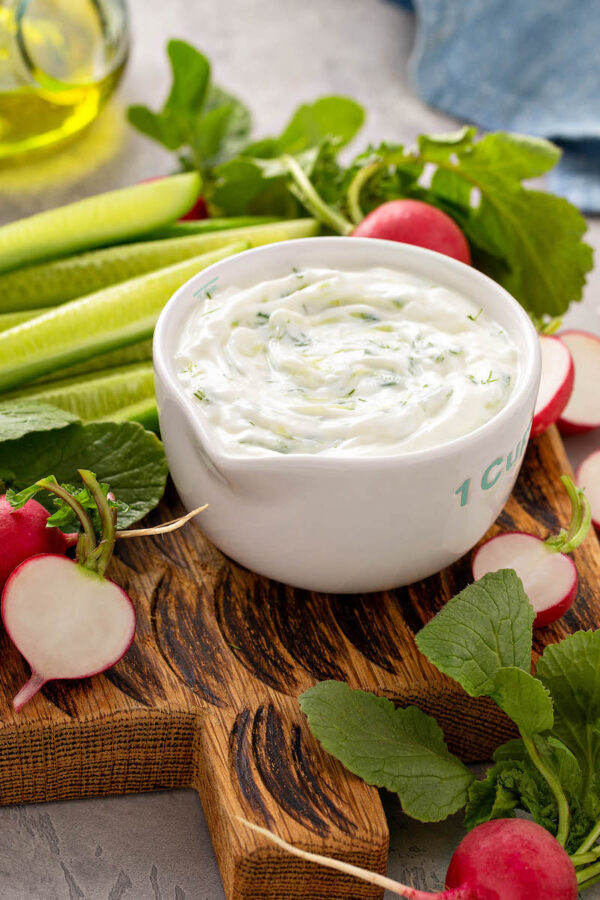 Ways To Use Tzatziki Sauce
Tzatziki is traditionally served as a spread with gyros, or as a dipping sauce for pita bread or kabobs, like Chicken Souvlaki. The great thing about Tzatziki is that you can use it for other things and it isn't limited to Greek cuisine.
Here are some other ways you can use Tzatziki sauce:
as a vegetable dip
spread on toast
in sandwiches instead of mayo (or in addition to!)
as a dip for crackers or chips
you can use it to flavor just about any kind of meat
as a salad dressing
drizzled on top of baked chicken
The options are endless!

Tzatziki Ingredients
This Tzatziki only requires a handful of ingredients. I love how you can combine such simple things and make something so dang delicious.
Here's what you need to make this Tzatziki sauce:
Cucumber
Full-fat Greek yogurt
Garlic cloves
Extra virgin olive oil
Lemon juice
Dill
Salt

How To Make The Best Tzatziki Sauce
The most important part of making Tzatziki is that your cucumber is well drained. If it isn't, your sauce will be too watery.
Here's how to make the best homemadeTzatziki:
Grate the whole cucumber by using a box grater or food processor. Use cheesecloth, or a tea towel, to squeeze out any liquid from the shredded cucumber.
Combine the shredded and drained cucumber with Greek yogurt, garlic, olive oil, lemon juice, dill and salt in a large bowl and mix together.
Cover and refrigerate the sauce overnight, or for at least 2 hours.
Serve this sauce chilled with some pita bread, vegetables or gyros.
How To Store Homemade Tzatziki
Store your prepared Tzatziki in an airtight container in the refrigerator for up to 5 days. You may notice a little separation after a day or two in the refrigerator. If you do, give the sauce a good stir and it should even itself out.
I don't recommend freezing Tzatziki for later use. In my experience the sauce does not freeze well, because the cucumbers tend to get mushy from freezing and thawing. However, if you really want to, yes you can freeze it. It will not go bad by any means, but it will just not have the same preferred texture.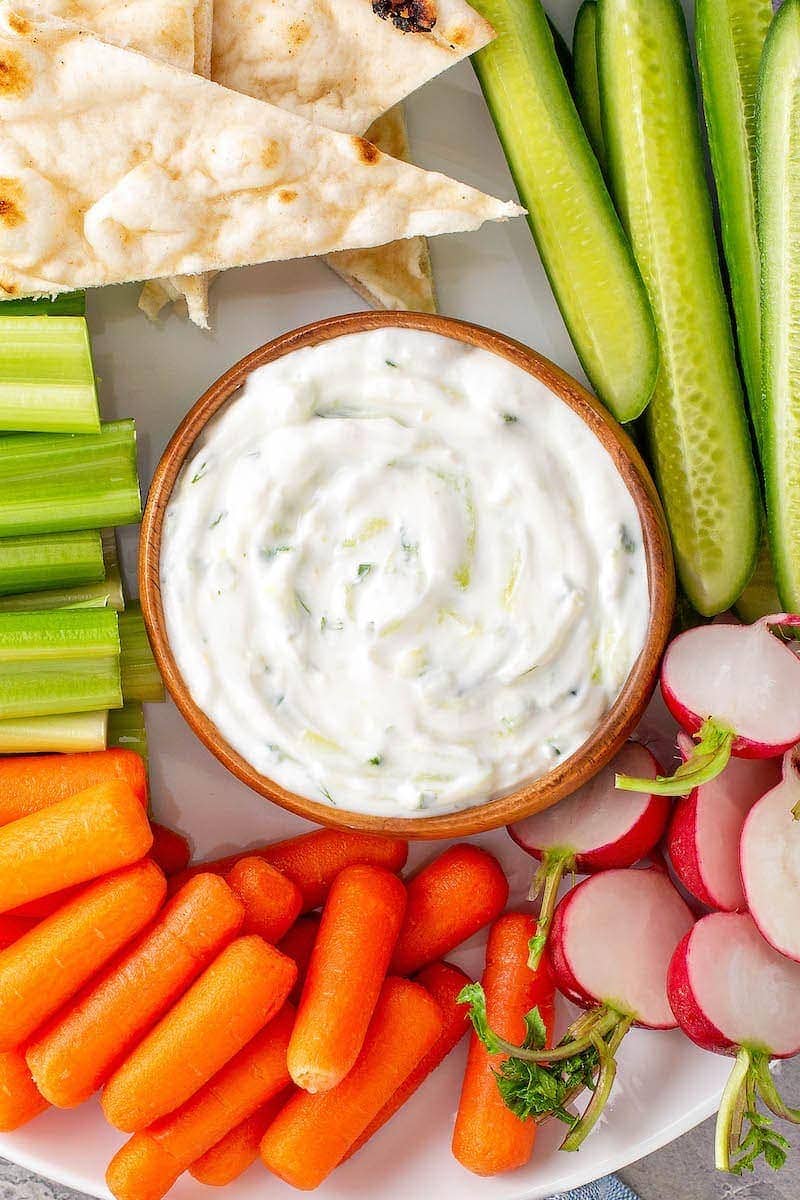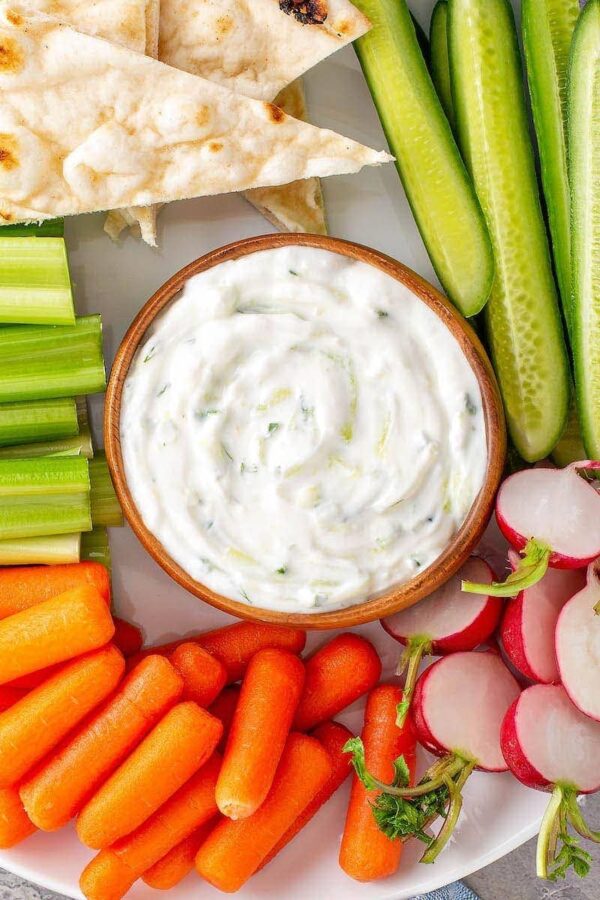 More Tips For This Tzatziki Recipe
Can I Make Tzatziki Ahead Of Time?
Yes! Tzatziki can be made and kept refrigerated in an airtight container for up to 5 days. Making it ahead of time also gives it the opportunity for all the flavors of the Tzatziki to blend together perfectly.
Do I Have To Peel The Cucumber?
You don't have to. This is a personal preference. You can leave the peel on to get some more nutrients and fiber in the sauce, but some people find the texture of the peel to be too much with the creamy Tzatziki.
Is Tzatziki Sauce Good For You?
Yes! With cucumbers and Greek yogurt as the main ingredients, Tzatziki sauce is packed with protein, calcium, and B vitamins. The yogurt also contains probiotics which will also help your digestive system.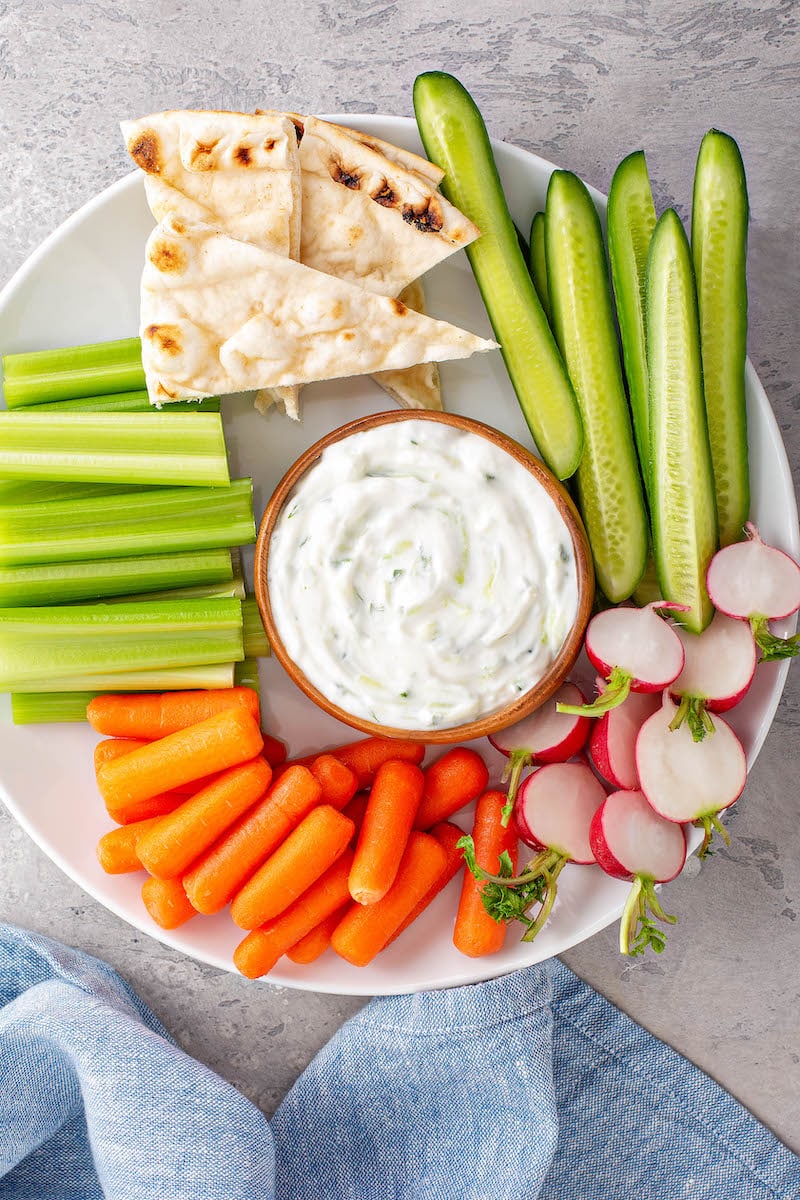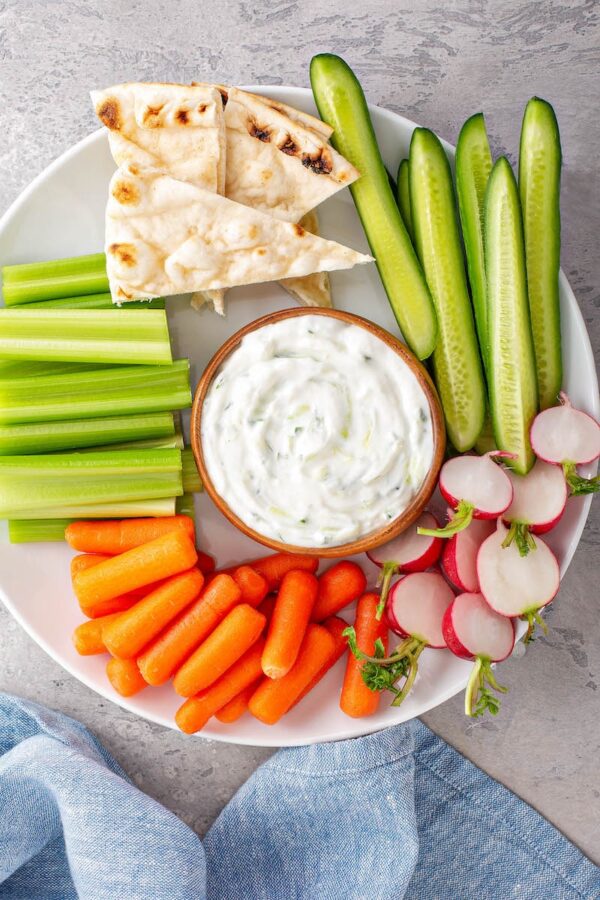 I know you are going to love this Tzatziki sauce, because it is healthy, full of flavor and has so many uses. We have been making this recipe for years in my family and I am excited to share it. Ever since we found the huge Greek community here in Florida, I have been working on making Greek food at home that is as good as theirs!
Let me know what you think of this amazing Tzatziki sauce by leaving me a review or comment below!
Yield: 6 servings
Tzatziki Sauce Recipe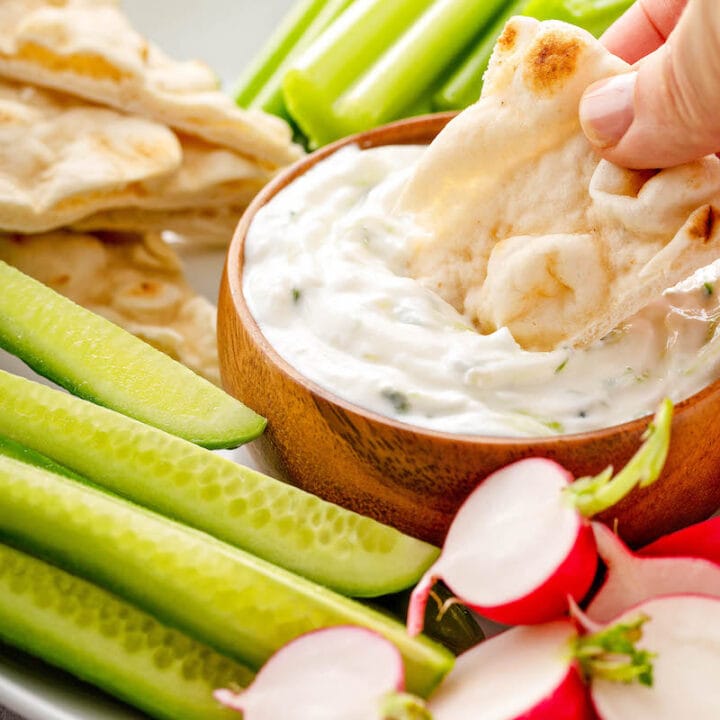 This authentic Greek Tzatziki Sauce is a delicious cucumber and yogurt sauce that tastes amazing on almost anything. It's so easy to make using just a few simple ingredients!
Ingredients
1 large cucumber, unpeeled
2 cups plain full-fat Greek yogurt
2 large garlic cloves, minced
2 tablespoons extra virgin olive oil
1 tablespoon fresh lemon juice
1 tablespoon fresh dill, minced
3/4 teaspoon salt
Instructions
Using a box grater or food processor, grate the whole cucumber and use cheesecloth (or a tea towel) to squeeze out the extra liquid in the shredded cucumber.
Combine the shredded and drained cucumber, yogurt, garlic, olive ol, lemon juice and salt together in a large bowl.
Cover and refrigerate overnight, or for at least 2 hours.
Serve chilled with pita bread, vegetables, or gyros. Store in an airtight container for up to 5 days.
Recommended Products
I am an Amazon affiliate member and I earn a small percentage from qualifying purchases. Thank you!
Nutrition Information:
Yield:
6
Serving Size:
1 serving
Amount Per Serving:
Calories:

122
Total Fat:

8g
Saturated Fat:

2g
Trans Fat:

0g
Unsaturated Fat:

6g
Cholesterol:

10mg
Sodium:

292mg
Carbohydrates:

5g
Fiber:

0g
Sugar:

4g
Protein:

7g
Want to Save This Recipe?
This post may contain affiliate links. Read my disclosure policy.