This Chicken Gyro recipe is packed with Greek flavor! Make this easy meal any night of the week for a homemade version of a restaurant favorite.
If you love these chicken gyros, check out some of my other reader favorite Greek recipes: Chicken Souvlaki and Tzatziki.
AN EASY CHICKEN GYRO RECIPE
It's easy to think that Chicken Gyros are something you can only get in a restaurant, but they're actually one of my favorite healthy meals to make at home. This recipe shows you how to make your own Chicken Gyros, complete with a smooth homemade tzatziki sauce, tender bites of flavorful chicken and fresh veggies.
The chicken for these Chicken Gryos is marinated in an easy, homemade Greek marinade and then threaded onto skewers and grilled. This chicken can be prepared ahead of time in the marinade and frozen, for an easy meal prep dinner. Thaw out the chicken when you are ready, grill it, and you have easy Chicken Gyros for dinner!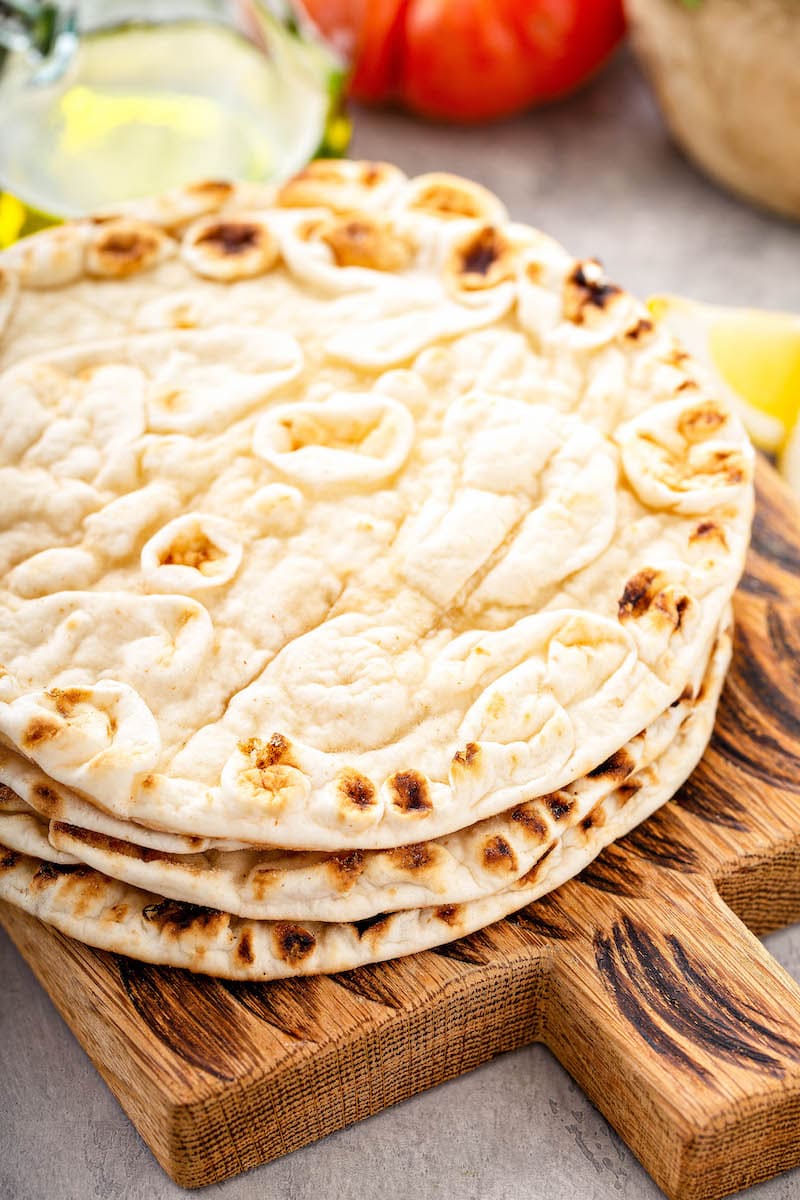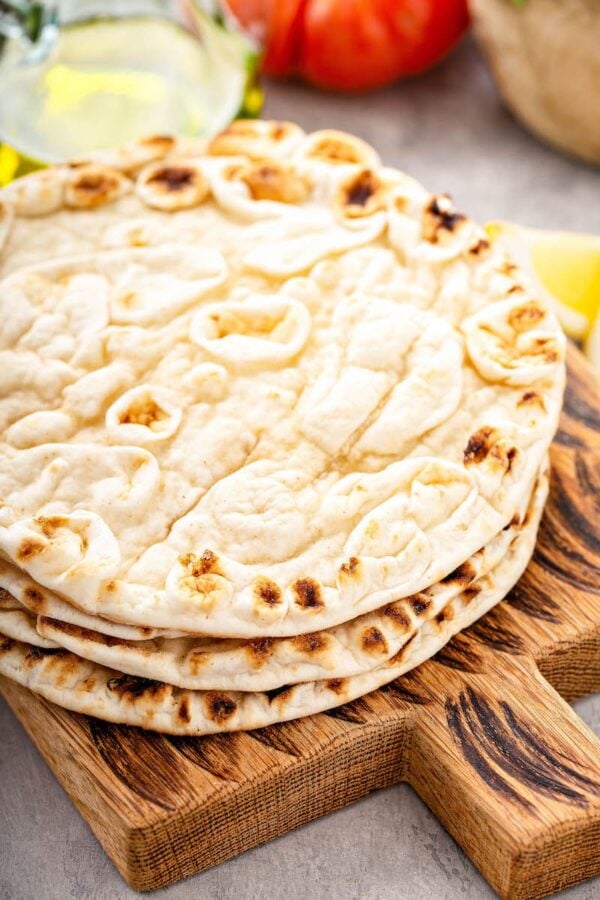 WHAT IS A GYRO?
A gyro is a Greek pita sandwich is traditionally made with lamb meat that has been cooking in front of a slowly spinning vertical rotisserie. When the meat is finished cooking, it is thinly sliced and served in pita bread along with red onions and tomatoes and topped with tzatziki sauce. You can also add some of your other favorite fresh ingredients, like lettuce or cucumbers. For this chicken version at home, we grill the chicken for optimal flavor.
Gyro is pronounced "Yee-Roh" not "Jy-Roh". I always felt so awkward ordering these at a restaurant before I knew how it was actually pronounced. Now we both know!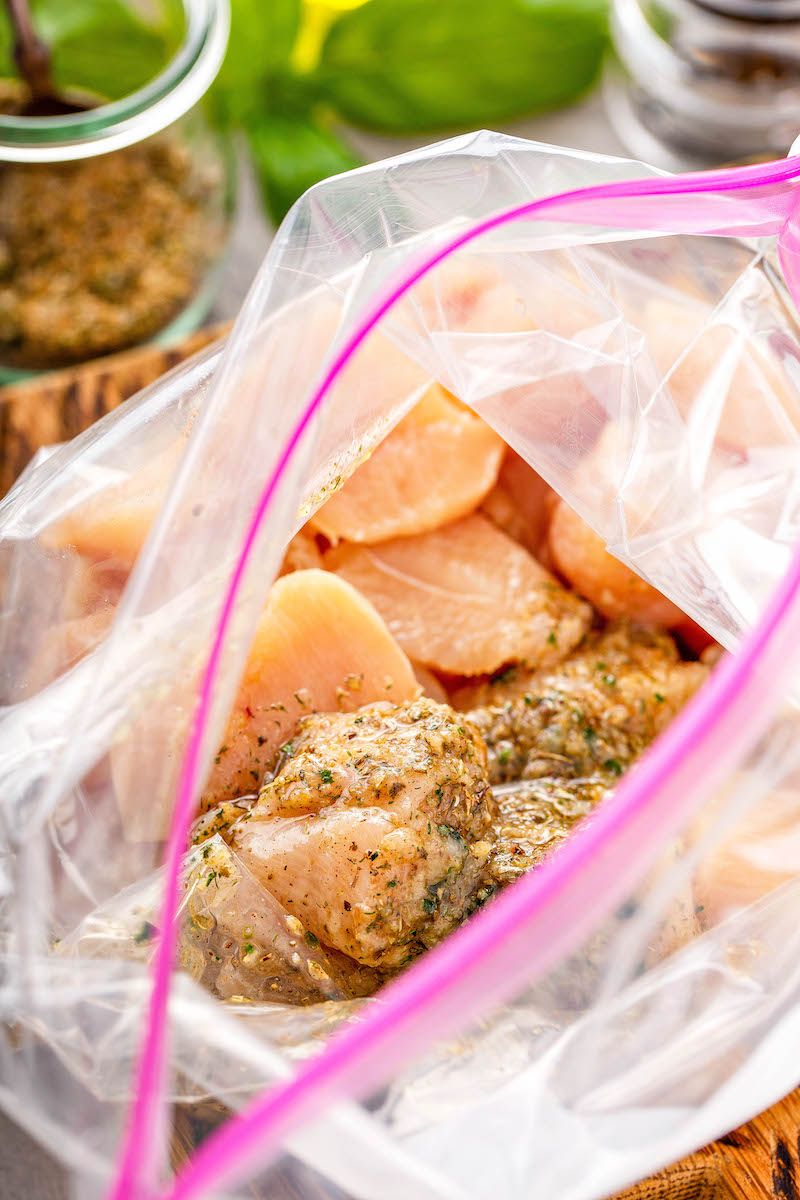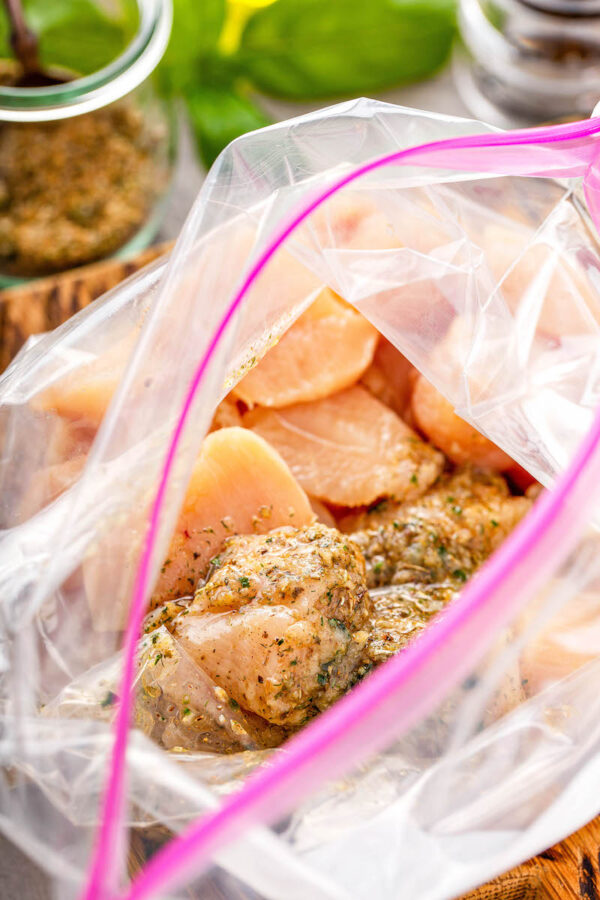 HOW TO MAKE GREEK CHICKEN GYROS
Making Greek Chicken Gyros at home is so simple. It's absolutely delicious and always impressive to guests, just don't tell them how easy it to make!
You combine the marinade (just a few simple ingredients) and add the chicken. Marinade for 6 hours, or overnight.
Remove the chicken from the marinade, thread the thicken onto the skewers and grill (on a grill pan or outdoor grill) until the meat is cooked thoroughly.
Remove the chicken from the skewers and serve the chicken wrapped in warm pita bread with chosen toppings!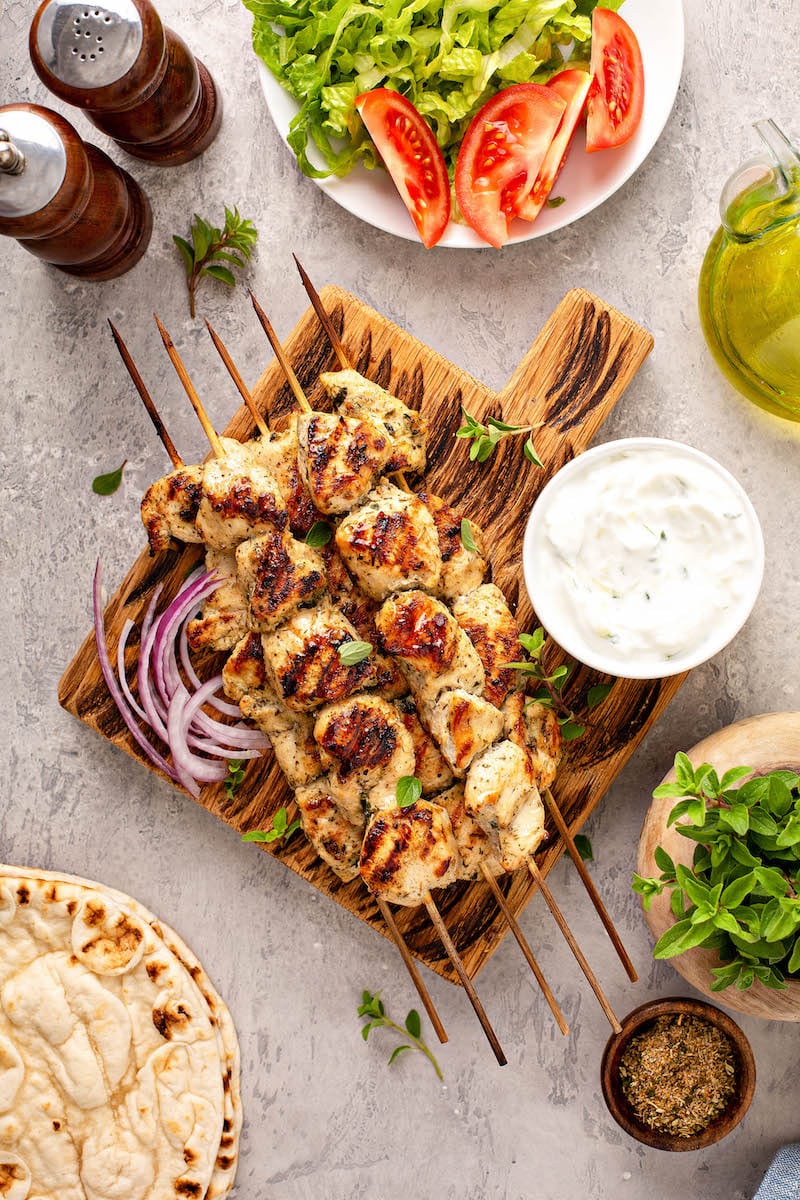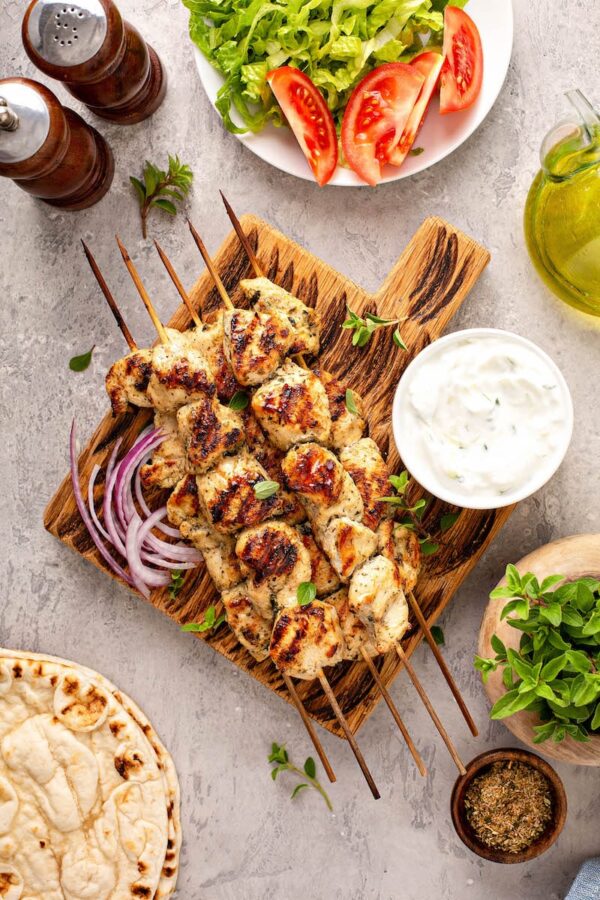 TIPS FOR MAKING THE BEST CHICKEN GYROS
You need to marinate the chicken – don't skip this part! I know sometime's it's hard to plan ahead, but it's very important for the overall flavor and tenderness of the chicken.
Warm your pitas before you put any toppings on it. Warm pita bread is easier to work with when it comes time to wrap your gyro. You can warm them wrapped in a damp towel in the microwave or in a pan.
Don't forget the tzatziki — it's the second most important part!
Need to skip the bread for a low carb option?
No problem! Use a couple large leafs of lettuce in place of your pita and make it a wrap. Or turn your gyro into a salad, by trading the pita bread for a bed of lettuce and add everything else on top of it like in my Greek Salad! I also have a great greek salad dressing you can use!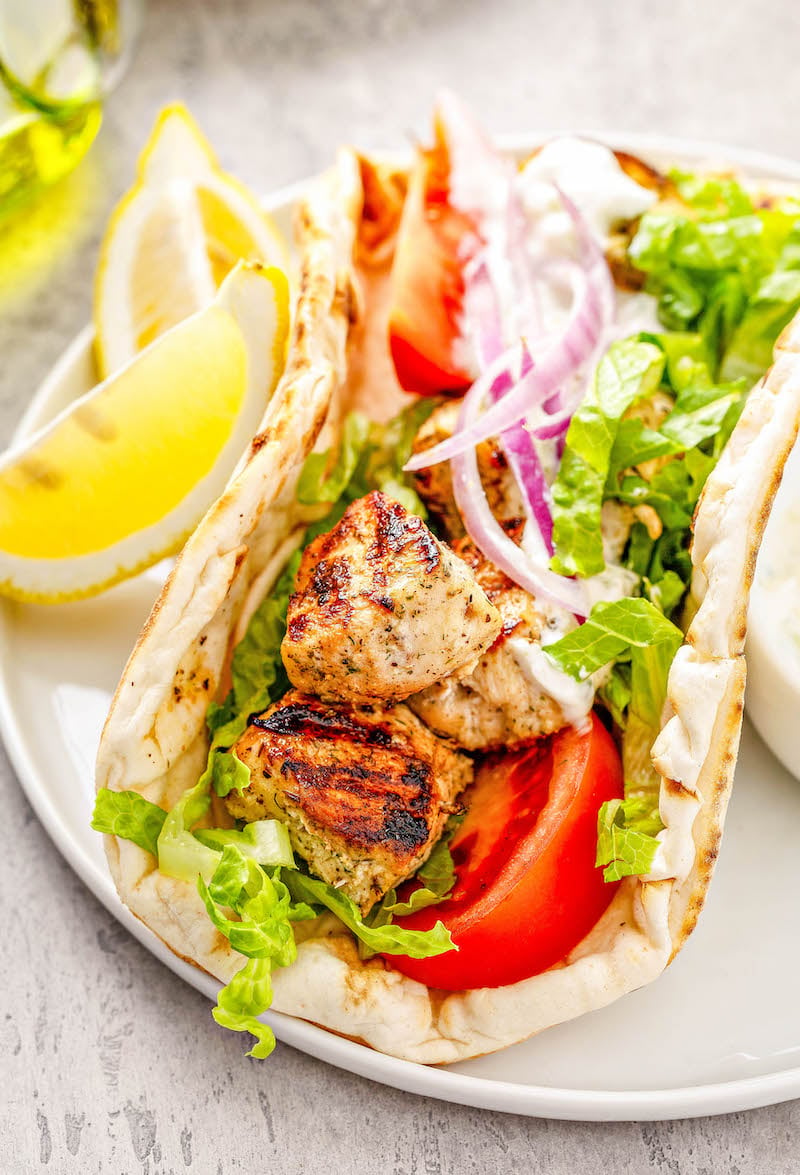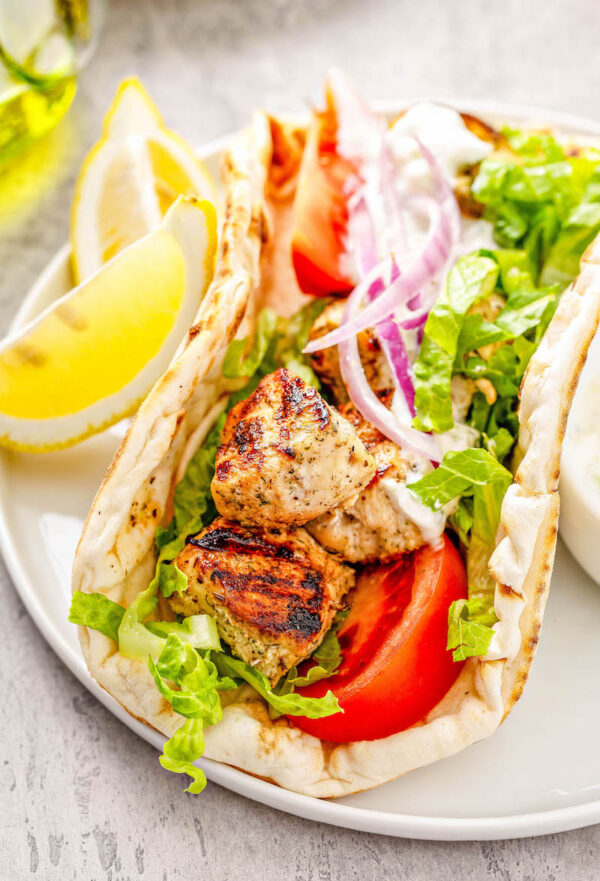 TOPPING IDEAS
I love that these Greek gyros can be personalized with their own toppings, so everyone has something they love. Below are the most typical toppings found on a Chicken Gyro:
Tomatoes
Red Onion
Lettuce
Tzatziki
If you are feeling adventurous, here are some fun ideas to help you make your gyro unique:
Feta cheese
Radishes
Olives
Hummus
Artichoke hearts
Cucumbers
Diced avocado
Parsley
Roasted chickpeas
HOW TO STORE LEFTOVER GYROS
Cooked Chicken Gyros can be stored in an air-tight container in the refrigerator for up to 5 days. Store the chicken and the pita bread separately. When it comes time to eat, reheat the chicken and the bread up separately, so the chicken doesn't make the bread soggy while it is warming up. Add the warm chicken to the warm pita bread and top it with lettuce, tomato, red onion and your favorite toppings.
Freezer Friendly
The rest of the ingredients will need to be served fresh, but the chicken can be frozen. There are two ways you can choose to freeze the chicken for chicken gyros.
You can even freeze your cooked chicken for up to 3 months in an airtight container. Reheat in microwave.
You can meal prep the chicken ahead of time and place it in a freezer friendly ziplock bag with the marinade and freeze it for later. When you are ready to make the chicken, pull it out of the freezer and let it thaw in the refrigerator overnight. By doing this, you are also marinating the chicken as it thaws. All you have to do the next day is cook it!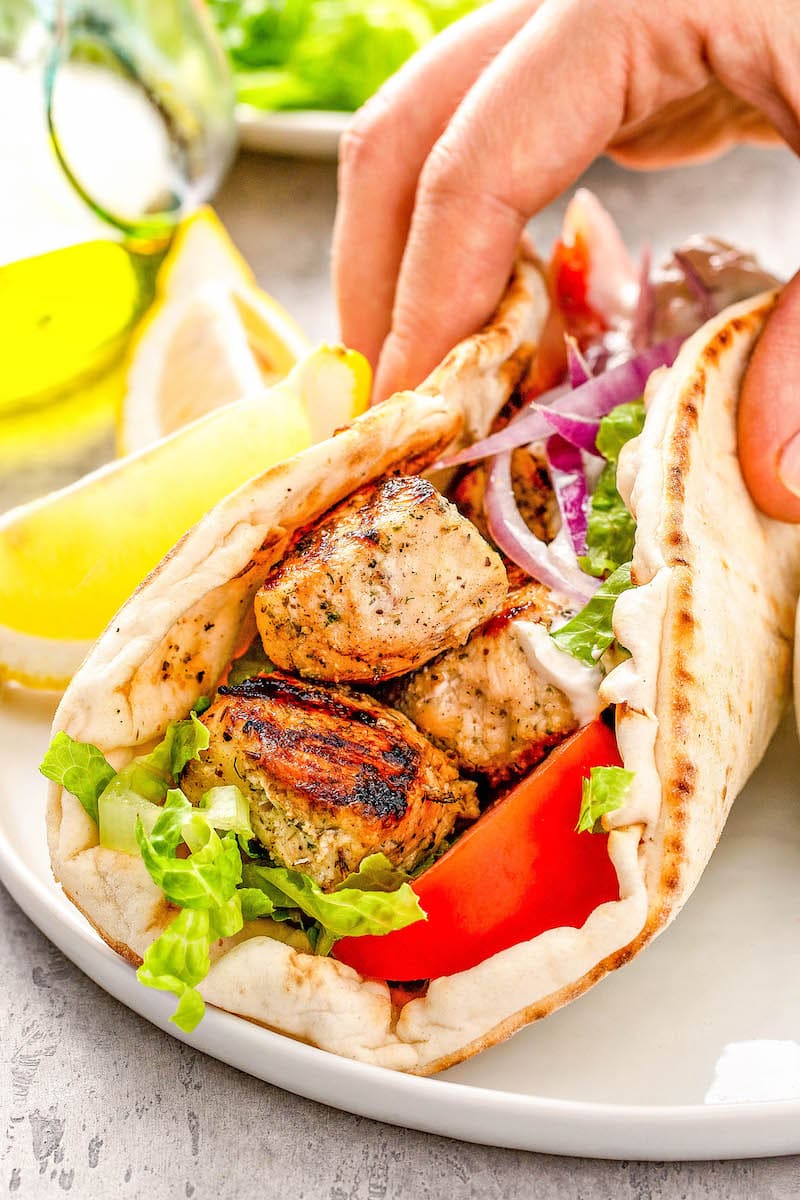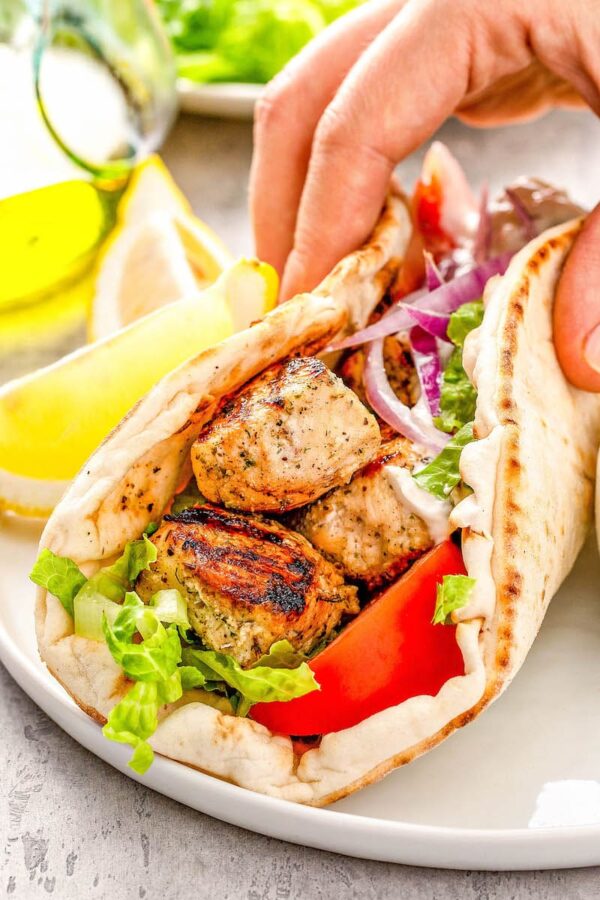 You are going to love this recipe for homemade Chicken Gyros. Not only because it's easy, but also because it is packed with flavor! They can be extra healthy and low carb (if served with lettuce as a wrap) or a little decadent with warm pita bread, either way is delicious.
Please leave a review or comment here to let me know what you think of this recipe!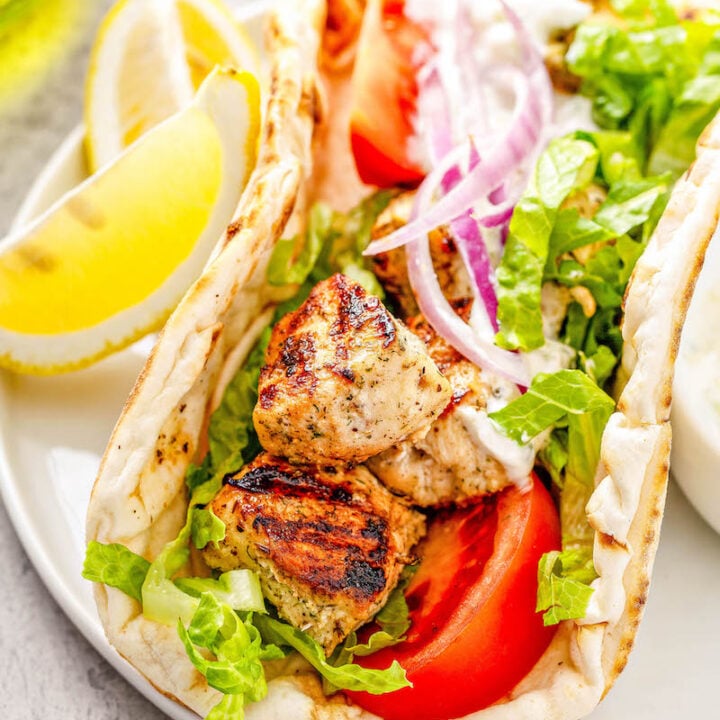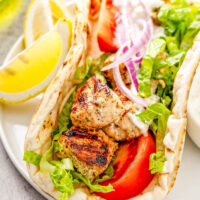 Greek food has an amazing fresh flavor and this Chicken Gyro recipe doesn't disappoint. Make this easy, healthy meal any night of the week for a homemade version of a restaraunt favorite.
Prep Time
6 hours
10 minutes
Total Time
6 hours
25 minutes
Ingredients
Chicken:
1 lb boneless, skinless chicken breasts, in bite size pieces
2 tablespoons olive oil
1 tablespoon white wine vinegar
4 large garlic cloves, minced
3 tablespoons Greek Seasoning
Juice of 1 large lemon
1/2 teaspoon salt
1/2 teaspoon pepper
Gyro:
Pita bread
Lettuce
Tomato
Red onion
Instructions
Combine all ingredients in a ziplock bag and shake well to mix.
Add chicken and shake to ensure the marinade is covering chicken Allow to marinate in refrigerator overnight, or for at least 6 hours.
Remove chicken from marinade, and toss leftover marinade. Thread chicken onto skewers and grill until cooked thoroughly on an outdoor grill or on a stove top grill wiht pan.
Remove chicken from skewers and serve wrapped in warm pita bread with lettuce, tomato, red onion and Tzatziki sauce.
Nutrition Information:
Yield:
4
Serving Size:
1
Amount Per Serving:
Calories:

364
Total Fat:

12g
Saturated Fat:

2g
Trans Fat:

0g
Unsaturated Fat:

9g
Cholesterol:

97mg
Sodium:

3903mg
Carbohydrates:

25g
Fiber:

3g
Sugar:

10g
Protein:

38g
Categories
This post may contain affiliate links. Read my disclosure policy.