These Cucumber Sandwiches are made with a family recipe that has been passed down for years. They're fresh and creamy, and so easy to make. Use your favorite bread, and enjoy!
Dainty Cucumber Tea Sandwiches
This recipe for cucumber sandwiches has been in my family for a very long time. These little sandwiches always make an appearance for special occasions! They are perfectly light and fresh and full of flavor. I had to track down the original recipe from my Aunt's sister-in-law, but it was so worth it!
Is This the Best Cucumber Sandwiches Recipe?
I'm just going to say it: yes, this is the best cucumber sandwich recipe! There is a reason my family has been making them for so many years. They are:
Easy. A few simple ingredients and some basic prep are all you'll need to make these.
Quick. You'll only need 20 minutes to make these tea sandwiches.
Elegant. Despite their simplicity, these cucumber sandwiches are so elegant! You could serve them to the Queen if, you know, she ever came to your house for tea.
Tasty. Every bite is packed with flavor and creaminess. I have never seen someone eat just one!
If you need a pretty finger food recipe to make for a tea party, birthday party, baby shower, or any other occasion, these are a great choice! They are so easy to make, can be prepped ahead and are so quick to whip together.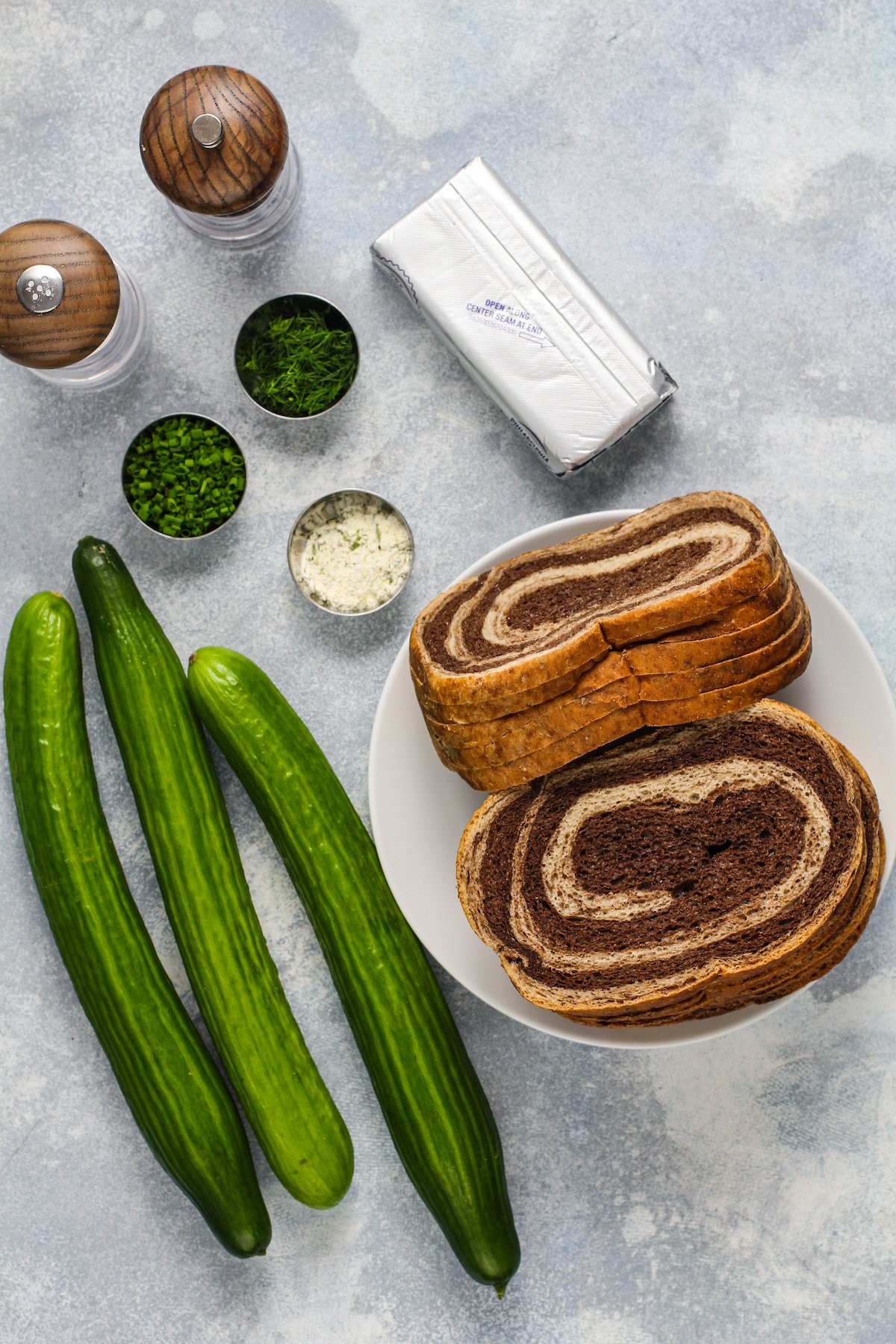 What You'll Need
To make these dainty sandwiches, you'll need a few simple ingredients. The mild and dainty flavors complement each other perfectly! Here's a quick overview. Be sure to scroll down to the recipe card for specific amounts.
Cucumbers: You can use any kind of cucumber you like, but English cucumbers are probably the most common.
Cream Cheese: Soften the cream cheese to room temperature before making this recipe.
Fresh Herbs: My recipe uses fresh minced chives and dill, but you can use your favorite herbs!
Ranch Seasoning: The original family recipe doesn't call for ranch, but I think it adds a nice touch! However, you can leave it out if you prefer.
Salt and Pepper: To taste.
Bread: Any nice bread is great for this recipe! Pumpernickel and marble rye bread are particularly tasty. Remove the crusts.
Why Are These Sandwiches So Flavorful?
Unlike many other cucumber sandwich recipes, we do not use sliced cucumbers in this recipe. Instead, we shred the cucumbers and squeeze out any extra juice. Then we combine the shredded cucumber with fresh herbs, cream cheese, and seasonings. This makes the sandwiches so creamy and packed with fresh cucumber flavor in each bite.
How to Make Cucumber Sandwiches
Are you ready to make the best cucumber tea sandwiches ever? Here's how to do it: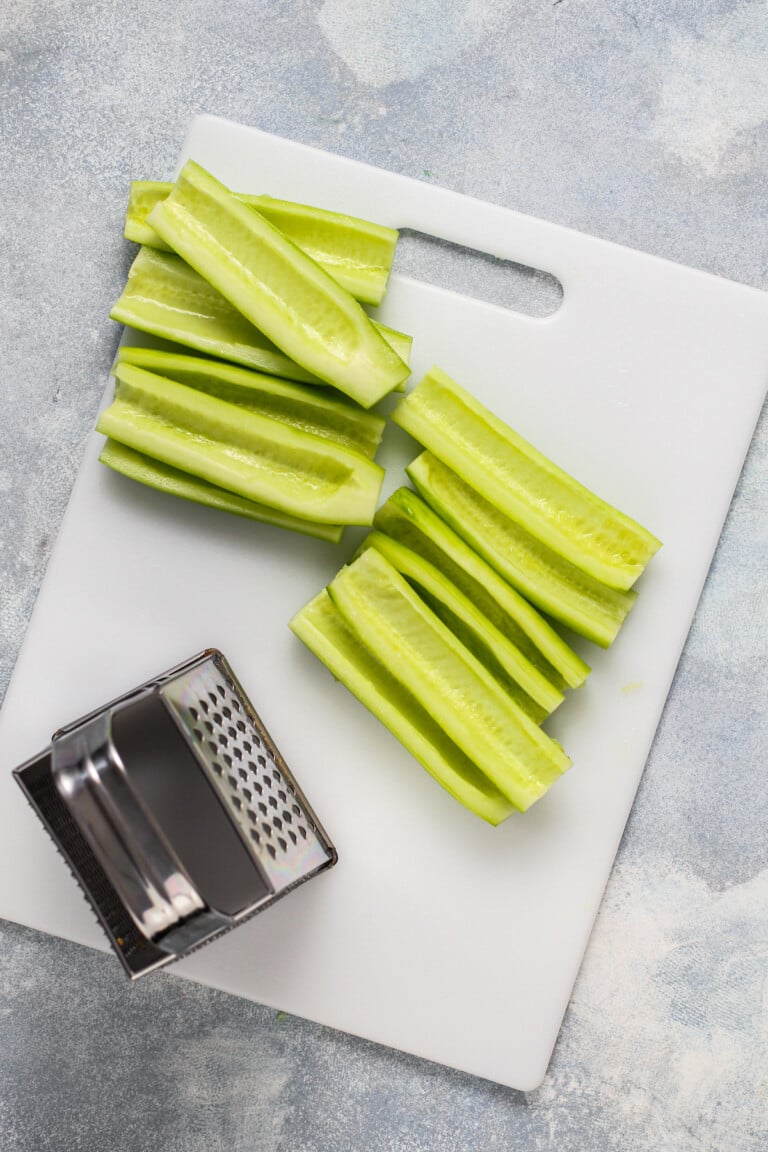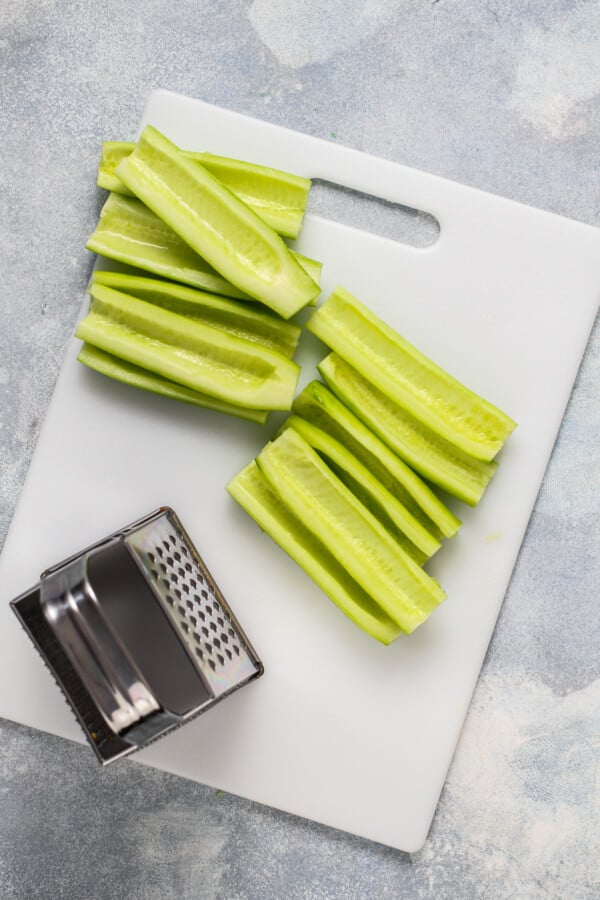 Prep the Cucumbers. First, peel the cucumbers, and use a small spoon to scoop out the centers where the seeds and pulp are. From there, use the large holes of a box grater to grate the cucumbers. Squeeze the grated cucumber with a clean tea towel, cheesecloth, or paper towels to get rid of any excess liquid. I personally like to use cheesecloth, because it's easy to squeeze extra tight and get out all of the liquid.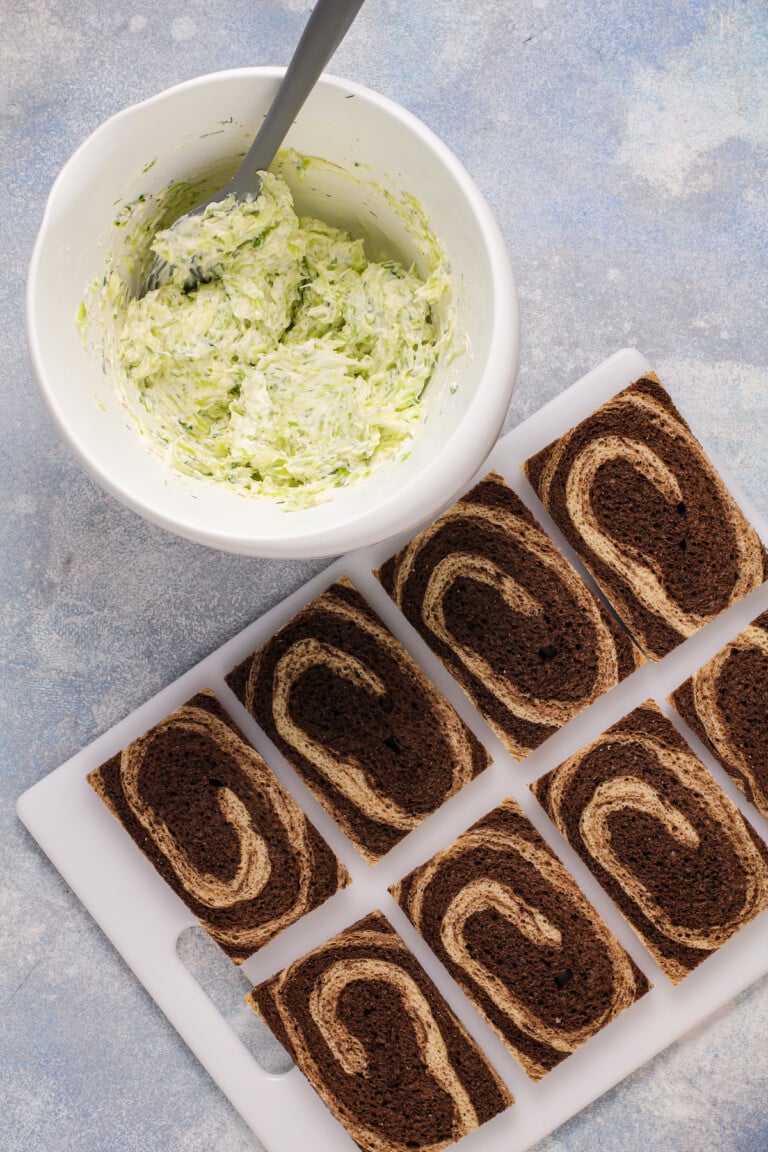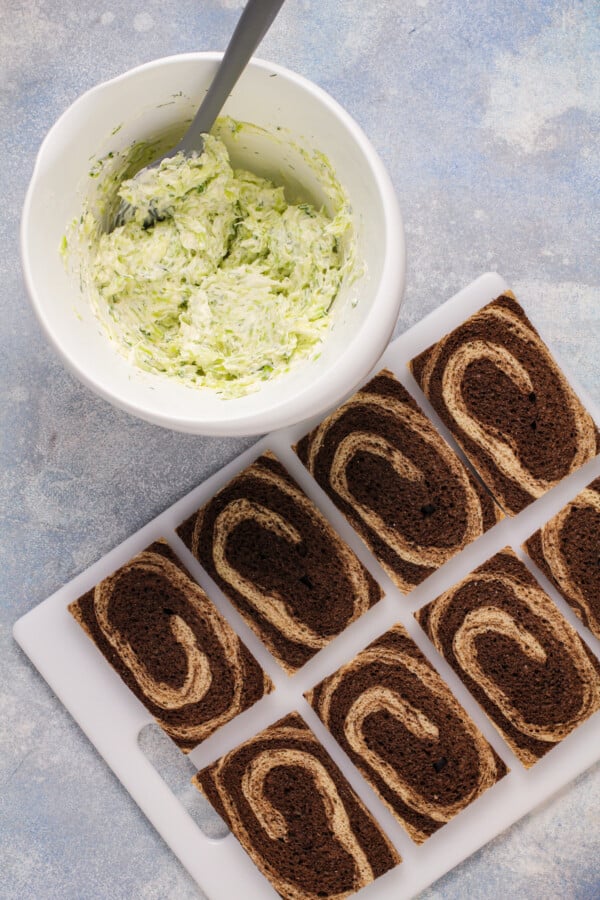 Make the Sandwich Filling. Now place the grated cucumber in a large bowl, and add the cream cheese, herbs, and ranch seasoning. Beat this mixture well with a hand mixer or large spoon, until it's very smoothly combined. Taste it, and season it with salt and pepper as needed.
Assemble the Sandwiches. Now, lay out the bread slices on a cutting board or other clean work surface. Spread the cucumber mixture over 8 of the bread slices, and then top with the other 8 slices to make sandwiches.
Cut and Serve. Use a sharp, serrated knife to cut each sandwich into quarters or triangles, and serve them right away.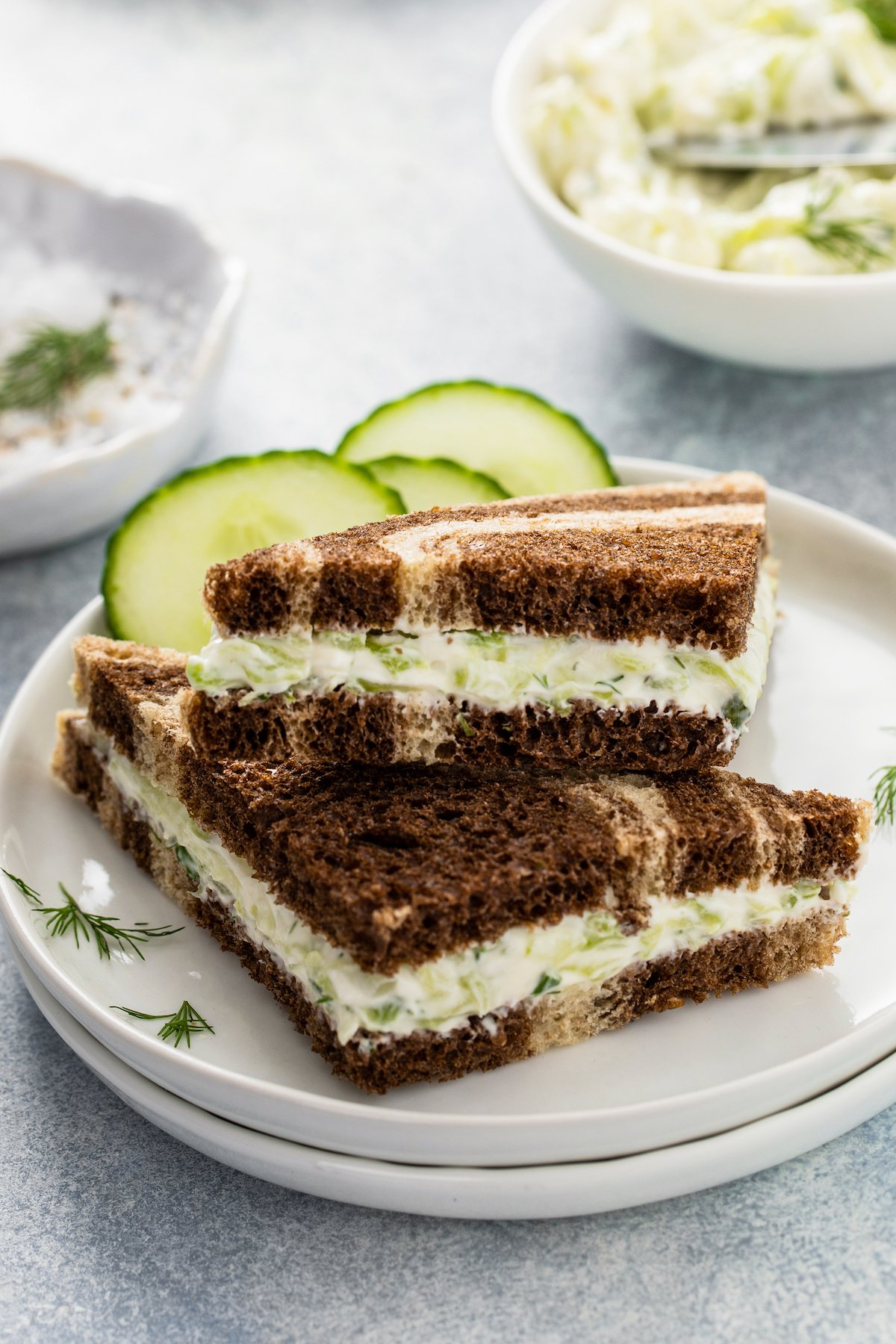 Tips for Avoiding Soggy Sandwiches
Although this recipe is so simple, I still have a few helpful tips to share, especially for avoiding the dreaded "soggy sandwich!" Here we go:
Don't Keep the Seeds: You might be tempted to skip the step of removing the cucumber seeds, but don't! The seeds and pulp hold a lot of moisture, and removing them goes a long way toward keeping your sandwiches delicious.
Sprinkle with Salt: Since I usually make these right before serving, I don't salt the cucumbers. But you can remove even more moisture from the peeled and grated cucumbers by sprinkling them with salt and letting them sit for 15 minutes or so. Rinse away the salt and squeeze the cucumbers dry with paper towels.
Add a "Crumb Coat": You know how bakers coat their cakes with a very thin layer of frosting before decorating, to seal in the crumbs? You can seal the bread for your cucumber sandwiches (keeping any moisture out!) by spreading a very thin layer of softened butter or cream cheese, before adding the filling. Easy!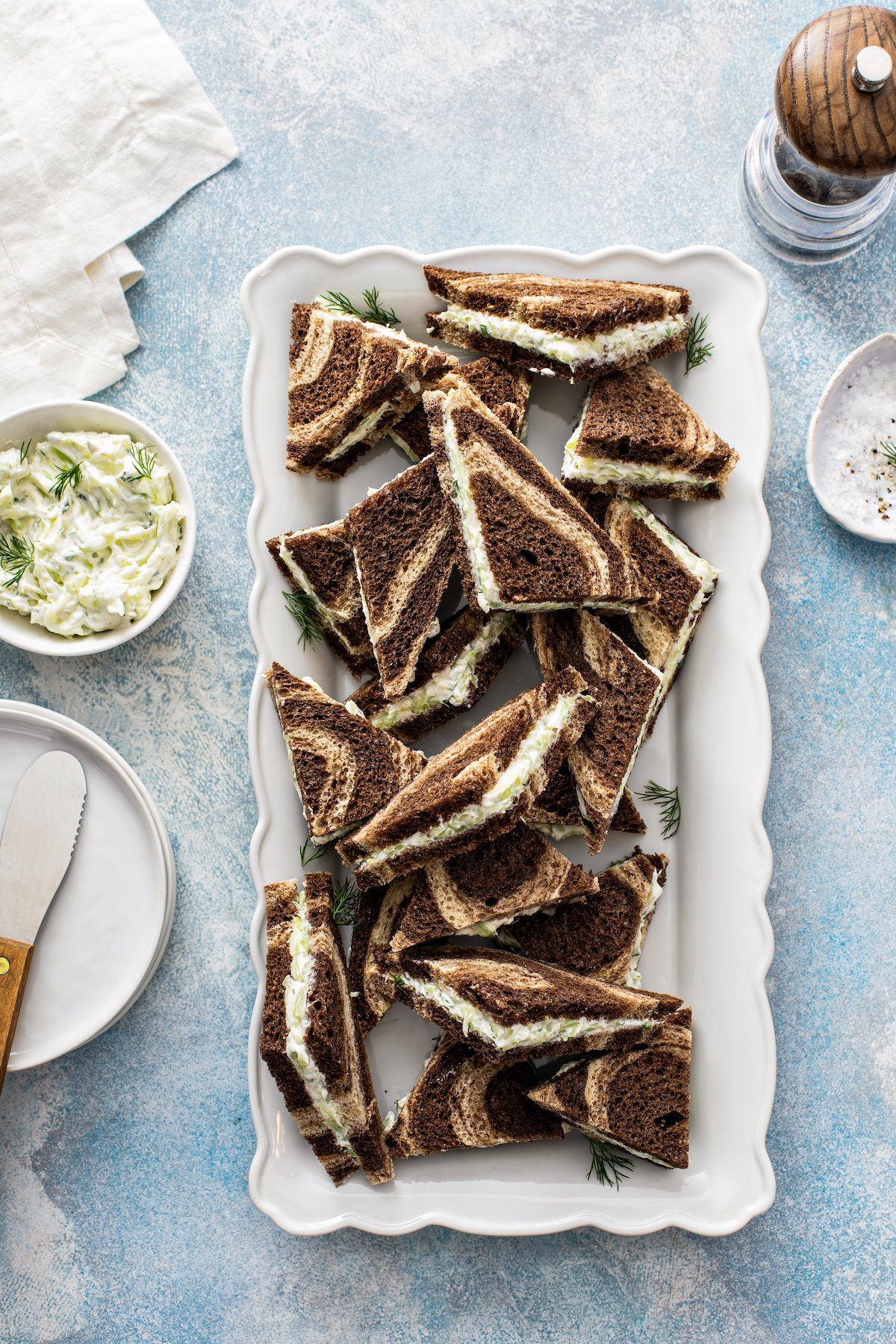 What to Serve with Cucumber Sandwiches
For me, cucumber sandwiches are usually part of a little finger food spread for a special occasion! From crudites to a pretty fruit platter to charcuterie, you can't go wrong. And while you're menu planning, check out these other fun finger food recipes!
Crostini: I love any kind of crostini, but I have to admit, these Strawberry Brie Crostini are extra-special! You'll love the gentle contrast of creamy brie cheese and tangy-sweet berries.
Cuban Ham Roll-Ups: As delicious as they are easy to make, Cuban Ham Roll-Ups are delightfully fresh, channeling the classic sandwich with a trio of mustard, pickle, and lettuce.
Deviled Eggs: My family's recipe gets a little update in this easy recipe for Mama's Deviled Eggs with a Parmesan Crisp. So addicting!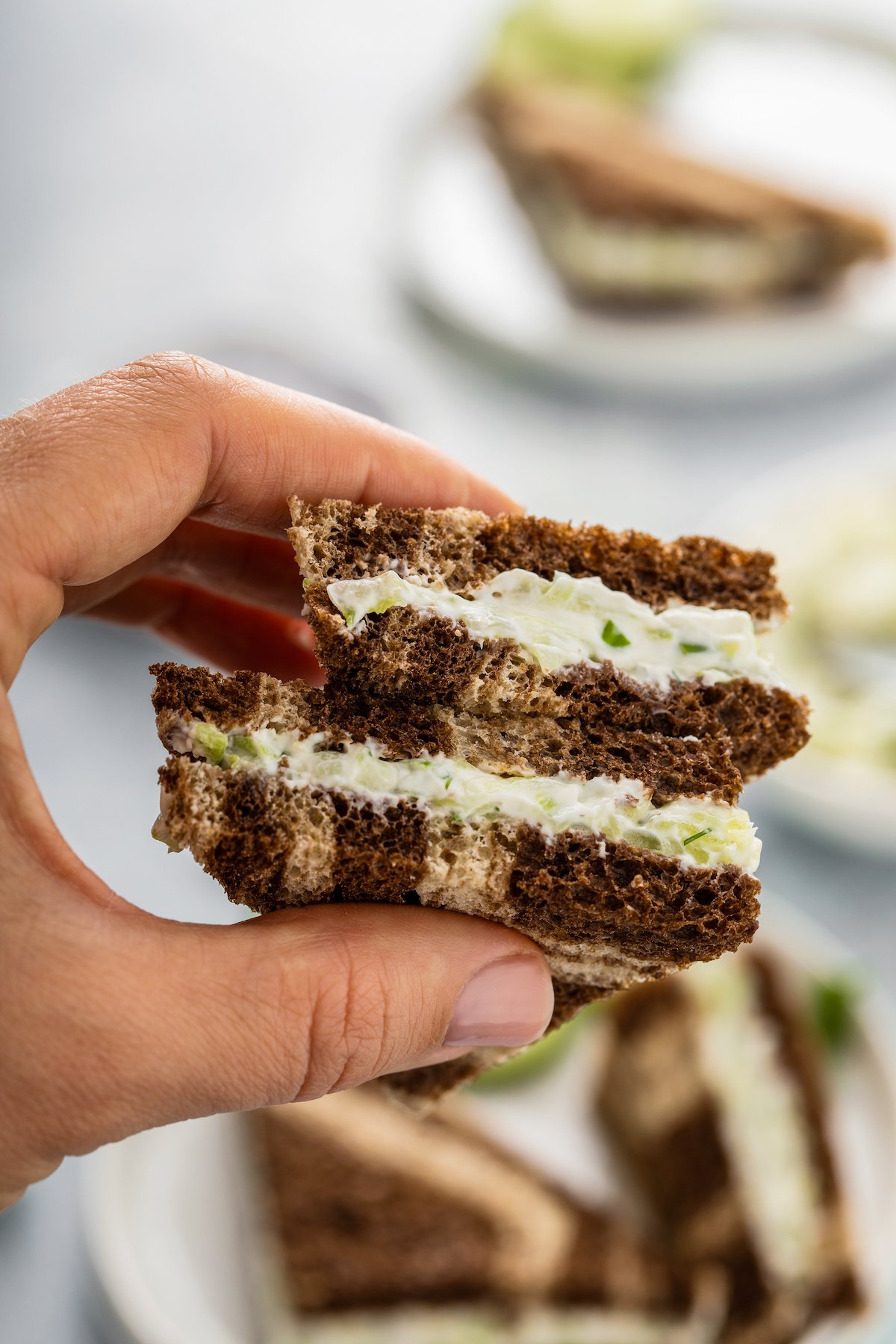 Storing Extras
To store, place the sandwiches on a plate, and wrap them tightly with plastic wrap. You can store them in the refrigerator for up to 24 hours before serving.
Can I Make These Ahead?
These cucumber sandwiches can be prepared up to one day in advance, but not longer than that, or the bread will become dry, and the filling may turn watery!
Yield:
32
Finger Sandwiches
Cucumber Sandwiches
This recipe for Cucumber Sandwiches is a family recipe that has been passed down for years. They're beautifully fresh and creamy, and so easy to make. Use your favorite bread, and enjoy!
Ingredients
3

large cucumbers

8

ounces

cream cheese

,

softened

3

tablespoons

fresh minced chives

1

tablespoon

fresh minced dill

,

optional

1

tablespoon

ranch seasoning

Salt and pepper

,

to taste

16

slices

pumpernickel or marble rye bread

,

crusts removed
Instructions
Peel the cucumbers, and remove the center seeds (you can scoop them out with a spoon). Grate the cucumbers, using a box grater or food processor. Squeeze the grated cucumber well with

cheesecloth

, or a tea towel, to remove any excess liquid from the cucumbers.

In a large bowl, combine the grated cucumber, cream cheese, chives, dill, and ranch seasoning. Beat well until combined, by hand or with a hand mixer. Season to taste with salt and pepper.

Arrange the bread slices on a cutting board in pairs of two, side by side. Gently and evenly spread the cucumber mixture over half of the bread slices. Top with the other slice to make a sandwich, and cut each sandwich into quarters or triangles. Serve immediately!
Notes
Storing Leftovers
To store, place the sandwiches on a plate, and wrap tightly with plastic wrap. You can store them in the refrigerator for up to 24 hours before serving.
Nutrition
Serving:
1
,
Calories:
59
kcal
,
Carbohydrates:
7
g
,
Protein:
2
g
,
Fat:
3
g
,
Saturated Fat:
2
g
,
Polyunsaturated Fat:
1
g
,
Cholesterol:
7
mg
,
Sodium:
127
mg
,
Fiber:
1
g
,
Sugar:
1
g
Categories:
This post may contain affiliate links. Read my disclosure policy.