This recipe for Mama's Deviled Eggs with a Parmesan Crisp is so easy to make and perfect for a holiday appetizer, especially Easter!
If you enjoy these deviled eggs you should also try my Bacon Balsamic Deviled Eggs for a tasty twist!
These Deviled Eggs Are One Of My Favorite Family Recipes
My mother is a CLASSIC never measure cook. My grandmother is just as bad about it. It drives me insane. I understand it, I really do. When I am not cooking for the blog, I don't measure either. But for me to share recipes with all of you, I can't just say…a little of this and a handful of that.
When I ask my Mom to give me the recipes to my favorite dishes/desserts, she can only sort of give them to me. She can tell me the ingredients and general idea, but quantities are non-existent. I have to watch her make them instead and measure out behind her. It's the only way I get any family recipes!
My Family Always Made Deviled Eggs For Easter
Our Easter meal growing up honestly wasn't always my favorite…I much preferred Thanksgiving — turkey is where it's at for me.
However, I always ate my weight in these deviled eggs. I usually ended up eating half of the deviled eggs off the tray before dinner even started.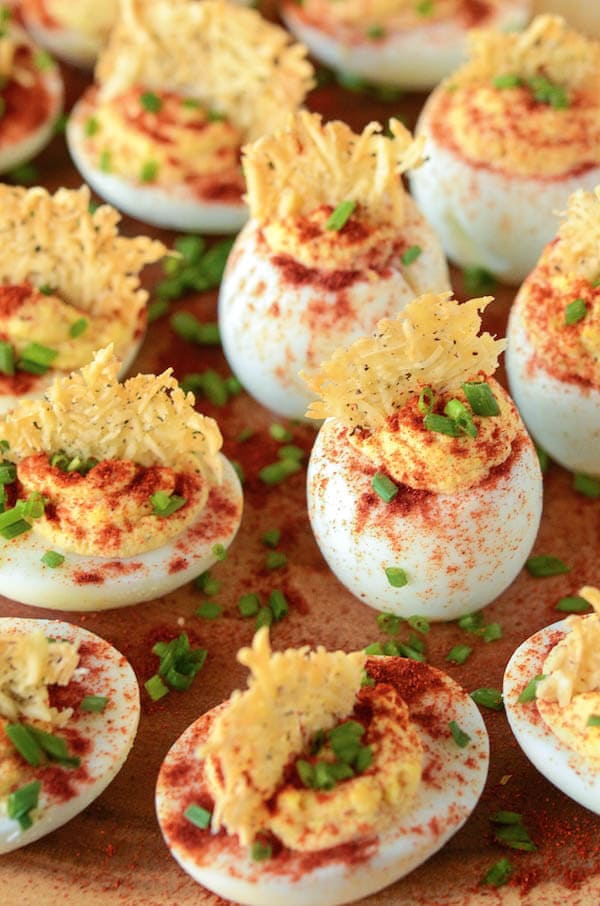 To be fair, my Mom never did a parmesan crisp on top. But, seriously, you NEED a parmesan crisp on top! They only take 10 minutes to make and they have so much flavor and add an awesome crispy element. You can skip it if you insist, but you're gonna love it.
If you are looking for the best ever deviled eggs, these are them. I swear.
Yield: 24 Deviled Eggs
Mama's Deviled Eggs with a Parmesan Crisp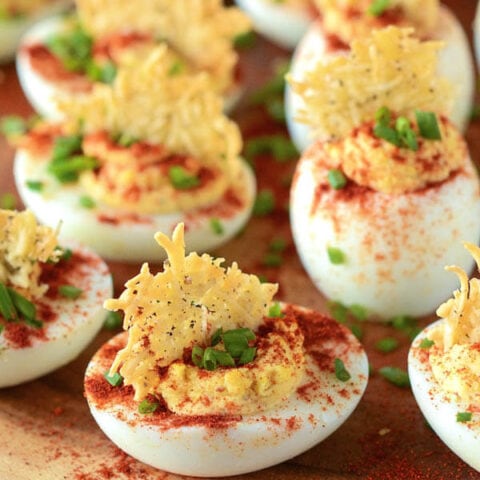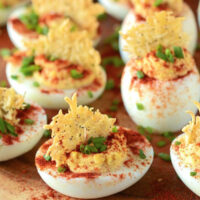 This recipe for Mama's Deviled Eggs with a Parmesan Crisp is so easy to make and perfect for a holiday appetizer, especially Easter!
Additional Time
10 minutes
Ingredients
Cheese Crisp
4 oz parmesan cheese, shredded
1/2 teaspoon salt
1/2 teaspoon freshly ground black pepper
The Eggs
12 large eggs, hardboiled and sliced in half
2 tablespoons mayo (I like to use the one made with olive oil)
1 tablespoon dijon mustard
1 tablespoon relish
1 teaspoon white vinegar
1 teaspoon worcestershire sauce
1 teaspoon smoked paprika (plus more for garnish)
salt & pepper, to taste
chives, minced - for garnish
Instructions
Preheat oven to 400°F. Line a large baking sheet with a silicone baking mat or parchment paper. Set aside.
In a small bowl, toss together parmesan cheese, salt and pepper. Place 1 tablespoon of cheese on baking sheet and pat down into a flat layer. Repeat with the remaining cheese, spacing the cheese about a 1/2 inch apart.
Bake for 6 minutes - until golden (the centers might not be golden, but the edges will be). Remove from oven and let cool on baking sheet for 10 minutes. They will crisp up once cool.
In a small bowl, mash your egg yolks. Stir in the mayo, mustard, dijon, relish, white vinegar, worcestershire sauce, smoked paprika, salt, & pepper.
Pipe or scoop the filling into the egg whites. Sprinkle with paprika and chives. Right before serving, top with a parmesan crisp. Enjoy!
Nutrition Information:
Yield:
24
Serving Size:
1
Amount Per Serving:
Calories:

65
Total Fat:

5g
Saturated Fat:

2g
Trans Fat:

0g
Unsaturated Fat:

3g
Cholesterol:

97mg
Sodium:

204mg
Carbohydrates:

1g
Fiber:

0g
Sugar:

0g
Protein:

5g
Categories
If you love this recipe, don't miss my
Mama's Best Banana Pudding
!
This post may contain affiliate links. Read my disclosure policy.