Béarnaise Sauce
This Béarnaise Sauce is a delicious spin on the traditional Hollandaise sauce. It's so easy to make with your food processor or blender and tastes great on just about everything!
Try this homemade Béarnaise Sauce on a sandwich with some of this Best Shredded Chicken. It's delicious!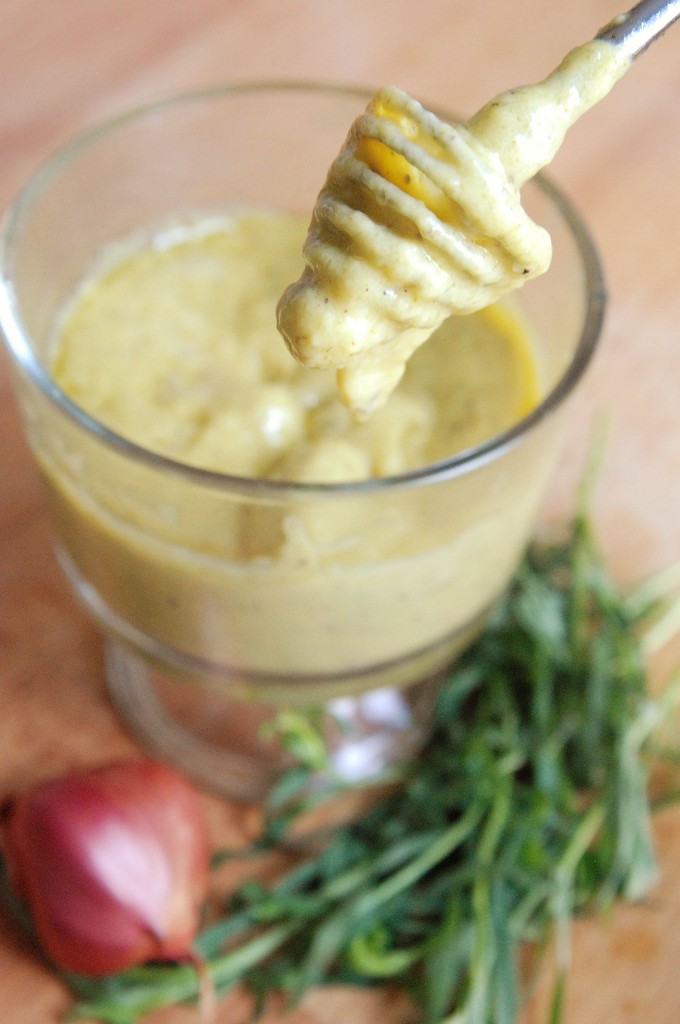 Homemade Béarnaise Sauce Is So Easy To Make In Your Food Processor
Butter. Wine. Eggs. Those are the three main ingredients of one of the most amazing sauces. And how could something with those three ingredients not be amazing? Béarnaise is a much better, delicious spin on the traditional Hollandaise sauce. Recently I discovered that it no longer requires all that torturous whisking! You can actually make it in your food processor or blender! Not only do you not have to whisk till your arm falls off, but you also don't have to mince the tarragon. The food processor does it for you!
This Béarnaise Sauce Is Good On Everything
I was thrilled until I realized one slight problem. This means that I can have Béarnaise any time I want…and I just don't have that kind of will power people! It would be one thing if it was only good on steak! But it is delicious on an omelet, Eggs Benedict, a fried egg sandwich, or just eggs period. It is the perfect addition to asparagus, artichokes, and even chilled and then on toast! I mean the possibilities are endless, but the calories and fat grams are too…so be careful when you try this! I warned you!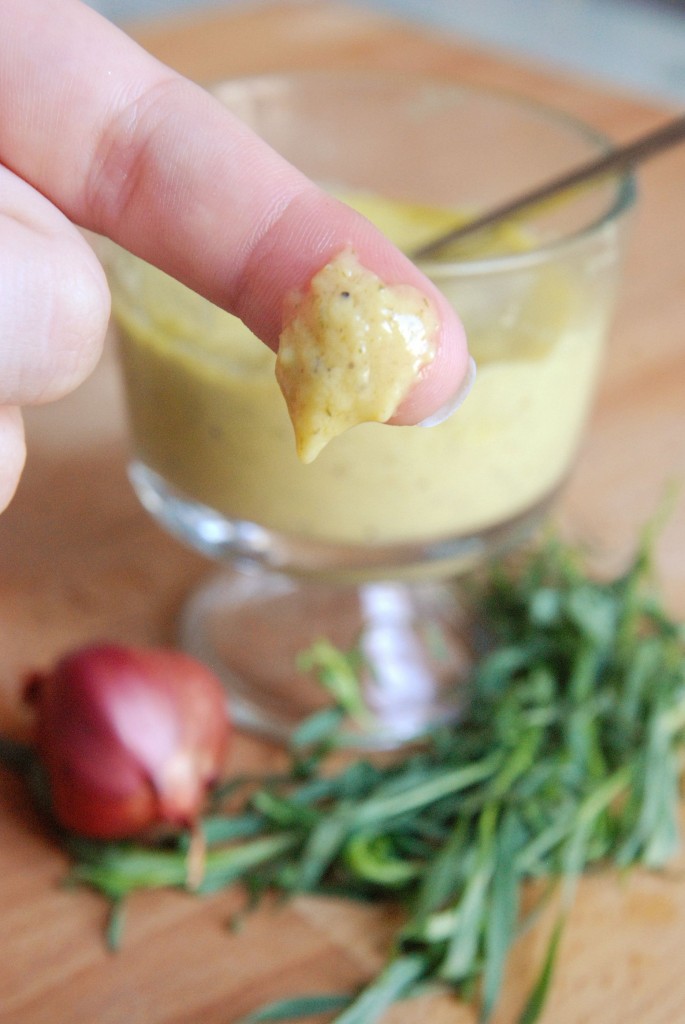 Tips For Making Béarnaise Sauce
When done, your Béarnaise should be the consistency shown above. When you stick the tip of your finger in it, it should stick to your finger like a slightly runny mayonnaise and slowly drip off.
If you have leftovers, save them! Some people will tell you that you can not reuse it. But that's a lie! You can! Just put it in a tupperware and store it in the fridge. Then you can use it like butter on toast. Or reheat following the below instructions.
To reheat leftover Béarnaise you will need to pull out the double boiler (if you do not have one, a glass bowl on top of a large pot works great). Over a medium simmer, in your double boiler, add the leftover sauce and a splash of tarragon vinegar. Give it a few moments to start melting and once it has, whisk! Whisk! WHISK! As soon as it has returned to normal consistency (runny mayonnaise), remove it from the heat.
If for some reason while reheating your sauce curdles/separates don't fret. Not all is lost. Bring out the double boiler (or the glass bowl and big pot), and over a low simmer, add a yolk to the boiler and start whisking. Give it about 20 seconds and then add the curdled/separated sauce 1/4 cup at a time, whisking constantly. And Viola!
Ok so you don't have another egg? That's ok, you can add a dash of cream (or fat free plain Greek yogurt) and whisk like the world is gonna end if you don't whisk hard enough…and again Viola! Beautiful Béarnaise!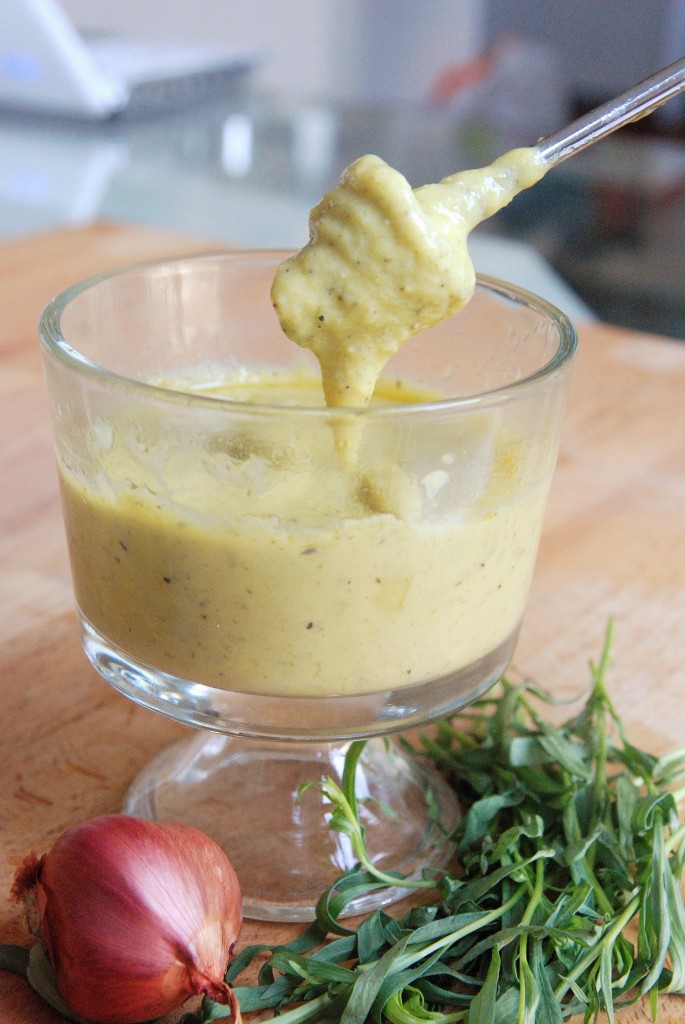 Béarnaise Sauce
Yield: 5 servings
Prep Time: 10 minutes
Cook Time: 15 minutes
Total Time: 25 minutes
This Béarnaise Sauce tastes great on just about everything. It's so easy to make with your food processor or blender, using just a few ingredients!
Ingredients
1/4 cup and 2 tablespoons white wine
3 tablespoons tarragon vinegar
1 large shallot, about 2 tablespoons worth, minced
3 egg yolks
1/4 teaspoon black pepper
1/2 teaspoon garlic salt
4 tablespoons fresh tarragon leaves, minced (Unless using food processor)
3/4 cup unsalted butter
Instructions
Combine wine, vinegar, and shallot in top of a double boiler. Simmer until reduced by half and then let mixture cool.
Once cooled, place mixture, egg yolks, pepper, garlic salt, and tarragon leaves in food processor (or blender). Blend for about 10 seconds.
Melt butter in microwave for a 1:15, or until slightly bubbling, but be careful not to burn! Then remove the center stopper from the food processor (or blender) and slowly pour the butter through the opening while the motor is running. This process should take about 30 seconds.
Process for another 10 seconds after all the butter has been added. The sauce should be the consistency of a thin mayonnaise. If not, blend for another 5 seconds. Serve immediately.
Notes
The heat from the butter is used to cook the egg yolks. So there is no raw egg issues!
Adapted from: Food.com
Nutrition Information:
Yield: 5
Serving Size: 1
Amount Per Serving:
Calories: 303
Total Fat: 31g
Saturated Fat: 18g
Trans Fat: 0g
Unsaturated Fat: 11g
Cholesterol: 184mg
Sodium: 171mg
Carbohydrates: 4g
Fiber: 1g
Sugar: 1g
Protein: 3g