This creamy Mushroom Sauce is a quick and easy way to elevate your next steak dinner. A versatile and flavorful recipe featuring wine, garlic, shallots, herbs, and heavy cream!
Creamy Mushroom Sauce with Garlic and Herbs
Nothing brings out the best in steak like fresh mushrooms, whether you throw the in the pan for a quick saute or do something a little more special, like making a flavorful sauce. Mushrooms are just one of those key ingredients that add depth, texture, and flavor to your meal. And when they're smothered with cream, rosemary, shallots, and garlic? Um, yes, please!
But this sauce isn't just for steak. It's amazing on steak, don't get me wrong. But once you try it, you'll want to pour it over everything from pork tenderloin, to chicken breast, to pasta. The flavors in this mushroom sauce are bold but versatile, and work well in all kinds of dishes.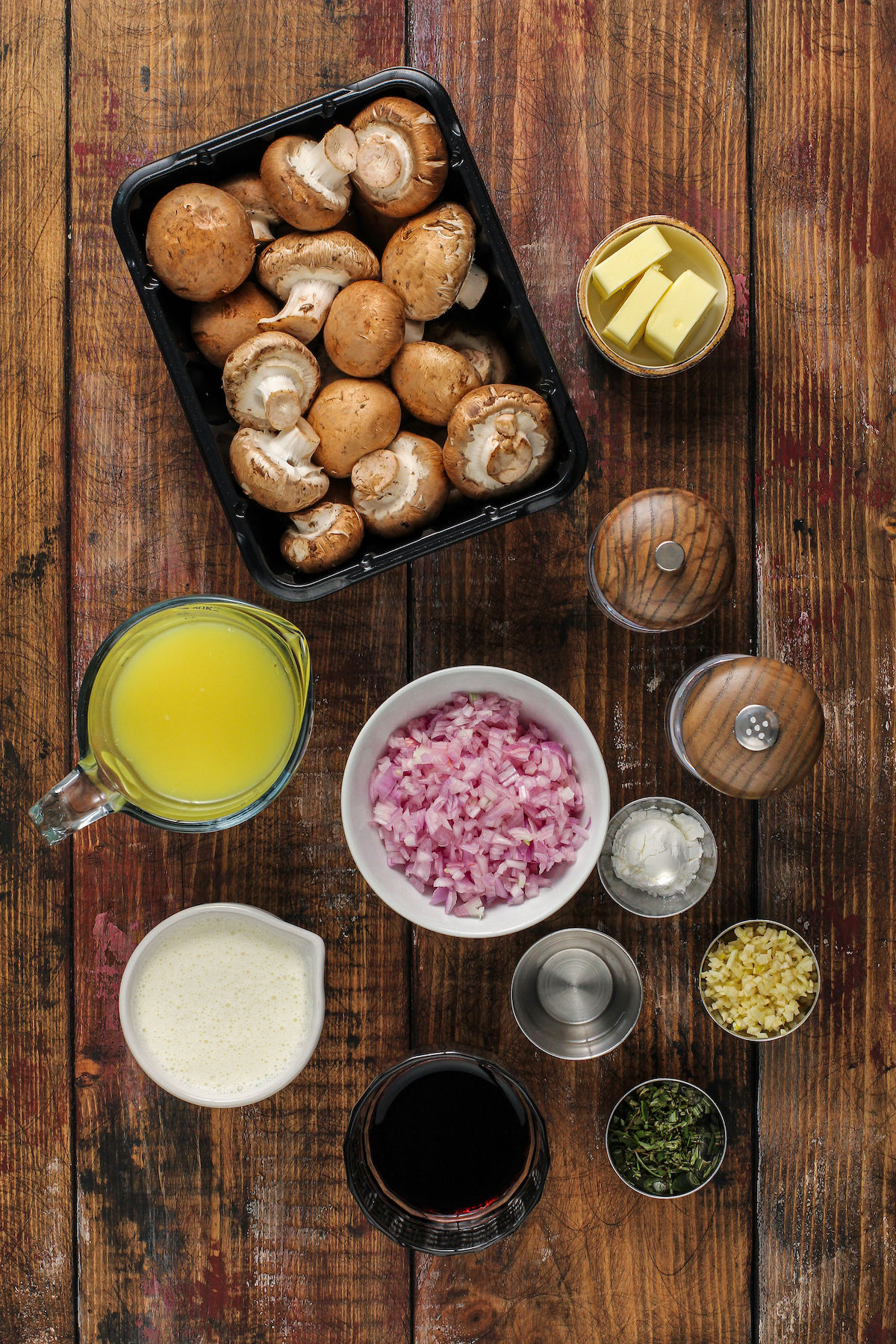 What Is Mushroom Sauce Made Of?
Creamy mushroom sauce made from scratch may sound a little complicated, but it's really pretty simple. The ingredients are mostly pantry basics, and it's easy to substitute if you don't have one or two of them.
Mushrooms: These are the star of the show. I go for whole portobello mushrooms. Baby bellas, also known as crimini mushrooms, would also be good, as would shiitake, oyster, and plain old button mushrooms.
Butter: For sauteing the mushrooms.
Shallots: If you don't have shallots, substitute about half a diced onion.
Garlic: Minced or pressed.
Rosemary: I like to use fresh rosemary – just strip the leaves off of the stem, and finely mince them. If you need to use dried rosemary (or another herb of your choice), that's fine, too.
Wine: The best wines for this sauce are port wine, merlot, or sherry.
Chicken Broth: You can help control the salt by using low-sodium chicken broth, but really, any chicken broth is fine.
Heavy Cream: Or whole milk, or half and half.
Salt and Pepper: To taste.
Cornstarch and Cold Water: If you find that you want to thicken the sauce, you can use cornstarch and water to do that – see the "How to Make It" section for details.
Parsley: A sprinkle of fresh parsley at the end is optional, but recommended. It adds a nice bright color and flavor.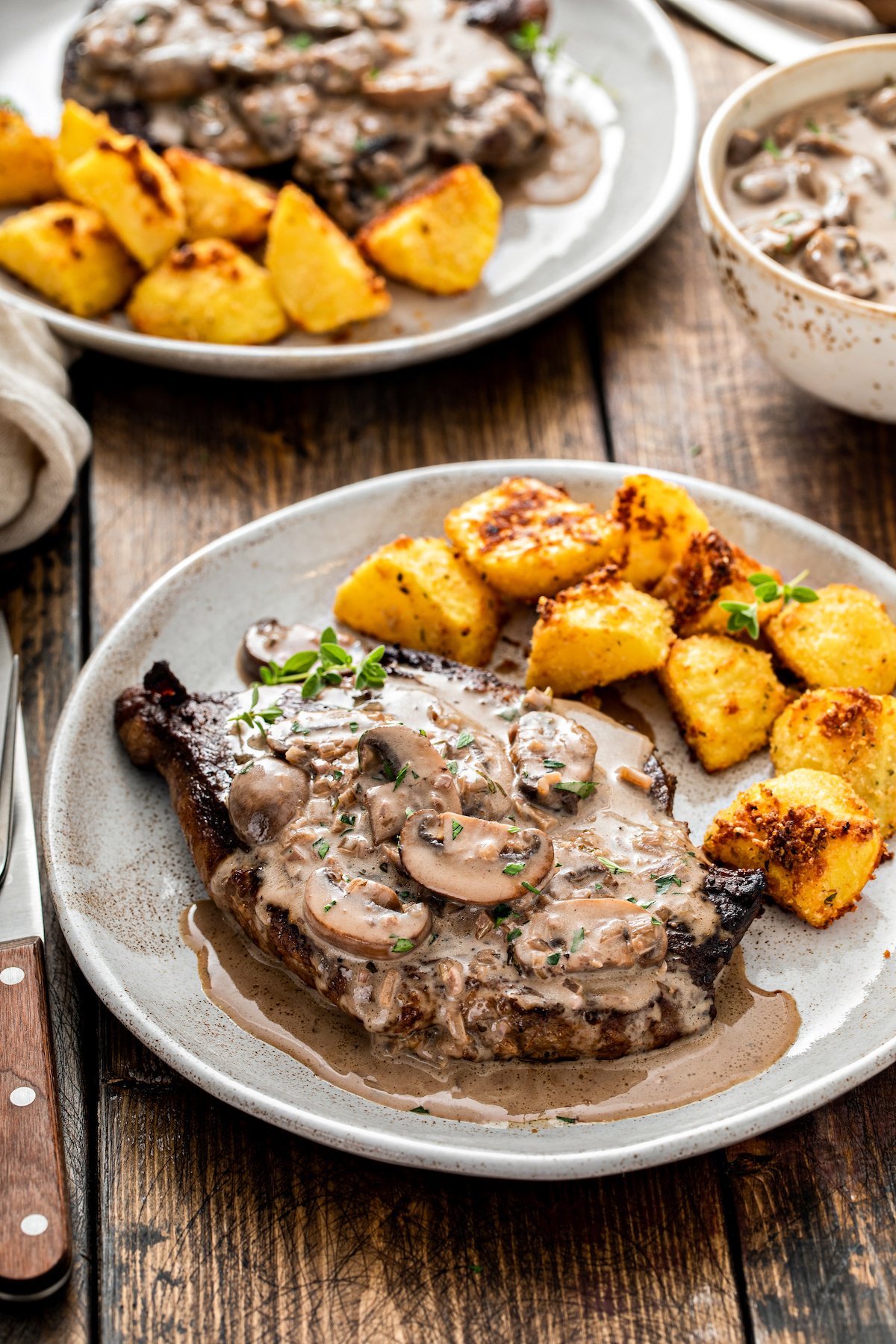 How to Make It
The key to a really flavorful mushroom sauce is browning the mushrooms. Similar to getting a good, crispy, browned exterior with meat, browning the mushrooms brings out the depths of their flavor.
Prep the Mushrooms. Before you start cooking, make sure to clean and dry the mushrooms thoroughly. Pull or cut away the stalks, and then slice them thickly. Set aside.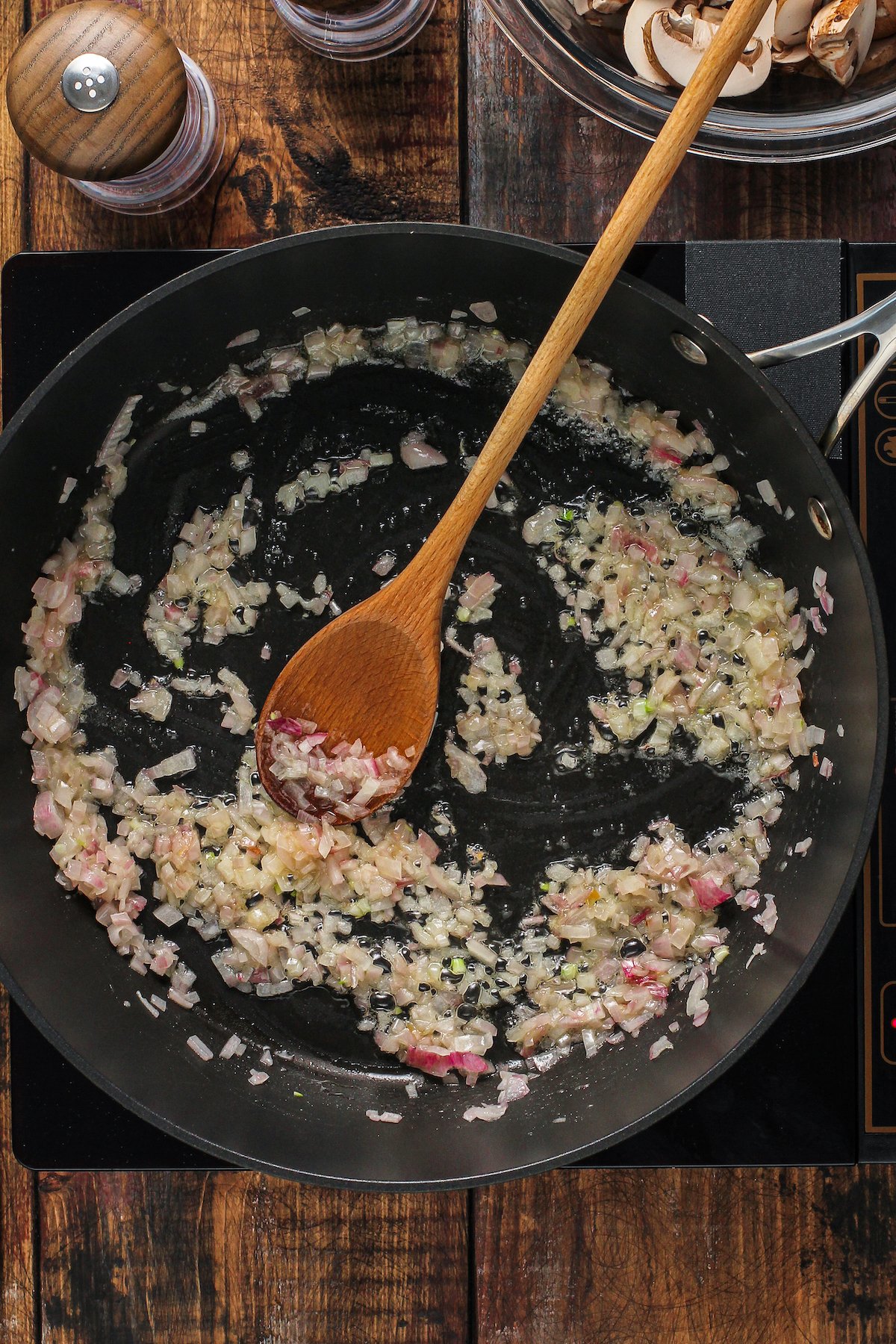 Cook the Mushrooms in Batches. Set a large pan over medium heat, and melt a tablespoon of butter in it. When the butter is hot, add your shallots and let them cook for a few minutes to soften. Then add one-third of the mushrooms and let them cook for 2 – 3 minutes until browned and softened. Set them aside, melt another spoonful of butter in the pan, and cook another third of the mushrooms the same way. Set those aside also, and cook the remaining third in one more spoonful of butter.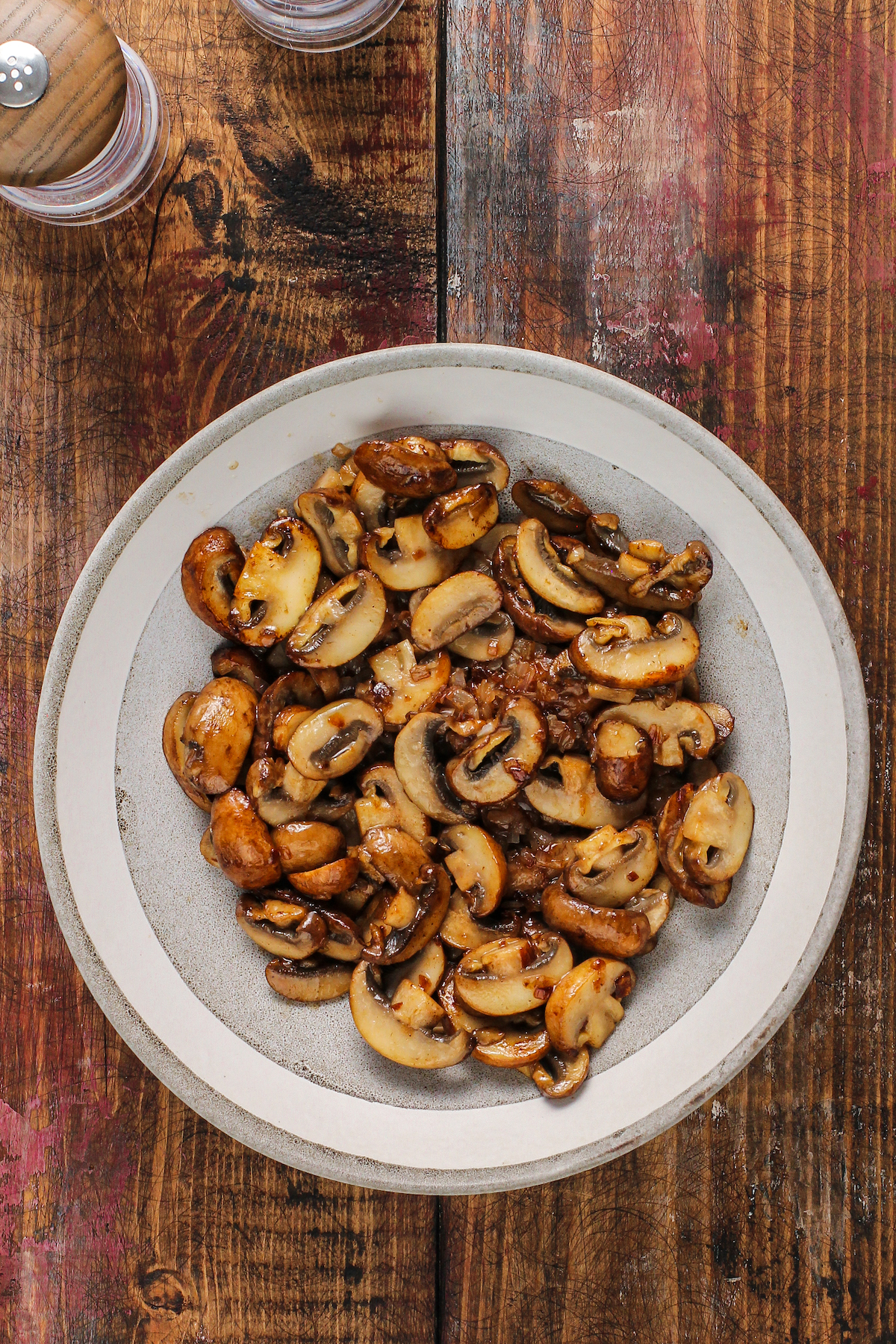 Cook the Garlic, Rosemary, and Wine. Transfer the last of the mushrooms to the bowl, set aside, and heat up the pan to medium. Toss in the garlic, rosemary, and wine. Let these ingredients simmer, while you scrape the bottom of the pan gently to mix any browned bits into the sauce (I recommend a wooden spoon for this, especially if you're cooking in a nonstick skillet). Cook the sauce until the liquid is reduced by about 75%.
Add the Mushrooms, Chicken Broth, and Cream. At this point, you can gently drain the excess liquid from your bowl of mushrooms, and add the mushrooms to the simmering wine mixture. Pour in the chicken broth, and then the heavy cream. Sprinkle with salt and pepper. Stir and cook for about 4 – 5 minutes, stirring occasionally. Watch the heat, because you don't want the sauce to scorch!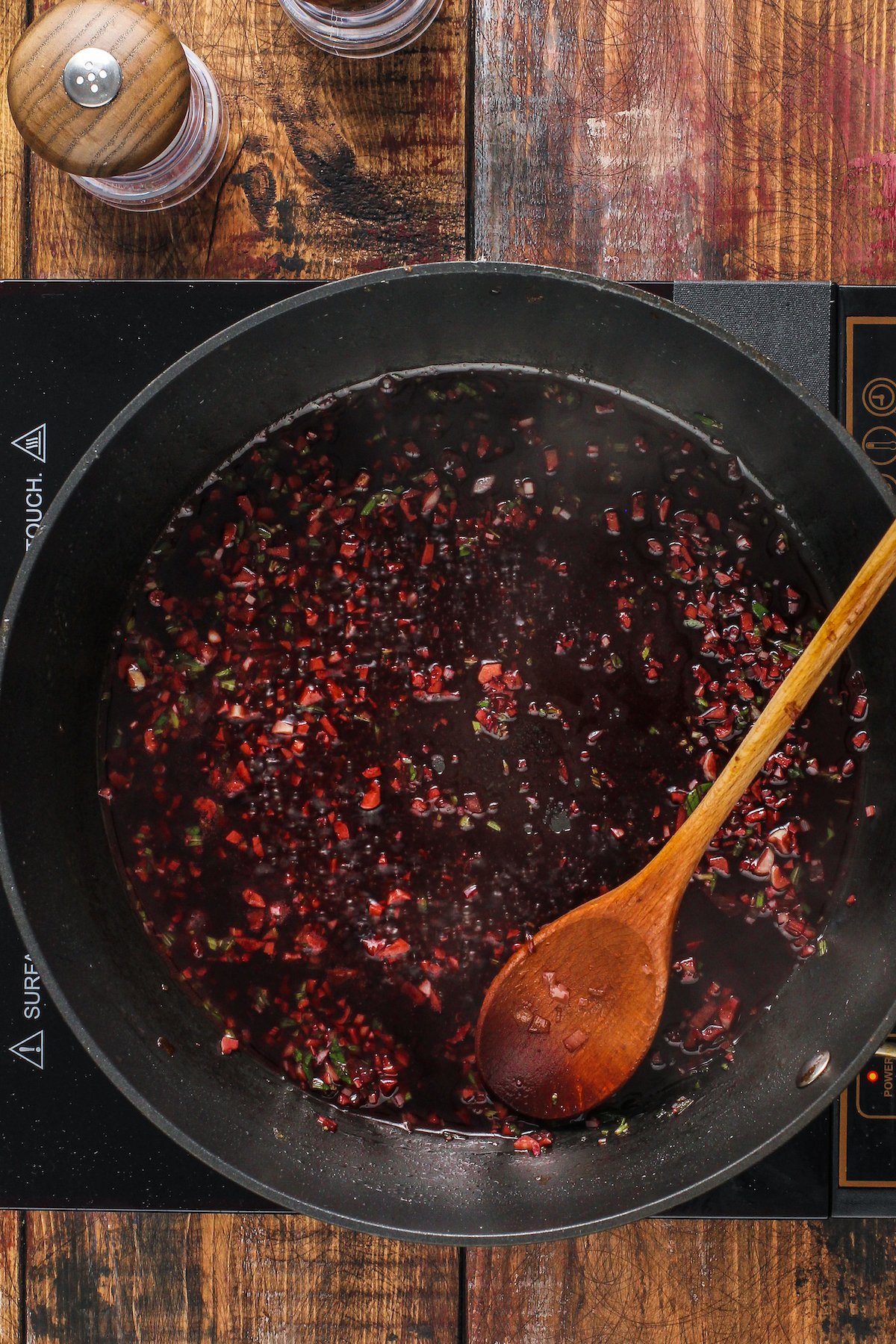 Thicken or Thin the Sauce as Needed. Take a look at your sauce's consistency. If it's still not as thick as you would like, go ahead and mix your cornstarch with water to make a slurry. Whisk in a little bit of the slurry at a time, letting it simmer for a minute or so each time, until the sauce is as thick as you need it to be. If it's too thick, add a tablespoon of broth at a time to thin it out.
Season and Serve. Taste the mushroom sauce for salt and pepper, adding more if needed. Sprinkle on your chopped parsley (or omit that, if you prefer), and serve the sauce immediately.
Enjoy!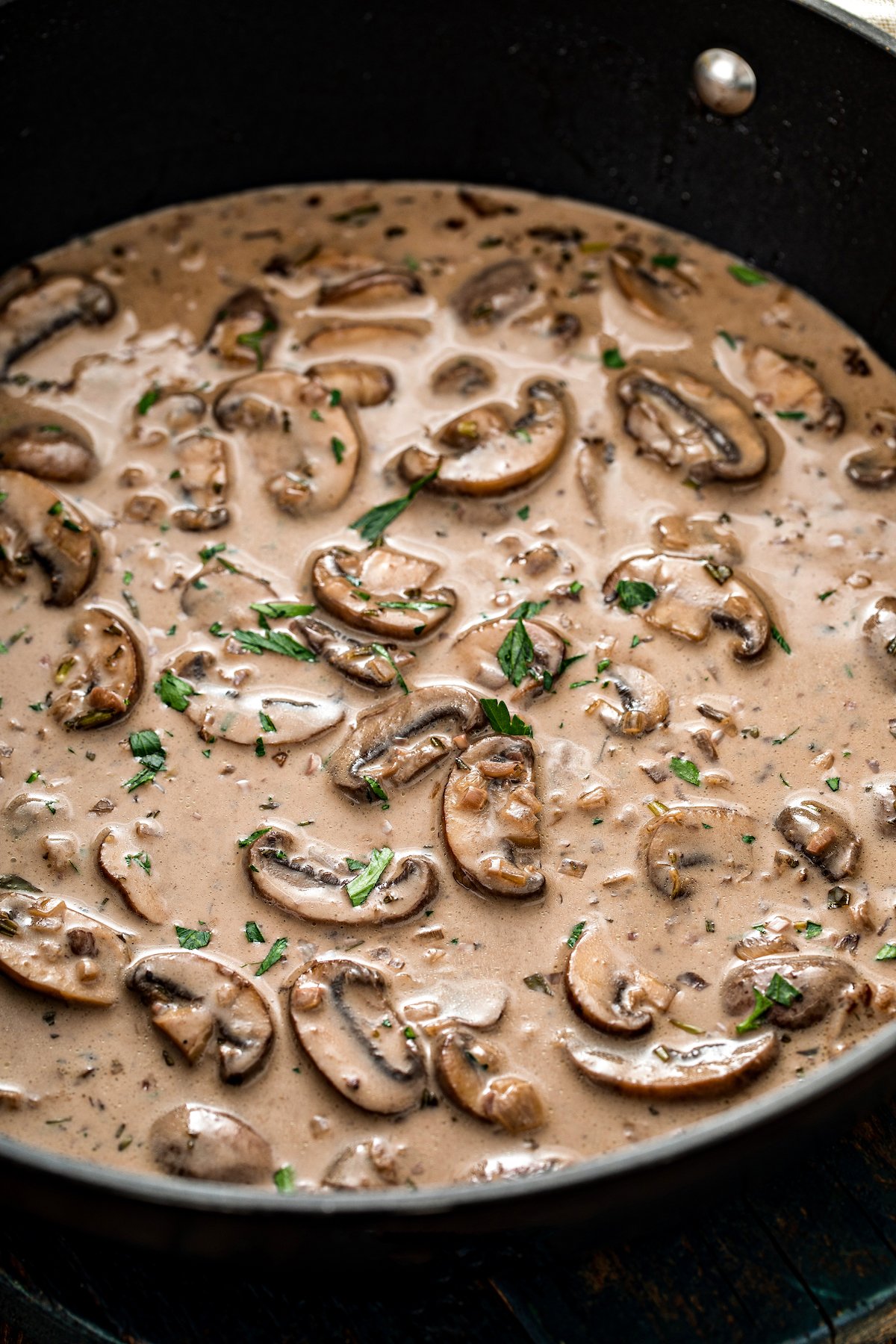 Are You Supposed to Wash Mushrooms?
I think we've all heard the advice to just wipe mushrooms instead of washing them. The idea is that mushrooms can absorb a lot of liquid if you wash them off, which can waterlog your dish. However, lately there's been some pushback against that idea.
Many cooks and chefs agree that you can definitely give your mushrooms a quick wash in a bowl or sink of clean water, to loosen and remove stubborn dirt. If your mushrooms are in need of a little "bath," don't hesitate! Give them a quick, thorough wash, and then dry them well with paper towels.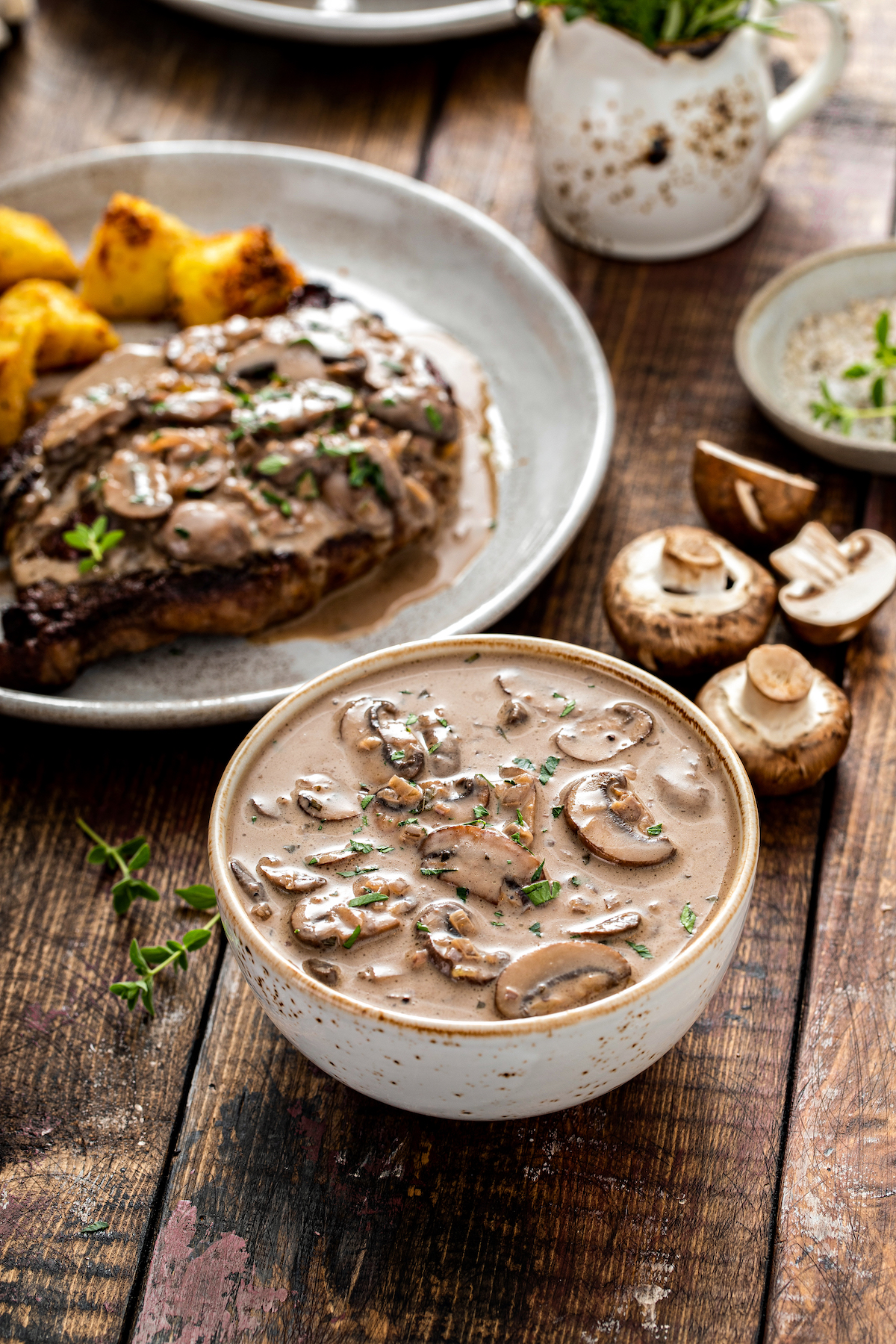 Tips for Success
These helpful tips and tricks will guarantee that your homemade, creamy mushroom sauce is ultra-flavorful, every time. Read on, and enjoy!
Batch Cooking: While it might seem like a waste of time to cook the mushrooms in batches, you will find that if they are crowded into the pan, they won't brown. If you have a really big skillet, you could probably get away with doing two batches instead of three, but I definitely recommend doing three batches for the best browning.
Thick-Sliced Mushrooms: Since the mushrooms have to cook twice (once to brown them, and again to simmer them in the sauce), cutting them thickly helps prevent overcooking.
Always Taste-Test Before Serving: This is a great rule of thumb for any dish – before you serve, make sure you taste. A little sprinkling of salt can make all the difference between a great dish and a boring one!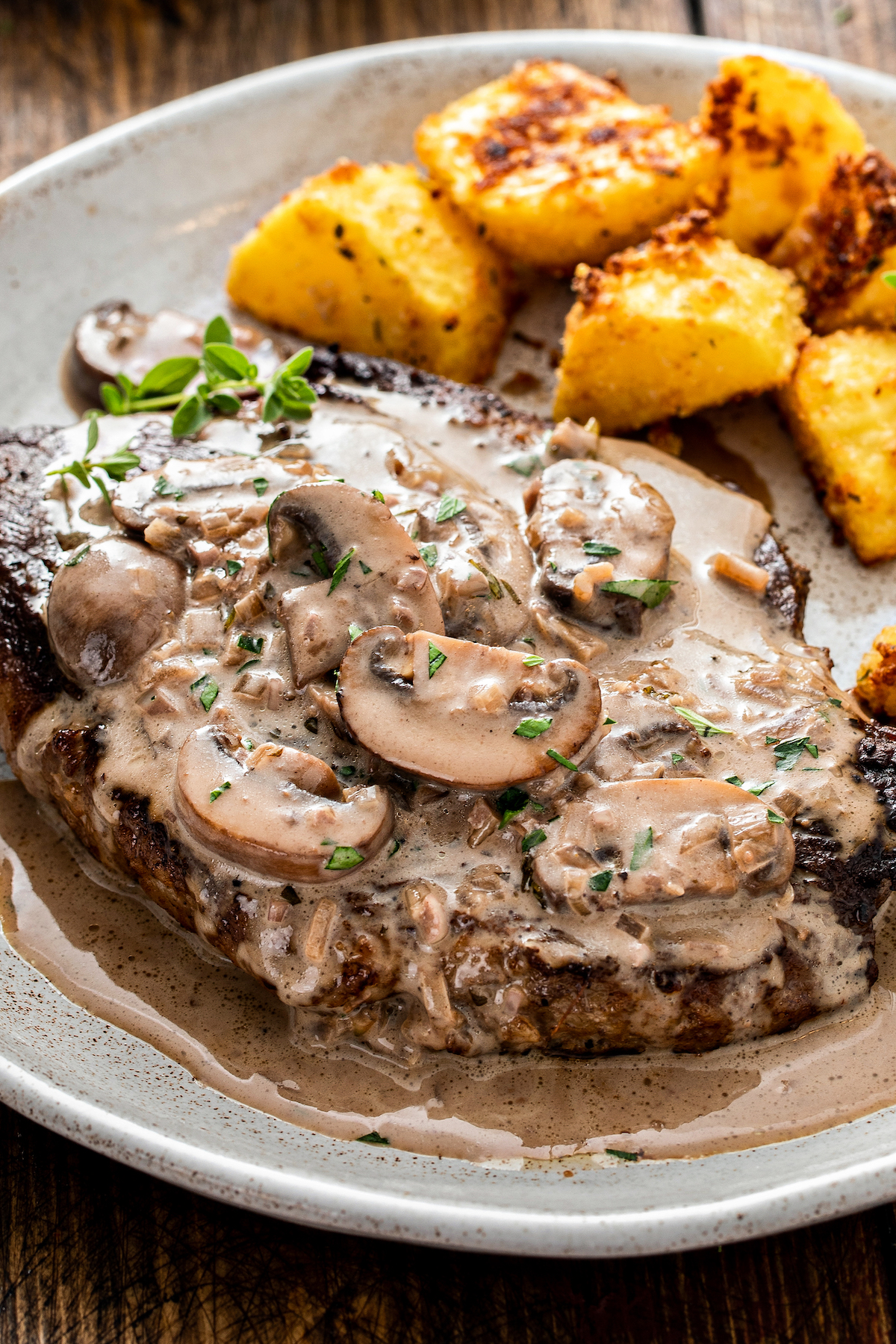 Serving Suggestions
Serving this sauce is going to be the best part of your day, no matter what you pour it over! Here are some of my favorite ideas for using creamy mushroom sauce:
Steak: Ribeye, New York Strip, T-bone… you really can't go wrong! Creamy, fragrant mushroom sauce is a no-brainer with any kind of steak. If you're feeding a family, try serving it over thin strips of Juicy Flank Steak!
Chicken: You could honestly serve mushroom sauce with all kinds of chicken dishes – grilled, broiled, chicken tenders (oh yes). It's also nice to keep things simple, though, so why not whip up the sauce to go with classic Baked Chicken pieces?
Meatless: Make this sauce the basis of a wonderful meatless entree, by drizzling it over a batch of warm, buttery pasta or some Garlic Mashed Potatoes. Add a salad, and dinner is done!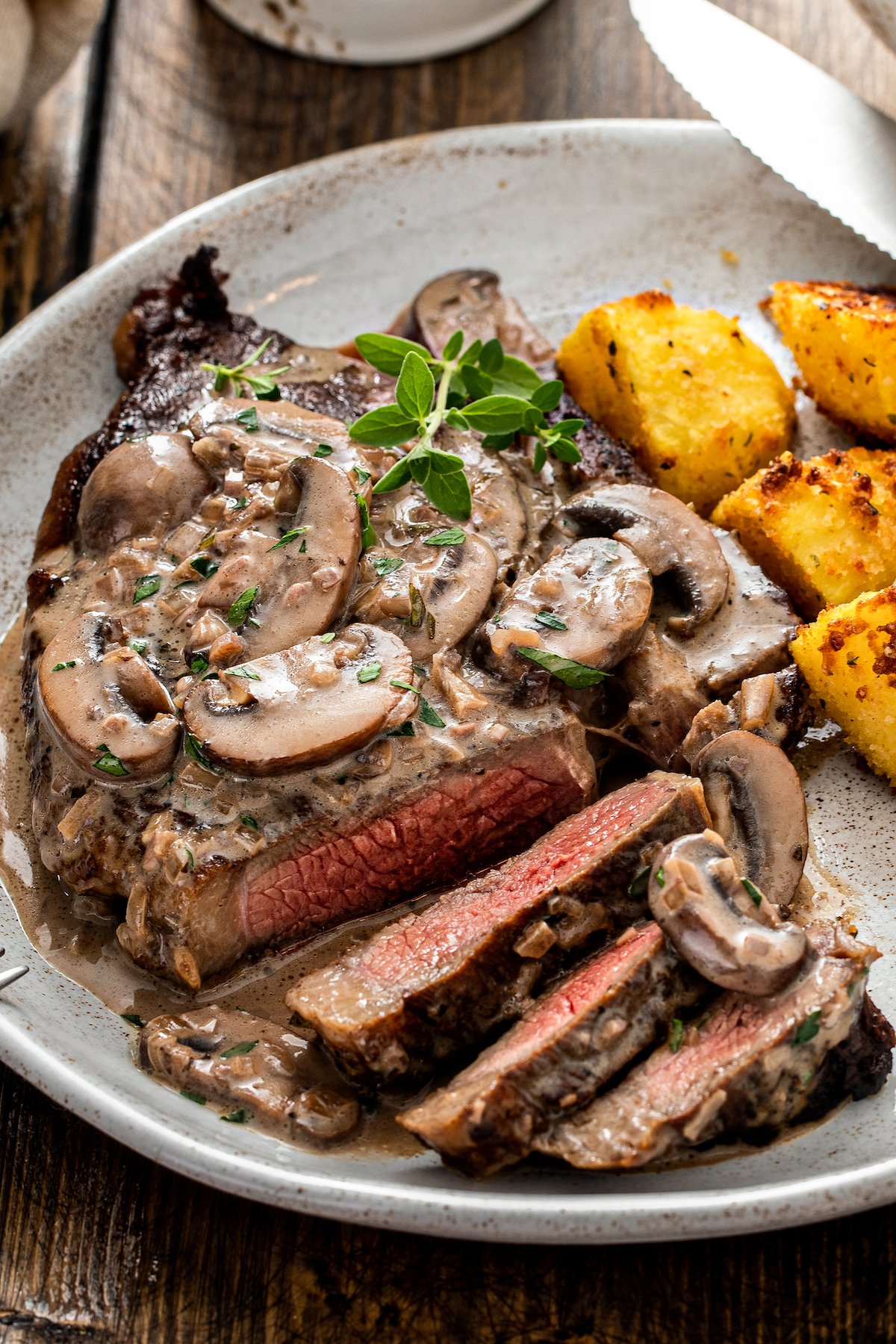 How to Store and Reheat Mushroom Sauce
Store any leftover sauce in your fridge, in a jar or other airtight container. It will keep for up to 2 days.
Reheat on the stovetop or in the microwave, stirring now and then, until it's heated through. Don't overcook, or the mushrooms will shrink down and be tough.
Can I Freeze This?
Unfortunately, cream sauces are known for splitting and becoming watery if you freeze and thaw them. I recommend making mushroom sauce fresh, and using it within 2 days.
Yield: 4 Servings
Mushroom Sauce for Steak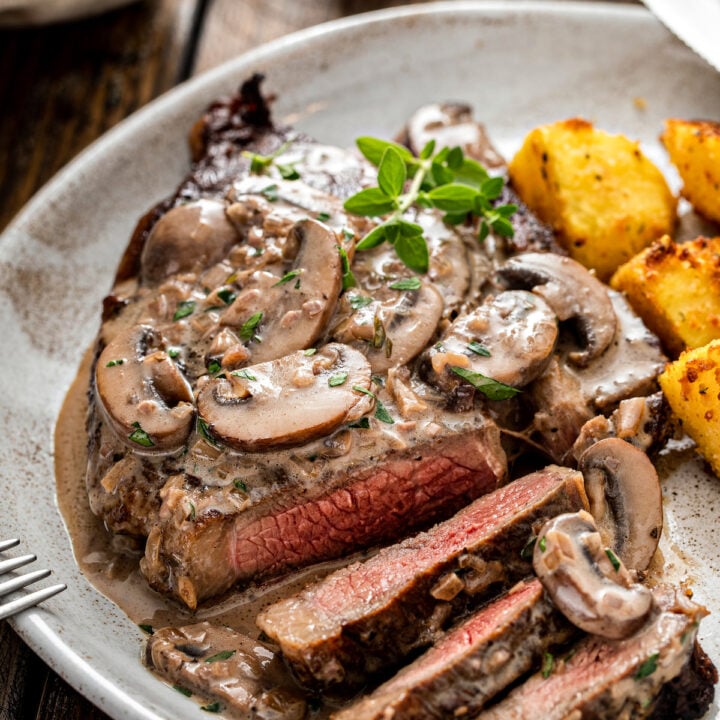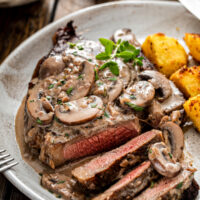 This creamy Mushroom Sauce is a quick and easy way to elevate your next steak dinner. A versatile and flavorful recipe featuring wine, garlic, shallots, herbs, and heavy cream!
Ingredients
1 pound (16 ounces) whole portobello mushrooms
2 - 3 tablespoons butter, divided
3 large shallots, chopped
4 cloves garlic, minced
1 large sprig of fresh rosemary, finely minced
½ cup port wine or merlot (can also use sherry)
⅔ low-sodium chicken broth
½ cup heavy cream (or whole milk)
Kosher salt and pepper, to taste
2 teaspoons cornstarch (only if needed)
2 teaspoons cold water (only if needed)
Parsley, for topping (optional)
Instructions
Thoroughly clean and dry the mushrooms. Remove the stalks. Slice the mushrooms into thick slices slices and set aside.
In a large pan, heat 1 tablespoon of butter over medium heat. Add the shallots and cook until soft, approximately 3 minutes. Next, add ⅓ of the mushrooms. Cook for 2 - 3 minutes until just soft. Remove from the pan, and place in a bowl. Repeat two more times, until all of the mushrooms have been cooked, adding one tablespoon of butter each time. Transfer all of the mushrooms to the bowl, and set aside.
In the same large pan, increase the heat to medium. Add the garlic, rosemary, and wine to the pan. Bring to a simmer and scrape any browned bits from the bottom of the pan. Allow to simmer until reduce by roughly 75%, stirring occasionally. Lightly drain any juices from the mushrooms and shallots, and add them back to the pan.
Continuing over medium heat, add the chicken broth and cream to the pan. Next, season with salt and pepper to taste. Allow the liquid to reduce by about half, about 4 - 5 minutes. Stirring occasionally, being careful not to scorch the cream.
If your sauce is too thin, mix cornstarch with cold water to make a slurry. Whisk the slurry into the sauce, a little at a time, to thicken the sauce. Continue until the sauce reaches the desired consistency. Chicken broth can be aded one tablespoon at a time to thin the sauce, if the mixture becomes too thick.
Top with chopped parsley and serve over steak immediately.
Notes
Storage
Store any leftover sauce in your fridge, in a jar or other airtight container. It will keep for up to 2 days.
Reheat on the stovetop or in the microwave, stirring now and then, until it's heated through. Don't overcook, or the mushrooms will shrink down and be tough.
I do not recommend freezing this sauce. It is a cream based sauce, which tend to separate when frozen and thawed again.
Nutrition Information:
Yield:
4
Serving Size:
1
Amount Per Serving:
Calories:

266
Total Fat:

20g
Saturated Fat:

12g
Trans Fat:

1g
Unsaturated Fat:

6g
Cholesterol:

57mg
Sodium:

353mg
Carbohydrates:

12g
Fiber:

1g
Sugar:

4g
Protein:

3g
More Savory Sauces
This post may contain affiliate links. Read my disclosure policy.