"Oh My!" Steak Sauce: my favorite secret family recipe for the best flavored buttery steak sauce! This steak sauce is gluten free, low carb and keto approved!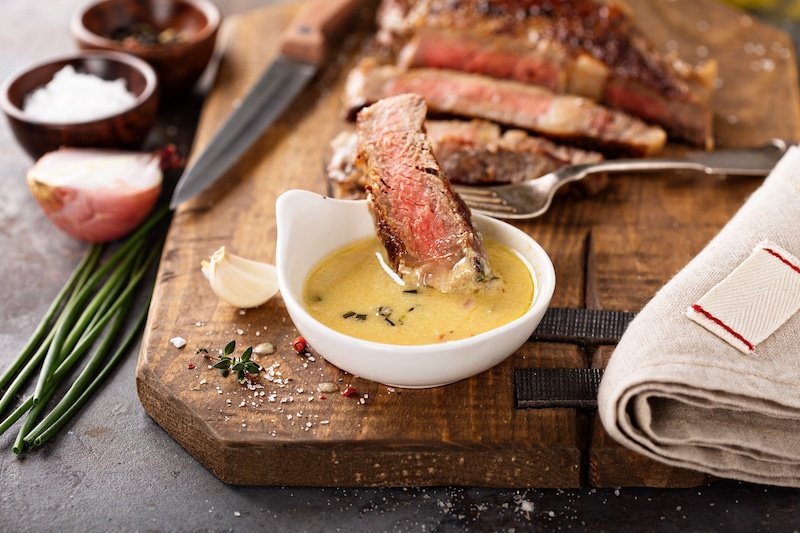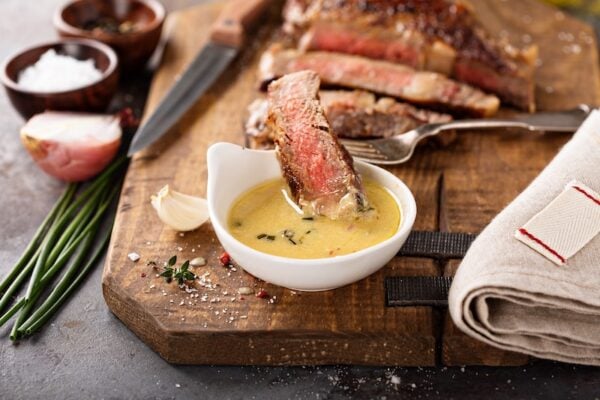 I am finally sharing the recipe for my all time favorite – insanely flavorful – steak sauce!!
I know you are all probably rolling your eyes HARD at the name: "Oh My!" Steak Sauce.
But I seriously could not come up with a better name that would properly describe it.
With the giant range of flavorful ingredients included, it's really hard to wrap up into an easy name that also explains what is in it.
I even begged my family to help name it and this was the best we could all come up with!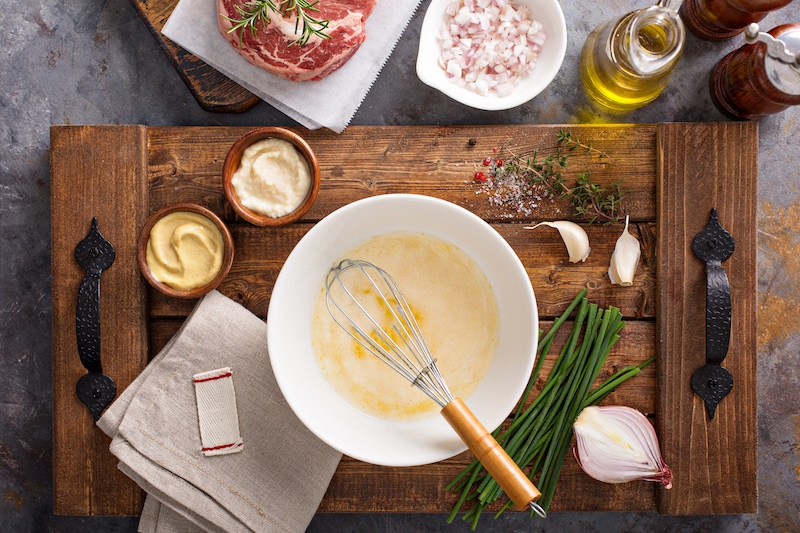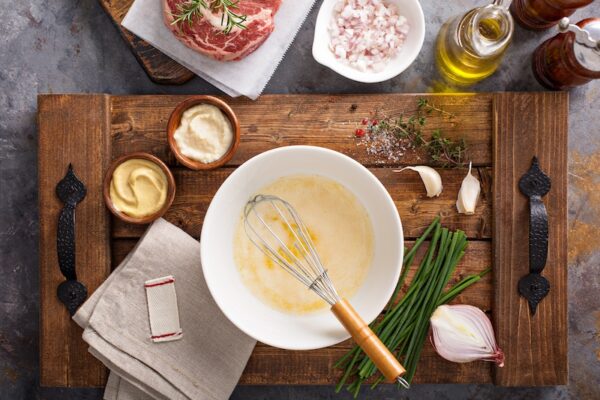 It's a butter based sauce loaded with horseradish, dijon mustard, garlic, chives, shallot, fresh thyme, a pinch of cayenne, salt and pepper.
You melt the butter and quickly whisk all of the ingredients together in a bowl.
THAT'S IT. It seriously couldn't be any easier and I swear to you the flavor is phenomenal.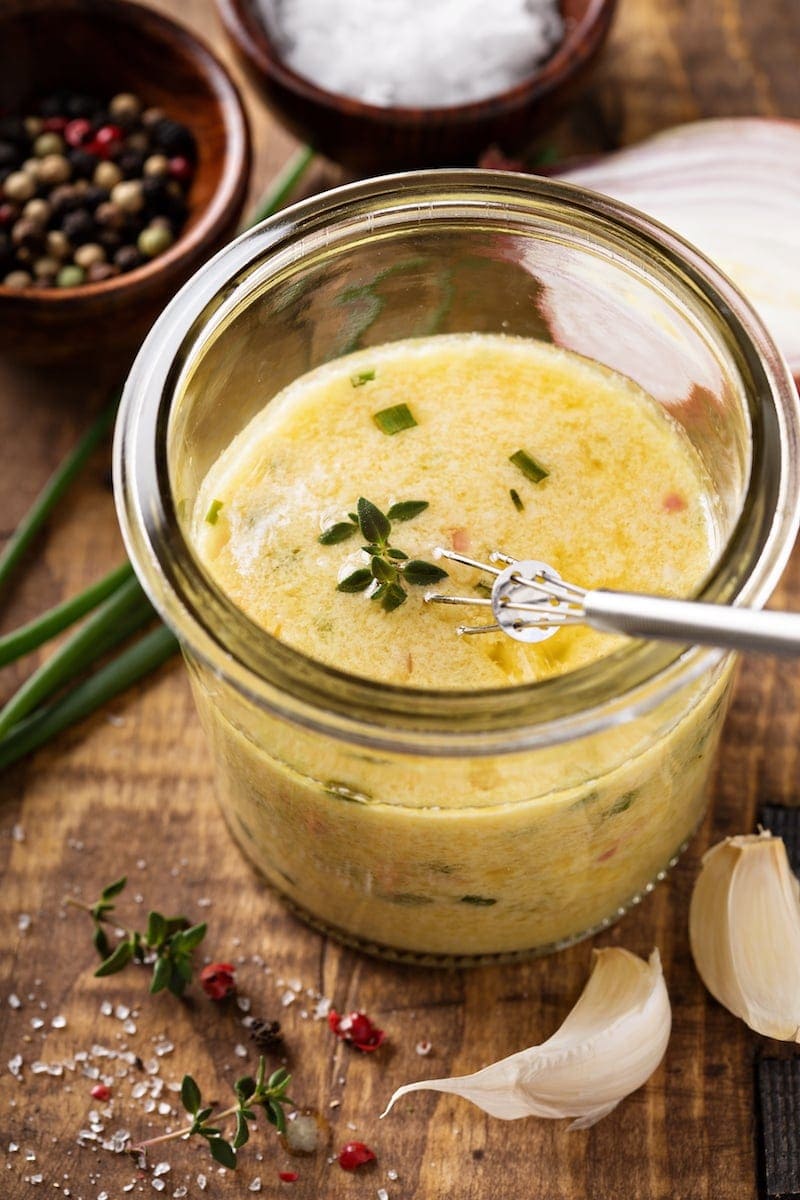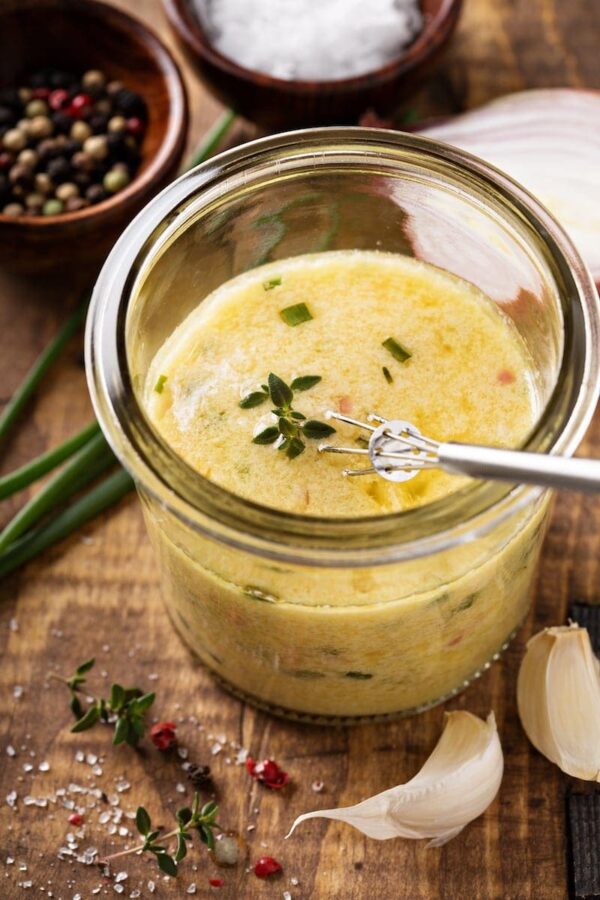 I like to let the sauce sit for a few minutes after whisking it all together. However, that is 100% optional.
If you let it sit for just 10 minutes, the butter will cool and thicken a little and then it's PERFECTION.
While I call this a steak sauce, we use it for everything. We even dip vegetables in it and roasted chicken!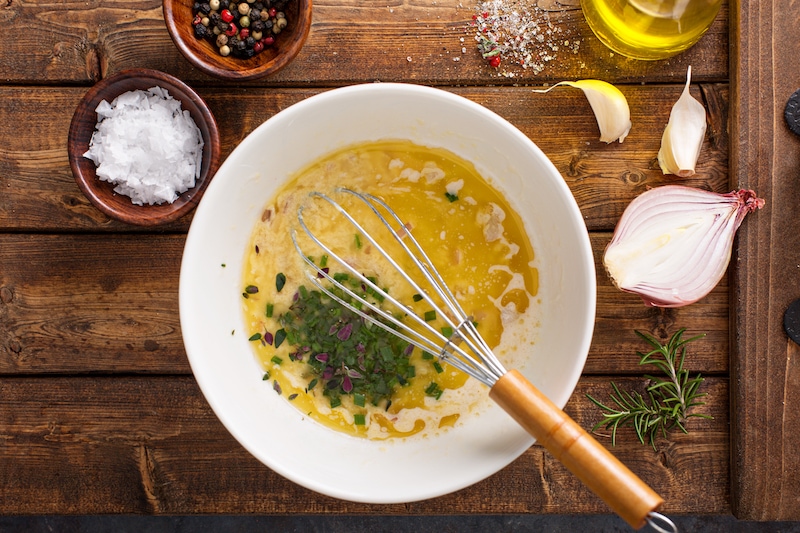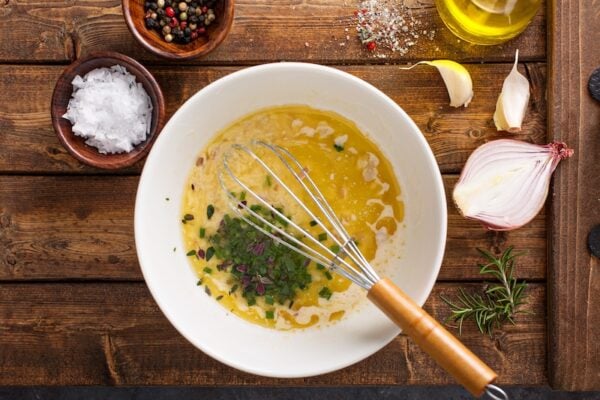 While we grill a lot living here in Florida during the winter, the boiling hot afternoons are on their way.
During the Summer, I much prefer to cook our steak inside in a cast iron skillet in butter.
A few tips I have for cooking the best steak in a cast iron skillet:
Make sure your cast iron is SUPER hot before you start anything.
Let your steak come to room temperature before you cook it.
Quickly sear the outside of the steak and then transfer to an oven preheated to 400°F to finish cooking to your desired level of doneness.
LET YOUR STEAK REST. Super important. Wrap it in foil and let it rest for 5 minutes.
Lastly, slice it against the grain. This helps keep the steak tender.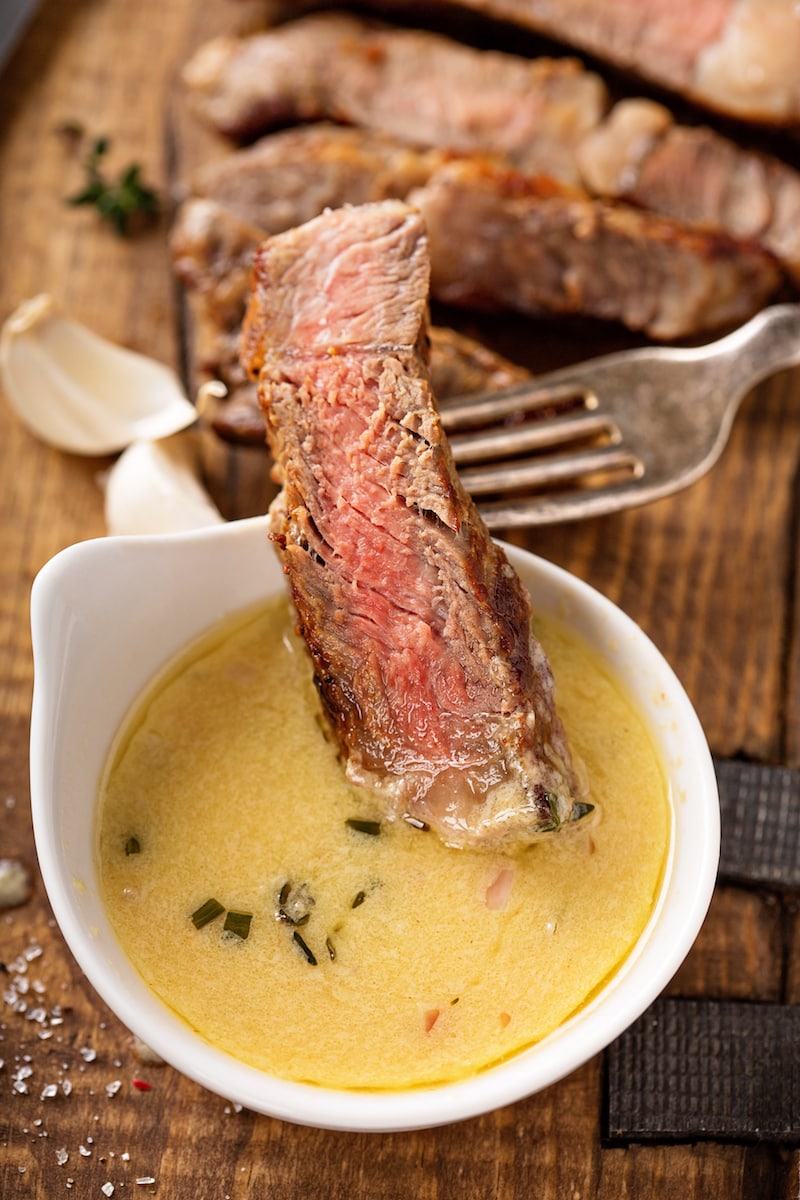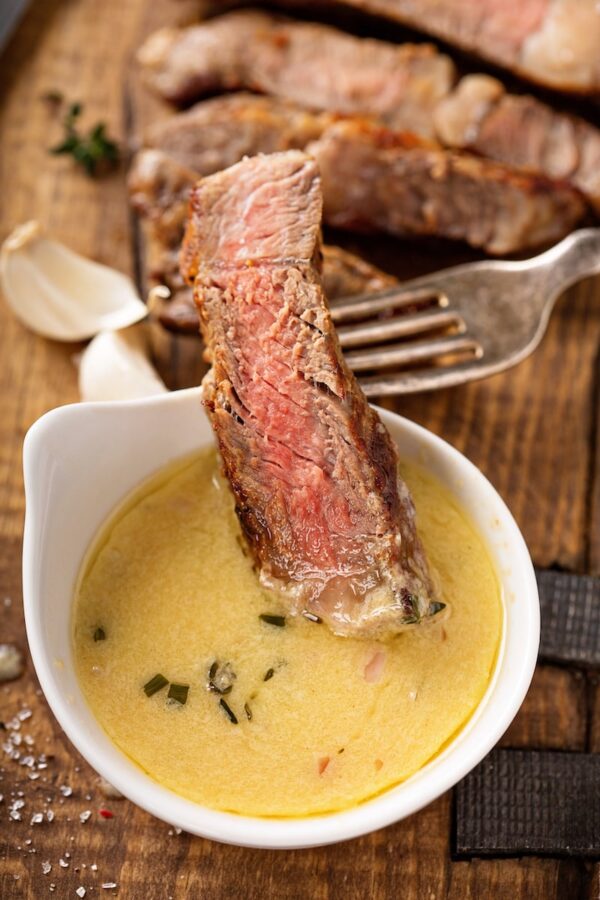 This "Oh My!" Steak Sauce is one of my favorite family recipes and I am so excited to share it with all of you.
It is so loaded with flavor and I have yet to find anyone who can resist it.
Every single time we have guests over and I serve this steak sauce, they BEG for the recipe!
BONUS: This "Oh My" Steak Sauce is also perfect if you are on a gluten free, keto or low carb diet.
Feel free to make this sauce your own. If you don't like a certain ingredient, you can leave it out.
However, I will say that this sauce is perfectly balanced as is and no ingredient overwhelms the other.
I can't wait to hear what you all think of this one! Please leave a comment sharing how it turns out when you try it!
Yield: 1 cup sauce - 6 servings
"Oh My!" Steak Sauce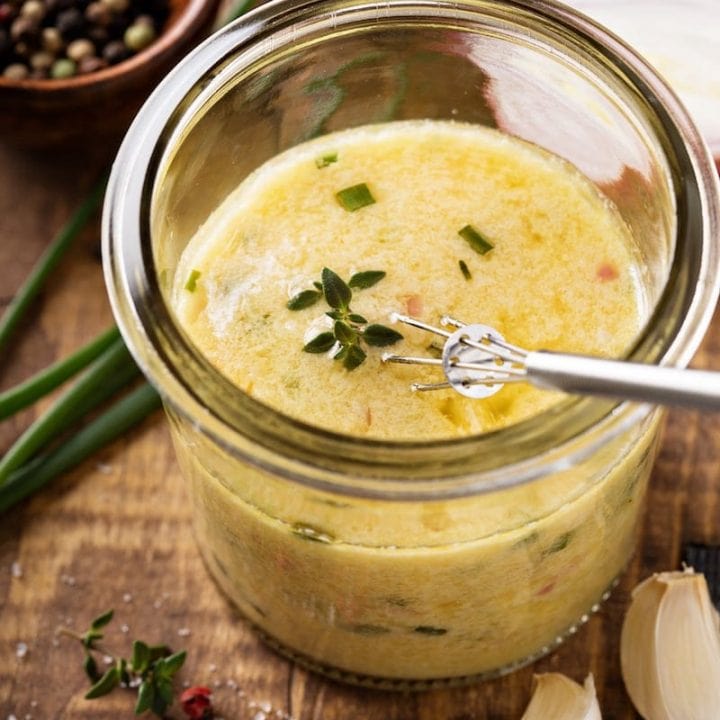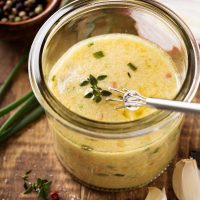 "Oh My!" Steak Sauce: my favorite secret family recipe for the best flavored buttery steak sauce! This steak sauce is gluten free, low carb and keto approved!
Ingredients
8 tablespoons butter, melted
1 small shallot, finely minced
5 chives, finely minced
3 garlic cloves, minced
2-3 tablespoons prepared horseradish (the fresh kind in refrigerated section)
2 tablespoons Dijon mustard
3 teaspoons minced fresh thyme
pinch of cayenne pepper, to taste
salt and fresh cracked pepper, to taste
Instructions
Whisk all ingredients till well combined.
Let the sauce sit for 10 minutes and whisk again. This will allow the butter to cool and thicken just a little.
Serve with your favorite steak!
Store leftovers in the fridge and reheat in 15 second intervals, stirring often, until just melted when ready to reuse!
Nutrition Information:
Yield:
6
Serving Size:
1
Amount Per Serving:
Calories:

152
Total Fat:

16g
Saturated Fat:

10g
Trans Fat:

1g
Unsaturated Fat:

5g
Cholesterol:

41mg
Sodium:

386mg
Carbohydrates:

2g
Fiber:

1g
Sugar:

1g
Protein:

1g
Categories
This post may contain affiliate links. Read my disclosure policy.