These Homemade Soft Pretzels are even better than the kind you get at the mall. They come fresh out of the oven soft, doughy, and delicious! Season them however you like!
If you love pretzels, try my Chocolate Peanut Butter Pretzel Trifle and my Chocolate Peanut Butter Pretzel Bites.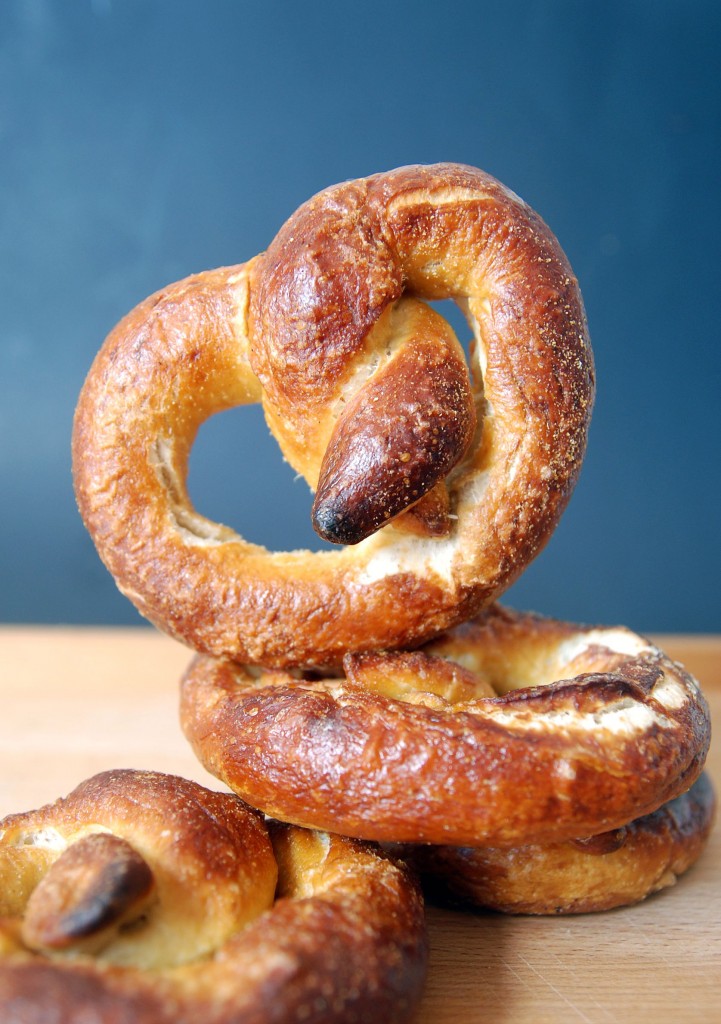 This Soft Pretzel Recipe Is One Of My Favorites
Soft pretzels are one of my favorite things in the world. My addiction is so bad, that one of the first years that Jorge and I were dating, he bought me a box mix of Auntie Annie's Pretzels. I was thrilled…until I realized that I still had to mix and cook them myself…and that was during the time when a box of the blue crack Kraft Mac & Cheese was almost too complicated.
These days I know I can conquer just about anything in the kitchen except homemade ginger ale. And so when I was at the mall last month, shoe shopping of course, I smelled the Auntie Annie's Pretzels and avoided them like the plague. Which is REALLY hard to do at my mall because there are not one, but TWO Auntie Annie's stands….those asshats. They are so smart to put in two stands on opposite ends of the mall. It makes it incredibly hard to say no! But I did, because I knew I was going to come home and try to make my own.
You Can Flavor These Homemade Pretzels However You Like
I'm not sure who, but someone recommend the Alton Brown recipe for Soft Pretzels to me. I am so glad they did, because these pretzels were awesome! They do make quite a mess, but it is all worth it when they come fresh out of the oven soft, doughy, and delicious! I sprinkled mine with a little cayenne and garlic powder, but I have posted the recipe below how it was written. But feel free to sprinkle any of your favorite seasonings!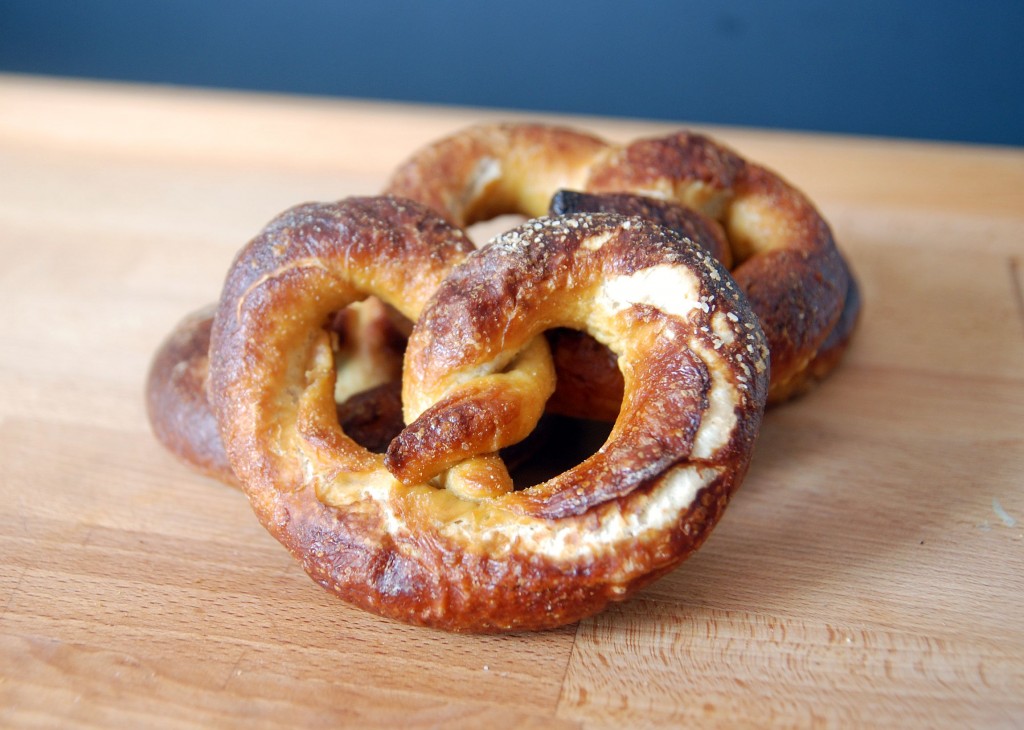 Yield: 8 servings
Homemade Soft Pretzels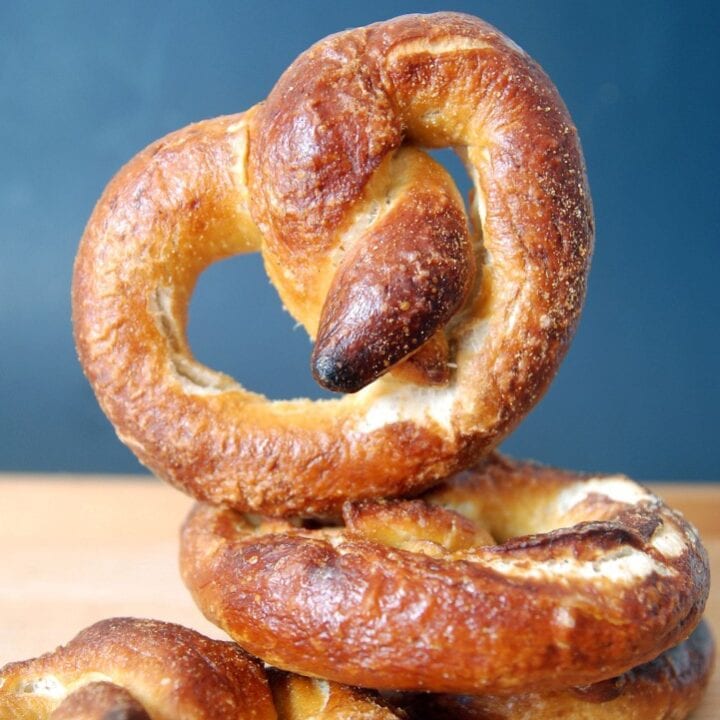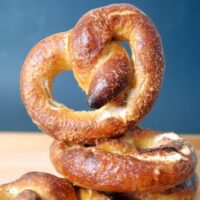 These Homemade Soft Pretzels are even better than the kind you get at the mall. They come fresh out of the oven soft, doughy and delicious!
Prep Time
1 hour
15 minutes
Total Time
1 hour
30 minutes
Ingredients
1 1/2 cups warm (110 to 115 degrees F) water
1 tablespoon sugar
2 teaspoons kosher salt
1 package active dry yeast
22 ounces all-purpose flour, approximately 4 1/2 cups
2 ounces unsalted butter, melted
Vegetable oil, for pan
10 cups water
2/3 cup baking soda
1 large egg yolk beaten with 1 tablespoon water
Pretzel salt
Instructions
Combine the water, sugar and kosher salt in the bowl of a stand mixer and sprinkle the yeast on top. Allow to sit for 5 minutes or until the mixture begins to foam. Add the flour and butter and, using the dough hook attachment, mix on low speed until well combined. Change to medium speed and knead until the dough is smooth and pulls away from the side of the bowl, approximately 4 to 5 minutes. Remove the dough from the bowl, clean the bowl and then oil it well with vegetable oil. Return the dough to the bowl, cover with plastic wrap and sit in a warm place for approximately 50 to 55 minutes or until the dough has doubled in size.
Preheat the oven to 450 degrees F. Line 2 half-sheet pans with parchment paper and lightly brush with the vegetable oil. Set aside.
Bring the 10 cups of water and the baking soda to a rolling boil in an 8-quart saucepan or roasting pan.
In the meantime, turn the dough out onto a slightly oiled work surface and divide into 8 equal pieces. Roll out each piece of dough into a 24-inch rope. Make a U-shape with the rope, holding the ends of the rope, cross them over each other and press onto the bottom of the U in order to form the shape of a pretzel. Place onto the parchment-lined half sheet pan.
Place the pretzels into the boiling water, 1 by 1, for 30 seconds. Remove them from the water using a large flat spatula. Return to the half sheet pan, brush the top of each pretzel with the beaten egg yolk and water mixture and sprinkle with the pretzel salt. Bake until dark golden brown in color, approximately 12 to 14 minutes. Transfer to a cooling rack for at least 5 minutes before serving.
Nutrition Information:
Yield:
8
Serving Size:
1
Amount Per Serving:
Calories:

359
Total Fat:

9g
Saturated Fat:

4g
Trans Fat:

0g
Unsaturated Fat:

5g
Cholesterol:

62mg
Sodium:

5729mg
Carbohydrates:

58g
Fiber:

2g
Sugar:

2g
Protein:

9g
Want to Save This Recipe?
This post may contain affiliate links. Read my disclosure policy.