Bright and herby, this easy Chimichurri Sauce takes raw sauces to a whole other level. Lots of garlic, shallots and fresh herbs are the secret to this 10-minute recipe.
The Best Chimichurri Sauce Recipe
Loaded with fresh herbs, this easy chimichurri sauce is better than anything you've had while out and about. Plus, you can make it in advance and keep a large jar of it in your fridge where it will only become more flavorful by the day.
Ready in 10 minutes, can you really complain about anything? It's fresh, perfectly spicy, pungent, and loaded with herbs. Oh, did I mention practically effortless? With two preparation methods to choose from, it's perfect for days when you're feeling like a world-class chef or not getting out of bed at all.
Once ready, spread it over toasted garlic bread or drizzle it over steak… It's amazing! When the finely minced garlic, shallots, and herbs seep into the nooks of your dishes, you're never going to want to try another raw sauce again. It might be Argentinian but, I'm telling you, it goes well with pretty much anything.
What Is Chimichurri?
It's an Argentinian oil-based sauce made with fresh herbs like parsley, cilantro, and oregano. It's also relatively chunky, depending on how finely you chop the ingredients but that's totally up to you.
For some pungency, it uses a combination of garlic and shallots that is completely unmatched by other raw sauces. Finally, a bit of red wine vinegar and lemon juice add lots of acidity to round out the flavor.
It's traditionally served with steak but also goes well with empanadas, toasted bread, breakfast eggs, and other savory dishes.
What is the flavor of chimichurri?
Chimichurri tastes like the herbaceous and oil-based cousin of pesto. Above all, it's acidic and pungent from the vinegar and lemon juice. This helps brighten food when you taste it. Depending on the recipe, you can also make it spicy with red pepper flakes to taste.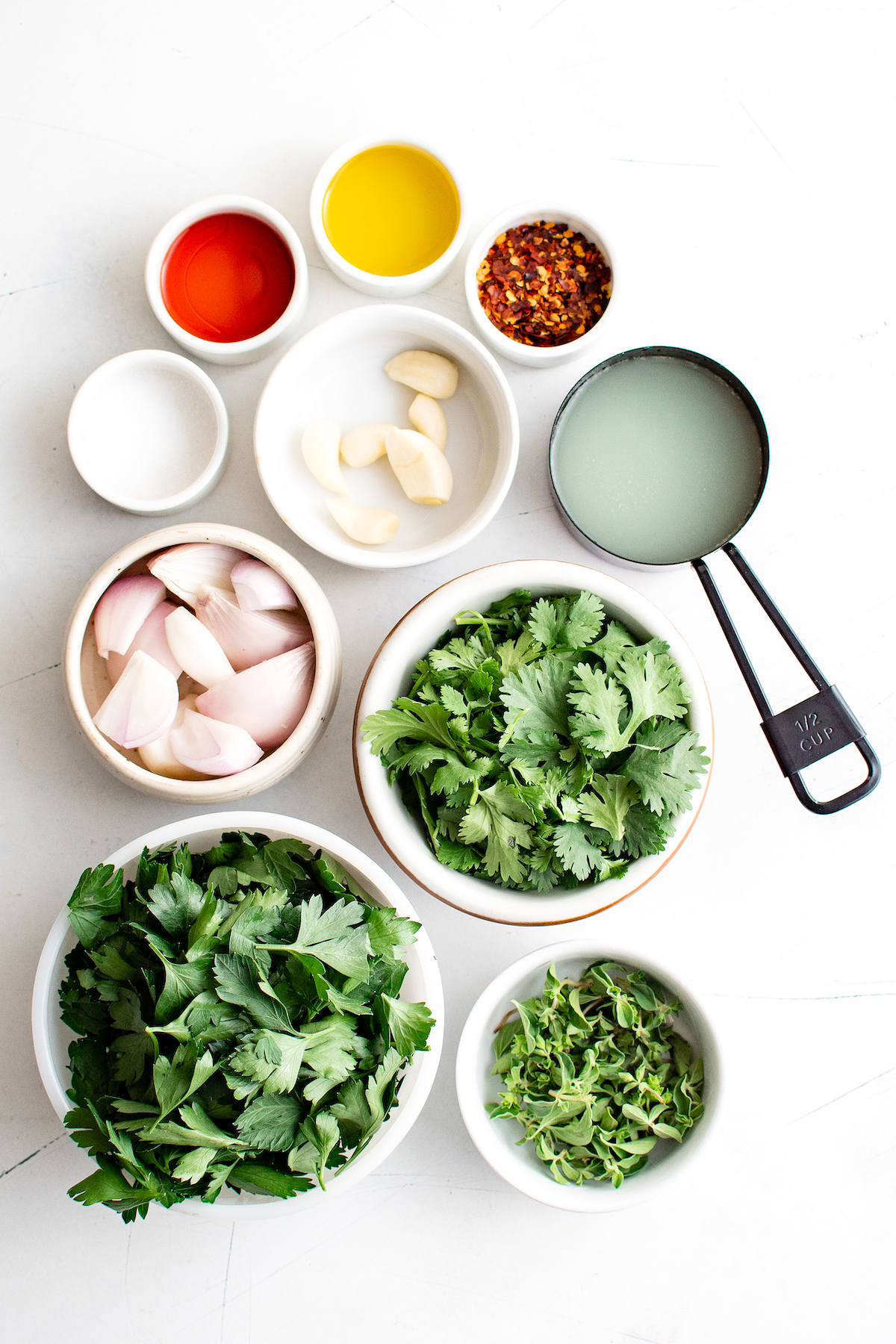 Recipe Ingredients
As long as the herbs are fresh, your chimichurri will be top-notch. Check the recipe card at the bottom of the post for full amounts.
Fresh cilantro – Feel free to substitute it for more parsley or oregano.
Fresh parsley
Fresh oregano
Garlic – Please don't use garlic powder.
Shallots
Olive oil
Lemon juice
Red wine vinegar – You can substitute it for more lemon juice.
Crushed red pepper flakes – Leave it out if you don't like spicy sauces. Other alternatives for this include Fresno chile or red jalapeño.
Salt
Easy Variations
Use these ideas to create unique and easy chimichurri sauces:
Add parmesan.

Add it to the blender and process it for a chimichurri-pesto fusion.

Add zest. Orange or lemon zest add a nice citrusy bitterness that can brighten the sauce up in seconds.
Grate ginger. Adding freshly grated ginger will give your sauce a spicy, cooling sensation.
Make it smokey. Adding chipotle in adobo sauce to taste will add a bit of spiciness and lots of smokiness.
Use chili oil. Substituting 1-2 tsp of olive oil for chili oil will easily make your sauce extra spicy.
How to Make Chimichurri Sauce
With two methods to choose from, you can't go wrong with this easy chimichurri.
By hand: Finely chop the parsley, cilantro, oregano, shallot, and garlic. Add them to a medium-sized bowl. Add the rest of the ingredients and stir until well combined. Season with salt to taste.
In the food processor: Add all the ingredients to the food processor and pulse until you reach your desired consistency. Make sure to scrape the sides and bottom halfway through. You can also use a blender for this. Season with salt to taste.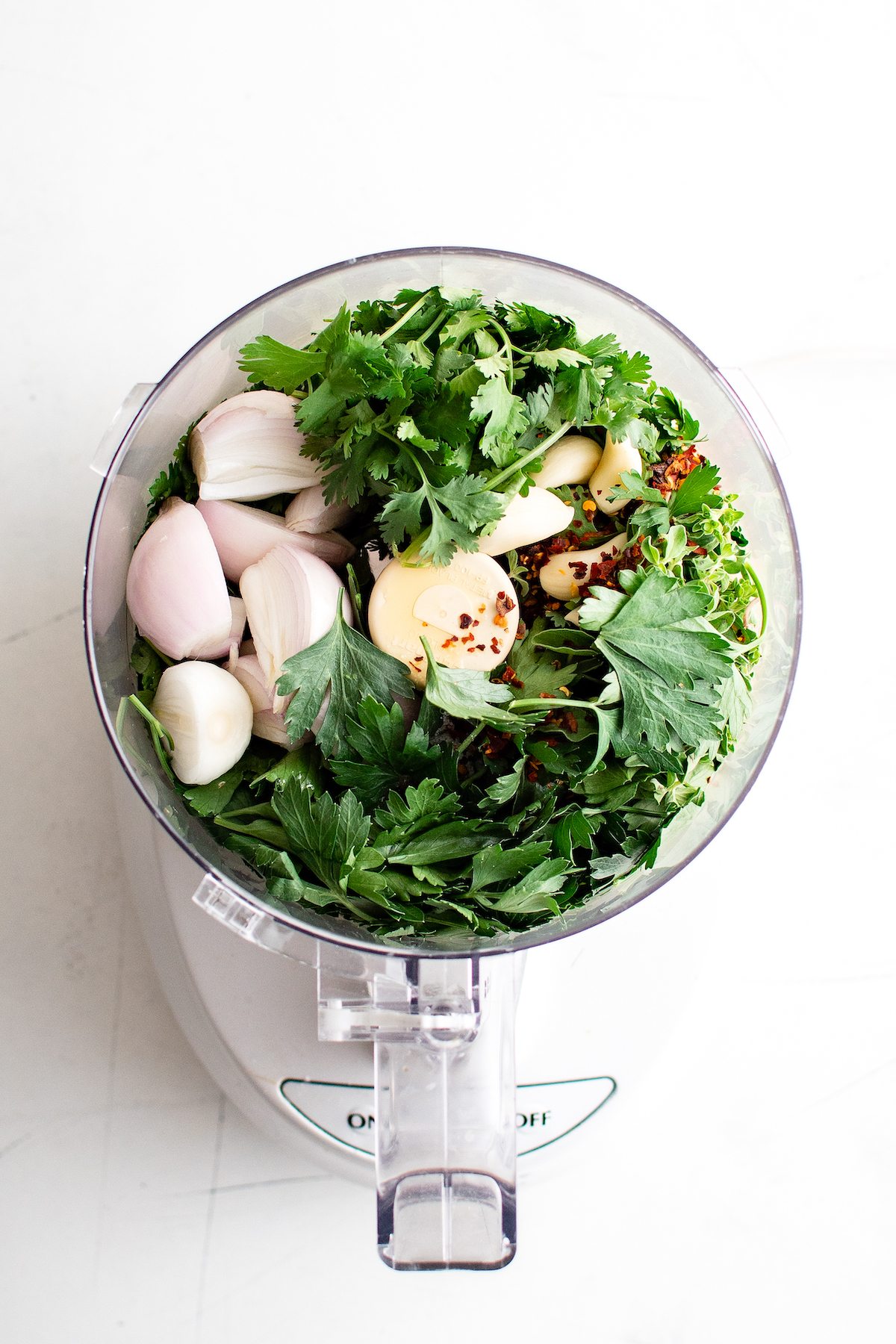 Tips for Success
With these tips, you'll be the chimichurri-talk of the city.
Taste the parsley. Before you start blending, taste the parsley leaves. As long as they're not bitter, you're ready to get cooking.
Use Italian parsley. Italian parsley is the way to go. Avoid the curly one so that the chimichurri is spot on.
Make it chunky. When you're not in the mood for chopping up ingredients, try leaving the herbs, garlic, and shallot a lot chunkier. The consistency will add lots of freshness.
Use leftover herbs. Adding your sadly wilting leftover herbs to the sauce will give them (and your meals) new life.
Use garlic paste. This will simplify your life so much and also keep you from reaching for the garlic powder container.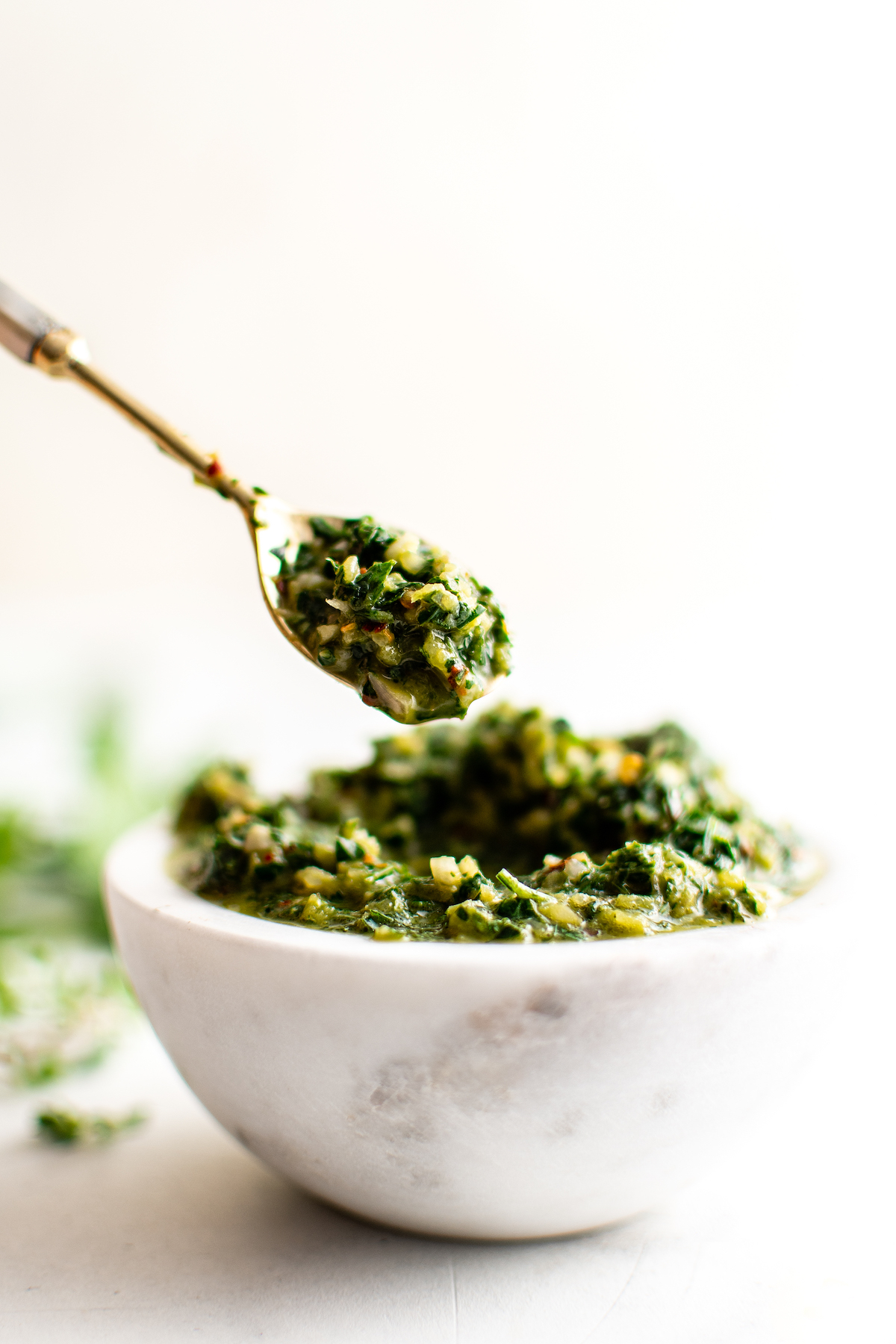 Common Questions
Hopefully, the answers to these questions can help you understand what chimichurri is a little better.
Is chimichurri spicy?
Not necessarily. It can be, depending on the amount of red pepper flakes you use. As long as you keep things to your liking, it's alright.
Is chimichurri healthy?
Yes! Chimichurri has lots of vitamins and nutrients like calcium and vitamin C, making me give it a gold star in terms of healthiness.
Is chimichurri the same as salsa verde?
No, it's not. Although they're both green, their ingredients set them apart. Chimichurri is more plant-based and that's where most of its flavor comes from. On the other hand, salsa verde has that distinct anchovies flavor and a strong presence of capers.
What to Serve With Cilantro Chimichurri
Argentinian food is always a good idea with this easy chimichurri. However, empanadas, steak, pizza, toasted baguettes, or garlic bread are always my favorite things to add it to.
For steak, I love my Juicy Flank Steak. As for empanadas, my Cheesy Beef Empanadas and Homemade Chicken Empanadas are always a big hit at the dinner table. If you're thinking about bread, I enjoy it on my Texas Roadhouse Rolls and Southern Buttermilk Biscuits.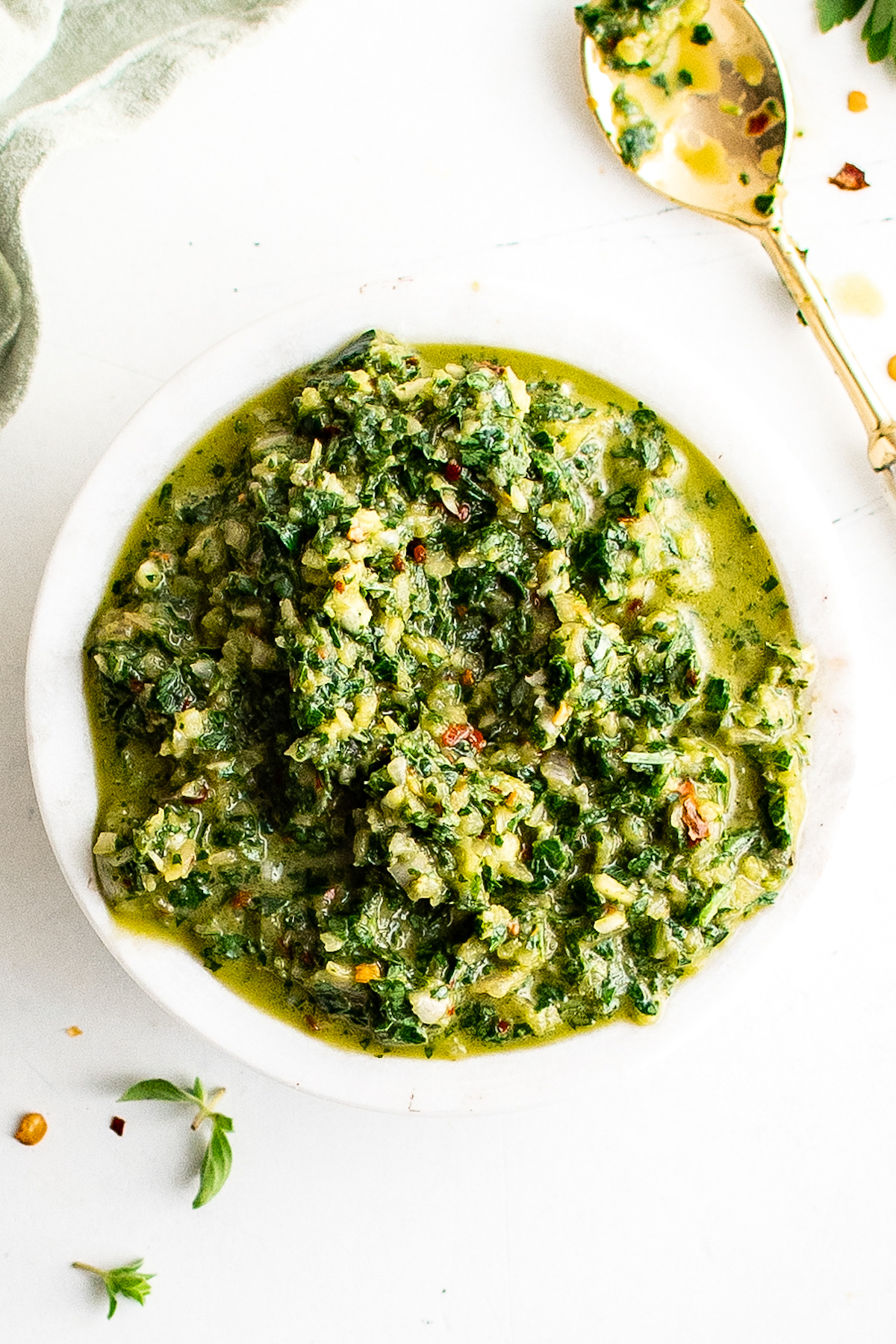 Can This Be Made In Advance?
Absolutely! I actually recommend it so the flavor intensifies a little bit more. Make it 1-2 days in advance, just don't forget to refrigerate it!
How to Store Homemade Chimichurri
Refrigerate any leftovers in an airtight container for up to 5 days. Freeze for up to 3 months.
More Sauces & Condiments
Best Chimichurri Sauce
Not only is this the best chimichurri you've had, but it's also the easiest! This spicy, garlicky, herby sauce is everything your meal needs. 
Ingredients
1 ½

cup

cilantro leaves

,

packed

½

cup

fresh parsley leaves

,

packed

¼

cup

fresh oregano

5

large cloves of garlic

,

peeled

2

shallots

,

peeled

¼

cup

olive oil

3

tablespoons

lemon juice

2

tablespoons

red wine vinegar

1

teaspoon

crushed red pepper flakes

½

teaspoon

kosher salt

,

plus more to taste
Instructions
By Hand: Finely mince the parsley, cilantro, oregano, shallot and garlic. Add to a medium sized bowl and then add the rest of the ingredients, stirring till combined. 

Food Processor: Add all ingredients to the food processor and pulse until it forms the consistency that you prefer. I recommend doing this slowly and stirring midway through to ensure and even dice to all ingredients.

Taste and add more salt, to taste as needed, then serve as desired. 
Notes
Storage: Refrigerate any leftovers in an airtight container for up to 5 days. Freeze for up to 3 months.
Nutrition
Serving:
1
,
Calories:
77
kcal
,
Carbohydrates:
4
g
,
Protein:
1
g
,
Fat:
7
g
,
Saturated Fat:
1
g
,
Polyunsaturated Fat:
6
g
,
Sodium:
89
mg
,
Fiber:
1
g
,
Sugar:
1
g
Categories:
This post may contain affiliate links. Read my disclosure policy.