Don't let anyone tell you different, the best Southern Buttermilk Biscuits are made with both butter and shortening! This recipe uses both, plus some top-secret tips, to create the ultimate flaky, soft, buttermilk biscuits. Pure heaven.
Authentic, Southern-Style Buttermilk Biscuits
My life would end without buttermilk biscuits. Ok, maybe that is a little dramatic.
My life would not be worth living without buttermilk biscuits. Yes, I think that is more accurate.
Growing up, the biscuits in our house were usually made with canned biscuit dough, and those were good (trust me, there isn't a biscuit out there that I don't like). But these are better. Sorry Pillsbury, but the combination of from-scratch ingredients and old-fashioned biscuit-making tips can't be beat – especially by anything that comes out of a can.
To be honest, the first time I ever made homemade biscuits, they were a flop. The recipe I had at that time was so difficult and confusing, I knew there had to be a better way. So I tried again and again and again, changing things up, using different ingredient combinations, and hunting down all the best hacks I could find. This recipe is the fruit of all that effort: my holy grail of Southern buttermilk biscuits!
What Makes Southern Biscuits Different?
In short, the main difference is that Southern biscuits use both shortening and butter. This matters because shortening has a higher melting point than butter. The butter will melt in the oven and create some steam, and then the shortening will melt after that, creating more. You get loftier, separated layers while still achieving a perfect, buttery taste. (Looking for a different biscuit recipe? Try these quick and fluffy 7-Up Biscuits!)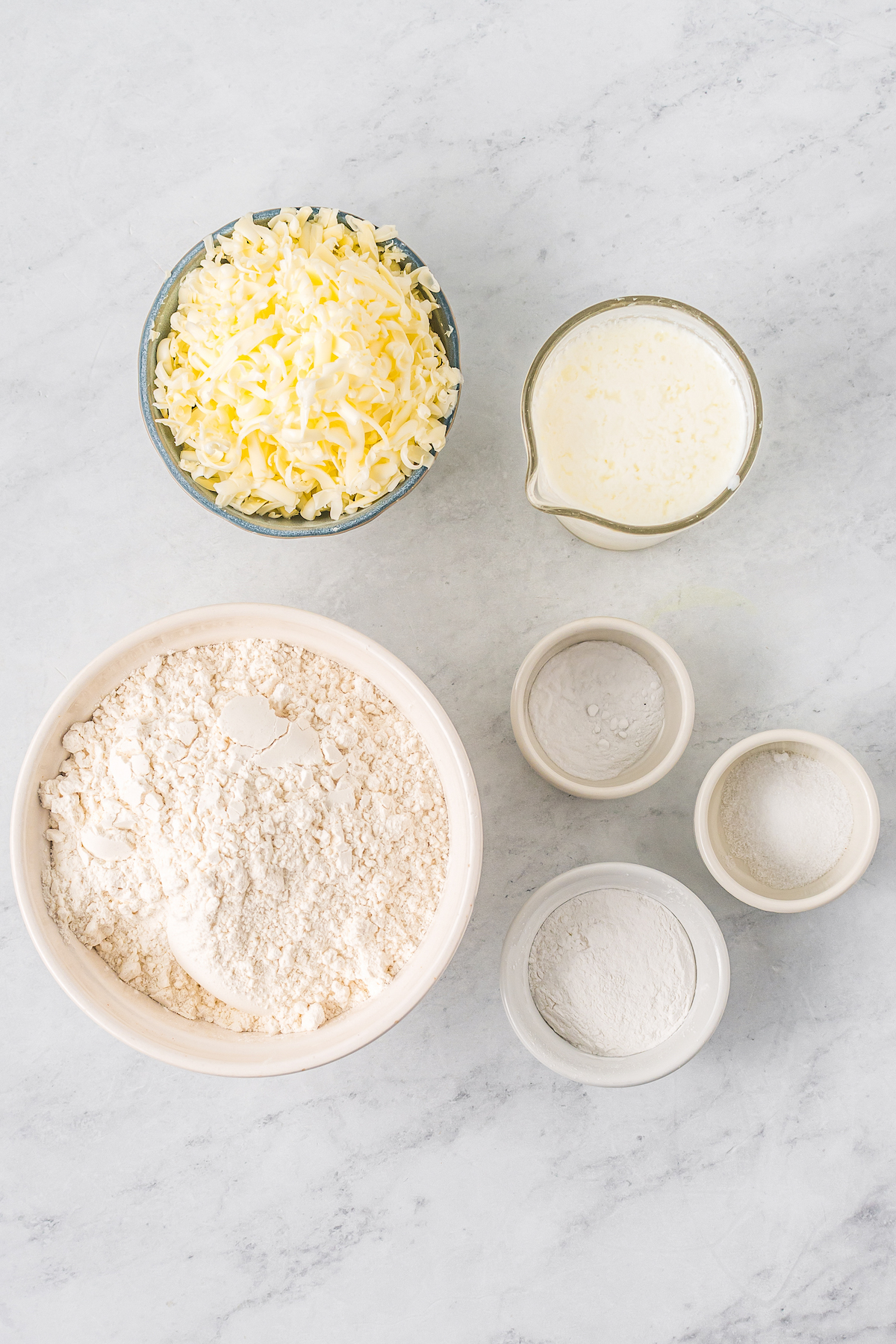 The Ingredients You'll Need
So what exactly is in this recipe for buttermilk biscuits? Let's take a look at the list, one item at a time, and talk about the ingredients for a sec:
Flour: You can use all-purpose flour or pastry flour – more on that in a minute.
Baking Powder and Baking Soda: Baking soda reacts with the buttermilk to give the biscuits a lift, and baking powder gets them even more fluffy.
Salt
Butter: Chill the butter, and then grate it. You can chill it again after grating, if it's starting to soften.
Shortening: Measure our your shortening by pressing it into a measuring spoon, and then scooping it out with another spoon or a tiny spatula. Cut it into small pieces. It should also be cold, so re-chill it if needed.
Buttermilk: You guessed it – cold out of the fridge.
Butter: Or additional buttermilk. This is for brushing onto the biscuits.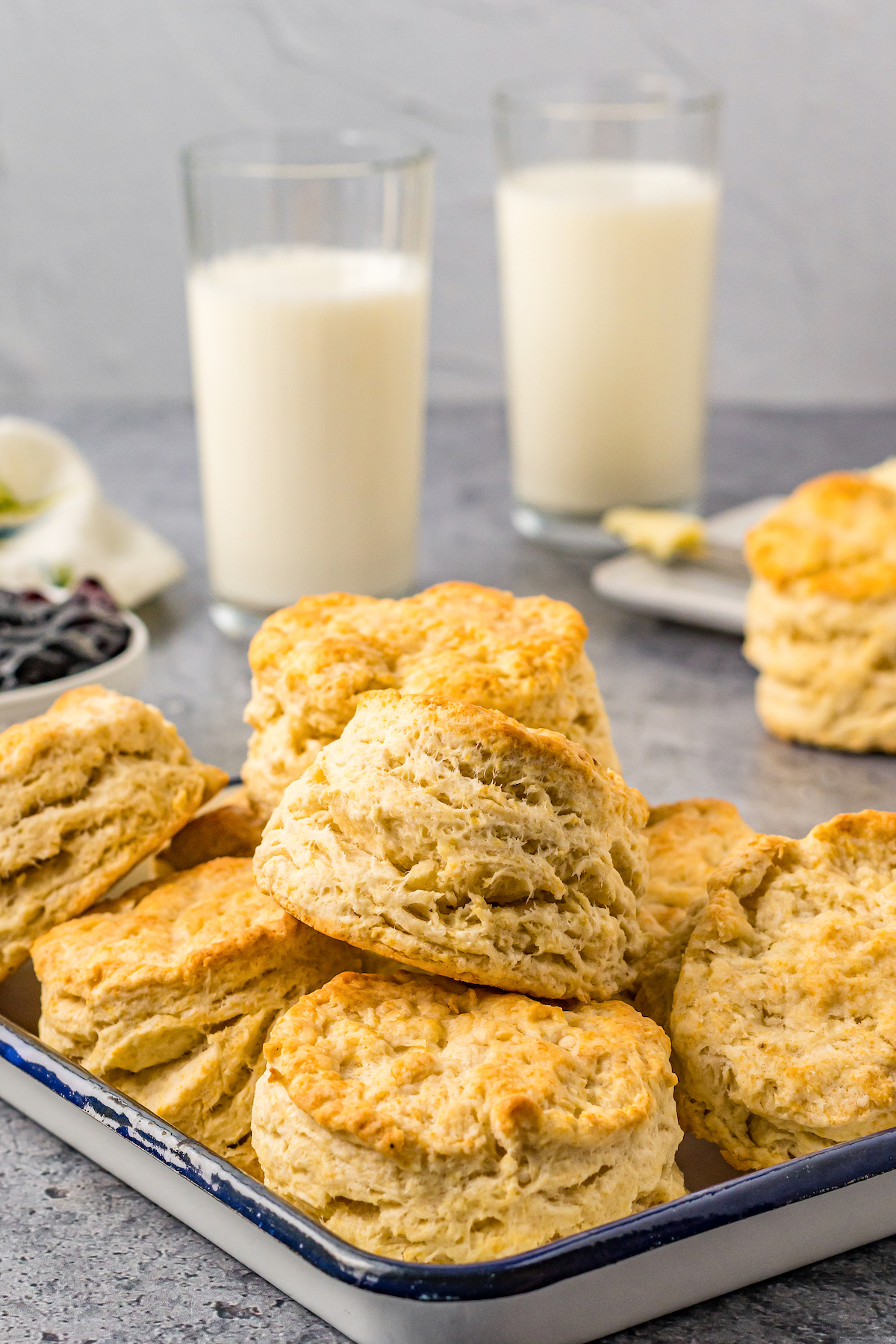 What's the Best Type of Flour to Use for Biscuits?
The "right" kind of flour to use is really a matter of taste and dietary preference. For instance, if you typically bake using only einkorn or spelt flour, then those are the right flour for making biscuits! But you will have to change the recipe a bit to make sure that they turn out well. This recipe is not designed for whole wheat flour, self rising flour, or ancient grains, although an experienced baker could definitely make a few adjustments and use one of those.
I recommend using a soft wheat flour, ideally a pastry flour. (The famous brand White Lily is technically a pastry flour, even though it is sold as all-purpose.) Finally, if all you have is ordinary all-purpose flour, that will work fine as well. The biscuits won't be quite as cakey and soft as biscuits made with pastry flour, but they'll still be fluffy, light, and tender.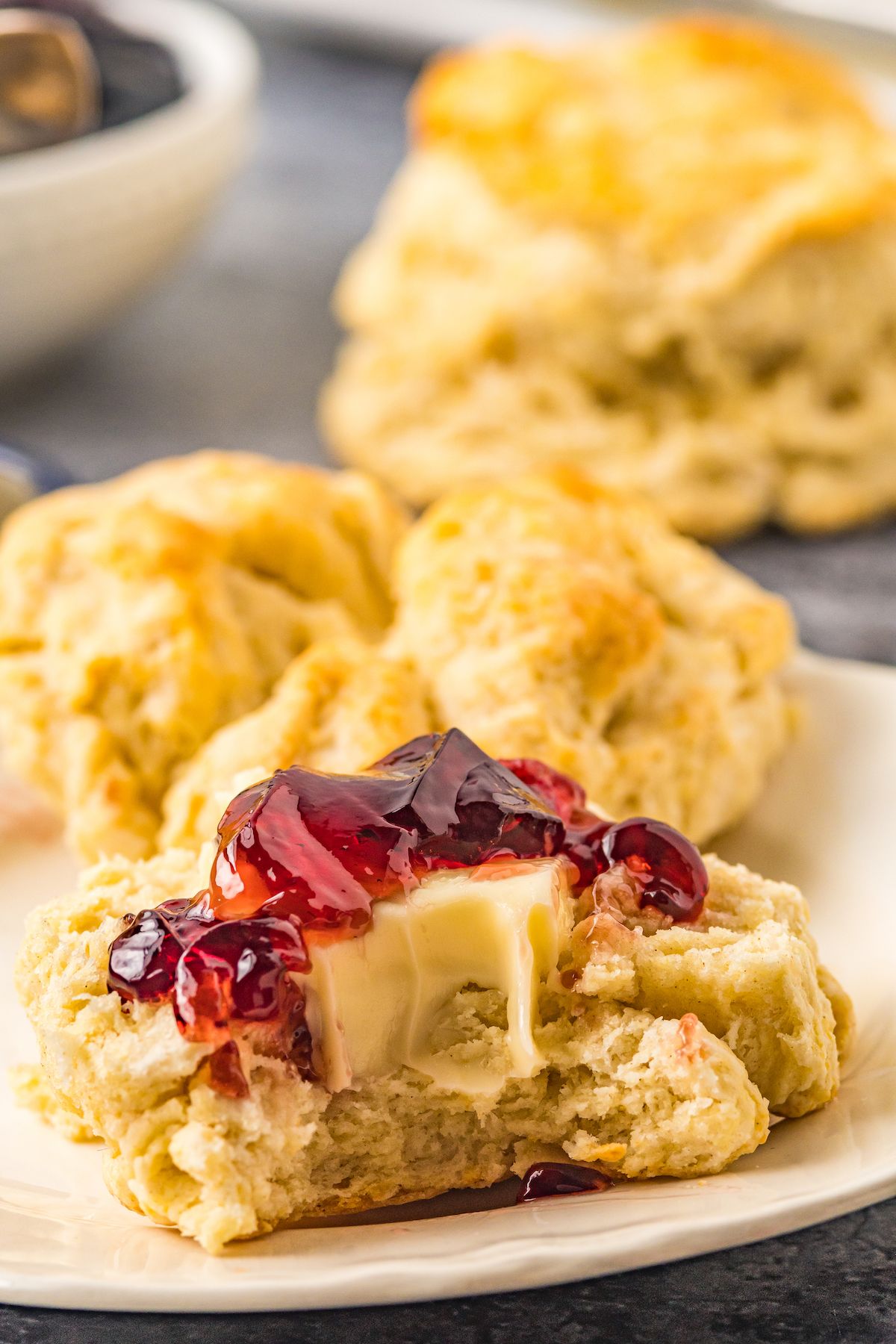 How to Make Real Buttermilk Biscuits from Scratch
Don't be intimidated by the process for baking biscuits – once you get the hang of it, they are a quick and easy bake that you'll find yourself making on the regular. Here's how to do it:
Prep. First, you'll want to preheat your oven to 425°F. Biscuits bake up nicely in a good hot oven. Next, line a baking sheet with parchment paper or a silicone baking mat – or, if you prefer, grease your biscuit pan lightly with oil or shortening (not butter). Set aside.
Combine the Dry Ingredients, and Add the Butter and Shortening. Get out a large mixing bowl, and whisk or stir together your dry ingredients: flour, baking powder, baking soda, and salt. I usually don't have to sift these, but if your ingredients seem lumpy, you can definitely sift them. Add the grated butter and shortening bits to the bowl, and toss gently to combine. This mixture should begin to look like coarse meal, or sand.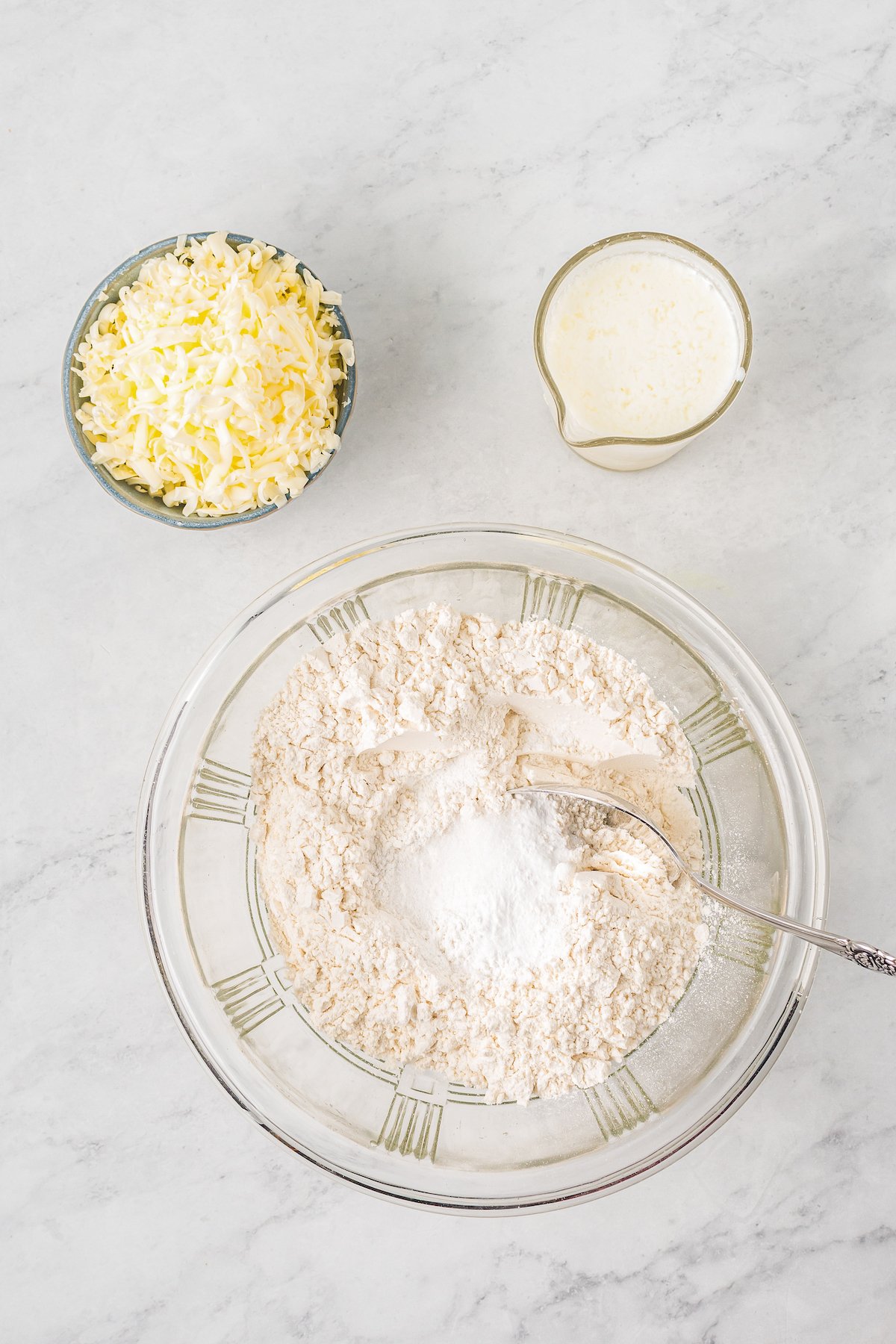 Add the Buttermilk. Then stir in the cold buttermilk, just until a dough forms. The dough won't be smooth and well-mixed. It just needs to come together. If it's too dry to come together, add an additional tablespoon of milk to the dough, and stir it just a little more.
Roll Out the Dough. Gently press the dough into a ball, and turn it out onto a lightly-floured work surface. Press it out into a disc or rectangle about ½ inch thick. You can use your hands, or a rolling pin.
Cut Out the Biscuits. Once the dough is flattened out, use a biscuit cutter or an upside-down drinking glass to cut out the biscuits. You'll have some leftover scraps of dough – just press those together to make a smaller disc or rectangle, and cut out more, to use up the scraps.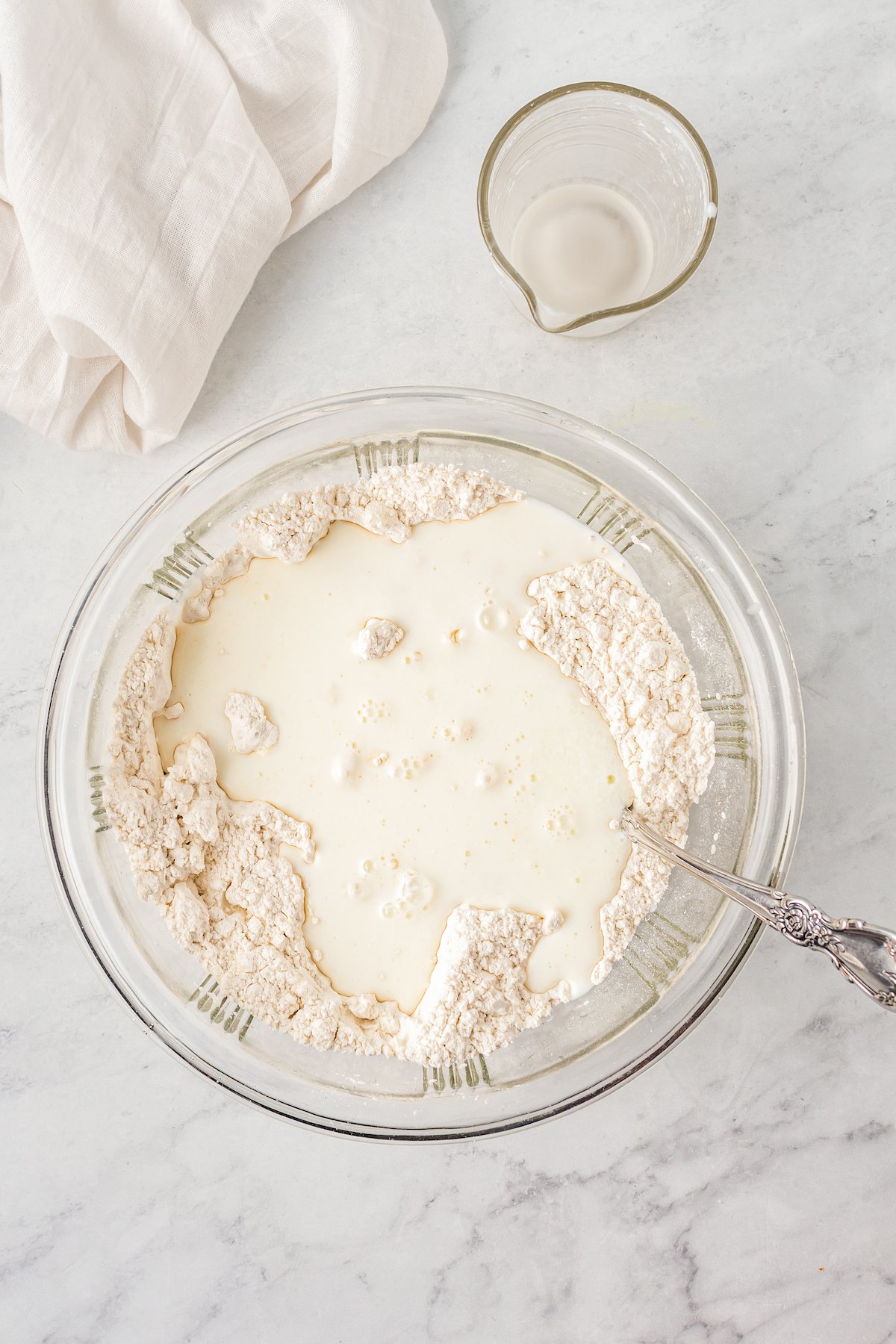 Bake. Arrange the biscuits on the prepared baking pan. Brush the tops of the biscuits with a little melted butter, or buttermilk, if desired, for extra color and sheen. Bake them for 12 minutes, until they are golden brown.
Enjoy! Take the biscuits out of the oven, and brush with melted butter one more time, if you prefer. Serve them hot with any dishes or toppings you like.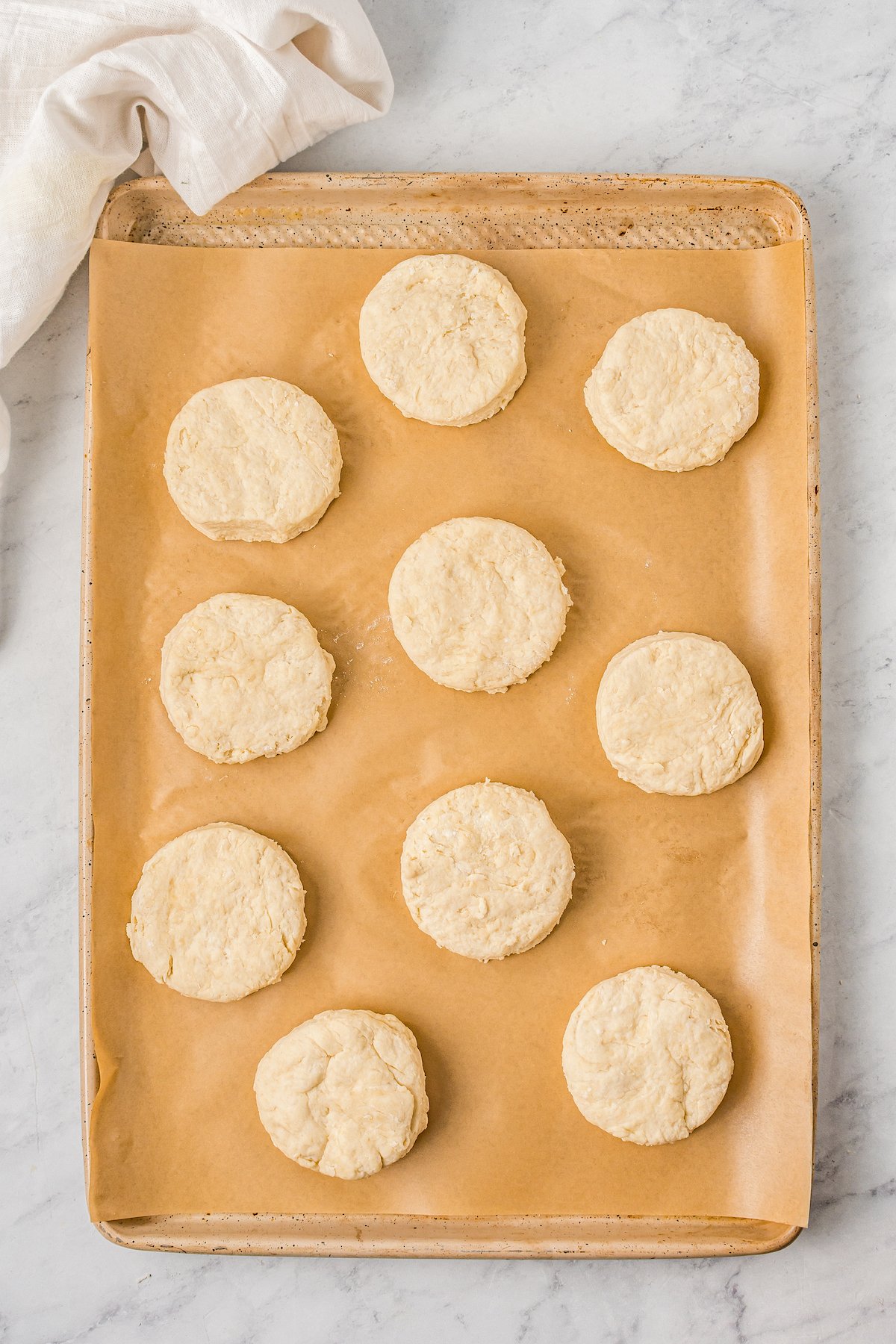 Helpful Tips
These are some of the best tips around for making great buttermilk biscuits from scratch. No processed-food shortcuts, just good technique. Here we go:
Keep Your Ingredients Cold. Not so much the dry ingredients, but it's very important to have cold butter and buttermilk for this recipe. This will keep the butter from melting while you make the dough. You really want it to melt in the oven and create flaky, light biscuits. If you want to get fancy, try grating frozen butter into the dry ingredients, or cutting your chilled butter into small pieces and placing them in a food processor with the flour. Give this a few good pulses to combine, and then go on with the recipe.
Make Your Own Buttermilk. If buttermilk isn't a typical pantry staple for you, no problem! You can make a quick, easy, effective substitute by combining milk and vinegar. Just place a tablespoon of vinegar or lemon juice in a measuring cup, and add enough regular whole milk to make one cup. Let this sit for about 5 minutes, stir, and add to your recipe in place of the buttermilk.
Use What You Have: If you find that you don't have shortening, or maybe you have shortening but no butter, feel free to use just one or the other. The biscuits will still be delicious!
Biscuit Cutters: So you can definitely cut biscuits with any round glass, cup, jar lid, etc. However, I recommend saving yourself a headache, and buying a nice (but affordable) set of biscuit cutters. You can use them for cutting biscuits, of course, but also cutting cookies. The great thing about biscuit cutters is a) it makes it easy to cut round biscuits that you don't have to pry out of a cup or glass, and b) the biscuit cutters are sharper. A glass or cup tends to smush and seal the dough edges, which makes it harder for the biscuits to rise.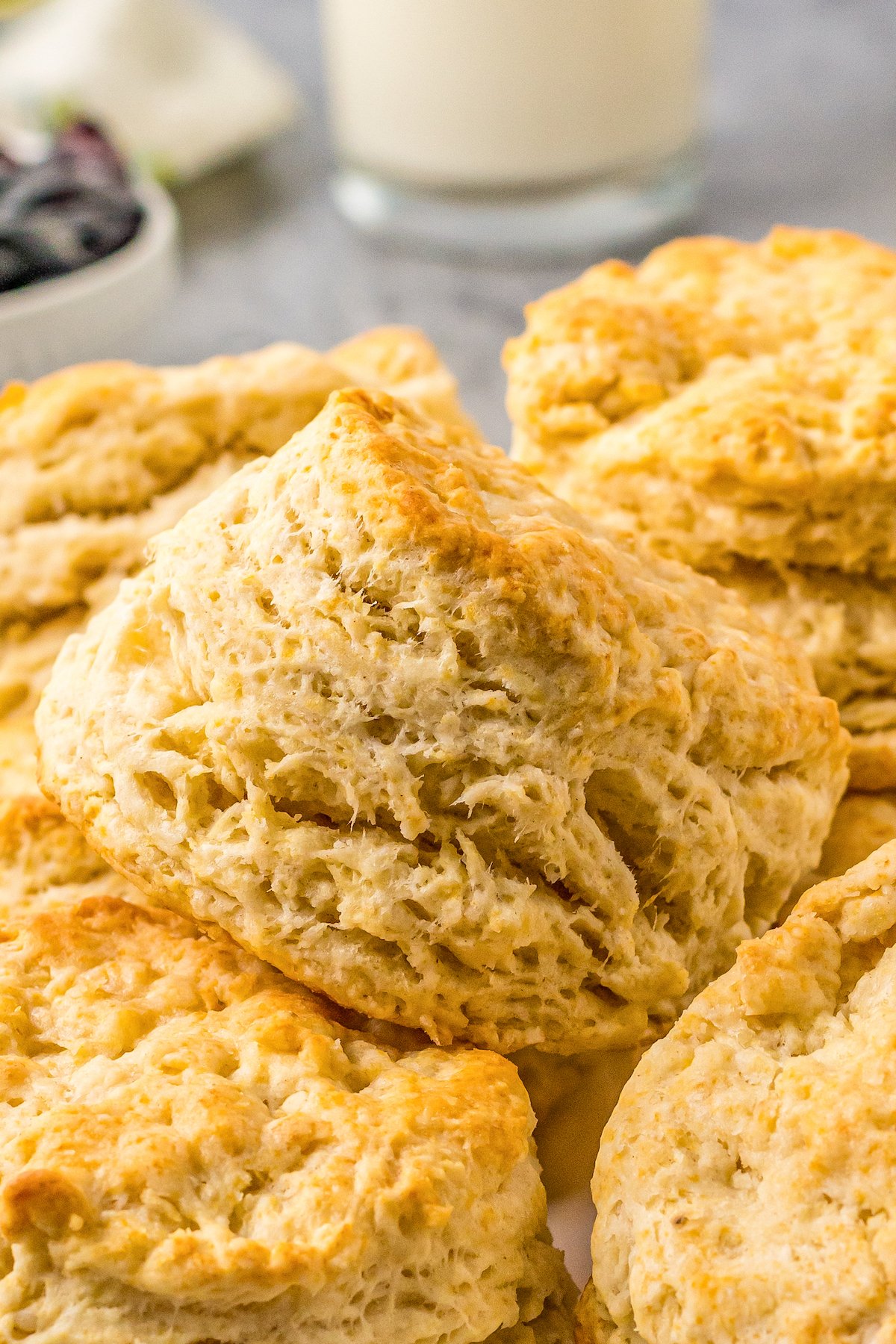 Troubleshooting Your Buttermilk Biscuits
Why do my buttermilk biscuits fall apart?
Most likely, your biscuits are falling apart because the dough is a little dry. You could have measured too much flour, or had a lot of flour on your work surface. Either way, good biscuit dough should be moist and a bit sticky.
Why aren't my biscuits flaky/light?
Two things. The first is careful measuring. Measuring is important, because if you have the wrong ratios, your biscuits may turn out dry, flat, or dense. Second, keep your butter, shortening, and buttermilk cold. You want the butter and shortening to melt in the oven, not in your mixing bowl. That way, they'll release steam into the biscuit dough, creating light, flaky pockets. Yum.
Why are the bottoms of my biscuits hard and crumbly? 
This is most likely because you are using a thin, dark baking sheet and locating it too close to the bottom of your oven, where the heating element is. It might also happen if you use butter to grease your baking sheet. Don't get me wrong, I love butter, but it can sort of "fry" the bottom of the biscuits and leave them crunchy.
Why are my biscuits tough?
Tough biscuits are just sad. That said, we've all been there! It's usually a matter of overworking the dough. You can avoid toughening the dough by only kneading it a tiny bit – just enough to bring it together. If you overwork the dough, it will turn tough and gummy as the gluten in the flour overdevelops.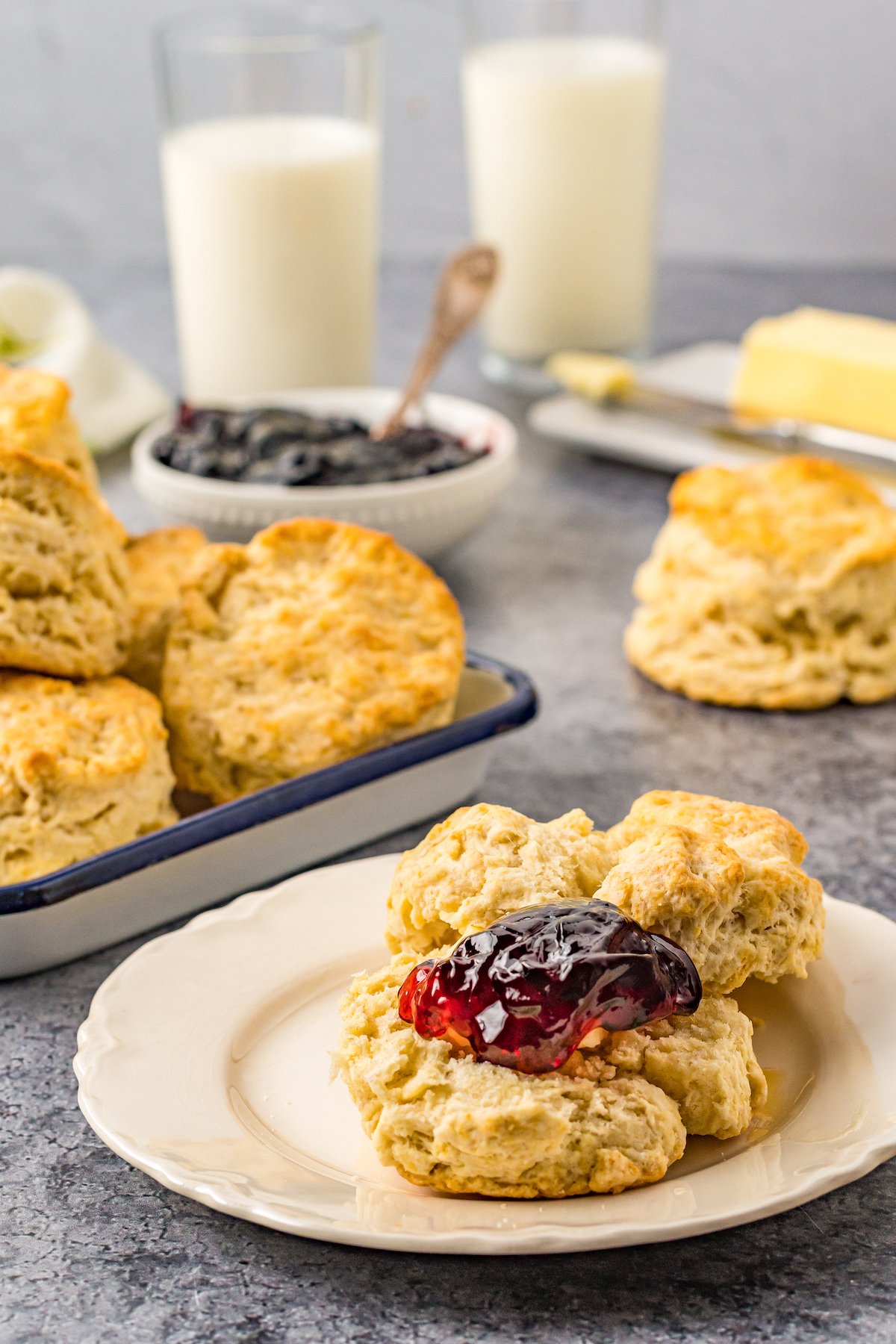 Serving Suggestions
Southern buttermilk biscuits are wonderful eaten plain, buttered, with jam, or with honey. You can smother them in white country gravy, or sandwich them around a piece of fried chicken. But in my opinion, they really go best alongside a mile-high pile of bacon! They're also great with a hearty main dish, like…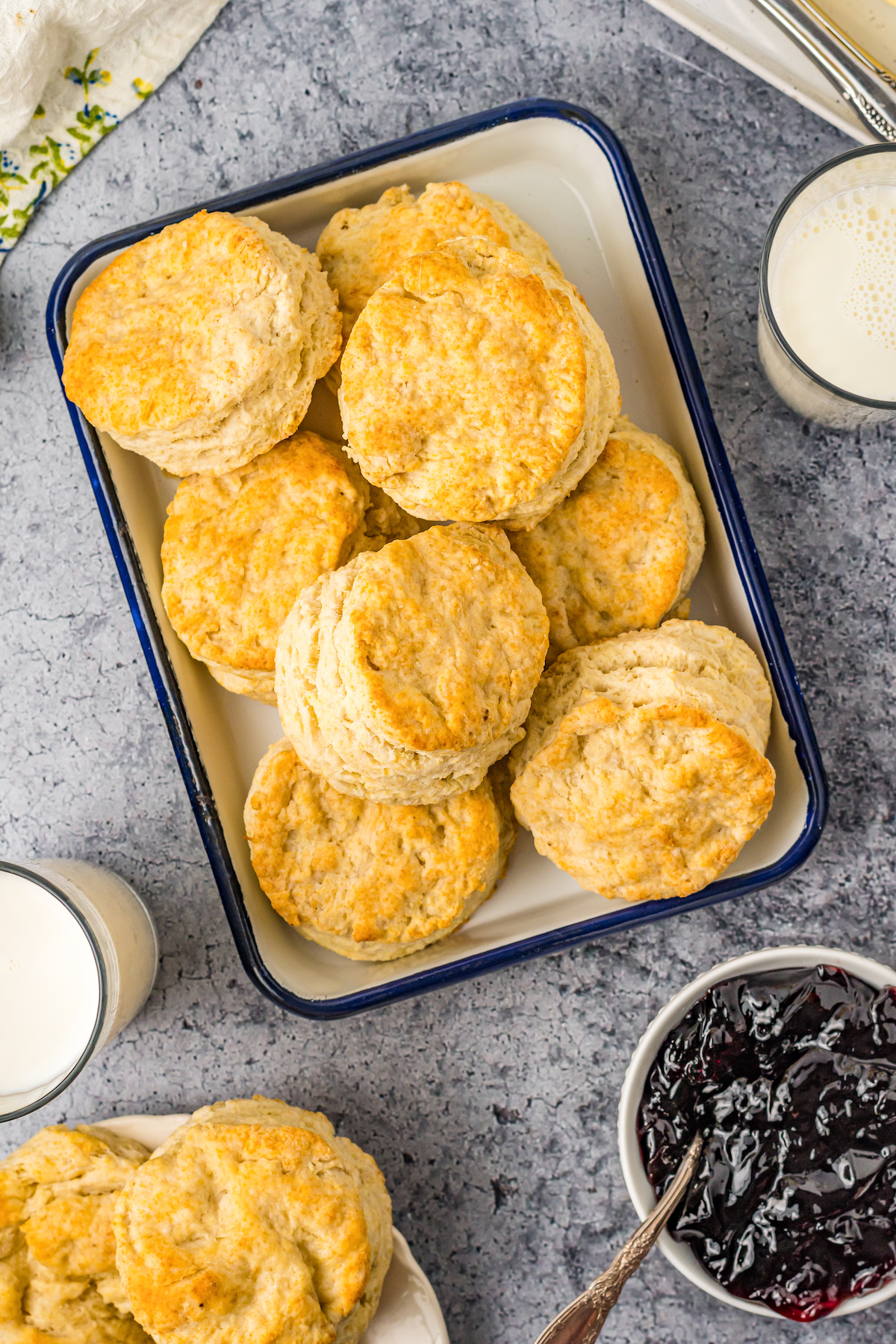 How to Store and Reheat Leftovers
Buttermilk biscuits are best eaten fresh, but if you have leftovers, you can store them in an airtight container in your refrigerator. They will keep for up to 5 days. Reheat them in a toaster oven for a few minutes, or in the microwave for a few seconds.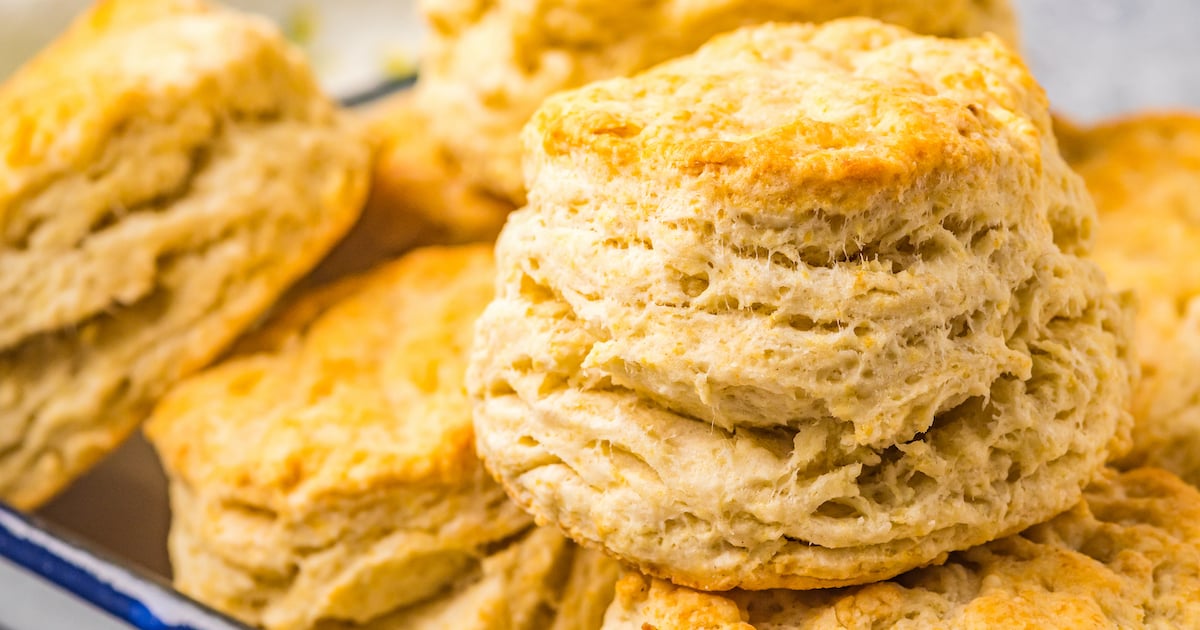 Can I Freeze Buttermilk Biscuits?
Yes! I am happy to say that these freeze really well, which makes serving fresh biscuits that much easier.
Honestly, making buttermilk biscuits takes me less than 20 minutes, start to finish…and that usually includes 5 minutes of whining about how Jorge should learn to cook breakfast. But this last time I made a batch, I tried freezing some of the unbaked biscuits. I cut them out, froze them on a tray, and popped them in a freezer bag.
A week later, I popped a couple into the oven directly from the freezer, and they baked up very nicely, with just a few extra minutes of baking time. Some were a little lopsided, but they still tasted delicious. If you do freeze yours, make sure to mark the bag with the date. Frozen biscuits should be used within about 3 months.
Southern Buttermilk Biscuits
Don't let anyone tell you different, the best Southern Buttermilk Biscuits are made with both butter and shortening! It provides the best of both worlds and leaves you with a delicious warm, flaky, buttery biscuit. Pure heaven.
Ingredients
3

cups

all purpose flour

2

tablespoons

baking powder

½

teaspoon

baking soda

1

teaspoon

salt

6

tablespoons

cold butter

,

grated

**4 tablespoons cold crisco shortening

,

cut into small pieces

1

cup

cold buttermilk

**extra buttermilk or melted butter to brush on the biscuits
Instructions
Preheat oven to 425°F. Line a baking sheet with parchment paper or a silicone baking mat. Set aside.

Combine the flour, baking powder, baking soda, and salt in a medium sized bowl.

Toss the grated butter and shortening with the flour till the pieces are coated, until it resembles coarse meal or sand.

Then stir in the cold buttermilk, just until a dough forms. If the dough is too dry, add an additional tablespoon of milk to the dough.

Gently form a ball and press out ½ inch thick with the palm of your hand or use a rolling pin.

Cut biscuits out with a biscuit cutter or turn a drinking glass upside down and use it to cut the biscuits. Press your leftover dough together again and cut out biscuits one more time.

Place biscuits on the prepared pan. Brush the tops with melted butter, or buttermilk, if desired. Bake for 12 minutes, until the tops are golden brown.

Remove and brush with melted butter one more time, if desired. Serve hot with

homemade sausage gravy

, more butter, jelly or honey.
Notes
**Or you can use all butter or all shortening. I find the combination of shortening/lard and butter to make the best textured biscuit, but all butter or all shortening works too!
Grate frozen butter, then toss in the flour, or cut into small pieces and place in a food processor with the flour. Give it a few good pulses to combine.
It is important that the butter and milk are icy cold. This will help the biscuits be nice and flaky!
Storage:
Store in an airtight container in the refrigerator for up to 5 days. (These are best eaten fresh.)
Reheat them in a toaster oven for a few minutes, or in the microwave for a few seconds.
Nutrition
Serving:
1
,
Calories:
164
kcal
,
Carbohydrates:
19
g
,
Protein:
3
g
,
Fat:
8
g
,
Saturated Fat:
4
g
,
Polyunsaturated Fat:
3
g
,
Cholesterol:
15
mg
,
Sodium:
422
mg
,
Fiber:
1
g
,
Sugar:
1
g
Categories:
More Savory Bread Recipes
This post may contain affiliate links. Read my disclosure policy.