Don't let anyone tell you different, the best Southern Buttermilk Biscuits are made with both butter and shortening! It provides the best of both worlds and leaves you with a delicious warm, flaky, buttery biscuit. Pure heaven.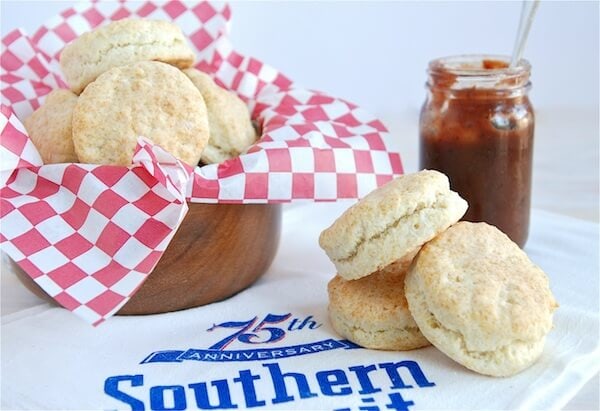 My life would end without biscuits. Ok, maybe that is a little dramatic.
My life would not be worth living without biscuits. Yes, I think that is more accurate.
There is something magical about biscuits, which is why I have decided to devote a week to biscuits. We had a whole week of cushaw, so why not a week of biscuits? I can't think of any better way to start biscuit week, than with the classic Southern Buttermilk Biscuit. You can eat them plain, with butter, with butter and jam, or with butter and honey. You can smother them in white country gravy or sandwich them around a piece of fried chicken. But, in my opinion, they really go best alongside a mile high pile of bacon.
Growing up my Mom always made biscuits out of a can. And those were good (trust me, there isn't a biscuit I don't like), but these are better. Sorry Pillsbury, but the combination of shortening and butter can't be beat by anything that plops out of your can. When I first made a batch of biscuits many years ago, they were a giant flop. The recipe I made was so difficult and confusing…and I knew there had to be a better way. So I tried again…and again…and again. I made them with all butter, with all shortening, with cold ingredients, with room temperature ingredients, with milk, and with buttermilk. I made and remade them, until I finally found my holy grail of biscuit.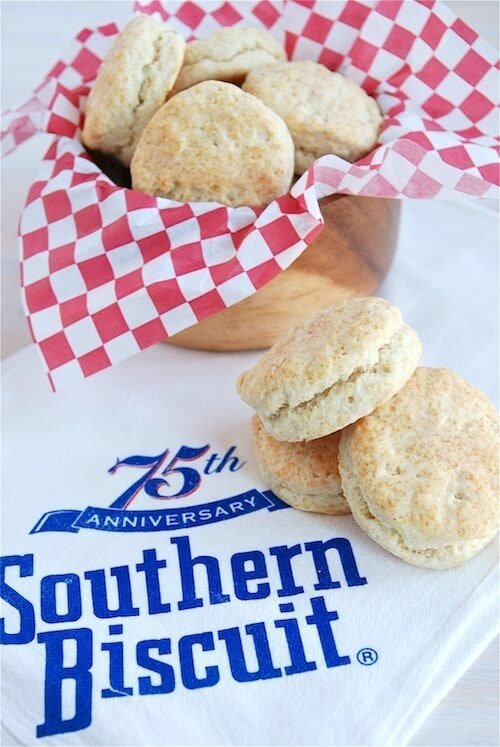 My biscuits take me less than 20 minutes, start to finish…and that usually includes the 5 minutes of whining about how Jorge should learn to cook breakfast. But this last time I made a batch, I went over to the dark side. The side where no other biscuit loving, proud southern girl has gone before. I froze biscuit dough. I patted out the dough, punched out the biscuit rounds, and immediately froze them. I forgot about them for a week waited a a week and then popped a couple into the oven directly from the freezer. Then I waited.
Eureka! I'm a freaking genius! Sure, somebody else out there has probably done this before. But unlike me, they never shared that it works! IT WORKS! Some might come out a little lopsided or risen a little weird, but they still taste delicious. You can make a big batch of biscuits, freeze them…and have biscuits anytime! In just a few minutes of baking! Amazing. Seriously, a-freaking-mazing. This discovery is the exact reflection of the extra time I have had to put into the gym lately. You may now thank me for your future biscuit muffin top.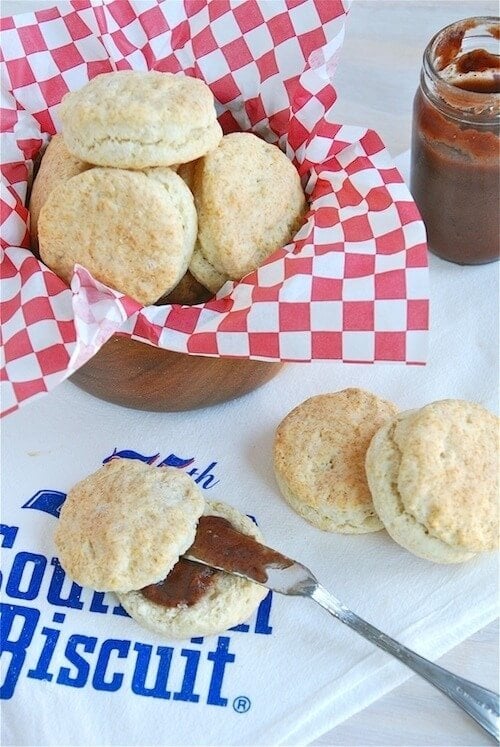 Save yourself a much needed headache and buy yourself a nice (but cheap – $8) set of biscuit cutters. You can use them for all kinds of things…like biscuits. …Oh and probably sugar cookies if you are into that sorta thing. 😉
If you do not buy the biscuit cutters, like I have told you to do, and you try to use a glass instead….do not come crying to me. My girlfriend, who shall remain nameless, **ahem** -Ashley- **ahem**, made this mistake already. You will not be able to pry your biscuits out in perfect little circles. However, she did tell me that funky oval biscuits still taste amazing.
Yield: 22 biscuits
Southern Buttermilk Biscuits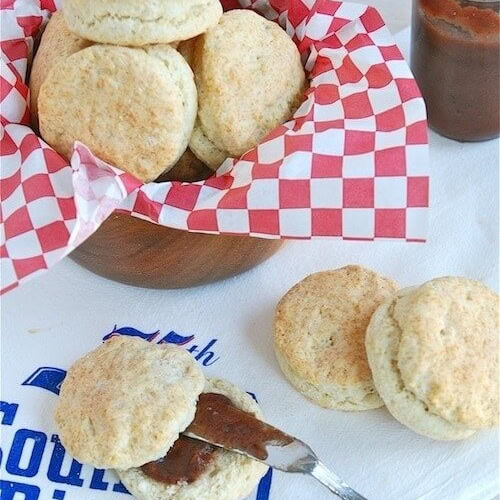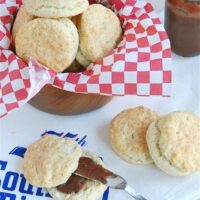 Don't let anyone tell you different, the best Southern Buttermilk Biscuit is made with both butter and shortening! It provides the best of both worlds and leaves you with a delicious warm, flaky, buttery biscuit. Pure heaven.
Ingredients
3 1/2 cups all purpose flour, sifted
1 tablespoon plus 1 teaspoon baking powder
1 teaspoon baking soda
1 teaspoon salt
1/3 cup crisco shortening
4 tablespoons unsalted butter, chilled but soft*
1 1/2 cups buttermilk (buy the real buttermilk, no subs on this one!)
2 tablespoons unsalted butter, melted for brushing on top
Instructions
Preheat oven to 400 degrees. Line a baking sheet with parchment paper or a silpat.
Combine the flour, baking powder, baking soda, and salt in a bowl and set aside.
In a stand mixer, cream together shortening and 4 tablespoons butter. Add flour mixture, with mixer on low, until small peas of dough form. This will take a few minutes and you will need to scrap down the sides/bottom of the bowl.
With the stand mixer still on low, carefully pour in the buttermilk. Mix until the dough comes together, do not over mix, and then turn onto a floured surface. Using the palms of your hands, gently pat the dough into a 1/2 inch thick disk. Using a 1 1/2 inch biscuit round cutter, cut out biscuits and place them on the lined baking sheet.
Carefully rework the leftover dough back into a disk and cut out biscuits once more. Your second batch of biscuits will never be as fluffy as your first batch. Each time you work with the dough, you press out more air. They will still be tasty, just not as perfect as your first batch.
Generously brush the tops of each biscuit with melted butter. Bake for 12-14 minutes, until lightly browned. Remove from oven and serve immediately, trying hard not to burn your tongue. Serve them with more butter and all the little fixin's your heart can dream of.
Notes
**Chilled but Soft: So what does that mean? What I am trying to say is, have your butter sitting on the counter for about 45 minutes to an hour before you use it. You don't want the butter to be room temperature, but you also don't want it hard from the fridge. Somewhere in the middle, soft but still cold.
TNCB Original
Nutrition Information:
Yield:
22
Serving Size:
1
Amount Per Serving:
Calories:

135
Total Fat:

7g
Saturated Fat:

3g
Trans Fat:

0g
Unsaturated Fat:

3g
Cholesterol:

11mg
Sodium:

208mg
Carbohydrates:

16g
Fiber:

1g
Sugar:

1g
Protein:

3g
Categories
This post may contain affiliate links. Read my disclosure policy.