This quirky recipe for 7-Up Biscuits may seem unusual, but don't be fooled – it's a fabulously easy way to make real buttery biscuits with an insanely light texture and delicious homestyle taste.
An Old-School Recipe for Quick, Fluffy Biscuits
If you've never heard of 7-Up biscuits, you might be raising an eyebrow. I get it, it's not your average biscuit recipe! But this is an oldie that's been around for several decades now, and because it's extremely easy to make, and extremely tasty, it's still a firm favorite. If you're in the mood for light and fluffy biscuits, try this out! (And if you're looking for a more traditional recipe, take a look at these Southern Buttermilk Biscuits and classic Homemade Biscuits.)
Why 7-Up? Basically, it's a clever shortcut that adds moisture, lightness, and a touch of sweet and tangy flavor. In my opinion, though, the real stars of the show are the classic biscuit ingredients involved. Real butter, flour, shortening, and sour cream make a flavorful, rich, and tender biscuit that you won't be able to resist.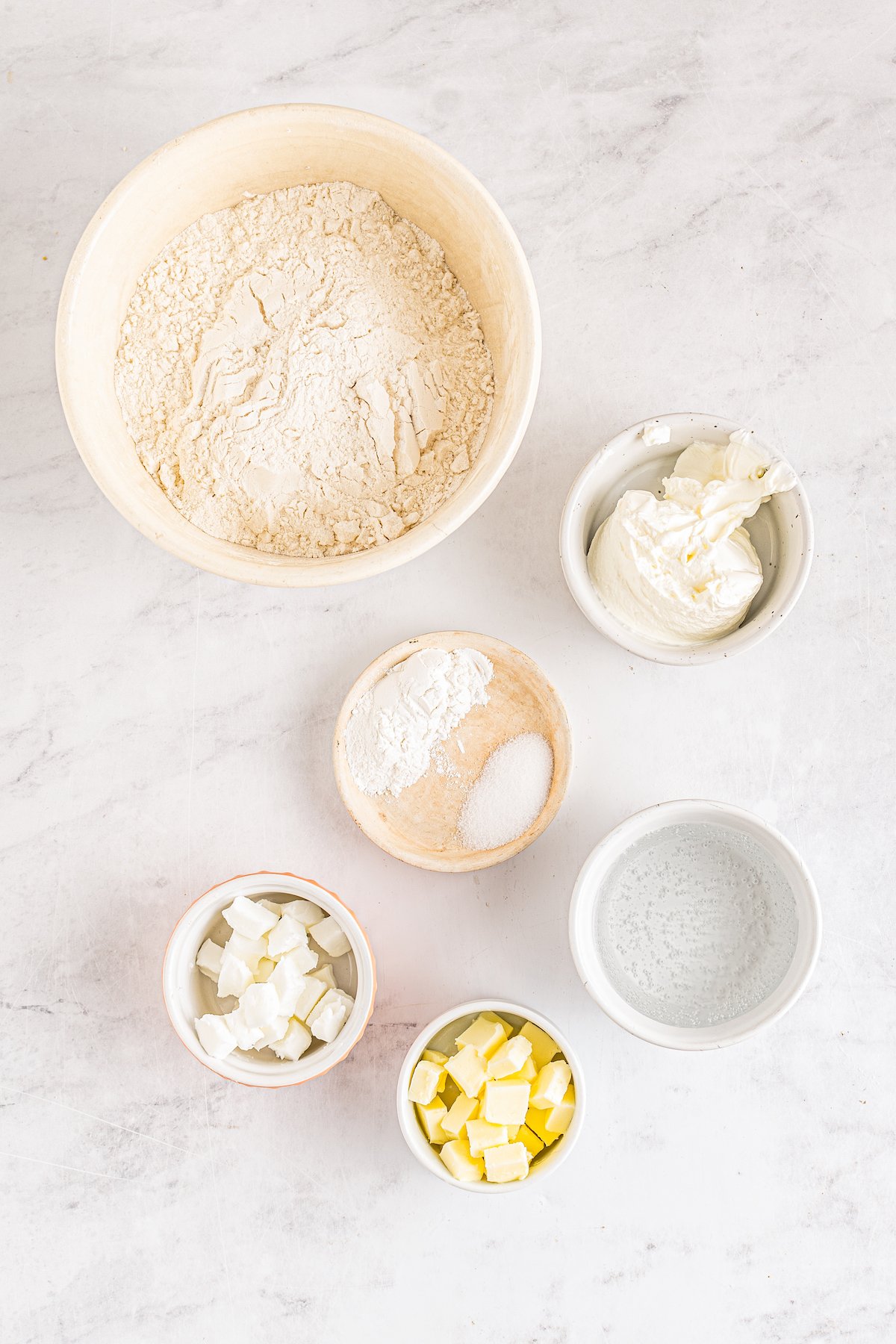 Ingredients
Is this the simplest recipe ever? This might just be the simplest recipe ever. Here's what you'll need to make these fluffy, buttery biscuits:
Flour: All-purpose flour is my go-to. You could also use pastry flour, which is made with soft wheat and generally produces a more cake-like result.
Baking Powder: Essential for making these biscuits light and fluffy.
Salt
Butter and Shortening: Make sure both are very cold, and cut them into cubes with a sharp knife.
Sour Cream: This adds a little tangy flavor, some richness, and lightness as well.
7-Up: One more light-n-fluffy ingredient. The 7-Up works a lot like baking soda, adding bubbles to the dough and creating a lighter bake.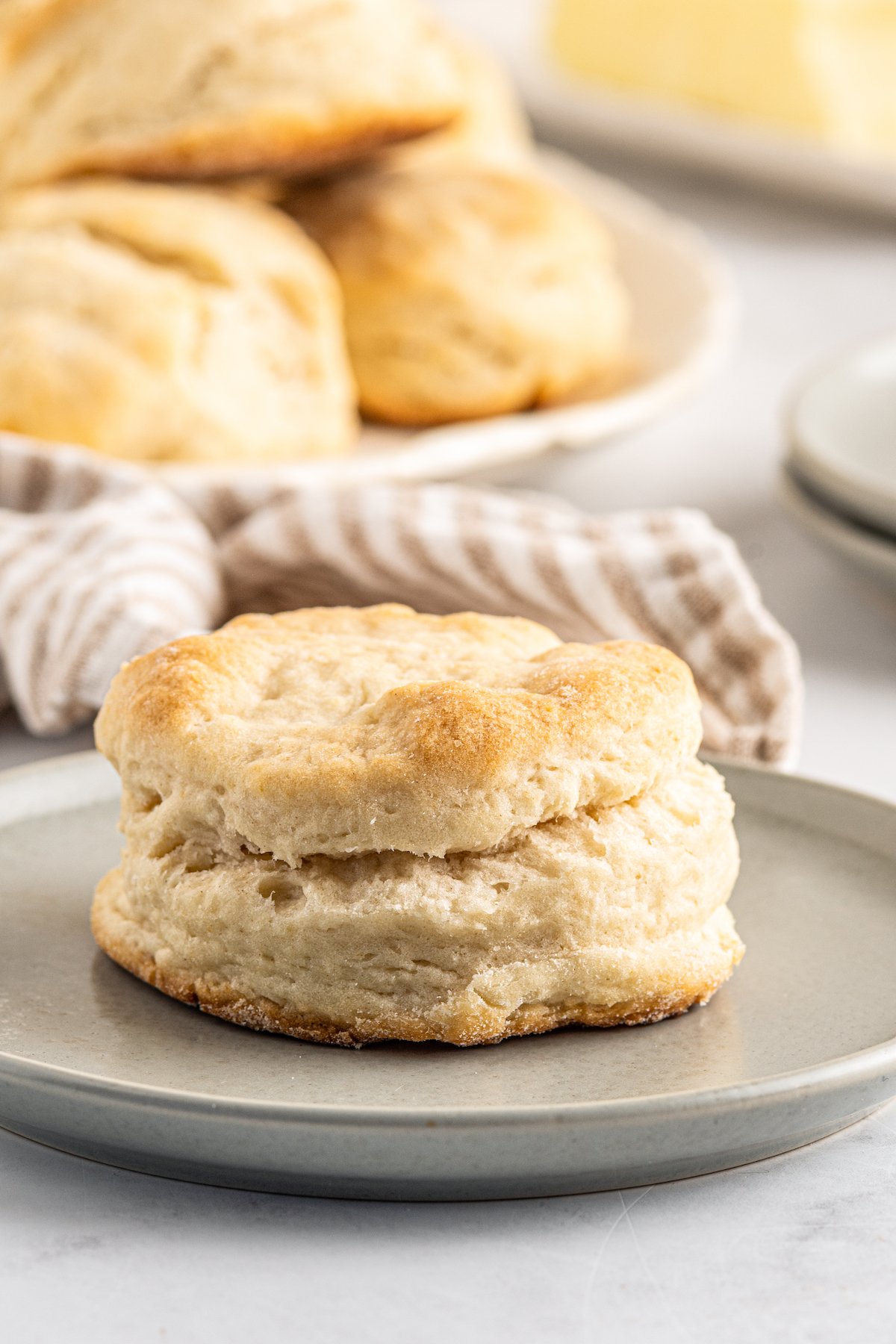 What Does 7-Up Do in Biscuits?
7-Up is a double-whammy in these biscuits, lightening them up and making them soft. For one thing, 7-Up is carbonated, meaning that it's bubbly and fizzy. That lightens the biscuit dough a bit. In addition, the 7-Up reacts with the baking powder to create even more leavening.
What Can You Substitute for 7-Up?
Any lemon-lime soda will work here. You don't have to use 7-Up. Store brands are fine, Sprite is fine, and you could even use ginger ale. Keep in mind that different sodas may add a slightly different taste to the mix, particularly if you use a sugar-free or diet soda.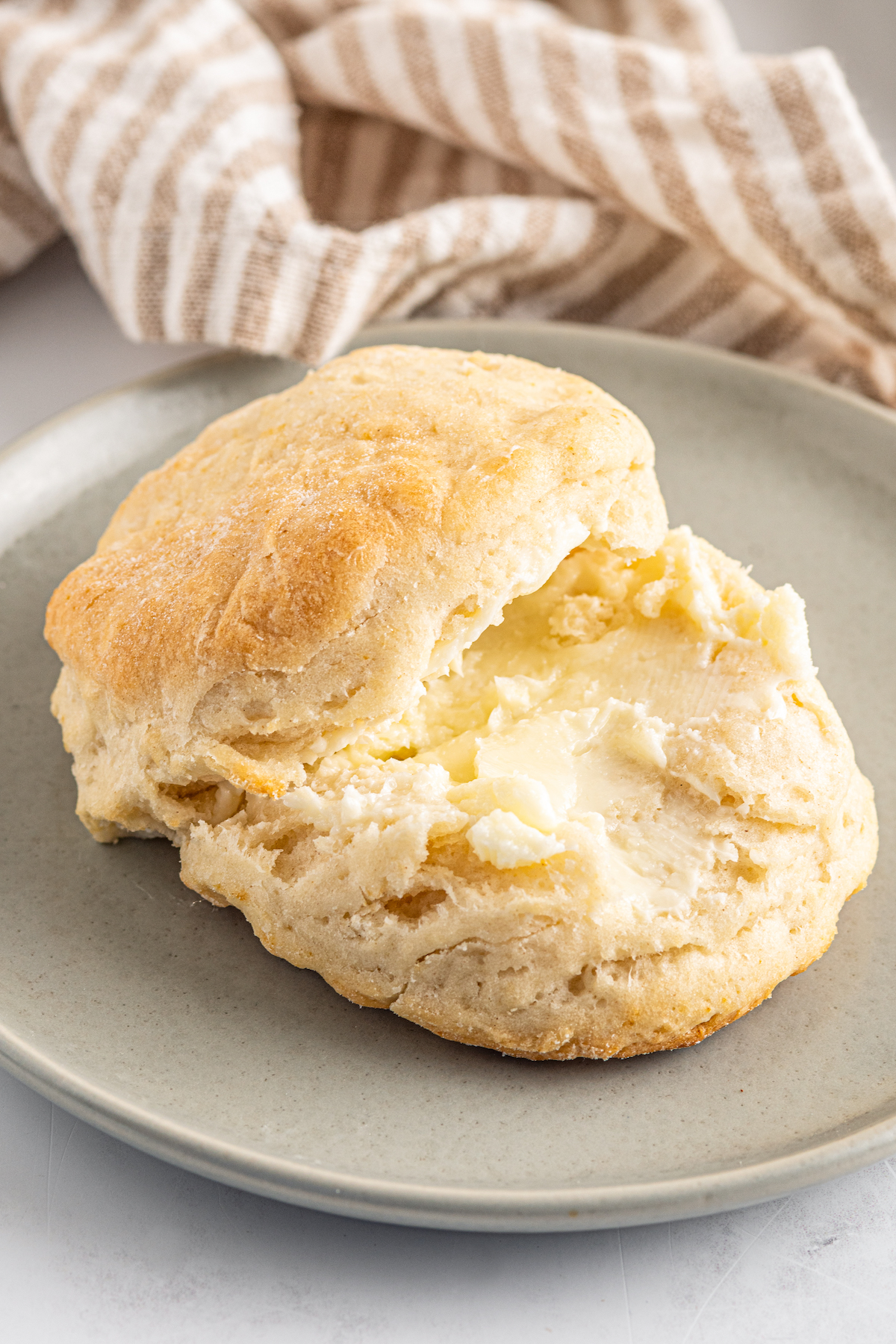 Let's Make 7-Up Biscuits!
So just how do you make these biscuits? It's a lot easier than you might think. Biscuits are notoriously tricky, but this easy recipe takes out all the guesswork. The process goes like this:
Get the Oven and Baking Sheet Ready. First, you'll want to preheat your oven to 450°F. That is hotter than a lot of other baking recipes, but it's one of the things that produces a nice, light biscuit. Next, line a baking sheet with parchment paper, or grease it with oil or baking spray if you prefer.
Combine the Dry Ingredients, and Cut in the Fats. Now it's time to make the dry ingredient mixture. In a large bowl, whisk the flour, baking powder, and salt together. Then use a pastry cutter or two knives to cut the butter and shortening into the flour mixture. You could also use a food processor for this. The mixture is ready when it looks crumbly and sandy.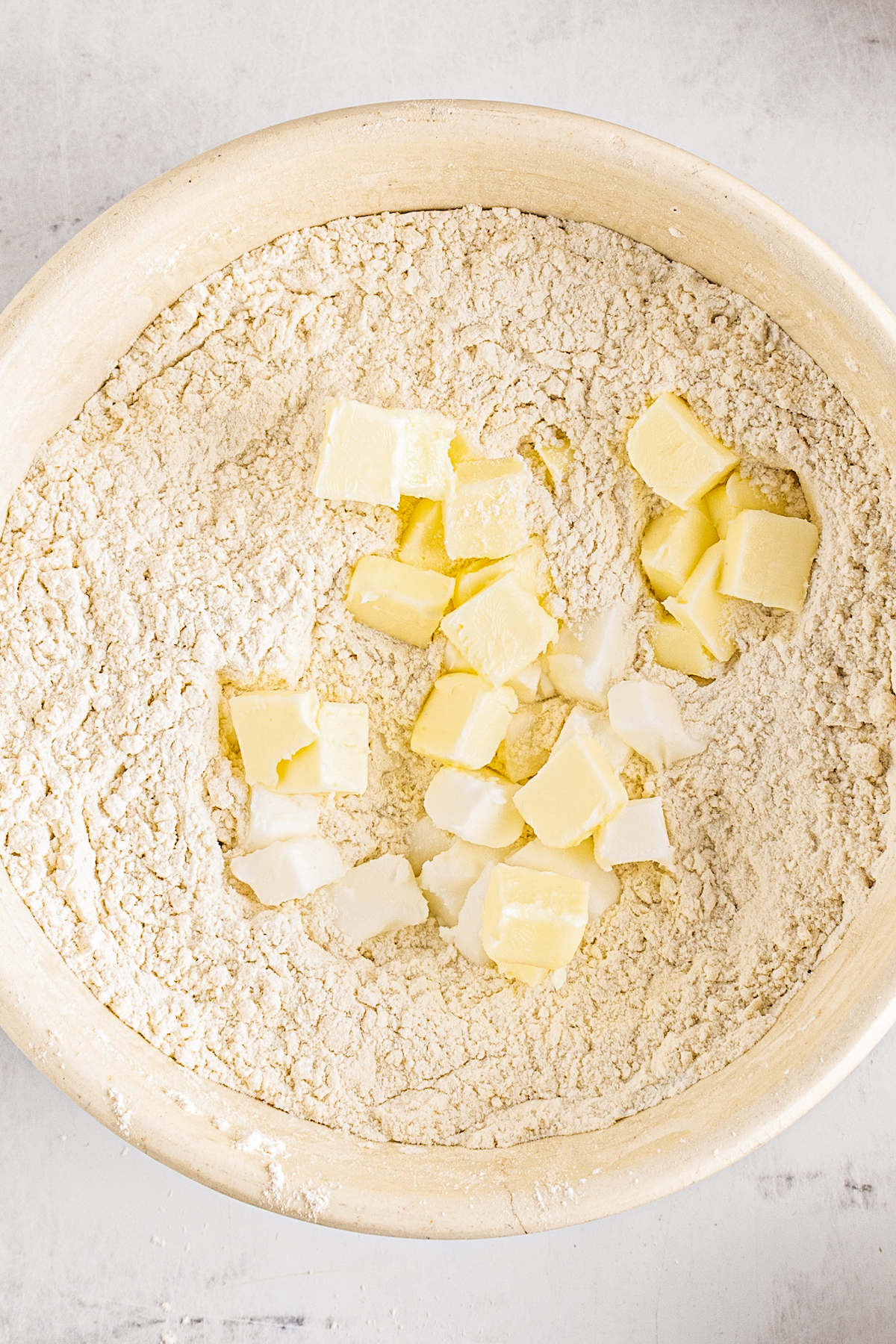 Add the Liquids. Scoop the sour cream into the mixing bowl with the flour, and use a spatula to gently incorporate it into the flour. It will be a lumpy mixture. Pour the 7-Up into the mixture, and stir gently to combine.
Cut Out the Biscuits. Dump the dough out onto a floured work surface, and use your hands or spatula to press it out into a circle. It should be good and thick – about one inch thick or so. Cut out biscuits using a biscuit cutter or clean glass. When you have cut out as many as possible, gently press the scraps together into a smaller circle, and cut more. You should end up with 10 – 12 biscuits.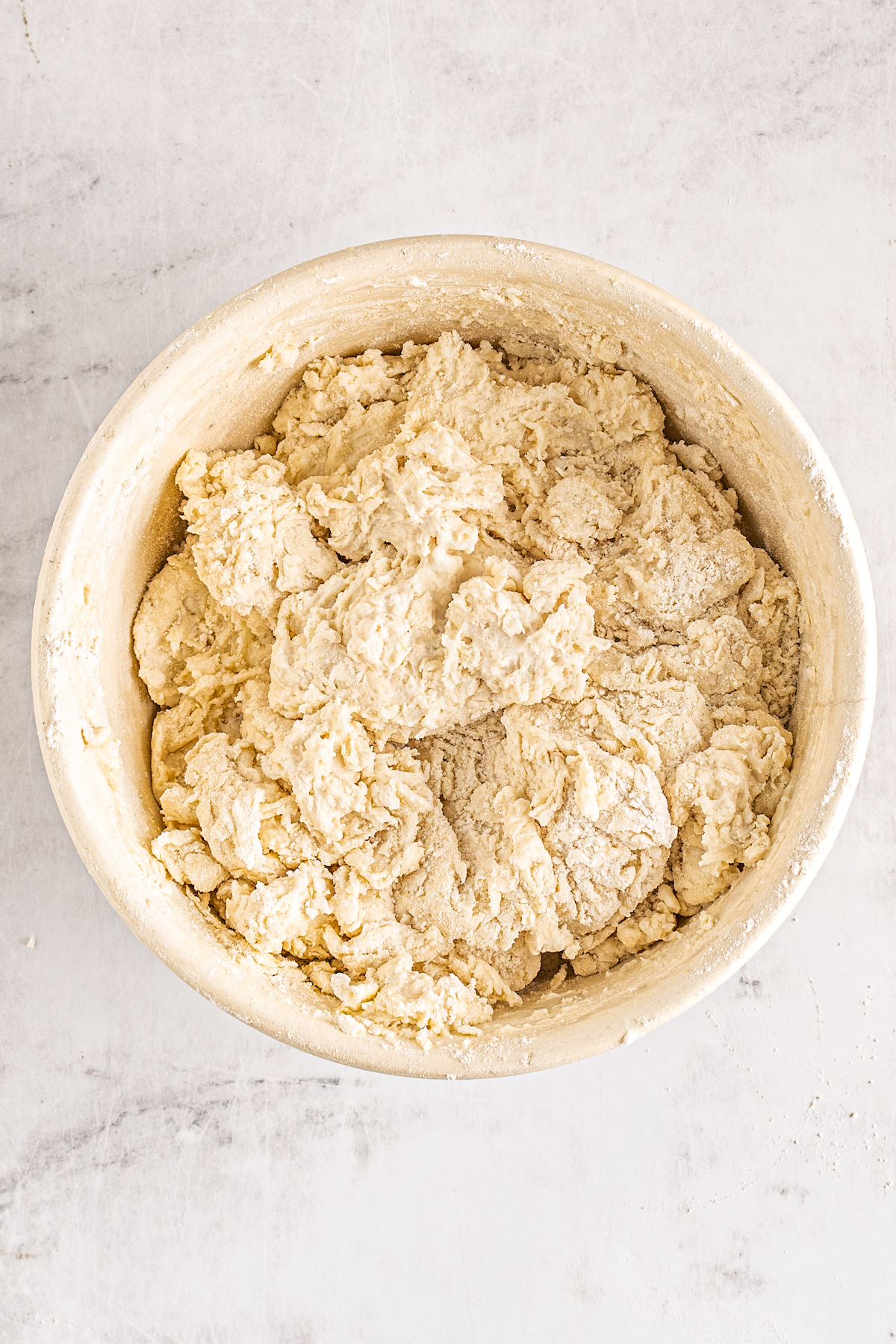 Bake! Transfer the cut biscuits to your prepared baking sheet, and bake for 13 minutes or until golden.
Enjoy! Serve your 7-Up biscuits fresh out of the oven.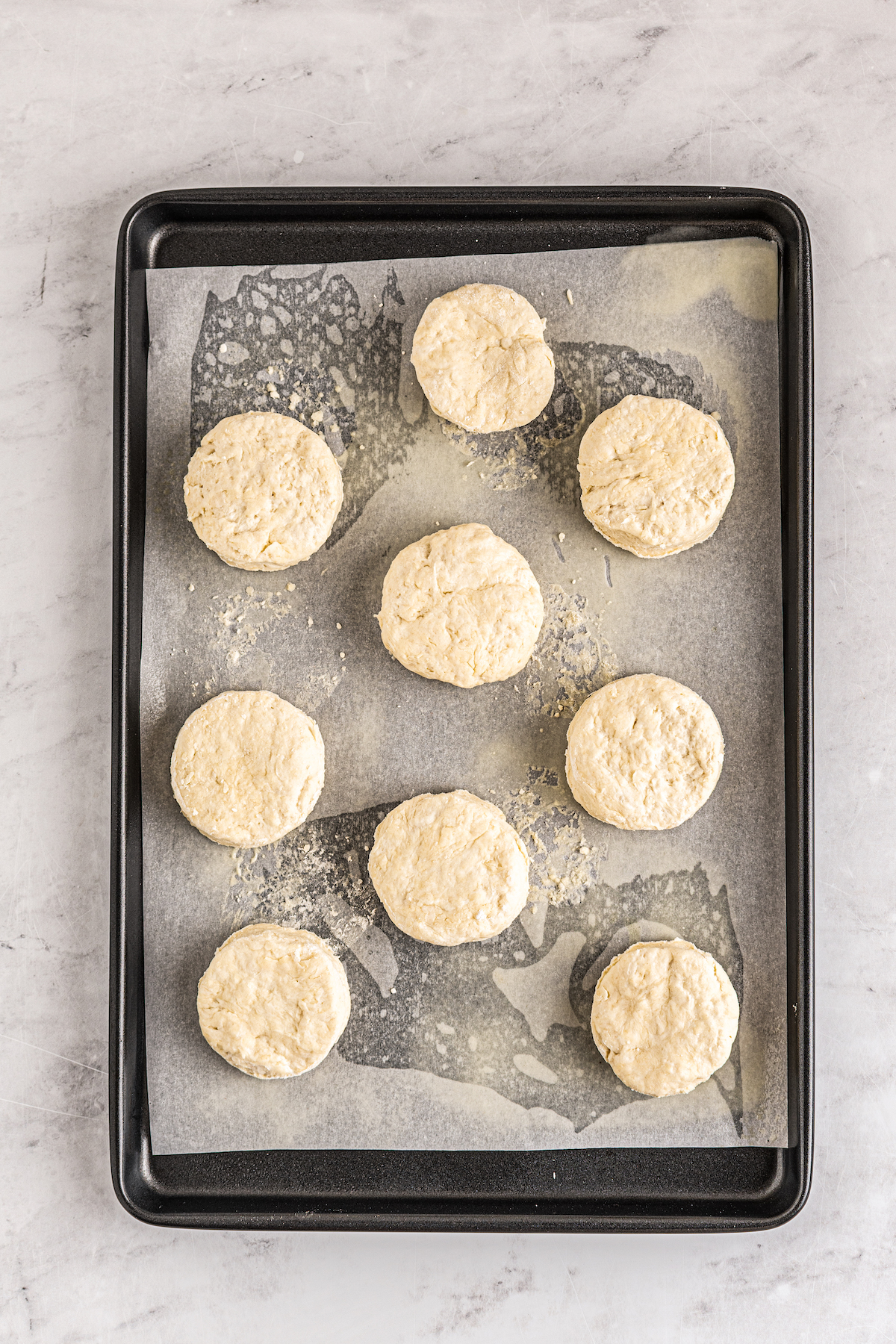 Can I Make Biscuits in the Air Fryer?
Yes, baking biscuits in your air fryer works really well, and it saves on heating up your stove oven, as well. To bake the biscuits in an air fryer, just grease the basket with non-aerosol cooking spray, and arrange a single layer of biscuits inside. The biscuits should not be touching. Air-fry at 400°F for 7 – 10 minutes, or until golden.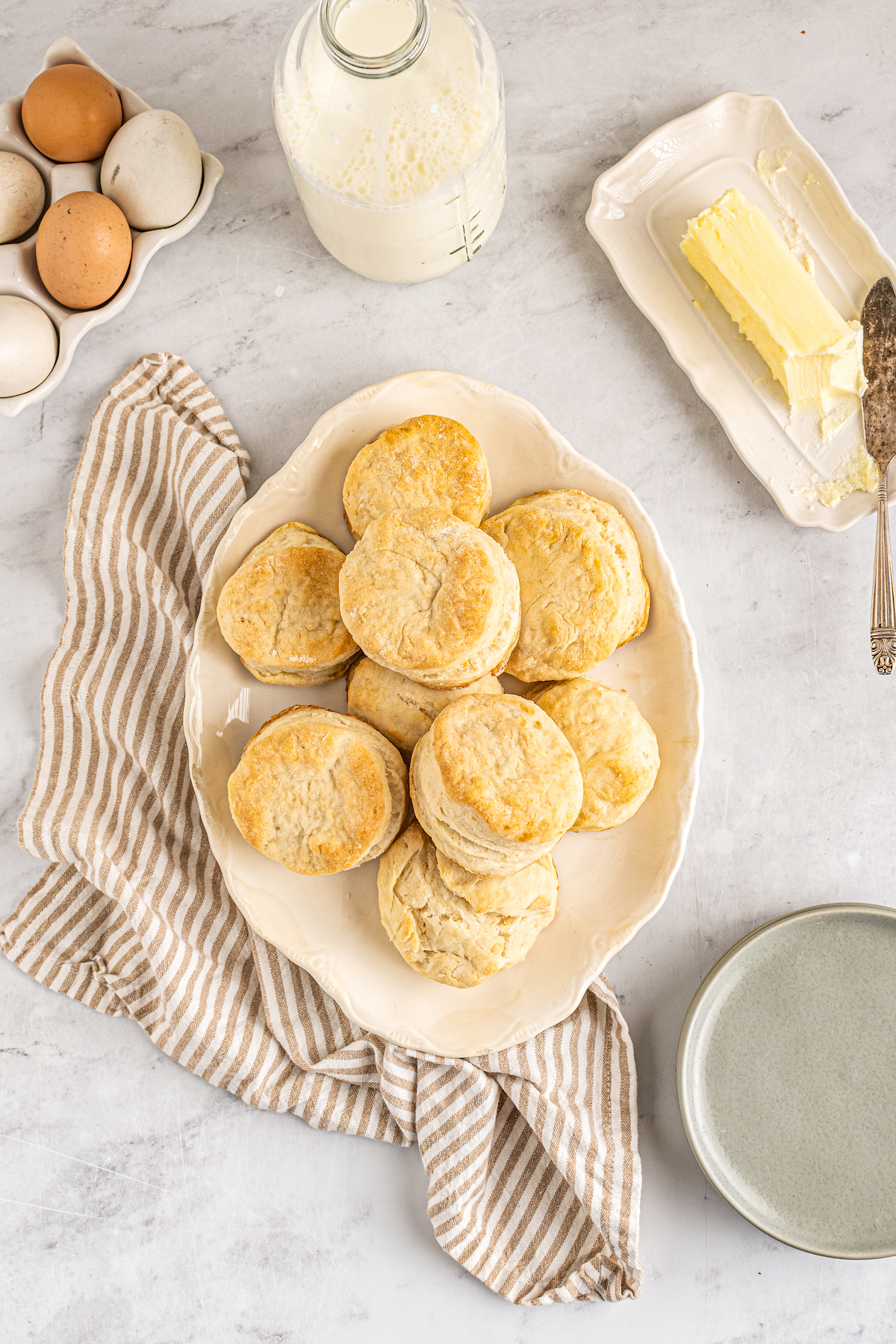 Recipe Notes and Tips
Everyone who makes biscuits has their own special tips and tricks, but I'm gonna share mine here for the good of humankind – or at least, those of us who like biscuits. Here we go:
About the Shortening: Shortening and butter together give biscuits an extra-light, fluffy texture. But if you don't want to use shortening, feel free to use all butter. They'll still be delicious!
Don't Overwork the Dough: When rolling out the biscuits, try to handle the dough as little as possible. That's key to preventing a dense, gummy result. Overworking the dough not only risks developing too much gluten (which would be a biscuit disaster), it will melt the butter – not good! You need that butter to melt in the oven, in order to make flaky layers and air pockets.
Baking Time: In my experience, these biscuits are fully baked at 11-12 minutes. But I like leaving them in for the extra minute or so, to get them a little more golden.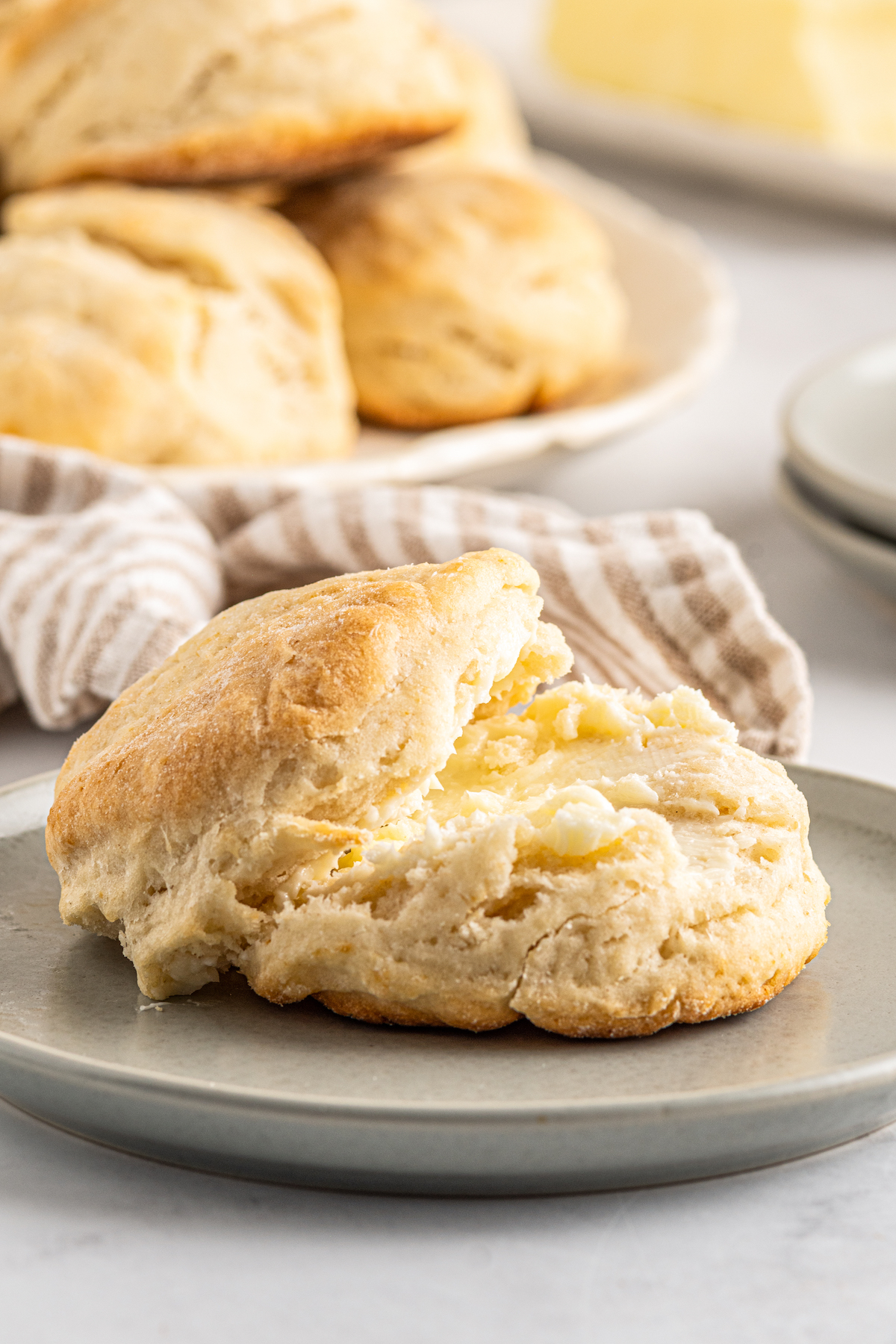 Serving Suggestions
7-Up biscuits are great with everything from butter and jelly to savory beef stew. Take a look at these easy recipes for biscuit-worthy inspiration!
Fried Chicken: Biscuits and fried chicken are a classic combo. I especially like making Chicken Fried Chicken, complete with homemade gravy.
Sausage Gravy: For a truly decadent and satisfying breakfast, split open one of these hot, fluffy biscuits and top it with Homemade Sausage Gravy. This simple Southern recipe is a tried-and-true favorite.
Homemade Jam: If you've never made homemade jam before, this foolproof recipe for Chia Cherry Jam is great for starting out. It's packed with nutrition and flavor. Everyone will love it, especially with buttered 7-Up biscuits!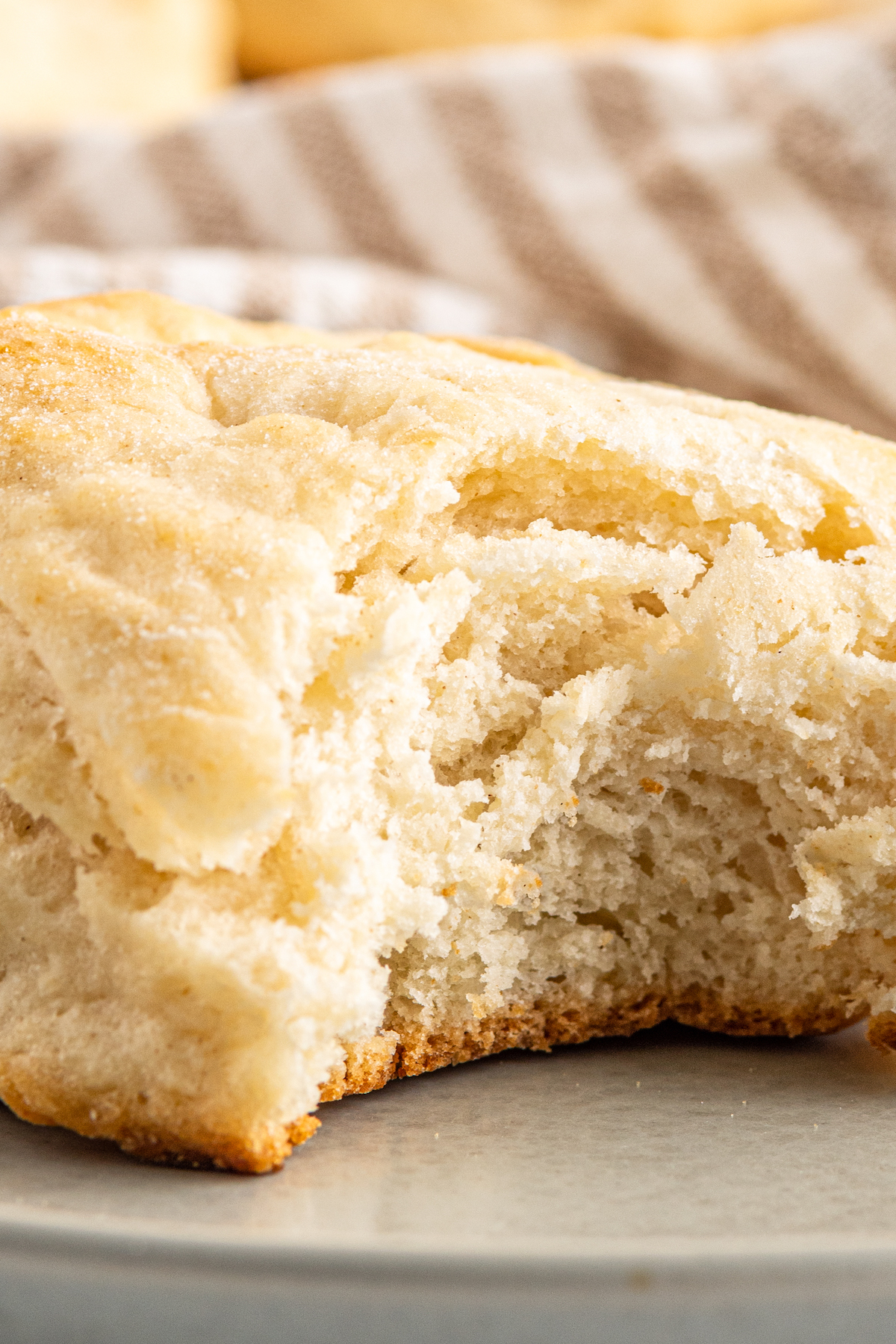 How to Store the Extras
Real talk? You may not have any leftovers, because nothing is as more-ish as a pan of fresh, warm biscuits! But if you do happen to have a few extras, just cool them down and pop them into an airtight container or baggie. Store at room temperature for up to 3 days.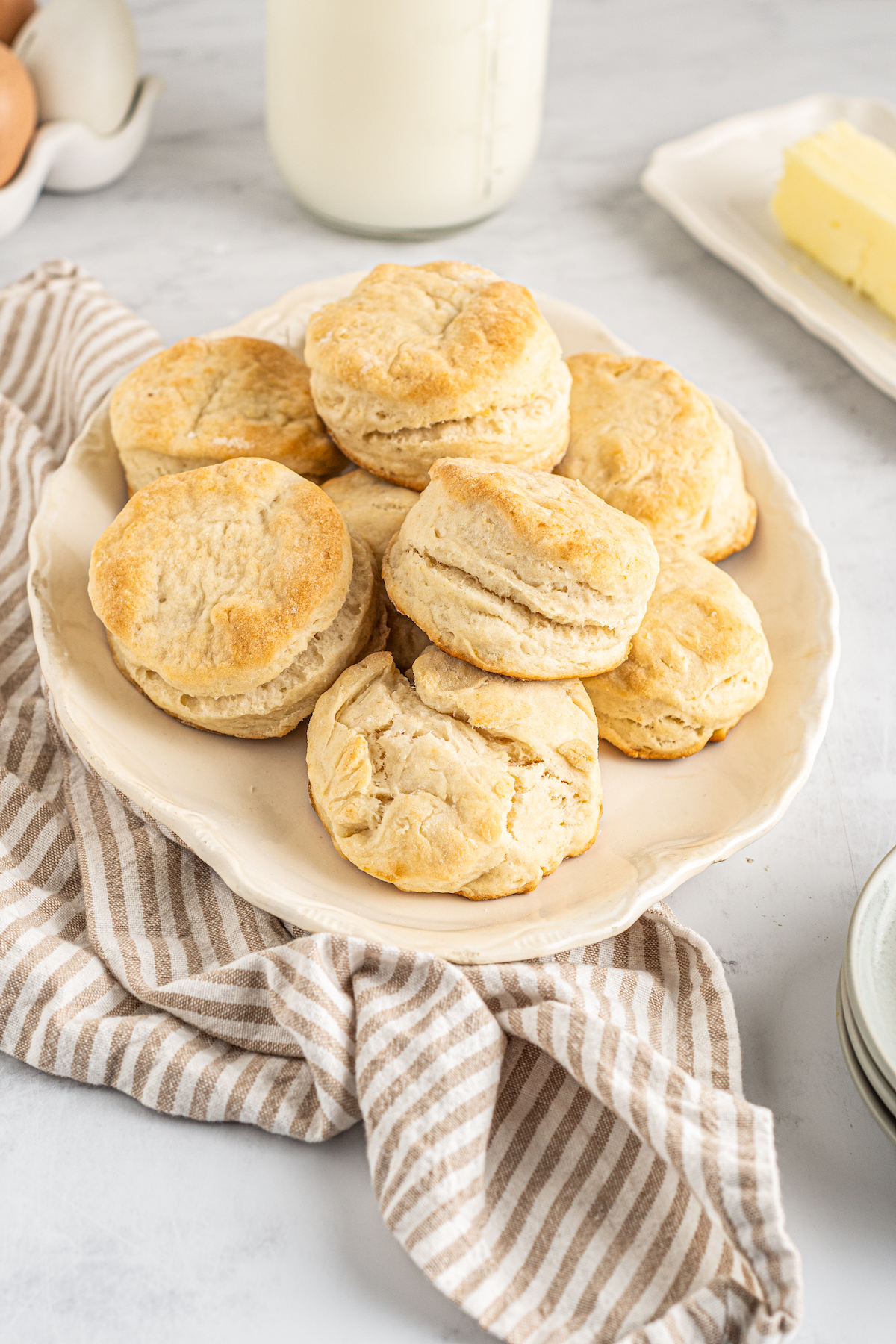 Can 7-Up Biscuits Be Frozen?
Yes, you can freeze 7-Up biscuits baked, or unbaked. Either way, they should be used within 3 months or so for best quality.
To freeze baked biscuits, cool them down completely and pack them into freezer bags. Mark with the date, and store in the freezer.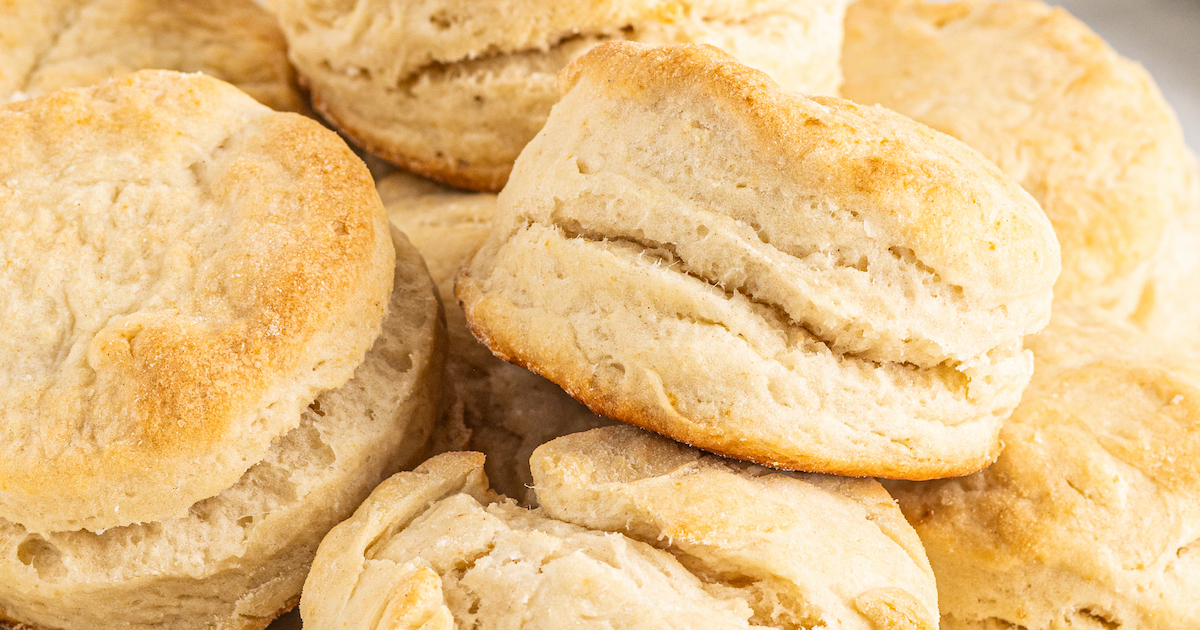 Reheating Frozen Biscuits
You can reheat frozen biscuits right out of the freezer! If they are already baked, just pop them into a 350°F oven and let them warm up for 10 minutes or so.
To bake frozen biscuits, line up the desired number of frozen biscuits on a parchment-lined baking sheet. Bake at 450°F for 10 – 15 minutes, or until fully baked and golden.
7-Up Biscuits
This quirky recipe for 7-Up Biscuits may seem unusual, but don't be fooled – it's a fabulously easy way to make real buttery biscuits with an insanely light texture and delicious homestyle taste.
Ingredients
2 ½

cup

all-purpose flour

3 ½

teaspoon

baking powder

¾

teaspoon

salt

¼

cup

cold butter

,

cubed

¼

cup

cold shortening

,

cubed

½

cup

sour cream

⅔

cup

7-Up
Instructions
Preheat the oven to 450°F. Line a baking sheet with parchment paper. Set aside.

In a large mixing bowl, whisk to combine the flour, baking powder and salt. Using a pastry cutter or two forks, cut the butter and shortening into the flour mixture, until the mixture is crumbly in texture.

Add the sour cream and use a rubber spatula to press and mix in. Once well mixed and coated, add the 7-Up and mix to combine.

Turn the dough out onto a clean, floured surface. Press the dough out into a 1" thick circle. Use a

biscuit cutter

(or a glass) to cut out biscuits. Press the excess dough back together to cut biscuits out of the remaining dough. You should get 10 to 12 biscuits.

Place the biscuits onto the prepared baking sheet and place into the preheated oven on the middle rack. Bake for 13 minutes, until golden. Serve warm.
Notes
Shortening – You can use all butter if you prefer. I find the mixture of shortening and butter to give you the best-textured biscuits.
Sour Cream – You can use plain greek yogurt in place of the sour cream.
Seven Up – Or Sprite works the same.
When rolling out the biscuits, try to handle the dough as little as possible. Overworking the dough will melt the butter, thus preventing flakey, buttery layers.
The biscuits are baked at 11-12 minutes into the baking time, but the added minute will get them a little more golden.
Nutrition
Serving:
1
,
Calories:
224
kcal
,
Carbohydrates:
25
g
,
Protein:
4
g
,
Fat:
12
g
,
Saturated Fat:
6
g
,
Polyunsaturated Fat:
5
g
,
Cholesterol:
22
mg
,
Sodium:
370
mg
,
Fiber:
1
g
Categories:
More Easy Baking Recipes
This post may contain affiliate links. Read my disclosure policy.