These copycat Texas Roadhouse Rolls are the ultimate side dish for a holiday or family occasion! Each tender, buttery roll is pillowy soft, and served up with homemade cinnamon honey butter.
Soft, Fluffy Rolls with Sweet Cinnamon Honey Butter!
Have you ever gone out to eat, and been so distracted by the bread (or in Mexican restaurants, the tortilla chips!) that you almost didn't care about ordering? One of the best examples of this phenomenon comes from the Texas Roadhouse, a steakhouse that's popular across the whole U.S. Their famous dinner rolls are known for softness, sweetness, and the killer cinnamon honey butter they come with. Texas Roadhouse rolls are one of the most coveted copycat recipes out there.
And guys, I think this recipe might be one of the best. Using a simple enriched yeast roll dough, made from scratch with wholesome ingredients, these fluffy rolls are distractingly delicious! The only thing that could make them better is some cinnamon honey butter, and I've got the ingredients and instructions for that, too.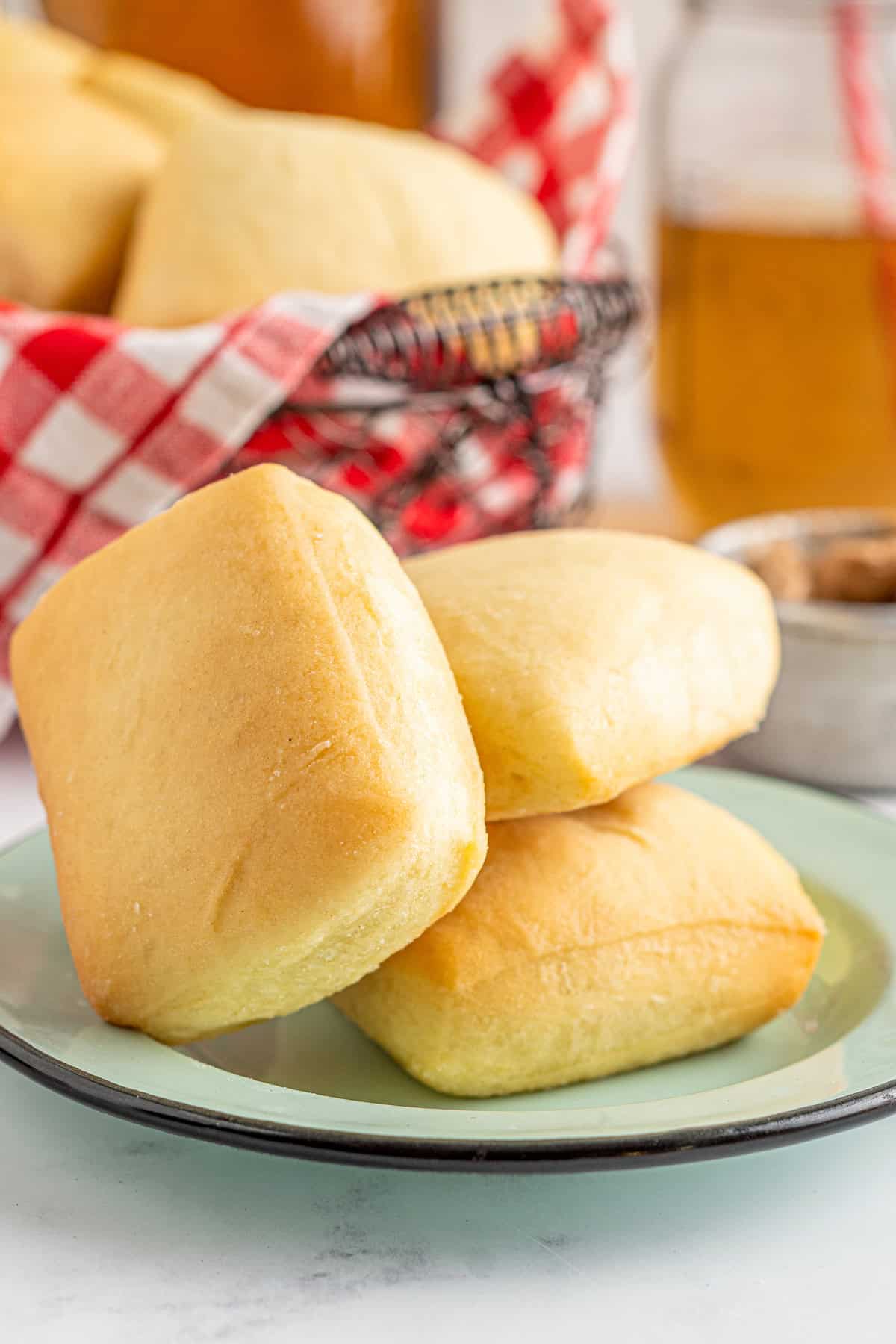 Why Are the Texas Roadhouse Rolls So Good?
Maybe it's a combination of the sweet yeast dough and even sweeter honey butter. Maybe it's that they're so. Darn. Fluffy. Maybe it's that they are freshly made throughout the day. Whatever the case (and I honestly think it's all three, combined), Texas Roadhouse rolls are legendary!
The only downside is that you don't always want to head into the restaurant (or pay restaurant prices, for them). Which is why this recipe is so perfect – you get to bring that Texas Roadhouse goodness right into your own kitchen!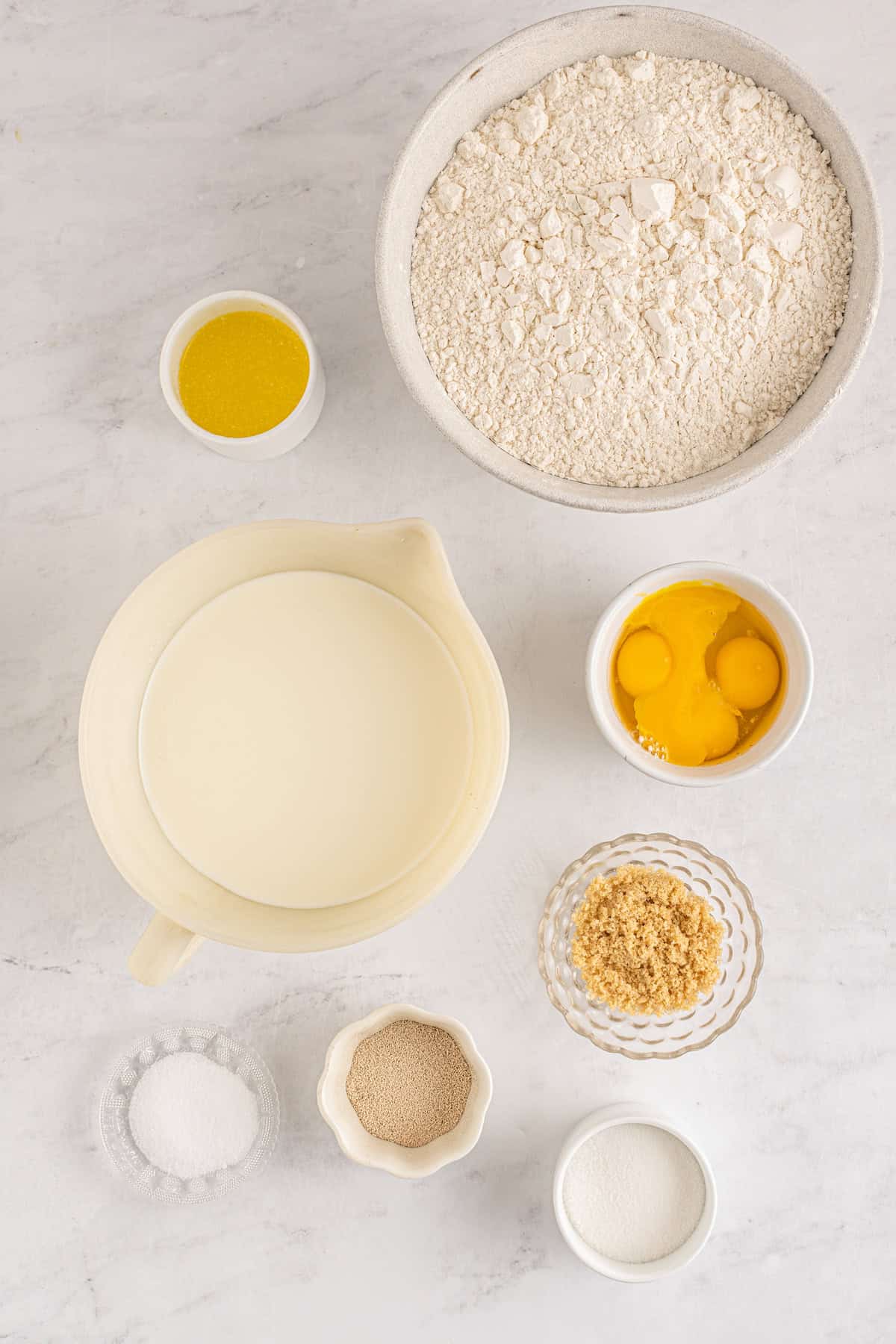 The Ingredients You'll Need
This is a pretty straightforward sweet, enriched dough recipe. The honey butter is also simple, with only a few basic ingredients, similar to frosting. Here's what you'll need:
For the Rolls
Milk: The milk should be warm – about body temperature or a few degrees warmer. You can warm it in the microwave or on the stove. If it gets too hot, be sure to let it cool down before you use it, or the heat will kill the yeast!
Yeast: I use active, dry yeast in this recipe. You'll need 3 1⁄2 teaspoons, but be aware that if you use yeast in the little packets, those only contain 2 ¼ teaspoons, so dump two of them into a small dish and use your measuring spoons to get the right amount.
Sugar: I use both granulated sugar and brown sugar in this recipe.
Eggs and Egg Yolks: This dough gets plenty of added richness from a couple of whole eggs plus a couple of extra egg yolks.
Melted Butter: Unsalted is my preference, but you could use salted if you like. You might want to slightly reduce the amount of salt in the recipe.
Flour: All-purpose flour – be sure not to use self-rising flour.
Salt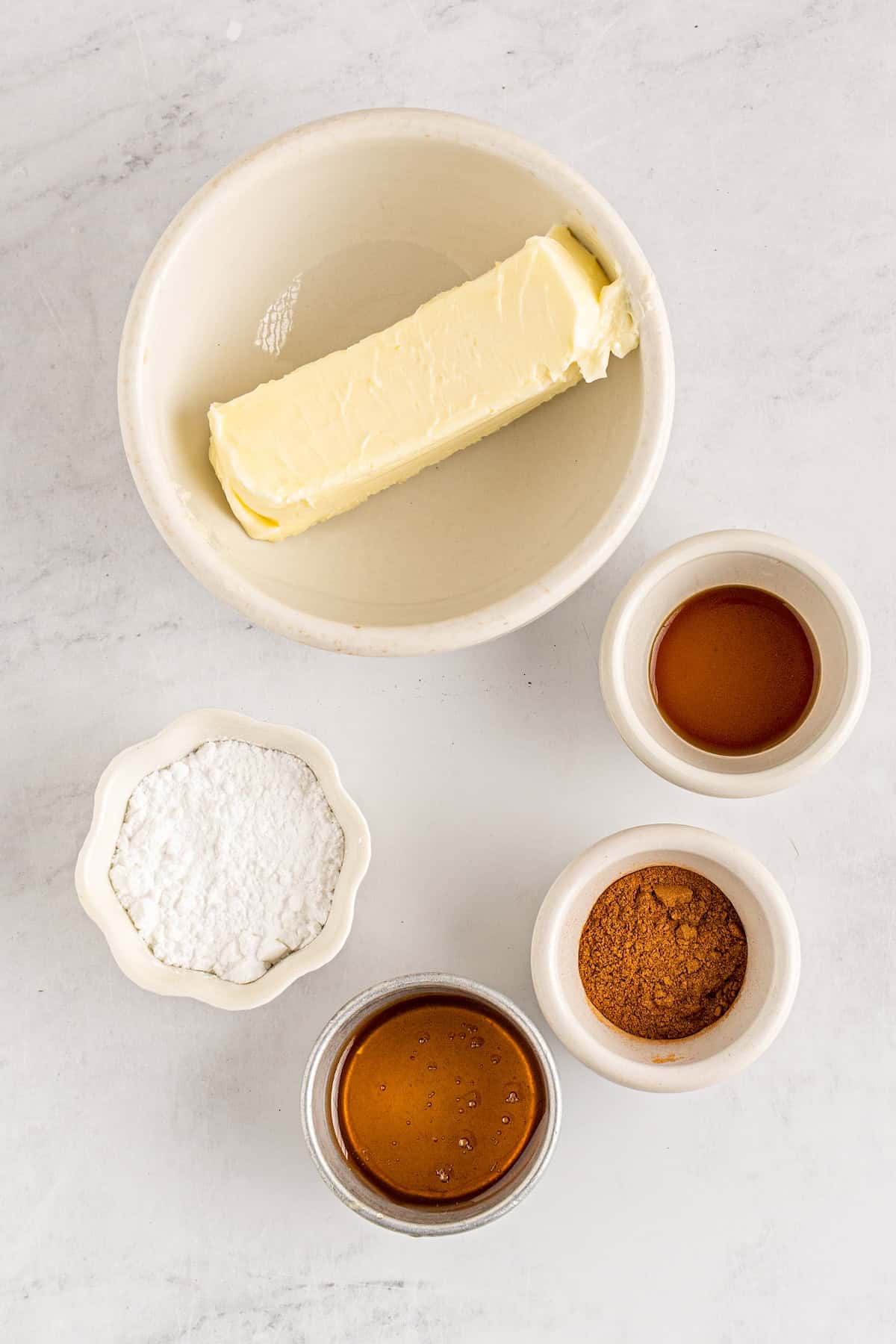 Cinnamon Honey Butter
Butter: Soften the butter to room temperature before using it.
Powdered Sugar and Honey: I use a little of both, for sweetening this yummy butter. If you wanted to just use honey, you could, but it might have a slightly stronger taste.
Cinnamon: For the best results, check the dates on your ground cinnamon and make sure it's not older than one year. Old spices aren't necessarily rancid or bad to eat, but they lose a lot of flavor over time – and some of them can turn a little bitter.
Vanilla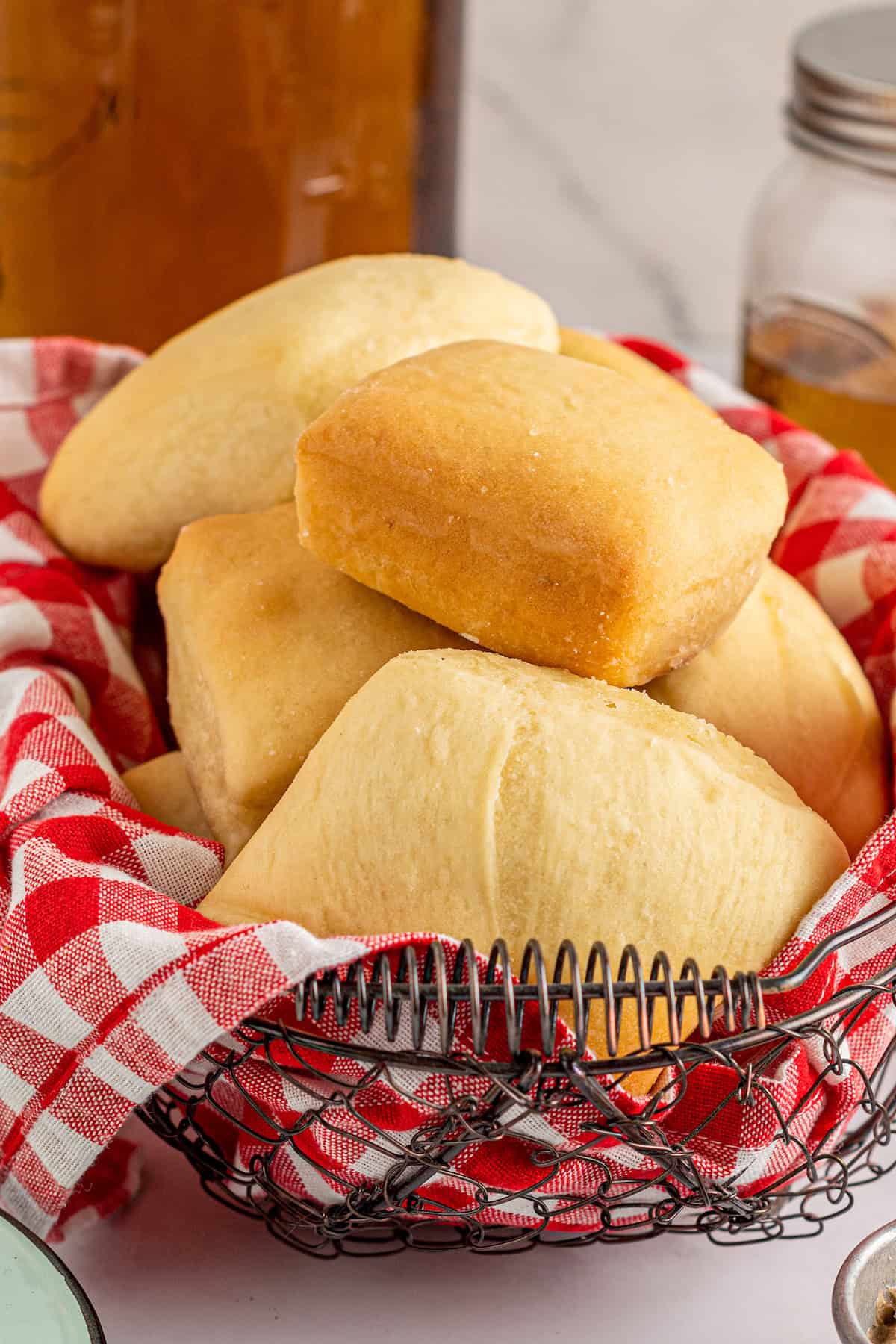 How to Make Them
So how do you make these rolls? If you've ever worked with yeast dough before, this process will probably be fairly familiar. If not, that's okay too! This how-to guide will walk you through the steps.
Proof the Yeast. In the bowl of a stand mixer fitted with a whisk attachment, combine your warm milk, the yeast, and two teaspoons of the sugar. Allow this mixture to sit for 5 minutes to make sure that the yeast is active – if it's active, it will begin to turn frothy.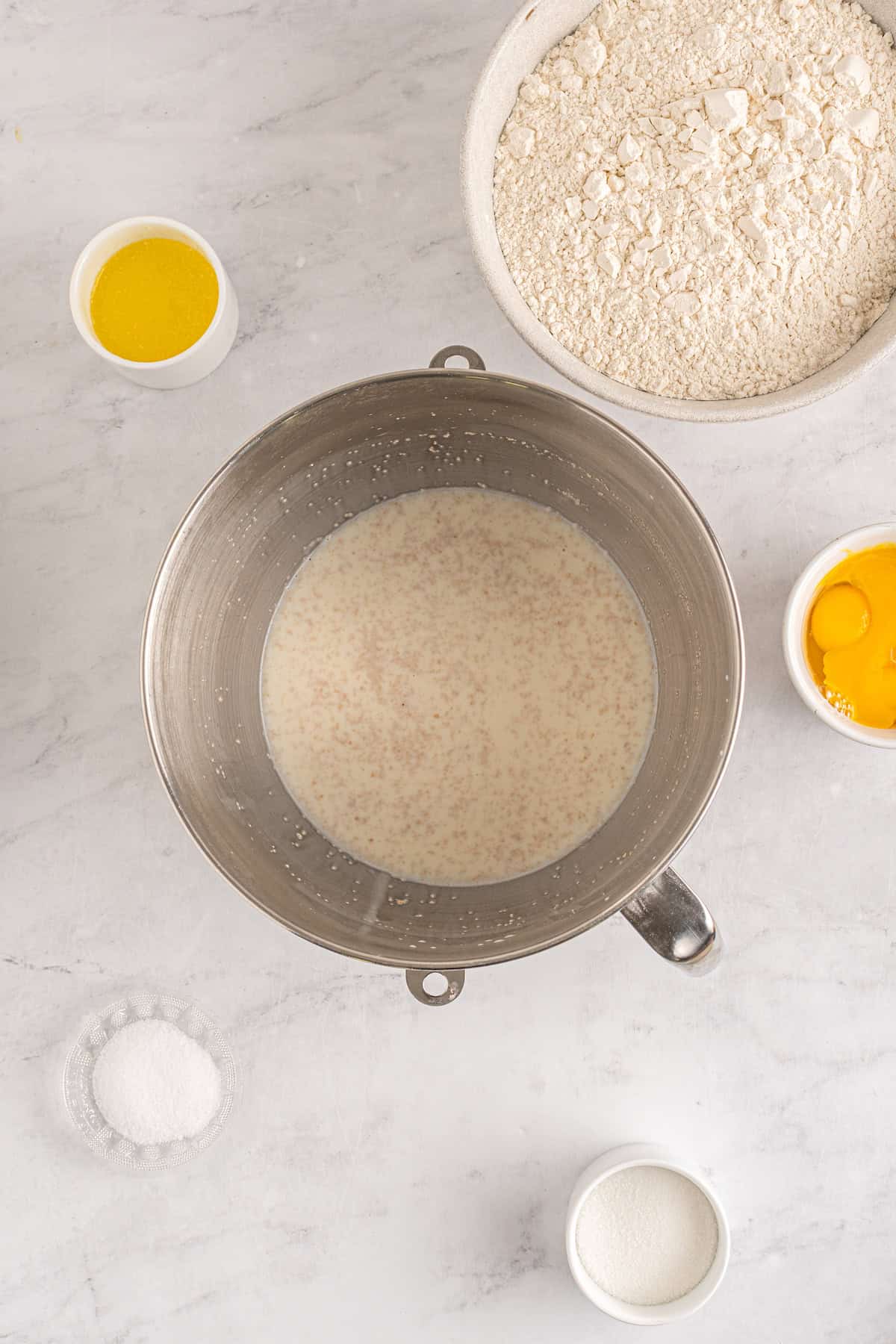 Add the Rest of the Liquid Ingredients. Once the yeast mixture is frothy, mix in the eggs, egg yolks, the rest of the granulated sugar, and the brown sugar.
Add the Dry Ingredients, and Knead. Next, beat in the flour and salt to make a rough dough. Swap out the whisk attachment and insert the dough hook, and knead the dough on medium speed for about 6 minutes, until you have a smooth, elastic dough that bounces back when you press it with your finger.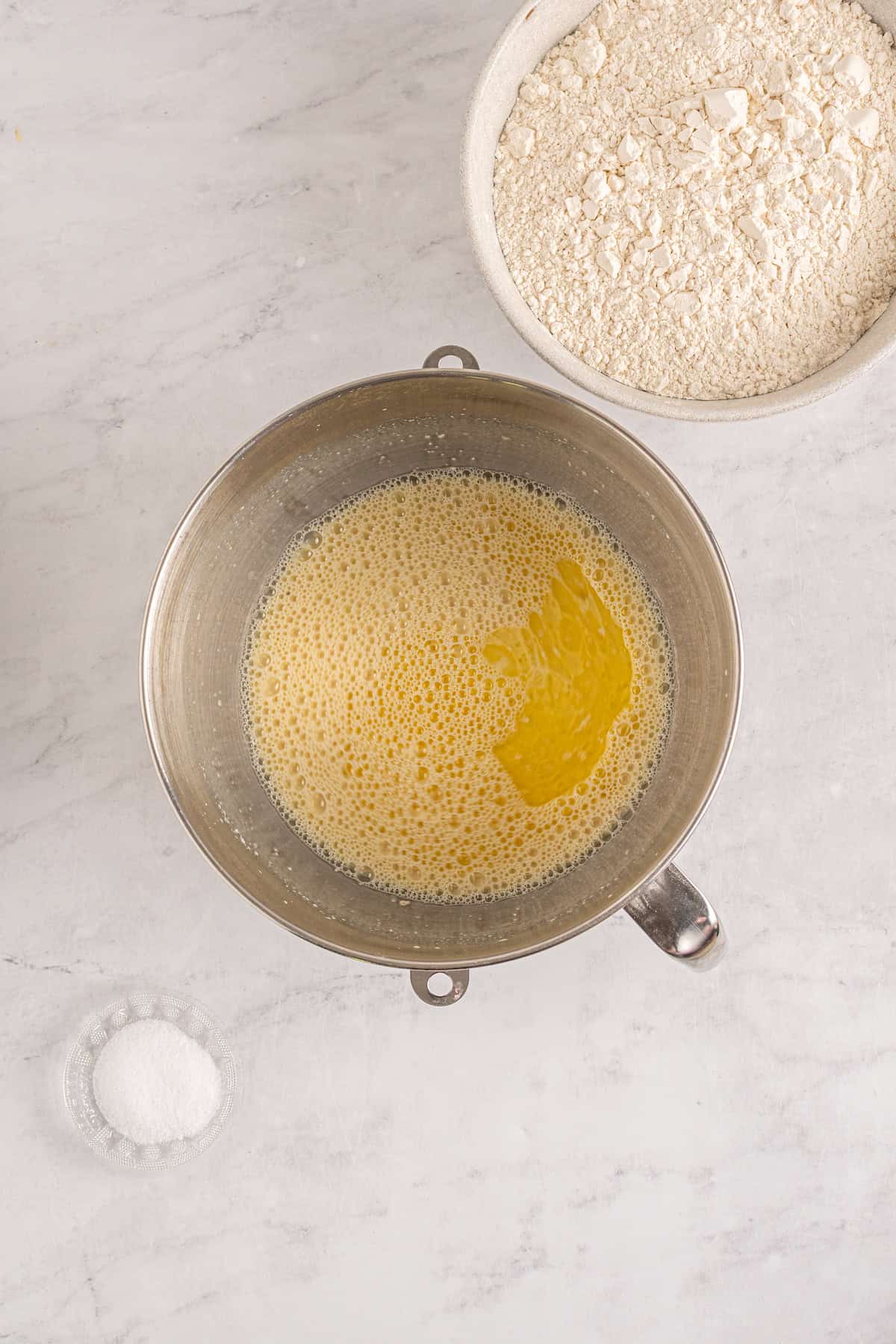 First Rise: Detach the mixing bowl from the mixer, and set it in a warm place so the dough can rise. Cover it with plastic wrap, and let it rise for an hour or so until it's doubled in size.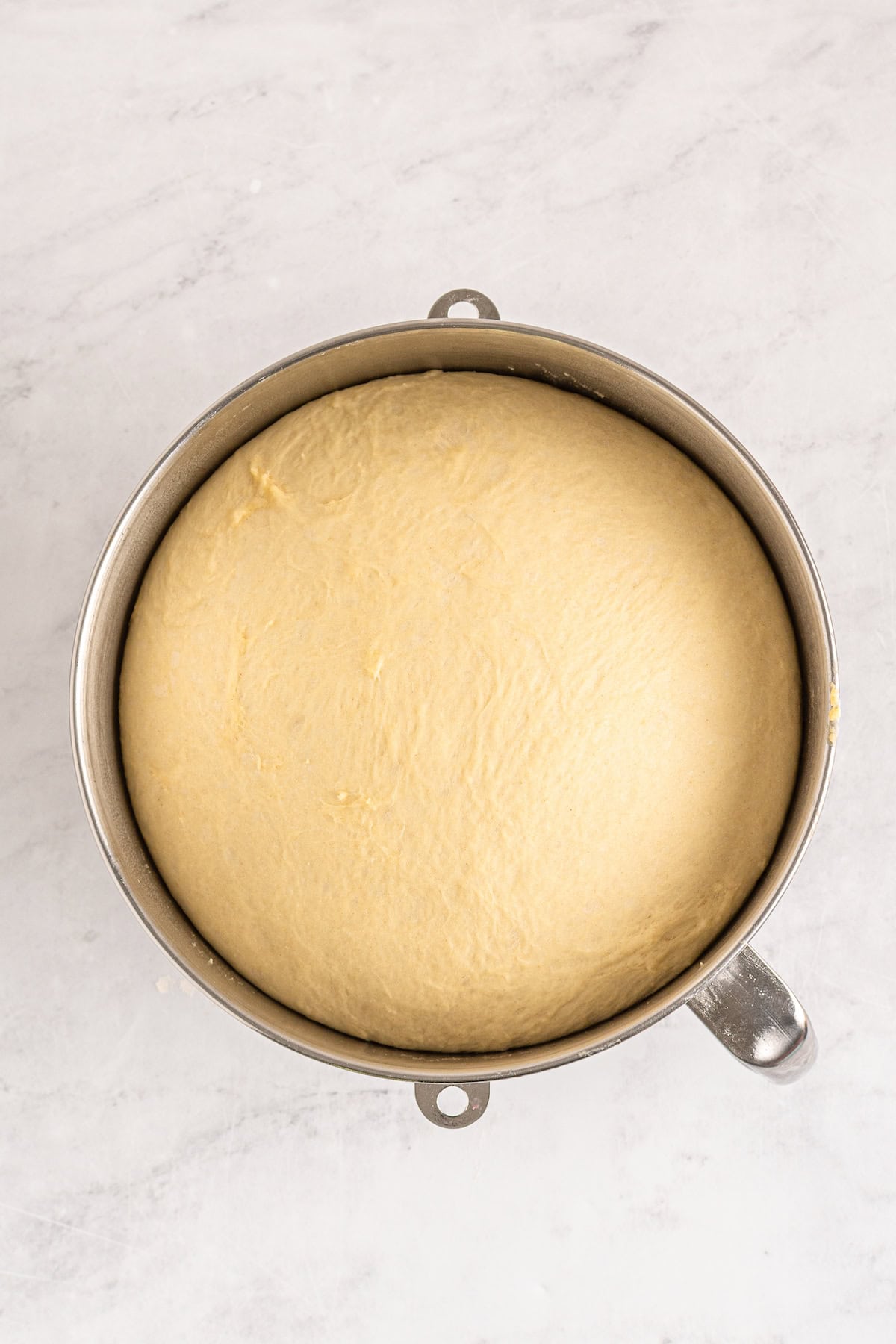 Cut the Rolls. Once the dough has risen, scoop it out of the bowl onto a clean, floured work surface. Roll it out into a large rectangle, about ½ inch thick, and use a pizza cutter to cut it into square or rectangular rolls. Once the dough has doubled, turn out onto a clean floured surface. Roll the dough out into a rectangle about 1⁄2 inch thick, and then use a pizza cutter or other sharp edge to cut square or rectangular rolls.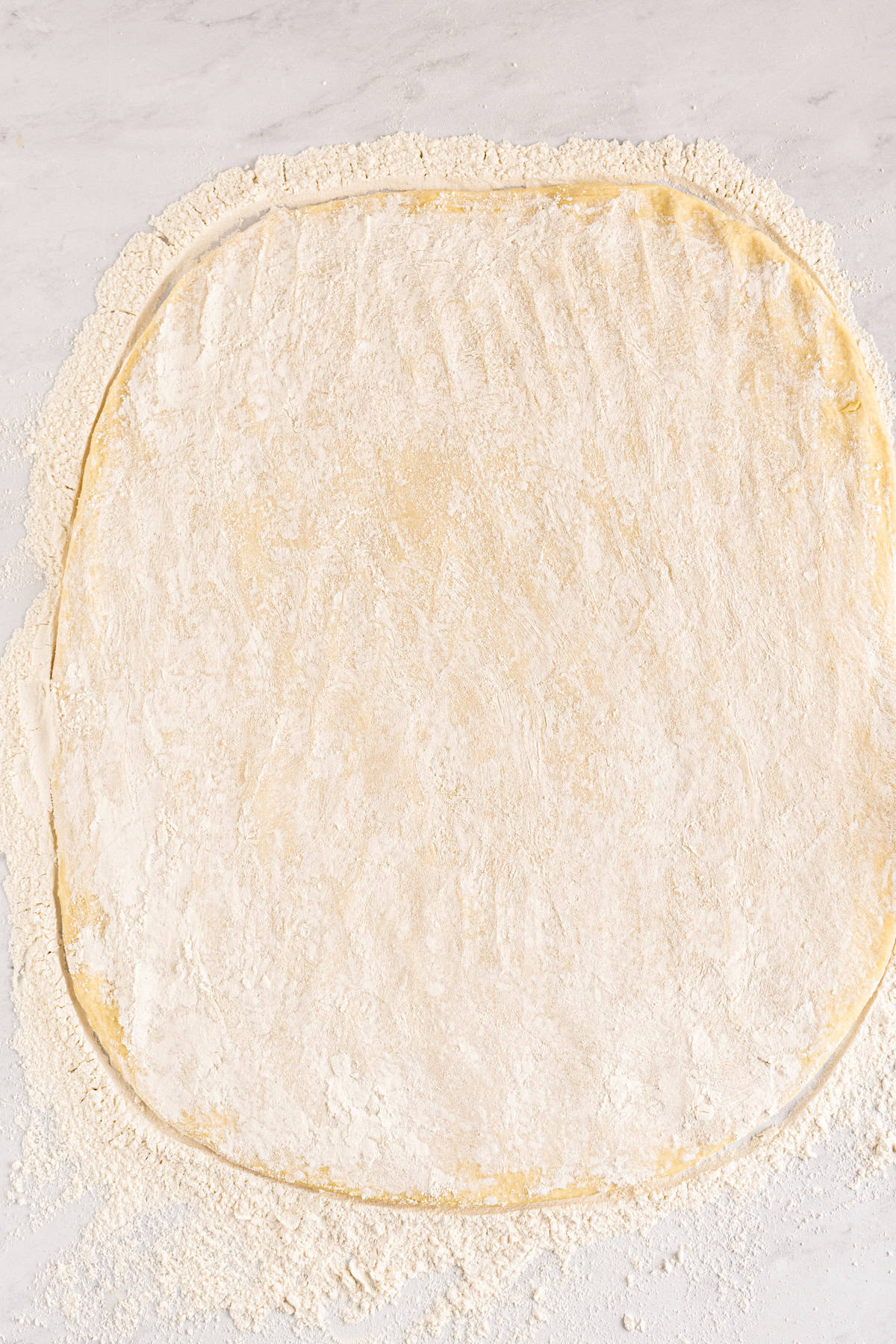 Second Rise: Place the cut rolls on greased baking sheets (or baking sheets lined with parchment), about ½ inch apart. Let them rise on the baking sheets for 30 – 45 minutes or so, until puffy.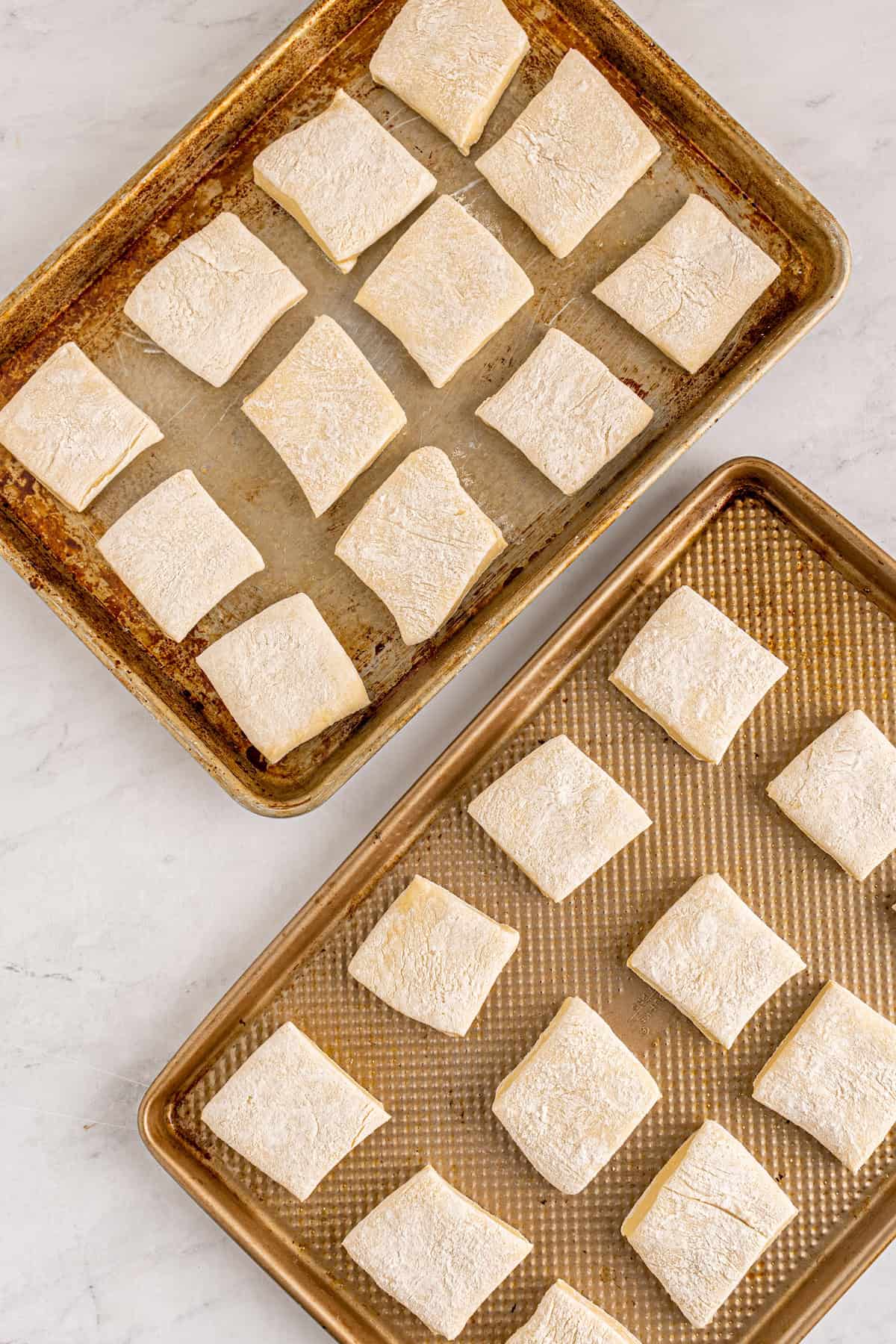 Bake! Bake the rolls in your preheated oven for 35 minutes. Make sure to rotate the baking sheets halfway through the bake time, so that they bake evenly. Once the rolls are golden-brown and baked through, place them on a wire rack to cool a bit.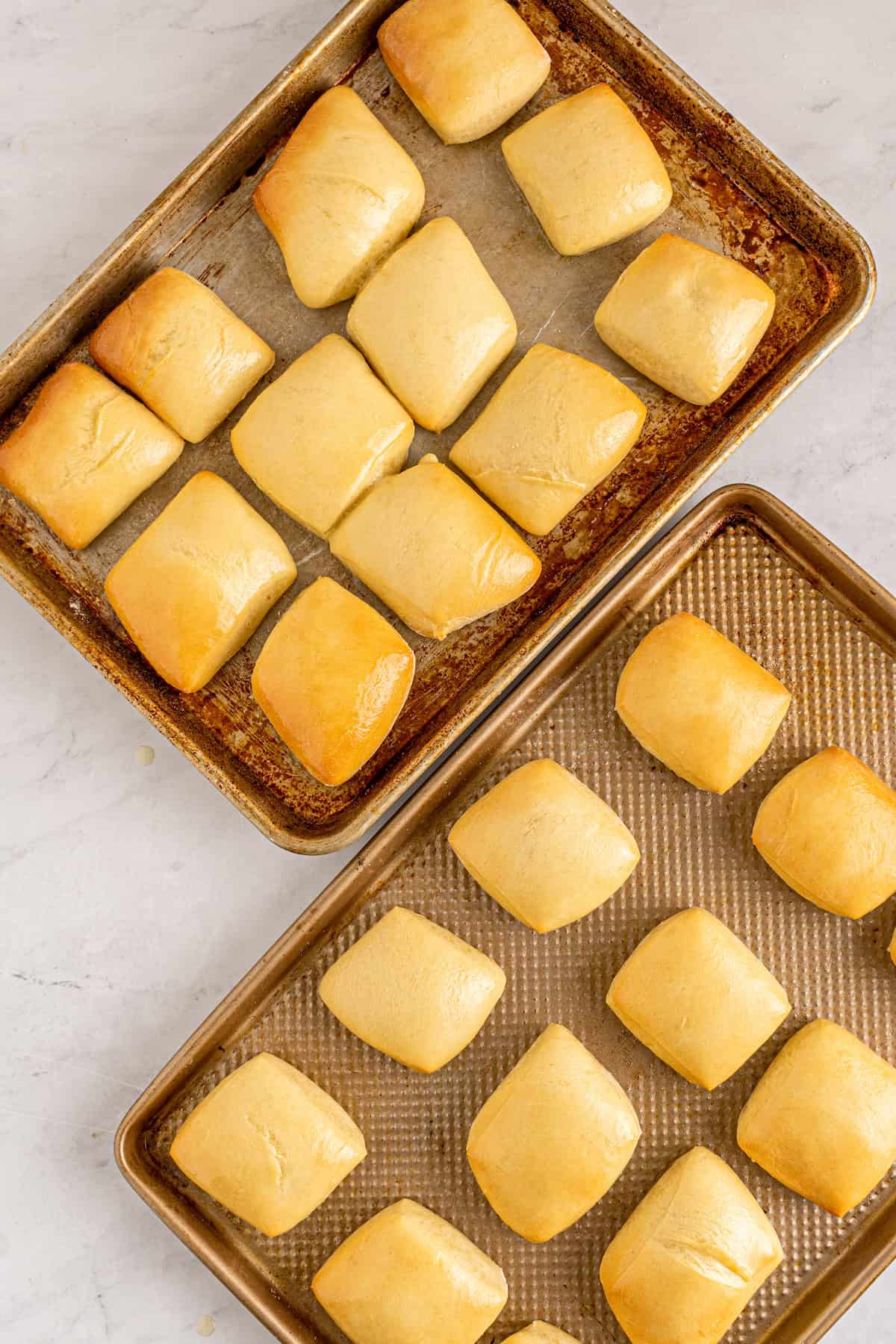 Make the Cinnamon Honey Butter: If you like, you can make the compound butter while the rolls are baking. This is super simple! Just combine all of the cinnamon honey butter ingredients (butter, powdered sugar, honey, cinnamon, and vanilla) in a bowl, and beat until light and fluffy. I like my stand mixer for this, but a hand mixer and mixing bowl would work just fine, too.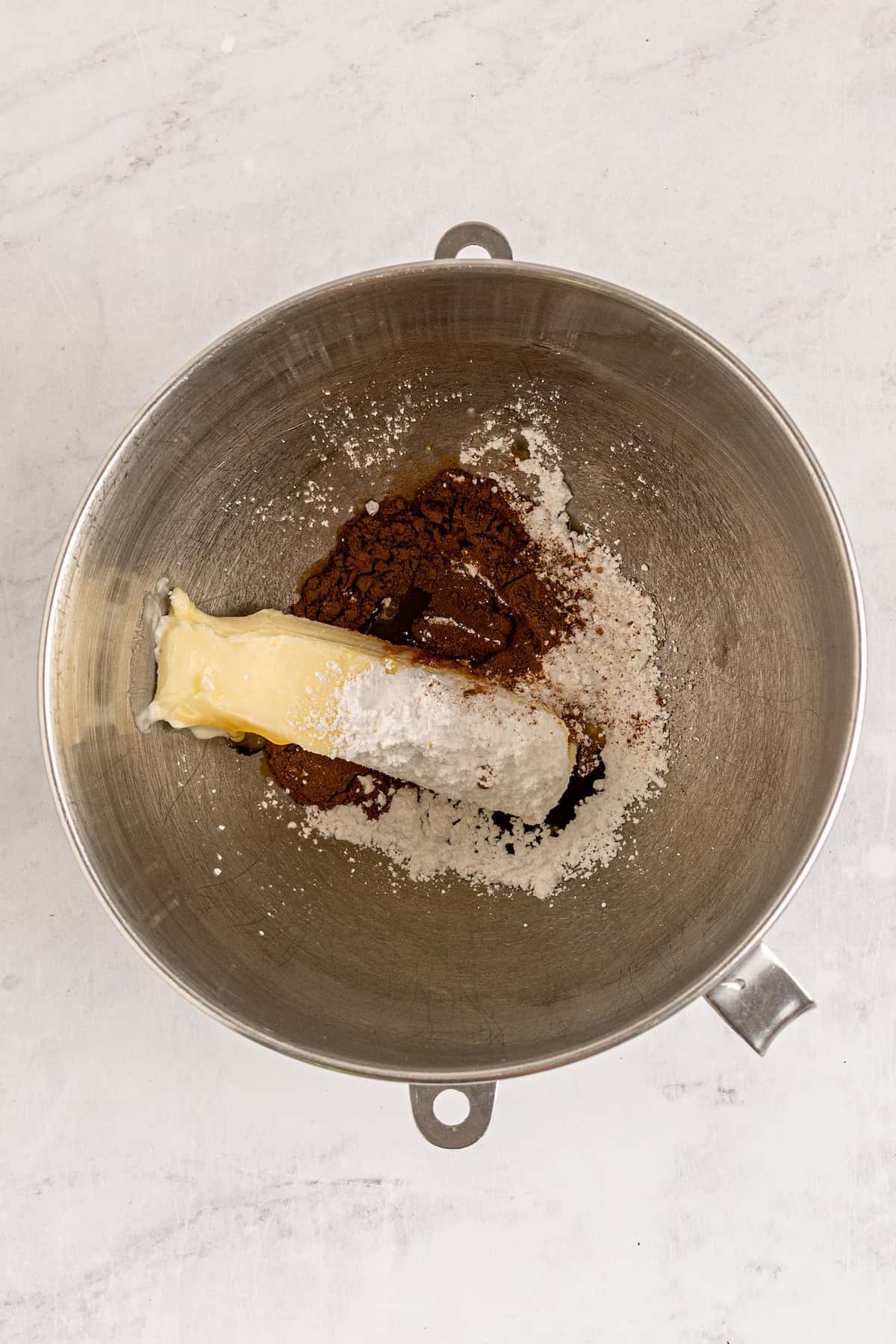 Finish the Dish. Brush the hot rolls with melted butter, and serve them warm with cinnamon honey butter.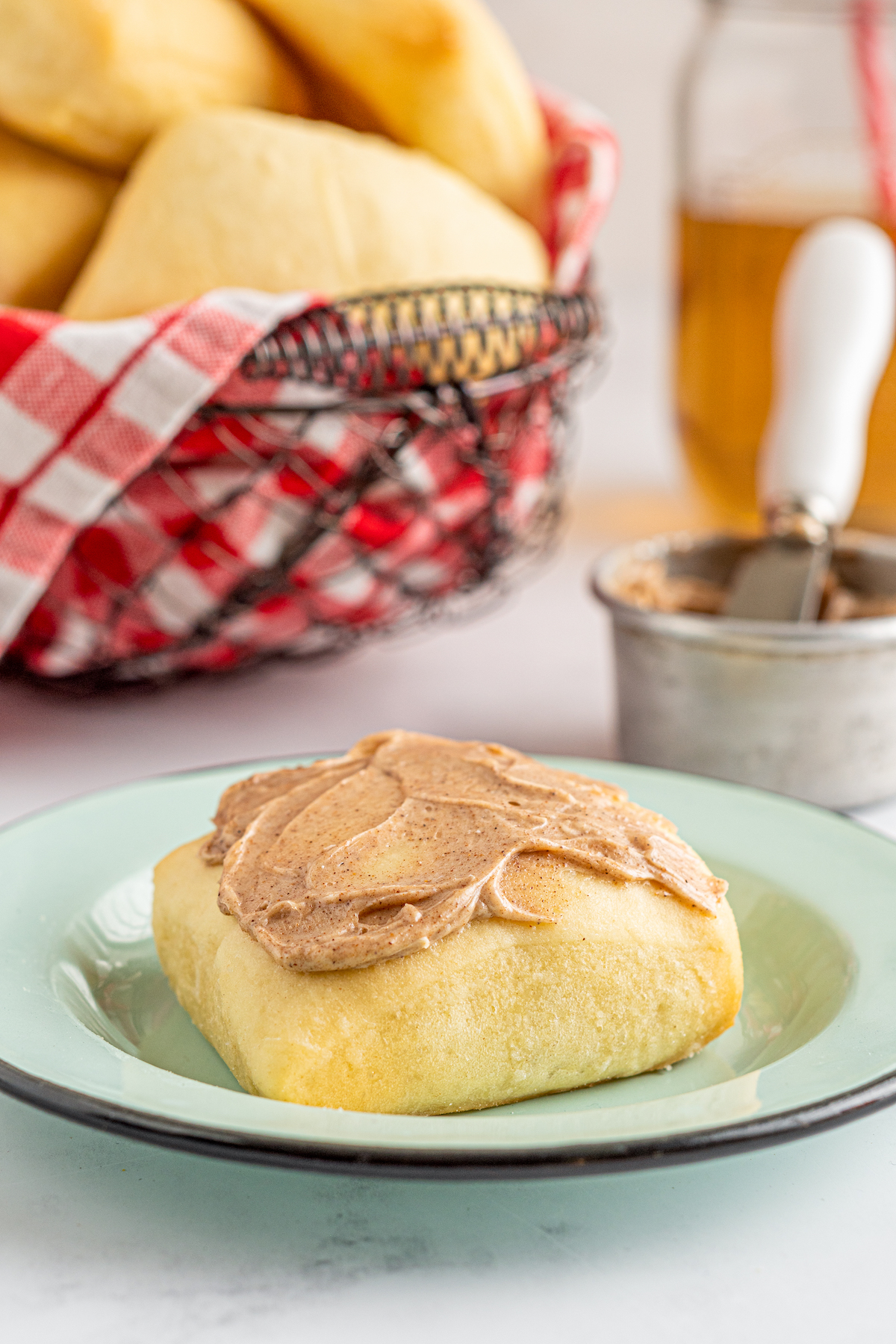 Helpful Hints
Baking has its quirks, and it's hard to fix problems on the fly. That's why I'm sharing these helpful tips for success. Each quick tip is designed to help troubleshoot before any problems start – and deliver picture-perfect dinner rolls.
Scalding the Milk: Having the milk at the correct temperature is very important when making rolls. If your milk is too hot, it will literally kill the yeast, which means the dough won't rise. If that happens, unfortunately, you will have to discard the mixture and start over. On the other hand, if the milk is too cold, the yeast won't activate at all, and once again the dough won't rise. The ideal proofing temperature is between 105°-110°. You can use an instant-read thermometer to check the temperature.
Sugar Notes: Regular granulated sugar may be used in place of brown sugar, if you prefer. Don't be tempted to cut down the amount, because the sugar both feeds the yeast and gives these rolls their signature sweetness.
Rising Times: This is definitely one of the quirky things about baking. Since rising time depends on the yeast, you may find that your dough rises very quickly one day and not quickly at all the next time. Keep an eye on things, and be aware that the rising time may be quite short, or run kind of long, especially depending on your kitchen's heat and humidity.
Cutting the Rolls: Make sure you use a very sharp pizza cutter, bench scraper, knife, etc. You want to cleanly slice the rolls, with as little smushing as possible, to keep them light and fluffy.
Folded Rolls: Some people like to cut the dough into long rectangles, and fold them in half to make a sort of book shape. That's fine, too! Keep in mind that a folded roll like this may take longer to bake through.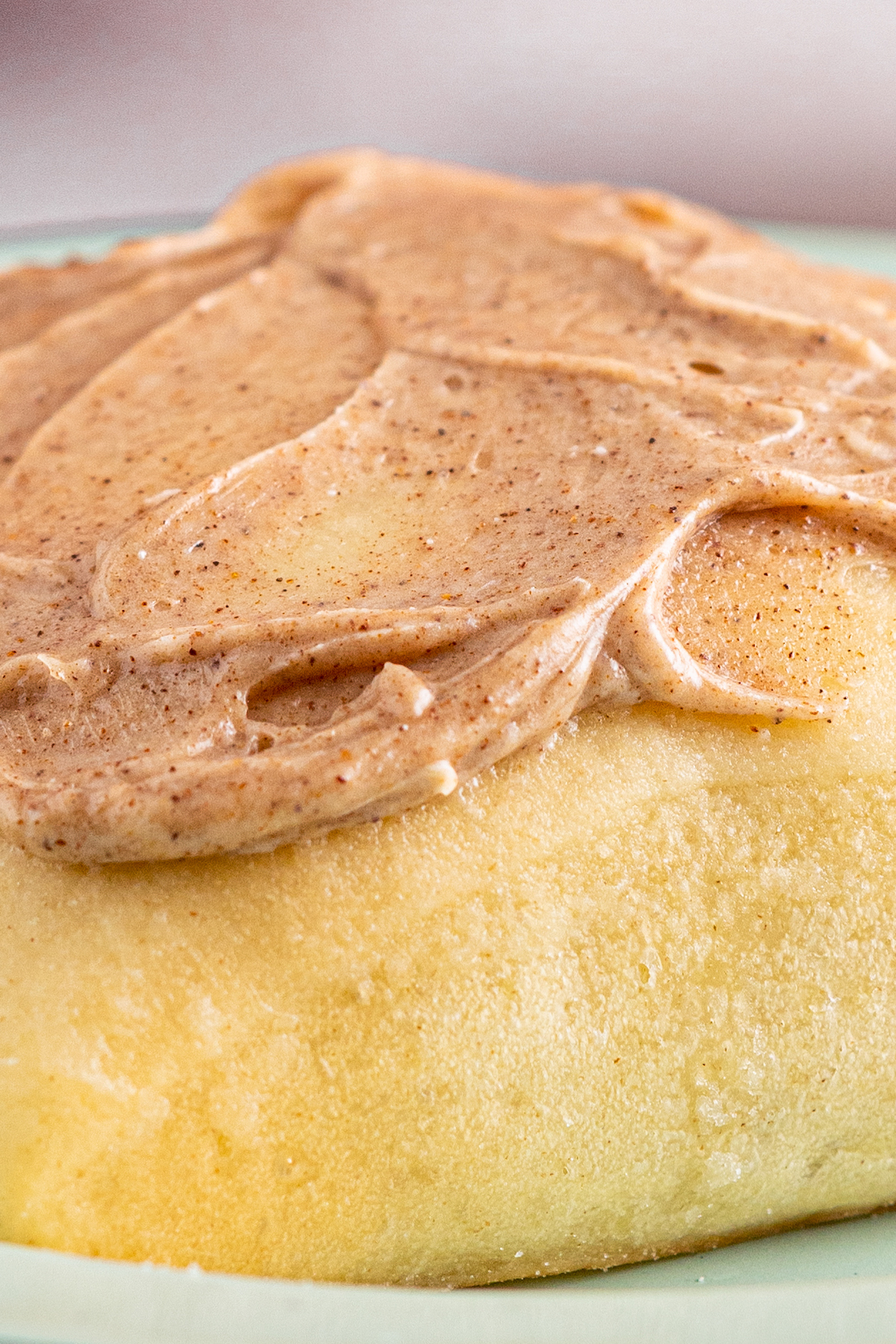 Serving Suggestions
For Texas Roadhouse rolls, I recommend serving steakhouse-style main courses. Here are some of our favorite recipes that channel the Texas Roadhouse menu:
Steak: There's nothing like a good ribeye or porterhouse, of course, but if you're serving steak family-style then strips of flank steak are just right. Try this easy tutorial for Juicy Flank Steak, and enjoy!
Chicken Fried Chicken: Crunchy, juicy, and smothered in gravy, Chicken Fried Chicken is a lip-smackin' dinner that goes beautifully with these honey-sweet rolls and butter.
Macaroni and Cheese: Everyone loves a good creamy mac, and this quick Homemade Mac and Cheese recipe is one of the creamiest. Even better, it comes together in about 15 minutes.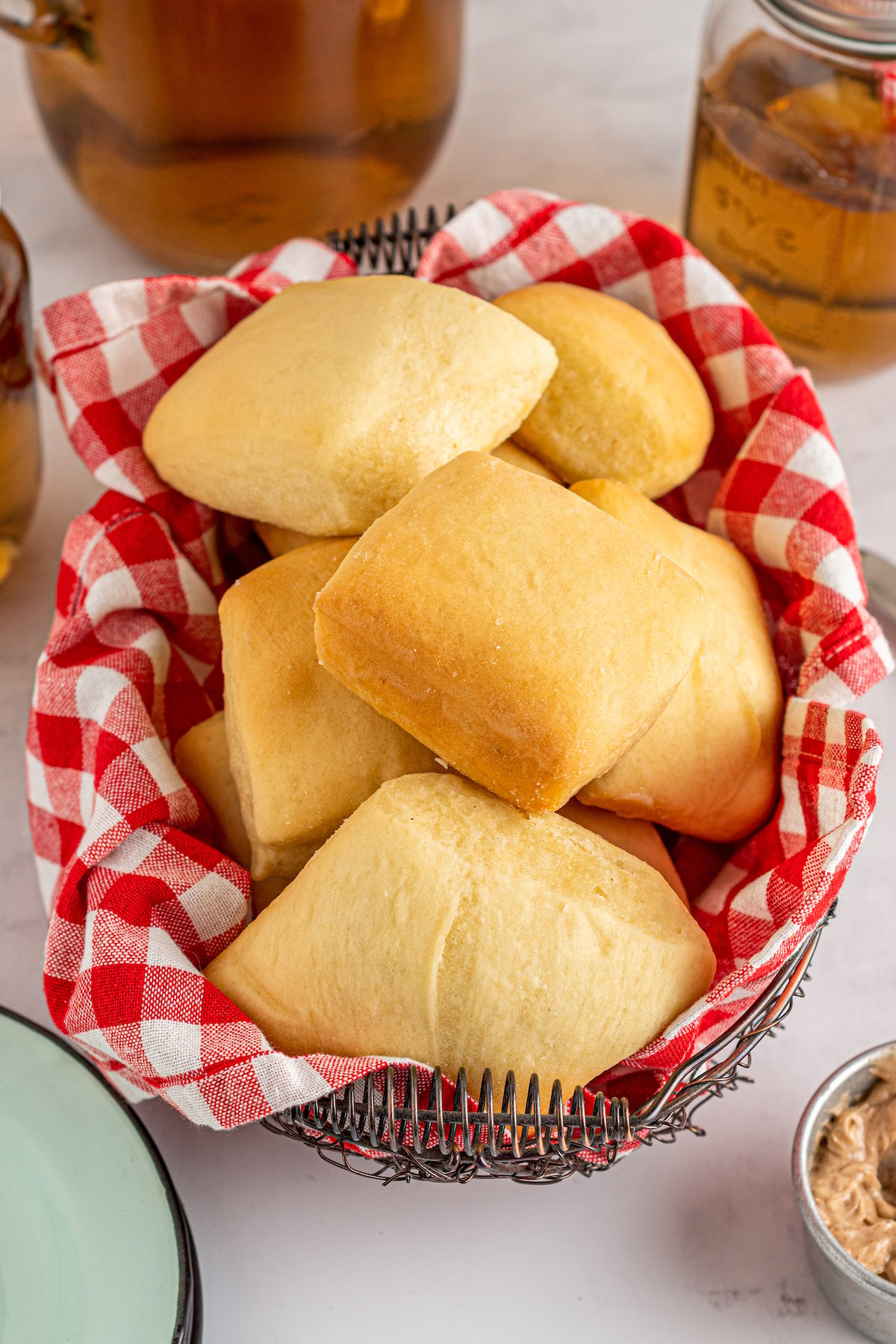 Storing and Reheating
These copycat Texas Roadhouse rolls will stay fresh for several days if you store them at room temperature in an airtight container. Reheat for just a few seconds in the microwave, or in a 350°F oven for several minutes.
As for the cinnamon honey butter, once you make it you can refrigerate it in a jar or other airtight container for up to one week.
Do Copycat Texas Roadhouse Rolls Freeze Well?
Yes, they do freeze well – and you can freeze them baked or unbaked. Here's how to do it:
To freeze baked Texas Roadhouse rolls, just cool them to room temperature and pop them into a freezer bag. Gently squeeze out the excess air before you seal the bag, and freeze the rolls for up to 3 months. Thaw before reheating.
To freeze unbaked rolls, prepare the rolls all the way through the second rise. Then freeze the rolls on a baking sheet until frozen solid. Transfer to freezer bags, and store in your freezer for up to a month. Thaw in the fridge before baking.
Texas Roadhouse Rolls
These copycat Texas Roadhouse Rolls are the ultimate side dish for a holiday or family occasion! Each tender, buttery roll is pillowy soft, and served up with homemade cinnamon honey butter.
Ingredients
For the Rolls
2 ⅓

cup

warm milk

,

between 105°F-110°F

3 ½

teaspoon

active dry yeast

⅓

cup

granulated sugar

,

divided

2

large eggs + 2 yolks

1 ½

tablespoons

brown sugar

¼

cup

melted butter

8

cup

all purpose flour

1 ½

teaspoon

salt
For the Cinnamon Honey Butter
½

cup

butter

,

softened

3

tablespoons

powdered sugar

2

tablespoons

honey

1 to 1 ½

teaspoons

cinnamon

½

teaspoon

vanilla
Instructions
In the bowl of a stand mixer, fitted with a whisk attachment, combine the milk, yeast and 2 teaspoons of the sugar. Proof for 5 minutes or until frothy. 

Add in the eggs, yolks, remaining granulated sugar, and brown sugar, and mix to combine. Mix in the melted butter. Next add the flour and salt. 

Swap your mixer attachment to a dough hook and knead on medium speed for 6 minutes, until the dough bounces back after pushing on it.

Once the dough is finished kneading, remove the bowl from the mixer and cover with plastic wrap. Let rise for 1 hour or until doubled in size.

Once the dough has doubled, turn out onto a clean floured surface. Roll the dough out into a rectangle about 1⁄2 inch thick. 

Using a pizza cutter, cut the dough into strips, then cut into square or rectangle rolls. You should get about 40 rolls total. 

Spray a baking sheet with baking spray, then place the rolls on it, spacing them out 1⁄2 inch. Let the rolls rise for 30 to 45 minutes, or until risen. Towards the end of the rising time preheat the oven to 350°F.

Once risen, place the rolls into the preheated oven on the middle rack. Bake for 35 minutes, rotating the rolls half way through baking, until golden brown. 

Once baked, remove from the oven and place on a wire cooling rack. Brush the hot rolls with melted butter. Serve warm with cinnamon honey butter, if desired.
Cinnamon Honey Butter:
In the bowl of a stand mixer, fitted with a paddle attachment, beat to combine all ingredients: butter, powdered sugar, honey, cinnamon and vanilla. Beat for 2 to 3 minutes, until light and fluffy and well combined. 

Store in an airtight container in the refrigerator until ready to use, for up to a week. 
Nutrition
Serving:
1
,
Calories:
150
kcal
,
Carbohydrates:
24
g
,
Protein:
4
g
,
Fat:
4
g
,
Saturated Fat:
3
g
,
Polyunsaturated Fat:
2
g
,
Cholesterol:
29
mg
,
Sodium:
118
mg
,
Fiber:
1
g
,
Sugar:
4
g
Categories:
More Homemade Bread Recipes
This post may contain affiliate links. Read my disclosure policy.