This bold, vibrant recipe for Carne Asada is first marinated in a delicious blend of citrus, Mexican spices, and jalapeños before being grilled to perfection. Serve with rice, on a taco, or any way you like!
Bold, Citrusy Mexican Carne Asada Recipe
Grilled flank steak is always gonna be a "yes." It's just so good! And it's even better when you give it a little love first, in the form of a killer marinade. This recipe uses all kinds of goodies to flavor-blast the already flavorful steak with lime, pineapple, garlic, cilantro, jalapeño… so yummy!
It's also extremely easy. While the steak is marinating, you can make sure you have a side or two and some tortillas, and then relax until it's time to quickly grill the steak and slice it up. Perfect for an easy-but-special weekend meal, birthday dinner, etc.
What is Carne Asada?
Carne asada is grilled and sliced steak. In Spanish, the term "carne asada" literally means "grilled meat." You can use different cuts of beef for carne asada with the most popular ones being flank or skirt steak. The meat is grilled over high heat until it is lightly charred on the edges, then it's sliced and served in everything from tacos to burritos.
What's the Difference Between Carne Asada and Steak?
So is carne asada just… steak? Well, sort of. The term has become famously connected to grilled flank or skirt steak that's been marinated with citrus, garlic, and other bold flavors. If you order carne asada at a restaurant, that's almost always what you'll get, and that's what this recipe delivers.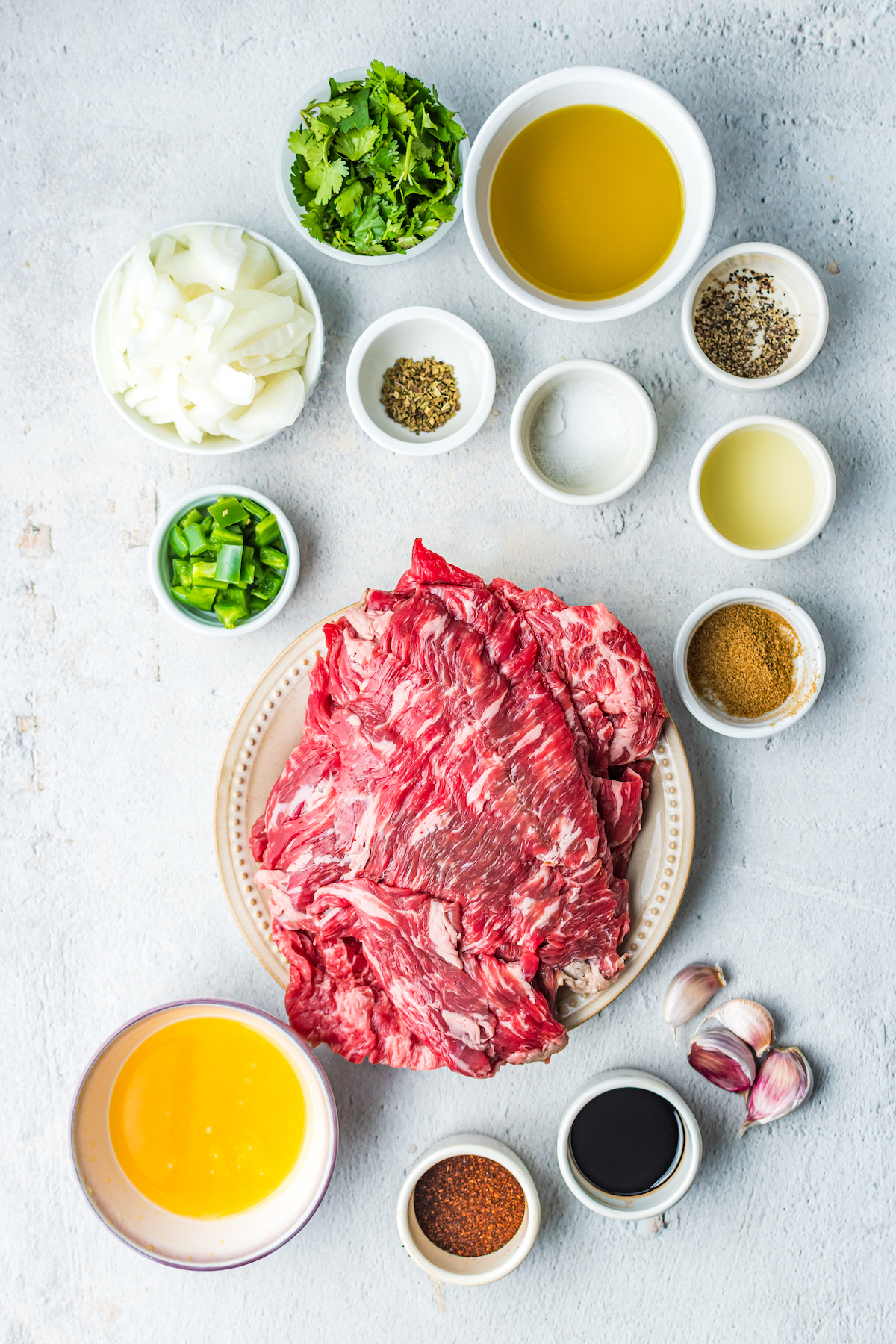 The Ingredients
This recipe is basically just steak and marinade. The marinade is mostly pantry staples, but there are a few "special" items that you may not typically have on hand. You can probably find everything at your local grocery store, though!
Flank Steak: I like mine on the thinner side.
Limes: Juice a couple of limes, or use bottled lime juice.
Pineapple Juice: Use a good quality pineapple juice or better yet, fresh pineapple juice. Orange juice will also work if you don't have pineapple.
Garlic: Crush them with the side of your knife, and peel away the papery skin. No need to chop or mince.
Cilantro: Fresh chopped cilantro is so good in this marinade. If you're not a fan of cilantro, substitute fresh chopped parsley.
Salt and Pepper
Olive Oil: Extra virgin olive oil has the most flavor.
Jalapeños: My family likes spicy dishes, so I usually throw in a couple of these with the seeds and ribs removed. You can leave them out for a milder dish.
Vinegar: Plain old white vinegar is fine, or you could use apple cider vinegar, rice vinegar, etc.
Onion: Chopped.
Mexican Oregano: Mexican oregano is a little different from regular oregano. Marjoram is similar in flavor, but regular oregano will also work.
Cumin and Chili Powder: Must-have spices for lots of Mexican dishes.
Maggi Jugo: Maggi Jugo is a flavorful condiment, usually found in the international foods aisle in U.S. grocery stores. See the "Tips" section for more.
What Cut of Meat is Best for Carne Asada?
Flank steak is really popular for making carne asada, and skirt steak is also a great choice. Basically, you are looking for a cut that is beefy and a bit tough, to marinate and cut across the grain for tender grilled strips that still have some chew to them. You can also use steak marked "flap meat."
All of these come in different lengths and thicknesses. You may have to cut a large piece into smaller pieces to fit it on your grill, and you may have to adjust the cooking time for thinner or thicker cuts.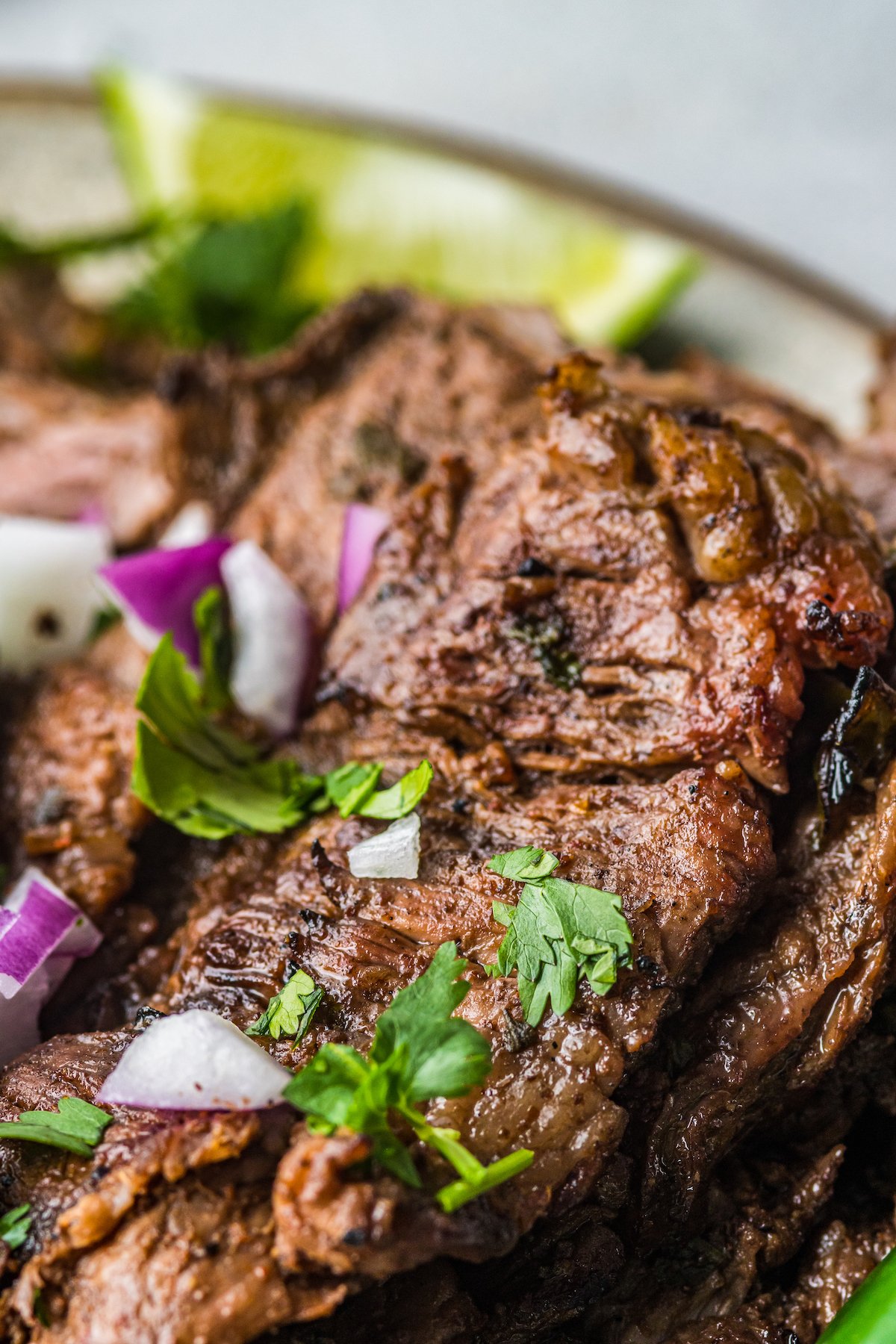 How to Make Carne Asada
This cooking method is so easy, you guys – you literally just marinate, grill, and slice. There's nothing more satisfying than that delicious sizzle when you lay this flavorful marinated steak on a hot grill grate.
Marinate the Steak. To get started, find yourself a large zip-top bag (or a big glass dish with a lid). Place the flank steak inside. In a separate bowl, combine all of the marinade ingredients and stir them well. Pour the marinade over the meat, toss to coat, and let it hang out in your fridge for 4 hours.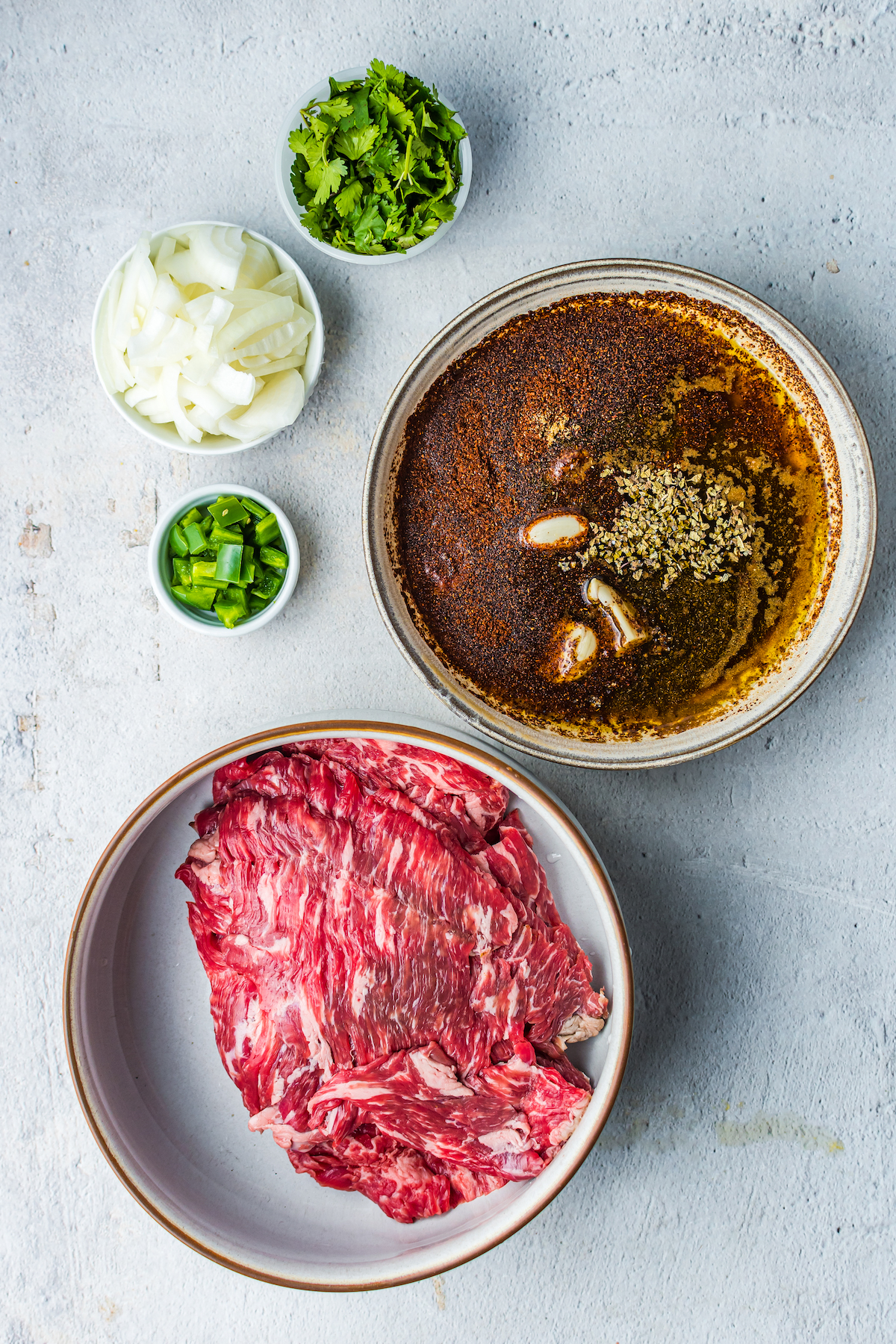 Grill. When you're ready to cook, preheat your grill to high heat. Take the meat out of the marinade, and lay it on the hot grill. Let it cook on each side for 2 – 3 minutes for medium, or 3 – 4 minutes for well done. (This is for a thinly-cut flank steak. If yours is on the thicker side, it may take longer.)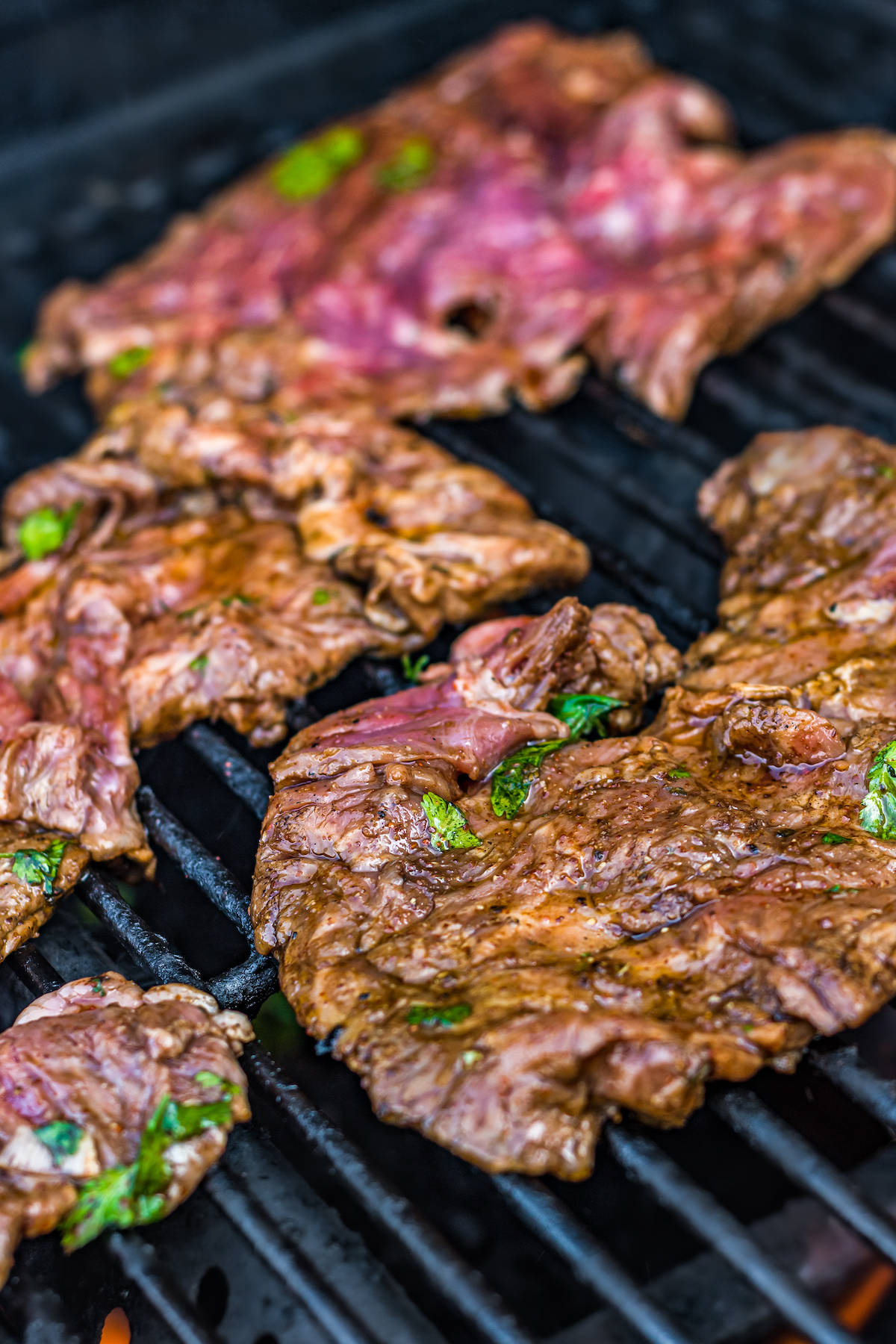 Rest and Slice. Once the steak is cooked, take it off of the heat. Wrap it or cover it with foil and let it rest for about 5 minutes – don't skip this step! It's important for keeping the meat juicy. When the rest time is up, use a sharp knife to thinly slice the meat against the grain.
Enjoy!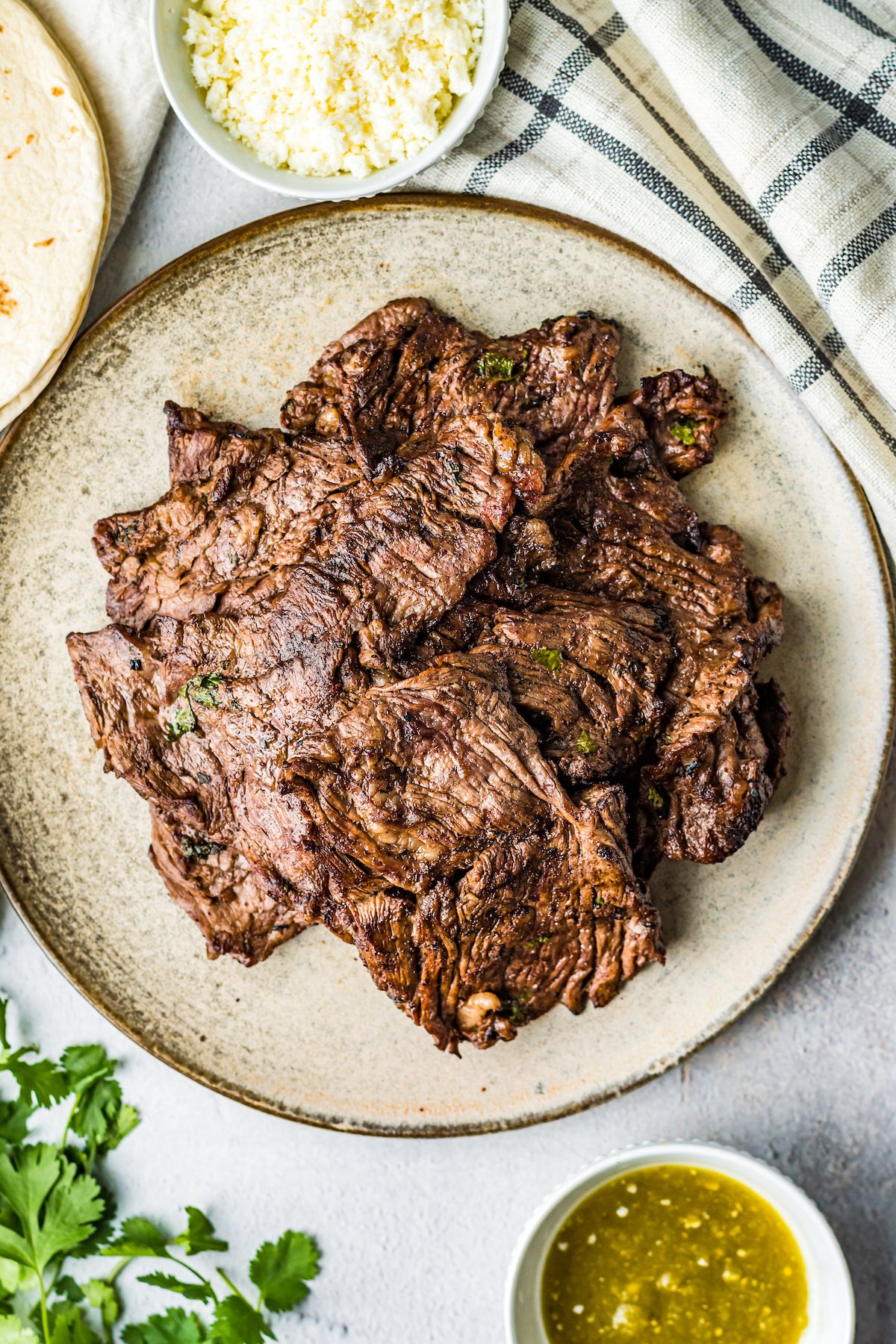 About that Carne Asada Marinade
The marinade is an important part of this recipe – in fact, you can't overestimate how important it is! It adds flavor and tenderness to the meat that just transforms the final dish.
All that being said: don't over-marinate. Given how quickly pineapple juice works on meat, I recommend marinating your meat for only about four hours. Two hours will work, four is best, and six is the max. If you do longer than six hours, your meat may turn out a bit grainy or dried-out from getting over-tenderized, and the flavor won't be as beefy.
Tips for Success
What else should you know about making carne asada? Good question! As it happens, I do have a couple of helpful tips to share.
Pineapple Juice: I know, pineapple juice may be a little surprising, but pineapple juice carries an enzyme called bromelain that helps tenderize meat like nobody's business. Bromelain dissolves collagen fibers (connective tissue) in steak. When I worked at a Mexican restaurant in Texas, we used soy sauce and pineapple juice to marinate the steak fajita meat and they were the BEST fajitas in town! If you don't have pineapple juice, orange juice can be substituted.
Maggi Jugo: Maggi seasonings are a big deal in different parts of the world, with Maggi Jugo being super popular in various Mexican communities. It's fabulous on grilled meat, and lots of other things too. If you don't have it on hand, you can use soy sauce with a big splash of Worcestershire sauce.
Don't skip the resting time. It's tempting to serve your carne asada immediately but the resting time is important. During this time, the meat absorbs extra moisture so that you get tender, juicy bites of steak.
Slice correctly. Carne asada made with flank or skirt steak should be sliced at an angle against the grain of the meat. Cut the meat after it has finished resting.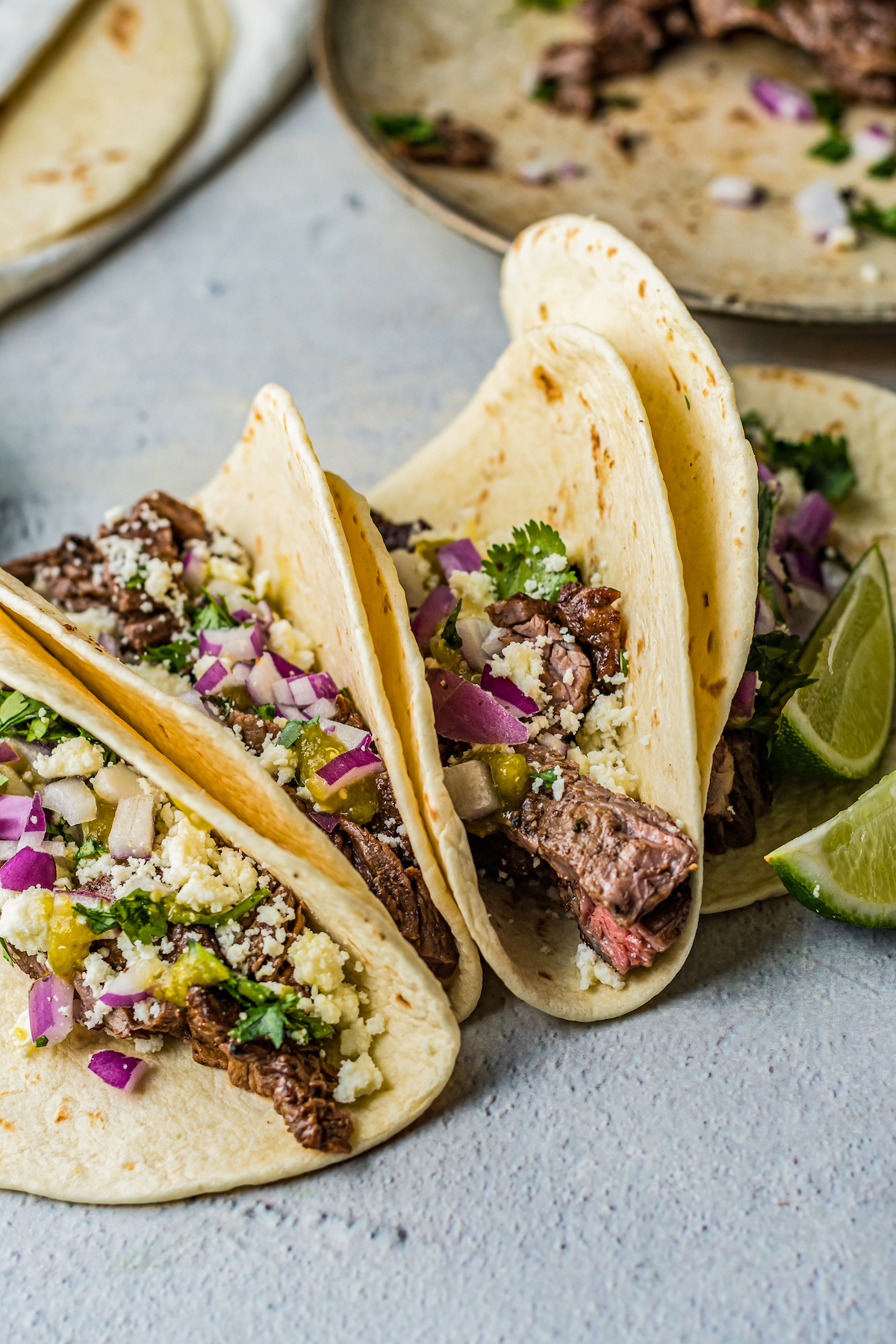 Perfect Serving Suggestions
You can pile carne asada slices into tacos, burritos, over rice, or even over a salad. Any way you slice it (see what I did there?) it's great with one or more of these fresh, flavorful sides:
Tortillas: These are a must-have with any Mexican meal. Try making your own Homemade Flour Tortillas – it's easy! Then make yourself some incredible Carne Asada Tacos and dig in.
Guacamole: Avocados have been having a moment for a while now, and there's no end in sight. Pick up some soft-but-firm avocados at your supermarket, and try this Authentic Guacamole. Or go with a fresher, lighter option with some homemade Pico De Gallo!
Plantains: Looking for some sides? Plantains are always our go to! You can do the sweet pan fried plantains, Maduros, or crispy savory Tostones!
Rice and Beans: If serving this dish as entree, not as a taco, rice and beans are always great. I have a bunch of different recipes, but here are a few I suggest you consider: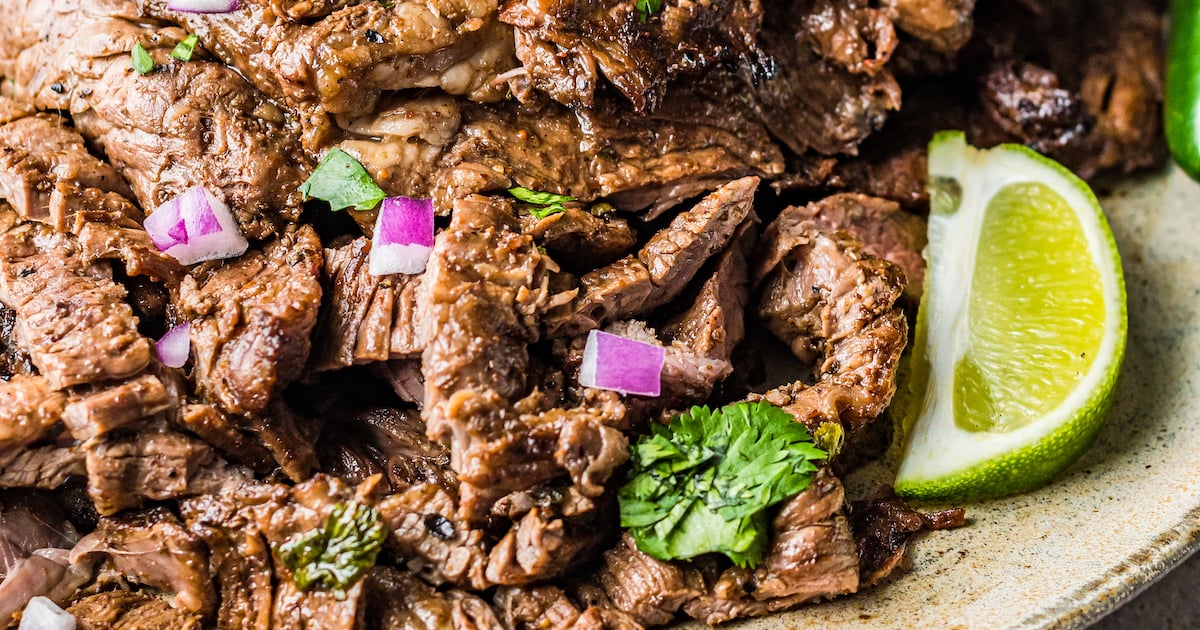 How to Store and Reheat Leftovers
Storing leftover carne asada is straightforward and easy, and so is reheating – that makes this easy recipe even better, don't you think?
Store any leftover meat in an airtight container in the refrigerator for up to 5 days.
Reheat on the stove, in a covered skillet over low heat. You want to reheat gently until the meat is heated through, but don't overcook it or the steak will get tough and dry.
Can I Freeze Carne Asada?
Yes, you can. Carne asada slices should be frozen in freezer bags, or tightly wrapped in a double layer of plastic wrap and foil. That way, you can keep as much air out as possible. Freeze for up to 3 months, and thaw in the fridge before reheating.
The Best Carne Asada
This bold, vibrant recipe for Carne Asada is first marinated in a delicious blend of citrus, Mexican spices and jalapeños before being grilled to perfection. Serve with rice, on a taco, or any way you like!
Ingredients
2

pounds

thinly sliced flank steak

2

limes

,

juiced

½

cup

pineapple juice

,

or fresh orange juice

4

cloves

garlic

,

crushed

1

cup

cilantro

,

chopped

1

teaspoon

salt

½

teaspoon

pepper

½

cup

olive oil

2

jalapeños

,

seeded and minced

2

tablespoons

white vinegar

½

cup

chopped white onion

1

teaspoon

Mexican oregano

1

teaspoon

cumin

1

tablespoon

Maggi jugo,

or soy sauce and a hearty splash of worcestershire sauce

1

tablespoon

chili powder
Instructions
Place the flank steak in a glass dish (with a lid) or in a large ziplock bag.

Combine the remaining ingredients in a mixing bowl and stir to combine. Pour over the meat and toss well to coat.

Cover the meat or seal the ziplock bag and place in the refrigerator for 4 hours, for best results. (Minimum marinade time is 2 hours and max marinade time is 6 hours.)

Remove the meat from the marinade and turn the grill to high heat.

Place meat on the hot grill and grill each side for 2 to 3 minutes. If you like your meat well done, grill for 3 to 4 minutes per side. (These cook times are for thinly cut flank steak, if you are using a thick cut flank steak, you will need to cook your steak for longer.)

Remove and wrap with foil to rest for 5 minutes before serving. (Don't skip this step!)

Slice the meat against the grain in strips and serve as desired in tacos, burritos, over rice and beans, etc. 
Notes
Store any leftover meat in an airtight container in the refrigerator for up to 5 days or freeze for 3 months.
Nutrition
Serving:
1
,
Calories:
734
kcal
,
Carbohydrates:
14
g
,
Protein:
65
g
,
Fat:
46
g
,
Saturated Fat:
12
g
,
Polyunsaturated Fat:
31
g
,
Cholesterol:
179
mg
,
Sodium:
1007
mg
,
Fiber:
3
g
,
Sugar:
6
g
Categories:
More Crazy-Good Beef Recipes
This post may contain affiliate links. Read my disclosure policy.