Dill Pickle Chicken: chicken breasts are brined overnight in pickle juice, breaded in seasoned bread crumbs and baked until perfectly juicy and golden brown!
Do you love pickles? Do you feel bad when you have to throw away the leftover pickle juice?
Then boy oh boy, do I have the pickle recipe for you: Dill Pickle Chicken.
We marinate, or more properly — we brine, thin chicken breasts in dill pickle juice for 8 hours.
Then we dredge the chicken in flavored breadcrumbs and bake it until golden.
The chicken stays insanely juicy, has a very light pickle flavor and is one my new favorite ways to make "oven fried chicken".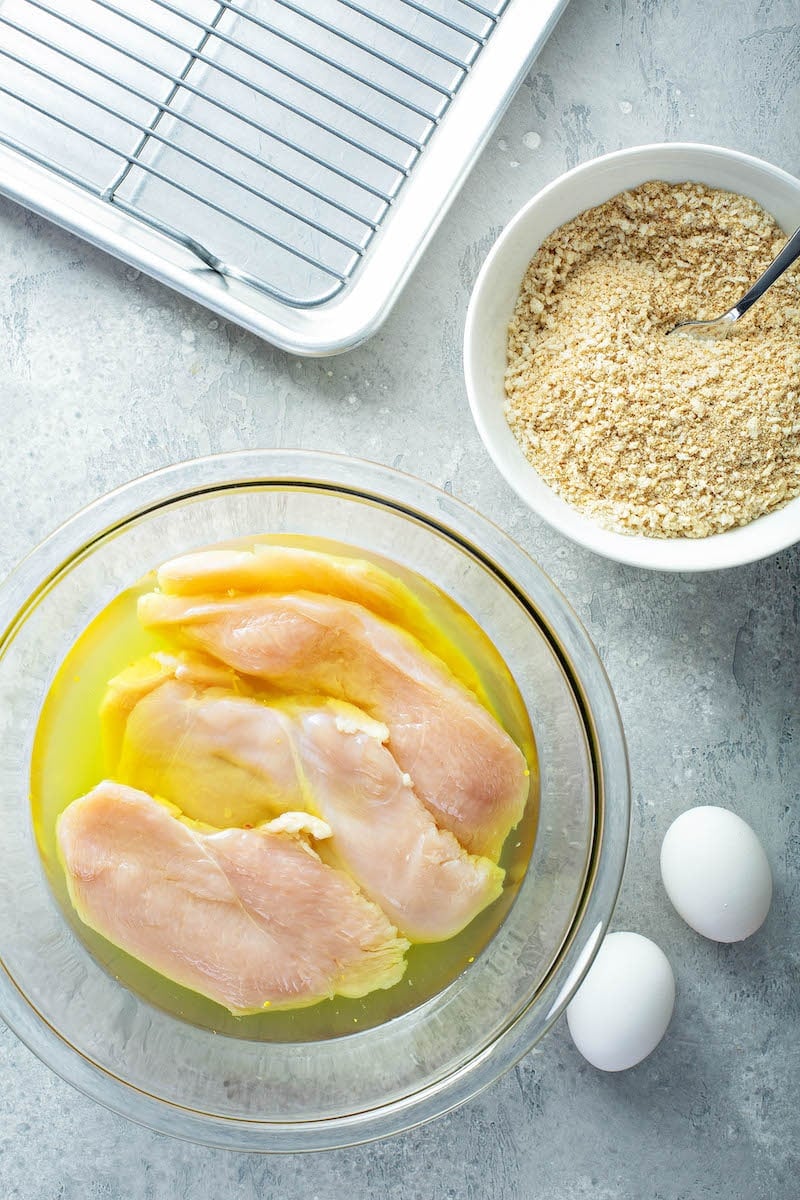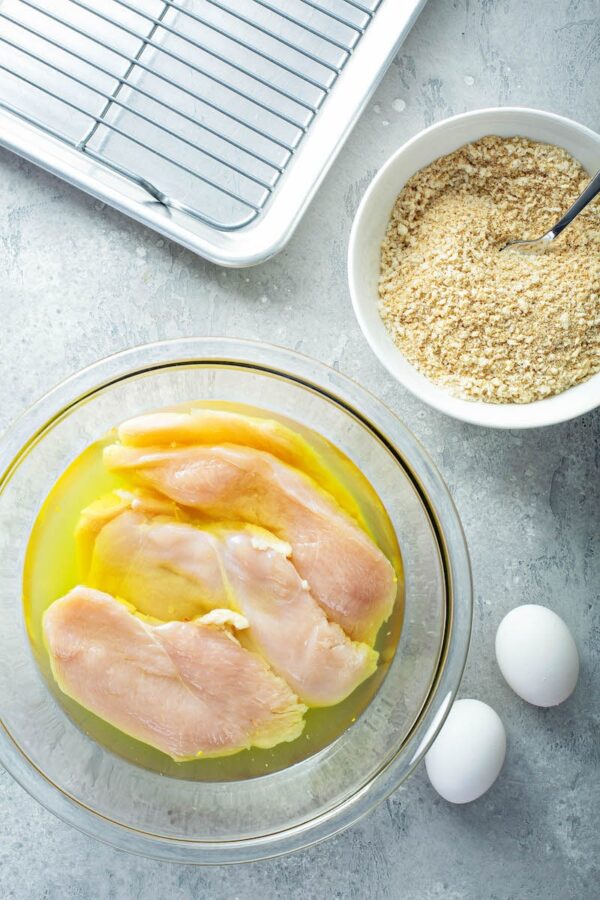 Pickle Juice Brined Chicken
Why pickle juice? Well, first, I hate wasting anything and pouring out a jar of pickle juice kills me a little inside.
But mainly, because it makes an amazing easy pre-made chicken brine!
If you do not have an almost empty jar of pickles, that's ok. These days they sell pickle juice all by itself!
While I used classic dill pickle juice for this recipe, I also tested it with a spicy pickle juice and bread and bread and butter pickle juice.
All of the versions were delicious and added slight variations to the finished dish.
Feel free to switch it up and try what pickle juices you already have in your fridge.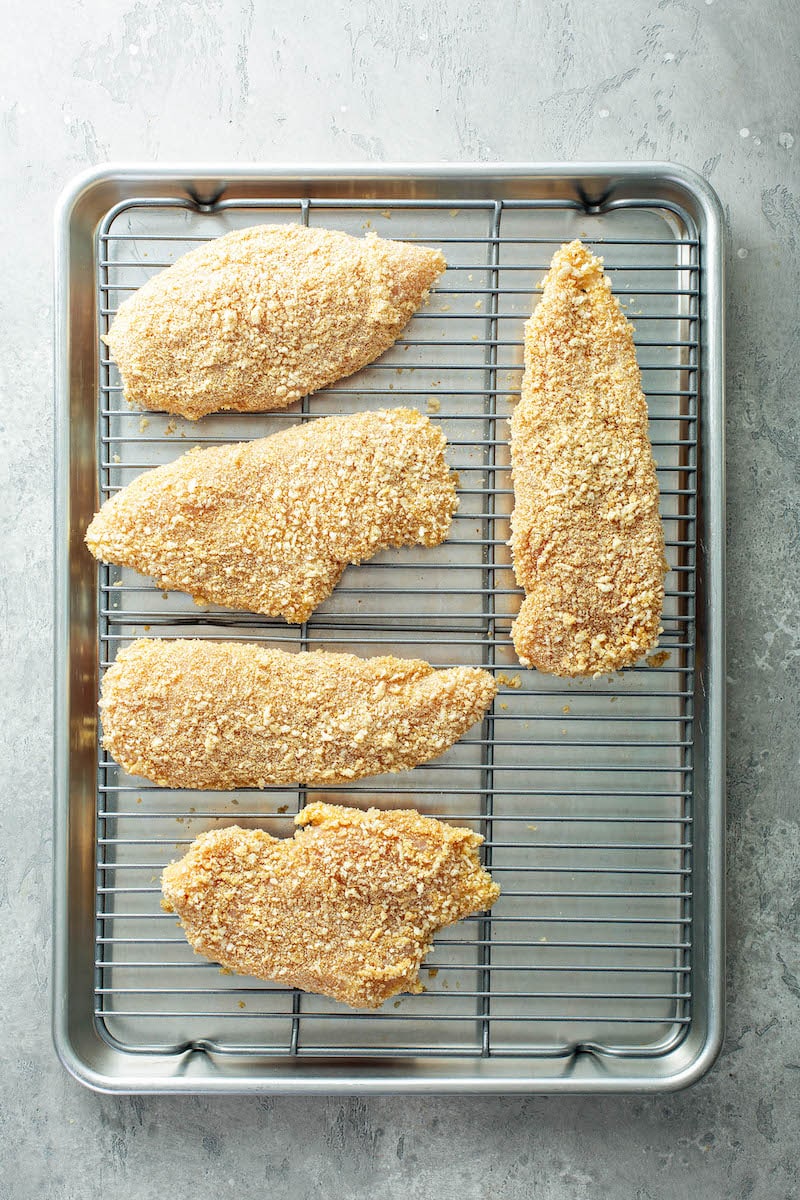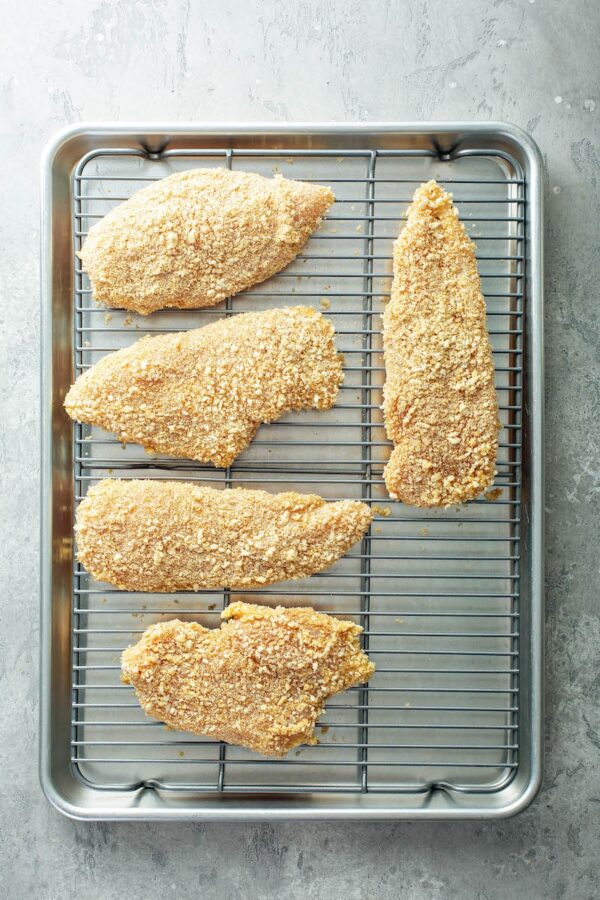 Oven Fried Chicken
Oven fried chicken is my personal favorite way to make fried chicken at home.
It is not the same as true fried chicken, but it's healthier and delicious in it's own right!
To get the best finished texture and taste, I dip my thin chicken breasts in a mixture of eggs and milk.
Then I coat them in a mixture of seasoned bread crumbs, panko bread crumbs, salt and pepper.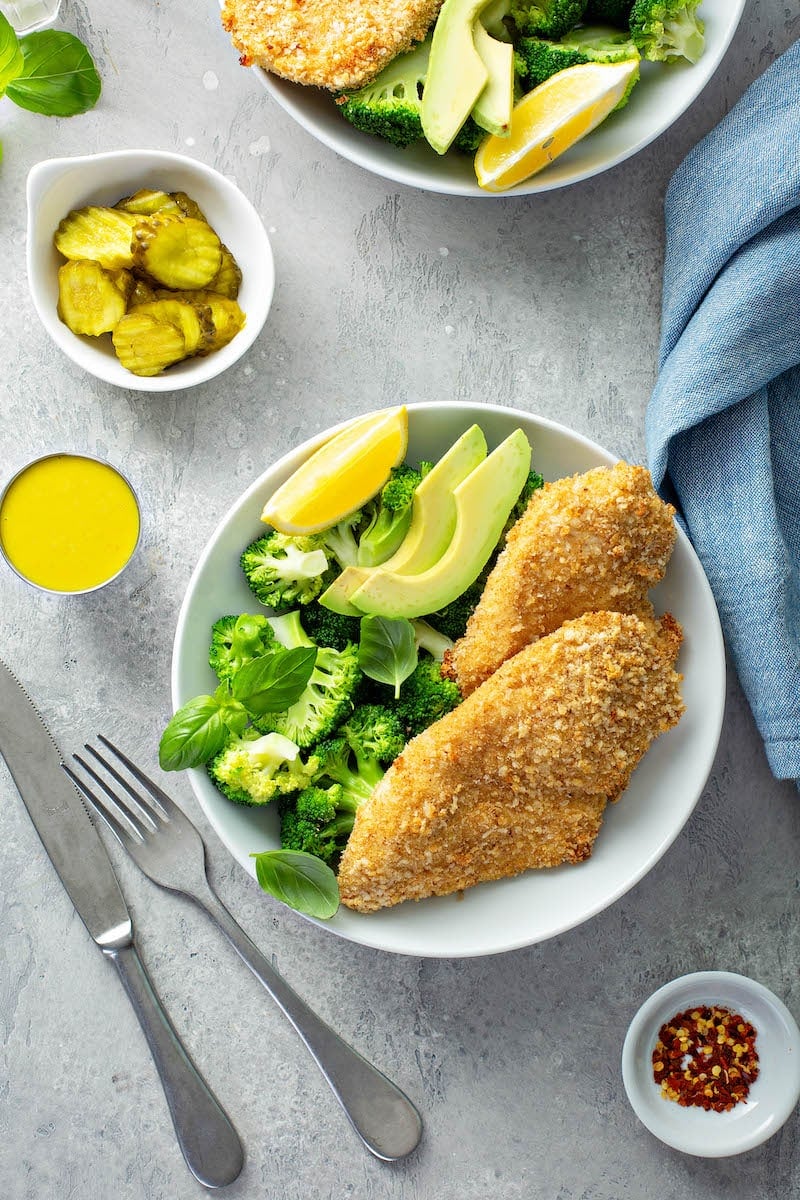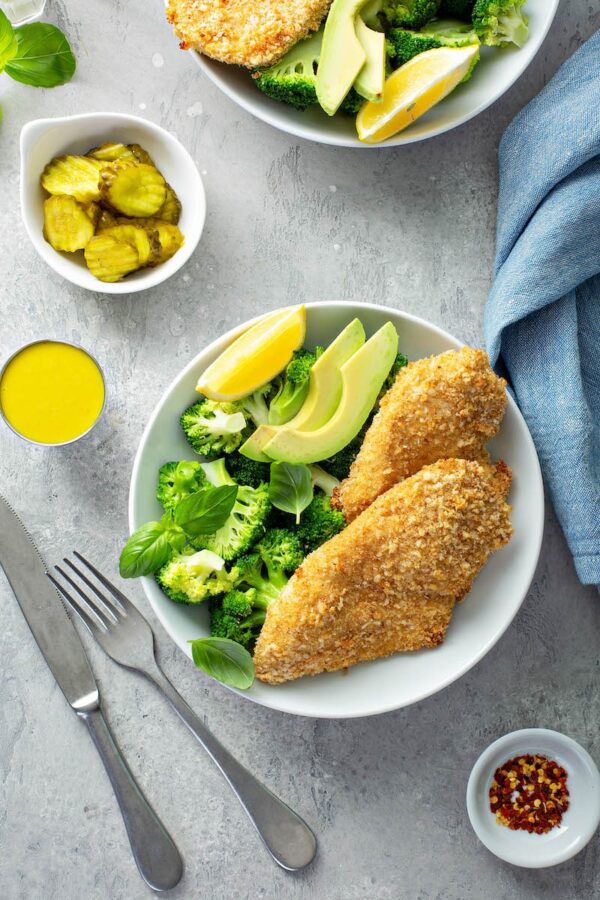 Place the coated chicken breasts on a cooling rack on top of a cookie sheet and lightly spray with olive oil (or olive oil cooking spray).
You can also use coconut oil, just make sure you get an even light mist sprayed on both sides.
The cooling rack allows the air to get on both sides of the chicken breast and neither side will get soggy.
It's the best way to make perfect oven fried chicken, every single time!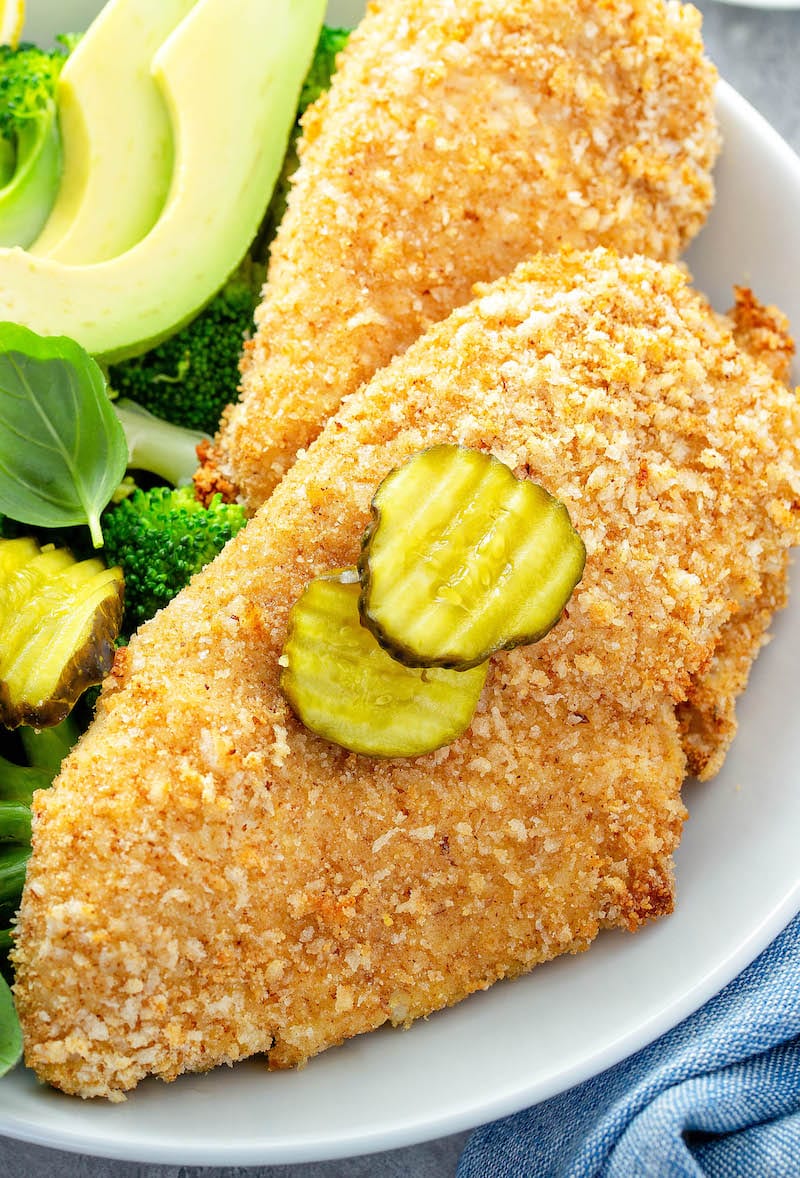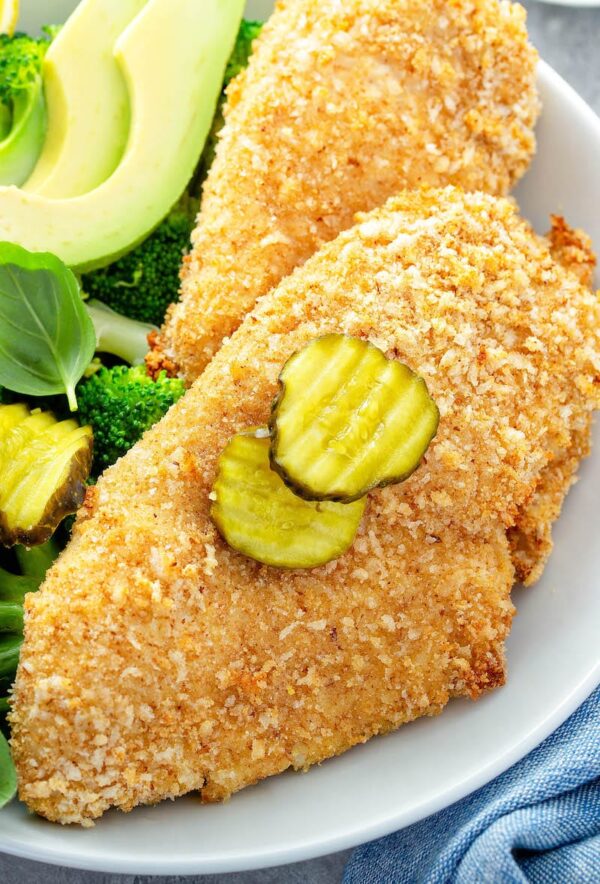 This Dill Pickle Chicken recipe is incredibly easy to make and takes minimal prep on your part.
It makes a perfect weeknight chicken dinner to go along with some good vegetable sides. My kids gobbled it up!
Share how the recipe turned out for you by rating it or leaving a comment below!
Yield: serves 4
Dill Pickle Chicken Recipe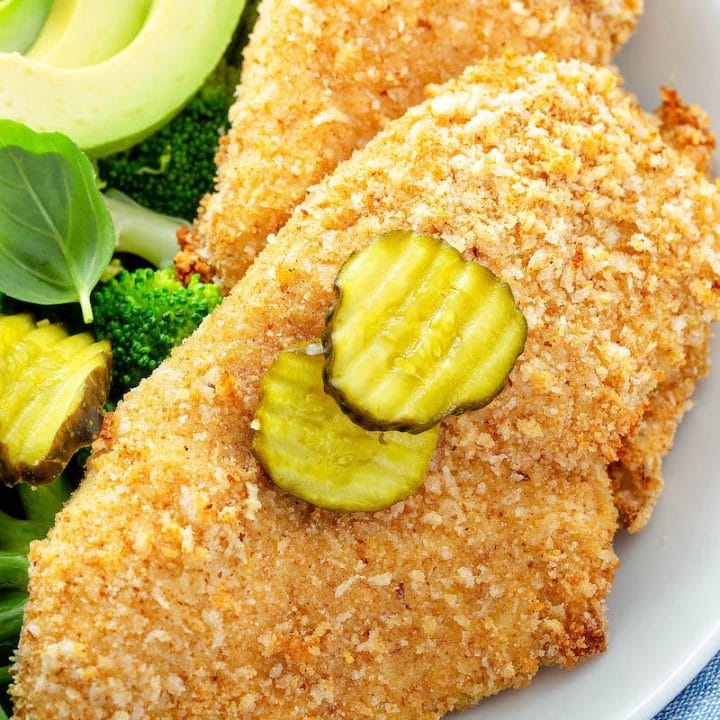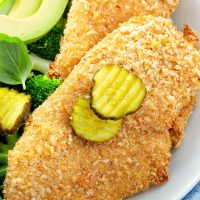 Dill Pickle Chicken: chicken breasts are brined overnight in pickle juice, breaded in seasoned bread crumbs and baked until perfectly juicy and golden brown!
Total Time
8 hours
33 minutes
Ingredients
1.5 lbs thinly sliced chicken breasts
1 1/2 cup dill pickle juice
2 large eggs, beaten
1 tablespoon milk
3/4 cup seasoned breadcrumbs
3/4 cup seasoned panko bread crumbs
1/2 teaspoon kosher salt and black pepper, to taste
olive oil cooking spray, optional
Instructions
Place chicken and dill pickle juice in a ziplock bag. Remove as much air as possible and move chicken around to coat in pickle juice. Marinate in the refrigerator for 8 to 12 hours.
After marinating, remove chicken from pickle juice and dry the chicken on paper towels. Discard any leftover pickle juice.
Preheat oven to 425°F. Line a large baking sheet with parchment paper or place a wire cooling rack on a rimmed baking pan for crispier all around chicken.
Whisk together eggs and milk in a medium sized bowl. In a large shallow bowl, combine breadcrumbs, panko bread crumbs, salt and pepper.
Dip chicken breasts in the egg mixture, then into the breadcrumb mixture and shake off any excess.
Place the chicken onto the prepared baking sheet and spray both sides with olive oil cooking spray.
Bake for 10 minutes and then flip and continue to bake for approximately 8 minutes more. You want your chicken to be golden brown and cooked through with an internal temperature of 165°F.
Notes
You can use any kind of pickle juice you have on hand. I also tested this recipe with juice leftover from spicy pickles and bread and butter pickle juice. Both were delicious!
Nutrition Information:
Yield:
4 servings
Serving Size:
1 serving
Amount Per Serving:
Calories:

287
Total Fat:

6g
Saturated Fat:

2g
Trans Fat:

0g
Unsaturated Fat:

4g
Cholesterol:

143mg
Sodium:

252mg
Carbohydrates:

15g
Fiber:

1g
Sugar:

1g
Protein:

40g
Categories
This post may contain affiliate links. Read my disclosure policy.