Lemon Thyme Chicken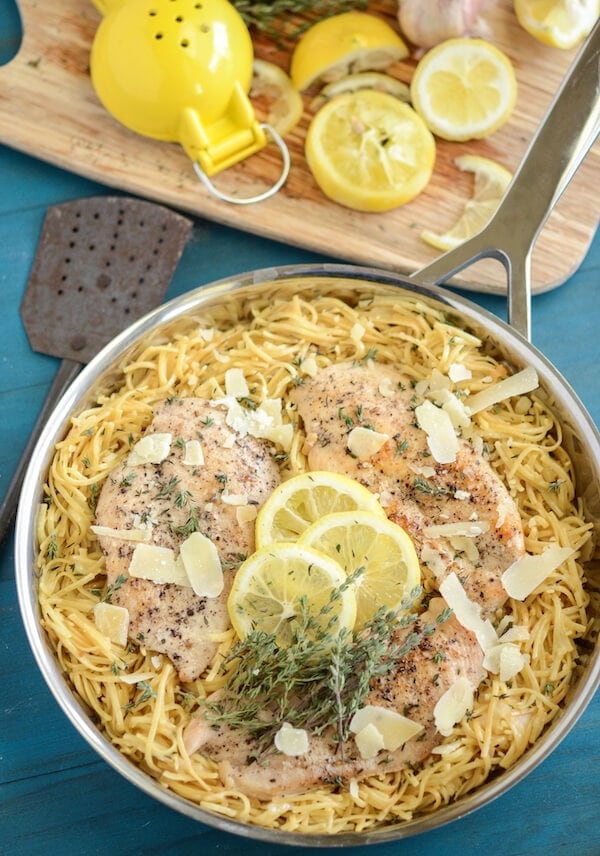 I love thyme, but it hates me. I have NEVER been successful in growing thyme and always end up buying it weekly. Jorge and I love to use thyme for chicken dishes or in a white sauce I make to serve over mushroom ravioli (store bought – let's not get crazy).
Wait, I just realized that I said: "Jorge and I love to use thyme for chicken dishes…". That's incorrect. I love to use thyme. Jorge loves to eat thyme. I would be amazed if he even knows what thyme looks like. 😉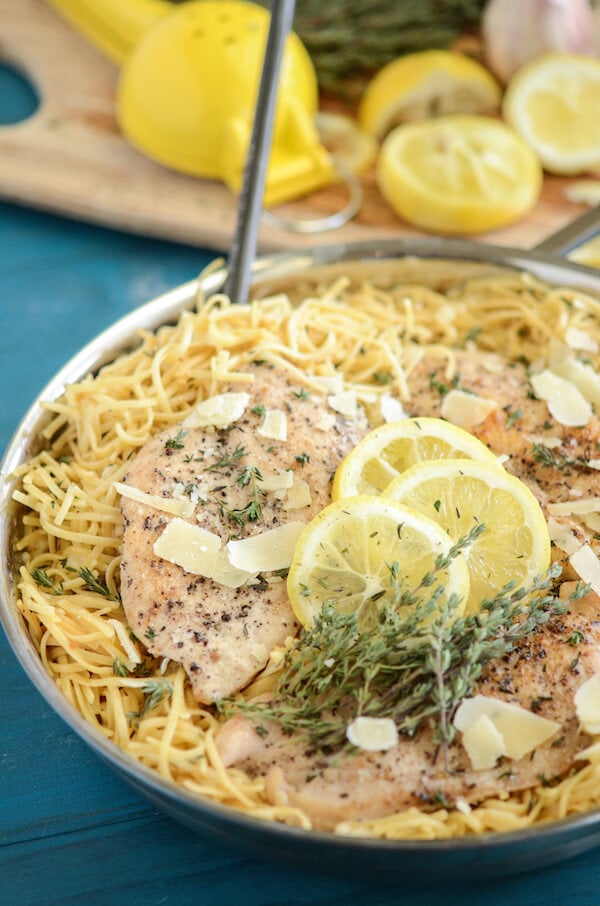 I have Thyme growing in my container herb garden again right now. It's half dead. No seriously, half of it is black and half of it is green and happy.
I don't even know what I could possibly be doing wrong — so if anyone has some tips, I am all ears/black thumbs.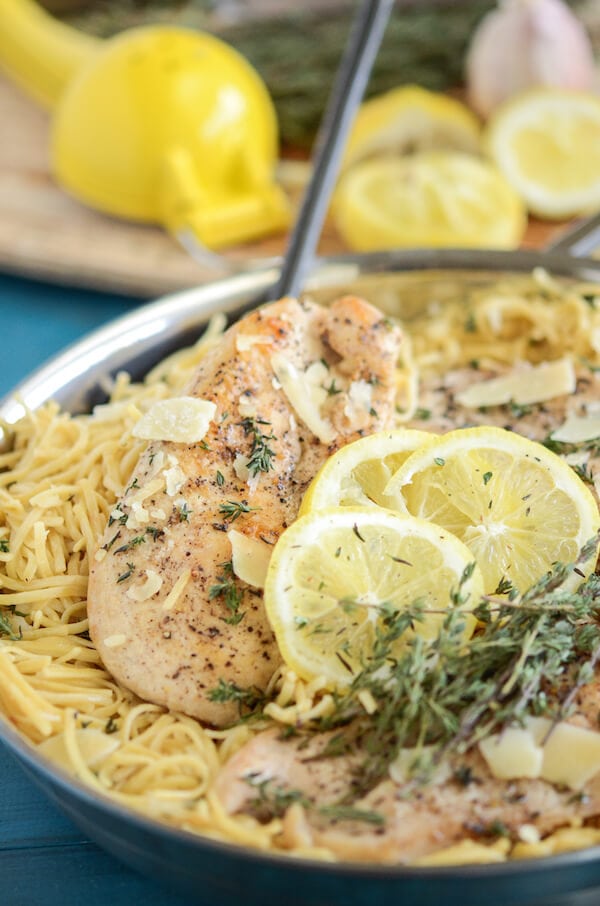 This Lemon Thyme Chicken is a super delicious 30 minute dinner. I like using the thinly sliced chicken breasts with this one because it cooks so much faster. I usually start my water boiling for the egg noodles and then start working on my chicken.
About the time I am finishing with the sauce, is just about when the noodles are usually done cooking. It works out perfectly! I really hope you enjoy this easy weeknight dinner as much as our little family of four does! Even the twins gobble this one up!
Lemon Thyme Chicken
Recipe Note: If you have them on hand, toss in some capers when you add the garlic to the sauce. Then it's like a Chicken Piccata!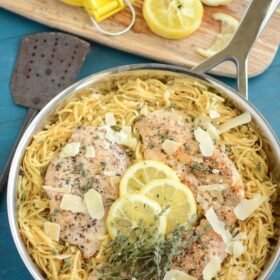 Ingredients:
1 lb thinly sliced chicken breasts
salt & freshly ground pepper
2 tablespoons olive oil
1/2 cup dry white wine
1/2 cup (1 stick) unsalted butter
3 garlic cloves, minced
1 tablespoon minced fresh thyme
3 tablespoons fresh lemon juice
salt & freshly ground pepper, to taste
8 oz fine egg noodles, cooked according to directions
1/2 cup shredded parmesan
Directions:
Preheat oven to 250°F.
Pat chicken breasts dry with paper towels and season generoulsy on both sides with salt and pepper.
In a large, deep sauce pan over medium high heat, cook chicken for 5 minutes. Flip and continue cooking until chicken is cooked through and reaches an internal temperature of 165°F.
Wrap cooked chicken in foil, place on an oven safe plate and keep warm in oven while you make the sauce.
Add wine to pan and scrape up all the cooked chicken bits into the wine. Continue cooking until wine has reduced by half, about 5 minutes.
Add butter. Once melted, add garlic and thyme and cook for 3o seconds. Stir in lemon juice and season with salt and pepper.
Scoop out a little sauce (a few tablespoons worth) and set aside. Then toss cooked egg noodles and parmesan in sauce.
Top with chicken and pour the extra sauce on top of chicken. Serve immediately.