Garlic Roasted Cherry Tomatoes
I know that I missed tomato season and it's now November, but you will have to excuse me. I was writing a book and buried under piles of donuts. I seriously did not see a vegetable all summer long. Once I crawled out of my sugar cave, all I wanted was easy savory dinners. We have been grilling a lot of chicken and doing easy pastas — so I have been making these Garlic Roasted Cherry Tomatoes a few times a week to add flavor to just about every dish!
Some people are into long and slow roasting. I like sundried tomatoes as much as the next person, but I don't have 8 hours and an unlimited amount of patience. If it's not coated in sugar or topped with a swirl of buttercream, you will usually only have my attention for about an hour max. Luckily, these Garlic Roasted Cherry Tomatoes take 30 minutes or less to make. Much more appropriate time frame for people who get distracted by anything glittery, furry, or pink.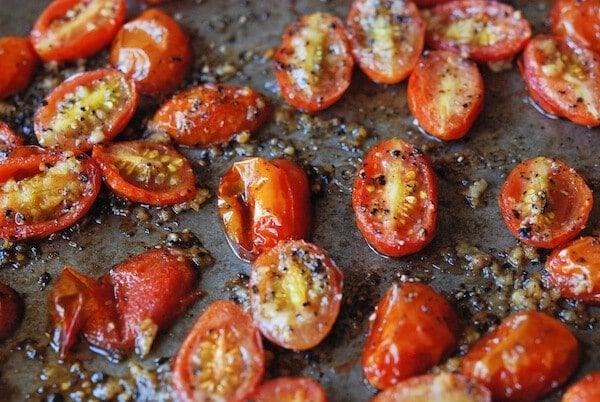 There are SO many uses for these little flavor bombs. I love them on top of homemade pizzas (with some goat cheese and spinach!!), in a light pasta with some fresh basil and fresh mozzarella balls or as a topping to some grilled chicken breasts. There are seriously no limits!
Since this is such a simple recipe, what makes it so divine – FRESH ingredients. Gorgeous ripe red tomatoes, with pungent fresh garlic and freshly cracked black pepper. Don't use that garlic that is packed in olive oil, it really has a fraction of the flavor. I swear.
If you don't already have one, this is my favorite garlic press. Super simple design and really easy to clean. And this is our favorite pepper grinder. I have gone through about 3 pepper grinders and this one is by far my favorite yet for it's clean look and ease of filling (it doesn't have that pesky metal bar inside like the wood ones).
If you love this recipe, make sure and check out my absolute favorite one-skillet Caprese Chicken. It's quick to make and has so much wonderful flavors including basil, fresh mozzarella and cherry tomatoes!
Garlic Roasted Cherry Tomatoes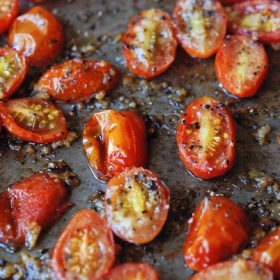 Ingredients:
2 (10 oz) containers cherry tomatoes, halved
6 garlic cloves, minced
2 tablespoons olive oil
1 teaspoon kosher salt
2 teaspoon fresh cracked black pepper
Directions:
Preheat oven to 375°F.
In a medium bowl, toss together tomatoes, garlic, olive oil, salt and pepper. Transfer to a baking sheet and spread into an even layer.
Bake for 20-25 minutes, or until tomatoes are soft and very fragrant.
Eat immediately standing over the sink with a kitchen fork…or on top of your favorite pasta, pizza, or even grilled chicken breasts!