Garlic Roasted Cherry Tomatoes: in just 30 minutes and with five simple fresh ingredients, you can be enjoying the best roasted tomatoes you have ever eaten!
Roasted Cherry Tomatoes
These little roasted tomatoes are epic flavor bombs to be added to pastas, on top of proteins or eaten just by themselves!
Since this is such a simple side dish recipe, what makes it so divine are the FRESH ingredients.
Gorgeous ripe red tomatoes, with pungent fresh garlic, extra virgin olive oil, kosher salt and freshly cracked black pepper.
You are going to fall in love at first bite with these crazy flavorful roasted tomatoes, I promise you.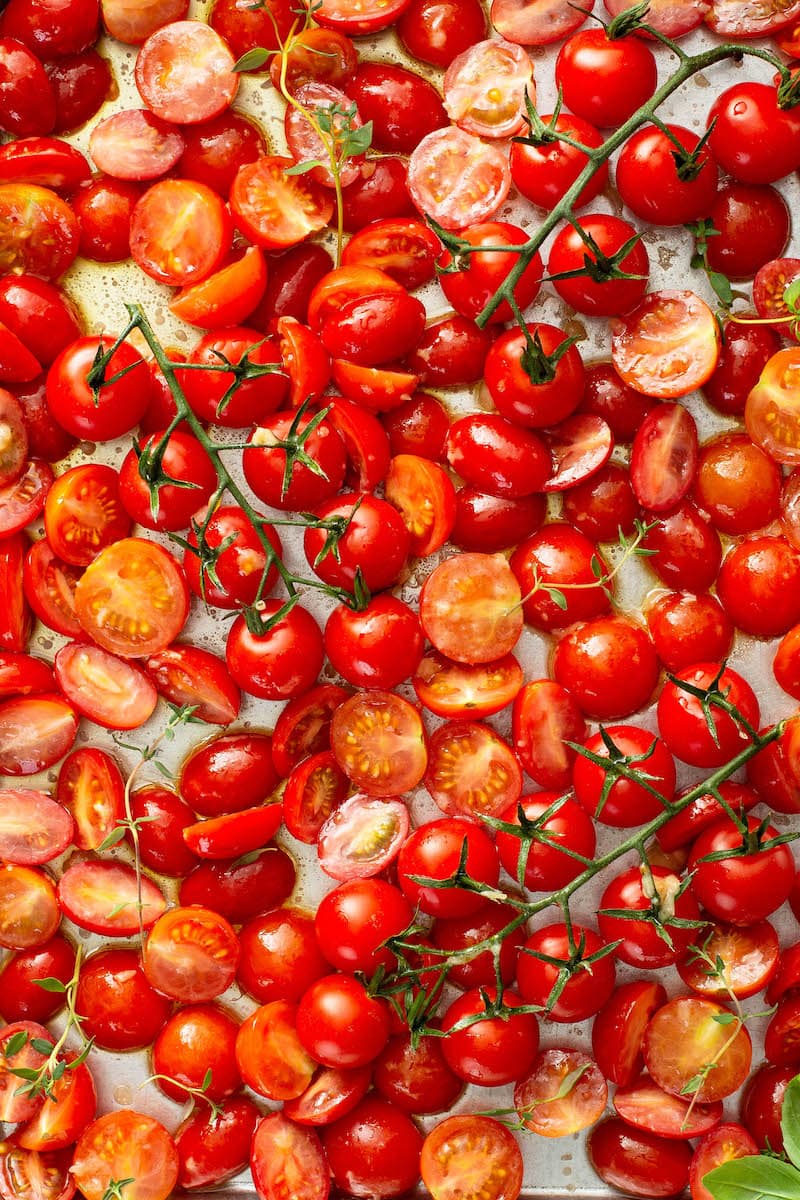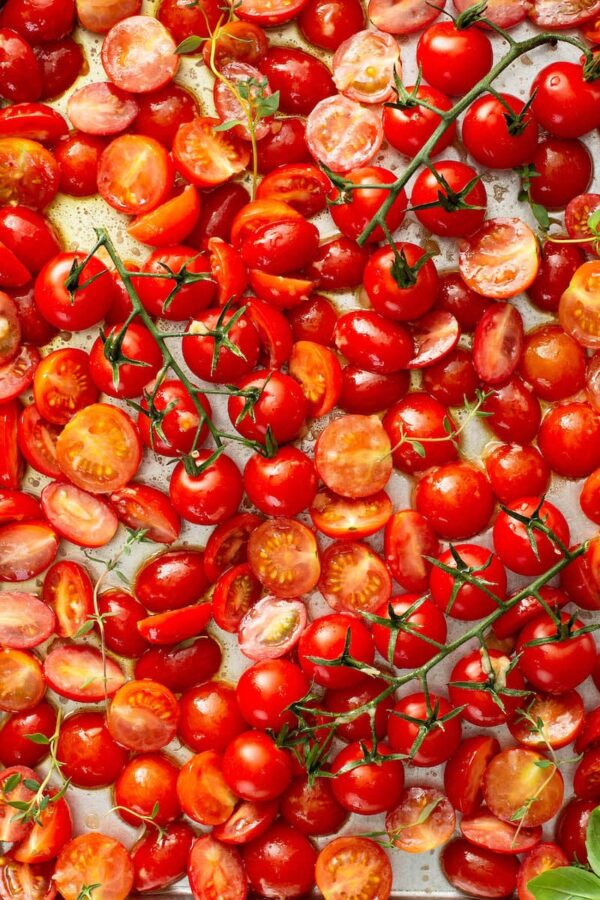 What Kinds of Tomatoes Are Best for Roasting?
You can roast any type of tomato that you have already, but I really recommend you choose one that is more meaty.
Like a roma tomato, cherry tomato, grape tomato… any tomato that has less liquid.
However, no matter what type of tomato you have, you need to cut it into chunks.
For something like a cherry tomato, you can leave them whole or slice them in half.
If you leave them whole, when you bite into them, they will burst in your mouth!
Just a fair warning, as I have surprised many a guest with my exploding roasted tomatoes before! ;-)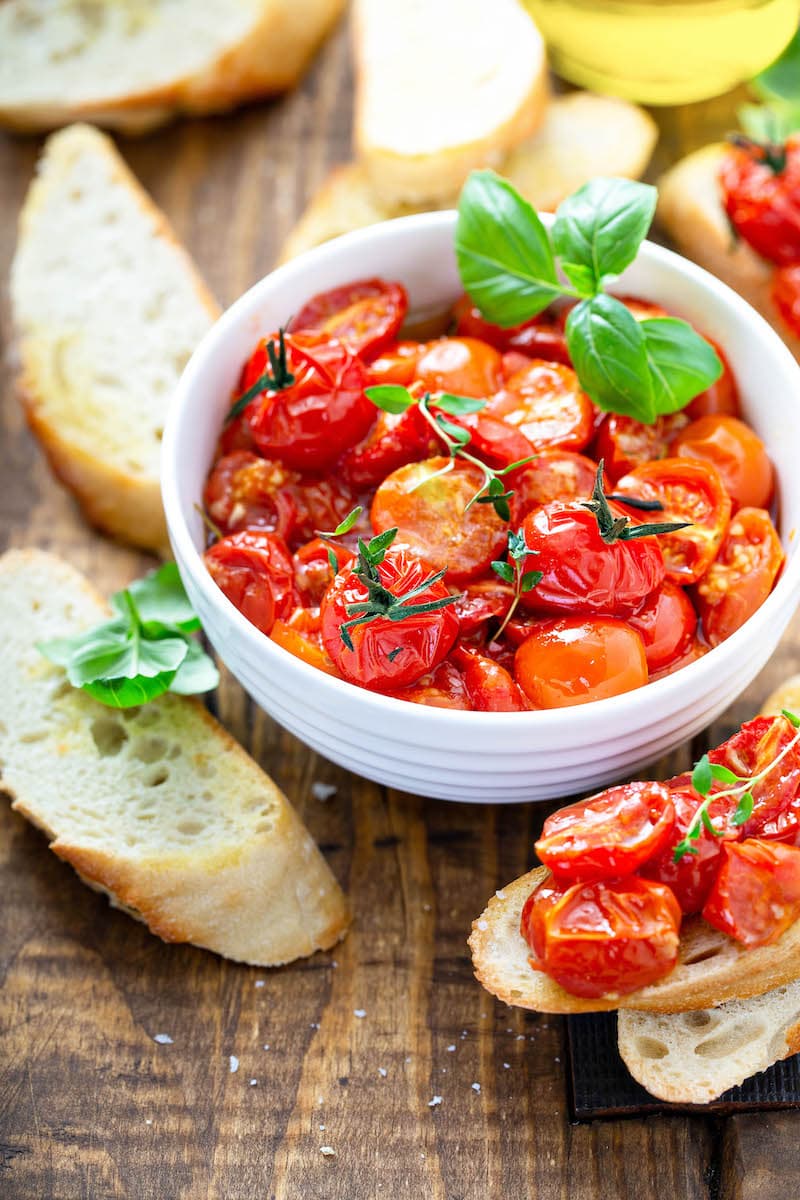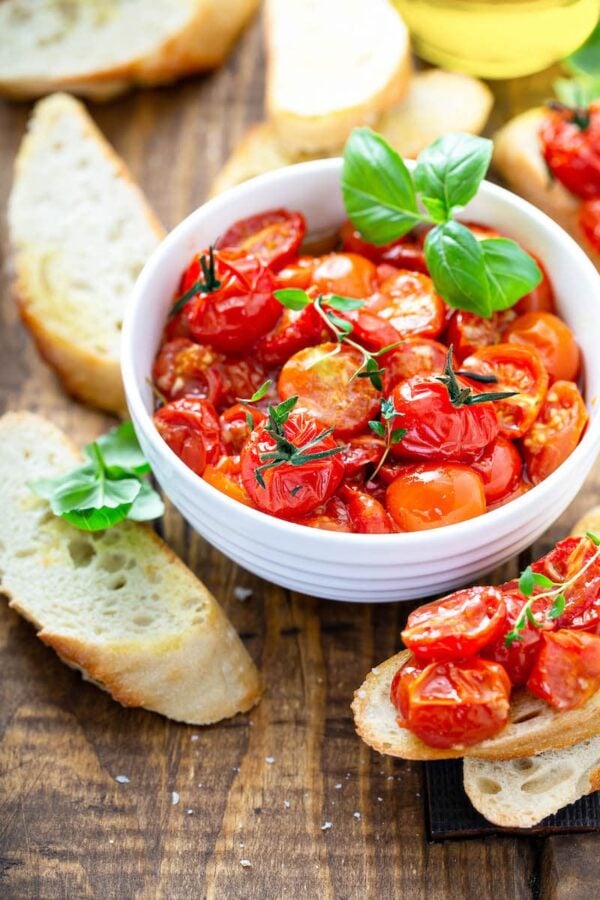 Fresh Ingredients Mean More Flavor!
You want to make sure you use the freshest of ingredients for optimal flavor in this roasted cherry tomato recipe.
So besides the fresh tomatoes, you also want to use a good quality extra virgin olive oil and fresh minced garlic.
Don't use that garlic that is packed in olive oil or sold in a jar, it really has a fraction of the flavor. I swear.
If you aren't a big fan of mincing garlic, and let's be honest — who is, get yourself a good garlic press.
If you don't already have one, this is my favorite garlic press (affiliate link). Super simple design and really easy to clean.
Lastly, you want freshly ground black ground pepper. It finishes off the flavor of these roasted tomatoes perfectly!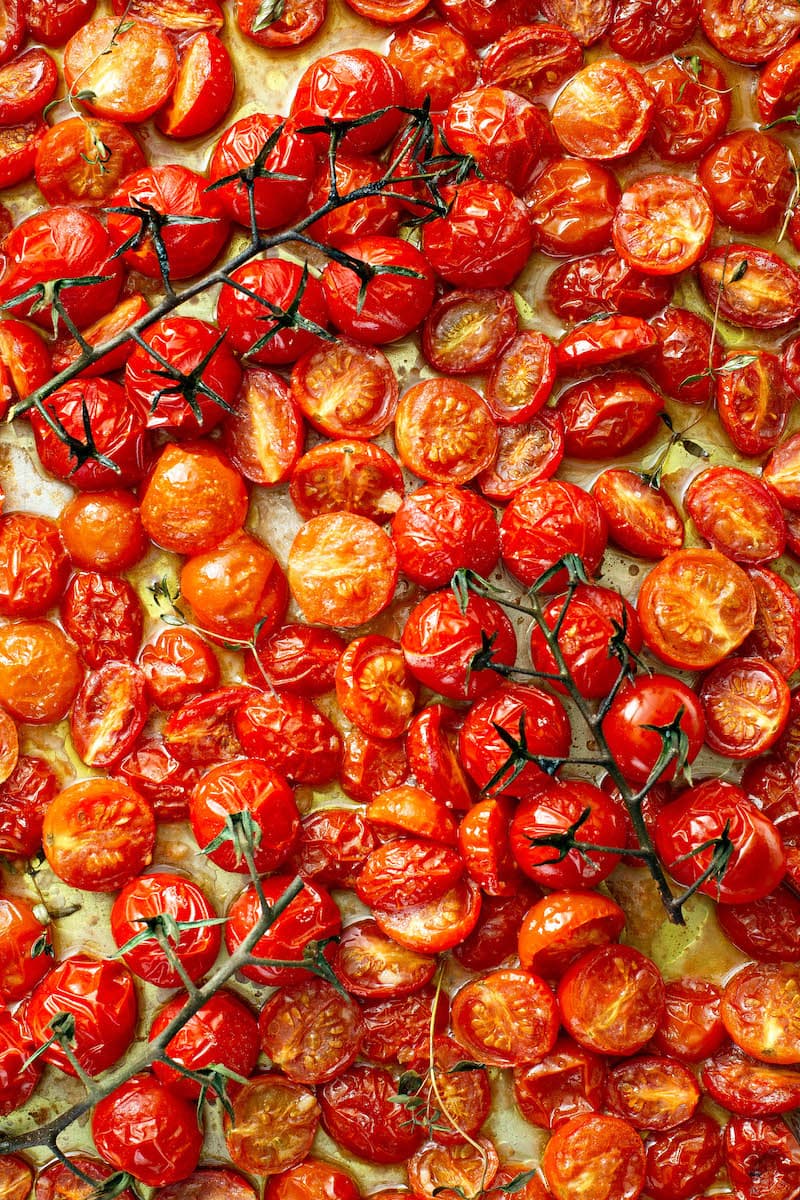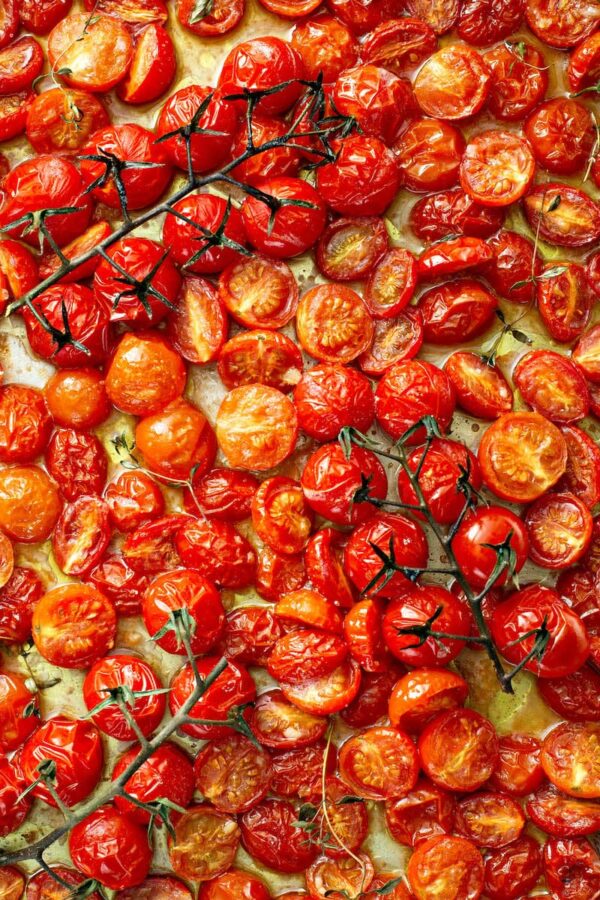 How to Eat Roasted Cherry Tomatoes
We have been grilling a lot of chicken and doing easy pastas — so I have been making these Garlic Roasted Cherry Tomatoes a few times a week to add flavor to just about every dish!
There are SO many different kinds of uses for these little flavor bombs.
For starters, they are perfect all on their own as a side dish. Bonus: this roasted tomato recipe is low carb and gluten free.
If you are looking for more low carb side dish recipes, check out my favorites: The Best Creamed Spinach, Creamy Baked Brussel Sprouts, Caprese Stuffed Avocados and The Best Mashed Cauliflower.
However, they can also be used in a ton of other ways: on top of homemade pizzas (with some goat cheese and spinach!!), in a light pasta with some fresh basil, tossed with fresh mozzarella balls or as a topping to some grilled chicken breasts.
Besides eating them as is, these are two of my favorite ways to use these Garlic Roasted Cherry Tomatoes: Creamy Goat Cheese Pasta and Tomato & Goat Cheese Toasts.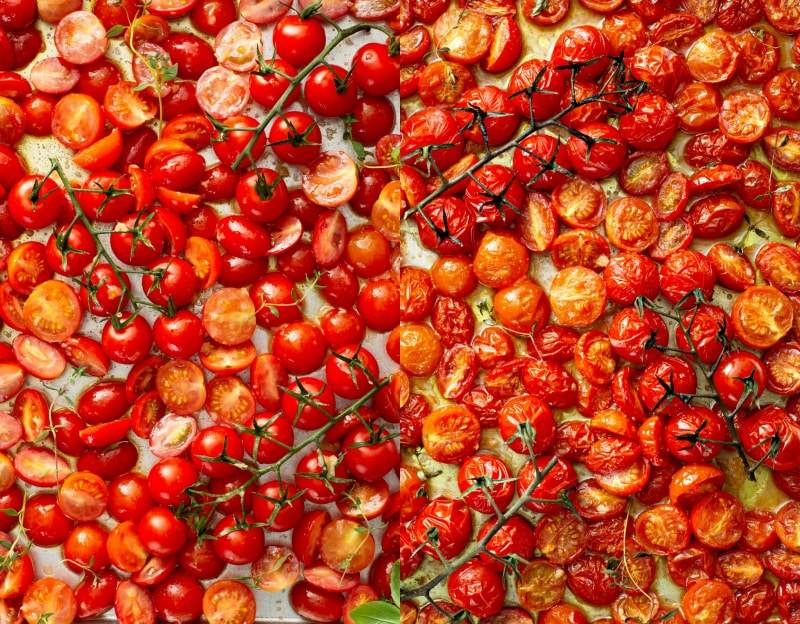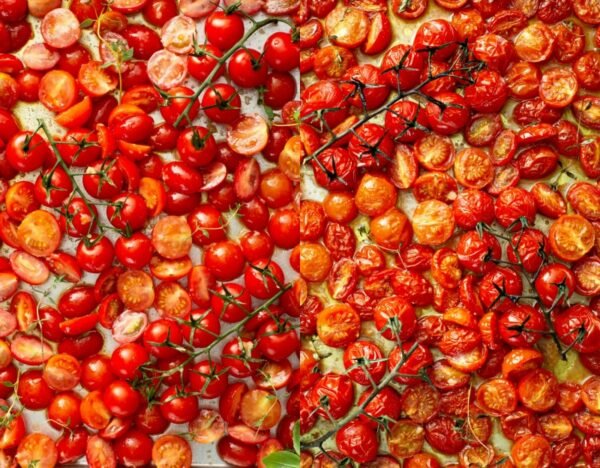 If you love roasted tomatoes, you are going to really love this simple garlic version! Plus, they only take 30 minutes or less to make.
Just read the comments below to see how well loved this Garlic Roasted Cherry Tomato recipe truly is.
This is actually a very old recipe from 2012, that I came back to update with new photos and a video, because it's still so popular after all this time! 
If you love this tomato recipe, make sure and check out my absolute favorite one-skillet Caprese Chicken!
Yield: serves 4
Garlic Roasted Cherry Tomatoes Recipe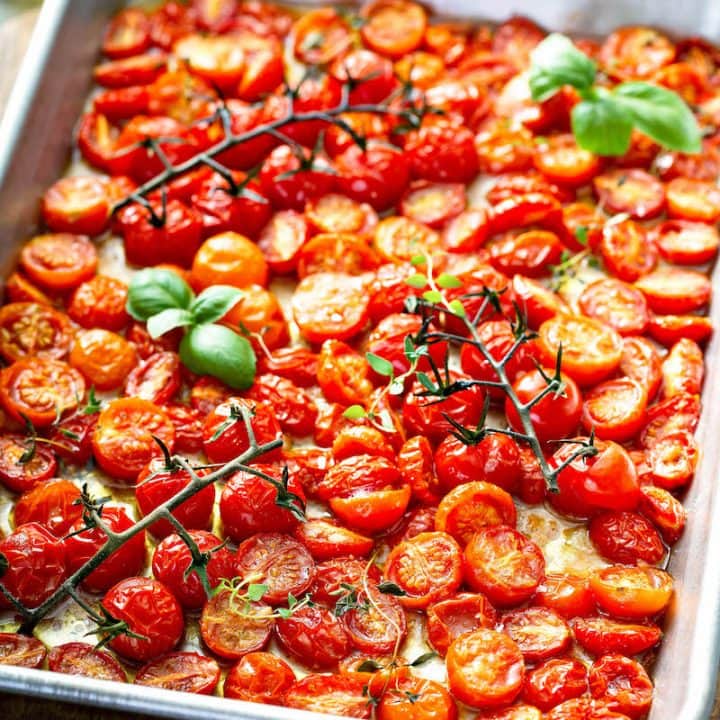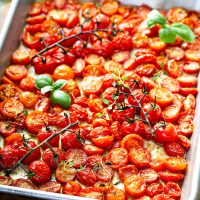 Garlic Roasted Cherry Tomatoes: in just 30 minutes and with five simple fresh ingredients, you can be enjoying the best roasted tomatoes you have ever eaten!
Ingredients
2 (10 oz) containers cherry tomatoes, halved
6 garlic cloves, minced
2 tablespoons olive oil
1 teaspoon kosher salt
2 teaspoons fresh cracked black pepper
Instructions
Preheat oven to 375°F.
In a medium bowl, toss together tomatoes, garlic, olive oil, salt and pepper. Transfer to a baking sheet and spread into an even layer.
Bake for 20-25 minutes, or until tomatoes are soft and very fragrant.
Eat immediately standing over the sink with a kitchen fork…or on top of your favorite pasta, pizza, or even grilled chicken breasts!
Recommended Products
I am an Amazon affiliate member and I earn a small percentage from qualifying purchases. Thank you!
Nutrition Information:
Yield:
4 servings
Serving Size:
1 serving
Amount Per Serving:
Calories:

70
Total Fat:

7g
Saturated Fat:

1g
Trans Fat:

0g
Unsaturated Fat:

6g
Cholesterol:

0mg
Sodium:

530mg
Carbohydrates:

2g
Fiber:

0g
Sugar:

0g
Protein:

0g
Categories
This post may contain affiliate links. Read my disclosure policy.