This Creamy Pasta with Roasted Cherry Tomatoes recipe is a delicious fettuccine pasta with a homemade creamy goat cheese sauce and topped with garlic roasted cherry tomatoes.
If you love this creamy pasta recipe you should also try my Instant Pot Chicken Fettuccine Alfredo and my Homemade Mac and Cheese Recipe.
This Creamy Pasta Is Ready In Just 30 Minutes
Are you seeing all that creamy pasta and garlic roasted cherry tomatoes? What about the fresh basil?
This Creamy Pasta with Roasted Cherry Tomatoes is so good, I could eat both of those bowls right now all by myself!
I am really excited to have teamed up with Mueller's to bring you this new flavorful pasta recipe made in just 30 minutes!
It's loaded with classic simple flavors to allow each ingredient to really shine through.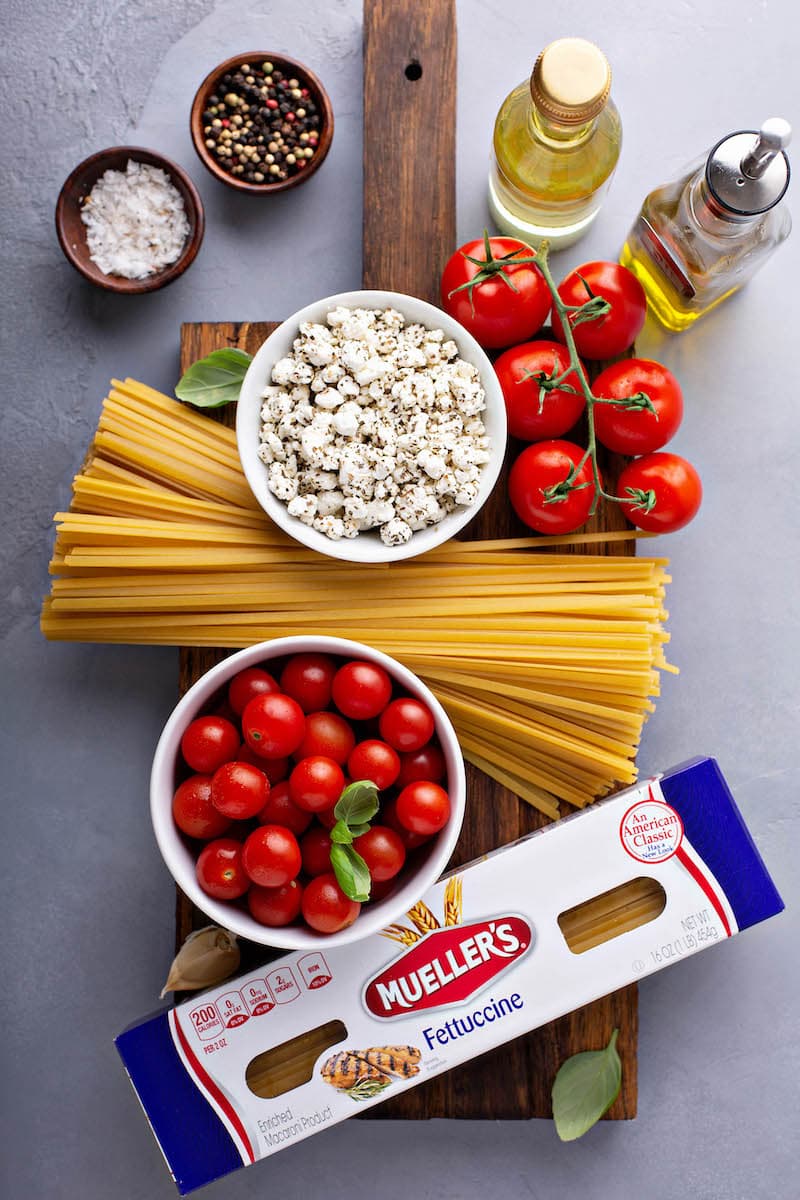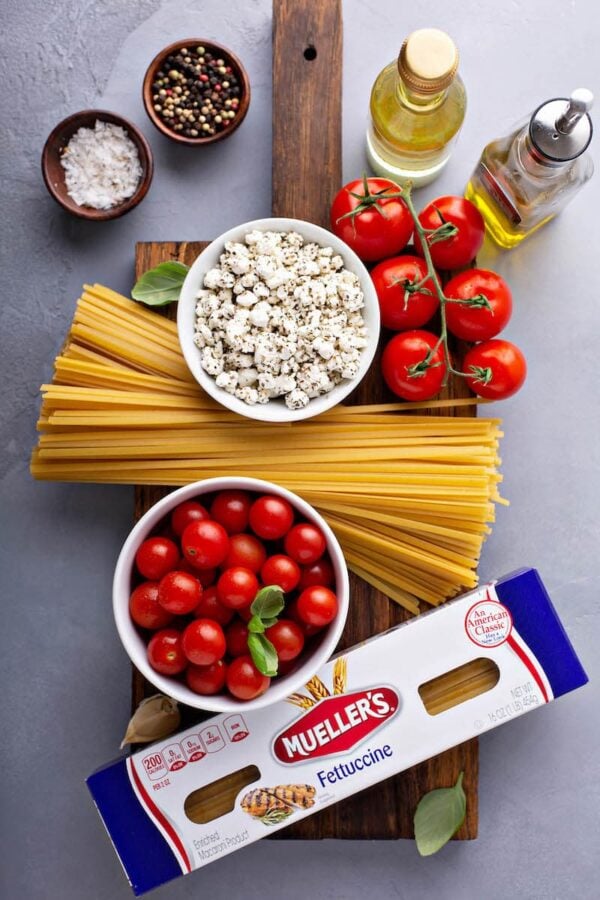 What Type Of Pasta Is Best For This Recipe?
The star of the recipe is my personal favorite, Mueller's Fettuccine.
I am a big fan of Mueller's Pasta, because like me, Mueller's believes what's inside matters. It's so much more than just the toppings and sauce!
Mueller's Pasta is non-GMO, minimally processed and made with simple, real ingredients like wheat and water.
Mueller's knows that real, simple ingredients matter in a meal. That's why they use a simple recipe of the finest wheat & filtered water.
Keeping that in mind, I created an amazing recipe highlighting just a few key ingredients.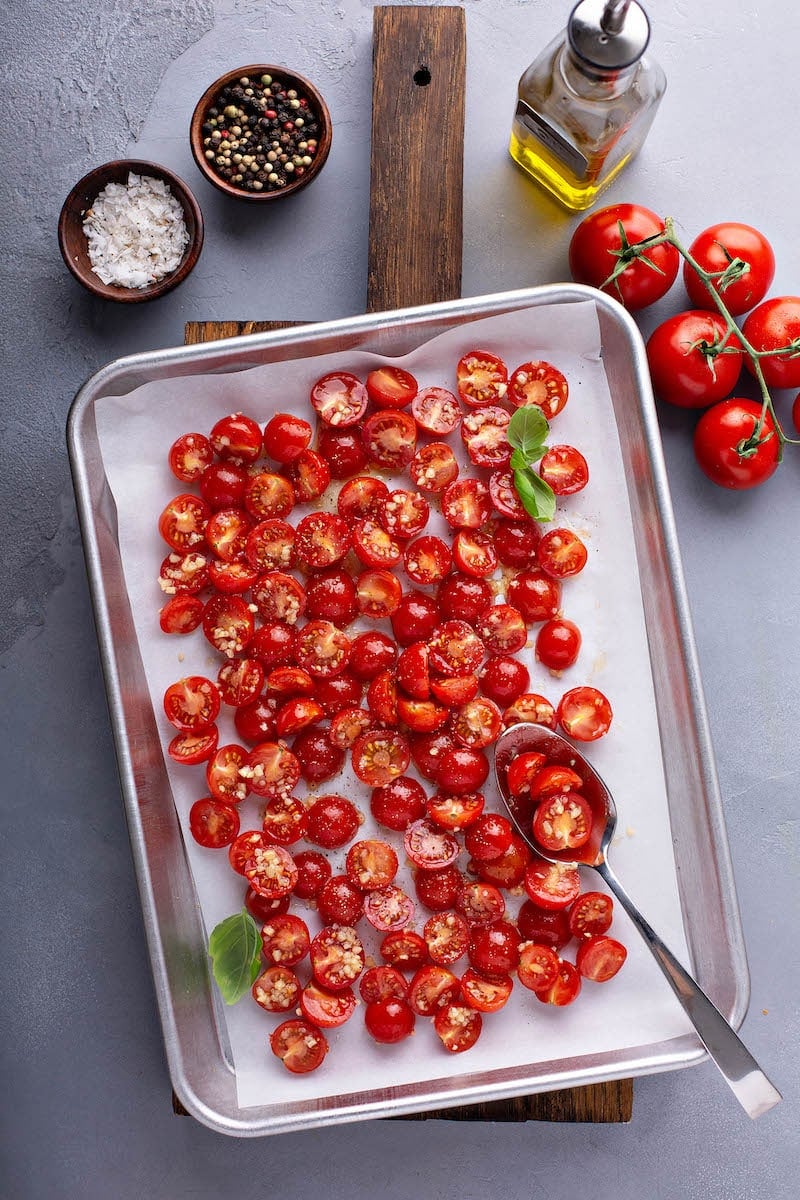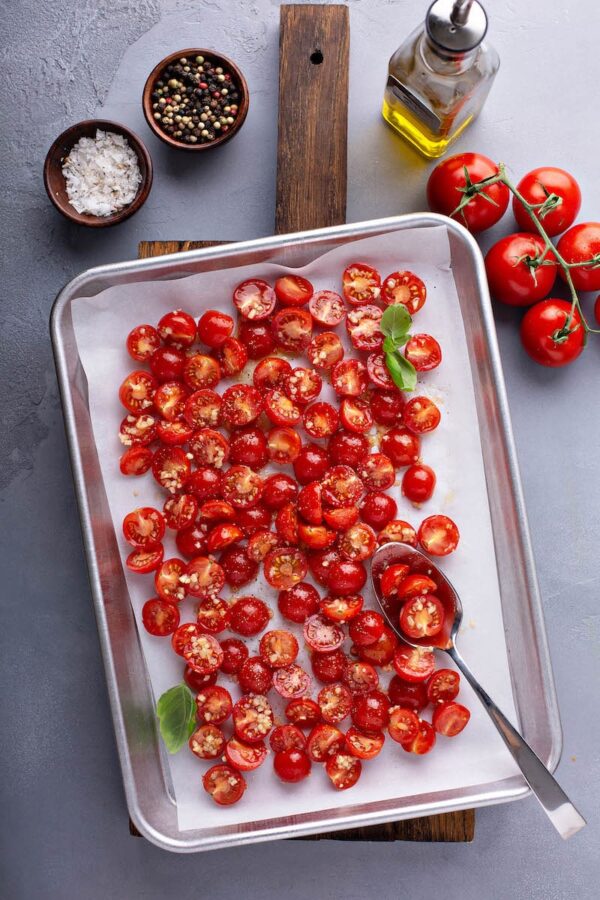 How To Make This Creamy Pasta with Roasted Cherry Tomatoes
To start, we take some juicy, ripe cherry tomatoes, slice them in half and toss them in olive oil, salt, pepper and freshly minced garlic.
We roast those tomatoes in the oven for about 20 minutes at 400 degrees.
While the tomatoes are roasting, I boil my Mueller's Fettuccini Pasta according to the package directions.
While the pasta is cooking, you make the creamy goat cheese sauce at the same time.
This helps to save time and keep this an easy quick 30 minute dinner you can make on a weeknight.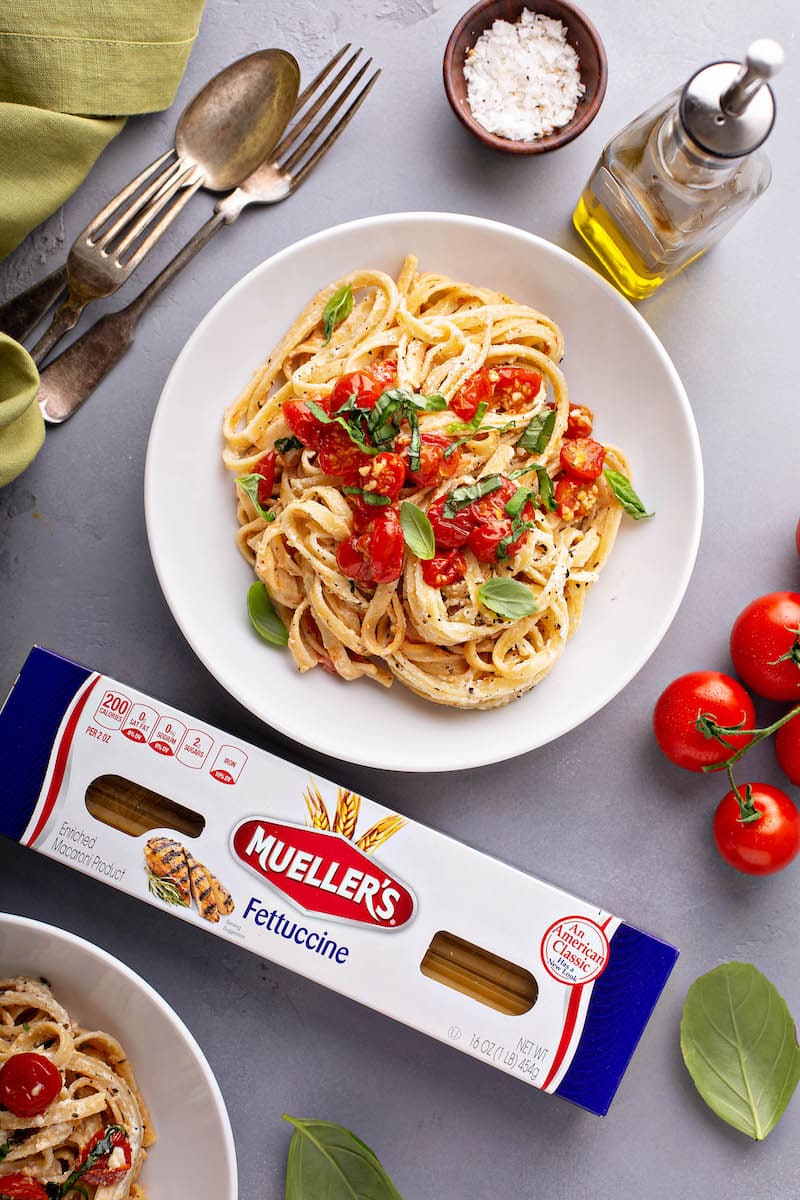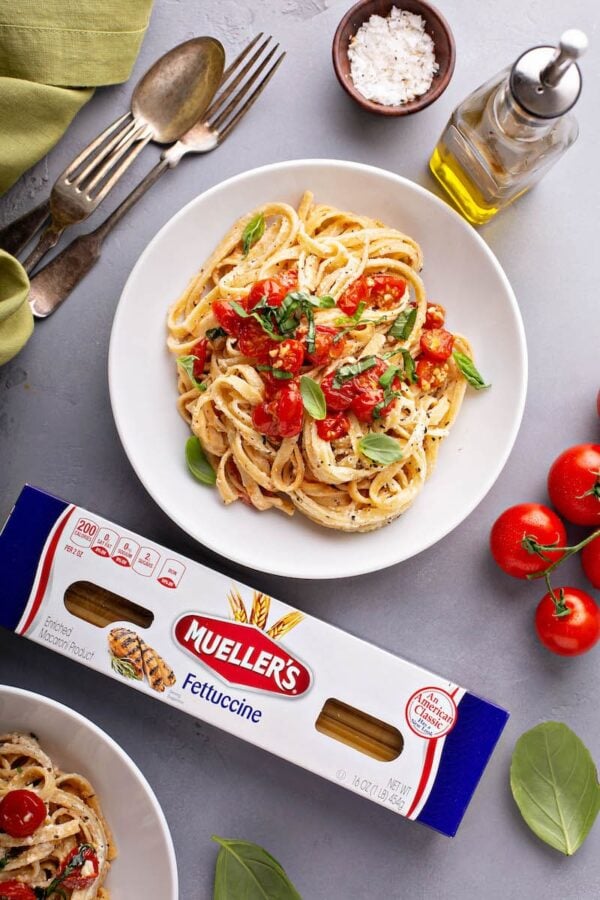 You can make the goat cheese sauce with a dry white wine or chicken broth, either work great.
To season our sauce, we use a little fresh sautéed garlic and herbed goat cheese that already has great seasonings in it.
Then we simply add salt and pepper and whisk until the sauce is nice and smooth.
This homemade pasta sauce is very quick to make and as soon as it's done simmering, we toss in our fettuccine until it's well coated.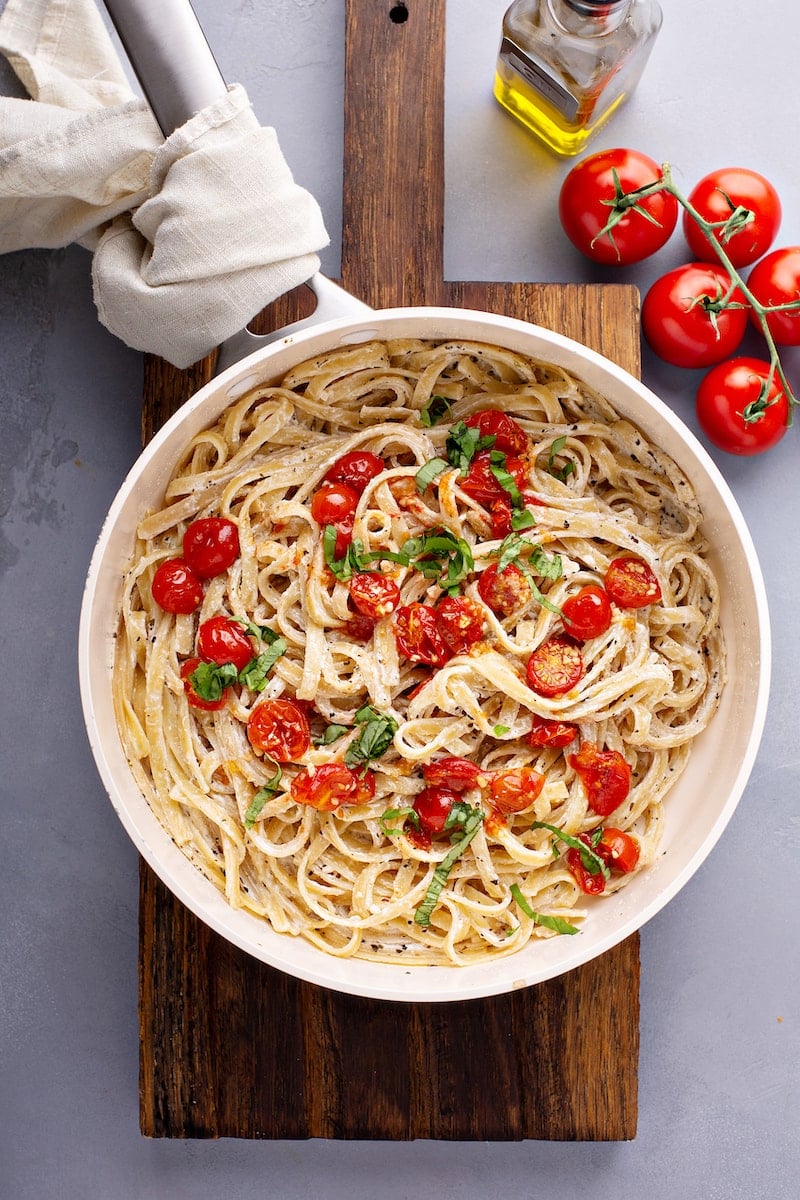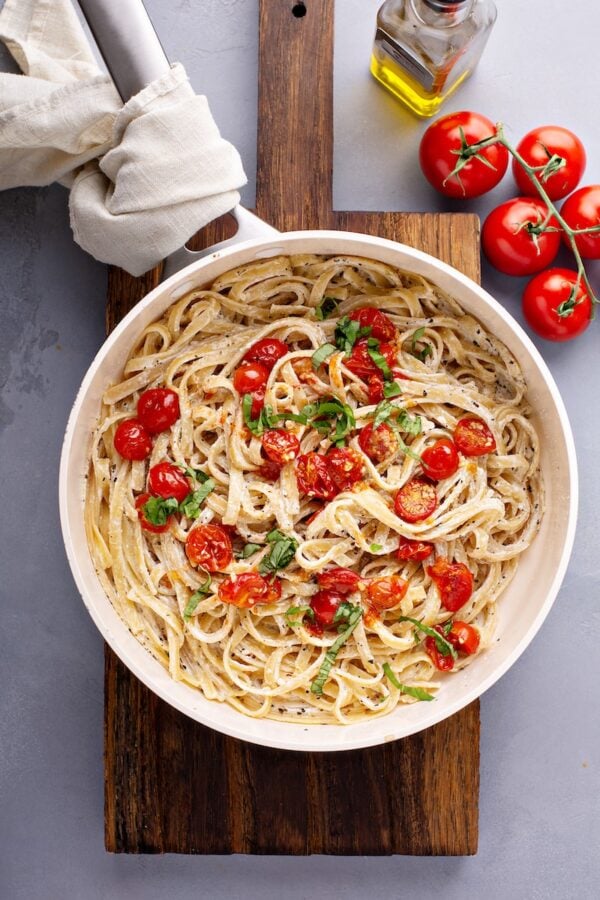 Finally, we top our creamy goat cheese pasta with the oven roasted garlic cherry tomatoes while they are still hot from the oven.
To bring it all together, we sprinkle on some fragrant fresh basil for an easy gourmet dinner.
It looks incredibly impressive, and tastes divine, but is a surprisingly simple recipe to make.
Your guests will have no clue it only took you 30 minutes to whip this dish up!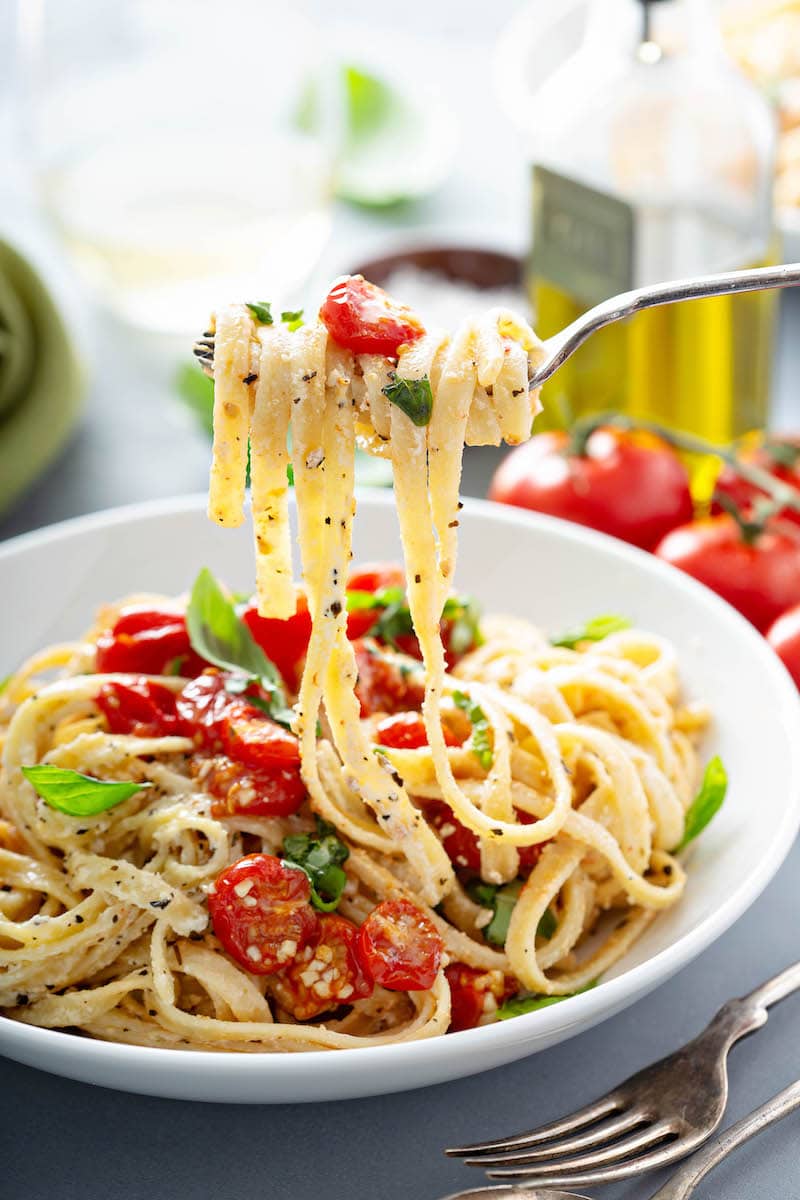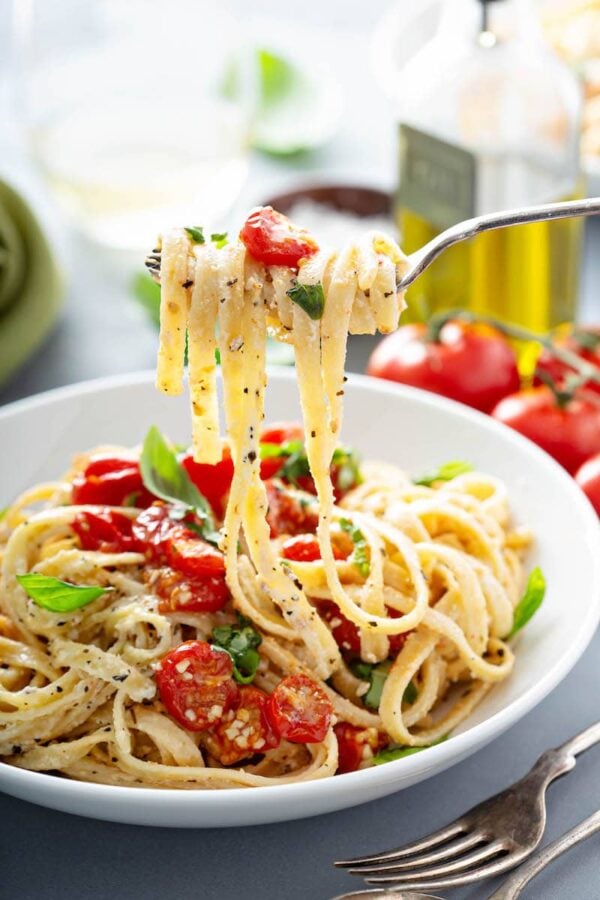 What Else Can I Add To This Creamy Pasta?
This Creamy Pasta with Roasted Cherry Tomatoes is a great vegetarian dinner all on it's own, but can also be served with roasted chicken or as a side to any protein.
Does This Pasta Reheat Well?
It is best made fresh and not reheated. The homemade goat cheese pasta sauce tends to soak into the pasta if you try to save it in the fridge.
However, the recipe below is easily divided to make two large servings, instead of four, or doubled to serve a crowd!
I know
you are going to enjoy this Creamy Pasta with Roasted Cherry Tomatoes just as much as we do!
It's always a winner in our house and I am sure it will be in yours too! Enjoy!
Yield: 4 servings
Creamy Pasta with Roasted Cherry Tomatoes Recipe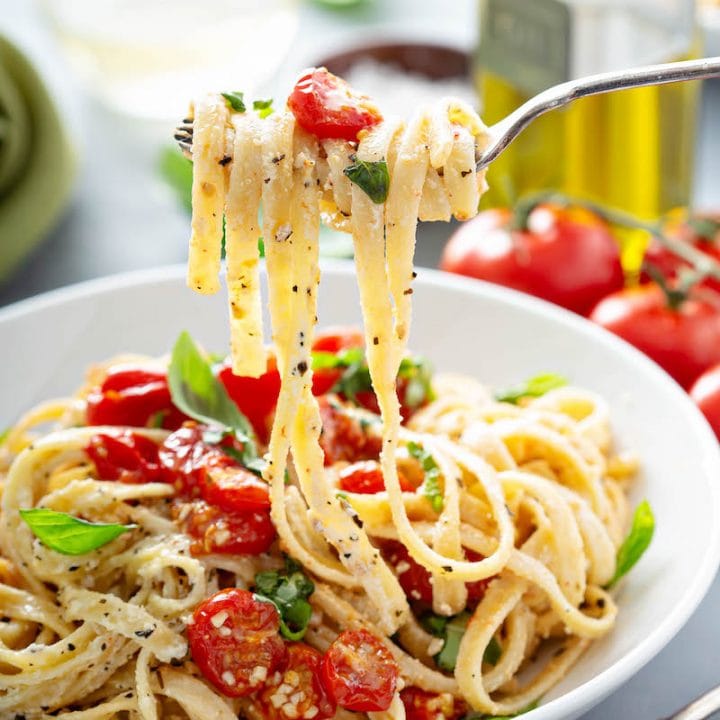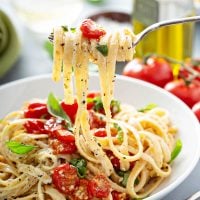 This Creamy Pasta with Roasted Cherry Tomatoes recipe is a delicious fettuccine pasta with a homemade creamy goat cheese sauce and topped with garlic roasted cherry tomatoes.
Ingredients
Roasted Cherry Tomatoes:
4 tablespoons olive oil
2 pints cherry tomatoes, halved
4 large cloves garlic, minced
Salt & pepper, to taste
Creamy Goat Cheese Pasta:
16 oz Mueller's Fettuccine
2 tablespoons olive oil
4 cloves garlic, minced
8 oz dry white wine (or chicken broth)
8 oz herbed goat cheese, crumbled
Salt and pepper, to taste
Fresh basil, chiffonade
Instructions
Preheat oven to 400°F. Line a baking sheet with parchment paper.
In a large bowl, toss together olive oil, cherry tomatoes, garlic, salt and pepper.
Transfer to prepared baking sheet. Bake for 20-25 minutes, or until tomatoes are soft and very fragrant.
While tomatoes are roasting, bring water to boil in a stock pot for pasta. Cook pasta until al dente, according to package directions and drain.
While pasta cooks, heat a large saute pan over medium heat, heat olive oil. Add garlic, cooking for 30 seconds.
Add goat cheese and white wine, stirring until goat cheese is melted. Season with salt and pepper.
Bring sauce to a simmer and cook for 1 minute. Add cooked fettuccine noodles, tossing well to coat.
Serve topped with roasted cherry tomatoes and sprinkle with fresh basil.
Nutrition Information:
Yield:
4 servings
Serving Size:
1
Amount Per Serving:
Calories:

453
Total Fat:

23g
Saturated Fat:

4g
Trans Fat:

0g
Unsaturated Fat:

18g
Cholesterol:

3mg
Sodium:

198mg
Carbohydrates:

44g
Fiber:

3g
Sugar:

6g
Protein:

9g
Categories
This post is sponsored by Mueller's Pasta. All opinions are, as always, 100% my own. Thank you for supporting the brands that I love!
This post may contain affiliate links. Read my disclosure policy.