Get all those creamy soup vibes, without all the carbs! Easy Roasted Garlic Cauliflower Soup is rich and velvety, with plenty of slow-roasted garlic flavor and a touch of Cajun spice.
A Healthy Fall Soup Recipe
When fall finally finds its way down to Florida, I am thrilled to actually have some soup eatin' weather. Yes, I may be the girl at Panera eating hot soup in the middle of summer – but I'm also the girl that can appreciate how much better it tastes when the air is nice and crisp. This easy, creamy cauliflower soup is just perfect.
Ever since I tried faux potatoes mashed cauliflower, I realized that cauliflower doesn't have to taste like… cauliflower. Not everyone's a fan, you know? But if you add the right ingredients, plain old cauliflower takes on a wonderful creamy texture, and marries well with hearty flavors like roasted garlic, white wine, and tangy Greek yogurt.
This recipe has all of that, and more.
Why Is Cauliflower Good For You?
If you're skeptical about the health benefits of cauliflower, let me tell ya, it packs a lot of nutrients! Similar to broccoli and other cruciferous vegetables, cauliflower contains important nutrients, including vitamin C and B vitamins. It's also a low-calorie, low-carb food, which can be helpful for those of us trying to have our creamy soup and maintain a waistline, too.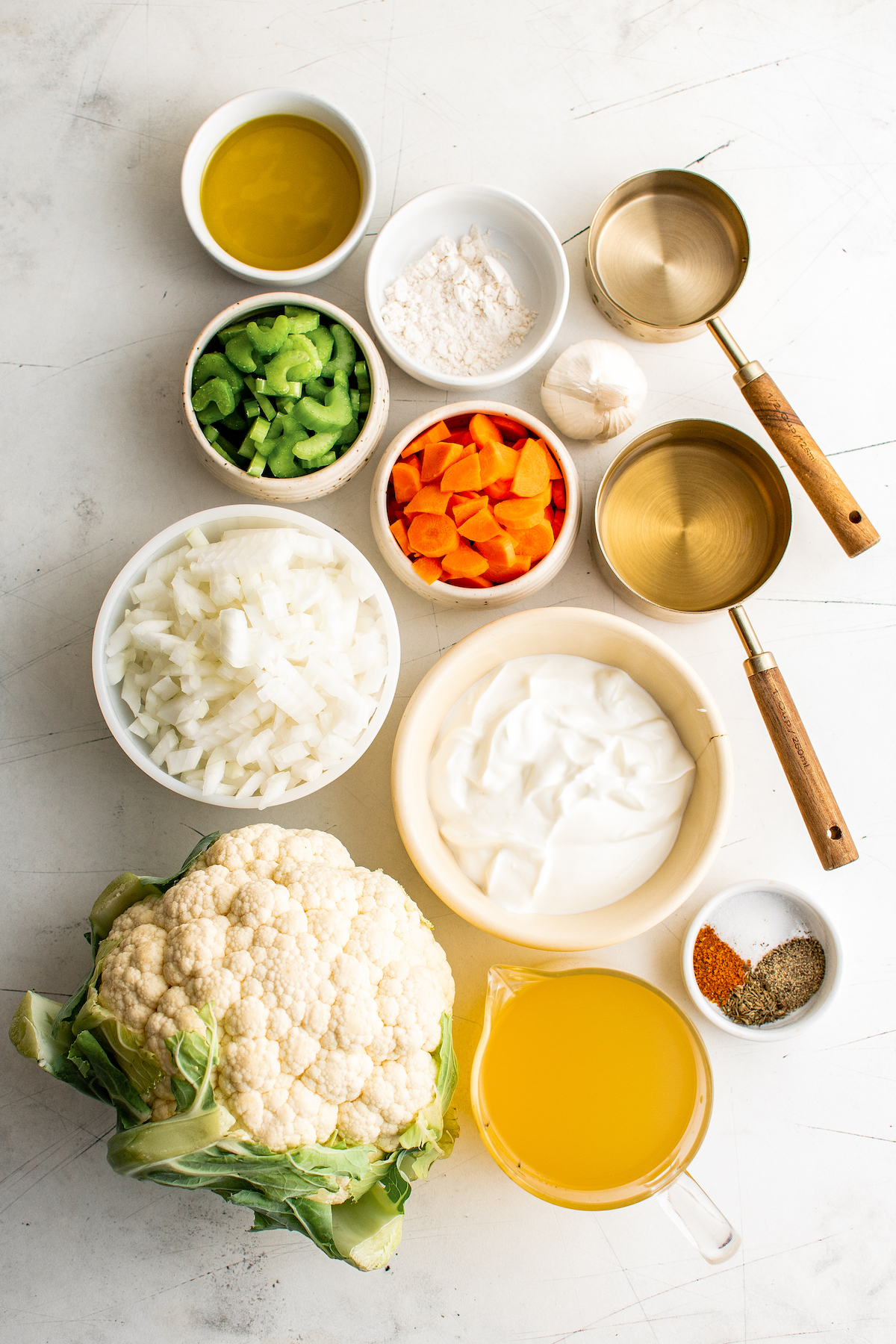 What Ingredients Will I Need?
To make roasted garlic cauliflower soup, you'll need a whole head of cauliflower and a whole head of garlic, too! The other ingredients are mostly pantry basics. Let's take a closer look:
Flour: A tablespoon of plain, all-purpose flour combines with olive oil to thicken your soup.
Olive Oil: A bit for roasting the veggies, and a bit more for creating your flour-and-oil "roux."
Garlic: We'll be roasting one head of garlic to flavor the recipe.
Cauliflower: Look for an unblemished, tightly-packed head of cauliflower, and cut it into florets. It's easier to wash the cauliflower after you cut it, by placing the florets in a colander and rinsing them well.
Celery, Carrots, and Onions: This classic combo of fragrant vegetables is called "mirepoix" (MEER-pwah). Give them all a quick chop, either by hand or with a food processor.
Seasonings: Salt, pepper, dried thyme, and your favorite Cajun seasoning. I like Slap Ya Mama brand.
White Wine: A small amount of white wine adds depth to the soup.
Water and Broth: To make the soup base. I like to use regular chicken broth here, but you could substitute vegetable broth, homemade bone broth, etc.
Greek Yogurt: Nothing adds richness and a subtle, tangy flavor like Greek yogurt. Go for plain, unflavored yogurt. Fat-free is fine, or you can use full-fat if you prefer. You can also substitute sour cream for yogurt.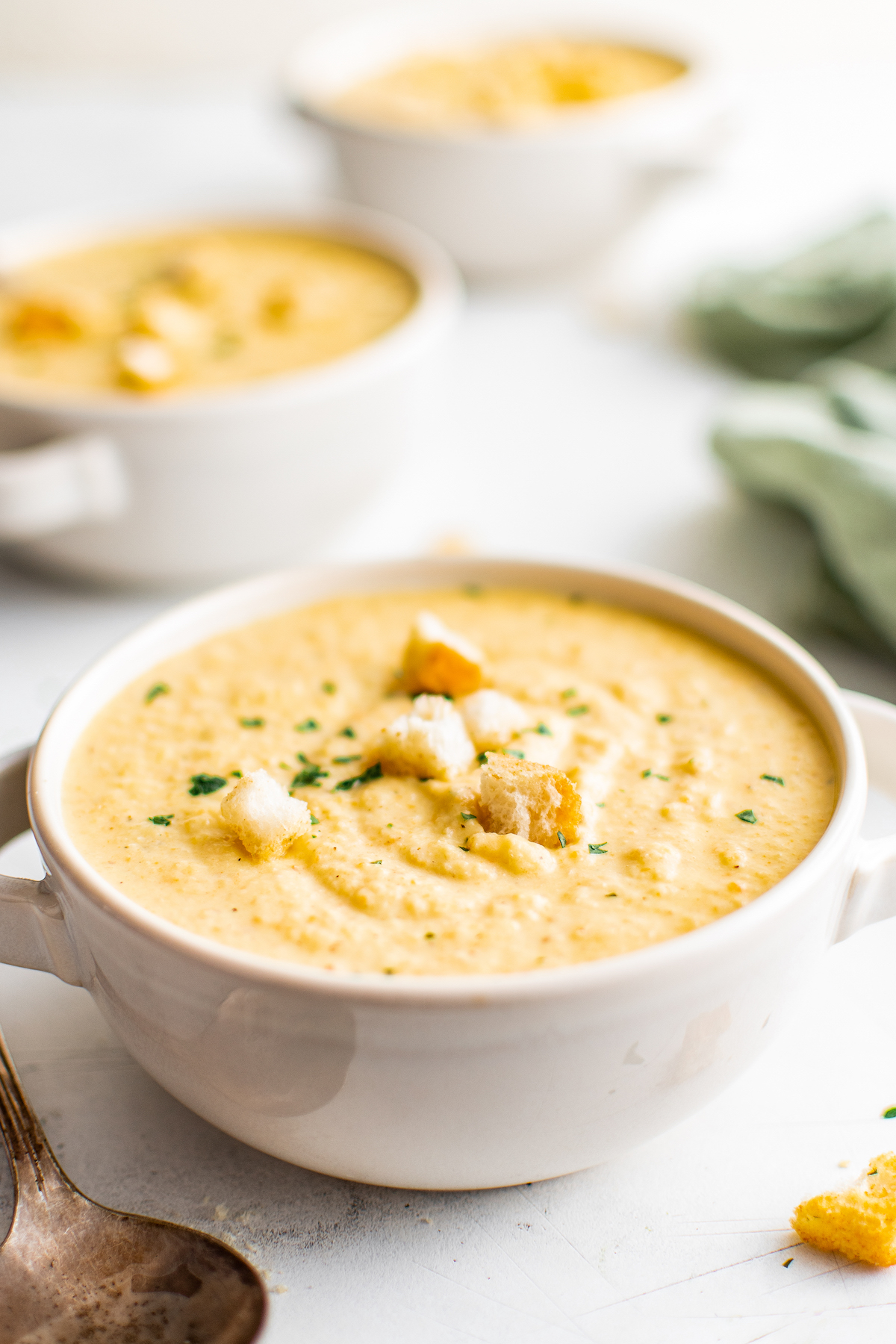 How to Make Roasted Garlic Cauliflower Soup
The process for making roasted garlic cauliflower soup is straightforward. You'll want to roast your garlic and cauliflower first – either on the same day, or ahead of time if you want to make things easier. Then you just make your roux, simmer the soup, and blend. Easy peasy!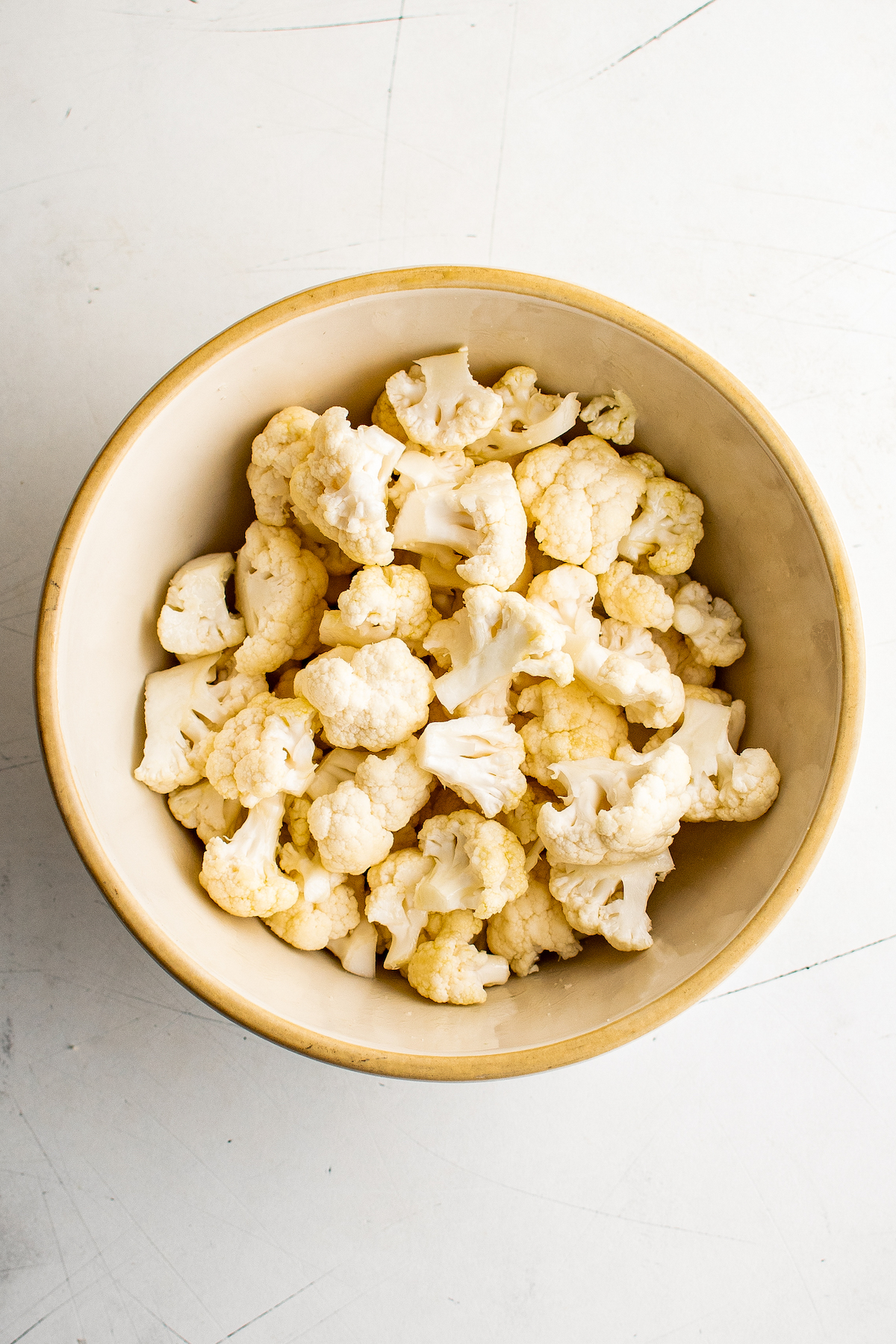 Roast Those Veggies. First, preheat your oven to 400°F. Toss the cauliflower florets with a tablespoon of olive oil, and spread them out on a foil-lined baking sheet. Next, cut off the top of the head of garlic, drizzle oil over the cut side, and wrap the whole thing in foil. Place that on the baking sheet, too.
Roast the cauliflower and garlic for 20 – 25 minutes, or until the cauliflower is golden and tender. Take the cauliflower florets off of the baking sheet, and set them aside, while the garlic roasts for another 10 minutes, or until tender.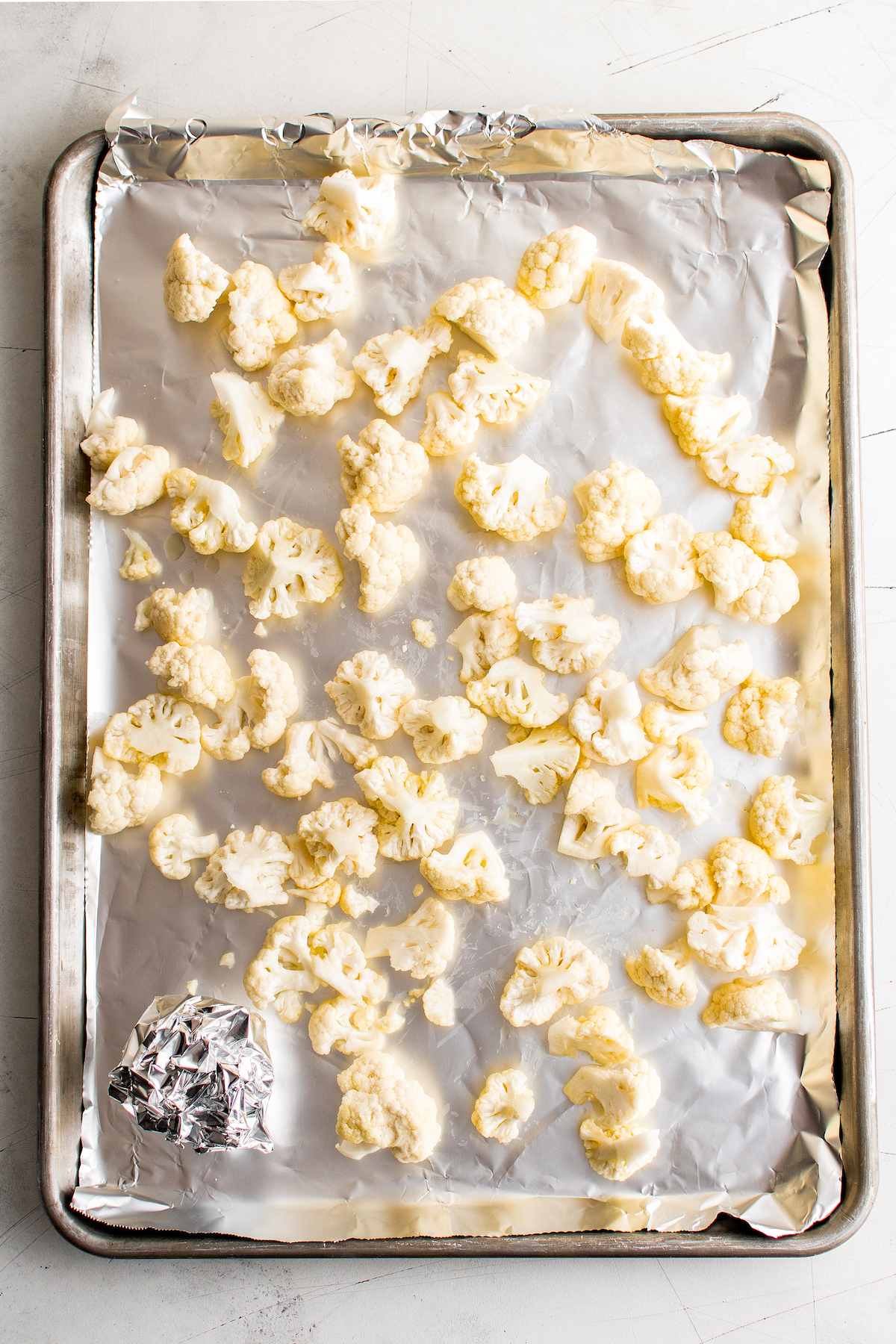 Make the Roux. When you're ready to make the soup, heat up a large Dutch oven or soup pot over medium-high heat. Add the remaining olive oil along with the tablespoon of flour, and whisk to make a paste. You will not need to cook this "roux" nearly as long as a typical roux – just long enough to take the raw taste out of the flour.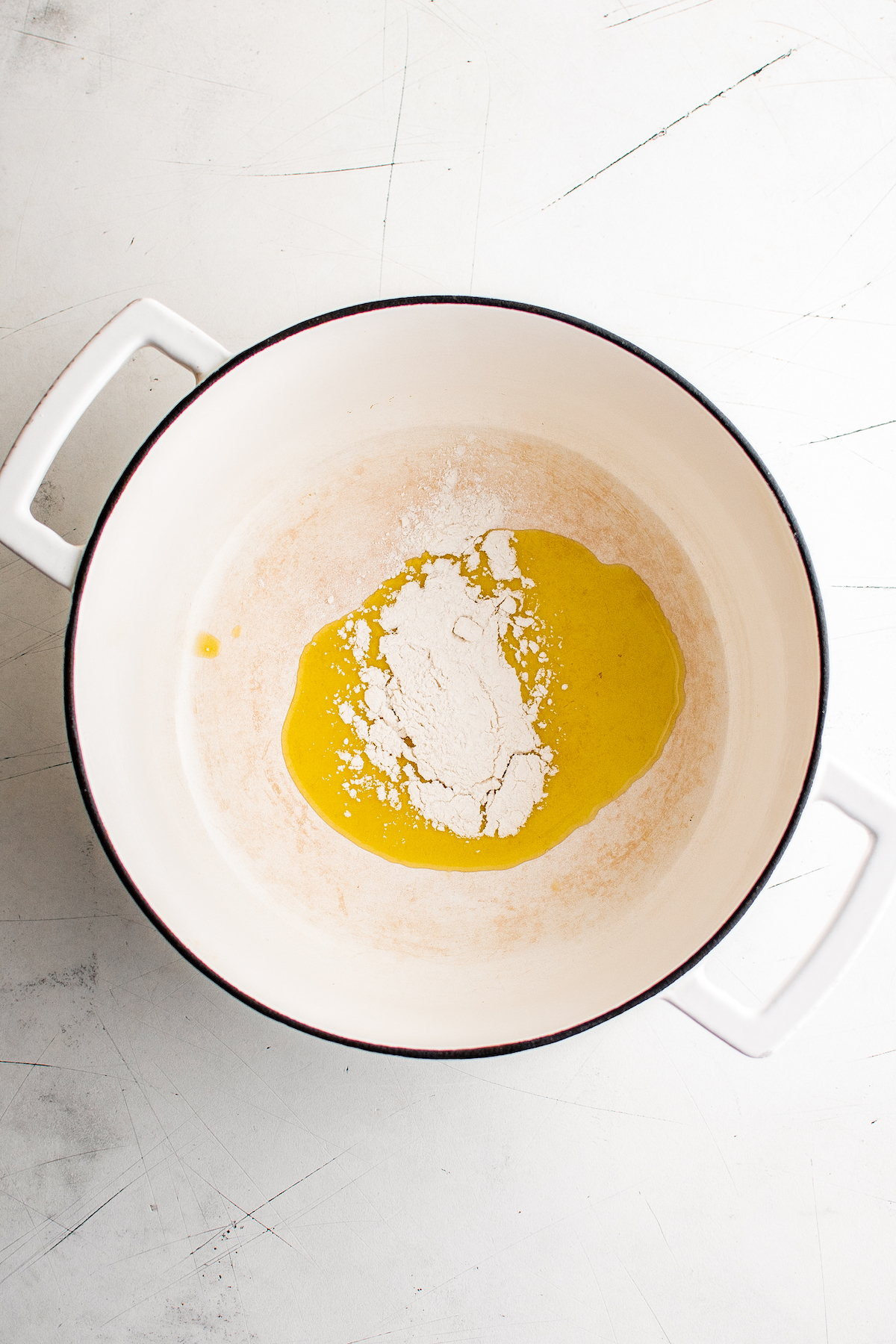 Cook the Mirepoix. Add the celery, carrot, and onion to the pot, stirring to make sure they don't stick or burn. Let the veggies cook for about 3 minutes.
Add the Seasonings, Wine, and Water. To the roux and mirepoix, add your seasonings: salt, black pepper, thyme, and cajun seasoning. Stir well, and then whisk in the wine and water. Allow this mixture to come to a simmer, and simmer it for 5 minutes, stirring as needed.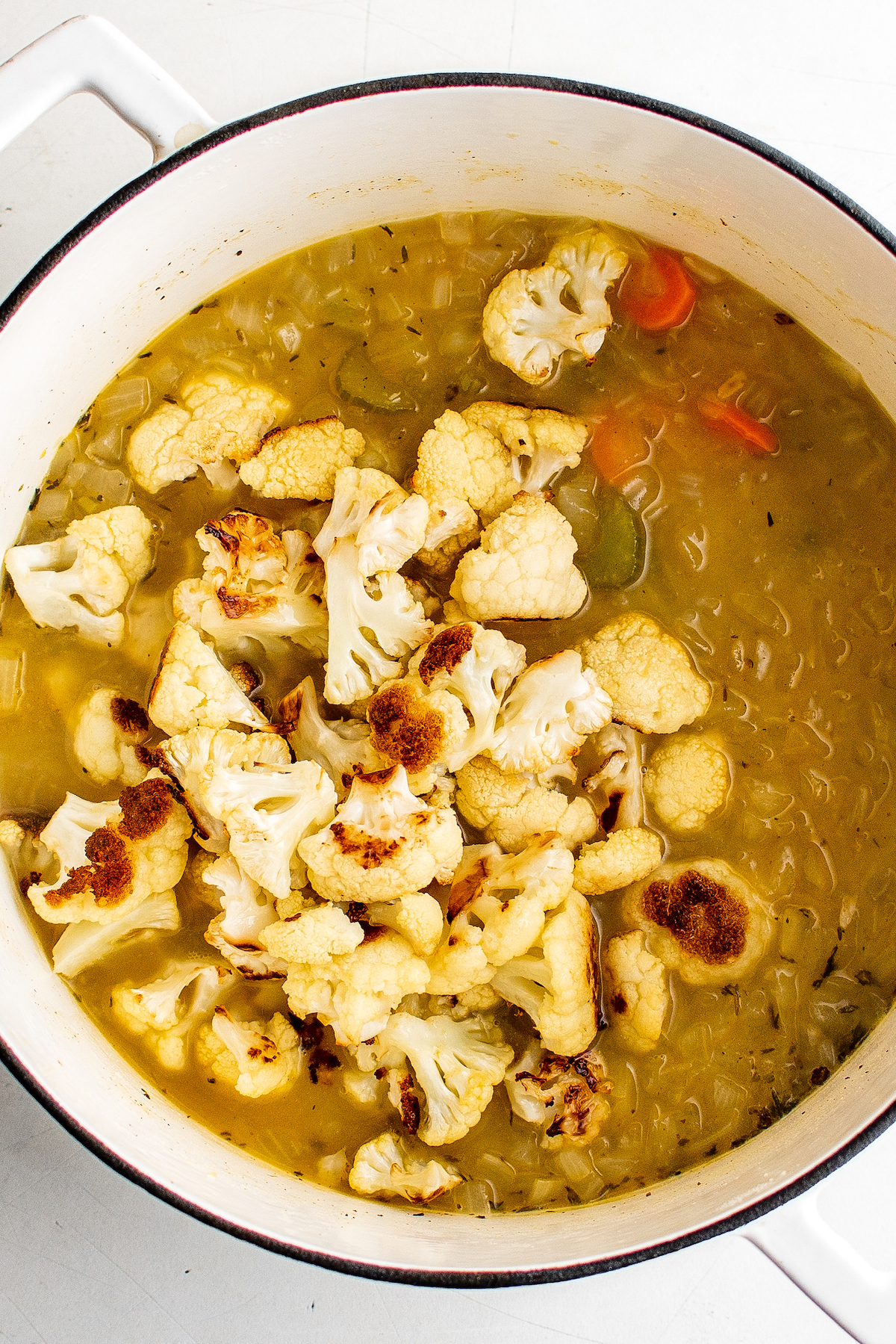 Add the Garlic, Chicken Broth, and Cauliflower. Almost done! Now you can squeeze the soft, roasted garlic cloves out of the head of garlic. Carefully add them to the hot soup along with the chicken broth, and simmer that for 10 minutes. Then add the roasted cauliflower and simmer just 5 minutes more.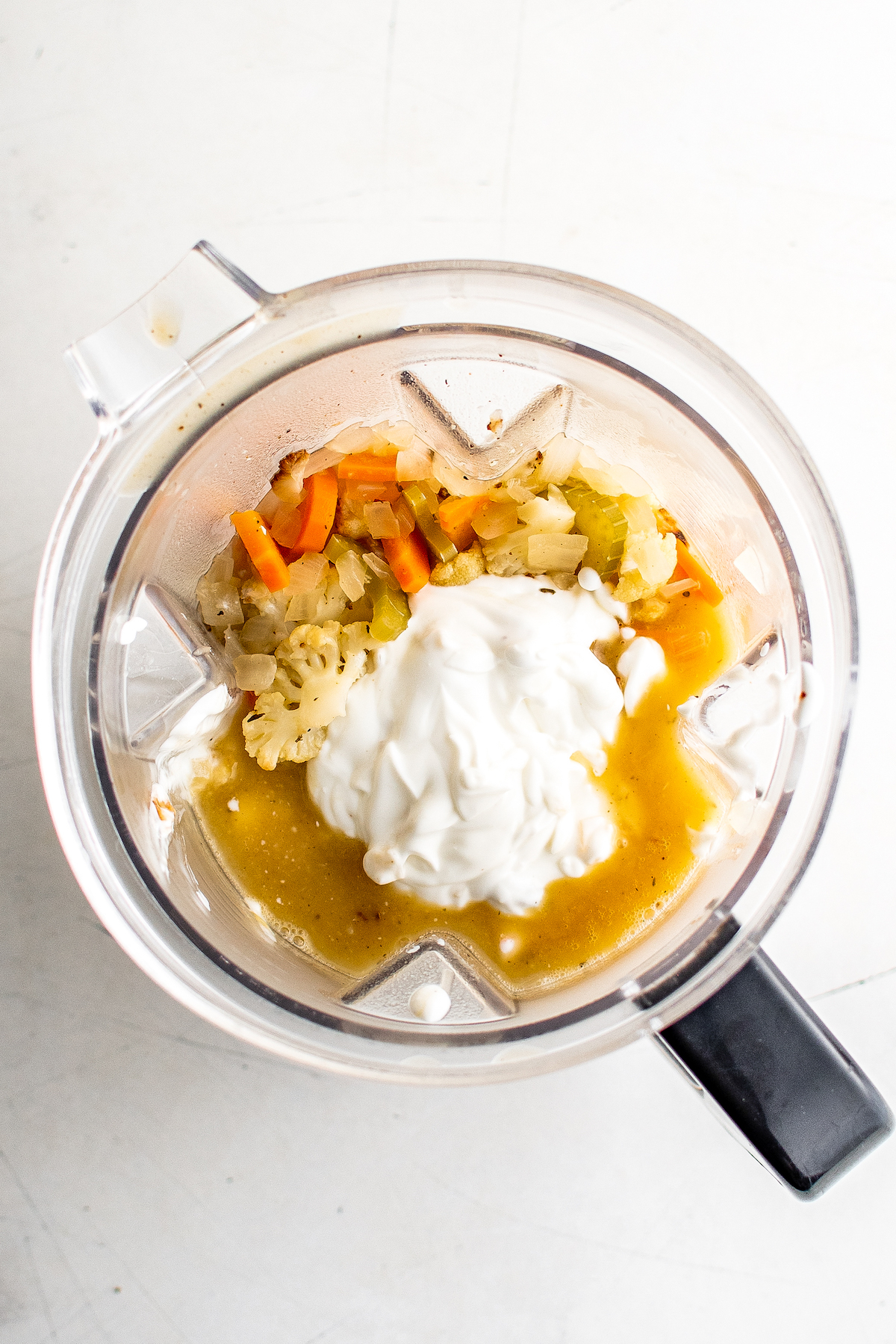 Blend with Greek Yogurt. Carefully transfer the soup, in batches, to a blender or food processor. Add the Greek yogurt, and puree until the soup is smooth. Taste for salt and pepper, adjust if needed.
Enjoy! Serve your homemade roasted garlic cauliflower soup with any toppings or sides that you like.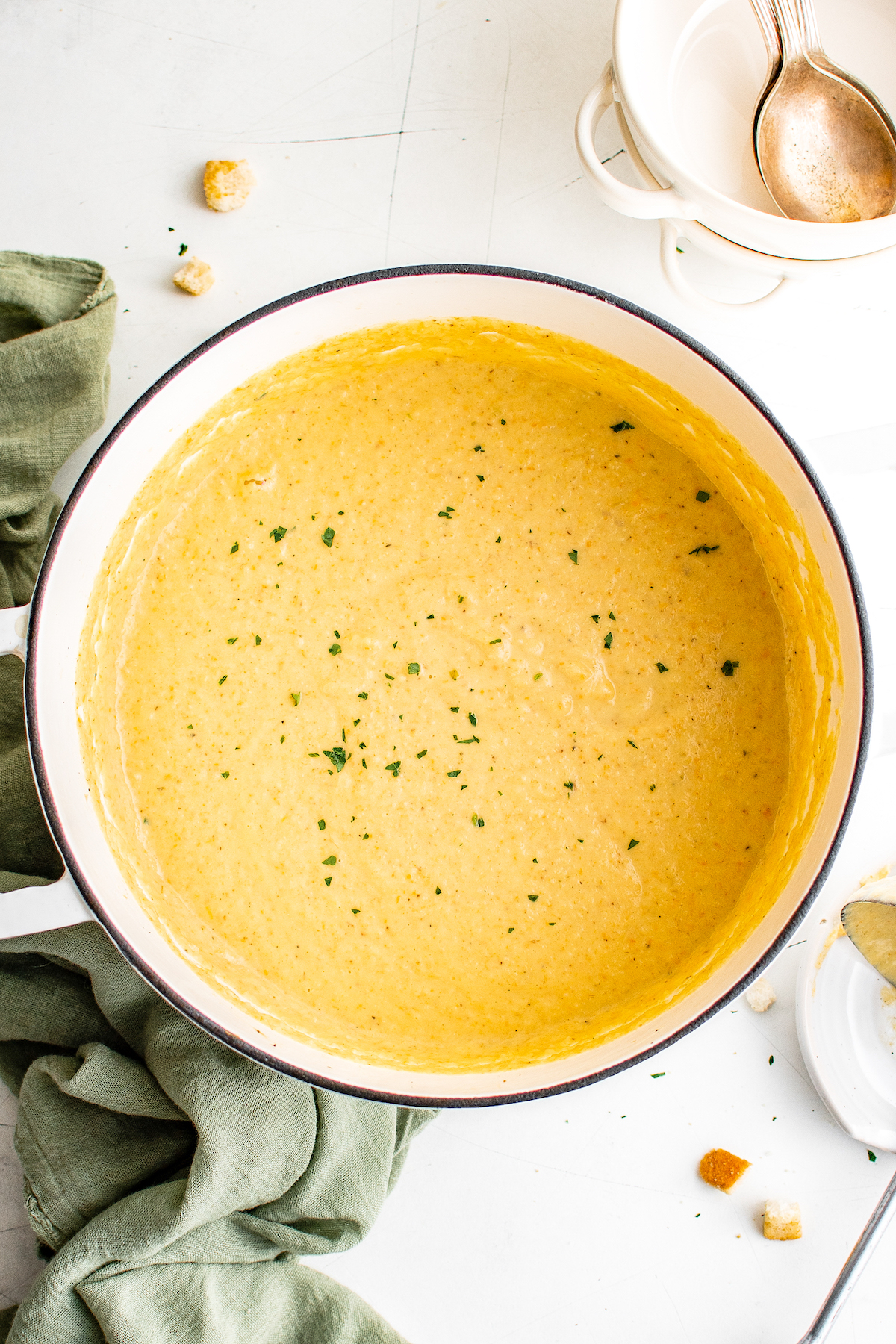 Recipe Notes
These easy tips will help you make the most of your cauliflower soup, and get it on the table with minimum hassle. Here's to warm, creamy, velvety soup, you guys!
Roast in Advance: You can roast your cauliflower up to four days in advance, and store it in an airtight container or zip-top bag in the fridge. Roasted garlic can be made two weeks (!) in advance, if you like. Just remove the cloves from the garlic head, and store them in a small jar, container, or zip-top bag in your fridge as well.
Add Toppings: This recipe is fairly low-calorie as written, but hey – if you wanted to pretend it was calorie-laden potato soup, it would be fantastic loaded with chopped bacon, green onions, and cheddar cheese.
Immersion Blender: If you have an immersion blender (also known as a stick blender), that makes blending the soup even simpler. Be careful to always hold your immersion blender completely upright. If you angle it to the side by accident, hot soup could spatter everywhere!
Double Up: This soup actually freezes really well, so it's a great candidate for making double and saving some in the freezer. Just double each ingredient, and make sure you use a big enough soup pot.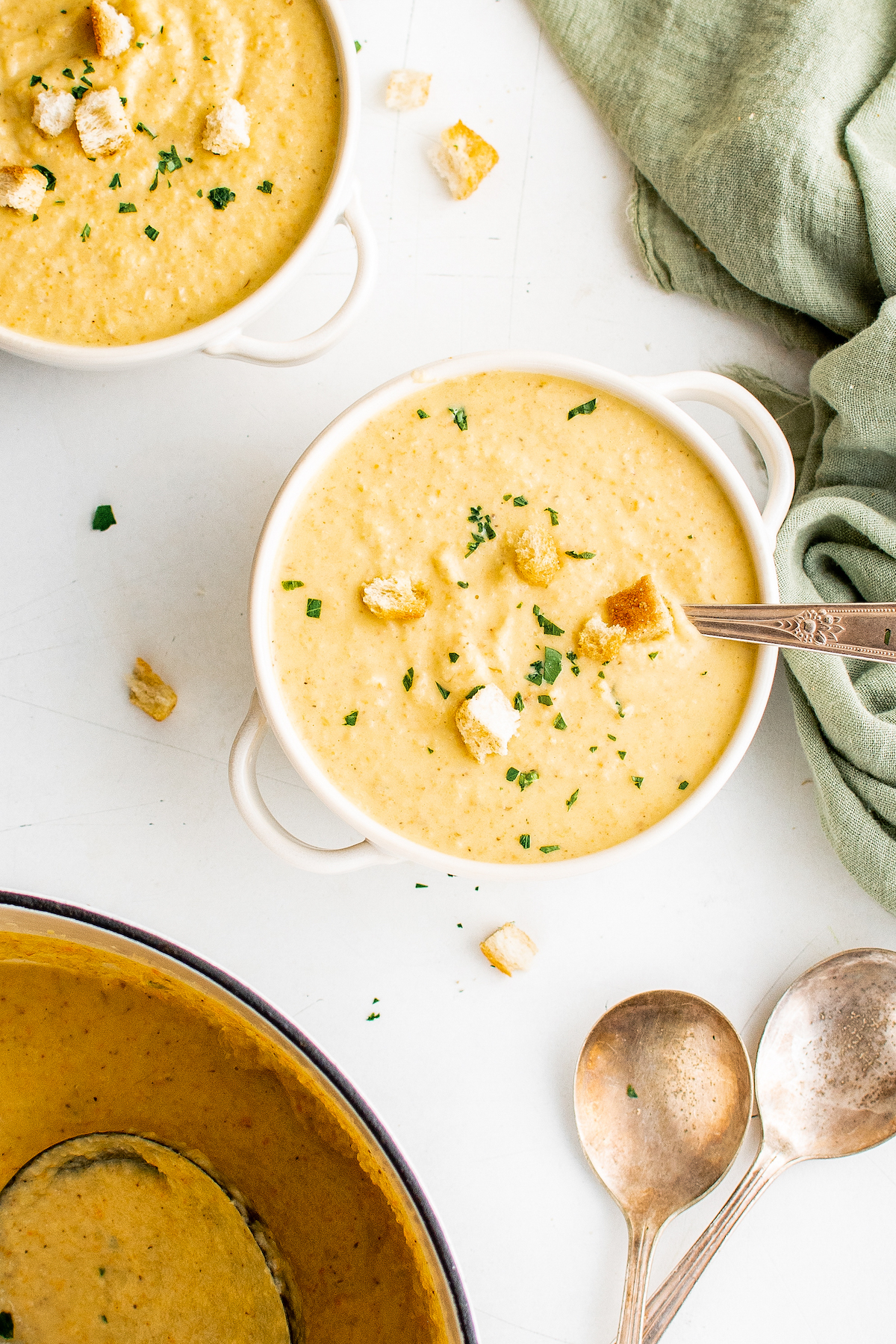 Serving Ideas
Sometimes I make soup and just serve… soup. With crackers, if people want them. But you could definitely include this soup as part of a larger spread, maybe a soup and salad lunch, or a soup and sandwich dinner? Here are some easy recipes for inspo:
Maggiano's Salad: This colorful salad has it all: bacon, avocado, tomatoes, cheese… it's gorgeous to look at, and scrumptious to eat! Try making your own Copycat Maggiano's Chopped Salad, and indulge in all those amazing flavors and textures.
Croutons: If you're not trying to be gluten free or low carb, I really love these homemade Garlic and Herb Croutons on top!
Bread: Do you ever want bread with your chowder or creamy soup, but you don't want to stack the carbs? Since roasted garlic cauliflower soup is low in calories and carbs, you can feel good about enjoying some good homemade bread. Make your favorite loaf – I love this Buttery Beer Bread. Or my favorite Goat Cheese Garlic Bread would also be great with this!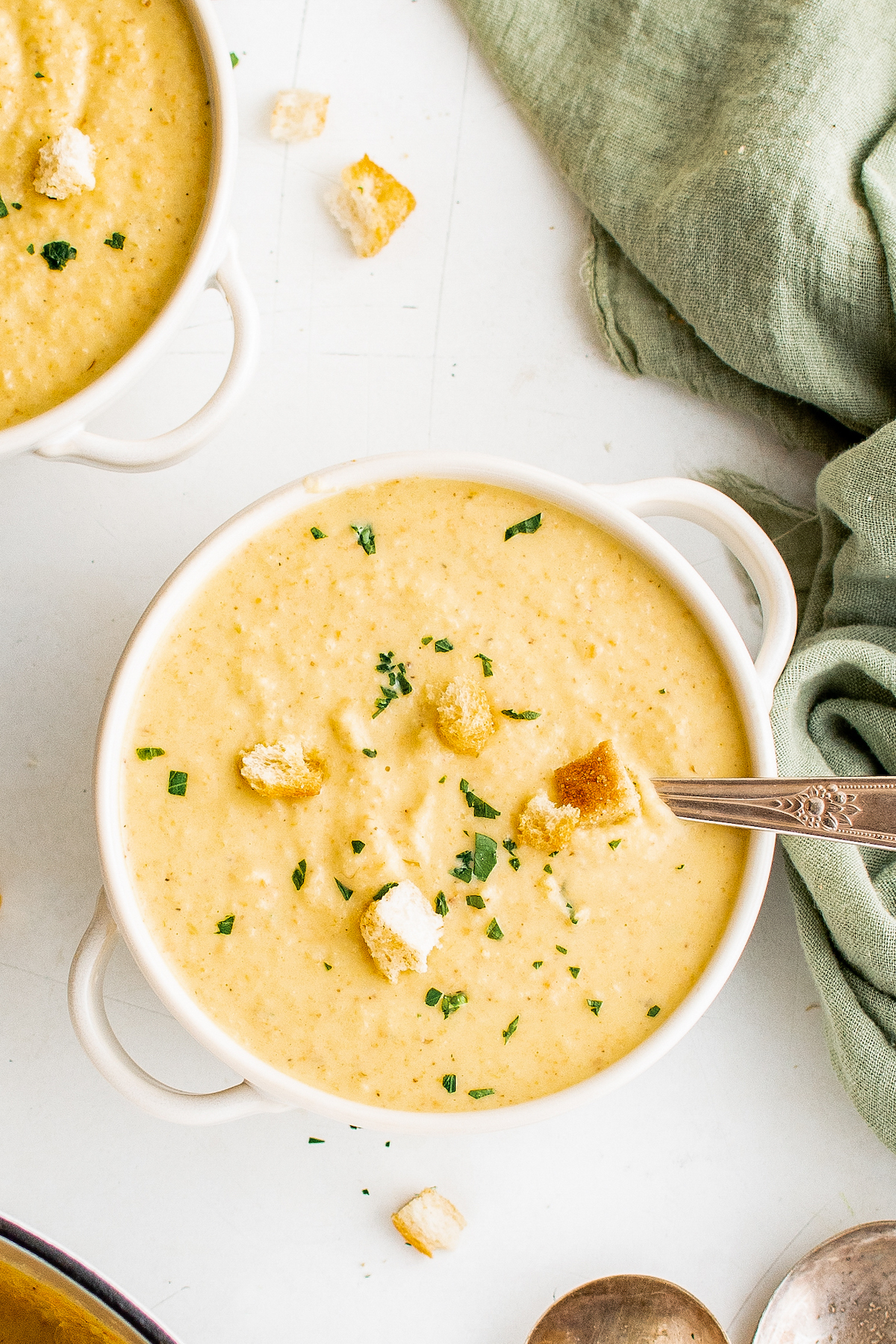 Refrigerating, Freezing, and Reheating Instructions
Refrigerate: Leftover roasted garlic cauliflower soup will keep in the fridge for about four days (minus the days that your cauliflower and garlic sat in the fridge, if you made them in advance). Make sure to store it in an airtight container so it doesn't absorb or give off any odors.
Freeze: Cool the soup down, and store it in freezer containers or freezer bags. I recommend double-bagging to help avoid leaks. Mark with the date, and freeze for up to three months. Thaw in the refrigerator before reheating.
Reheat: To reheat, just place the soup in a soup pot over medium-low heat. Allow it to heat through, and come almost to a simmer, but don't let it actually simmer or boil. If it does, the yogurt may become grainy.
Roasted Garlic Cauliflower Soup
This healthy Roasted Garlic Cauliflower Soup is so creamy and delicious! When the weather gets cold, there's no better meal to fill you up than a big bowl of this comforting soup.
Ingredients
1

tablespoon

flour

2 ½

tablespoons

olive oil

,

divided

1

large head garlic

1

whole head cauliflower

2

stalks celery

,

chopped

1

carrot

,

chopped

1

large yellow onion

,

chopped

½

teaspoon

salt

½

teaspoon

fresh cracked black pepper

¼

teaspoon

dried thyme

¼

teaspoon

cajun seasoning

,

like Slap Ya Mama

½

cup

dry white wine

½

cup

water

2

cups

chicken broth

6

oz

fat free plain greek yogurt
Instructions
Preheat oven to 400°F.

Cut cauliflower into individual florets. Toss with 1 tablespoon olive oil and transfer to a foil lined baking sheet.

Cut the top off of the head of garlic. Drizzle with olive oil and wrap with foil. Place wrapped garlic on the baking sheet. Roast the cauliflower and garlic at 400 degrees F for 20 to 25 minutes. When the cauliflower is tender and golden remove from the oven.

The garlic will need to roast for a total of about 30-35 minutes. You can remove it to check it's progress as needed – it should smell fragrant but not raw, be golden and tender.

Once garlic and cauliflower are both out of the oven and cooling, in a large dutch oven, over medium high heat, whisk flour and 1 tablespoon oil constantly until it is a light brown. You are in essence making a roux, like for gumbo, but you are not going to cook it half as long.

Mix in celery, carrot, and yellow onion. Stir as needed (to ensure nothing sticks & burns). Cook for 3 minutes.

Add salt, black pepper, thyme and cajun seasoning stirring until combined. Carefully add white wine and water. Bring to a slow boil. Cook for 5 minutes, stirring as needed.

Squeeze garlic cloves out of the head of garlic. Add roasted garlic cloves and chicken broth. Bring back up to a low boil and cook for 10 minutes. Then add cauliflower and cook for 5 minutes more.

Carefully transfer soup, in batches, to a blender or food processor. Add greek yogurt and puree until smooth. Adjust salt and pepper to taste. Serve immediately.
Notes
Storage Note: This soup freezes really well in individual servings in ziplock freezer bags!
Recipe inspired by Good Life Eats.
Nutrition
Serving:
1
,
Calories:
194
kcal
,
Carbohydrates:
16
g
,
Protein:
9
g
,
Fat:
10
g
,
Saturated Fat:
1
g
,
Polyunsaturated Fat:
8
g
,
Cholesterol:
5
mg
,
Sodium:
858
mg
,
Fiber:
5
g
,
Sugar:
7
g
Categories:
More Warm and Cozy Soups
This post may contain affiliate links. Read my disclosure policy.