This healthy Roasted Garlic Cauliflower Soup is so creamy and delicious! When the weather gets cold, there's no better meal to fill you up than a big bowl of this comforting soup.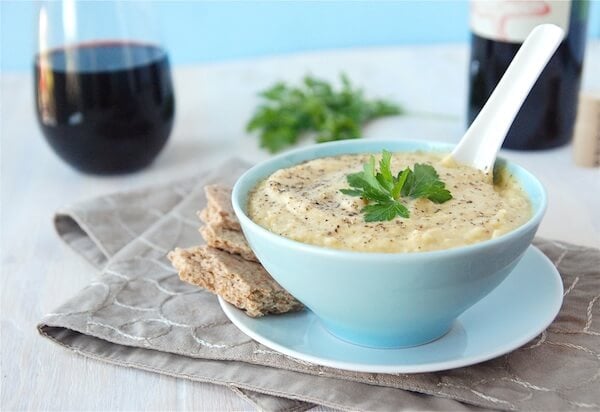 Healthy Roasted Garlic Cauliflower Soup
Hot damn! Fall has finally found it's way down to Florida! I am not sure who is more excited, me or my thighs (long walks in humid Florida = not so sexy thigh rubbing). None the less, I am thrilled to finally have some soup eatin' weather. While I may be the girl at Panera eating hot soup in the middle of Summer, I am also the girl that can appreciate how much better it tastes when the air is nice and crisp out.
I have been wanting to make a Cauliflower soup for the past year. Ever since I made the faux potatoes mashed cauliflower, I knew I would have to one day find a soup that encompasses all the same goodness…without the taste of Cauliflower. And what better way to mask the flavor of Cauliflower than with roasted garlic? You have the wonderful creaminess from the cauli, the tang from the greek yogurt, and the richness of the roasted garlic.
It's pure heaven in a bowl. If you eat it without any toppings, you get a big bowl for only 212 calories, 10.6 grams of protein and 7 grams of fiber! Talk about ass friendly! But if you wanted to pretend it was calorie laden potato soup, you could add a healthy dose of chopped bacon, green onions, and cheddar cheese. It would still be healthier than a bowl of potato soup…and I promise you won't taste the Cauliflower! 😀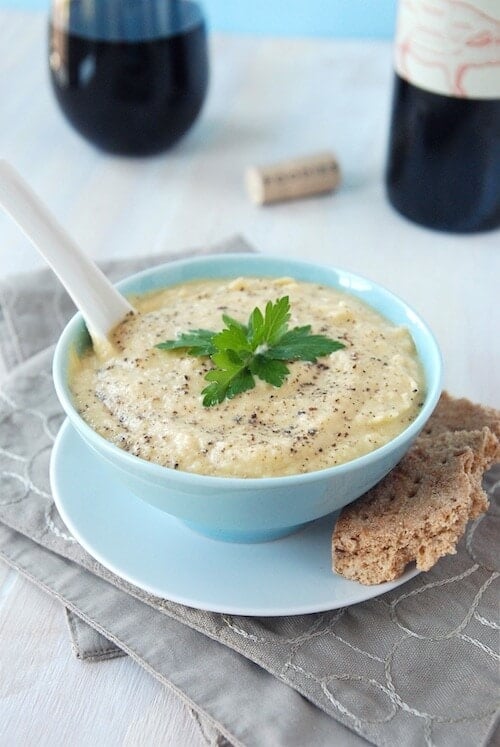 Yield: 4
Roasted Garlic Cauliflower Soup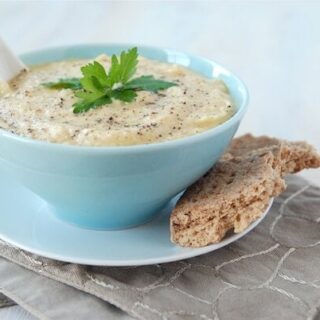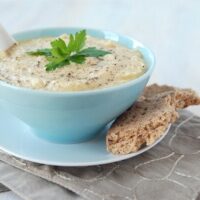 This healthy Roasted Garlic Cauliflower Soup is so creamy and delicious! When the weather gets cold, there's no better meal to fill you up than a big bowl of this comforting soup.
Total Time
1 hour
10 minutes
Ingredients
1 tablespoon flour
2 1/2 tablespoons olive oil, divided
1 large head garlic
1 whole head cauliflower
2 stalks celery, chopped
1 carrot, chopped
1 large yellow onion, chopped
1/2 teaspoon salt
1/2 teaspoon fresh cracked black pepper
1/4 teaspoon dried thyme
1/4 teaspoon cajun seasoning (like Slap Ya Mama)
1/2 cup dry white wine
1/2 cup water
2 cups chicken broth
6 oz fat free plain greek yogurt
Instructions
Preheat oven to 400°F.
Cut cauliflower into individual florets. Toss with 1 tablespoon olive oil and transfer to a foil lined baking sheet.
Cut the top off of the head of garlic. Drizzle with olive oil and wrap with foil. Place wrapped garlic on the baking sheet. Roast the cauliflower and garlic at 400 degrees F for 20 to 25 minutes. When the cauliflower is tender and golden remove from the oven.
The garlic will need to roast for a total of about 30-35 minutes. You can remove it to check it's progress as needed – it should smell fragrant but not raw, be golden and tender.
Once garlic and cauliflower are both out of the oven and cooling, in a large dutch oven, over medium high heat, whisk flour and 1 tablespoon oil constantly until it is a light brown. You are in essence making a roux, like for gumbo, but you are not going to cook it half as long.
Mix in celery, carrot, and yellow onion. Stir as needed (to ensure nothing sticks & burns). Cook for 3 minutes.
Add salt, black pepper, thyme and cajun seasoning stirring until combined. Carefully add white wine and water. Bring to a slow boil. Cook for 5 minutes, stirring as needed.
Squeeze garlic cloves out of the head of garlic. Add roasted garlic cloves and chicken broth. Bring back up to a low boil and cook for 10 minutes. Then add cauliflower and cook for 5 minutes more.
Carefully transfer soup, in batches, to a blender or food processor. Add greek yogurt and puree until smooth. Adjust salt and pepper to taste. Serve immediately.
Notes
Recipe Note: This soup freezes really well in individual servings in ziplock freezer bags!
Inspired by Good Life Eats
Nutrition Information:
Yield:
4
Serving Size:
1
Amount Per Serving:
Calories:

194
Total Fat:

10g
Saturated Fat:

1g
Trans Fat:

0g
Unsaturated Fat:

8g
Cholesterol:

5mg
Sodium:

858mg
Carbohydrates:

16g
Fiber:

5g
Sugar:

7g
Protein:

9g
Categories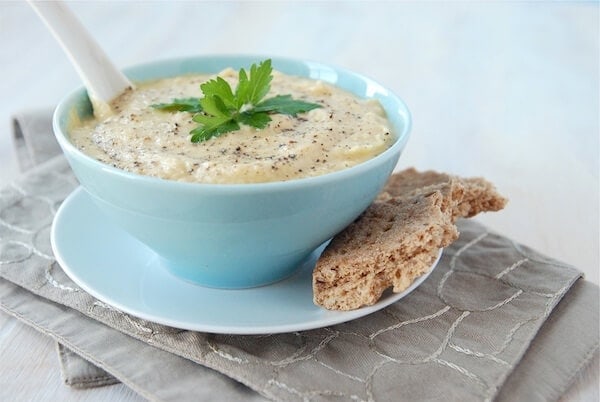 This post may contain affiliate links. Read my disclosure policy.