This Crockpot French Onion Soup recipe is loaded with flavor from slow cooking all day with a rich, silky broth and classic broiled cheesy toast topping!
Slow cooking this easy French Onion Soup all day gives the broth a delicious depth of flavor and a silky texture that you just can't beat.
You can make the caramelized onions on the stove or in your slow cooker, I give easy directions for both!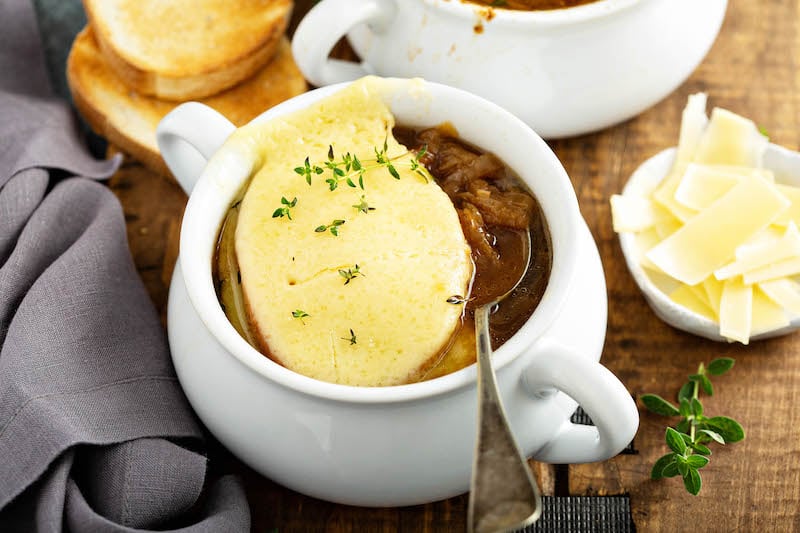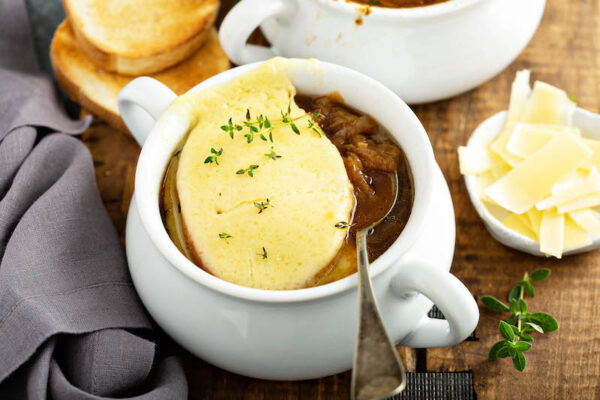 Are you drooling? No? Just me? Ok, let's pretend that didn't happen.
I am a massive French Onion Soup fangirl. I order it almost anytime I see it on a menu and have very high standards.
The broth has to be just right. I like an extra rich beef broth with a ton of depth of flavor to it.
Then I need tons of silky caramelized onions and a gorgeous broiled cheesy topping with a good hunk of toast underneath.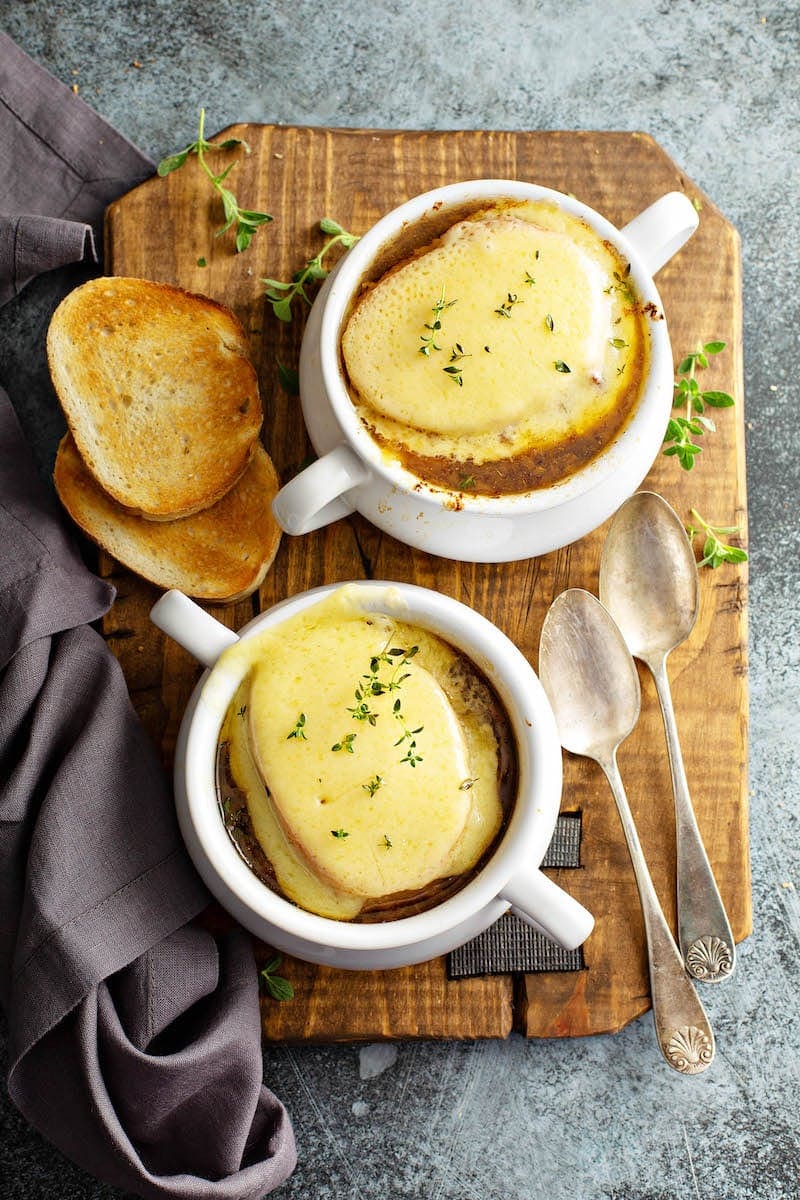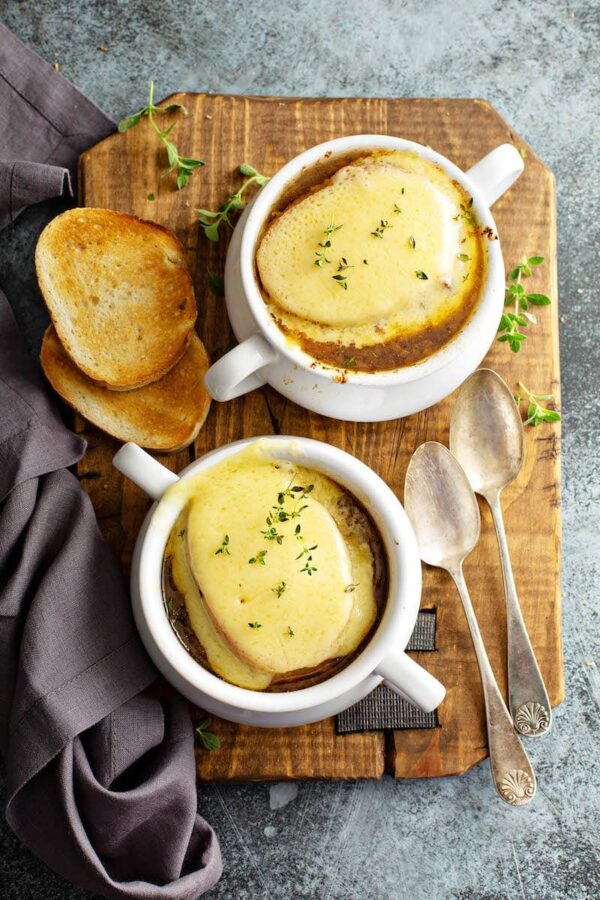 How to make French Onion Soup – The Basics
There are a few must haves in a good french onion soup. Onions are the number one and I will talk more about the type in just a few minutes.
But no matter what type of onions you use, you have to caramelize those onions well to begin the overall flavor of the soup.
Then you need a good broth base. As I mentioned earlier, I like to use a beef broth in mine.
You can use vegetable broth to make it a vegetarian French Onion Soup, just know it will give less depth to the overall flavor.
Then you need some kind of herbs. I personally like to add fresh thyme and a bay leaf.
The last important ingredient for the broth is a good pour of sherry, or a dry red wine — like a good cabernet. However, this is optional and you can skip it if you do not drink alcohol.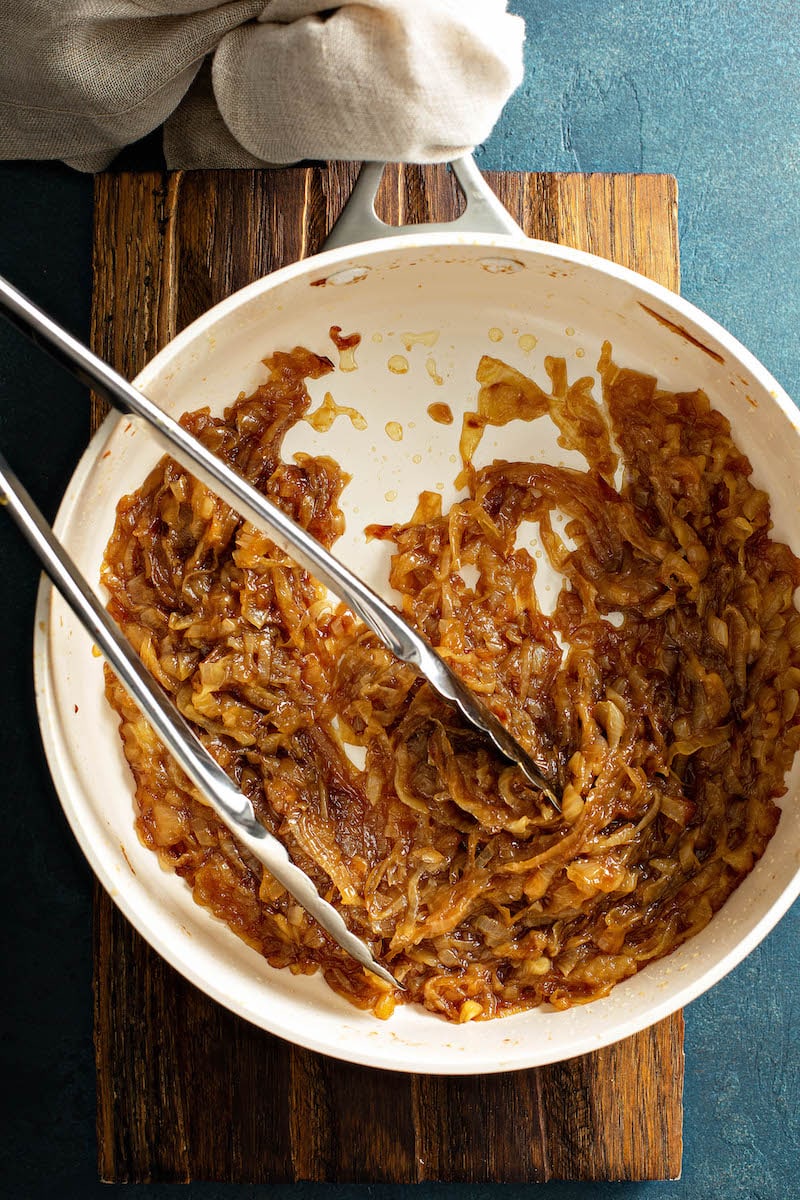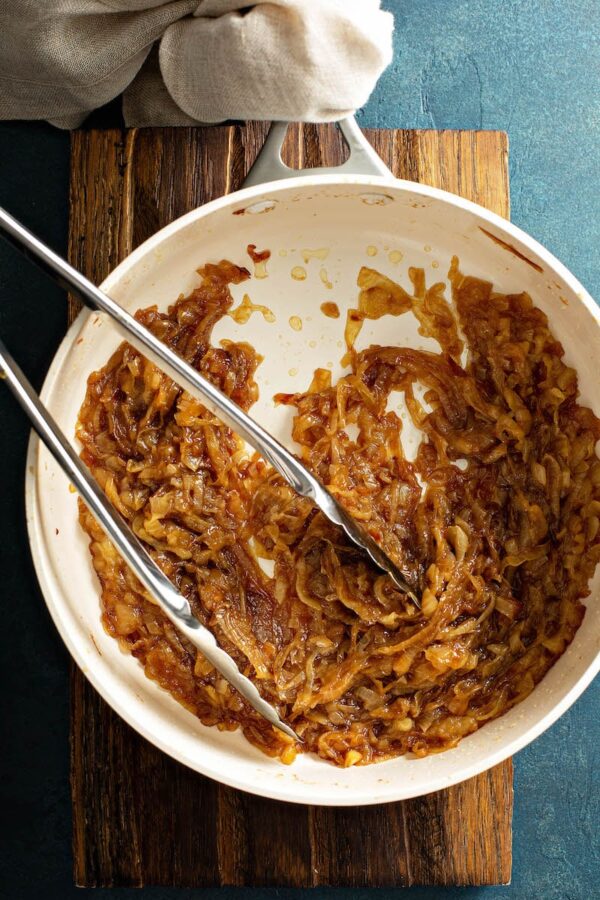 What type of onions to use in French Onion Soup?
In my French Onion Soup recipe, I use a combination of big sweet yellow onions and shallots.
Shallots are small, mild flavored red onions. They are usually found in a little bag of two, near the larger onions, at most grocery stores.
If you can not find shallots, you can use one large red onion in their place. However, shallots have a much milder flavor.
And while garlic is not the overall flavor we are looking for, I do add a few cloves of garlic. It helps keep the depth of flavor, but does not overpower the onions.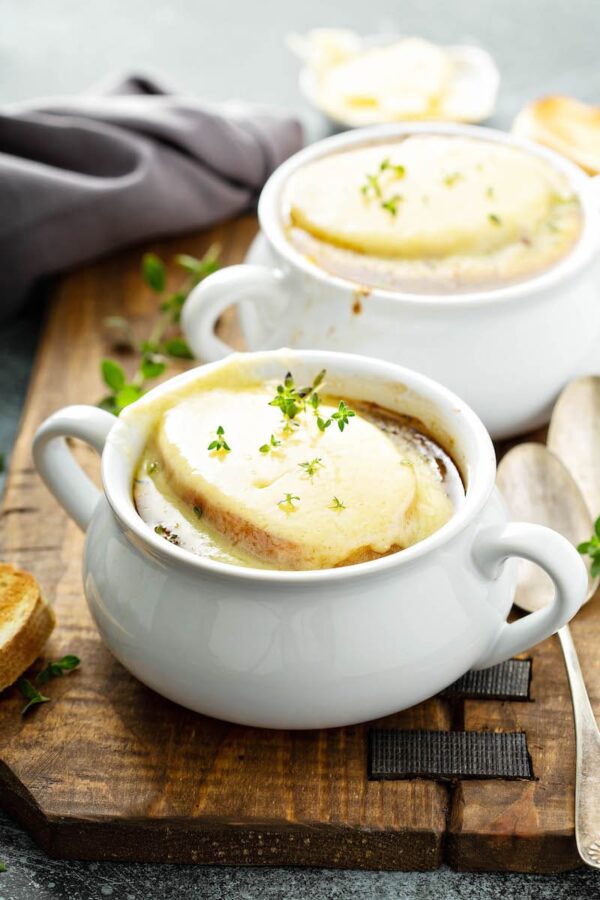 How to make caramelized onions?
Below in the recipe, you will find two options on how to caramelize your onions for this Crockpot French Onion Soup.
You can make them on the stovetop in the morning before you throw everything into your crockpot.
Or, you can make them in the slow cooker the night before and then add the rest of the ingredients in the morning.
Personally, I prefer to caramelize my onions on the stovetop because I have a little more control over them.
However, both options work, it's up to you!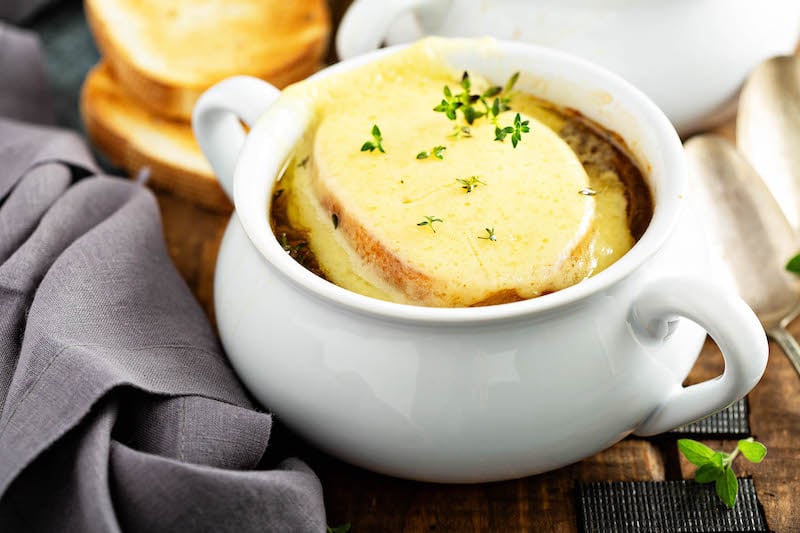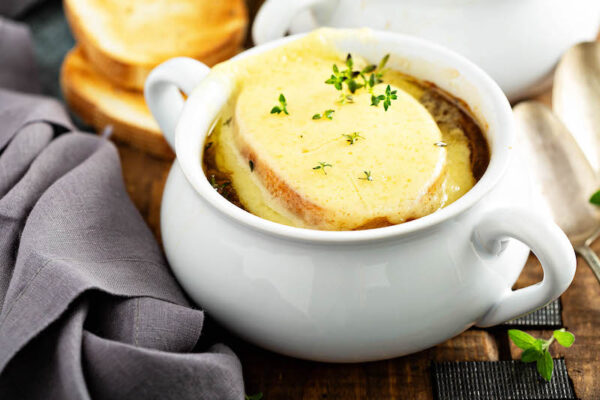 French Onion Soup Cheese?
Don't forget to get the good cheese!!! Seriously, the cheesy toast topping is the second most important part of the soup!
I recommend using gruyere or swiss cheese on top. It is the most classic topping for optimal flavor.
Swiss cheese is easier because you can find it already sliced, but it is not the exact same as classic Gruyere.
Gruyere is a little dryer of a cheese and you usually have to buy it in a block/wedge. Just slice a few pieces off (or shred it) and place it on top of the toast before you broil it.
If you really hate swiss types of cheese, people often use provolone in it's place. So that is always another way to go, but I really recommend trying gruyere first!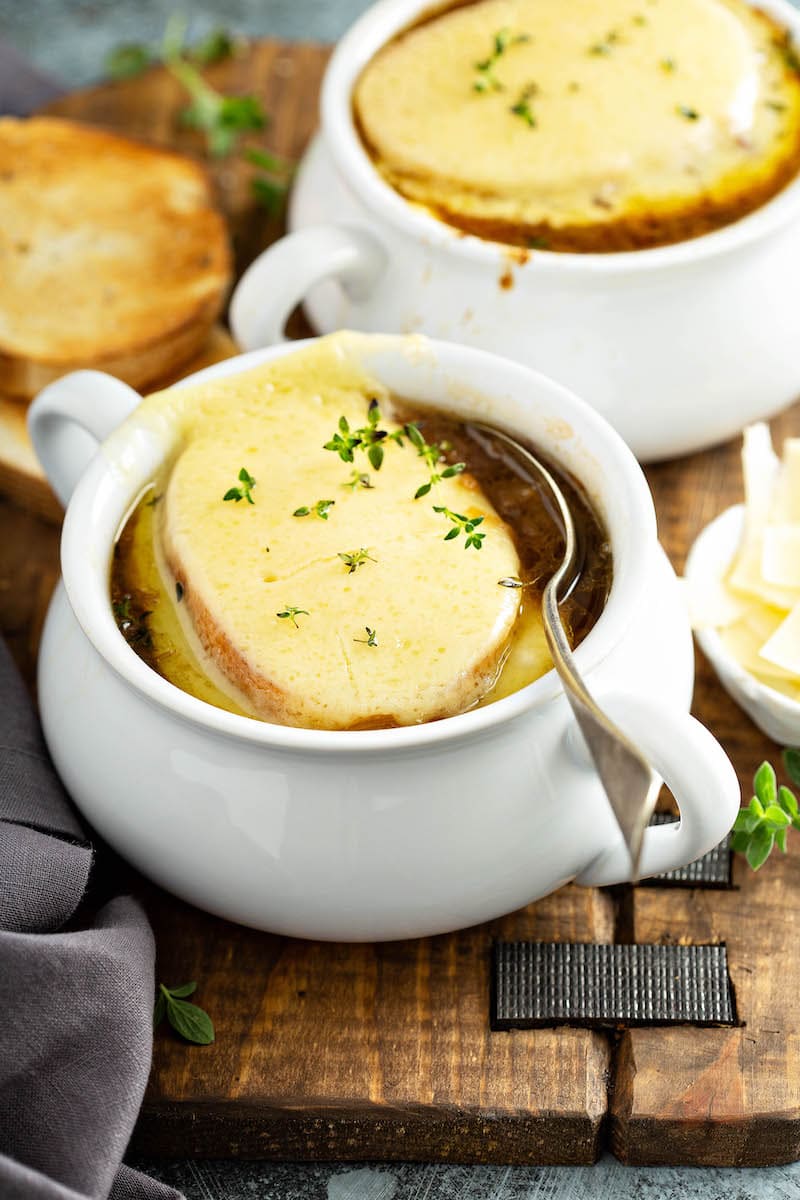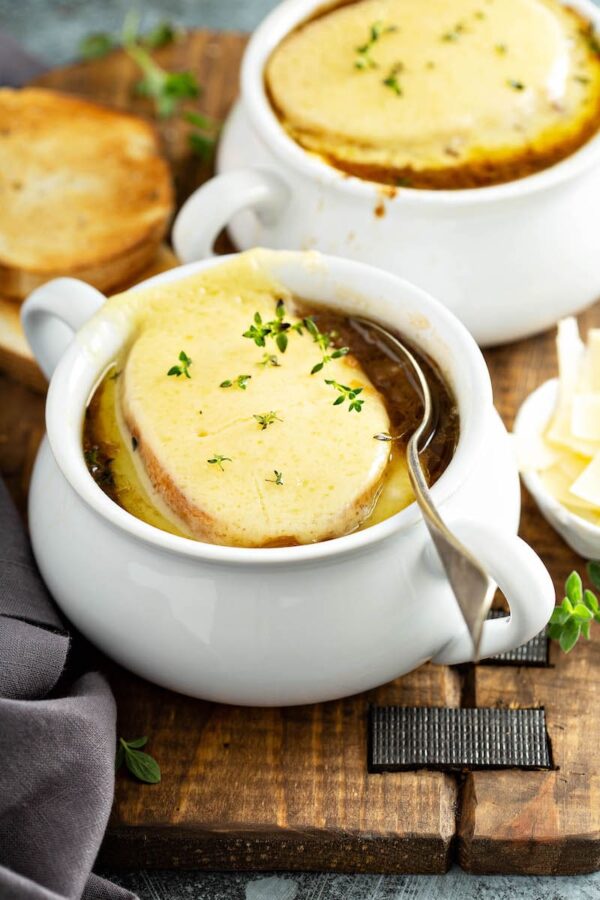 And that's it, that is how I make my favorite Crockpot French Onion Soup! Who's ready to dig in?
It's very easy to make, but still has that wonderful flavor you are craving. It's the perfect comfort food meal.
Just don't forget the toasted rounds of french bread and the broiled cheese on top! That would be a sin!
Yield: serves 6 to 8
Crockpot French Onion Soup Recipe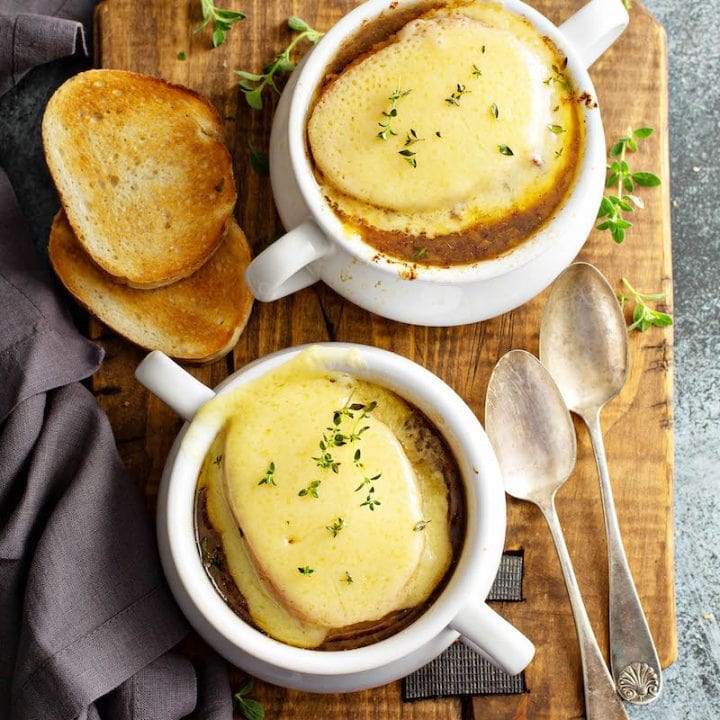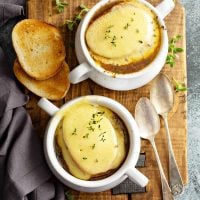 This Crockpot French Onion Soup recipe is loaded with flavor from slow cooking all day with a rich, silky broth and classic broiled cheesy toast topping!
Total Time
8 hours
15 minutes
Ingredients
6 tablespoons butter
4 large yellow onions, sliced and separated into rings
4 shallots, sliced
3 large cloves garlic, minced
1/2 cup sherry (or a dry red wine)
8 cups reduced-sodium beef broth
1 teaspoon Worcestershire sauce
1 tablespoon fresh thyme
1 teaspoon salt
1 teaspoon freshly cracked black pepper
1 bay leaf
8 slices of French bread
8 thick slices Gruyere cheese (or Swiss)
Instructions
Caramelized Onions in Slow Cooker:
Toss butter, onions and shallots together in slow cooker. Cook on low for 8 to 10 hours. (I do this step overnight.)
Caramelized Onions on Stovetop:
Heat butter in a large heavy bottomed pot over medium-high heat. Add onions and shallots, cooking until they become translucent, about 10 minutes.
Cook, stirring every few minutes or so, until onions are browned and caramelized, about 30 to 40 minutes. Transfer caramelized onions to slow cooker.
Crockpot French Onion Soup:
In slow cooker, stir together caramelized onions, garlic, sherry, beef stock, Worcestershire, thyme, salt, pepper and bay leaf.
Cook on high for 4 to 6 hours or low for 8 to 10 hours.
Before serving, set oven rack about 8 inches from broiler and heat the oven's broiler. Arrange bread slices on a baking sheet.
Broil bread slices until toasted, approximately 1 to 2 minutes on each side. Remove from oven (leave oven on) and set aside.
Fill oven-safe soup crocks 3/4 full of onion soup and place a slice of toasted bread on top of each bowl. Top each bowl with a slice of cheese.
Place filled bowls onto a baking sheet and broil until cheese topping is lightly browned and bubbling, about 2 minutes. Serve immediately.
Recommended Products
I am an Amazon affiliate member and I earn a small percentage from qualifying purchases. Thank you!
Nutrition Information:
Yield:
8 servings
Serving Size:
1
Amount Per Serving:
Calories:

506
Total Fat:

20g
Saturated Fat:

11g
Trans Fat:

0g
Unsaturated Fat:

7g
Cholesterol:

54mg
Sodium:

1675mg
Carbohydrates:

59g
Fiber:

4g
Sugar:

10g
Protein:

22g
Want to Save This Recipe?
This post may contain affiliate links. Read my disclosure policy.