This Crockpot French Onion Soup is a cozy slow cooker meal idea that's perfect for the winter months! Rich, silky beef broth packed with tender caramelized onions, served with a classic topping of crusty French bread and melted gruyere cheese. This easy French onion soup recipe is truly delicious!
Cheesy Crockpot French Onion Soup
I am a huge fan of French onion soup. It's my first choice on any bistro menu. However, I'll admit, my standards are exceedingly high – because this easy, cheesy homemade version is just so good!
The secret to a warm and cozy French onion soup is in the broth; this is why I love making French onion soup in a slow cooker! It allows plenty of time for all the delicious flavors to develop. The result is an extra rich and fragrant beef broth, and an easy soup with an incredible depth of flavor.
This homemade French onion soup recipe is filled with silky caramelized onions, topped with crusty bread and broiled gruyere cheese. C'est magnifique!
The Difference Between Onion Soup & French Onion Soup
In the traditional sense, French onion soup is almost always made with beef stock/broth, whereas onion soup – or, English onion soup – will often use any kind of broth (chicken stock, vegetable stock, etc.). Some of the other main differences are:
French onion soup contains thyme, while sage is the herb of choice for English onion soup.
French onion soup can use one unspecified type of onion, while onion soup is made with a combination of onions, shallots, and oftentimes leeks.
French onion soup is topped with gruyere (or something similar like Emmental or Swiss), while onion soup is topped with cheddar cheese.
Naturally, French onion soup calls for French bread; English isn't so picky.
In place of sherry or wine, English onion soup uses Worcestershire sauce instead.
As you can likely tell, my crockpot French onion soup recipe is made with elements of both!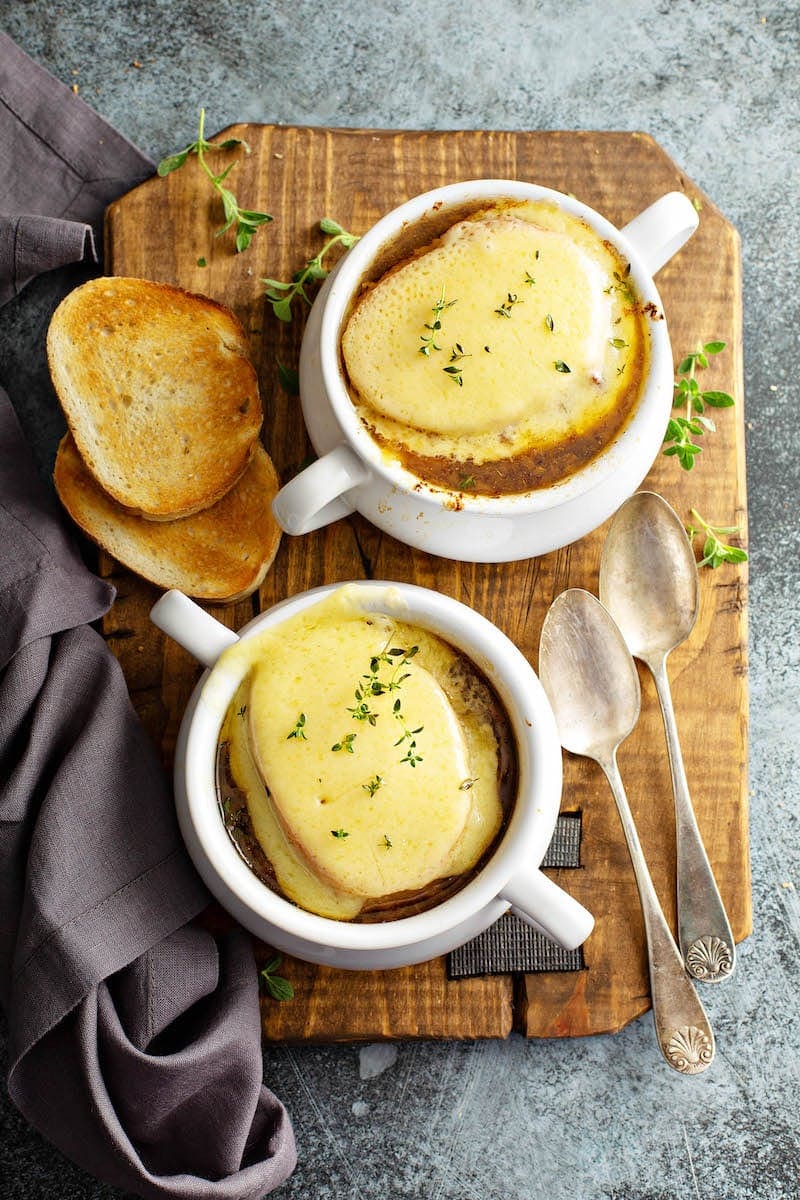 What You'll Need
There are a few must haves in a good french onion soup. Of course, onions are the number one (more on that later), and here's the key ingredients:
Onions: Yellow onions and shallots, sliced into rings. Caramelizing the onions is key to the overall flavoring of the soup. (See more recommendations for onions below!)
Butter: For caramelizing the onions. You can use unsalted butter, or keep in mind if using salted butter to adjust your seasoning accordingly.
Beef Broth: You can also use vegetable broth to make this a vegetarian French Onion Soup. Either way, I opt for the reduced-sodium broth as it makes it easier to adjust the seasoning.
Sherry: Alternatively, a dry red wine like cabernet. This is optional and you can skip it if you'd prefer your French onion soup without alcohol.
Worcestershire Sauce: The English are on to something! A dash of rich umami flavor? Yes, please.
Garlic: I add a few cloves of garlic for the depth of flavor, without overpowering the onions.
Herbs: Fresh thyme and bay leaf.
French Bread: Or another crusty bread like sourdough, for garnish. You can trim the bread to fit inside the bowls you're using as needed.
Gruyere Cheese: Gruyere is far and above the first choice and the most classic with optimal flavor. Swiss cheese is an easy next-best option, with provolone as a backup. But I'd highly recommend getting your hands on some gruyere!
Salt & Pepper
Which Kind of Onions Are Best?
In my French Onion Soup recipe, I use a combination of big sweet yellow onions and shallots.
Shallots are small, mild-flavored red onions. They're usually found in the vicinity of the larger onions at most grocery stores. If you can not find shallots, you can use one large red onion in their place (note the flavor is not as mild), or simply substitute with extra yellow onions.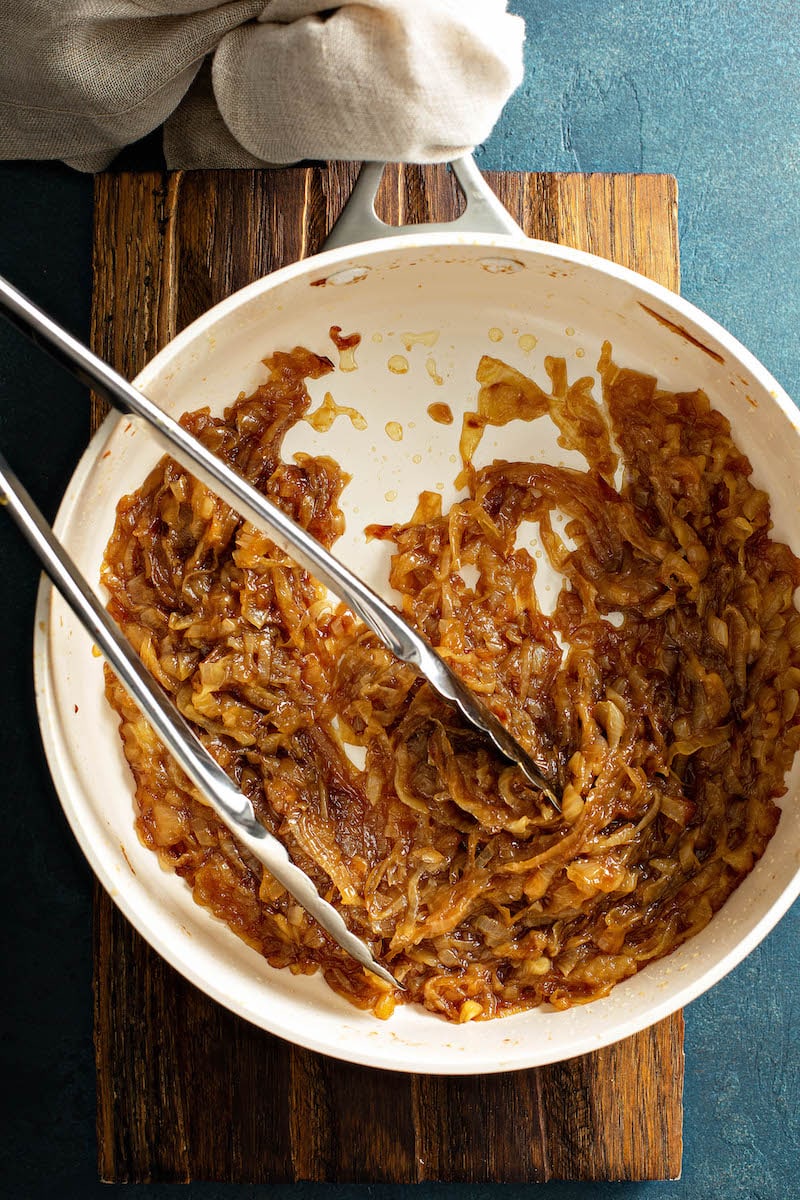 How to Make French Onion Soup in the Crock Pot
First, you'll need to caramelize the onions for your soup. Personally, I prefer to caramelize my onions on the stovetop because it gives more control over how they cook. However, both the stovetop and crockpot methods work, it's up to you!
How to Caramelize Onions in a Slow Cooker: Place the onions, shallots, and butter into the bowl of your slow cooker. Leave it to cook on low for 8-10 hours (when I do use the slow cooking method, I usually let the onions cook overnight).
How To Caramelize Onions on a Stovetop: Heat your onions and shallots in a pan with butter until they become translucent. Continue cooking, stirring the onions until they're nicely browned – the caramelization process can take about 40 minutes.
Once your onions are caramelized, it's time for your soup to come together in the crockpot.
Combine the Soup Ingredients: Transfer the caramelized onions to the bowl of your crockpot. Add in the garlic, sherry, beef stock, Worcestershire, thyme, salt, pepper and bay leaf; stir everything together.
Cook: Leave the onion soup to cook, either 4-6 hours on high, or 8-10 hours on low. Taste and season as needed!
Garnish: Before serving, toast the bread slices in the oven or toaster. Spoon the onion soup into oven-safe bowls or ramekins, and then place a slice of toast into each bowl and top it with gruyere and parmesan cheese.
Broil: Place the soup bowl under the broiler until the cheese topping is browned and bubbly, and then serve right away.
Can I Cook This on the Stove?
You can! Simply caramelize the onions following the stove top instructions, and then combine all ingredients as directed. Cook on medium for a few minutes, and then adjust to low heat and allow the soup to stay at a simmer for about 45 minutes.
Tips for Success
Prepare the Onions Ahead of Time: You can caramelize the onions on the stovetop in the morning, and then add everything into your crockpot later on. Alternatively, you can caramelize the onions in the slow cooker the night before, and then add in the rest of the ingredients the next morning.
Patience Is Key: Whether on the stove or in the crockpot, low and slow is the name of the game when it comes to French onion soup.
No Cutting Corners: Choose a nice gruyere, or swiss style cheese of similar quality. And whatever you do, don't forego the bread and cheese garnish!
Serving Suggestions
French Onion soup is a delicious meal served on its own, or in true bistro style, here are some suggested side dishes: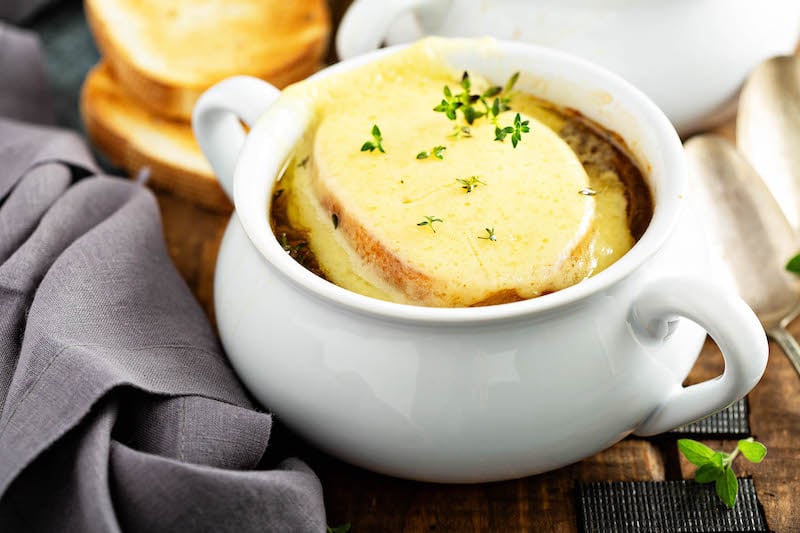 How to Store and Reheat Leftovers
Store leftover French onion soup without the bread or cheese topping, in an airtight container in the fridge for up to 3-4 days. To reheat, place the soup in an oven and microwave safe dish and warm in the microwave until heated through. Top with a slice of bread and cheese and then broil as usual.
Can I Freeze French Onion Soup?
French onion soup freezes really well. Once the soup has cooled completely, store the soup (minus the bread and cheese) in a freezer-safe container and freeze for up to 4 months. Thaw French onion soup in the fridge overnight before reheating, broiling, and serving.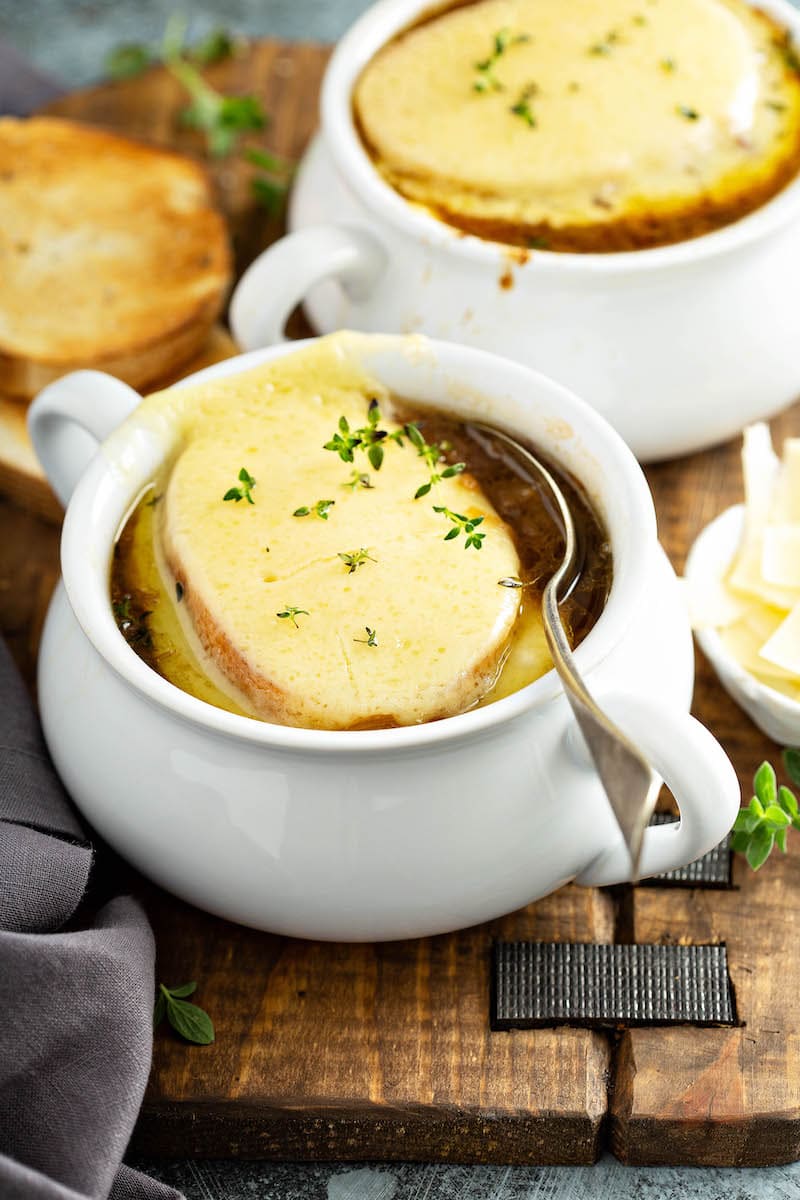 More Cozy Soups to Try
Crockpot French Onion Soup
This easy Crockpot French Onion Soup is a cozy meal idea that's perfect for the winter months! Rich and silky broth packed with tender caramelized onions, served with a classic topping of crusty French bread and melted gruyere cheese.
Ingredients
6

tablespoons

butter

4

large yellow onions

,

sliced and separated into rings

4

shallots

,

sliced

3

large cloves garlic

,

minced

½

cup

sherry

,

or a dry red wine

8

cups

reduced-sodium beef broth

1

teaspoon

Worcestershire sauce

1

tablespoon

fresh thyme

1

teaspoon

salt

1

teaspoon

freshly cracked black pepper

1

bay leaf

8

slices

of French bread

8

thick slices Gruyere cheese

,

or Swiss
Instructions
Caramelized Onions in Slow Cooker:
Toss butter, onions and shallots together in slow cooker. Cook on low for 8 to 10 hours. (I do this step overnight.)
Caramelized Onions on Stovetop:
Heat butter in a large heavy bottomed pot over medium-high heat. Add onions and shallots, cooking until they become translucent, about 10 minutes.

Cook, stirring every few minutes or so, until onions are browned and caramelized, about 30 to 40 minutes. Transfer caramelized onions to slow cooker.
Crockpot French Onion Soup:
In slow cooker, stir together caramelized onions, garlic, sherry, beef stock, Worcestershire, thyme, salt, pepper and bay leaf.

Cook on high for 4 to 6 hours or low for 8 to 10 hours.

Before serving, set oven rack about 8 inches from broiler and heat the oven's broiler. Arrange bread slices on a baking sheet.

Broil bread slices until toasted, approximately 1 to 2 minutes on each side. Remove from oven (leave oven on) and set aside.

Fill oven-safe soup crocks 3/4 full of onion soup and place a slice of toasted bread on top of each bowl. Top each bowl with a slice of cheese.

Place filled bowls onto a baking sheet and broil until cheese topping is lightly browned and bubbling, about 2 minutes. Serve immediately.
Nutrition
Serving:
1
,
Calories:
506
kcal
,
Carbohydrates:
59
g
,
Protein:
22
g
,
Fat:
20
g
,
Saturated Fat:
11
g
,
Polyunsaturated Fat:
7
g
,
Cholesterol:
54
mg
,
Sodium:
1675
mg
,
Fiber:
4
g
,
Sugar:
10
g
Categories:
This post may contain affiliate links. Read my disclosure policy.