This Butternut Squash Coconut Curry Soup recipe is the one that your family and friends will talk about for years to come. It's sweet, a little spicy, creamy, and checks all the boxes for "fall flavors". Make it now or save it for Thanksgiving. Either way, you're going to wow everyone with this recipe!
A Creamy Blended Fall Soup with Curry Spices
Believe me when I say that this is the soup that needs to be on your holiday menu. It's a coconut curry soup that has all the fall flavors you love. On paper, it's a pretty basic soup. But once you have a spoonful, you'll feel like you're at a fine dining restaurant. I love the way the sweet roasted butternut squash pairs with creamy coconut milk. Then, there's the addition of curry and garam masala. Yum!
The best part about this coconut-based soup is that you can make it for a fancy holiday or just make it for an easy lunch or dinner. It's really simple to make and stores very easily. I love making a big batch and eating it throughout the week.
Looking for more Fall soups? Try this similar recipe for Creamy Pumpkin Soup or this Roasted Butternut Squash Soup that also includes roasted apples!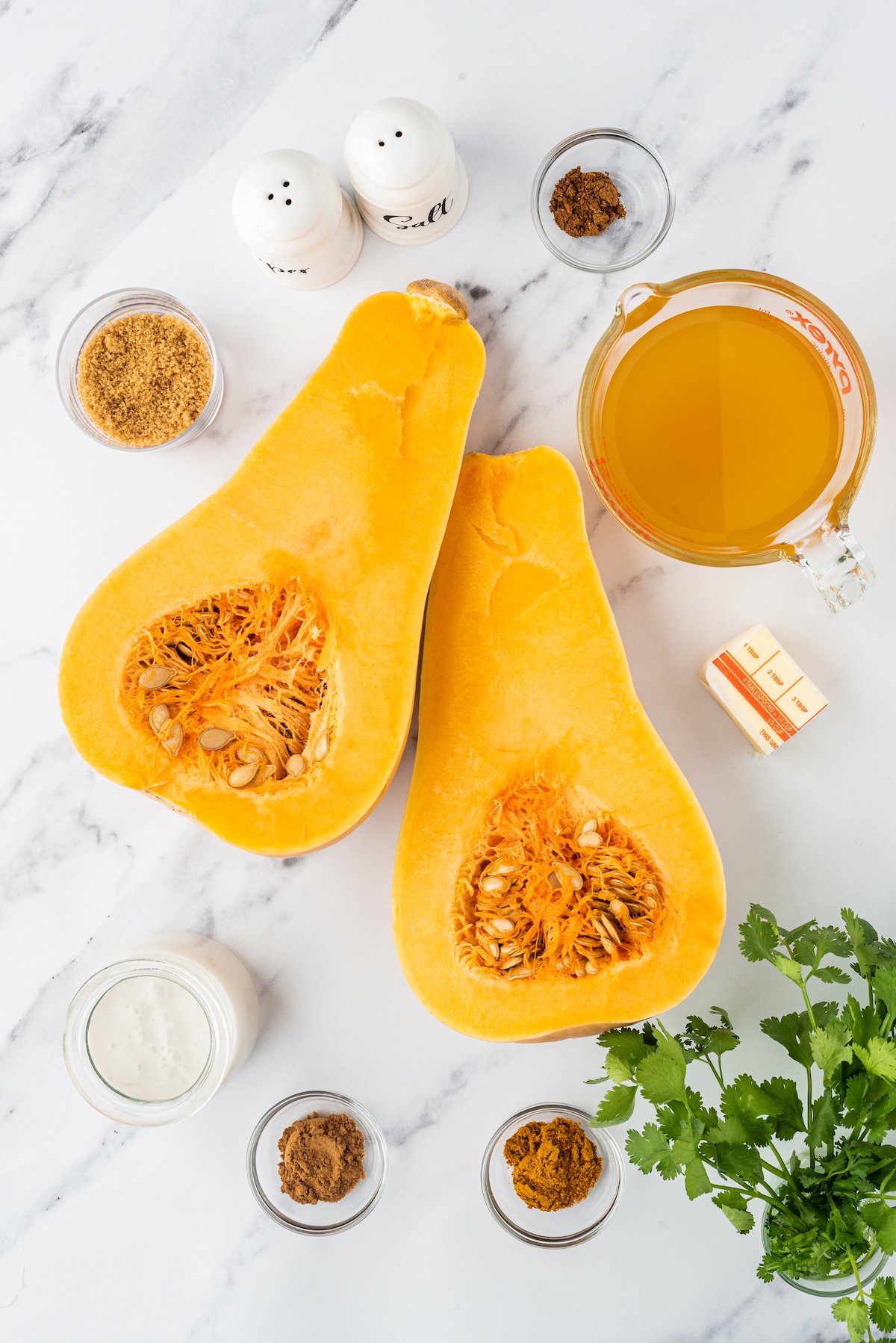 What You'll Need
I love that this soup requires a short list of ingredients. And, besides running out to grab a butternut squash, everything is usually already in the pantry! Please remember to check out the recipe card below for the exact ingredient amounts.
Butternut Squash: There's something about this squash that makes it perfect for pureed soups. It blends perfectly and is so smooth and flavorful. Some other vegetables you could use are sweet potatoes and pumpkins (if you don't have butternut squash).
Butter: You can use olive oil here instead if you're vegan.
Brown Sugar: Brown sugar caramelizes the butternut squash. You could also use maple syrup as a natural sweetener.
Cinnamon: We'll use this to season the butternut squash before roasting it.
Salt: The salt will help bring out the naturally sweet flavor of the butternut squash.
Curry: Curry powder is a mixture of spices, the main one being turmeric. And this contributes to the soup's gorgeous golden hue.
Garam Masala: This is another popular Indian spice blend, but this time, without the turmeric. Garam Masala has a lot of the fall spices that we love like cinnamon, nutmeg, and cloves.
Ground Black Pepper: A little bit is added with the other spices for an extra kick. Add more or less to your liking.
Coconut Milk: Using creamy coconut milk allows the soup to be vegetarian (when using vegetable stock, too) and dairy-free.
Chicken or Vegetable Stock: Use whichever you prefer. Just remember, the soup is no longer vegetarian if you use chicken stock.
Cilantro: A completely optional, but recommended, garnish! (If you're not a fan of cilantro, mint or parsley will work, too.)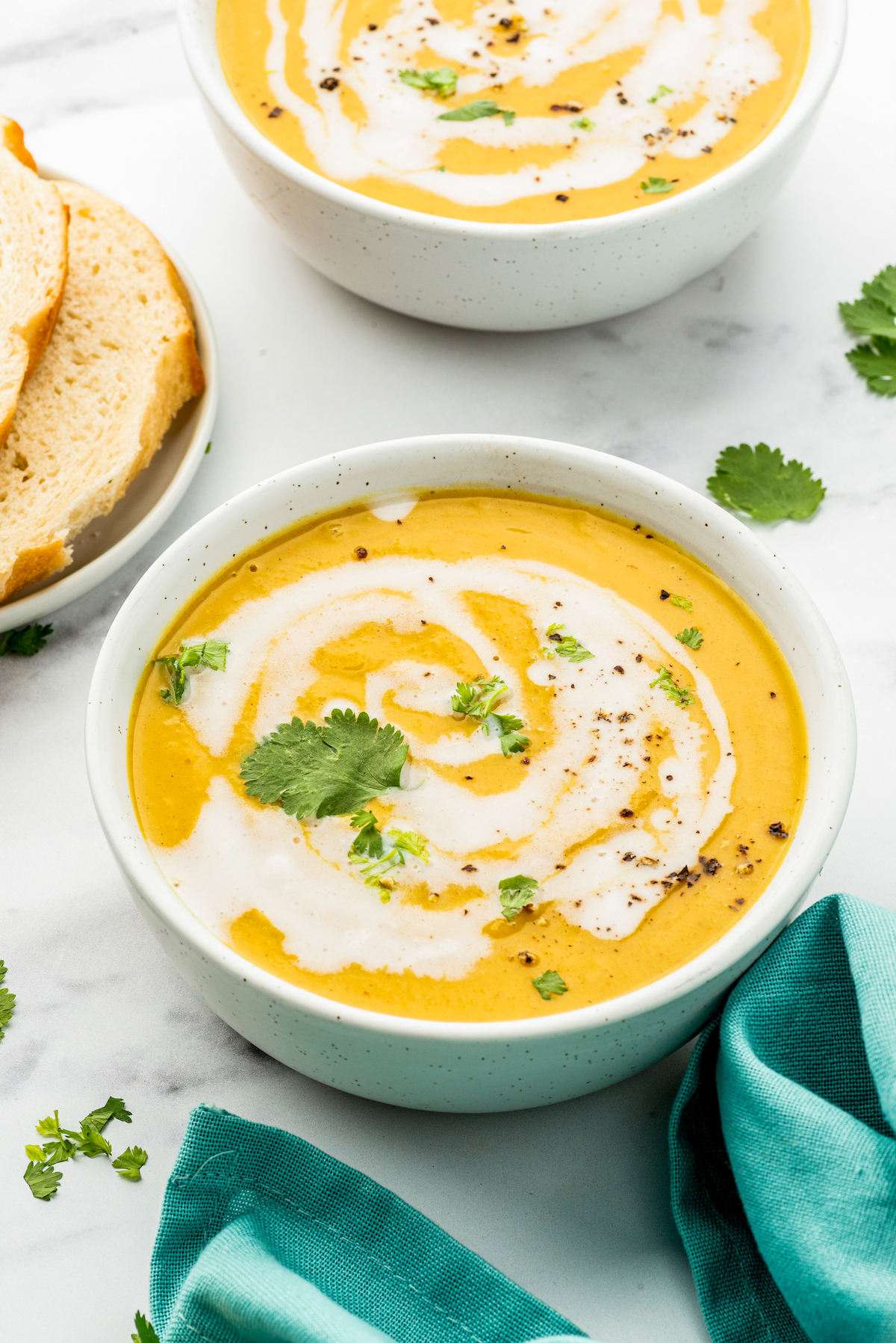 How to Make Butternut Squash Coconut Curry Soup
I can't wait for you to try this recipe. With just a few simple steps you'll be blending your way towards a delicious bowl of fall-flavored soup!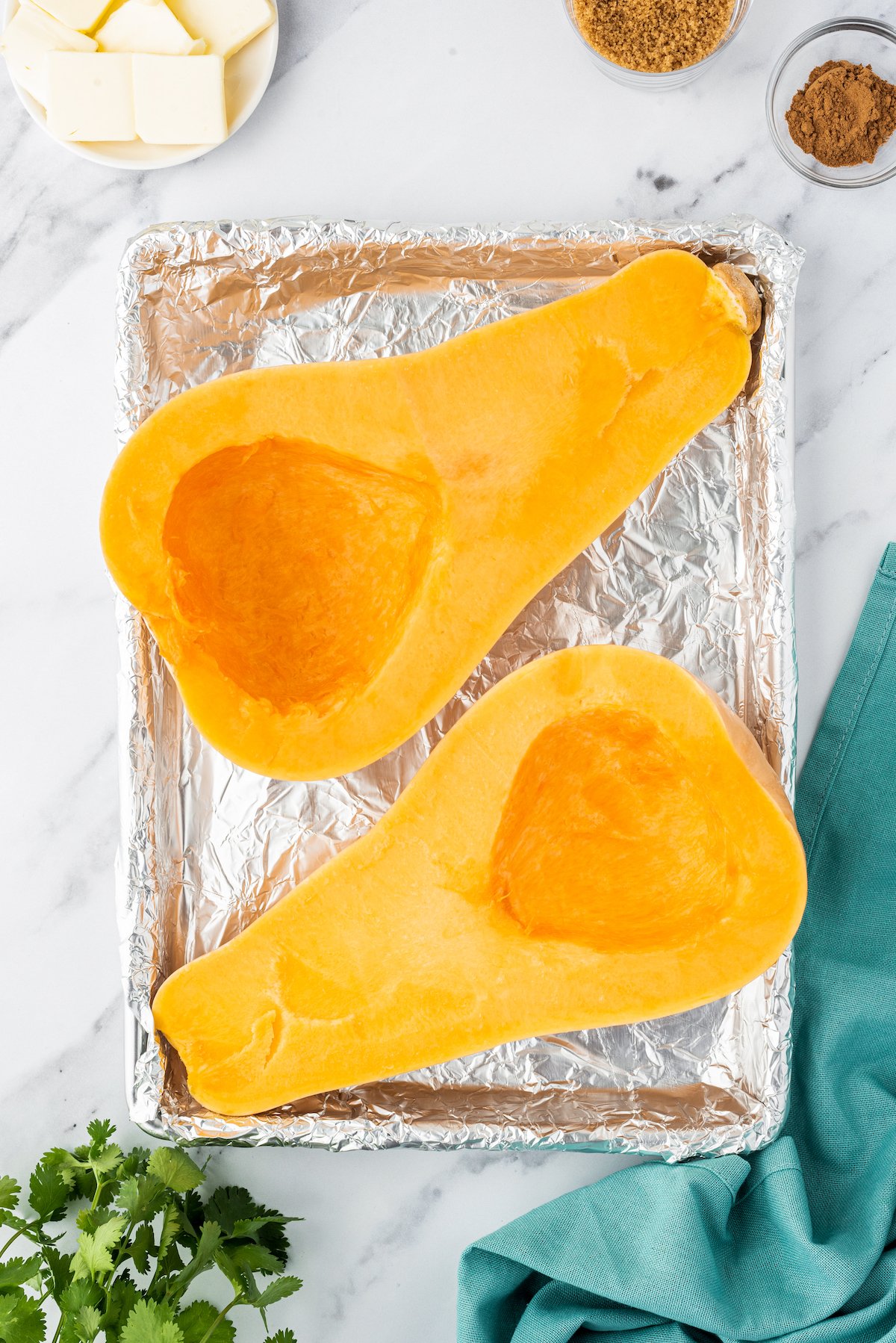 First, roast the butternut squash. You will season the butternut squash soup halves with butter (or olive oil) and then the cinnamon, brown sugar, and salt. They'll roast for a bit until they get nice and soft. You'll know that they are done when you can poke them with a fork.
Scoop out the butternut squash. Let the squash cool for a bit before doing this so you don't burn yourself. Then add the scooped squash to a blender cup.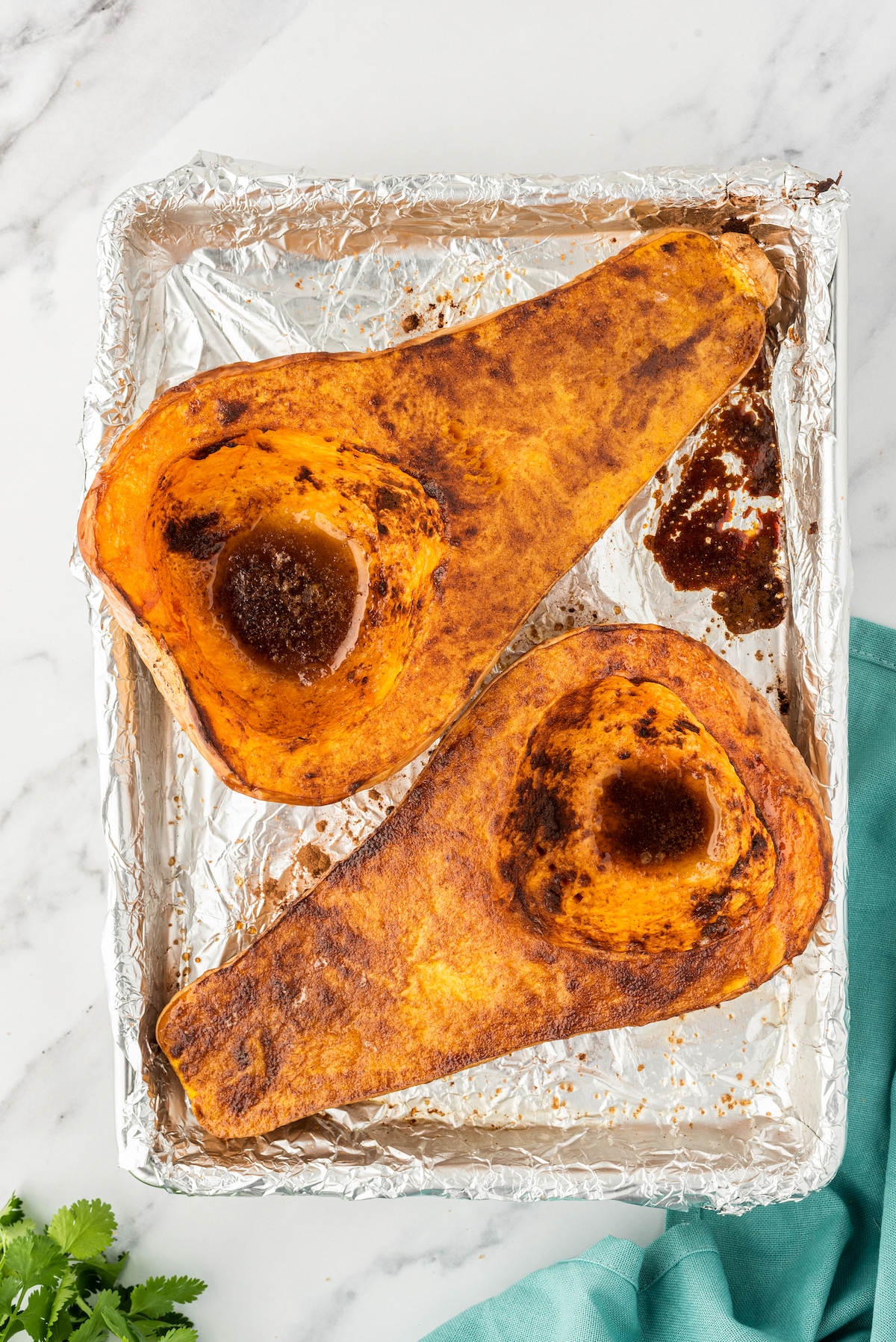 Then, add everything else into a blender. You'll want a powerful blender to make soups like this one. It's helpful if the chicken stock and coconut milk are warm or at least at room temperature. This will be sure that you aren't making cold soup.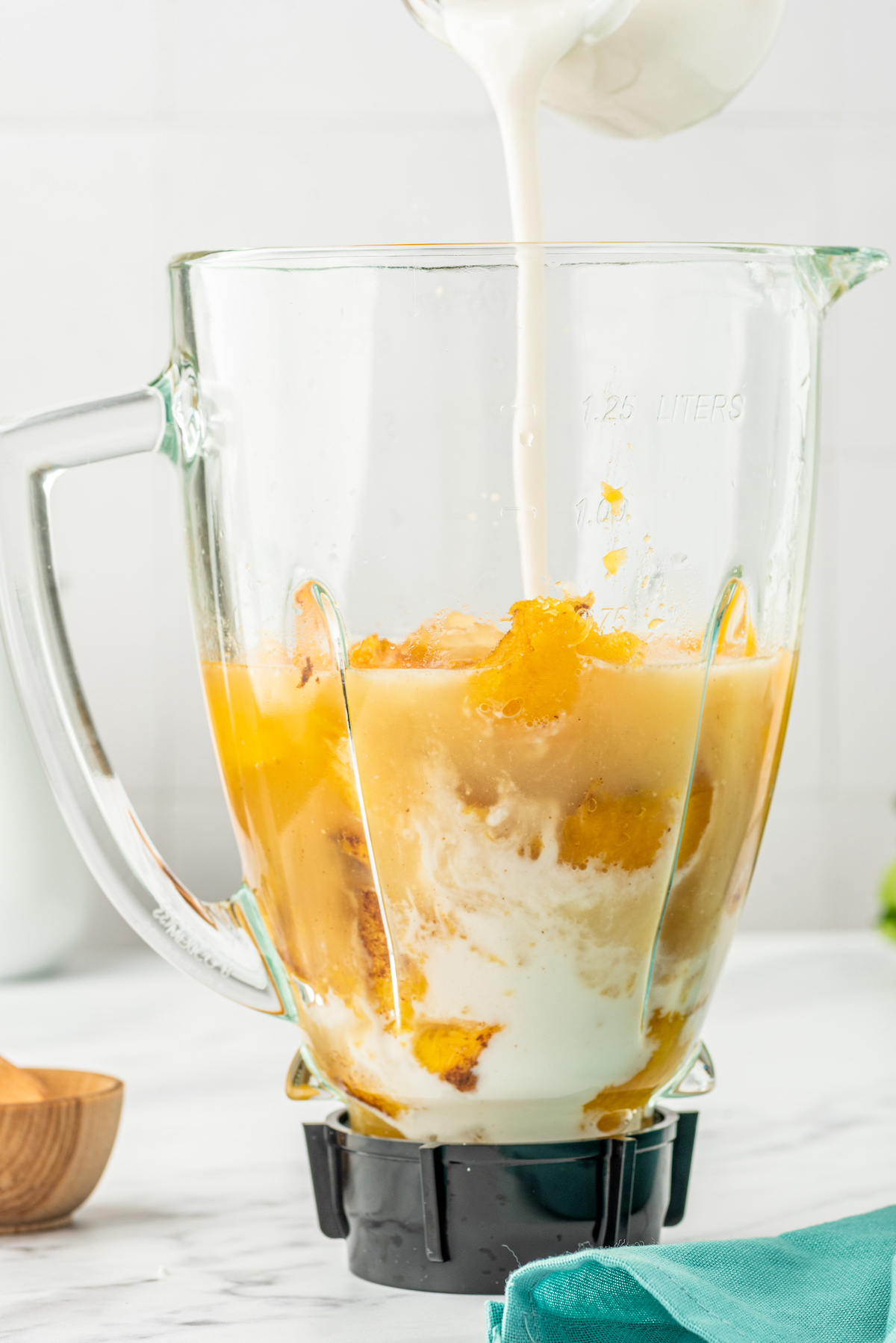 Blend the soup. You'll want to make sure it's nice and smooth. There shouldn't be any big chunks of butternut squash.
Lastly, pour and garnish the soup! Pour the soup right into your serving bowls. You can garnish it with fresh cilantro, a drizzle of coconut milk, and more fresh cracked black pepper.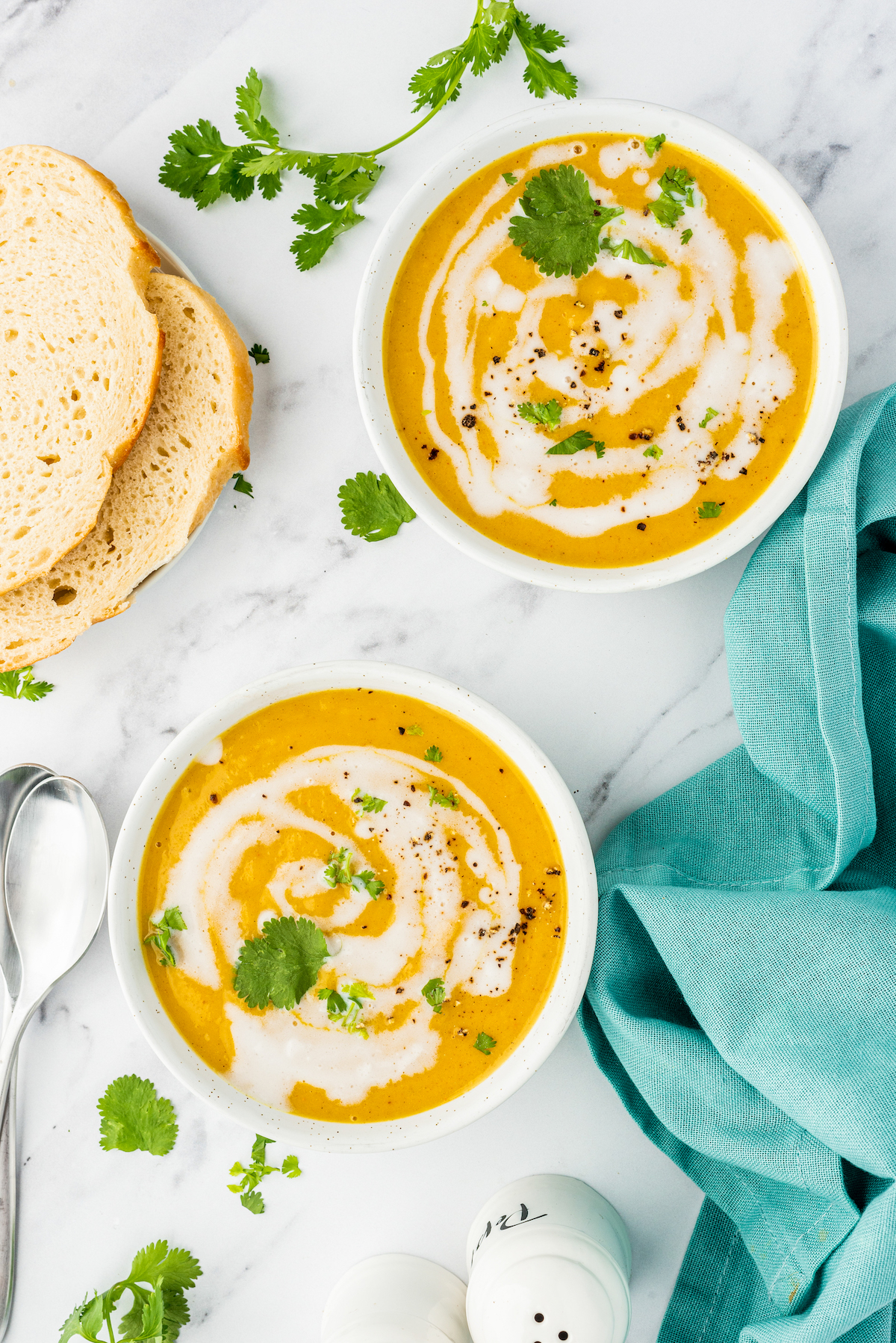 Tips and Variations
Wondering what kind of coconut milk to use? Or where to find curry powder? I've got you covered! Here are some suggestions and other tips to follow when making this soup.
Tips for using coconut milk: I suggest using full-fat canned coconut milk for this recipe. The coconut milk in a carton is not as creamy and rich. Also, canned coconut milk tends to solidify when it's just sitting in your pantry. To resolve this, run the can under some hot water for a few minutes before opening.
Heavy cream or regular milk is ok to use. Just remember that the soup will no longer be dairy free. I prefer the slight sweetness from the coconut milk, though!
Use curry powder, NOT curry paste. This recipe uses curry powder that you find in the spice section. Make sure you aren't using red curry paste.
Butternut squash substitutes: You can use frozen butternut squash for this recipe. However, I'd recommend roasting the cubes first with cinnamon, brown sugar, and salt. You could also use a few large sweet potatoes, one small pumpkin, or about two acorn squash instead.
Adjust the liquid as needed. You may need to add more coconut milk or stock to the blender to get the creamy consistency you want.
How to Store and Reheat the Leftovers
It's really easy to store leftover soup. I like to use mason jars or recycled deli containers. They make it easy to portion our single servings so that we can heat them up as we need them. The soup will stay fresh in the refrigerator for up to 5 days.
The best way to reheat the soup would be on the stovetop. You could also use a microwave. Additionally, you can add a little bit of water (or more stock if you have any) if you find that the soup has thickened while in the refrigerator.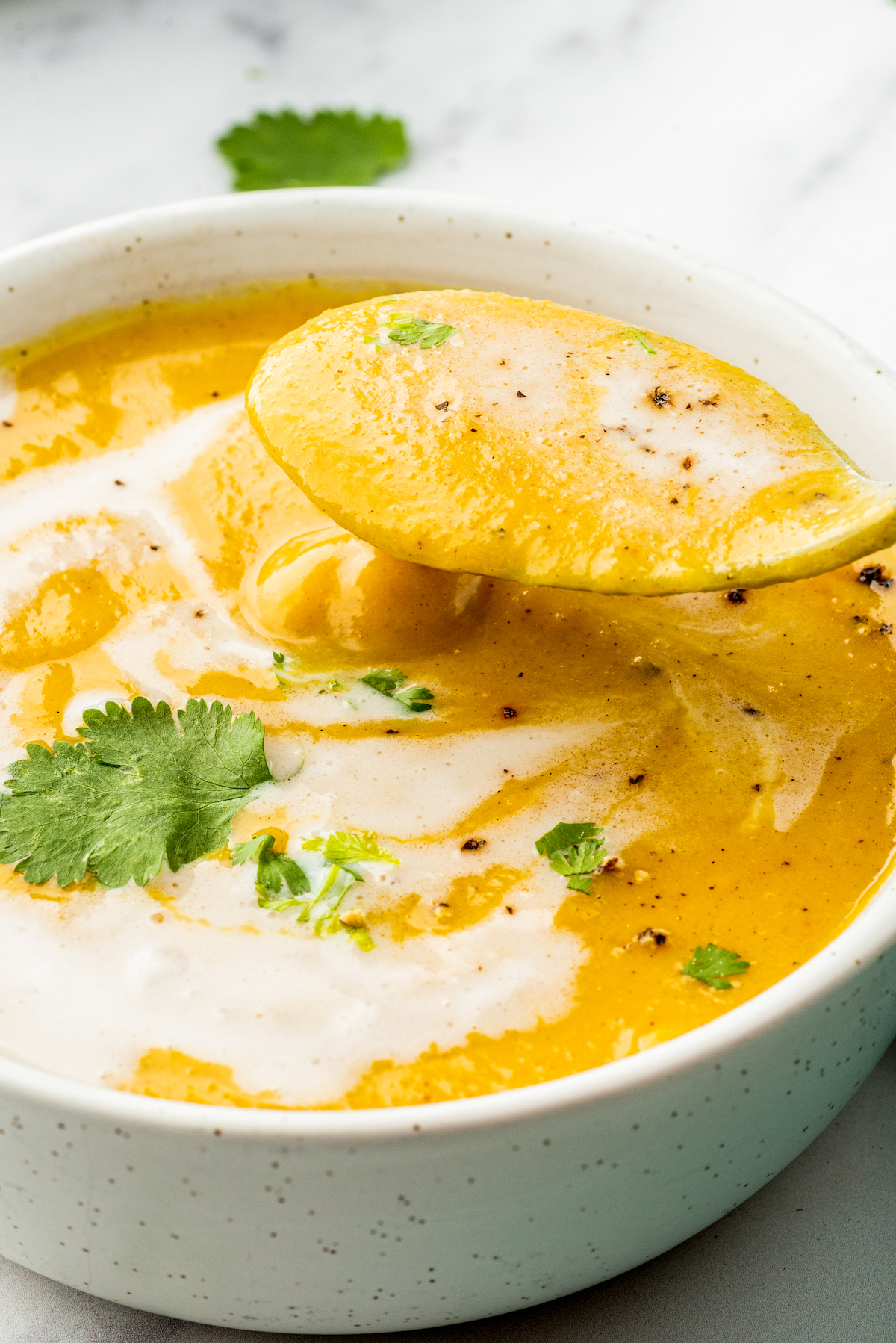 Can I Freeze Butternut Squash Coconut Curry Soup?
Yes, you can absolutely freeze this soup. In fact, this is one of my favorite soups to put in the freezer. It freezes really well and tastes just as good (if not better) after it's made.
I recommend thawing the soup in the refrigerator the night before you want to eat it. Again, if you find that the soup has thickened up a bit, you can add more liquid when you reheat it.
More Cozy Fall Soups
Butternut Squash Coconut Curry Soup
Butternut Squash Coconut Curry Soup is a hearty fall soup recipe. It makes a great lunch, and it's an easy side for a weeknight dinner. You could even try it out on your Thanksgiving menu!
Ingredients
2.5

lb

Butternut Squash

,

cut in half seeds removed

3

tablespoons

butter

,

sliced (or olive oil for vegan)

2

tablespoons

brown sugar

1

teaspoon

cinnamon

½

teaspoon

salt

1

teaspoon

curry

½

teaspoon

garam masala

ground black pepper

,

to taste

½

cup

**coconut milk

1 ¼

cups

chicken or vegetable stock

cilantro

,

optional – for garnish
Instructions
Preheat oven to 375°F. Line a baking sheet with foil.

Place butternut squash halves on baking sheet with the cut side up. Divide the butter pieces among both halves. (For Vegan: Skip the butter and brush Butternut Squash with Olive Oil.) Season each half with brown sugar, cinnamon and salt. Roast the squash for 45-55 minutes, until tender when poked with a fork.

Let squash cool for a few minutes, then scoop the squash out of flesh into a powerful blender. Add chicken/vegetable stock, coconut milk, curry, gram masala and black pepper. Blend until smooth.

Divide soup into four bowls, garnish with a little extra drizzle of coconut milk and cilantro. Serve immediately.

If preparing ahead, store in an airtight container in the fridge for up to a week. Then reheat in a non-stick pan on the stove.
Notes
**Coconut Milk solidifies in the can. Before opening, warm the coconut milk by submerging the can in hot water for 5 minutes to evenly disperse the cream/fat in the coconut milk. Or, if you prefer a richer and creamier soup, do not heat the can and only use the top layer of coconut milk fat for your soup.
Storage
Fridge: Store soup in an airtight container, I usually use a jar with a lid, for up to 5 days.
Freeze: Place soup in a freezer friendly container and freeze for up to 3 months. Let soup thaw in fridge for 24 hours, before reheating, for best results.
Reheat: Reheat soup on the stove top in a sauce pan or in the microwave.
Nutrition
Serving:
1
,
Calories:
368
kcal
,
Carbohydrates:
38
g
,
Protein:
14
g
,
Fat:
21
g
,
Saturated Fat:
12
g
,
Polyunsaturated Fat:
7
g
,
Cholesterol:
63
mg
,
Sodium:
547
mg
,
Fiber:
10
g
,
Sugar:
11
g
Categories:
This post may contain affiliate links. Read my disclosure policy.