This One Pot Bacon Corn Chowder is the things dreams are made of if you dream of cheesy, bacony, corny things like I do. This soup is easy to make and perfect for dinner any night of the week.
If you love soup recipes, also try my Roasted Poblano, Corn & Chicken Soup or Creamy Sweet Corn And Roasted Poblano Soup.
This Easy Corn Chowder Is Delicious No Matter How You Make It
This is my first savory video and I am still learning the curve on cooking on a small induction plate! Excited to bring y'all more main dish videos soon! Any requests?
This recipe comes form a friend of mine, Kerri. Y'all know her from her Tuna Pasta Salad and the Best Baked Beans Ever. I know her because she lives right down the street and constantly lets me borrow ingredients that I forget at the store.
When she makes this chowder, she uses full fat heavy cream, canned corn and parsley. When I make her soup, I use half and half, frozen corn and chives. Both ways are delicious, you really can't go wrong — it's all about personal preference.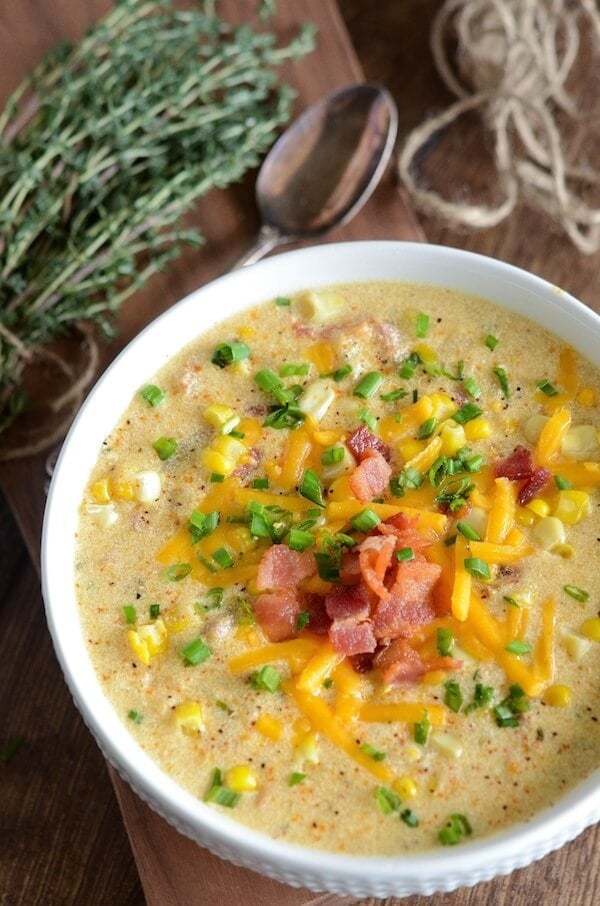 Jorge loves this Bacon Corn Chowder so much that he routinely asks me to make it. He keeps promising he will learn to make it himself, but the man just figured out how to boil pasta the other night…I wish I was kidding.
Can Corn Chowder Soup Be Frozen?
This One-Pot Bacon Corn Chowder makes a huge amount, so I thankfully get to freeze a few bowls for easy weeknight dinners. It's rare to find something that my entire family will eat (besides desserts, we will all always eat desserts), but this chowder is one of those rare things. The girls have entered the picky two year old stage and I love knowing they will always eat this chowder no matter what.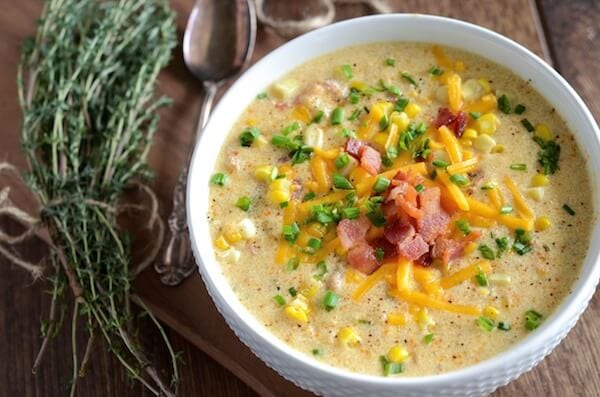 This Chowder Is Made With One Pot For Easy Cleanup
This chowder is loaded with corn, bacon, cheese, potatoes, thyme and chives and cooks all together in one big pot. Easy cleanup and even better flavor, gotta love it!
This chowder is very reminiscent of a loaded potato soup with it's bites of soft potatoes throughout. Jorge actually can't ever remember the real name and calls it — "that loaded potato soup with corn that I like so much that you don't make enough". He's lucky I like him so much.
Yield: 10 Servings
One Pot Bacon Corn Chowder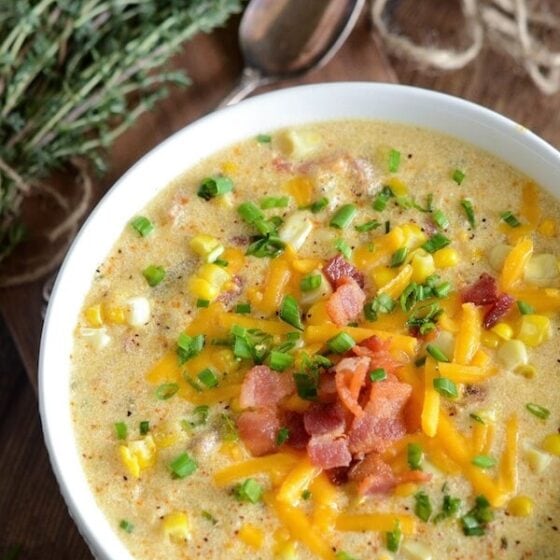 This One Pot Bacon Corn Chowder is the things dreams are made of! It's so easy to make and perfect for dinner any night of the week. 
Ingredients
16 oz bacon, chopped
1 large yellow onion, diced
4 large garlic cloves, minced
6 sprigs fresh thyme, leaves only, minced
2 lbs small red potatoes, diced
1/4 cup all purpose flour
6 cups chicken stock
2 cups half and half
3 cups fresh or frozen sweet corn
1 tsp seasoned salt (I use Slap Ya Mama seasoning)
cayenne pepper, to taste
salt and black pepper, to taste
2 cups shredded cheddar cheese, divided
chopped crispy bacon, for topping
chives, for topping
Instructions
Heat a Dutch oven over medium heat. Add the bacon and cook until crispy, stirring often. Remove half of the bacon grease from pan. Optional: Set aside a little cooked bacon for topping the soup once finished.
Add onion and cook for 5 minutes. Add garlic and thyme and cook for 30 seconds. Add red potatoes and sprinkle flour on top of potatoes. Stir to coat everything well.
Pour in the chicken stock and bring to a boil and boil about 12 minutes, until the potatoes are soft. Use a potato masher to roughly mash potatoes once cooked - this makes a thicker chowder. You want to leave some small chunks of potatoes when you are done roughly mashing.
Add the half and half and corn to soup. Season with seasoned salt, cayenne pepper, salt and pepper to taste. Bring to a simmer and cook for 5 more minutes.
Add cheese and stir to combine. Serve topped with chives, more cheese and crispy bacon!
Nutrition Information:
Yield:
10
Serving Size:
1
Amount Per Serving:
Calories:

576
Total Fat:

32g
Saturated Fat:

14g
Trans Fat:

1g
Unsaturated Fat:

17g
Cholesterol:

92mg
Sodium:

1427mg
Carbohydrates:

41g
Fiber:

3g
Sugar:

8g
Protein:

31g
Categories

SaveSave
SaveSave
SaveSave
This post may contain affiliate links. Read my disclosure policy.