Homemade Chicken and Dumplings Recipe
Homemade Chicken and Dumplings Recipe: my easy chicken and dumplings recipe, with big fluffy dumplings that are made from scratch, but only take a few minutes!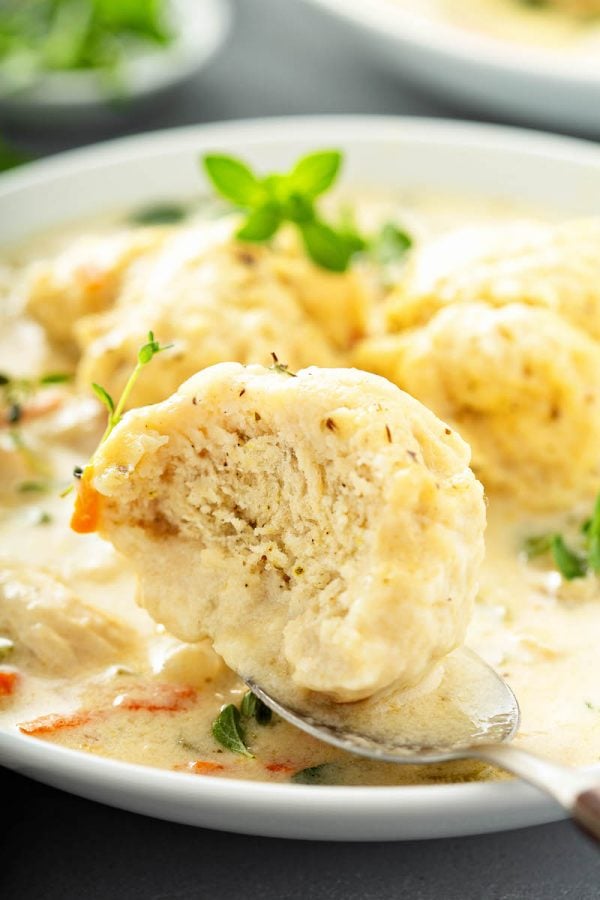 If you are looking for the best ever Chicken and Dumplings Recipe, well, you found it. Right here.
I don't like to claim "best ever" very often, I honestly try very hard not to say it since we all have different tastes.
However, if you love creamy chicken soup with tons of flavor and big fluffy homemade dumplings from scratch, then this recipe is the one for you.
Don't get nervous when I say this is the best from scratch chicken and dumplings recipe, because it is also a really EASY recipe to make! I promise!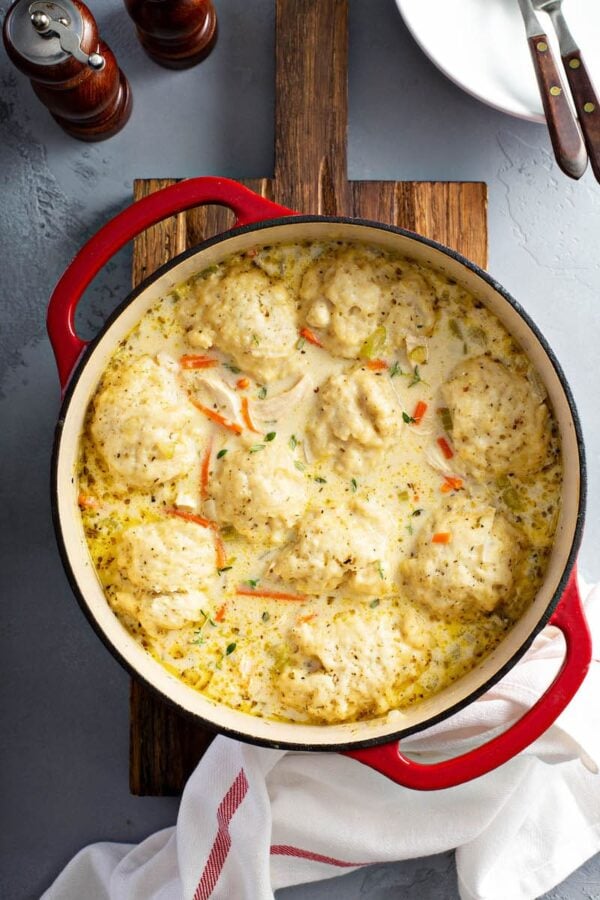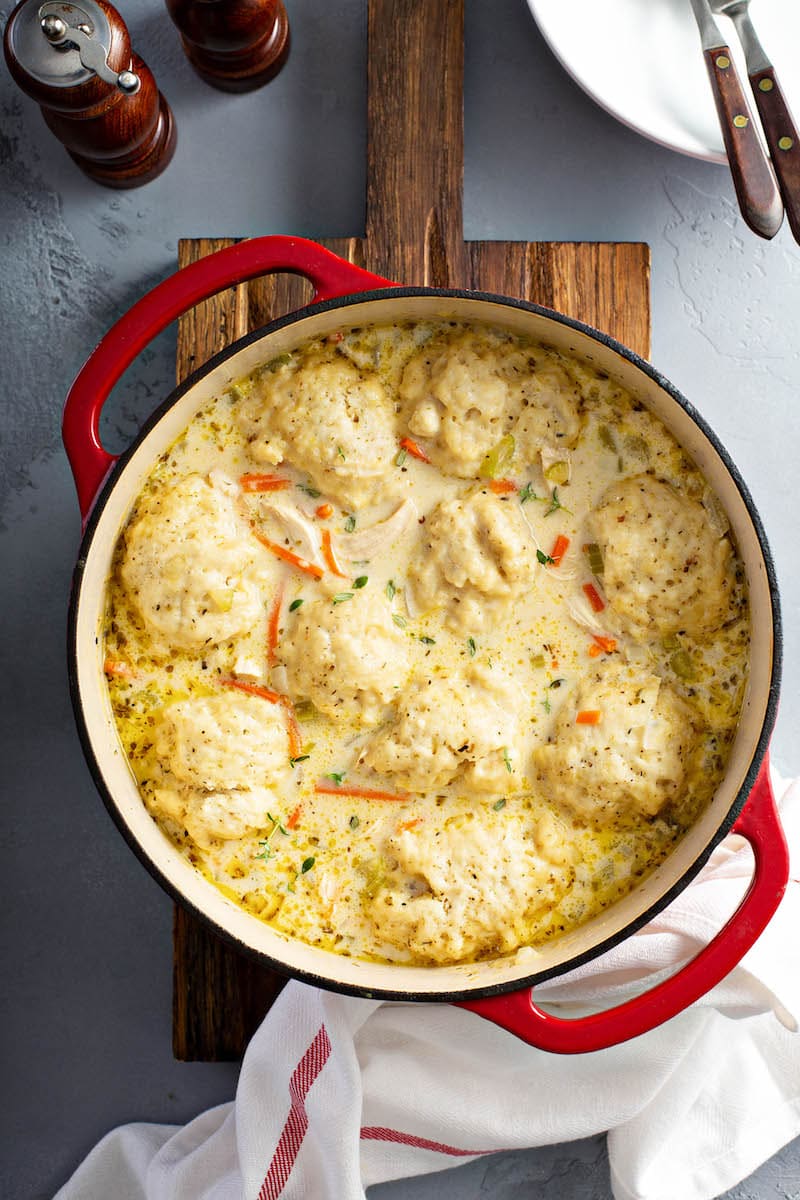 It's so easy, that the homemade dumplings only take 5 minutes to whip together. Seriously!
You just mix everything together in a bowl and drop them into the simmering soup with a big cookie scoop.
If you want to learn how to make chicken and dumplings, this is definitely a great recipe to try.
And even if you are an expert at making homemade dumplings from scratch, this recipe might change your mind on how you make them.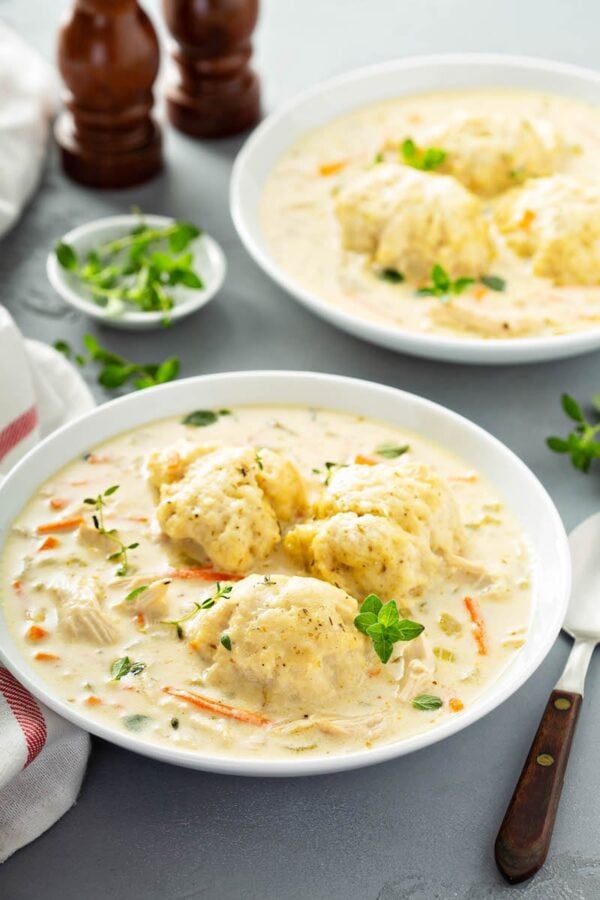 Years and years ago, I used to make my chicken and dumplings recipe with canned refrigerated biscuits.
But so many times, I would go through all the effort and my dumplings would disappear and cook into nothing.
So I started trying out different methods of making my own dumplings and this was the clear winner.
The homemade dumplings have great flavor, take no time to mix together, are made with everyday ingredients and cook in just a few minutes!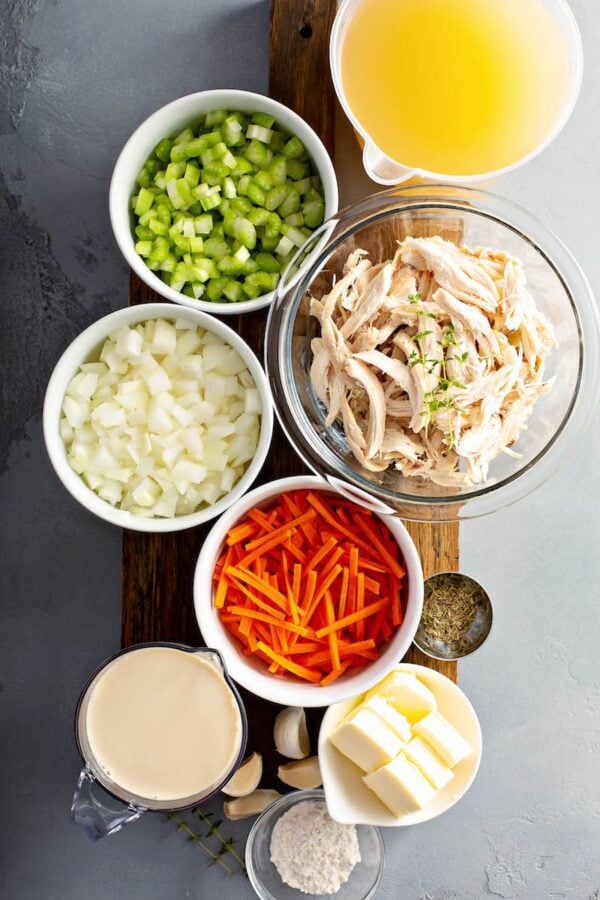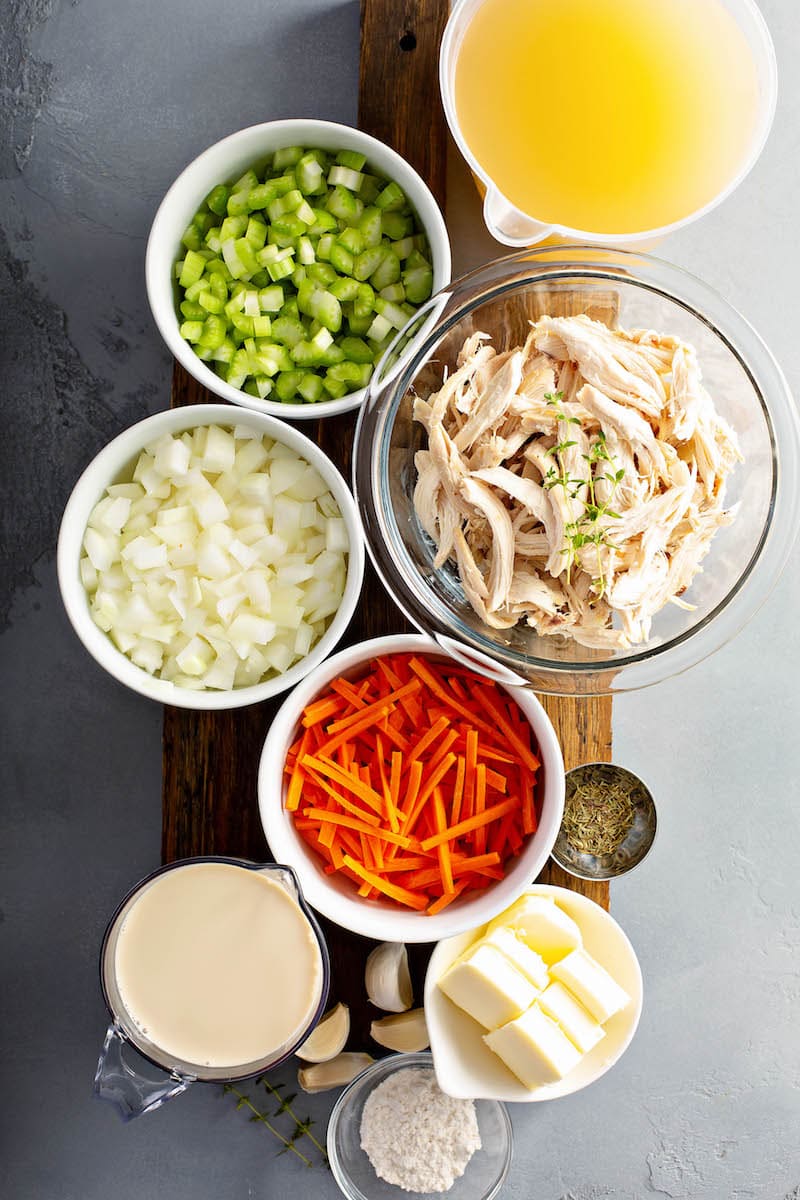 The rest of the ingredients needed for this Homemade Chicken and Dumplings are simple classic ingredients as well.
Nothing crazy, just one secret ingredient: evaporated milk. It's creamier than whole milk, but not as thick as heavy cream (and a lot less fattening as well).
I use flour as my thickening agent and butter to sauté our vegetables in. I like to use the classics: onion, celery, carrots and garlic.
You can make your own easy shredded chicken, but I buy a rotisserie chicken from the store to keep things simple and easy for myself.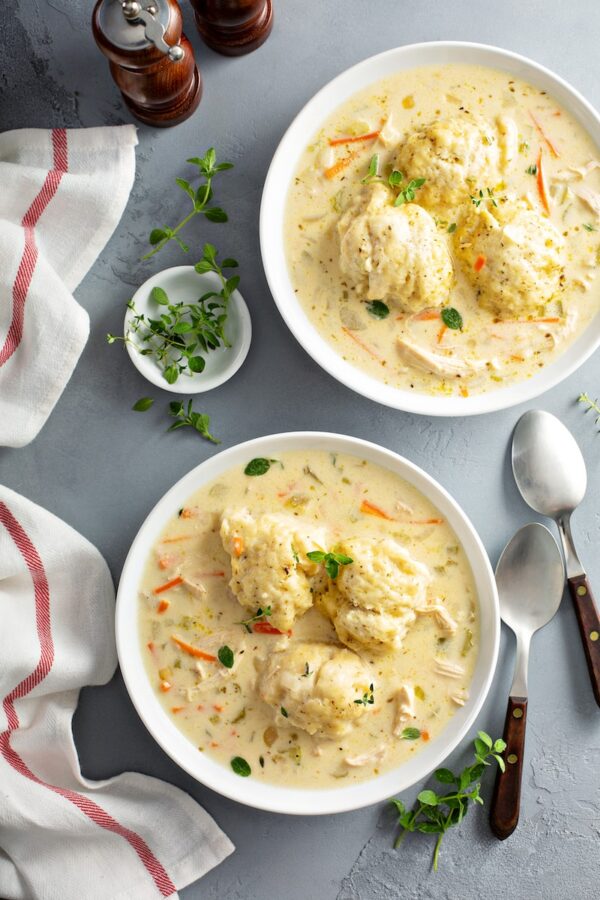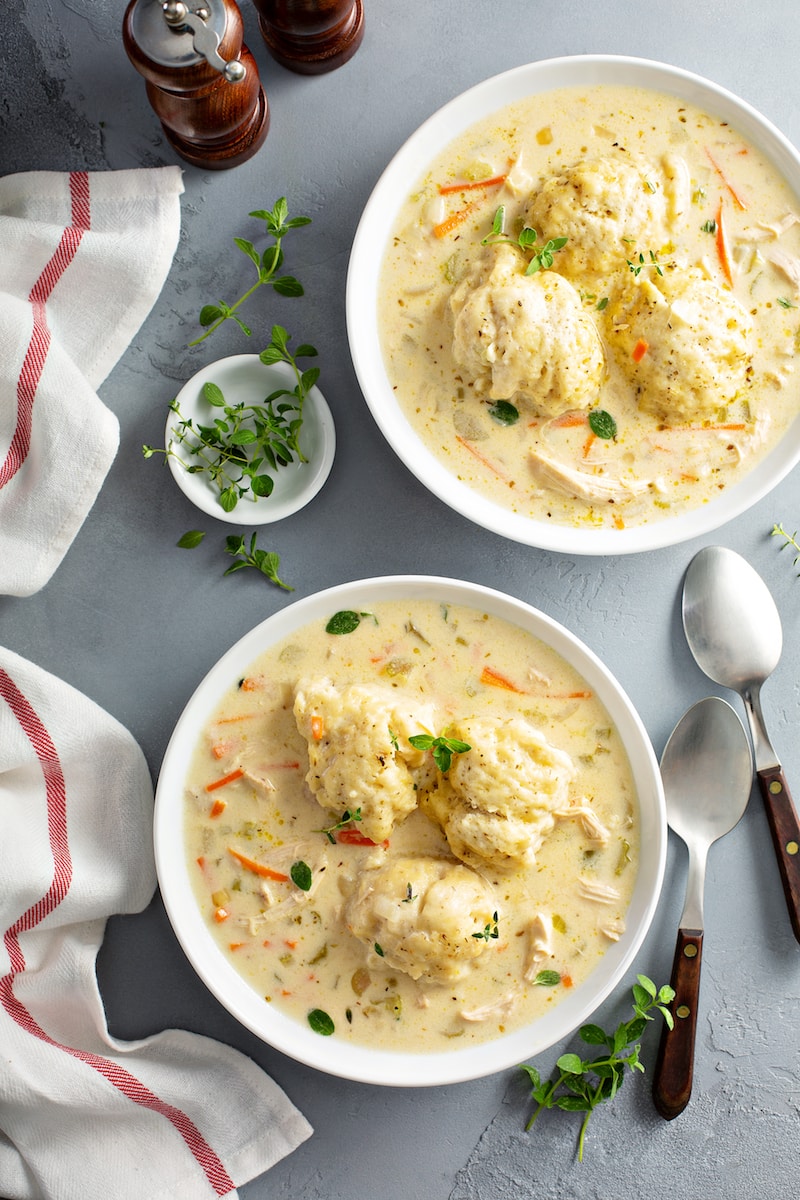 This Chicken and Dumplings recipe has been a winner with my family and circle of friends for years, but I have never shared it on the blog.
It's not because I didn't want to share my family recipe with all of you, it's just that I usually make it when I am craving comfort food on a cold night.
And then as soon as it's done, I don't want to worry about working and taking photos…I want to dive in face first!
But after I shared videos of me making this exact recipe on Instagram stories a few weeks ago, I knew I HAD to share the recipe asap.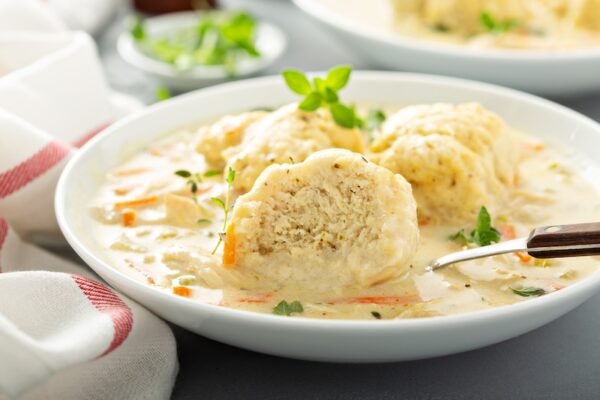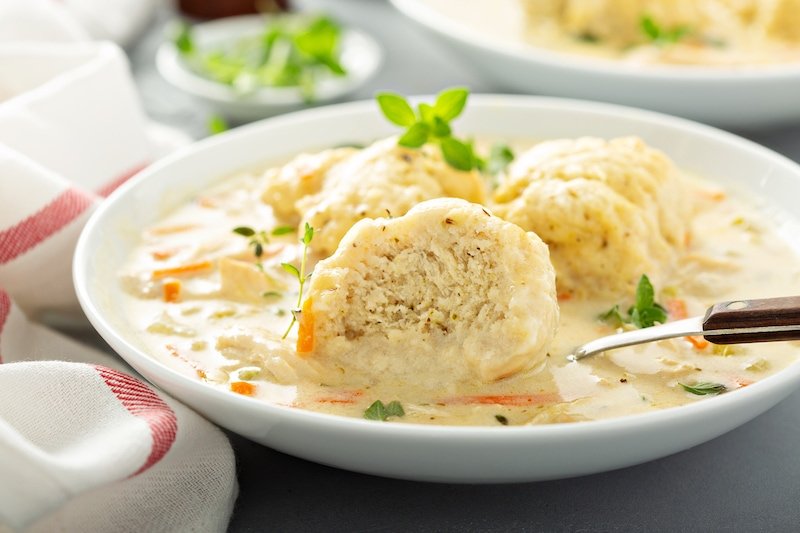 So many of you tried the recipe and made this soup and immediately started sending me pictures and reviews.
No joke, over 25 people sent me messages proclaiming this to be the BEST Chicken and Dumplings recipe, ever!
One woman even told me her husband said it was better than his Grandma's recipe that she won an award for at the state fair.
Not going to lie, that compliment felt pretty dang good! 😉
And so I knew with that message, it was time to finally share this Chicken and Dumplings recipe with all of you. I can't wait to hear what you think!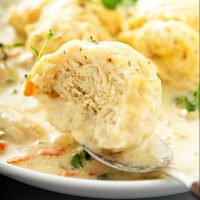 Homemade Chicken and Dumplings Recipe
Yield: serves 6
Prep Time: 10 minutes
Cook Time: 30 minutes
Total Time: 40 minutes
Homemade Chicken and Dumplings Recipe: my easy chicken and dumplings recipe, with big fluffy dumplings that are made from scratch, but only take a few minutes!
Ingredients
6 tablespoons butter
1 cup chopped yellow onion
1 cup matchstick carrots
1 cup diced celery
4 cloves garlic, minced
3 tablespoons all purpose flour
12 oz (1 can) evaporated milk
32 oz (1 quart) chicken stock
4 cups shredded cooked chicken (make your own
1 tablespoon fresh thyme (or 1 teaspoon dried thyme)
2 teaspoons freshly cracked black pepper (or to taste)
salt, to taste
Homemade Dumplings:
2 cups all purpose flour
1 tablespoon plus 1 teaspoon, baking powder
1 teaspoon freshly cracked black pepper
1 teaspoon salt
1 tablespoon fresh thyme (or 1 teaspoon dried thyme)
3/4 cup (6 oz) whole milk
4 tablespoons butter, melted
Instructions
In a large heavy bottomed pot (like a dutch oven), melt butter over medium-high heat.
Add onion, carrots and celery. Cook for 5 minutes, until vegetables being to wilt. Add garlic and cook for 1 minute more.
Add flour and stir to combine. Cook for 1 minute. Add evaporated milk and chicken stock and quickly stir to combine.
Bring to a boil and add chicken, thyme, black pepper and salt. Let soup simmer, uncovered, while you make dumplings.
In a large bowl, whisk together flour, baking powder, pepper, salt and thyme. Make a well in the center of the flour mixture and pour the milk and butter into the center of it.
Using a wooden spoon (or rubber spatula), stir together until dough ball forms. If your dough seems too dry, you can add an extra tablespoon of milk.
Using a large* sized cookie scoop, scoop dough and drop directly into the simmering soup. Place them around the pot, not all in the same place.
Once all dumplings have been added, gently press them down so the soup runs over just the tops of them.
Place the lid on your pot and lower the heat a little to a low simmer (you don't want the bottom of the soup to burn but also want the soup to still be simmering to cook the dumplings).
Cook for 15 minutes, gently stir the soup/dumplings and then cut one dumpling in half to make sure they are cooked through.
If the dumplings are cooked through, serve hot! If not, cook an additional 2-3 minutes and check again.
Notes
*You can use a medium sized cookie scoop in place of a large cookie scoop to get more dumplings. Start checking if they are done around the 10 minute mark.
Recommended Products
I am an Amazon affiliate member and I earn a small percentage from qualifying purchases. Thank you!