Best Homemade Chicken and Dumplings Recipe
This easy recipe for my family's favorite creamy Homemade Chicken and Dumplings is loaded with big fluffy dumplings that are made from scratch in just minutes!
Looking for a crockpot version of this recipe? Try my Crockpot Chicken and Dumplings Recipe.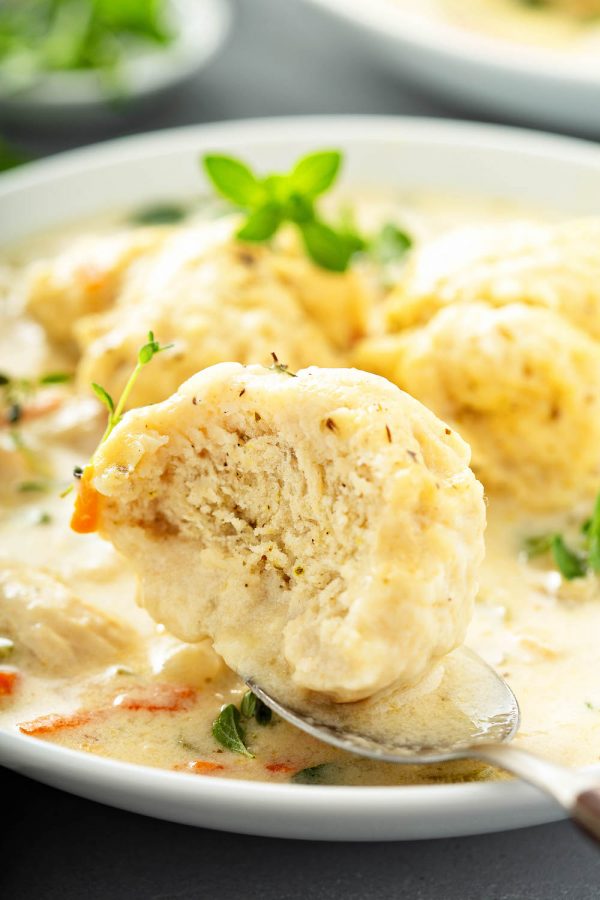 Easy Homemade Chicken Dumplings
If you are looking for the best Chicken and Dumplings recipe ever, well, you found it!
Plus I am also sharing all my tips and tricks on how to make your Chicken and Dumplings from scratch with minimal work.
Don't get nervous when I say this recipe is made "from scratch", because it is still surprisingly easy and simple to make.
You just need my one secret ingredient to keep this Chicken and Dumplings extra creamy…and no, it's not heavy cream.
And the homemade dumpling recipe only takes five minutes to whip together.
This Chicken and Dumpling recipe is one of my top recipes on my site for a reason and I can't wait for you to try it!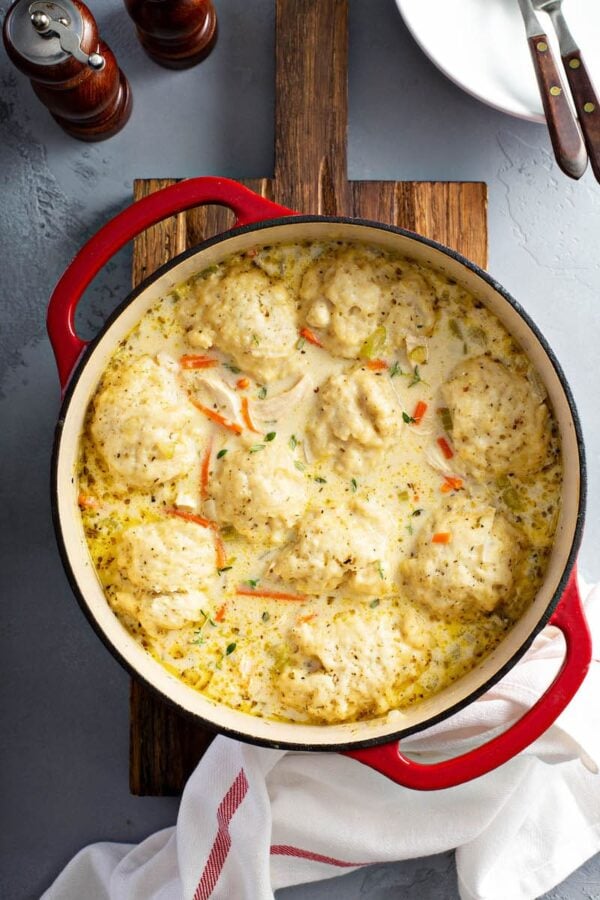 What Kinds of Dumplings Are Used for Chicken and Dumplings?
There are three popular kinds of dumplings:
Drop dumplings are dumplings made in a bowl that you scoop out and drop into the soup to be cooked. They are light and fluffy.
Rolled dumplings are the kind of dumplings you get when you order Cracker Barrel's Chicken and Dumplings. They are a flat dense dumpling.
Biscuit dumplings are made with canned biscuits and are cut into quarters and dropped into the soup.
Years and years ago, I used to make my chicken and dumplings recipe with canned refrigerated biscuits. But often, I would go through all the effort and my dumplings would disappear and cook into nothing.
This recipe uses drop dumplings. Why? Well, when I started trying out different methods of making my own dumplings these drop dumplings were the clear winner. They are very easy to make, fast to cook and extra delicious!
However, if you are a big fan of chicken and dumplings with biscuits, I still have that classic recipe on my site as well!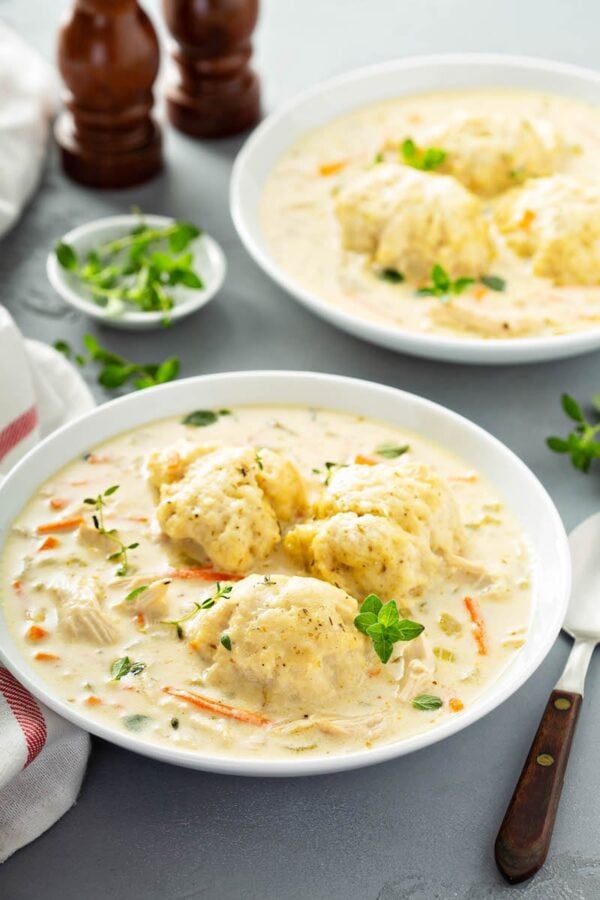 How to Make Homemade Dumplings
This homemade dumpling recipe is so easy. They take 5 minutes and a handful of ingredients, you probably already have on hand, to mix up!
Your family will think you were working for hours making homemade dumplings — so don't tell them our little secret.
Follow these simple steps to make this homemade drop dumpling recipe:
Add the dry ingredients (flour, baking powder, pepper, salt and thyme) into a medium sized bowl and whisk together.
Add in the butter and milk, mix it together using a wooden spoon, until dough ball forms.
Drop the dumplings into the simmering soup with a cookie scoop and let cook! That's it!
If you have been wanting to learn how to make chicken and dumplings from scratch, this is definitely a great recipe to try since it's so easy and tasty.
Honestly, even if you are an expert at making homemade dumplings, this recipe might change your mind on how you make them!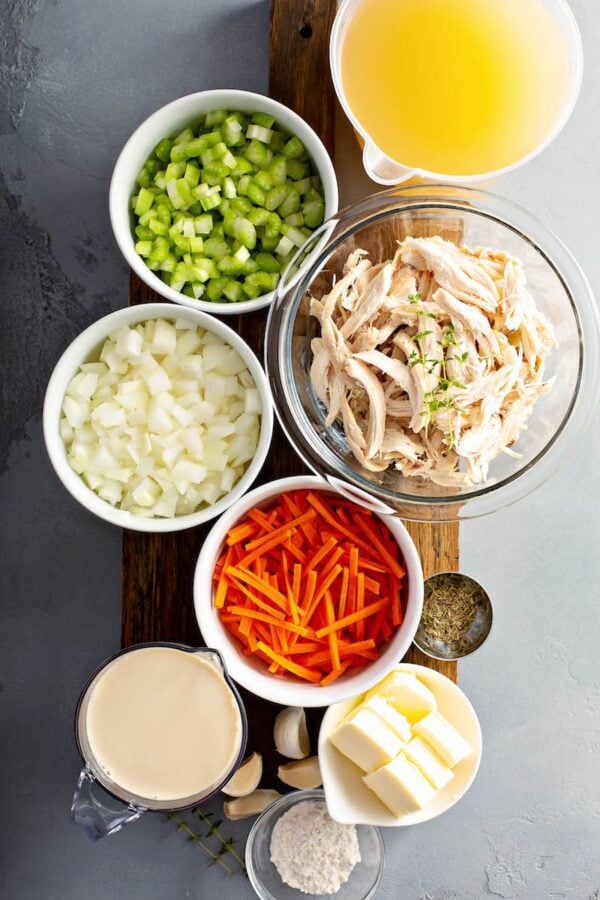 Chicken and Dumplings Ingredients
The rest of the ingredients needed for this Homemade Chicken and Dumplings are simple classic ingredients:
Butter
Onion, carrots, celery and garlic
All purpose flour
Evaporated milk
Chicken stock
Thyme
Salt & pepper
Some things are best when they are kept simple to let the flavor shine and I absolutely think Chicken and Dumplings is one of those things.
However, I do have one secret ingredient that is KEY to making your chicken and dumplings creamy. Can you guess what it is from the ingredients list above? Evaporated milk!
Evaporated milk is creamier when compared to whole milk, but not as thick as heavy whipping cream (and a lot less fattening as well).
P.S. If you can't have dairy, I suggest trying this dairy free Matzo Ball Soup. You still get dumplings without the dairy!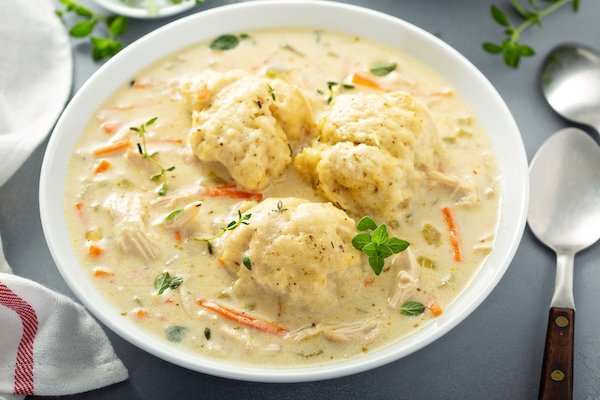 How to Keep Your Chicken and Dumplings creamy!
There are a few tricks to keeping Chicken and Dumplings creamy without adding any cans of condensed soups.
First is the use of evaporated milk as mentioned above. But just as important, is the gravy base of the soup made with all purpose flour and butter.
You use the butter to sauté the vegetables in and then add in the flour and cook for a minute or two. The two combine to make a great soup gravy base – similar to making white country gravy.
Then we add in the evaporated milk and chicken stock to create a great creamy Chicken and Dumplings soup.
As for the vegetables, I like to use the classic vegetables: onion, celery, carrots and garlic. You can also add peas if you are a green pea fan!
Lastly, you can make your own easy shredded chicken, but I often buy a rotisserie chicken from the store to keep things simple and easy for myself.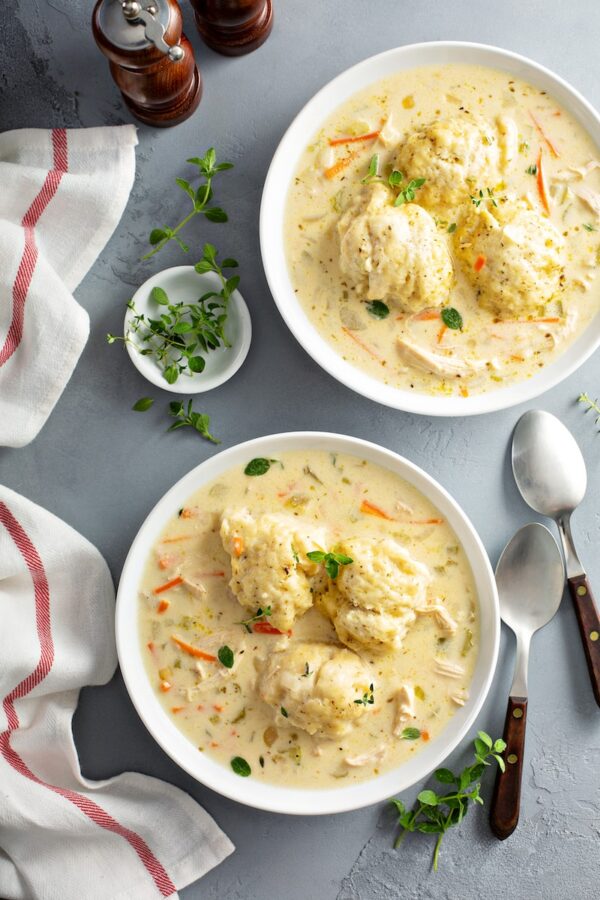 This Chicken and Dumplings recipe has been a winner with my family and circle of friends for years, but I have never shared it on the blog.
It's not because I didn't want to share my family recipe with all of you, it's just that I usually make it when I am craving comfort food on a cold night. And then as soon as it's done, I don't want to worry about working and taking photos…I just want to dive in face first!
But after the response to the videos I shared of me making this Homemade Chicken and Dumplings recipe on Instagram stories a few weeks ago, I knew I HAD to share the recipe asap.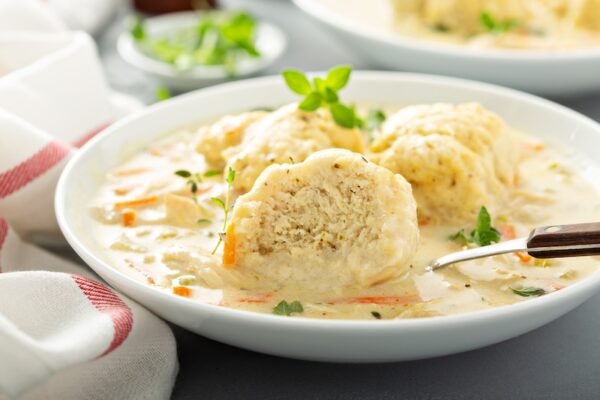 So many of you made this soup within days of me posting the recipe and immediately started sending me pictures and reviews.
No joke, over 25 people sent me messages proclaiming this to be the BEST Chicken and Dumplings recipe, ever! Yahoo!!
It's now one of the most popular recipes on my site and you can read lots of reviews below.
I am so excited for all of you to try this recipe for the Best Homemade Chicken and Dumplings.
Please share how this Chicken and Dumplings recipe turns out for you, I can't wait to hear what you think!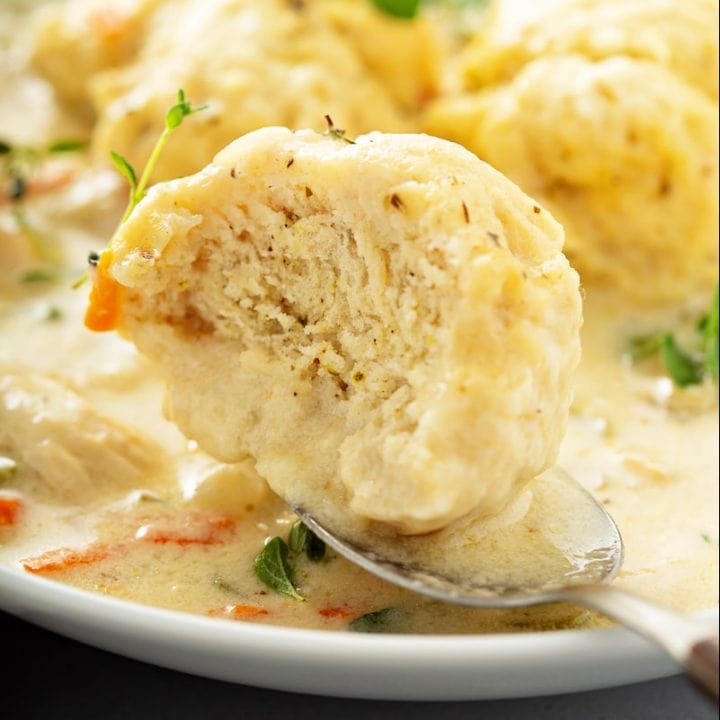 Chicken and Dumplings Recipe
Yield: serves 6

Prep Time: 10 minutes

Cook Time: 35 minutes

Total Time: 45 minutes

This easy recipe for my family's favorite creamy Homemade Chicken and Dumplings is loaded with big fluffy dumplings that are made from scratch in just minutes!
Ingredients
6 tablespoons butter
1 cup chopped yellow onion
1 cup matchstick carrots
1 cup diced celery
4 cloves garlic, minced
3 tablespoons all purpose flour
12 oz (1 can) evaporated milk
32 oz (1 quart) chicken stock
4 cups shredded cooked chicken
1 tablespoon fresh thyme (or 1 teaspoon dried thyme)
2 teaspoons freshly cracked black pepper (or to taste)
salt, to taste
Homemade Dumplings:
2 cups all purpose flour
1 tablespoon plus 1 teaspoon, baking powder
1 teaspoon freshly cracked black pepper
1 teaspoon salt
1 tablespoon fresh thyme (or 1 teaspoon dried thyme)
3/4 cup (6 oz) whole milk
4 tablespoons butter, melted
Instructions
In a large heavy bottomed pot (like a dutch oven), melt butter over medium-high heat. 
Add onion, carrots and celery. Cook for 5 minutes, until vegetables being to wilt. Add garlic and cook for 1 minute more.
Add flour and stir to combine. Cook for 1 minute. Add evaporated milk and chicken stock and quickly stir to combine. 
Bring to a boil and add chicken, thyme, black pepper and salt. Let soup simmer, uncovered, while you make dumplings. 
In a large bowl, whisk together flour, baking powder, pepper, salt and thyme. Make a well in the center of the flour mixture and pour the milk and butter into the center of it. 
Using a wooden spoon (or rubber spatula), stir together until dough ball forms. If your dough seems too dry, you can add an extra tablespoon of milk. 
Using a large** sized cookie scoop, scoop dough and drop directly into the simmering soup. Place them around the pot, not all in the same place. 
Once all dumplings have been added, gently press them down so the soup runs over just the tops of them. 
Place the lid on your pot and lower the heat a little to a low simmer (you don't want the bottom of the soup to burn but also want the soup to still be simmering to cook the dumplings). 
Cook for 15 minutes, gently stir the soup/dumplings and then cut one dumpling in half to make sure they are cooked through.
If the dumplings are cooked through, serve hot! If not, cook an additional 2-3 minutes and check again. 
Notes
*You can use a medium sized cookie scoop in place of a large cookie scoop to get more dumplings. Start checking if they are done around the 10 minute mark.
Recommended Products
I am an Amazon affiliate member and I earn a small percentage from qualifying purchases. Thank you!
Nutrition Information:
Yield: 6 Serving Size: 1
Amount Per Serving: Calories: 731Total Fat: 39gSaturated Fat: 20gTrans Fat: 1gUnsaturated Fat: 17gCholesterol: 162mgSodium: 1096mgCarbohydrates: 57gFiber: 3gSugar: 14gProtein: 37g

Need Chicken and Dumplings in a hurry? This is the recipe you have been looking for! Make deliciously creamy Chicken and Dumplings on the stove top in just 30 minutes!

Chinese Dumplings (also commonly known as potstickers), are easy to make and taste so much better when you make them homemade!

Rum soaked cinnamon spiced apples are wrapped in tender dumplings, baked in a sweet buttery rum sauce and served with vanilla ice cream!

My family's favorite easy chicken and dumplings recipe with big fluffy dumplings that are made from scratch in just minutes! Don't miss the secret ingredient to make it extra creamy!

This Wonton Soup recipe is bursting with fresh flavors and loaded with homemade pork Chinese Dumplings to elevate this classic take out dish!

Our favorite chicken and dumplings recipe turned into an easy crockpot meal with homemade dumplings, made from scratch, in just minutes! Don't miss the secret ingredient to make it extra creamy!

Crisp green apples are wrapped in soft dumplings and baked in a sweet cinnamon sauce made of brown sugar, butter and mountain dew! You will be begging for more after just one bite!