Crockpot Chicken and Dumplings
Crockpot Chicken and Dumplings Recipe: Our favorite homemade chicken and dumplings with easy homemade dumplings! Plus a secret ingredient to make it extra creamy!
Looking for a stove top chicken and dumplings recipe? Try this 5 star rated Homemade Chicken and Dumplings Recipe. Or this quick version using canned biscuits: Easy Chicken and Dumplings with Biscuits!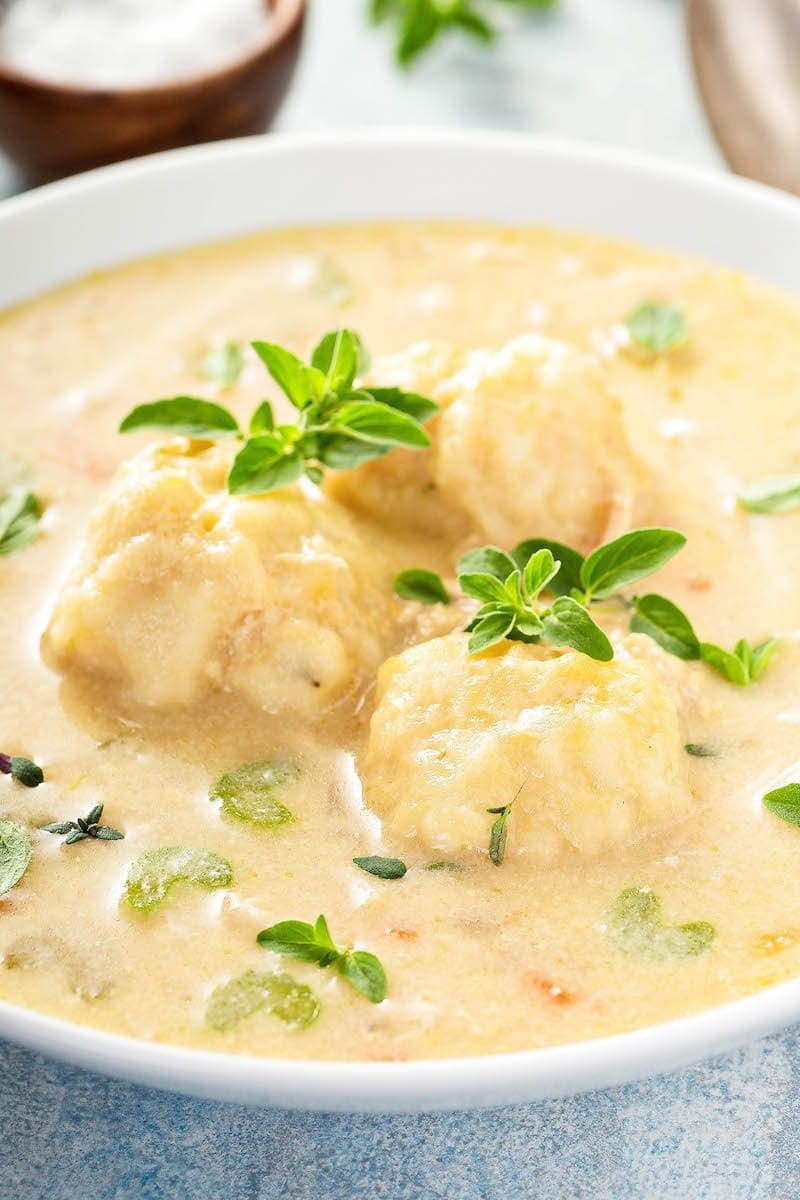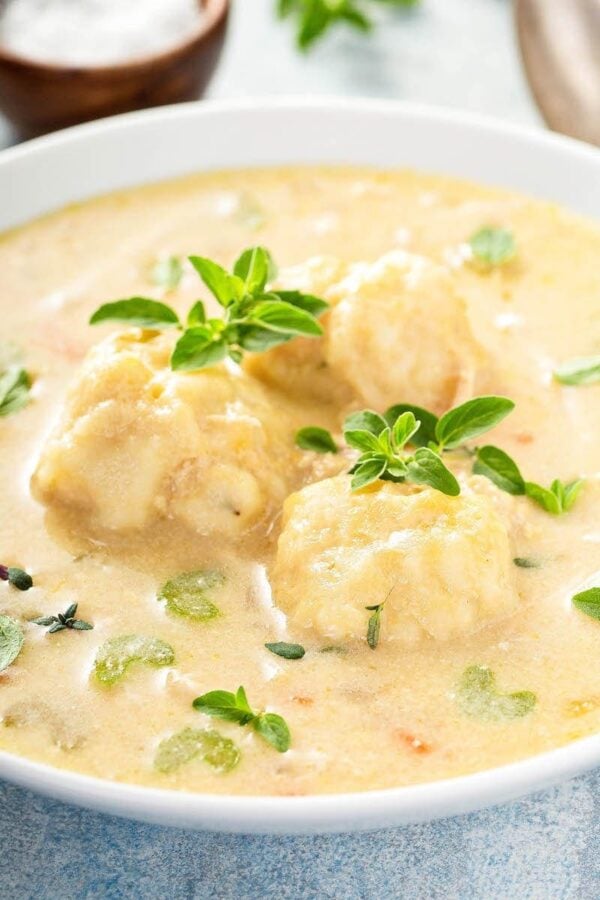 Crockpot Chicken and Dumplings
The number one recipe request I have received lately is for a crockpot version of my now famous homemade Chicken and Dumplings. And I am proud to say, I finally got it right and I am ready to share this killer Crockpot Chicken and Dumplings recipe with all of you.
Just like the original, this Chicken and Dumplings made in the crockpot has a deliciously creamy chicken soup base with lots of flavor. Then we whip up a quick batch of big fluffy homemade dumplings and drop them into the soup with a cookie scoop.
Read below to find out all the tips and tricks to make my families favorite recipe for homemade Chicken and Dumplings in the crockpot!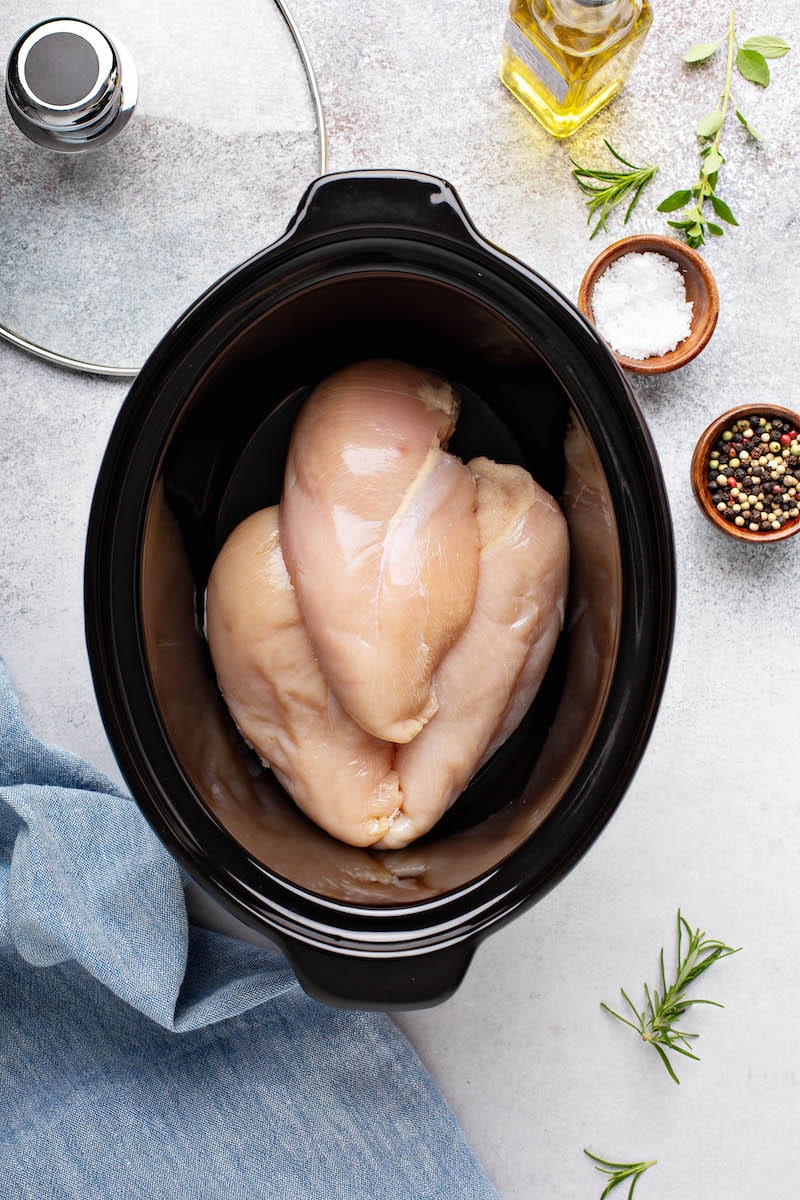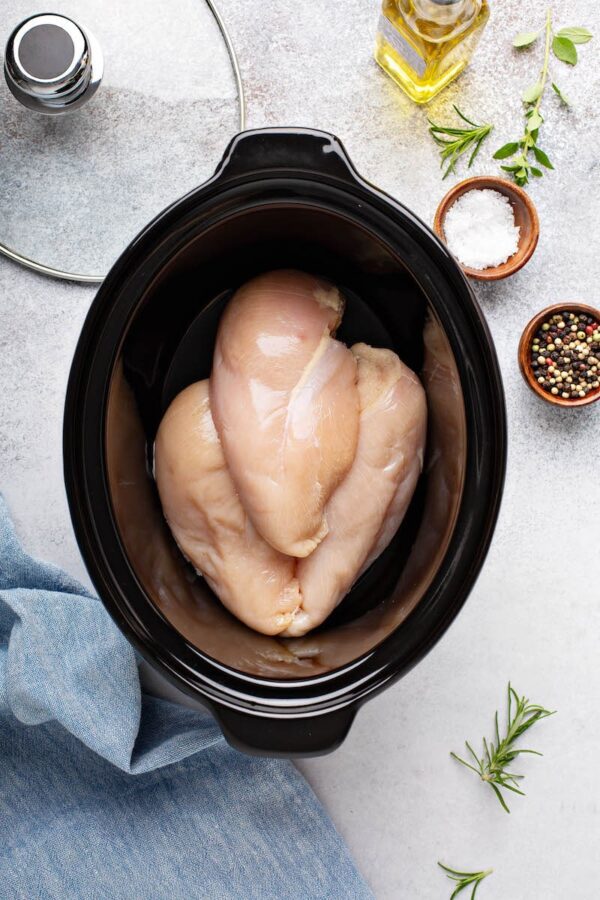 Crockpot Chicken
With the original Chicken and Dumplings recipe made on the stove top, I used already cooked shredded chicken. For that recipe, it's easier and keeps the total recipe time a little shorter. You can also grab a rotisserie chicken and shred that.
However, with the crockpot version, time is on your side. You are going to let it sit all day already! So I used chicken breasts that cook along with the veggies in the creamy broth. Then when they are cooked through and tender, we shred them.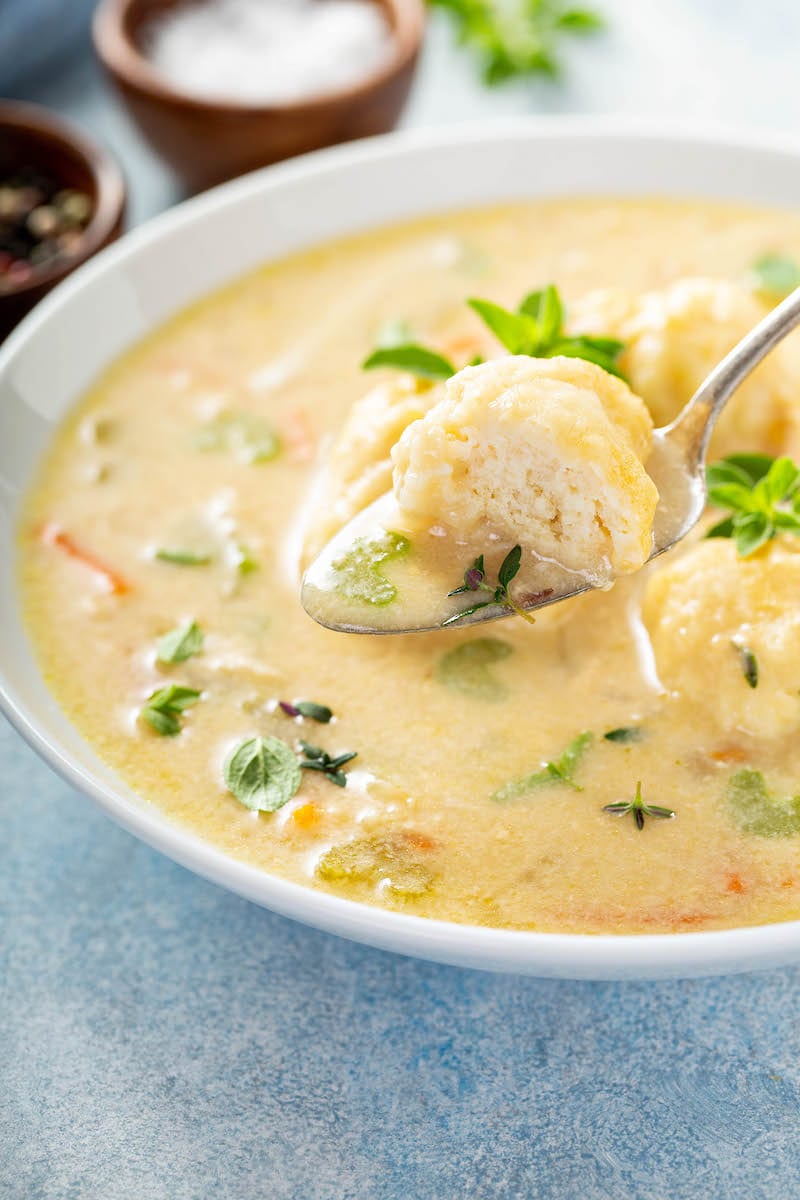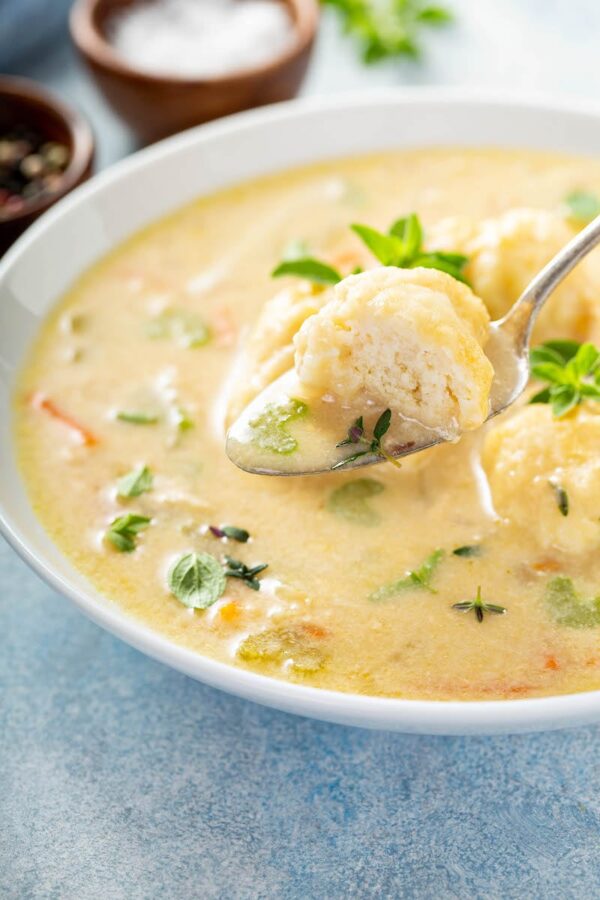 Homemade Dumplings From Scratch
You only need a few ingredients to make the homemade dumplings:
all purpose flour
baking powder
freshly cracked black pepper
salt
fresh thyme
whole milk
butter
How to make homemade dumplings:
Don't get nervous, I promise these homemade dumplings are incredibly easy to make. You literally whip all the dough ingredients together in a bowl and then drop it into the soup with a cookie scoop. There are no eggs required, no rolling out of the dough, just mix it and drop them by the scoopful into your crockpot!
To cook the dumplings, you will need your crockpot set to high and they will take about an hour to cook through. In my crockpot, they took 45 minutes, but it tends to run a little hotter than most. So I'd advise you to start checking them around 45 minutes with a knife to see if they have cooked through.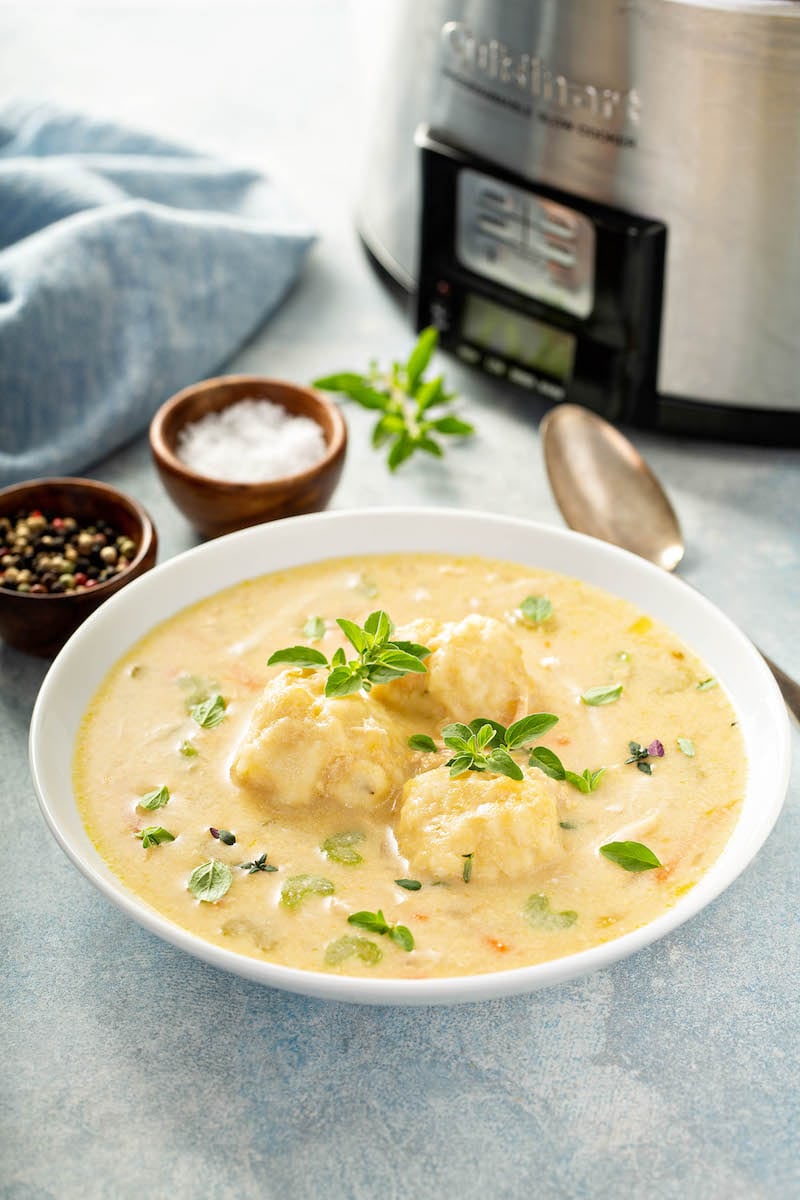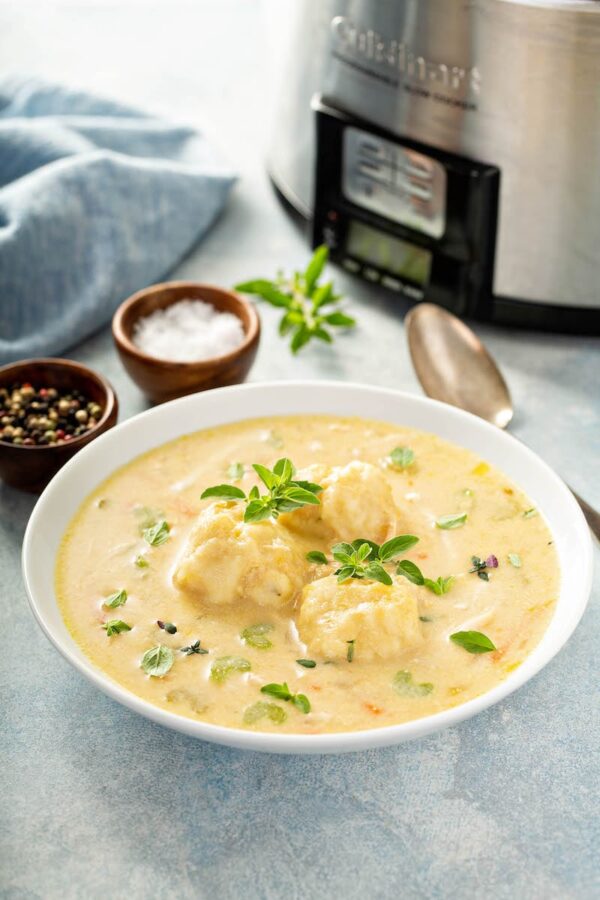 Crockpot Chicken and Dumplings Ingredients
The rest of the ingredients needed for this Crockpot Chicken and Dumplings are classic ingredients you probably already have on hand. Some things are best when they are kept simple to let the flavor shine and I absolutely think Chicken and Dumplings is one of those types of recipes!
boneless skinless chicken breasts or thighs
yellow onion
carrots
celery
garlic
chicken stock
fresh thyme
freshly cracked black pepper
salt
cornstarch
evaporated milk
However, I do have one very important secret ingredient that is absolutely KEY to making the best chicken and dumplings…evaporated milk!!
Evaporated milk is creamier when compared to whole milk, but not as thick as heavy whipping cream (and a lot less fattening as well). It creates the best broth for this chicken and dumplings recipe.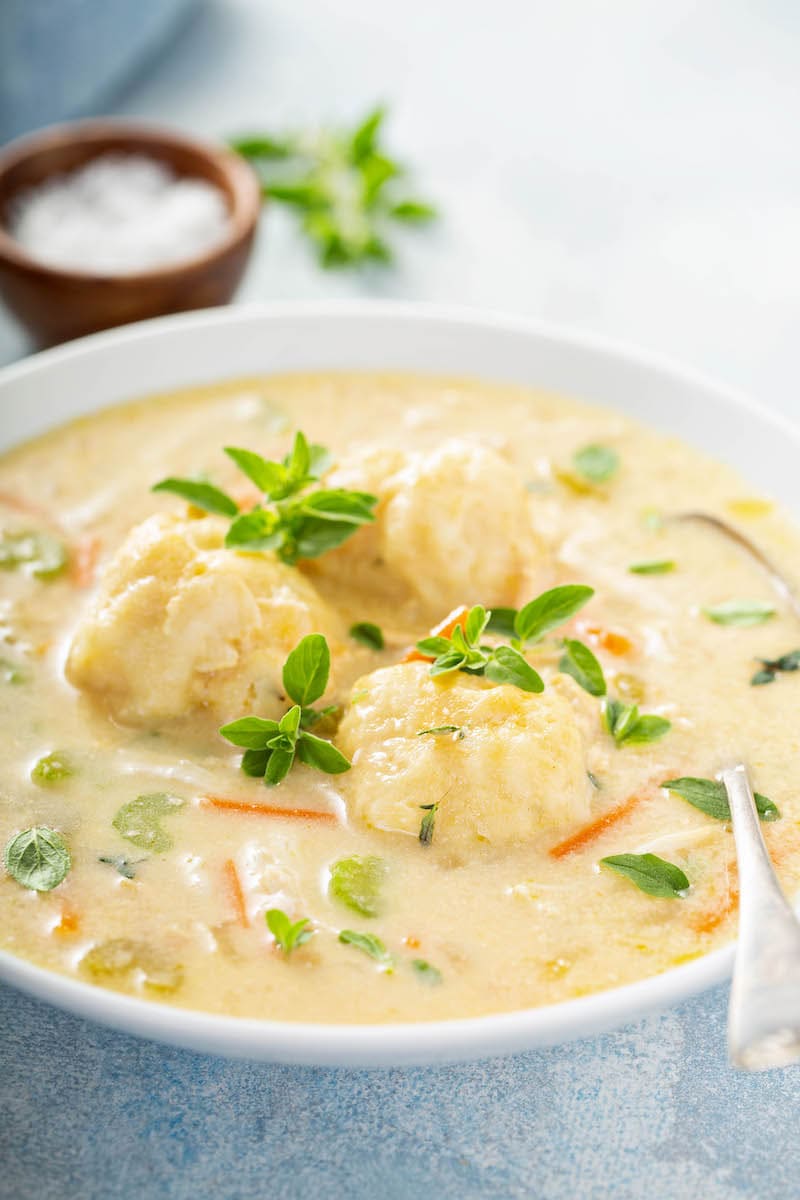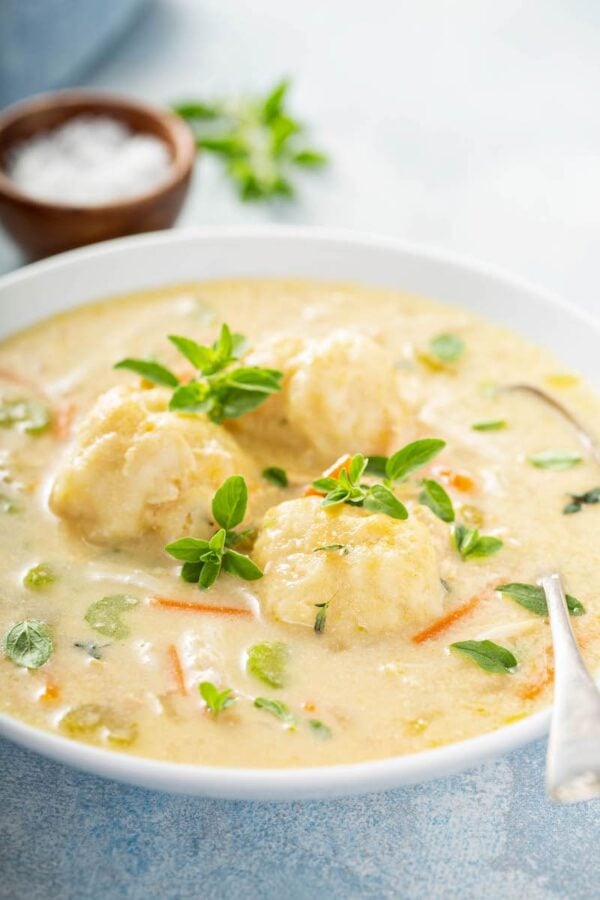 The below recipe calls for fresh thyme and it really adds a wonderful mild flavor to the Chicken and Dumplings. We add it to the soup as well as the homemade dumplings dough, but it is optional!
If you are not a fan of thyme, feel free to leave it out or substitute an Italian herb mix instead. You can also use half the thyme called for in the recipe, if desired.
This Crockpot Chicken And Dumplings recipe is based off my number one recipe on my site for homemade Chicken And Dumplings. I personally still prefer the original stove top version, because that is how I grew up making it. However this crockpot version is absolutely delicious as well!
Try them both and let me know which version your family prefers. Make sure and leave your review in the comments below!
Yield: serves 6
Crockpot Chicken and Dumplings Recipe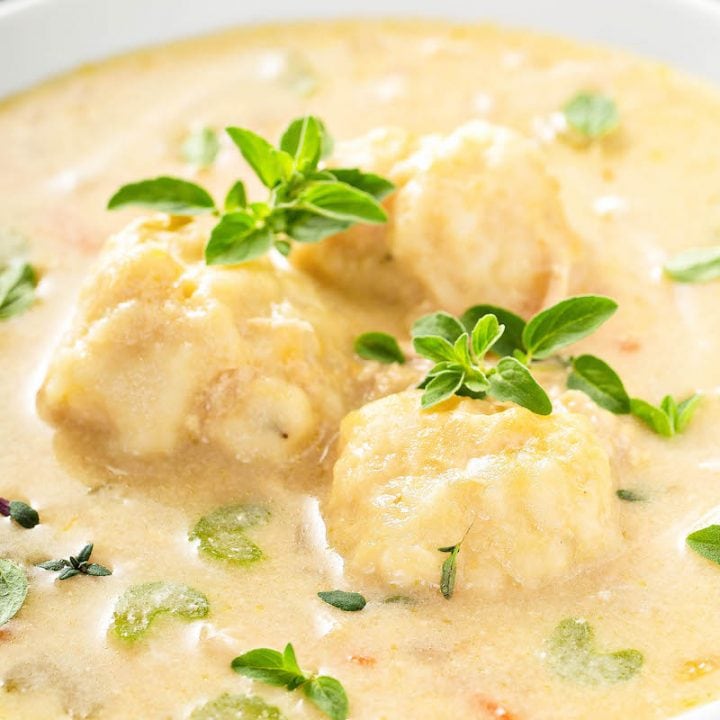 Crockpot Chicken and Dumplings Recipe: our favorite homemade chicken and dumplings with easy homemade dumplings and a secret ingredient to make it extra creamy!
Total Time
5 hours
15 minutes
Ingredients
1 pound boneless skinless chicken breasts
1 cup chopped yellow onion
1 cup matchstick carrots
1 cup diced celery
4 cloves garlic, minced
32 oz (1 quart) chicken stock
1 tablespoon fresh thyme (or 1 teaspoon dried thyme)
2 teaspoons freshly cracked black pepper (or to taste)
salt, to taste
2 tablespoons cornstarch
12 oz (1 can) evaporated milk
HOMEMADE DUMPLINGS:
2 cups all purpose flour
1 tablespoon plus 1 teaspoon, baking powder
1 teaspoon freshly cracked black pepper
1 teaspoon salt
1 tablespoon fresh thyme (or 1 teaspoon dried thyme)
3/4 cup (6 oz) whole milk
4 tablespoons butter, melted
Instructions
Add chicken, onion, carrots, celery, garlic, evaporated milk, chicken stock, thyme, pepper and salt to crockpot. Cook for 3 hours on high or 7 hours on low.
If not already set to high, set crockpot to the high setting. Remove cooked chicken from crockpot, shred and return to crockpot.
Make a slurry: place cornstarch in a bowl. Add 2 tablespoons of evaporated milk from the crockpot into the cornstarch and stir. Continue adding evaporated milk 1 tablespoon at a time until you reach 4 tablespoons total of broth added. Stir the slurry into the soup, this will help to thicken the soup.
Dumplings: In a large bowl, whisk together flour, baking powder, pepper, salt and thyme. Make a well in the center of the flour mixture and pour the milk and butter into the center of it.
Using a wooden spoon (or rubber spatula), stir together until dough ball forms. If your dough seems too dry, you can add an extra tablespoon of milk.
Using a medium sized cookie scoop, scoop dough and drop directly into the simmering soup. Place them around the pot, not all in the same place.
Once all dumplings have been added, gently press them down so the soup runs over just the tops of them.
Place the lid on your crockpot and let cook for 1 hour and then cut one dumpling in half to make sure they are cooked through. (Your dumplings will possibly bake together on top in your crockpot, if this happens, just gently break them apart into large chunks again with your spatula. They will still taste exactly the same!)
If the dumplings are cooked through, serve hot and enjoy! If not, cook an additional 15 minutes and check again.
Notes
This recipe has been updated to add the evaporated milk after you cook the chicken and broth all day. Some readers were having issues with the evaporated milk curdling. I could not recreate the issue in my own kitchen, but I believe adding the evaporated milk later in the recipe should avoid this possible issue all together!
Recommended Products
I am an Amazon affiliate member and I earn a small percentage from qualifying purchases. Thank you!
Nutrition Information:
Yield:
6 servings
Serving Size:
1 serving
Amount Per Serving:
Calories:

552
Total Fat:

19g
Saturated Fat:

10g
Trans Fat:

0g
Unsaturated Fat:

7g
Cholesterol:

111mg
Sodium:

997mg
Carbohydrates:

56g
Fiber:

3g
Sugar:

14g
Protein:

38g
Want to Save This Recipe?
If you are looking for more great crockpot chicken recipes, check out these other reader favorites: Crockpot French Onion Chicken, Slow Cooker Chicken Tortilla Soup and Taco Ranch Chicken Chili!
This post may contain affiliate links. Read my disclosure policy.