It's a hug in a bowl! This easy, Crockpot Cabbage Roll Soup is packed with veggies, beef, and bacon. You get all the coziness of homemade cabbage rolls, with only a fraction of the work.
The Perfect Meal for a Chilly Evening!
It's definitely cold weather soup time, and for us, that means turning to our trusty Crockpot. There's nothing like having a delicious fall or winter soup quietly simmering away all afternoon, and the Crockpot allows for plenty of quiet simmering without the worry of a stovetop scorching disaster!
This soup is a deconstructed version of classic cabbage rolls, with all the flavor of those beloved little rolls but without all the filling/rolling/baking tasks! It's warming, comforting, and full of nutrition, which is why I love making it for my family! Cooking can definitely be a way to show your love for your family and friends, especially when you're making a recipe as cozy as this one.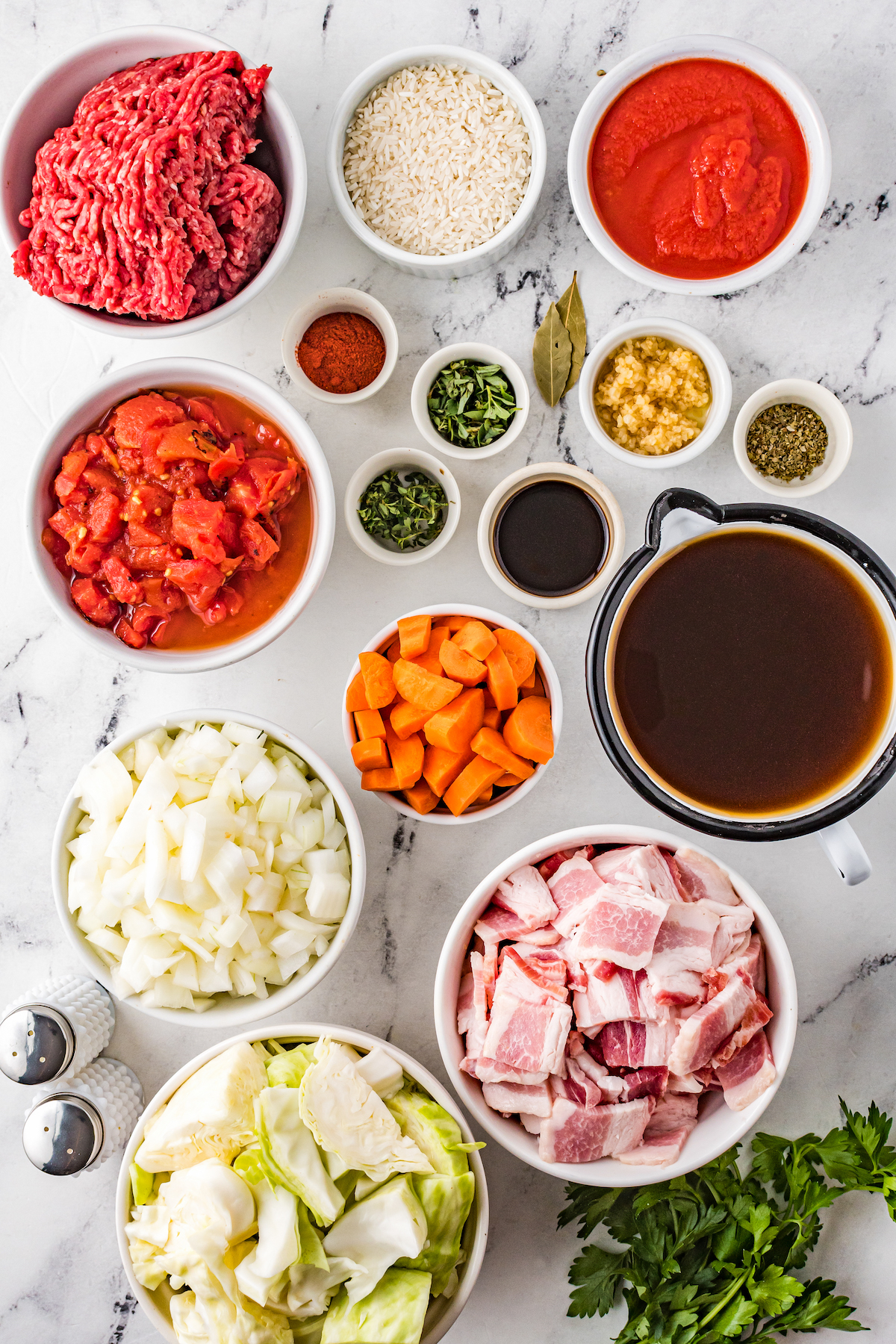 Recipe Ingredients
My recipe for cabbage roll soup uses bacon (and plenty of it) in place of the more traditional salt pork. It adds an extra layer of meaty, smoky, salty flavor that everyone loves.
Onion: You'll need to dice up a large onion. Any kind is fine!
Bacon: I use a whole pound of bacon, diced, in this recipe.
Ground Beef: Using lean ground beef will usually result in a less greasy soup, but you can also use a less lean ground beef and simply drain it well.
Garlic: Fresh garlic is good, but garlic powder will also work just fine. If you use garlic powder, use about ⅓ teaspoon for every garlic clove.
Carrots: Wash, peel, and chop a few carrots. They add color, sweetness, and lots of nutrition!
Cabbage: While some recipes call for cabbage shreds or slices, I like to chop mine. It's easier to eat!
Tomatoes: You'll need a large can of diced tomatoes. Fire-roasted are my go-to for this comforting soup.
Tomato Sauce: Canned tomato sauce gives the broth plenty of color and depth of flavor.
Broth: Since this soup is made with ground beef, I generally use beef broth, but you could use vegetable broth or chicken broth as well. Start with 6 cups, and add more, if it doesn't seem "soupy" enough.
Rice: Just like classic cabbage rolls, this recipe includes a small amount of rice to add body and some yummy carbs!
Worcestershire: Using Worcestershire sauce is a quick way to add a punch of umami flavor to the soup broth.
Smoked Paprika: Along with the fire-roasted tomatoes, smoked paprika adds color and some delicious smoky flavor.
Thyme, Parsley, and Marjoram: Dried herbs are fine, or you can mince fresh herbs instead. Just avoid any tough stems.
Salt and Pepper
Bay Leaves: The classic fragrance of bay leaves adds the perfect touch to this wholesome soup.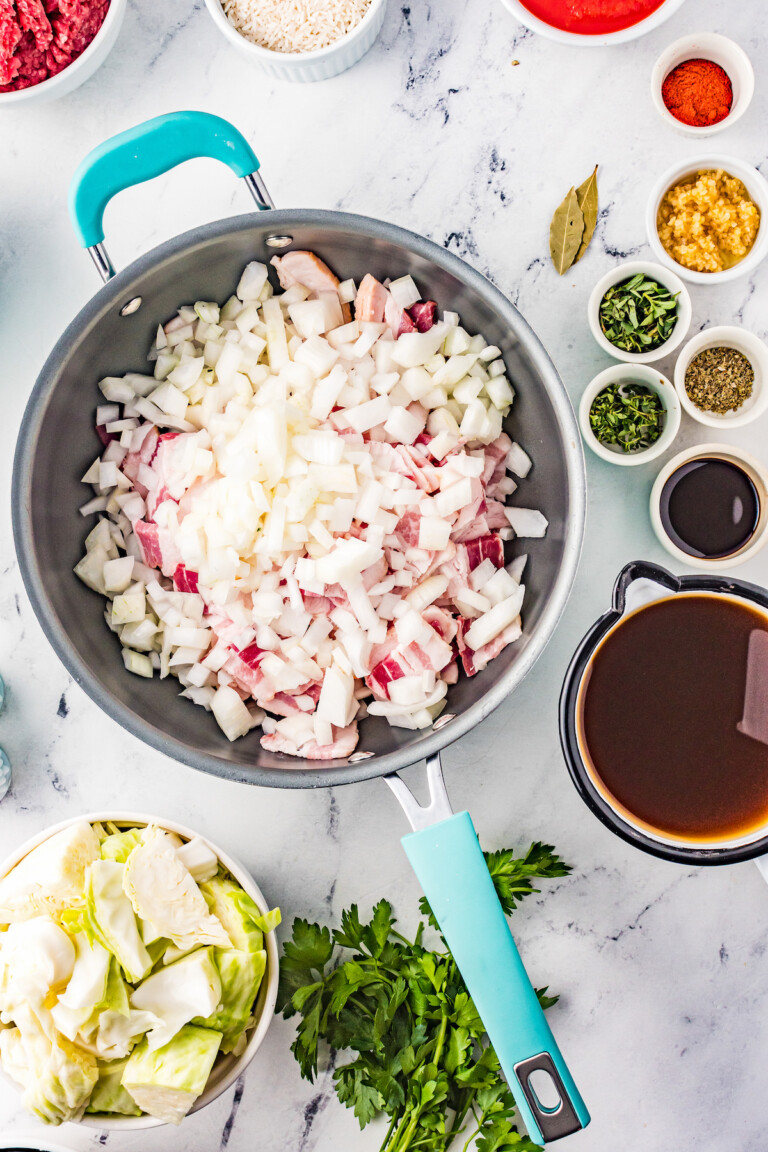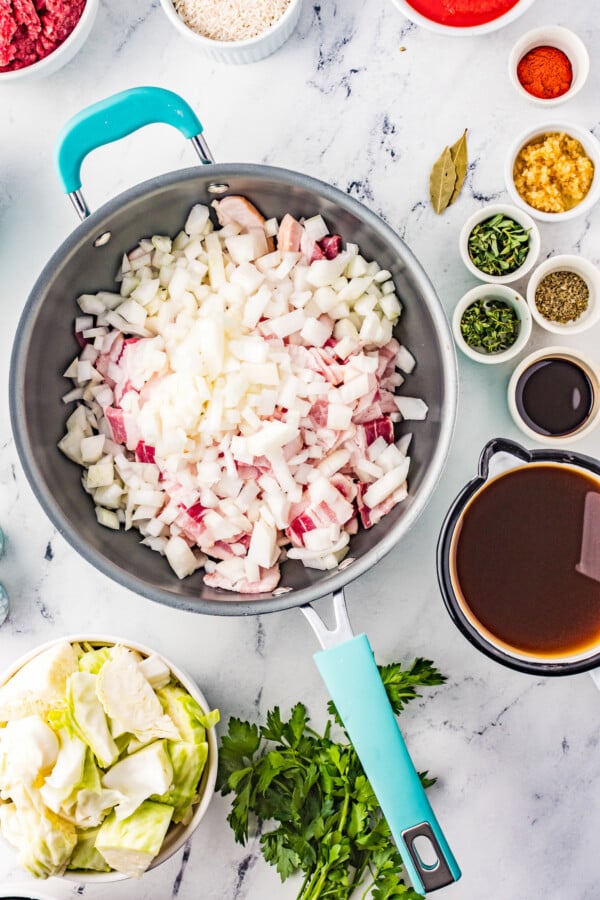 How to Make Crockpot Cabbage Roll Soup
You will need to do a little bit of pre-cooking for this recipe: sautéing the bacon and onions, and browning the ground beef. It only takes a few minutes and one pan, and can be several hours ahead of time if you prefer! Just store the cooked ingredients in the Crockpot insert in the fridge until you're ready to cook.
Pre-Cook the Bacon, Onions, and Beef. In a large skillet, saute the bacon and onion until the bacon is nearly cooked, and the onion is softened. Remove the bacon and onion from the pan, and add them to the crockpot. Pour any excess grease out of the skillet, set it back on the heat, and brown the ground beef. Break the meat apart as it cooks, and then drain any excess grease and add the meat to the crockpot.
Add Remaining Ingredients to the Crockpot. Add all of the remaining ingredients, except the bay leaves, to the crockpot. Give it all a stir to combine, and then place the bay leaves on top.
Cook. Cover the Crockpot, and slow-cook the soup on high for 3 hours or on low for 5 – 6 hours.
Enjoy! Remove the bay leaves, stir the soup one last time, and serve.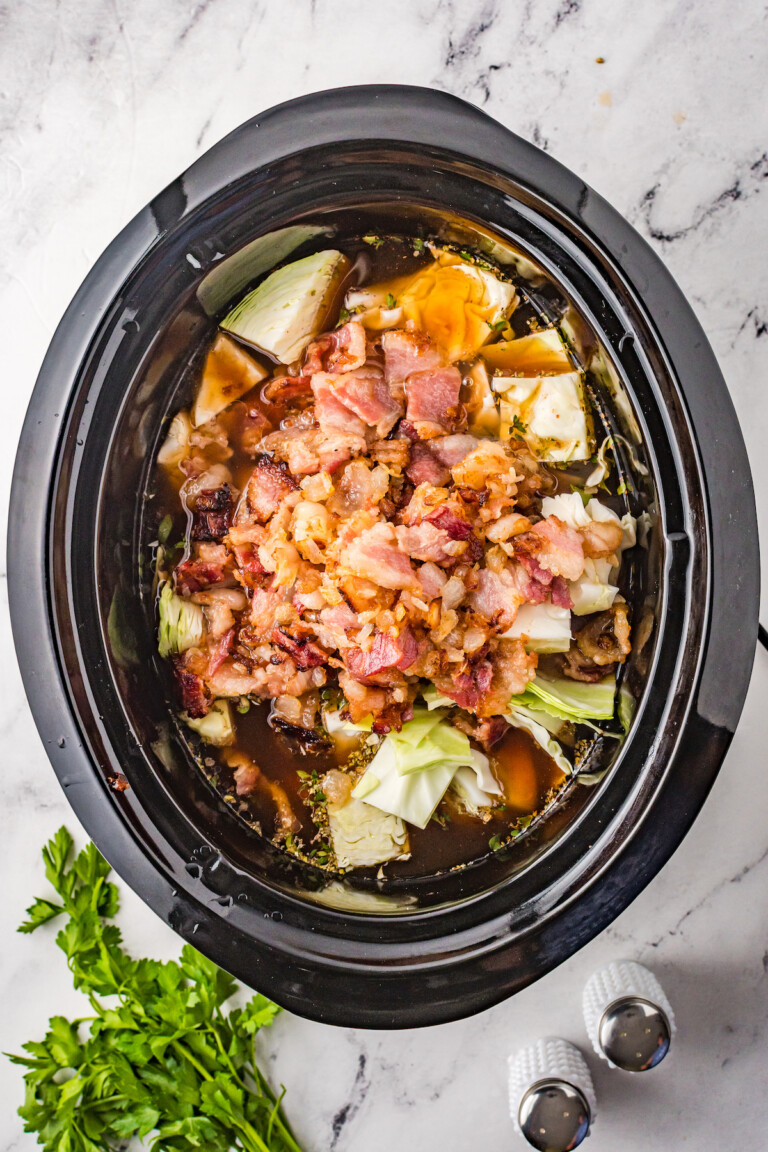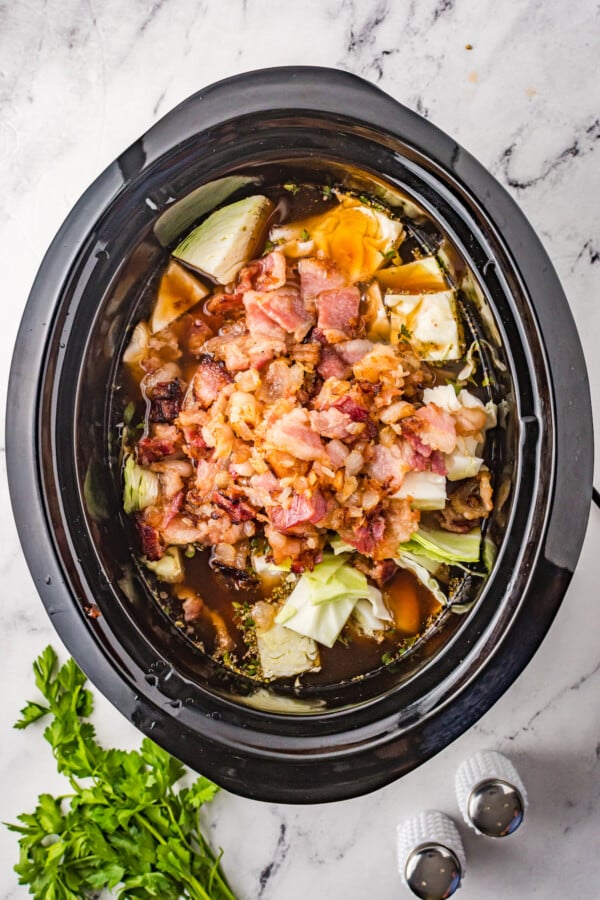 Tips for Success
When it comes to cabbage roll soup, there are a few helpful tips you should know before you get started! Here are my top three tips for the best cabbage roll soup:
Add the Rice Separately: This one is important if you're planning on having leftovers! If you will serve the soup again at some point, then leave out the rice. Cook some rice on the side and stir it into each helping. Keeping the rice out of the soup pot will help keep the rice from breaking down, turning to mush, and over-thickening the soup.
Use Potatoes Instead of Rice: Another option if you're planning to serve leftovers is to replace the rice with a small amount of diced potatoes. They hold their shape well in soup!
Make It Faster on the Stove
This soup can also be made on the stovetop in about half an hour! Here's how:
Cook the Bacon and Onion. Sauté the bacon and onion in a soup pot or Dutch oven until the bacon is nearly cooked, and the onion has softened. Remove the bacon and onion to a plate or bowl, drain any excess grease from the soup pot.
Cook the Ground Beef. Brown the ground beef in the pot, breaking it apart as it cooks.
Combine all Ingredients and Simmer. Add the bacon, onion, and all remaining ingredients back to the soup pot. Bring to a boil, and then reduce the heat to low. Simmer the soup gently for 20-30 minutes, until the vegetables are tender.
Serve. Remove the bay leaves and adjust the seasoning as needed.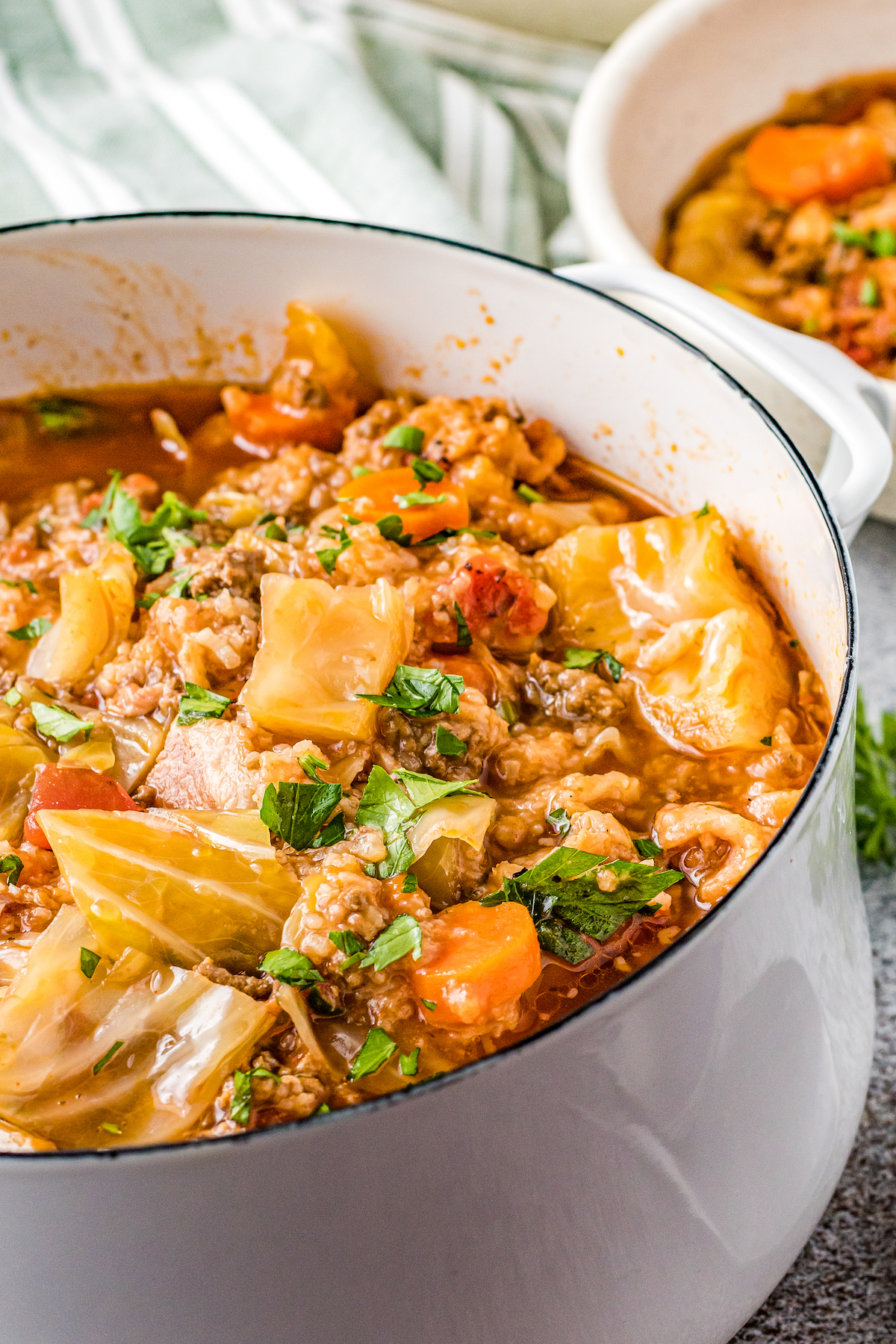 Variations
While this recipe closely mimics the taste of cabbage rolls, it's also a great base to build your own vegetable soup on! You can make all kinds of swaps and adjustments to customize this easy dish!
Veggie Swaps: From cubed winter squash to schooled kale to mushrooms and snap peas, you can add almost any veggies to the soup. It's a great opportunity to clear out your crisper, or use fresh, seasonal produce.
Meat Swaps: In addition to bacon and ground beef, you can use lots of different proteins here:

For the bacon: Try using bulk Italian sausage crumbles, sliced andouille, crisply cooked pancetta or Parma ham, or diced leftover ham.
For the ground Beef: Substitute ground turkey or chicken, cubes of round steak, or diced leftover pot roast.
Vegetarian Options: Make the soup vegetarian by swapping chickpeas, cannellini beans, or lentils for the ground meat, or substantial, filling veggies like corn, potatoes, mushrooms, broccoli, etc. You can also use kasha or barley in addition to, or in place of, the rice.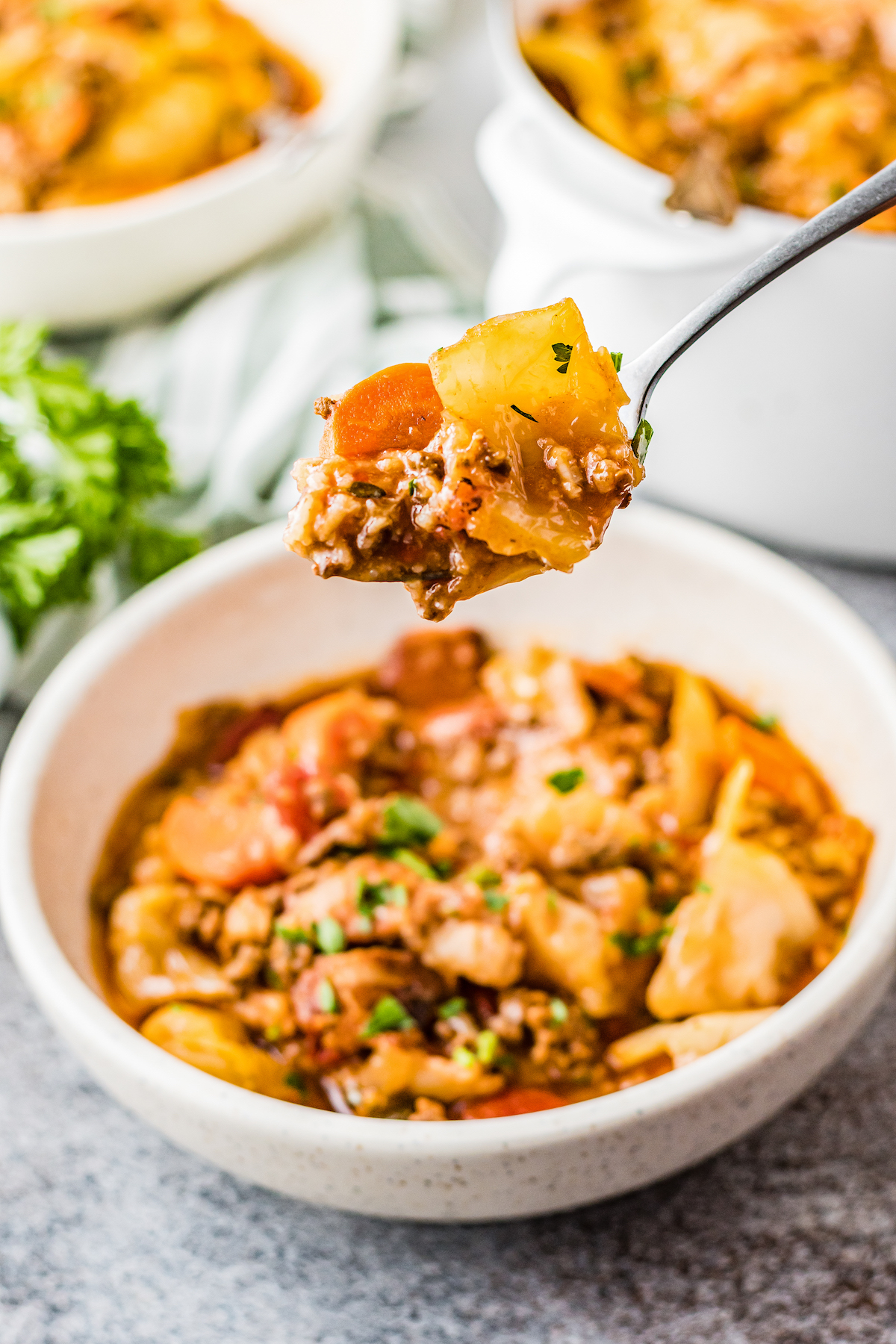 Serving Suggestions
To serve cabbage roll soup, the easiest side dish is probably a simple garlic bread or roll—and to be honest, you don't really need that! It truly is a one-pot meal. But if you'd like to make a side or two, here are some that you'll love:
Bread: Garlic bread gets a tangy makeover in this easy Goat Cheese Garlic Bread recipe! Creamy, crunchy, and full of flavor, it's perfect with a big bowl of soup.
Potatoes: Classic baked potatoes would be great with cabbage roll soup, or you could make Rosemary Hasselback Potatoes for a more upscale version. The fragrance of rosemary is complete perfection with a freshly roasted potato, crispy on the outside and steaming on the inside, topped with melting butter.
Salad: Your body will thank you! Cabbage roll soup and a fresh garden salad is not just a delicious meal, it's full of fiber and amazing nutrition, too! Try a simple iceberg wedge salad, or make a colorful Greek Salad with a yummy vinaigrette dressing.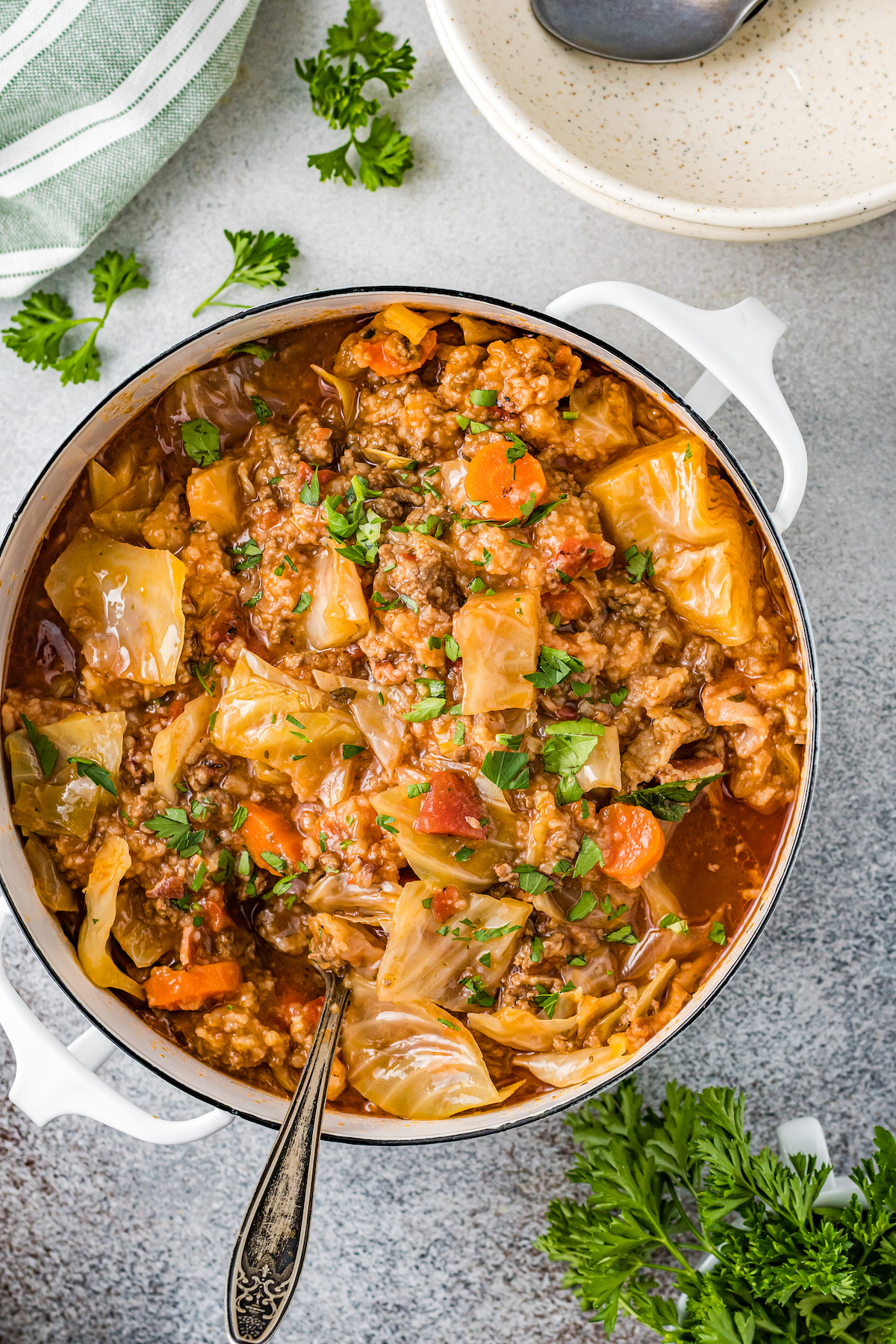 How to Store and Reheat Leftovers
One of the best things about cabbage roll soup? The leftovers, you guys! Leftover soup is well-known to be even better than freshly-made soup, because the ingredients have had more time to meld. Just reheat, and enjoy.
To refrigerate, store leftover soup in an airtight container and keep in the refrigerator for up to 5 days.
To reheat, place the desired portion in a covered saucepan over low or medium heat. Cook, stirring occasionally, until piping hot all the way through.
Can I Freeze Cabbage Soup?
Definitely! In fact, this is a great recipe to double (if you have a large enough Crockpot, or two Crockpots) so that you can freeze half. Just portion the soup into single-serving amounts in small freezer bags. Then place the freezer bags on a tray or cookie sheet to freeze, so that they freeze flat and stackable. The soup will stay good for up to 3 months. Thaw overnight in the refrigerator before reheating.
Easy Crockpot Cabbage Roll Soup
It's a hug in a bowl! This easy Crockpot Cabbage Roll Soup is packed with bacon, ground beef, and a ton of vegetables. It's got all the coziness of homemade cabbage rolls—and only a fraction of the work.
Ingredients
1

large onion

,

diced

1

pound

thick bacon

,

diced

1

pound

ground lean beef or turkey

3

cloves

garlic

,

minced

1

cup

chopped carrots

5

cups

chopped cabbage

1 28-

ounce

can diced fire-roasted tomatoes

1 16-

ounce

can tomato sauce

6 to 8

cups

beef broth

,

start with 6 and add more, if desired

¾

cup

long grain rice

1

tablespoon

worcestershire sauce

1 ½

teaspoon

smoked paprika

¾

teaspoon

dried thyme

2

tablespoons

parsley

½

teaspoon

marjoram

Salt and pepper

,

to taste

2

bay leaves
Instructions
In a large skillet, saute the bacon and onion until the bacon is nearly cooked, and the onion is softened. Spoon out the bacon and onion, and place it into the crockpot. Discard any excess grease from the skillet.

Add the ground meat to the skillet and cook, breaking apart with a spatula, until cooked through. Drain any excess grease and add hamburger meat to the crockpot.

Add all the remaining ingredients, except the bay leaves, into the crockpot. Stir to combine and then place the bay leaves on top.

Cover, and slow-cook on high for 3 hours or on low for 5 – 6 hours.

Remove the bay leaves, stir the soup one last time, and serve.
Nutrition
Serving:
1
,
Calories:
819
kcal
,
Carbohydrates:
29
g
,
Protein:
79
g
,
Fat:
42
g
,
Saturated Fat:
15
g
,
Polyunsaturated Fat:
24
g
,
Cholesterol:
163
mg
,
Sodium:
2144
mg
,
Fiber:
8
g
,
Sugar:
12
g
More Homemade Soup Recipes
It's soup season! If you are looking for more amazing, but easy soup recipes, I got your back. Here are a few of my favorites I think you will love too:
This post may contain affiliate links. Read my disclosure policy.