Super creamy and perfectly chunky, this poblano corn soup is loaded with the creamy, spicy comfort of your favorite Tex-Mex ingredients. With bits of potatoes, poblano, and corn, this hearty soup always hits the spot!
Easy Poblano Corn Chowder
Blended or chunky for a nice bite, this easy poblano corn soup is a bowl of Tex-Mex comfort food at its best. Every spoonful is smokey, sweet, mildly spicy, and delightfully creamy. With a pop of color from a bit of fresh cilantro, it'll be your new favorite way to use up fresh, canned, or frozen corn.
Aside from the potatoes and poblanos in this soup, the flavor base is quite simple but unbelievably good: garlic and leeks. Rounded out with butter, milk, half & half, and sour cream, it's a heavenly rich recipe that's waiting to meet your pot this week.
Thickened with a secret ingredient for a perfectly hearty poblano corn soup, it's a great addition to any Tex-Mex meal. With bursts of bright yellow corn and deep green poblanos, there's no way anyone will resist a helping or two— especially if topped with some cheddar or bacon!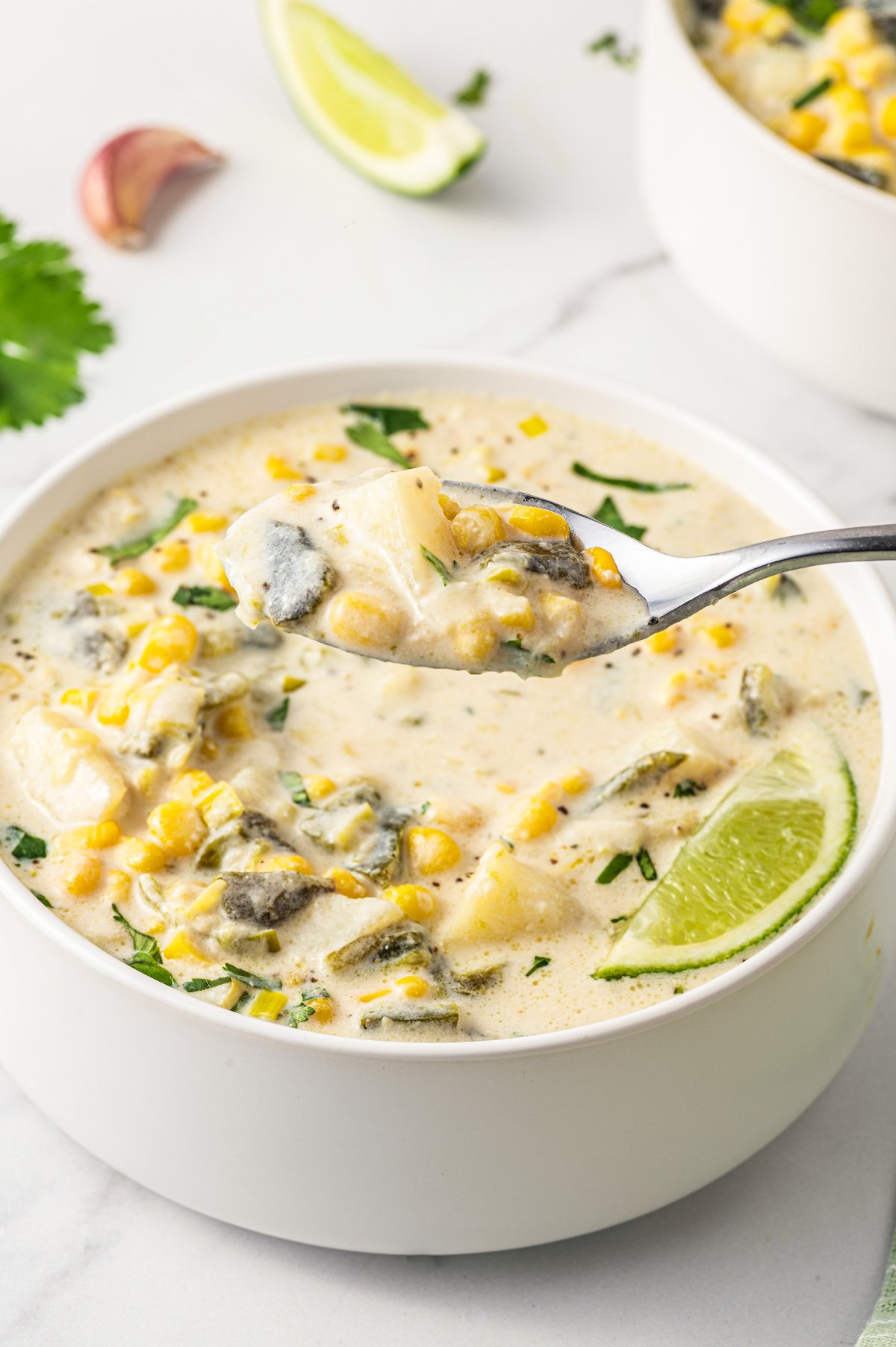 What Are Poblano Peppers?
Poblano peppers, also called chiles poblanos, are a widely used fresh green pepper in Mexico. They're quite large in comparison to jalapeños and serranos, being 6-7″ in length. In terms of shape, they're like an elongated, deflated version of green bell peppers. You can also think of them as huge, slightly flat jalapeños.
Once roasted and peeled, poblanos are used in many different salsas, soups, and dishes like chiles rellenos or rajas con crema. Their sweetness is perfect for adding a bit of heat and color without making the dish overwhelmingly spicy.
Are Poblano Peppers Spicy?
Not at all! Poblanos are actually some of the mildest Mexican peppers, according to the Scoville heat scale. They're a lot like green bell peppers, with only 1,000-2,000 heat units. In comparison to jalapeños, serranos, and habaneros, poblano peppers are quite sweet.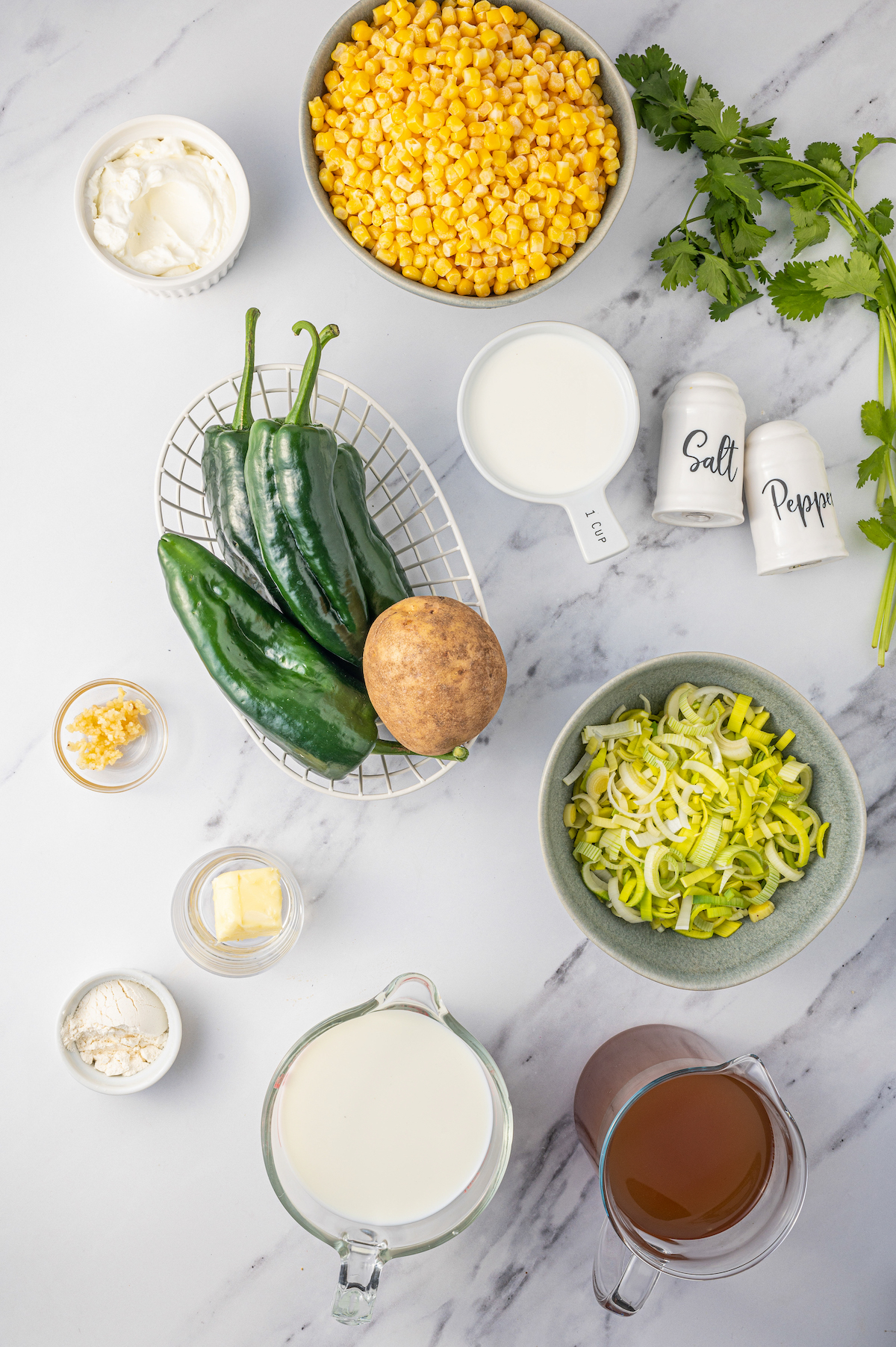 Recipe Ingredients
Poblanos, corn, and milk are the most important ingredients for this poblano corn soup. Check the recipe card at the bottom of the post for full ingredient amounts.
Poblano peppers – There's no substitute for these.
Butter – I prefer unsalted butter, but feel free to use salted butter.
All purpose flour – Don't swap it for cornstarch. You can leave it out but your soup won't thicken as much.
Leeks
Garlic – Please don't use garlic powder.
Fresh corn kernels – Canned or frozen corn works too.
Russet potato – Idaho and Yukon Gold potatoes are a good alternative.
Chicken stock – Veggie stock works too if you want to keep this soup vegetarian.
Milk – I prefer full-fat, but feel free to use low-fat. Don't use plant-based milk.
Half & half – You can use heavy cream instead.
Sour cream – Mexican crema is a great substitute.
Salt and pepper
Cilantro
Can I Use Frozen Corn?
Yes! You'll need to thaw it overnight in the fridge and then drain it. If you add it to the soup straight from the freezer, it'll release too much excess moisture. If you're in a rush, you can place the bag of frozen corn in a bowl with warm water for it to thaw much faster.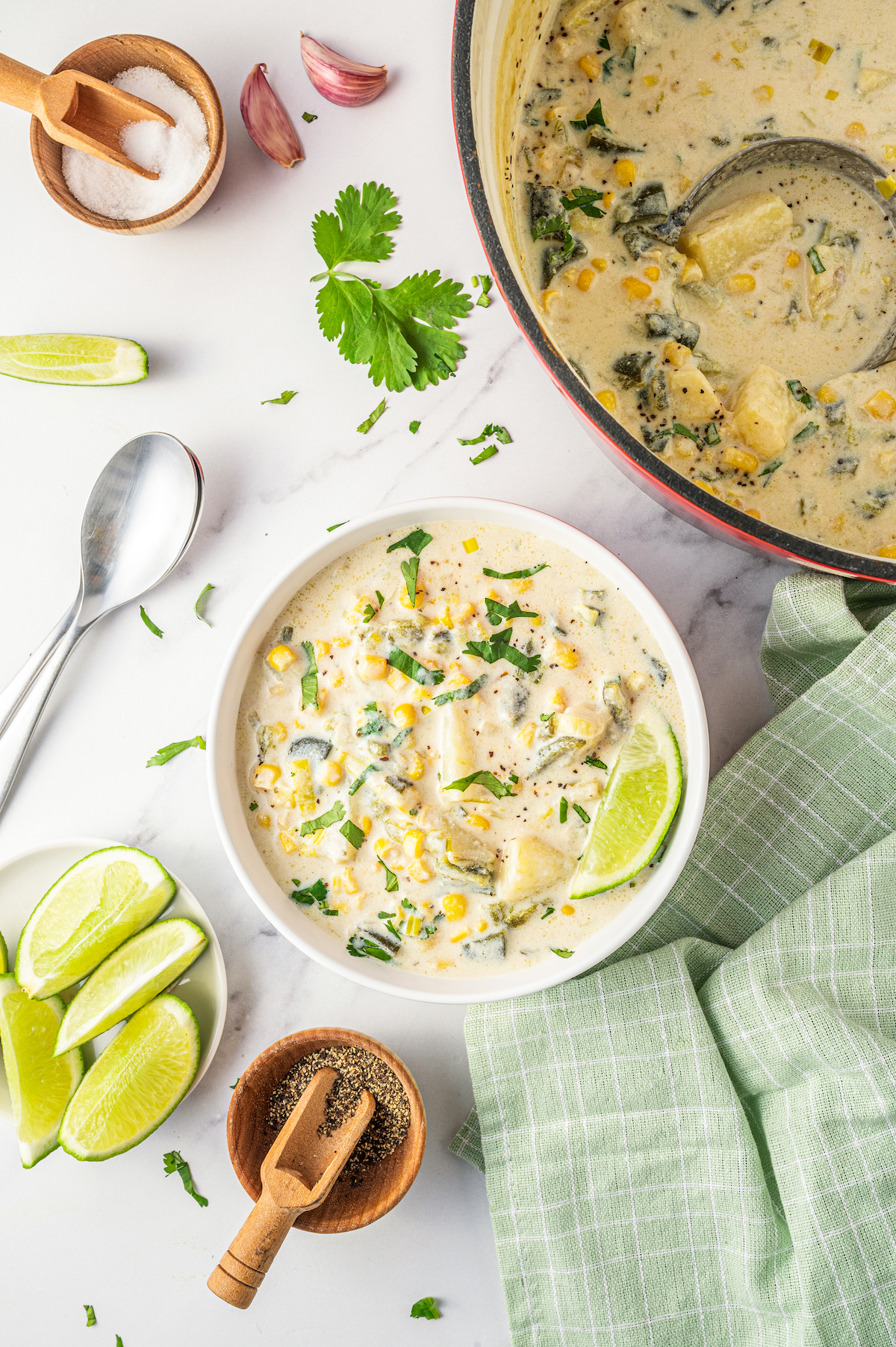 How to Make Creamy Poblano Corn Soup
Once the poblanos are peeled, all you have to do is melt the butter and throw everything into the pot.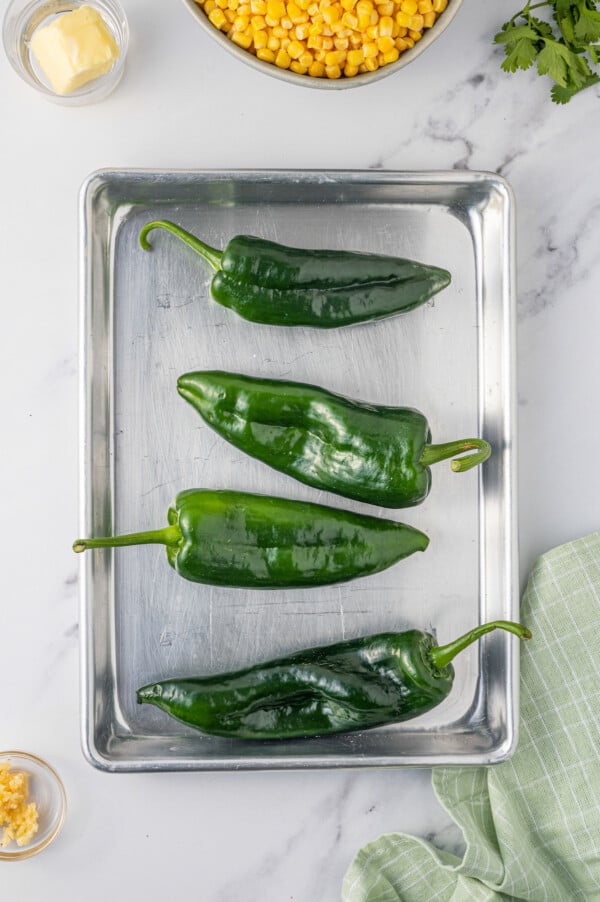 Roast the poblanos. Set the oven to its broiler setting. Place the poblano peppers on a baking sheet. Roast the poblanos for 15-20 minutes, flipping them over halfway through the roasting time. They should be charred and black on all sides.
Peel the poblanos. Use kitchen tongs to carefully remove the poblanos from the oven. Transfer them to a plastic bag and seal it. Steam them in the bag for 8-10 minutes or until the skin is easily removed. Discard the bag and use your thumbs to gently rub against the blackened skin to remove it. Doing this under running water also helps.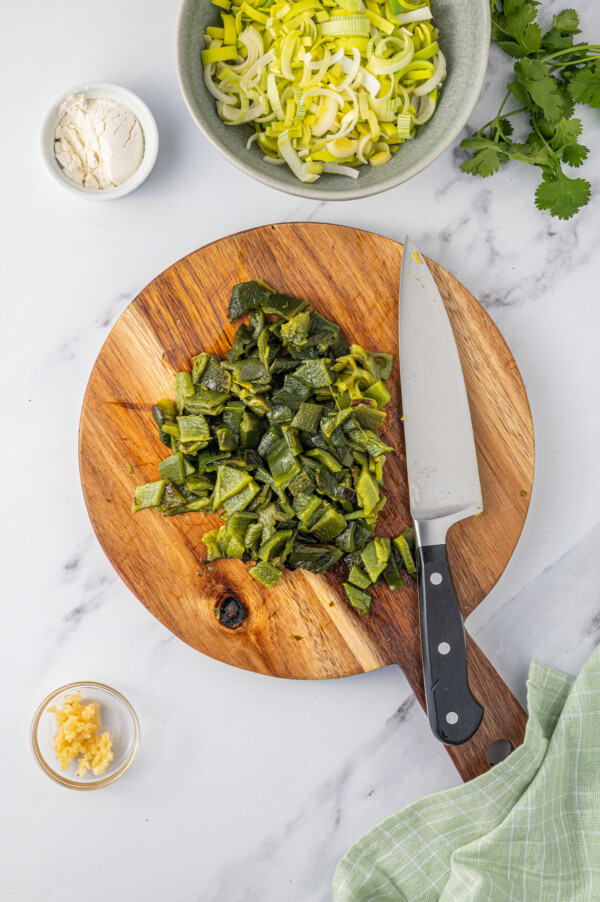 Cut them. Use a sharp knife to dice the peppers into bite-size pieces. Set them aside.
Melt the butter. Place a large pot over medium-high heat. Add the butter and let it melt. Add the flour and let it cook for 1 minute, stirring constantly. Make sure to break up any large lumps.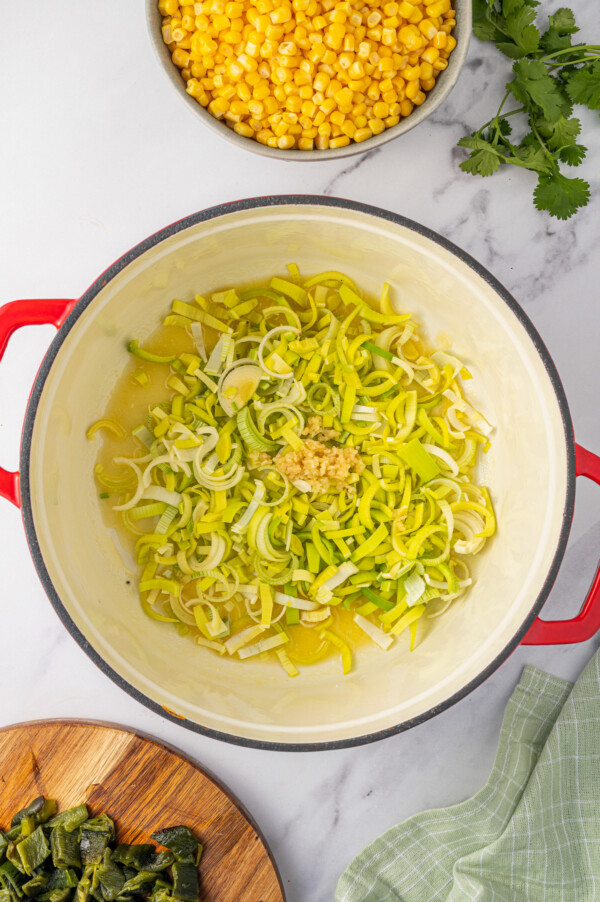 Cook the garlic. Add leeks and garlic. Cook them for 2-3 minutes or until soft and fragrant.
Add the corn. Add the diced poblanos, corn, and potatoes to the pot.
Make it creamy. Pour in the chicken stock, milk, and half & half. Bring it to a boil, then lower the heat to medium-low. Simmer it for about 30 minutes, uncovered, until the potatoes are cooked. They should be fork-tender.
Serve. Remove the soup from the heat. Stir in the sour cream. Season with salt and pepper to taste. Garnish the soup with cilantro and serve immediately.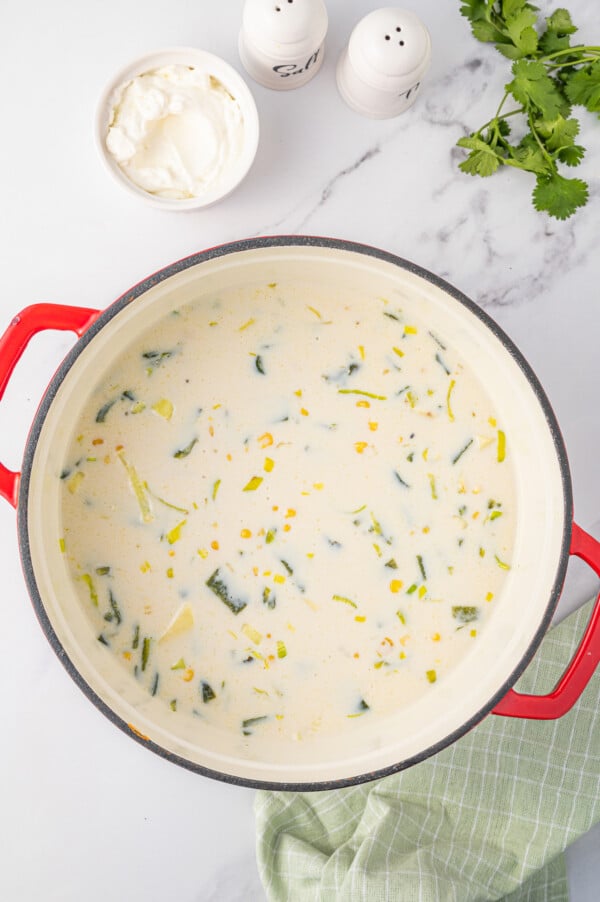 Tips for Success
You'd be surprised what bacon and store-bought roasted poblanos can do for you and this poblano corn soup. Check out these tips to save yourself lots of time and add more flavor:
Add bacon. Cook 3-4 bacon strips and reserve the drippings. Set the bacon aside. Replace the butter with the drippings for a smokier flavor in your soup. Crumble the bacon and use it as a garnish.
Buy peeled poblanos. Most Mexican supermarkets sell roasted and peeled poblanos. If you can get a hold of them, you can save yourself lots of time.
Use frozen poblanos. Thawing frozen poblanos and draining the excess liquid will help you throw this recipe together extra quickly throughout the week.
Switch the garnishes. Crumbled tortilla chips, chicharron, shredded cheddar, and sliced avocado are great garnish options to switch up this recipe.
Blend it. Process the soup without the poblanos and corn (don't add them until after you blend it) to make it extra thick and hearty. Then add the poblanos and corn for a bit of chunkiness.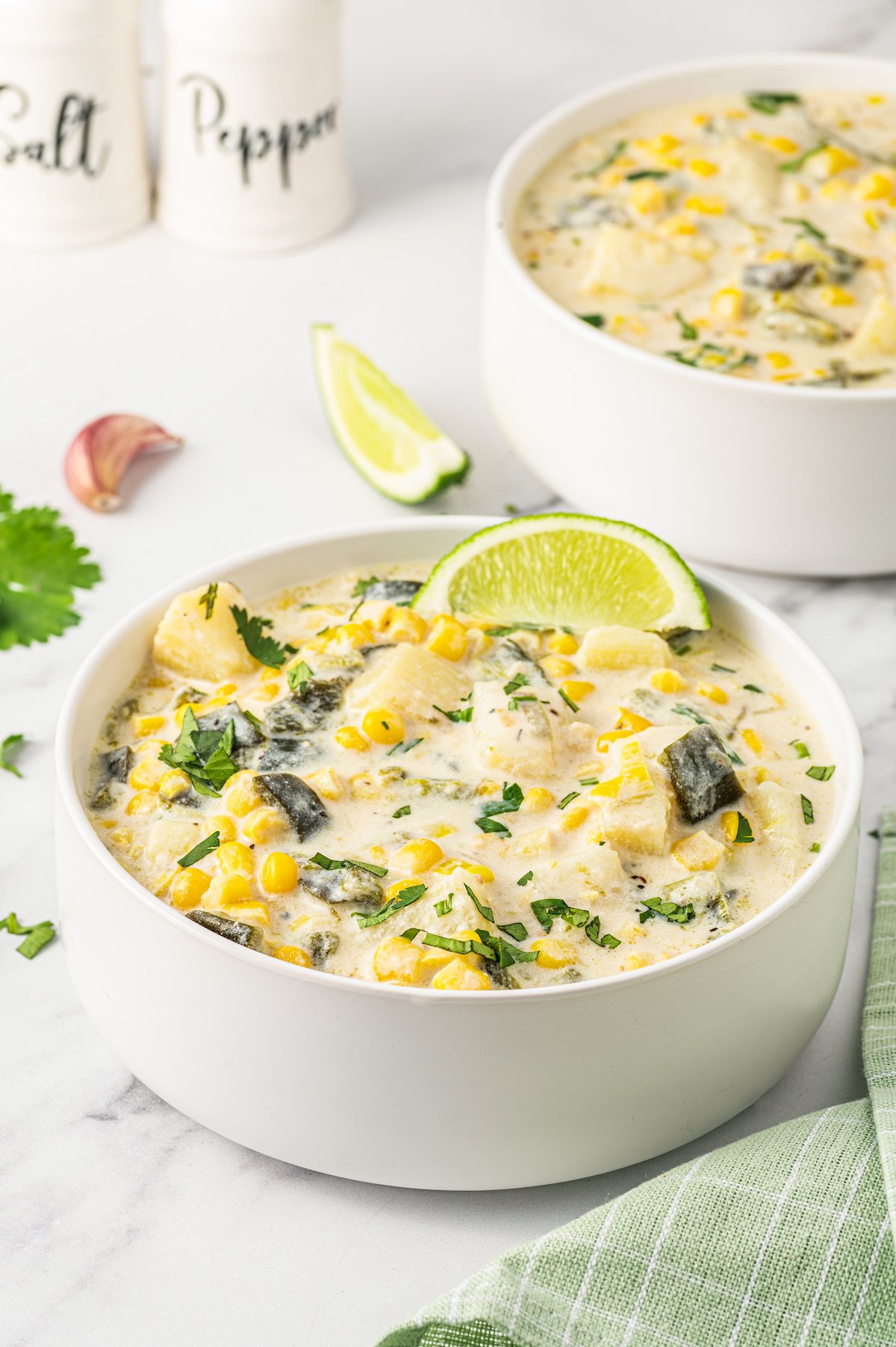 What to Serve With Roasted Poblano Soup
This poblano corn soup is perfect with all your Mexican and Tex-Mex meals! If possible, try not to serve it with very saucy mains, to keep things from getting too soupy but it's up to you.
Try it with my Chicken Enchilada Pasta Bake or Mexican Casserole if you're looking for an easy, one-dish main. However, my Birria Tacos, Lechon Asado, and Homemade Chicken Empanadas are great options for when you have a little more time on your side.
How to Store & Reheat Leftovers
Once fully cooled, refrigerate this poblano corn soup in an airtight container for up to 4 days. Since it is milk and cream-based, be extra careful not to leave it on the counter for long when serving or reheating because it can spoil quickly.
Reheat it in the microwave for up to a minute, stirring halfway through, or until warm. You can also heat it in a pot over medium heat for 4-6 minutes.
This soup can also be frozen. Check the next section for more details on how to freeze it properly.
Can I Freeze This?
Yes, but you'll have to skip the potatoes, milk, half & half, and sour cream.
Potatoes don't freeze well and have a funny texture when thawed, so it's best to freeze the soup without them and add them when you're ready to enjoy it. Also leave the milk, half & half, and sour cream out because they will separate from the mixture.
Transfer the frozen soup to the fridge to thaw overnight. Then place it in a pot with the missing ingredients and finish cooking the recipe as usual.
More Hearty Soup Recipes
Creamy Poblano Corn Soup
This thick and creamy poblano corn soup is loaded with Tex-Mex ingredients like poblanos, corn, garlic, and sour cream. You'll love it!
Ingredients
4

poblano peppers

,

seeded and sliced in half

2

tablespoons

butter

1

tablespoons

all purpose flour

2

leeks

,

cleaned and dark green sections removed, then finely sliced

2

large cloves garlic

,

minced

4

cups

fresh corn kernels

1

large russet potato

,

peeled and diced

2

cups

vegetable or chicken stock

2

cups

milk

1

cup

half & half

,

or heavy cream

½

cup

sour cream

1

teaspoon

salt

freshly ground black pepper

,

to taste
Optional Toppings:
Cilantro

Crushed tortilla chips

Avocado

Lime
Instructions
Turn oven on to Broil. Place peppers on a baking sheet. Allow to roast for 20 minutes, turning half way through broiling, until peppers are soft & the skin is blistered and dark.

Remove from oven and place in a plastic bag for 8-10 minutes to cool. Remove from bag and you should be able peel the skins off easily. Dice the peppers and set aside until ready to use.

In a large heavy bottomed pot over medium-high heat, melt butter. Add flour and cook for 1 minute, stirring constantly. Add leeks and garlic, cooking for 2 minutes.

Add the already cooked poblano peppers, corn, potato, chicken stock, milk and half & half. Bring to a boil, then lower heat to medium-low and simmer for about 30 minutes, uncovered, until potatoes are cooked through.

Remove from heat and stir in sour cream, salt and pepper. Taste soup and adjust additional seasonings as needed to fit your tastes. Garnish soup with cilantro and serve immediately!
Nutrition
Serving:
1
helping
,
Calories:
352
kcal
,
Carbohydrates:
45
g
,
Protein:
12
g
,
Fat:
16
g
,
Saturated Fat:
9
g
,
Polyunsaturated Fat:
6
g
,
Cholesterol:
45
mg
,
Sodium:
580
mg
,
Fiber:
4
g
,
Sugar:
10
g
Categories:
This post may contain affiliate links. Read my disclosure policy.