Creamy Sweet Corn and Roasted Poblano Soup
Spring is here and my allergies are killing me. I have a big red nose and tissues coming out of all my pockets. My drug of choice when all of this is going on is Sudafed…but that is a big no-no when pregnant. Every time I sneeze, which is like 32865923 times a day, I shake my fists at the babies happily dancing around in my stomach. Thank god they aren't big enough to kick back yet.
However, I love that the produce section at the grocery store is filling up with all my favorites! The Florida strawberries that I have been gorging on are starting to slow down (they are at their peak in February), but thankfully next up is Sunshine Sweet Corn. It makes me so happy to be able to find local fresh produce in my grocery stores (and road side vegetable stands that Florida is so famous for).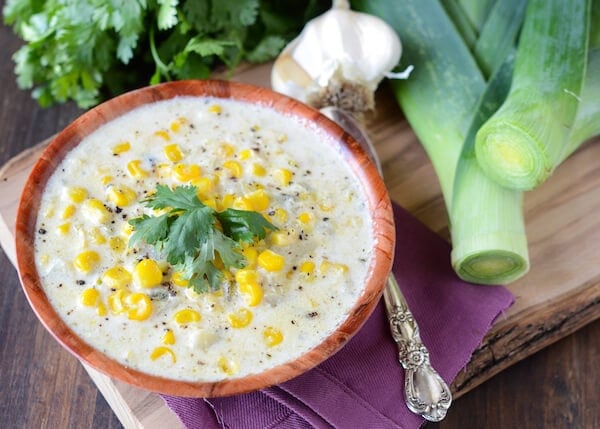 When I got the email to partner with Sunshine Sweet Corn and KitchenPlay, I jumped at the opportunity. What a perfect fit! First, I am in Florida (where Sunshine Sweet Corn comes from). Second, I obviously have a lot of love in my heart for corn…just to name a few prime examples: Sweet Corn Risotto, Green Chicken Chili Tamales and Corn & Chicken Soup!
This recipe I'm sharing today is officially one of my top 3 soups. I made it last year too, but sadly gobbled it all up before I got a photo of it! It's the perfect way to highlight some of the fresh flavors from this time of year. It has everything from roasted poblanos, which just add flavor – no spicy heat, to potatoes for added heartiness. Plus, every bite is filled with a burst of Sunshine Sweet Corn.
Creamy Sweet Corn and Roasted Poblano Soup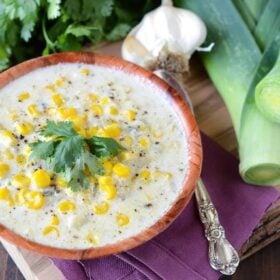 Ingredients:
4 poblano peppers, seeded and sliced in half
2 tablespoons butter
1 tablespoons all purpose flour
2 leeks,cleaned and dark green sections removed, then finely sliced
2 large cloves garlic, minced
4 cups Sunshine Sweet Corn kernels
1 large russet potato, peeled and diced
2 cups chicken stock
2 cups milk
1 cup half & half
1/2 cup sour cream
1 teaspoon salt
freshly ground black pepper, to taste
cilantro, for garnish
Directions:
Turn oven on to Broil. Place peppers on a baking sheet. Allow to roast for 20 minutes, turning half way through broiling, until peppers are soft & the skin is blistered and dark.
Remove from oven and place in a plastic bag for 8-10 minutes to cool. Remove from bag and you should be able peel the skins off easily. Dice the peppers and set aside until ready to use.
In a large heavy bottomed pot over medium-high heat, melt butter. Add flour and cook for 1 minute, stirring constantly. Add leeks and garlic, cooking for 2 minutes.
Add the already cooked poblano peppers, Sunshine Sweet Corn, potato, chicken stock, milk and half & half. Bring to a boil, then lower heat to medium-low and simmer for about 30 minutes, uncovered, until potatoes are cooked through.
Remove from heat and stir in sour cream, salt and pepper. Taste soup and adjust additional seasonings as needed to fit your tastes. Garnish soup with cilantro and serve immediately!
Giveaway: Pin to win a $50 visa gift card!
This sweepstakes is sponsored by the Sunshine Sweet Corn Exchange in partnership with Kitchen PLAY. One prize of a $50 Visa gift card will be awarded randomly to one eligible entrant. To be eligible to win, reader must request to be added to the Sunshine Sweet Corn Recipes Pinterest group board maintained by The Novice Chef, via the comments on this post (make sure to include your Pinterest name so I can add you!). Once added to the group board, he/she must then add at least one pin featuring sweet corn to the group board during the sweepstakes period. (Repinning from the Florida Sweet Corn Pinterest board (http://pinterest.com/freshsweetcorn/) is allowed.)
This promotion begins at 9:00 AM ET on Tuesday April 8th, 2014 and ends at 11:59 PM ET on Tuesday April 15th, 2014. Winner will be selected randomly on April 16th, 2014 from all eligible entries and notified by email. Winner must provide shipping address within 48 hours of notification, at which time a new winner will be chosen randomly from all remaining eligible entries. Odds of winning depend on final number of eligible entries. Total value of prize is $50, and no cash will be awarded in exchange for the prize. No purchase necessary. Void where prohibited. Open to US residents age 18 and older.
This post was sponsored by Sunshine Sweet Corn and KitchenPlay, but all opinions are all my own.