Rosemary Ham Bean Soup is a healthy, hearty soup that you can prepare for lunches or light dinners. Everybody needs a flavorful, warm soup recipe to get through those cold winter days!
Cozy Ham and Bean Soup
When the weather is cooler, there aren't many recipes I love more than a cozy, savory, stick-to-your-ribs ham and bean soup. So when I roasted one of Smithfield's fabulous spiral hams not too long ago, I made sure to freeze the bone for the next chilly occasion.
Living in Florida, the truly chilly days are few and far between. Eventually we just couldn't wait any longer! I made a giant pot of this ham bone soup on the weekend, and we ate it for lunch and dinner throughout the week. This homemade soup recipe is full of flavor from the Smithfield hickory-smoked ham and fresh rosemary, and it's budget friendly thanks to the dried beans.
This really is the perfect weekend recipe. The longer it simmers, the more flavor it draws from the ham bone! It's perfect to let it cook and then serve with rustic bread for dipping.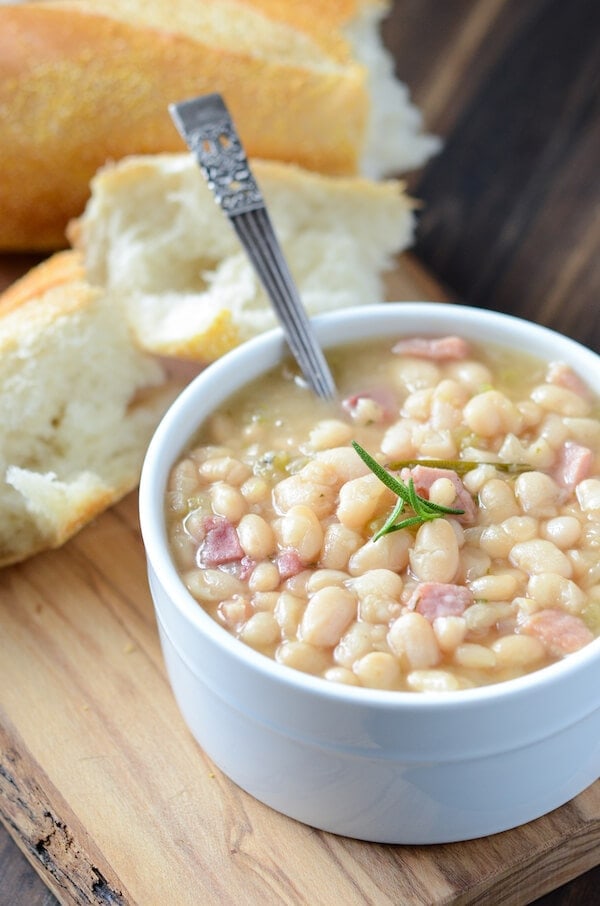 What You'll Need
Beans: I use a combination of Great Northern White Beans and navy beans for this soup recipe.
Butter: Unsalted, as this gives more control over the saltiness (particularly with the ham).
Aromatics: Fresh minced garlic, as well as diced yellow onion and celery for flavor.
Ham Bone: This soup is the perfect excuse to use a leftover ham bone from your holiday roasts. A nice, meaty ham bone gives this soup loads of delicious flavor. Not to mention, the meatier the bone, the more small pieces of leftover ham that can find their way into the soup! Alternatively, you can use ham shanks or ham hocks for the smokiness.
Herbs: Freshly minced rosemary and thyme.
Chopped Ham: Optional, for extra heartiness.
Salt & Pepper
What Kinds of Beans to Use
This recipe will work with any white beans that you can soak and boil. I use Great Northern beans as well as navy beans, however other kinds like cannellini beans (also known as white kidney beans) will also do the trick. This particular soup recipe will not work with canned beans, as they'll overcook and become mushy.
How to Make Ham and Bean Soup
Soak the Beans: Prepare the beans for soaking by bringing them to a boil. Remove them from the heat and leave them to soak, covered, for an hour before rinsing and setting them aside.
Saute the Aromatics: In a large pot, saute the onion, celery, and garlic.
Combine and Cook: Add in the ham bone and pre-soaked beans, along with water. Boil, cover and reduce the heat, and then cook the soup for at least an hour or until the beans are tender.
Season: Toss in the herbs, salt and pepper, as well as the additional chopped ham if you're including it. Continue to let the soup cook for another half hour or so. Once the soup is finished cooking, discard the ham bone.
Serve your soup hot with a side of warm, crusty french bread!
Tips and Variation Ideas
Substitutions for a Ham Bone: If you don't have a ham bone, a ham hock or ham shank are the next best substitutes (as mentioned earlier). If you have none of these options available, you can also use a few strips or rashers of uncooked smoky bacon to flavor the broth instead.
Make It a Day Ahead: This soup is wonderful to make ahead and reheat. The flavors and textures get that much better with time!
Add Veggies: Add in your favorite veggies towards the end of cooking for extra nutrition. Good options are kale, spinach, cabbage, peas, carrots and zucchini. You can also cook potatoes, butternut squash, or sweet potatoes in the soup until they're fork tender.
Make It Spicy: Throw in a dash or two of hot sauce, or sprinkle in chili flakes for a hint of heat.
Add Extra Protein: In addition to leftover ham pieces, use leftover roast chicken or store-bought rotisserie to add even more protein and flavor to the ham and bean soup.
Use Different Herbs and Spices: In addition to rosemary and thyme, you can include other fresh herbs like basil and oregano, or chives. You can also play with the flavors and toss in a sprinkle of nutmeg or smoked paprika.
How Can You Thicken Ham and Bean Soup?
If you're after a thicker soup, one trick is to puree or mash some of the beans as the soup nears the end of its cooking time. An immersion blender works great for this, otherwise use a potato masher. Just be careful to not overblend the ingredients!
Another option is to leave the soup to simmer with the lid off for a while, to help the liquid reduce.
Storage
This soup keeps really well. I love making up a big batch of this ham and bean soup at the start of a busy week, to keep in the fridge for easy dinners! To store, simply seal the soup airtight in the fridge for up to 3-4 days. Reheat servings on the stove or in the microwave.
You can even make larger batches to store frozen for up to 3-4 months. To freeze, let the soup cool completely and then store it in an airtight, freezer-safe container. Thaw the soup overnight, or warm it from frozen on the stovetop on low, or in the microwave until heated through.
Yield: Serves 8
Rosemary Ham and Bean Soup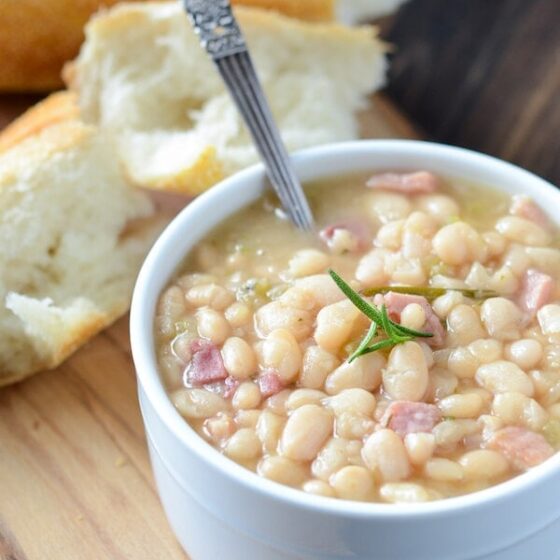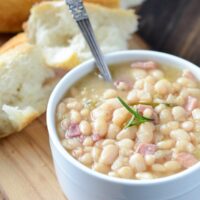 Rosemary Ham and Bean Soup is a healthy, thick soup that you can prepare for lunch and/or dinner. Everybody needs a hearty, warm soup recipe to get through those cold winter days!
Total Time
3 hours
5 minutes
Ingredients
1 pound Great Northern White Beans
1 pound navy beans
Water for soaking
3 tablespoons unsalted butter
4 large garlic cloves, minced
1 large yellow sweet onion, diced
1 cup celery, diced
12 cups water
1 ham bone
2 tablespoons fresh rosemary, minced
2 tablespoons fresh thyme, minced
1 heaping cup chopped ham, optional
2 teaspoons salt
1-2 teaspoons freshly ground back pepper (to taste)
Instructions
Rinse and sort beans in a large pot. Add 16 cups hot water. Bring to a rapid boil, and boil for 2 minutes. Immediately remove from heat, cover and let stand 1 hour. Then drain and rinse beans, set aside.
In a large stockpot (I used a 12 quart stock pot) over medium high heat, melt butter. Add garlic, cook for 30 seconds. Add onion and celery, cook till beginning to soften.
Add 12 cups water, ham bone and pre-soaked beans. Bring to boil and cover, reduce the heat to low and cook for 1 1/2 hours or until the beans are tender.
Add rosemary, chopped ham, salt & pepper. Cook uncovered for 30 minutes. Remove ham bone and discard.
Serve hot with a hunk of warm french bread!
Nutrition Information:
Yield:
8
Serving Size:
1
Amount Per Serving:
Calories:

268
Total Fat:

7g
Saturated Fat:

3g
Trans Fat:

0g
Unsaturated Fat:

3g
Cholesterol:

32mg
Sodium:

924mg
Carbohydrates:

35g
Fiber:

11g
Sugar:

3g
Protein:

17g
This post is sponsored by Smithfield Foods. I received compensation for my time and ham for recipe development. However as always, all opinions are my own.
This post may contain affiliate links. Read my disclosure policy.