This Wonton Soup recipe is bursting with fresh flavors and loaded with homemade pork Chinese Dumplings to elevate this classic take out dish to a gourmet level!
Looking for more Asian recipes? Try the best potstickers, 20 minute lettuce wraps, crockpot sesame chicken and teriyaki shrimp stirfry!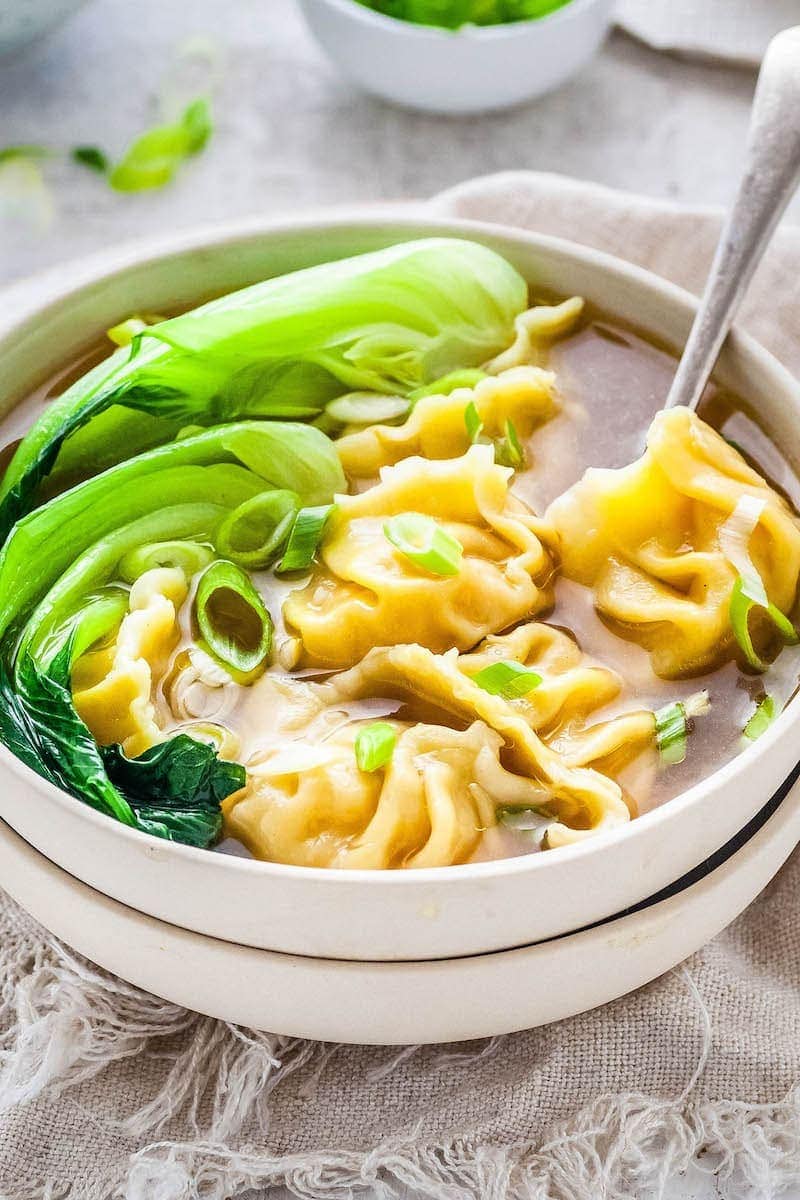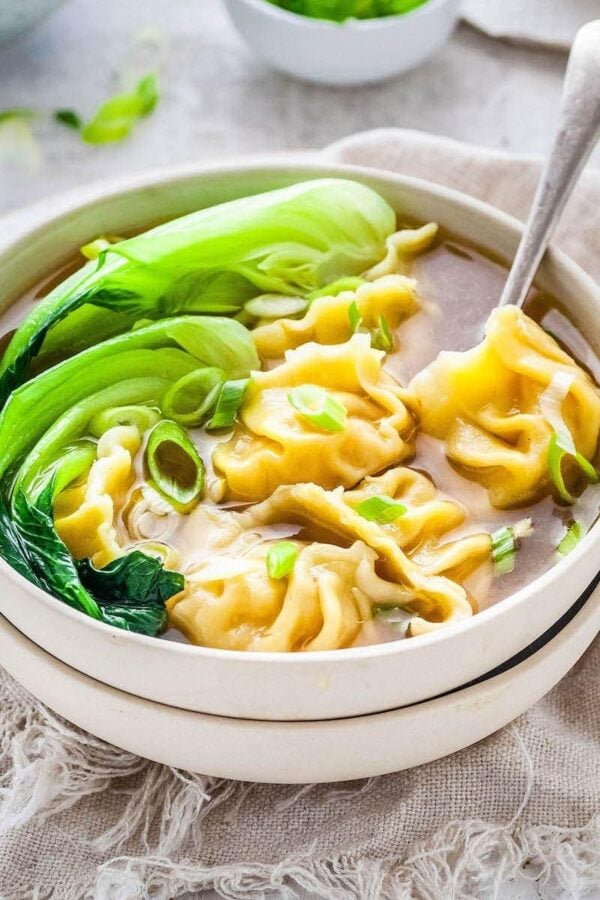 This recipe is for my fellow Wonton Soup addicts — you know who you are.
I always want to try a different soup when ordering Chinese take out, but I just can't give up that delicious broth filled with floating juicy pork dumplings!
A few years back, I started making Wonton Soup for myself and now no other soup holds a candle to this extra flavorful homemade version.
The best part? This Wonton Soup recipe is actually very EASY to make!
If you have the time, the Homemade Chinese Dumplings are absolutely phenomenal, but you can use store bought dumplings in their place.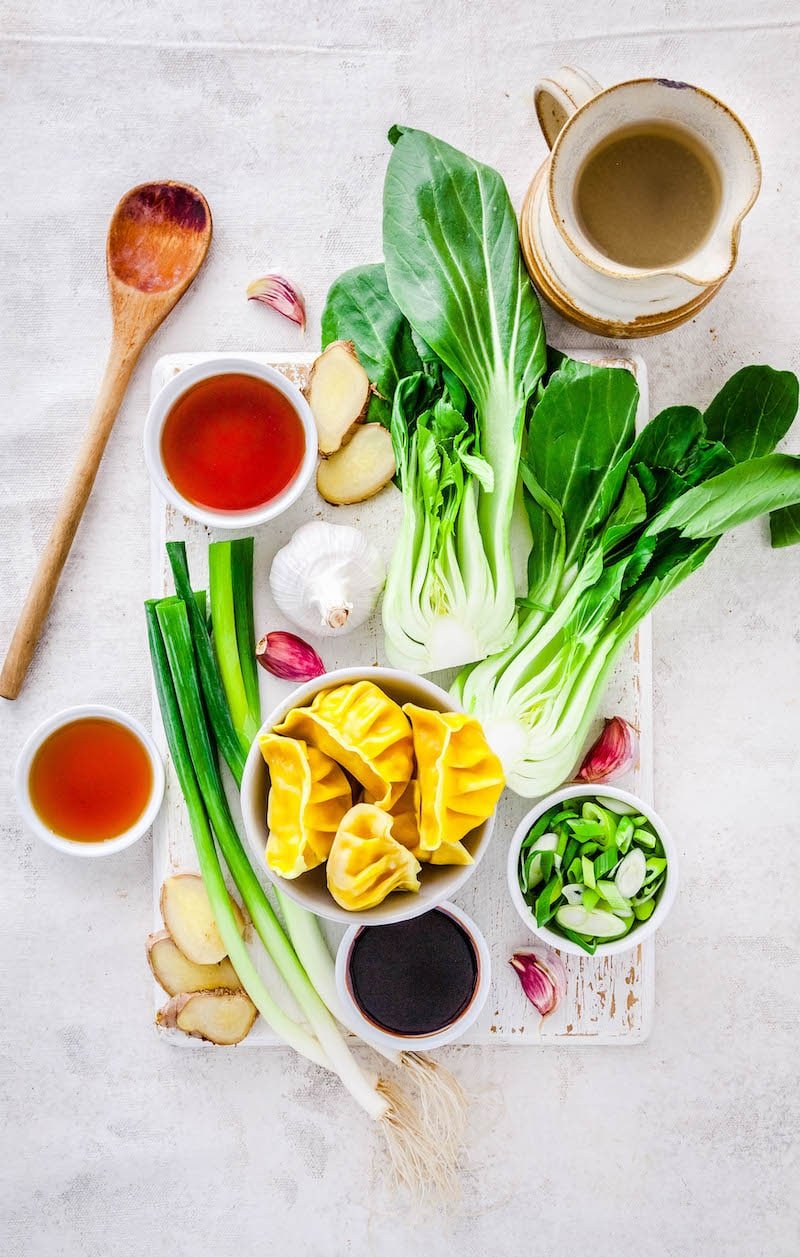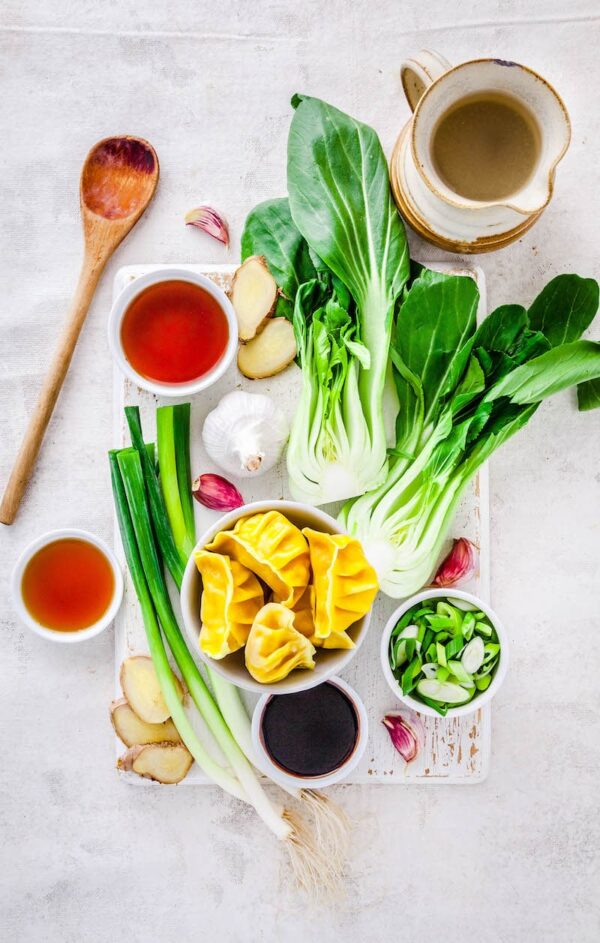 Wonton Soup Ingredients
Wonton Soup has two important components: the broth and the dumplings.
To start, let's discuss the broth. You will want to use fresh and high quality ingredients to create a delicious depth of flavor.
For starters, pick a good chicken stock (or chicken bone broth) that is sodium free (or low sodium).
You want to use low sodium so you can control the amount of salt in the final dish with the soy sauce.
With fresh ginger, garlic and scallions (green onions) you will give lots of fresh flavor to the broth.
Lastly, a little soy sauce, sesame oil and Chinese cooking wine (or rice wine) will round out the flavors.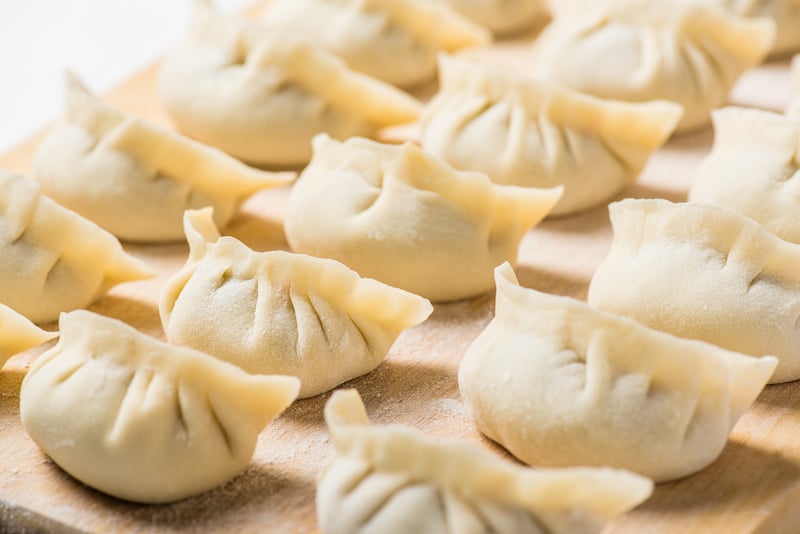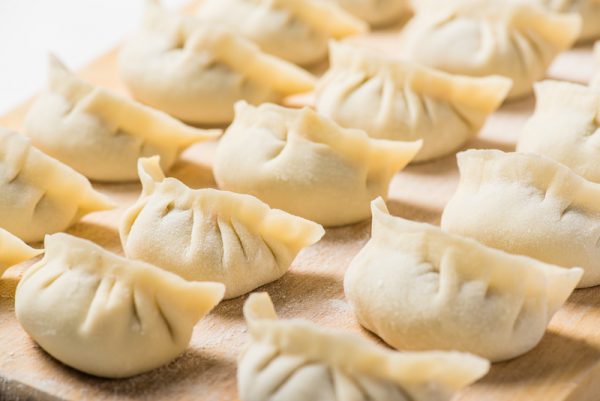 Chinese Dumplings for Wonton Soup
The second most important ingredient are the actual wontons – or dumplings – for the soup.
I have an amazing recipe for Chinese Dumplings that you can pan fry to make Potstickers or boil for Wonton Soup.
They are loaded with pork and vegetables and great fresh flavors. You will fall in love with them and never want to use frozen dumplings again.
However, if you are on a time crunch and need a quick 30 minute recipe, you can absolutely make this Wonton Soup with store bought frozen dumplings.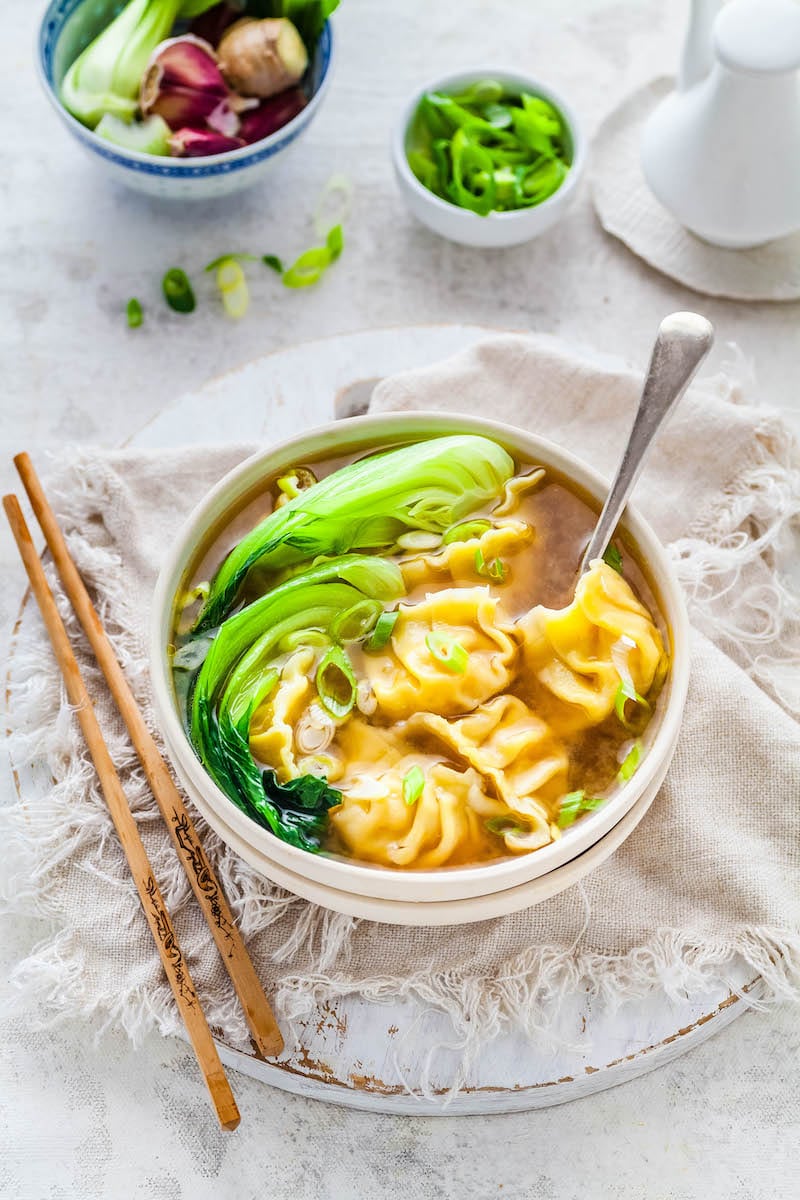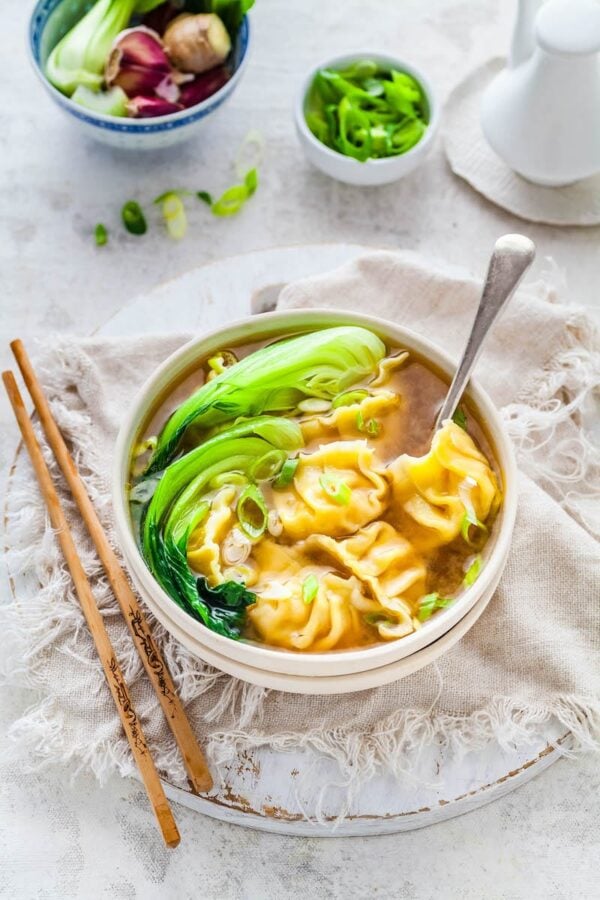 Wonton Soup Add Ons
There are a few optional add ons that are common with Wonton Soup.
First, you can add fresh shrimp and let them cook quickly in the boiling broth before serving.
You can also add fresh vegetables to make the dish more nutrient dense and filling.
I suggest baby bok choy, spinach, or Chinese broccoli. Lastly, green onions make the perfect garnish.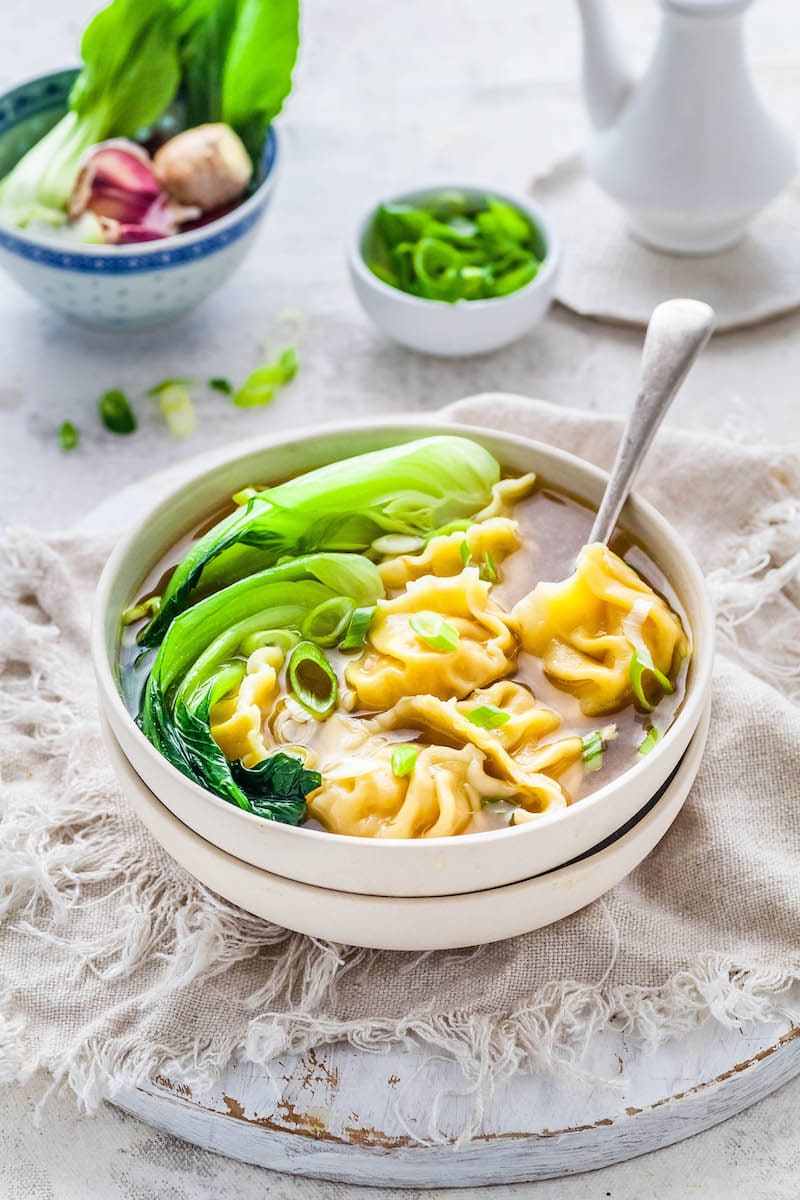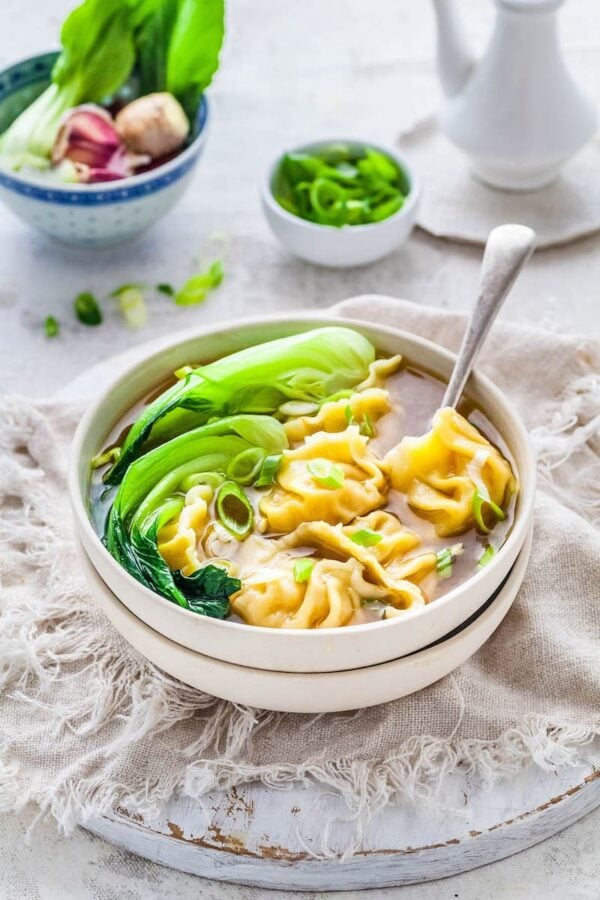 This Wonton Soup recipe is epically delicious with all the many layers of flavor and juicy homemade dumplings.
If you like the take out version of this
soup
, just wait until you taste how much better this homemade version is!
Make sure and leave a review below of how this Wonton Soup Recipe turns out for you!
Yield: 6 servings
Wonton Soup Recipe (with Homemade Dumplings)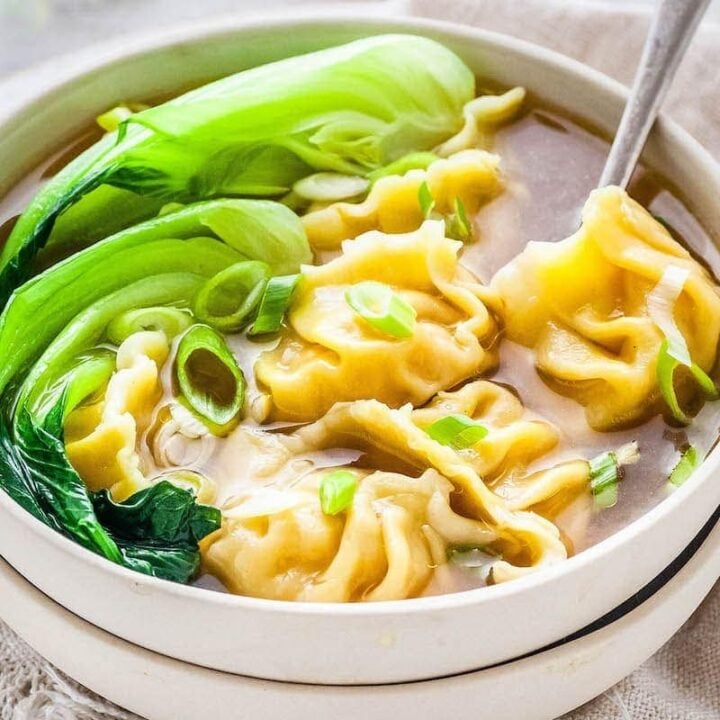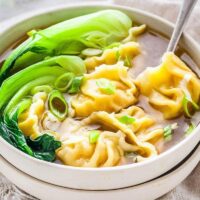 This Wonton Soup recipe is bursting with fresh flavors and loaded with homemade pork Chinese Dumplings to elevate this classic take out dish to a gourmet level!
Ingredients
8 cups low sodium chicken stock (or bone broth)
2 inch piece of peeled ginger, cut into large slices
3 garlic cloves, smashed
2 tablespoons soy sauce (or to taste)
1 tablespoon Chinese cooking wine (or rice wine)
1/2 teaspoon sesame oil
4 green onions, sliced
Optional additions:
baby bok choy, quartered
Chinese broccoli, sliced into pieces
baby spinach leaves
green onions, for garnish
Instructions
In a large stock pot, combine chicken stock, ginger, garlic cloves, soy sauce, rice wine, sesame oil and green onions.
Place lid on the pot and bring to a boil and then reduce to a simmer. Let cook for 10-15 minutes.
While the broth simmers, cook your wontons. Bring a large pot of water to a rolling boil. Add the wontons to the pot in batches, about 12 wontons at a time.
Boil for 3 to 4 minutes, until the dumplings float to the top and are slightly translucent. Remove with slotted spoon and place straight into serving bowls.
Strain out the chunky garlic and ginger from the broth and discard both.
If using any optional vegetables (like baby bok choy), blanch in the soup broth and place in serving bowl.
Ladle hot broth over the wontons. Let stand for 2-3 and garnish with green onions. Serve immediately.
Notes
You can use store bought Chinese Dumplings in place of the homemade version to speed up the recipe if you would prefer!
Nutrition Information:
Yield:
6 servings
Serving Size:
1 serving
Amount Per Serving:
Calories:

528
Total Fat:

11g
Saturated Fat:

3g
Trans Fat:

0g
Unsaturated Fat:

7g
Cholesterol:

7mg
Sodium:

2691mg
Carbohydrates:

88g
Fiber:

4g
Sugar:

5g
Protein:

19g
Want to Save This Recipe?
Want to Save This Recipe?
This post may contain affiliate links. Read my disclosure policy.