This delicious homemade Wonton Soup is a great way to enjoy your favorite Chinese food, made fresh! A cozy soup recipe made with Homemade Pork Dumplings floating in a clear chicken broth that's bursting with the Asian flavors of ginger, sesame, and garlic.
Looking for more Asian-inspired recipes? Try these 20 minute Lettuce Wraps, my crockpot Sesame Chicken or a quick and easy Teriyaki Shrimp Stir Fry!
Get Cozy With This Classic Chinese Soup!
A part of me always wants to be adventurous when ordering Chinese takeout. And yet, I always seem to come back to my all time favorite: Wonton Soup. Ever since I started making this homemade version, no other soup recipe holds a candle to this smooth and flavorful broth with juicy pork dumplings.
The best part? Homemade wonton soup is actually so simple to make! My recipe is brimming with Homemade Chinese Dumplings and layers of Asian-inspired flavors. It's an easy wonton soup recipe that takeaway lovers are sure to fall head over heels for!
What Is Wonton Soup?
A classic Chinese soup recipe, wonton soup is a dish made with wonton dumplings floating in a flavorful, clear chicken broth. I like to think of wontons as an Asian version of tortellini, made from dough wrappers filled with pork, chicken, shrimp or veggies.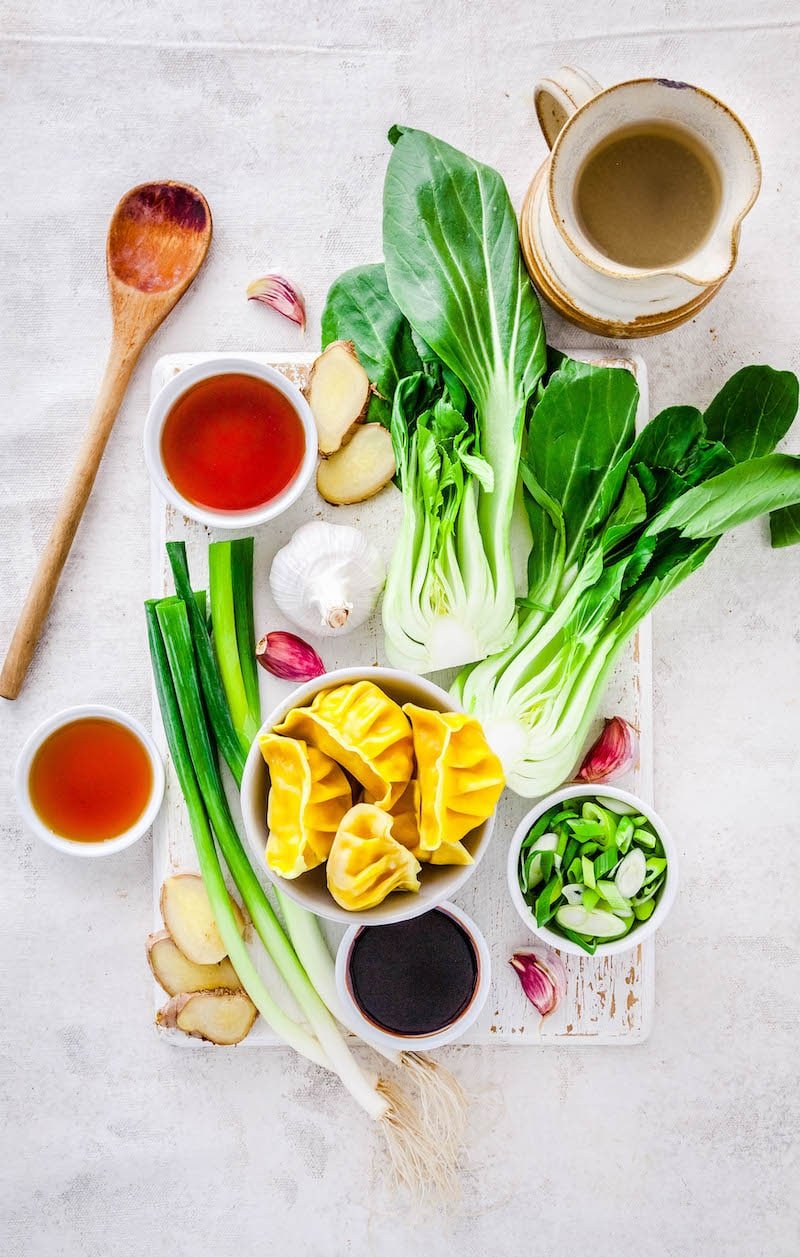 Recipe Ingredients
The ingredients for Wonton Soup come together in two parts: the broth and the dumplings. For this recipe, I love using fresh, quality ingredients to really achieve a delicious depth of flavor. Here's what you'll need:
Chicken Stock: Pick a good chicken stock or bone broth that's sodium free (or low sodium), so you can season as needed.
Fresh Ginger: Trust me, fresh is best! You'll need a good sized chunk of ginger, cut into large slices.
Garlic: Full cloves, smashed.
Soy Sauce: For its classic salty Asian flavor, you can add more or less to taste.
Chinese Cooking Wine: Rice wine, or something similar.
Sesame Oil: Sesame oil is one of the staple ingredients in Asian cooking, and really makes a difference in terms of the flavors.
Green Onions: Sliced, to add into the broth.
Chinese Dumplings: I have an amazing recipe for Homemade Pork Dumplings that you can boil for this wonton soup, or pan fry to make potstickers. However, if you're short on time, you can use store bought dumplings in their place.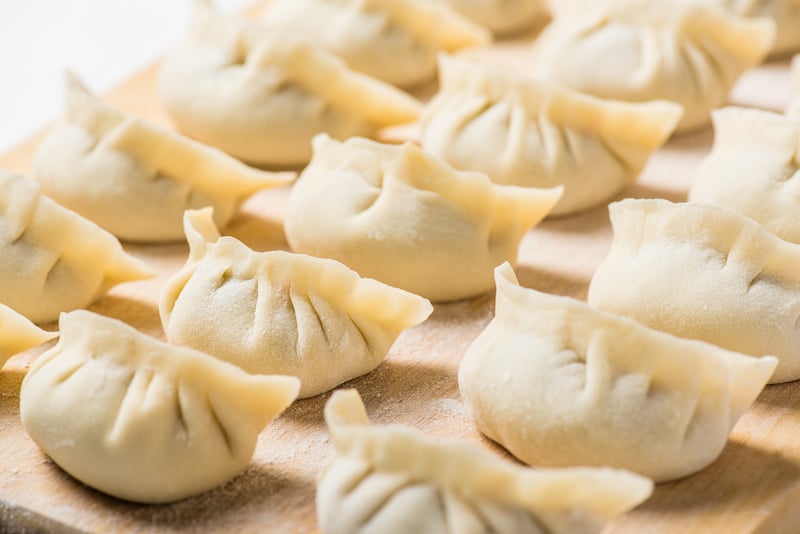 How to Make Wonton Soup
With your homemade or store bought wontons at the ready, this easy soup comes together super quickly!
Make the Broth: Combine the stock and broth seasoning ingredients, along with the green onions in a large pot. Cover, boil, and reduce to a simmer while you cook the wontons.
Cook the Wontons: Boil your wontons in batches, until they float to the top. Place the cooked wontons directly into serving bowls.
Finish and Serve: Remove the chunks of garlic and ginger from the broth. Spoon the hot broth over the wontons. Let the soup stand for a couple of minutes and then garnish with extra scallions, and serve right away.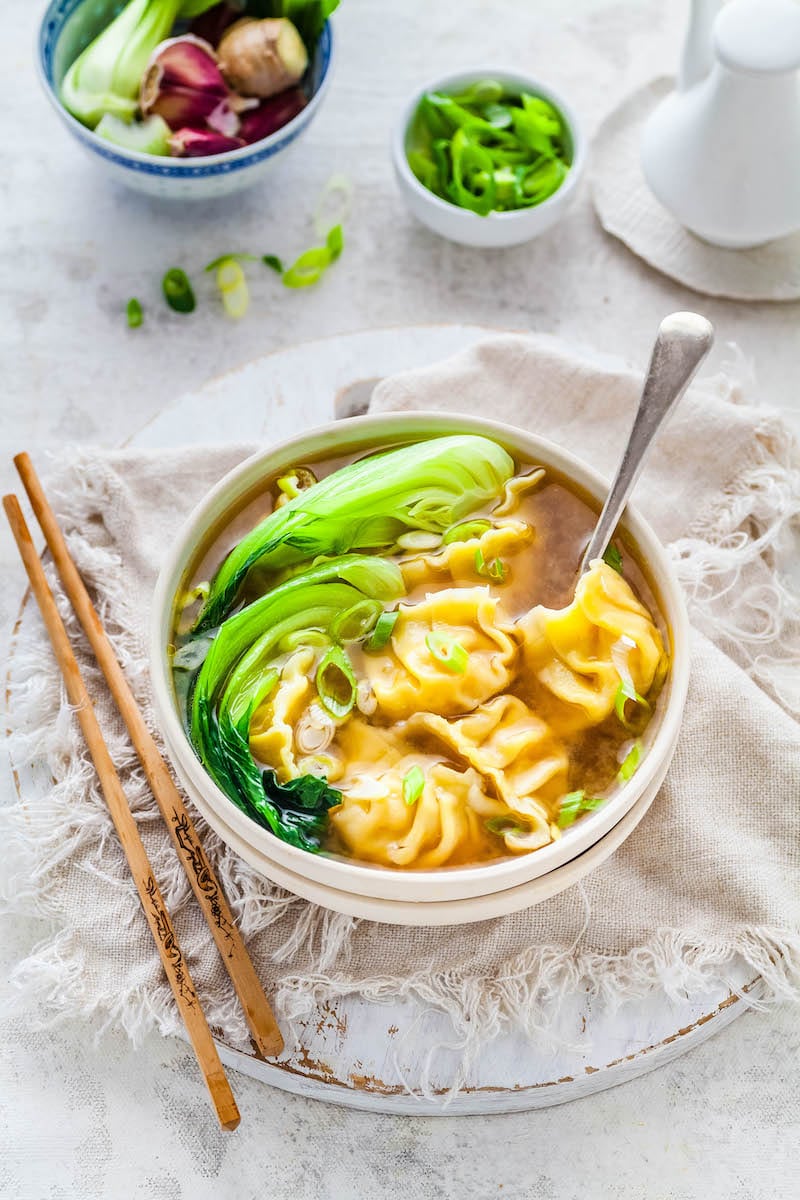 Tips for Success
Make It in Less Than 30 Minutes: While I'd highly recommend the freshness of homemade dumplings for this recipe, sometimes convenience is king! If you're pressed for time, this wonton soup is an easy 30 minute meal when you make it with store bought, frozen dumplings.
Make the Dumplings Ahead: You can make the dumplings the day before and refrigerate them, or prepare them well in advance and freeze them. See my tips for freezing below!
Add-In Ideas
Before serving, you can also blanch your choice of add-ins in the hot broth and then add these to the serving bowls, too. Here are some extra ingredient suggestions for this savory wonton soup:
Baby Bok Choy
Fresh Shrimp
Spinach
Chinese Broccoli
Fresh Sliced Vegetables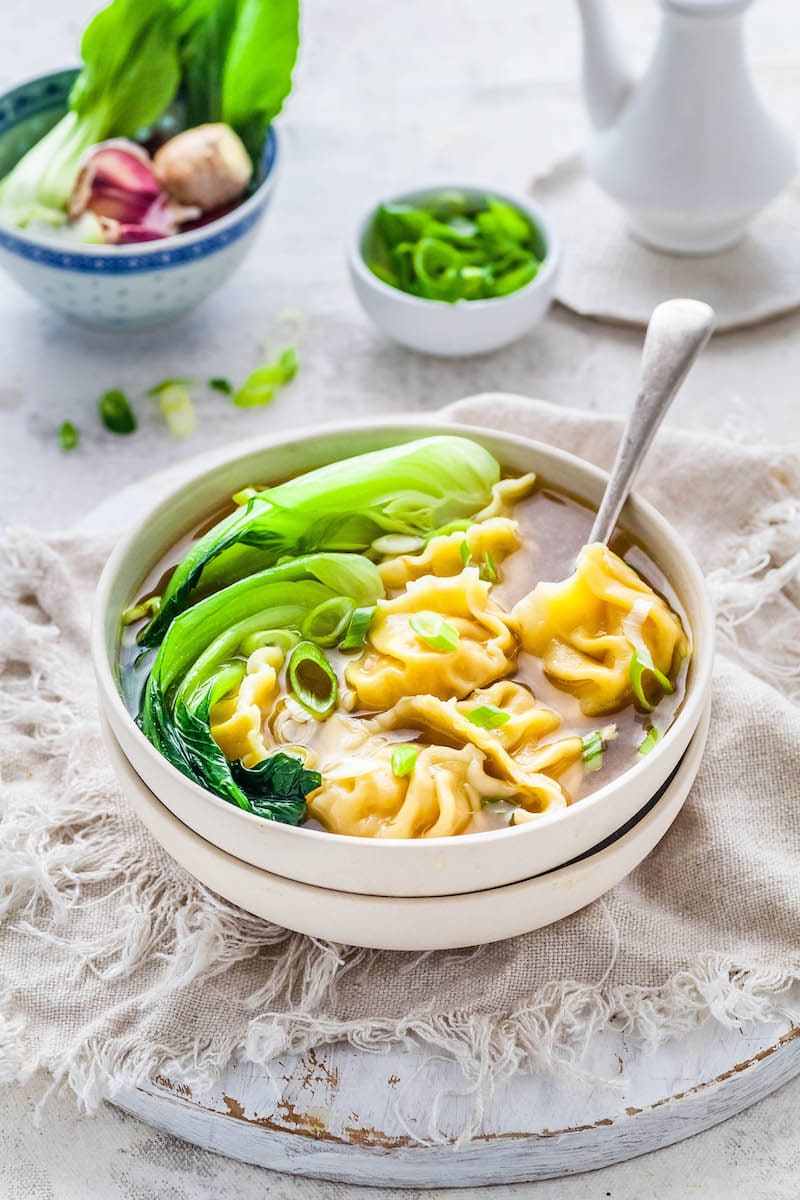 Serving Suggestions
Serve this cozy wonton soup along with a side of Air Fryer Asian Roasted Broccoli.
You can also serve wonton soup as part of a full takeout-style meal at home! Enjoy this broth and dumplings as a starter alongside these Asian-inspired mains:
How to Store and Reheat Dumpling Soup
Store any leftover wontons and soup airtight in the fridge for up to 4 days. Wontons that are left in the broth may soften a little, but should still hold up when you reheat them. Reheat the soup in the microwave or on the stovetop for a few minutes until warmed through.
Can I Freeze This?
You can prepare the wonton dumplings in advance and freeze them for later! Place your filled wontons on a lined baking sheet and pre-freeze until they're solid, then transfer them to a freezer-safe bag or container.
Wontons can be cooked straight from frozen, just add them to the broth and start the cooking time from the moment the soup begins to simmer.
More Comforting Soup Recipes
Sweet Potato Coconut Curry Soup
Wonton Soup with Homemade Dumplings
This easy Wonton Soup is a cozy Chinese soup recipe made with Homemade Pork Dumplings floating in a clear and flavorful, Asian-style broth.
Ingredients
8

cups

low sodium chicken stock

,

or bone broth

2

inch

piece of peeled ginger

,

cut into large slices

3

garlic cloves

,

smashed

2

tablespoons

soy sauce

,

or to taste

1

tablespoon

Chinese cooking wine

,

or rice wine

½

teaspoon

sesame oil

4

green onions

,

sliced
Optional additions:
baby bok choy

,

quartered

Chinese broccoli

,

sliced into pieces

baby spinach leaves

green onions

,

for garnish
Instructions
In a large stock pot, combine chicken stock, ginger, garlic cloves, soy sauce, rice wine, sesame oil and green onions.

Place lid on the pot and bring to a boil and then reduce to a simmer. Let cook for 10-15 minutes.

While the broth simmers, cook your wontons. Bring a large pot of water to a rolling boil. Add the wontons to the pot in batches, about 12 wontons at a time.

Boil for 3 to 4 minutes, until the dumplings float to the top and are slightly translucent. Remove with slotted spoon and place straight into serving bowls.

Strain out the chunky garlic and ginger from the broth and discard both.

If using any optional vegetables (like baby bok choy), blanch in the soup broth and place in serving bowl.

Ladle hot broth over the wontons. Let stand for 2-3 and garnish with green onions. Serve immediately.
Notes
You can use store bought Chinese Dumplings in place of the homemade version to speed up the recipe if you would prefer!
Nutrition
Serving:
1
serving
,
Calories:
528
kcal
,
Carbohydrates:
88
g
,
Protein:
19
g
,
Fat:
11
g
,
Saturated Fat:
3
g
,
Polyunsaturated Fat:
7
g
,
Cholesterol:
7
mg
,
Sodium:
2691
mg
,
Fiber:
4
g
,
Sugar:
5
g
Categories:
This post may contain affiliate links. Read my disclosure policy.