A flavorful round-up of the Best Dumpling Recipes! From creamy chicken and dumplings to homemade wontons and potstickers, try these easy recipes for perfect dumplings the next time you make dinner.
Dumplings are a versatile, flavorful meal any time of the year, and in my family, we love 'em. Asian dumplings, Southern dumplings, you name it – we can't get enough. If haven't made your own dumplings at home, it's never too late to start! Today I've rounded up 6 of my favorite recipes as inspiration, plus some handy tips for cooking the best dumplings.
What Are Dumplings?
So, what is a dumpling? A dumpling is made with soft dough that's boiled, steamed, or fried. You can cook dumpling dough as is (ie: chicken and dumpling recipes), or roll it out to wrap around fillings (ie: wontons). There's a lot of wiggle room within the true definition of a dumpling, however. In places like China, where the dumpling originated, they have many names!
Different Kinds of Dumplings
There are MANY different kinds of dumplings out there, but they do share things in common. Below are some of the most popular kinds of dumplings.
Asian Dumplings
Potstickers: Also called guo tie, a potsticker is a type of crescent-shaped, pan-fried dumpling. One of the most popular Chinese dumplings, filled with meat or mushrooms, and served with a vinegar-based dipping sauce.
Boiled Dumplings: Shui jiao are another Chinese dumpling. They resemble a potsticker, only boiled in water instead of fried.
Har Gow: Another dim sum favorite. Har gow is a steamed dumpling with a translucent wrapper, filled with shrimp, ginger, and bamboo.
Shu Mai: These dumplings are open at the top, filled with pork and shrimp, and then steamed or deep fried and garnished with crab roe.
Wontons: Another famous Asian-style dumpling featuring meat, seafood, or veggies inside in a thin dough wrapper. Traditionally, you boil wontons to serve alone or in soups. You can also find Americanized, deep-fried crispy wontons in parts of the US.
Xiao Long Bao: A famous Chinese soup dumpling, filled with broth and minced pork. These dumplings are larger and rounder and steamed. Sheng jian bao is the pan-fried version.
Gyoza: A type of Japanese dumpling you'll often find on the menu at ramen and izakaya restaurants. Filled with cabbage and pork, pan-fried like a potsticker and then served with a soy-vinegar dipping sauce.
Other Kinds of Dumplings
Italian Dumplings: You're likely familiar with more than one kind of Italian-style dumpling already! Ravioli, tortellini, gnocchi, and other stuffed pasta are all considered variations of dumplings.
Chicken and Dumplings: A popular American recipe, especially in the South. Chicken and dumplings feature mounds of flour dumplings cooked on top of chicken stew. Check out my recipes below!
Indian Dumplings: Malai kofta is a vegetarian dumpling recipe from India, made with fried potato paneer balls served in a curried gravy.
Pierogies: Pierogi, or perogi, is a popular style of dumpling in Poland and Eastern Europe. Made from thick dough folded in a half-moon around savory or sweet fillings like potatoes, vegetables, cheese, and fruit, pierogies are boiled and then pan-fried before serving.
Matzo Balls: This is a traditional Jewish soup dumpling served during Passover, featuring dough balls made from matzo meal served in chicken soup.
How Are Dumplings Cooked?
This depends on the country of origin and style of dumpling. Generally, dumplings are steamed, boiled, or fried.
Steamed: Cooked in a steamer or basket over boiling water, or under a lid in a pan with a bit of water.
Boiled: Cooked in water, or directly in the broth/soup that the dumplings are served in.
Fried: Cooked in a pan or otherwise fried in oil.
---
12 Dumpling Recipes to Try
These flavorful and easy dumpling recipes are just waiting for a spot on your table!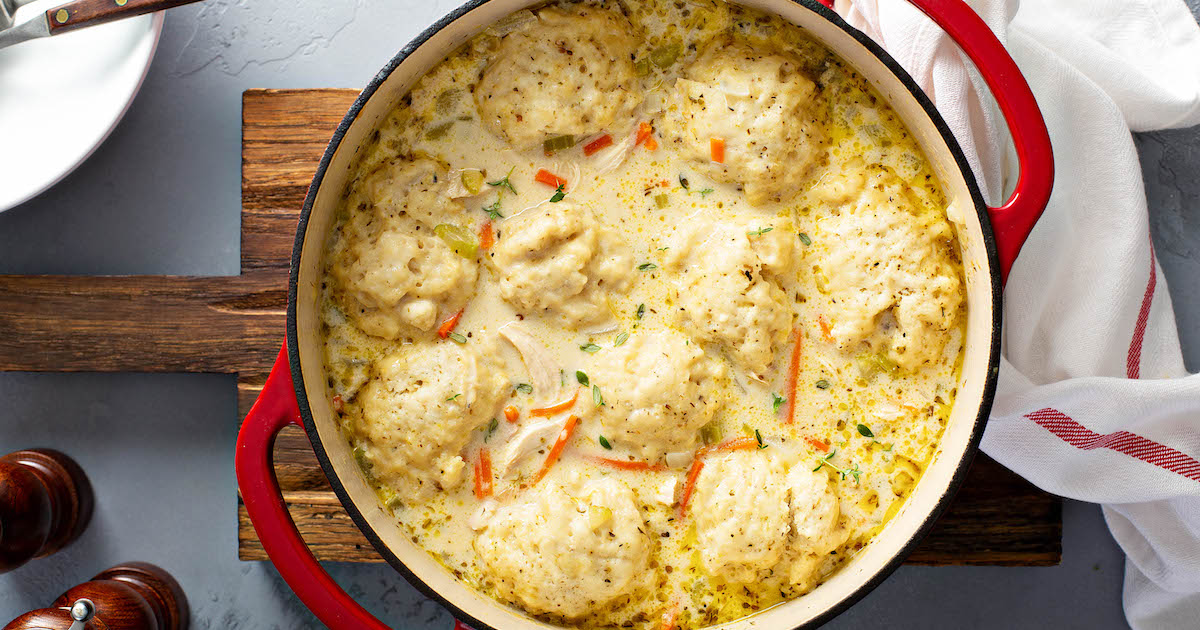 Best Chicken and Dumplings Recipe
Easy chicken and dumplings, the old-fashioned way. A creamy, hearty chicken soup topped with classic homemade dumpling dough is comfort food at its finest!
Get The Recipe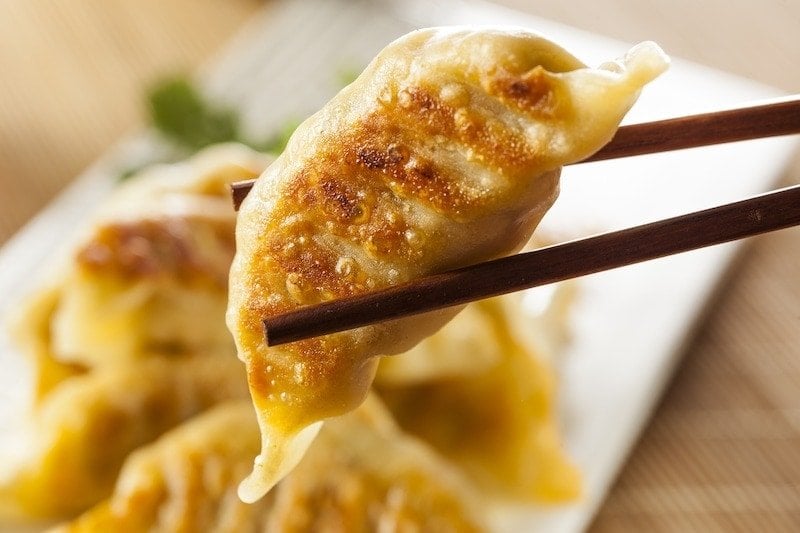 Chinese Dumplings (Potstickers) Recipe
Potstickers are a classic Chinese takeout favorite that you can make easily at home! This fried dumpling recipe is ready in under an hour, and extra flavorful thanks to a filling of ground pork, mushrooms, cabbage and seasonings.
Get The Recipe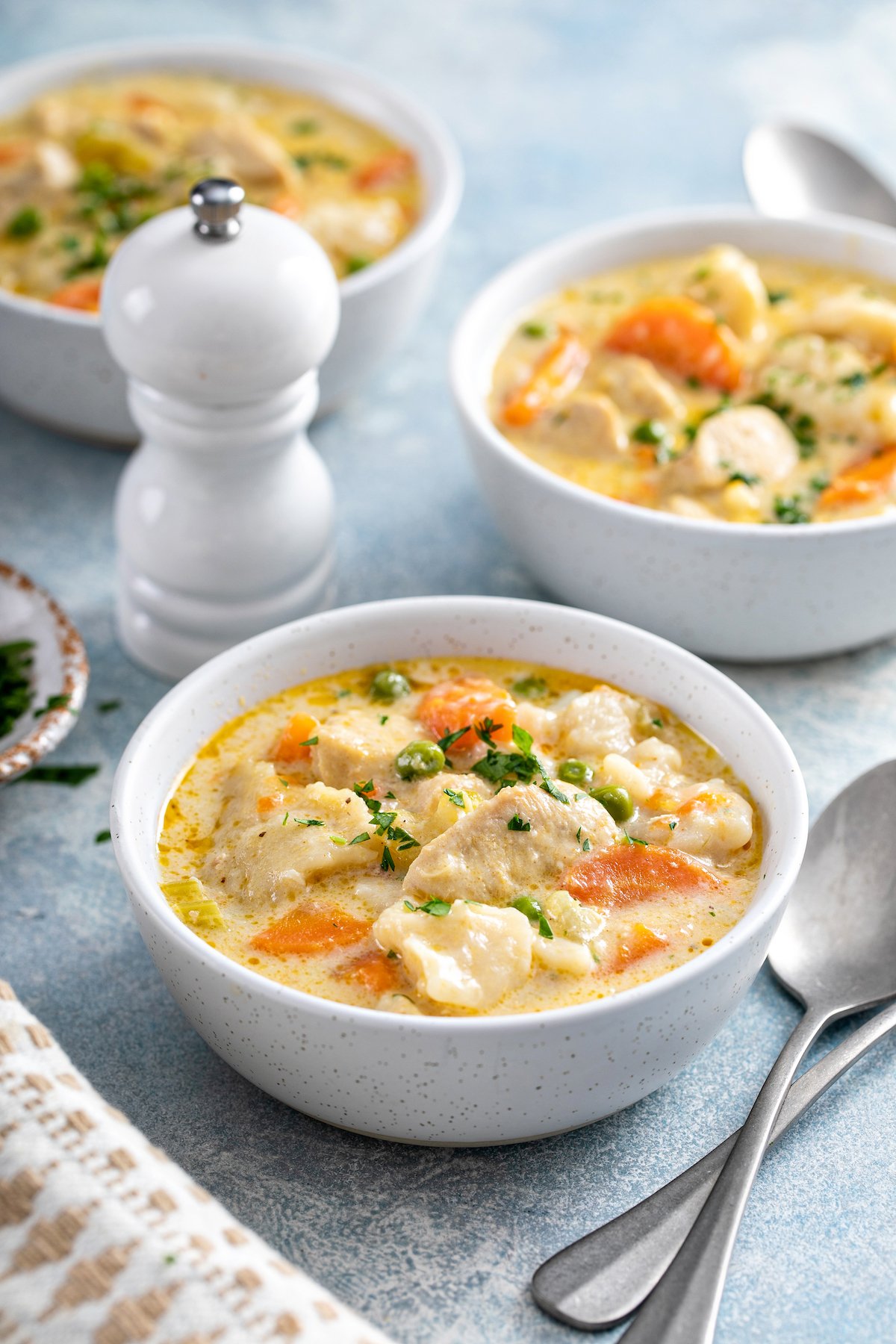 Instant Pot Chicken and Dumplings
Craving an easy, comforting meal? Look no further than Instant Pot Chicken and Dumplings! Chock full of tender chicken, fluffy dumplings, and colorful veggies, you will love this easy comfort food dinner!
Get The Recipe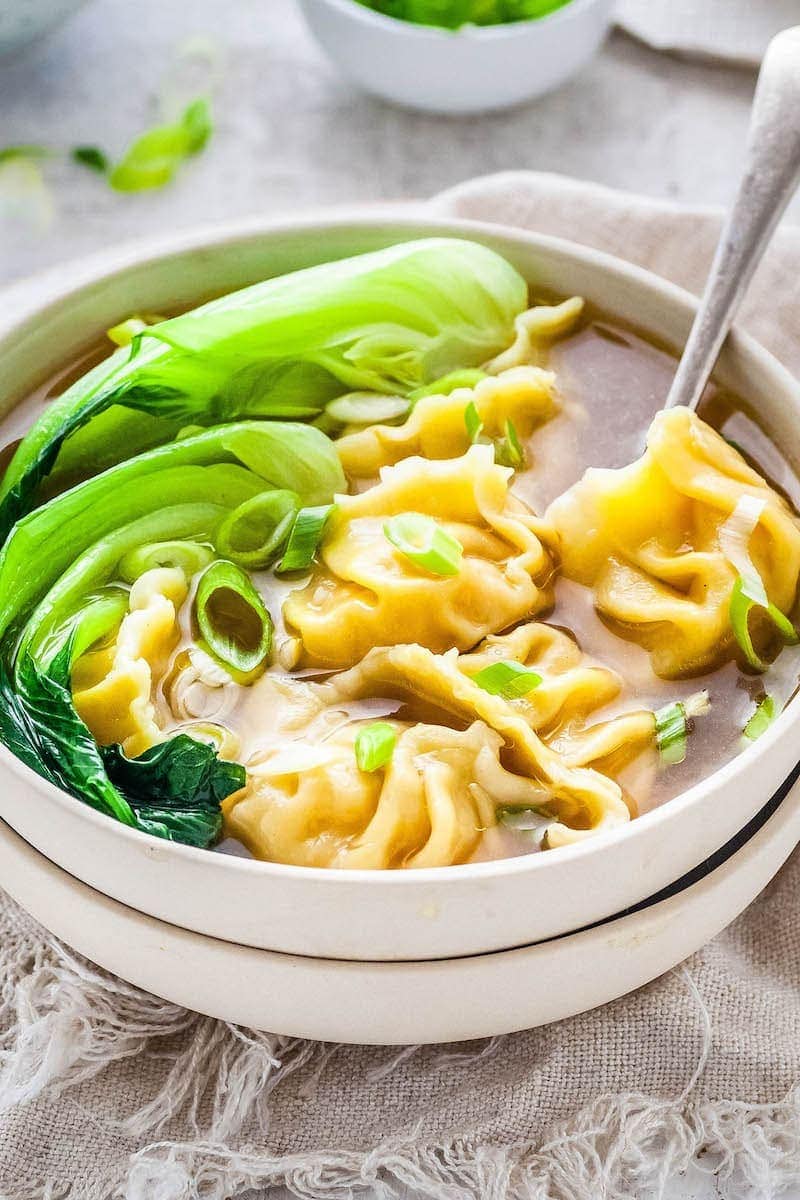 Wonton Soup with Homemade Dumplings
A cozy and comforting Chinese wonton soup recipe made with tender dumplings floating in a clear broth. The flavors of ginger and garlic reign supreme!
Get The Recipe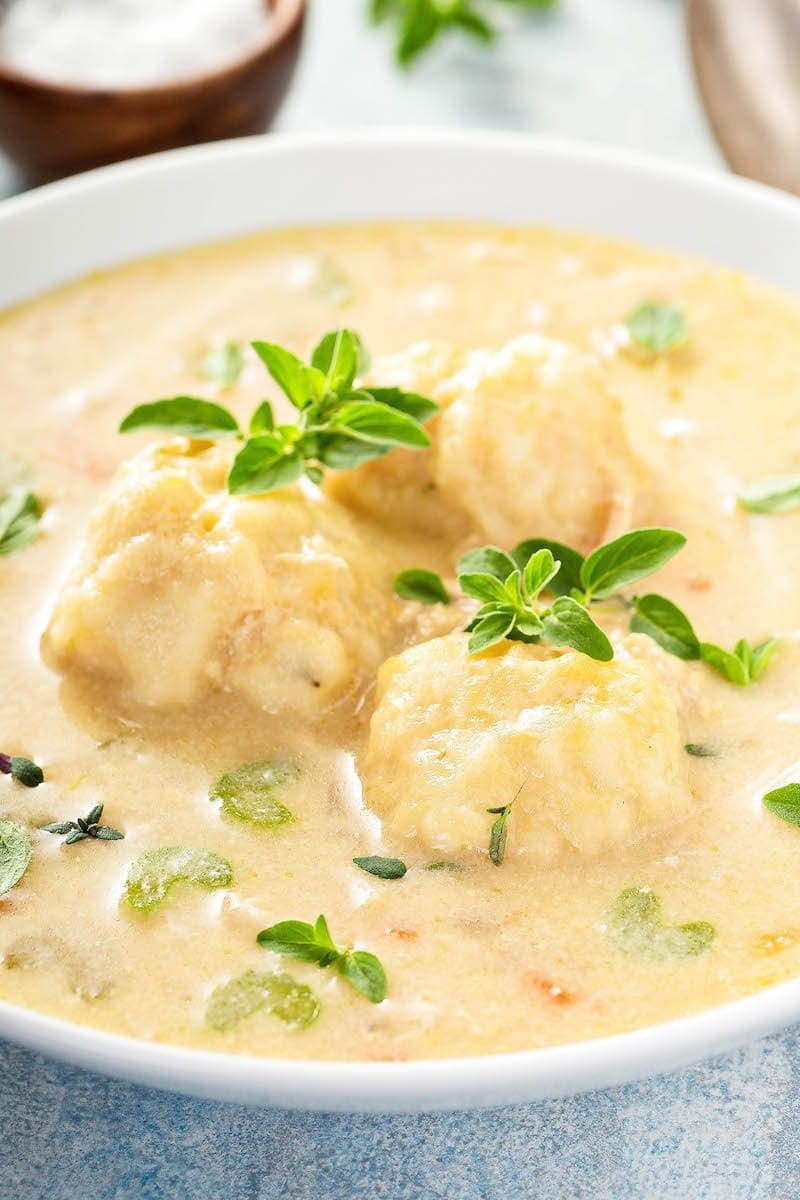 Crockpot Chicken and Dumplings Recipe
Chicken and dumplings recipes don't get much easier than this! Let the crockpot do the cooking, while your house fills with the heavenly smell of this Southern classic.
Get The Recipe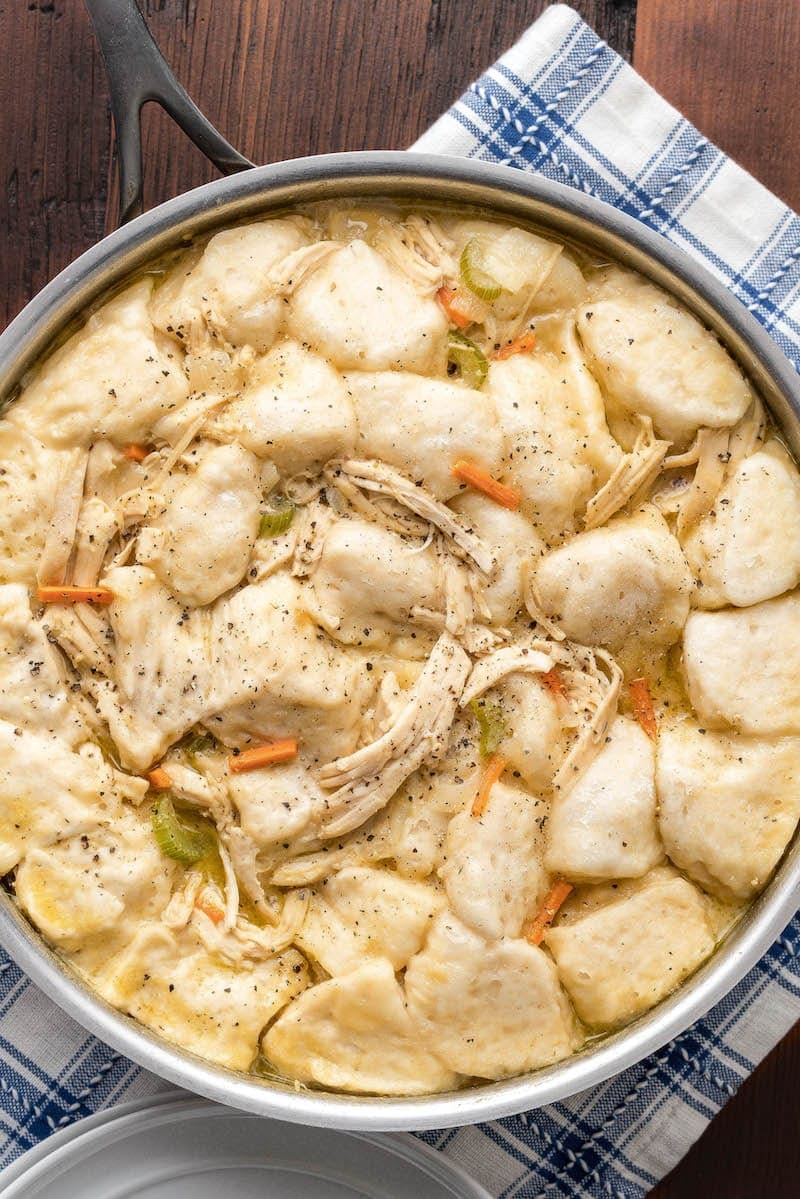 Easy Chicken and Dumplings
When your family is craving comfort in a hurry, this stove top chicken and dumplings recipe calls. Made quick with canned biscuits, but you'd never know the difference!
Get The Recipe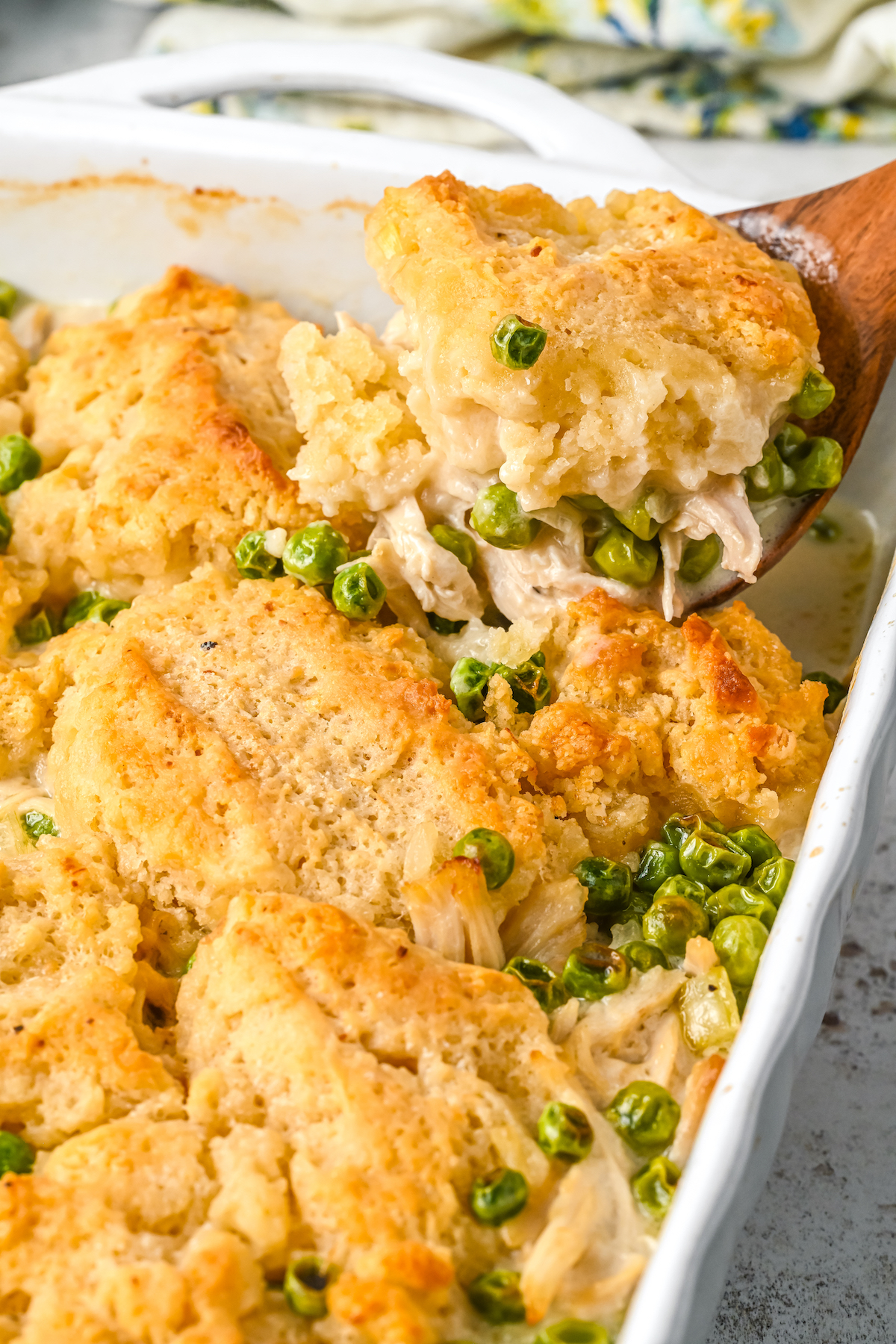 Chicken and Dumplings Casserole
This hearty Chicken and Dumplings Casserole is the perfect comfort food.  Loaded with shredded chicken and vegetables, this saucy dish with homemade dumplings comes together quickly and finishes in the oven.
Get The Recipe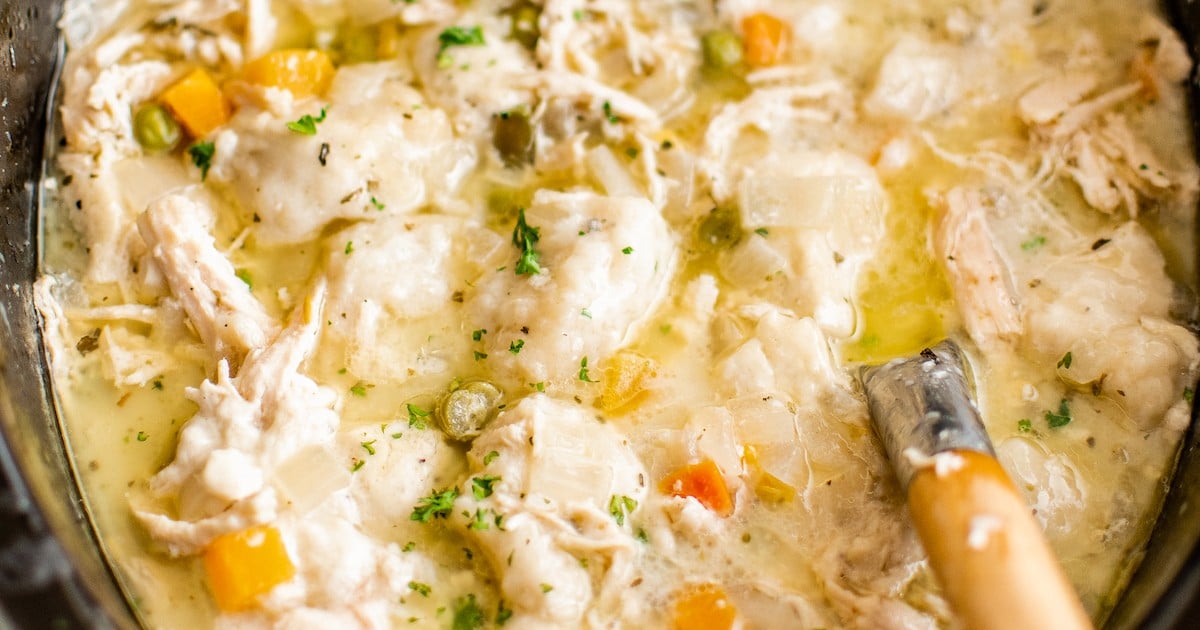 Easy Slow Cooker Chicken and Dumplings
Rich, creamy Slow Cooker Chicken and Dumplings are easy to make with a can of biscuits for the dumplings! A homestyle, cozy meal that's hassle free.
Get The Recipe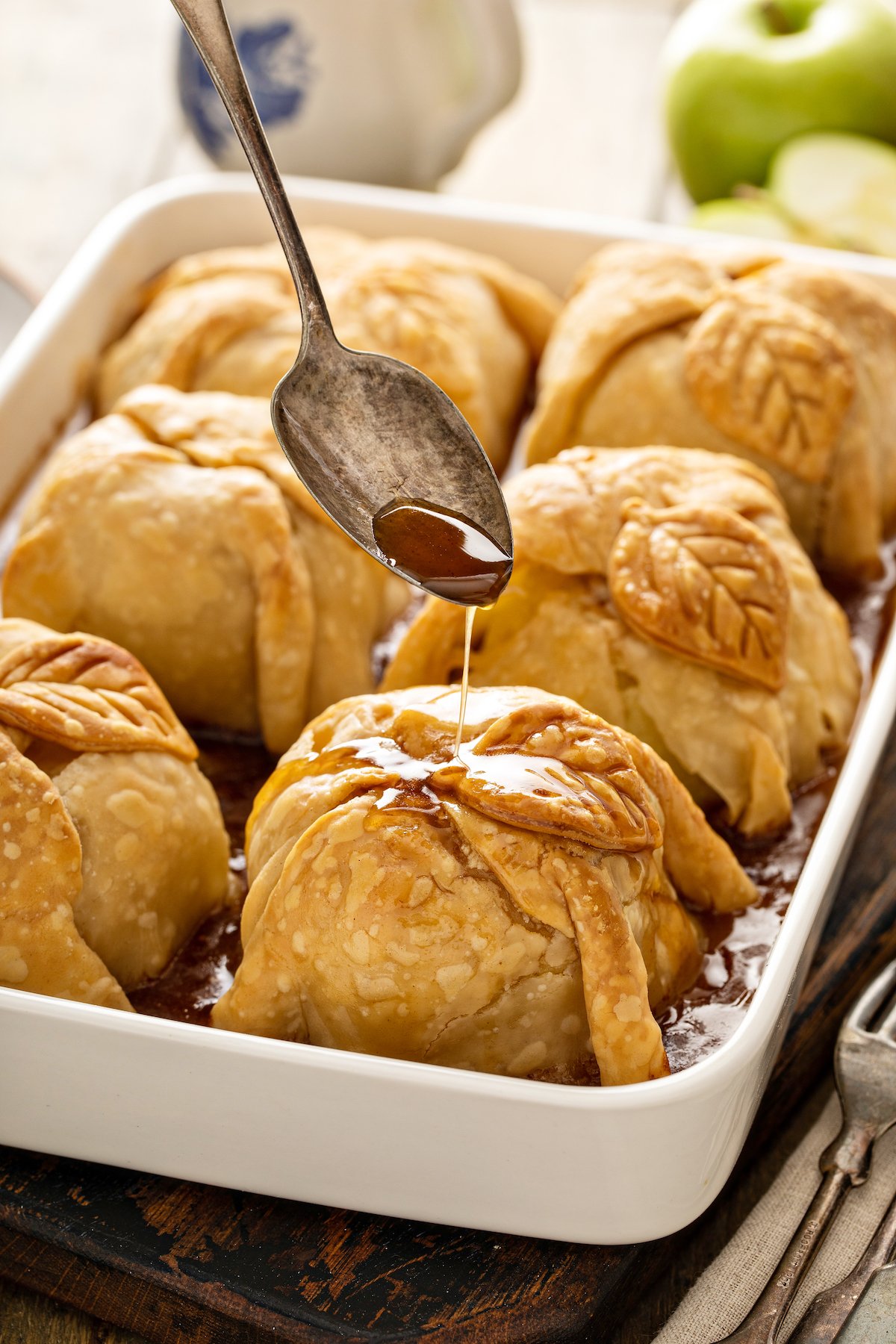 Old Fashioned Apple Dumplings
Baked till tender, wrapped in a flaky pie crust, and served with a sweet apple cider sauce, these gorgeous Old Fashioned Apple Dumplings are irresistible!
Get The Recipe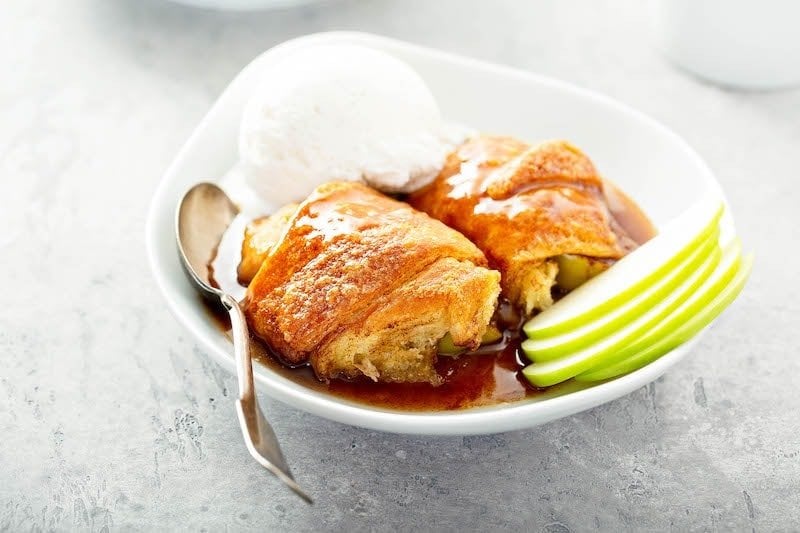 Mountain Dew Apple Dumplings
And now for something sweet, try these easy apple dumplings flavored with none other than Mountain Dew! The perfect homemade pastry to satisfy any sweet tooth.
Get The Recipe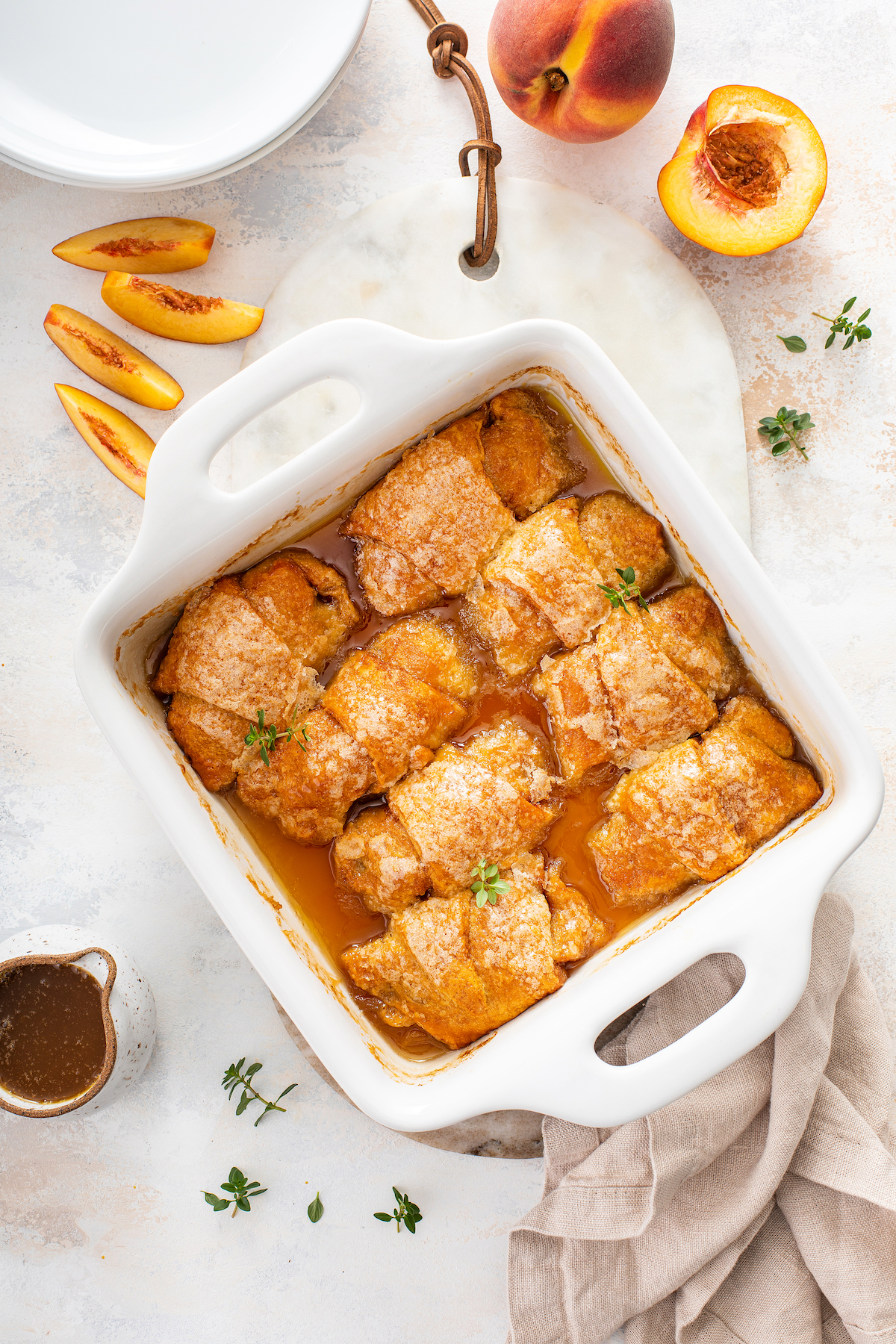 Easy Peach Dumplings
Easy-yet-decadent Peach Dumplings will melt in your mouth! Topped with rich brown butter caramel sauce, these dumplings will have your family begging for seconds.
Get The Recipe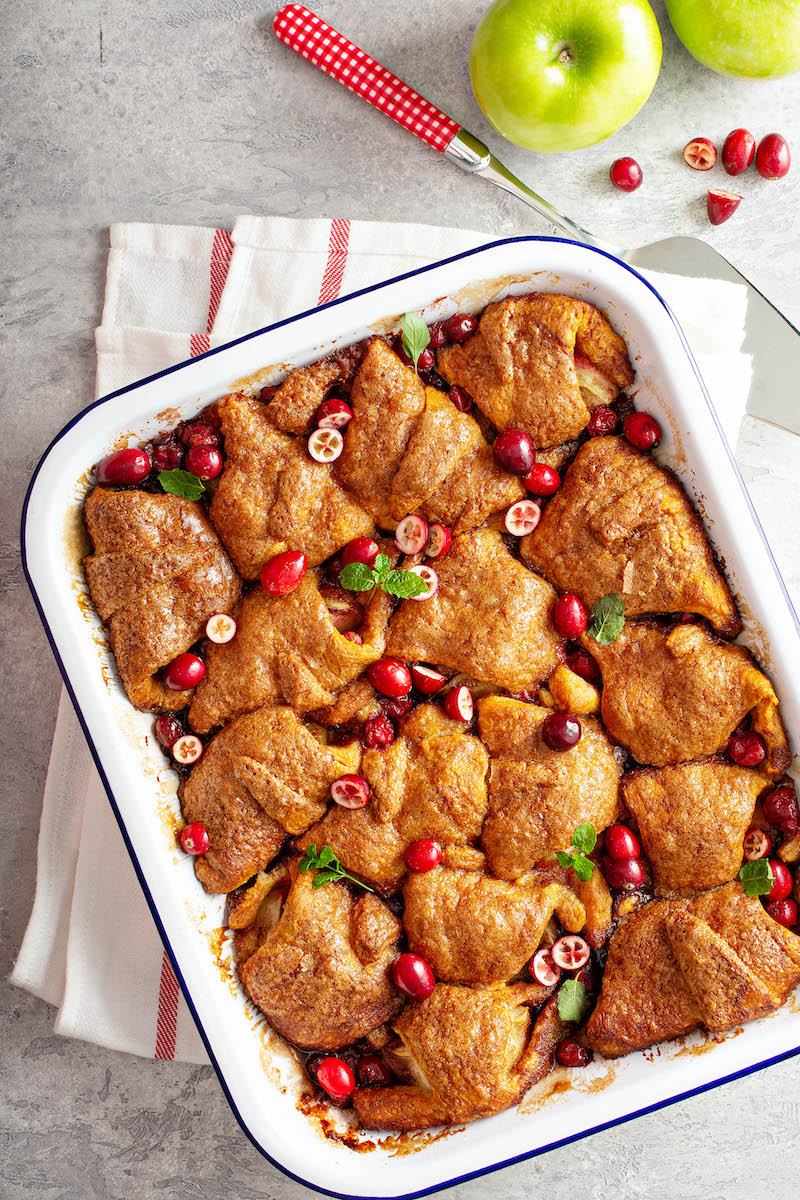 Easy Cranberry Apple Dumplings
Easy Cranberry Apple Dumplings are the best dessert to make with your freshly picked apples! Packed with tart apples and cranberries, these homemade fall pastries are perfect for Thanksgiving. 
Get The Recipe
---
How to Tell When Dumplings Are Done
As a general rule when boiling, cooked dumplings will plump up and float to the surface.
When cooking chicken and dumplings, the easiest way to check is to split one dumpling in half. If the center is fluffy, and not doughy, the dumplings are ready for eating.
For most other kinds of dumplings, you can use a toothpick test as you would with baked goods. Insert a toothpick into the center of the dumpling. If it comes out clean, the dumpling is cooked through!
How to Eat Soup Dumplings
One of the most common questions people ask is: how do you eat soup dumplings? Do you spoon the whole thing into your mouth? Take a bite? Cut them in half? The truth is this comes down to the size of your dumplings and your own personal preferences.
If your dumplings are larger, then the best way to eat them is to cut them in half or take bites. Just cut them with your spoon as you're eating your soup, or take a bite after you have scooped them into your spoon. If your dumplings are smaller and can comfortably be described as "bite-sized," then you can just pop them into your mouth along with the liquid from your soup.
Can You Add a Filling?
There are a few different types of fillings suitable for dumpling recipes. These are:
Minced meat. Like pork, chicken, or seafood.
Chopped vegetables
Aromatics. Like ginger and garlic
Sweet fillings. Your favorite fruit and nuts.
Mashed potatoes (like in kofta and perogies)
Cheese
Can You Prep Dumplings in Advance?
One of the best things about homemade dumpling recipes is that they're perfect for making ahead. You can prepare your dumplings and store them airtight in the fridge up to a day or two before you plan on cooking them. They're also fab to have on hand in the freezer. See below for more details on how to freeze dumplings for longer storage.
Can You Freeze Dumplings?
Yes, you can freeze dumplings. I recommend pre-freezing your wrapped dumplings on baking sheets (a light dusting with flour or cornstarch will keep them from sticking). Once solid, transfer the dumplings to a freezer-safe container or bag. You can cook dumplings straight from frozen, just add an extra minute or two to the cooking time.
This post may contain affiliate links. Read my disclosure policy.