Easy Chicken and Dumplings with Biscuits
Need Chicken and Dumplings fast? This deliciously creamy stovetop recipe made with canned biscuits is what you need! Ready in 30 minutes!
Looking for more chicken and dumplings recipes? Try this recipe with homemade dumplings, or this easy crockpot chicken and dumplings recipe.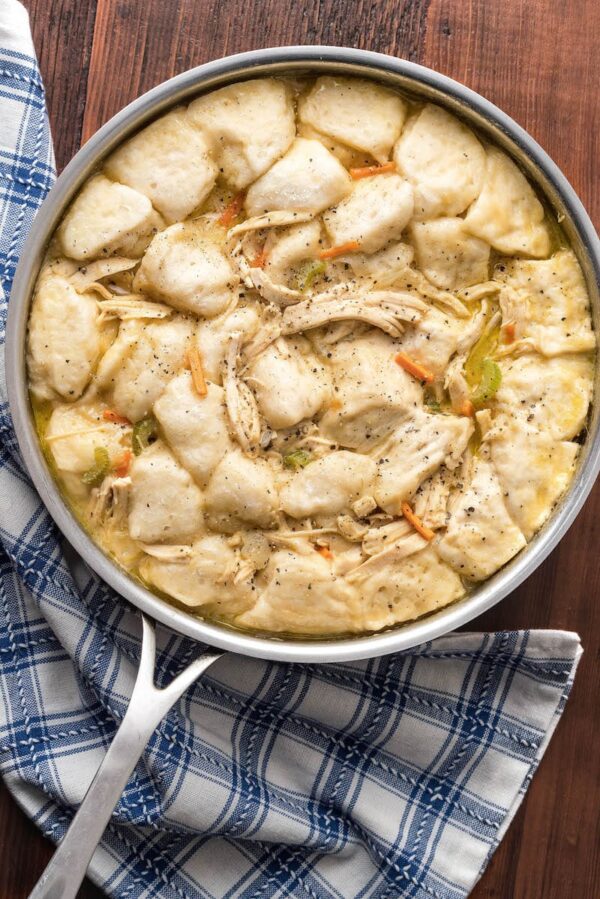 Quick 30-Min Chicken and Dumplings
Any time there is a slight chill in the air, you can guess what I am making for dinner…Chicken and Dumplings.
It's the perfect stick to your ribs kind of dinner that my whole family loves and begs me to make often.
We start with a creamy chicken soup base, loaded with big chunks of chicken, carrots, celery, onion. Then we add some big fluffy dumplings to round it out.
This recipe is made in just 30 minutes or less, from start to finish, so what are you waiting for?!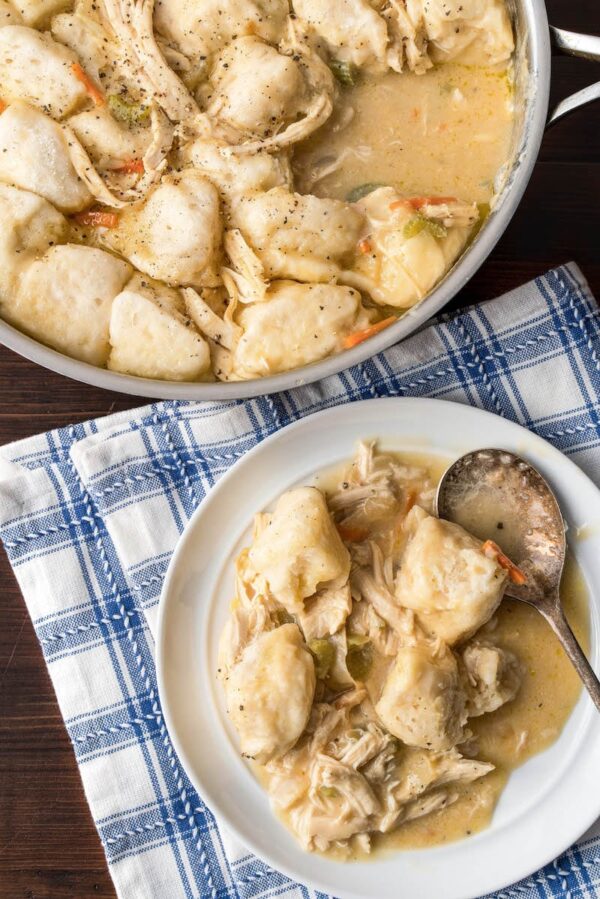 Easy Chicken and Dumplings vs From Scratch
I have many recipes for Chicken and Dumplings on this blog and I believe you need to try them all to find your personal favorite.
This particular version is for my favorite Easy Chicken and Dumplings recipe, made with canned biscuits for the dumplings.
The other big swap in this recipe is the use of canned Cream Of Chicken instead of making your own soup gravy.
I know this recipe isn't for everyone, but this is the 90's/2000's version so many of us grew up enjoying. So if you are looking for your Mama's Easy Chicken & Dumplings recipe that she made with canned biscuits, this recipe is probably very similar!
And for all of my Chicken and Dumplings purists, I really recommend you check out my from scratch version with easy homemade dumplings: Homemade Chicken and Dumplings.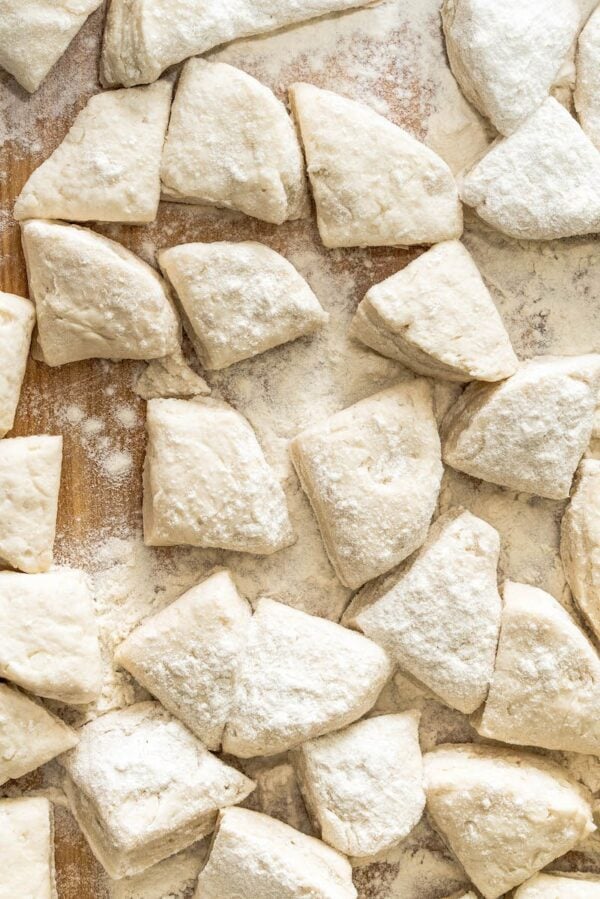 Dumplings Made with Biscuits
There are a few important tips to making dumplings out of biscuits for Chicken and Dumplings.
First, make sure you buy buttermilk biscuits. You do not want the flaky style or any other version.
Buy the large biscuits (16.3 oz can size), not the small biscuits and cut them into fourths. Otherwise you will run the risk of your biscuits cooking down to nothing and disappearing on you.
Toss the cut biscuits in all purpose flour. This helps keep them from sticking to each other and thickens the soup slightly as well.
Lastly, do not leave your chicken and dumplings simmering on the stove for a long time. If you do, you run the risk of your dumplings evaporating into nothing.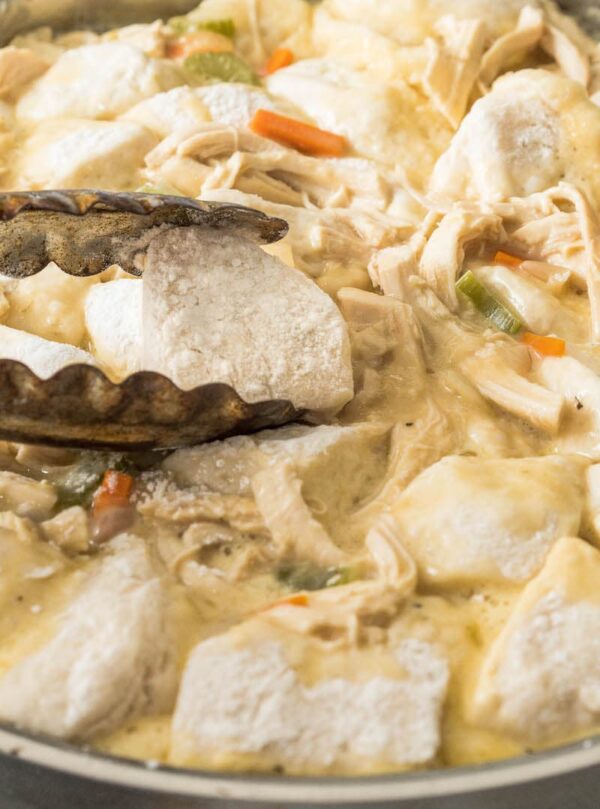 Ingredients for this Easy Recipe:
For this recipe, the goal is delicious, quick and easy chicken and dumplings. We aren't looking to spend a lot of time. In fact, we just have 30 minutes to get it made! So with that in mind, we use already cooked and shredded chicken in this recipe.
You can make your own shredded chicken or you can purchase a rotisserie chicken — both will work great.
Plus, I have one secret ingredient that is KEY to making the creamiest chicken and dumplings…evaporated milk! Evaporated milk is creamier when compared to whole milk, but not as thick as heavy whipping cream (and a lot less fattening as well).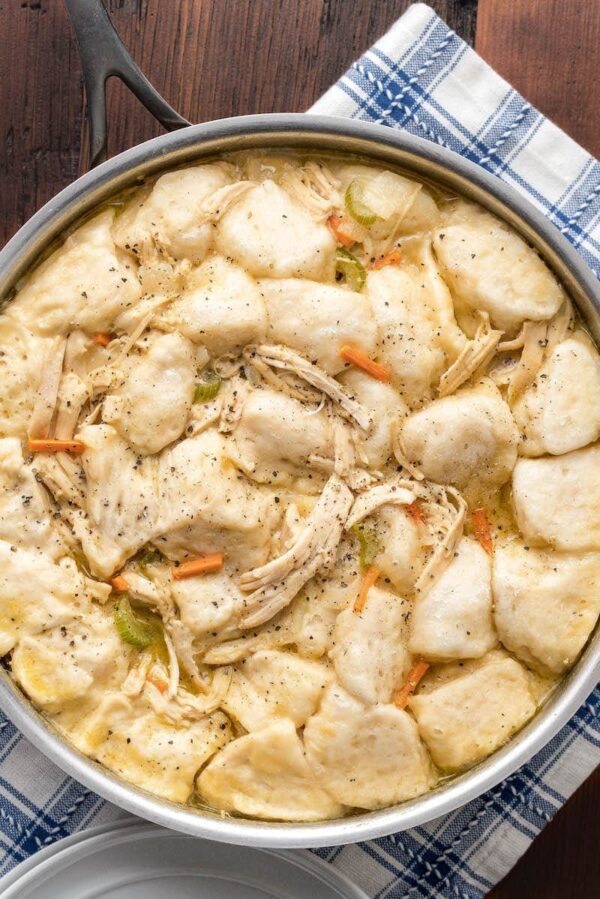 Can I Make This Recipe Ahead?
Yes and No. Confused? Let me explain.
If you make this recipe completely ahead of time, there is a good chance your biscuits will evaporate into nothing and your soup will then become extra thick.
However, you can make the soup base ahead of time and keep it on very low heat until just before you are almost ready to serve dinner.
Then you can crank the heat back up and get the soup simmering again. If it's reduced down, you can add a little more chicken broth back to it to loosen it up.
Then you can go ahead and cook those dumplings and serve it fresh!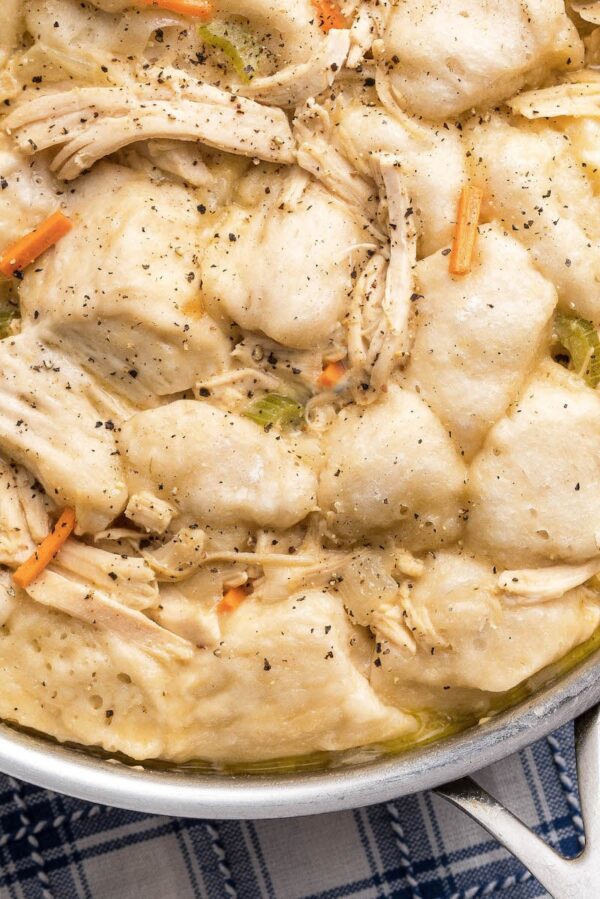 This Easy Chicken and Dumplings with biscuits is how I grew up eating this classic recipe – and I bet many of you did too!
Enjoy the comfort food flashback in a bowl with this deliciously creamy — and oh so easy — chicken and dumplings recipe.
Please share how it turns out for you, I can't wait to hear what you think! I bet your kids LOVE it. Mine do. 😉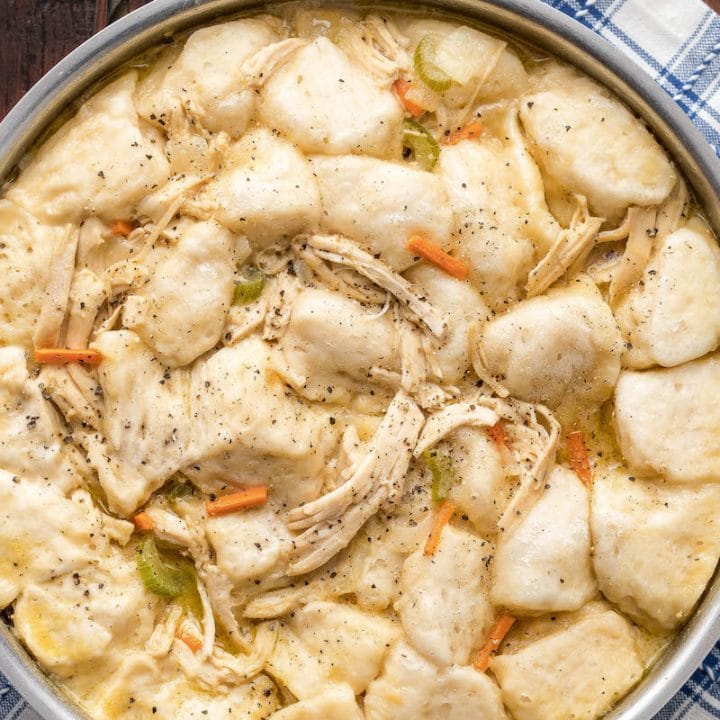 Stove Top Chicken and Dumplings with Biscuits
Yield: serves 6
Prep Time: 10 minutes
Cook Time: 20 minutes
Total Time: 30 minutes
Need Chicken and Dumplings fast? This deliciously creamy stovetop Chicken And Dumplings recipe is made with canned biscuits in just 30 minutes is what you need!
Ingredients
2 tablespoons butter
1 large yellow onion, diced
3 stalks celery, sliced
1/2 cup matchstick carrots
2 cloves garlic, minced
3 cups cooked and shredded chicken
8 oz evaporated milk
1 (10.5 oz) can of cream of chicken
40 oz chicken broth
salt and freshly cracked black pepper, to taste
2 (16.3 oz) cans buttermilk biscuits
1/4 cup all purpose flour, optional
Instructions
In a large heavy bottomed pot, melt butter over medium-high heat. Add vegetables - onion, celery, carrots and garlic. Cook, stirring often until tender, about 6-8 minutes.
Add the shredded cooked chicken, chicken broth, evaporated milk, and can of cream of chicken and bring to a simmer. Season soup to taste with salt and pepper.
Cut the biscuits into quarters (each biscuit will be sliced into 4 equal pieces) and lightly toss them in flour.
Add them to the pot and cook for about 8-9 minutes. Test one of the biscuits to ensure they have cooked through and are not raw in the middle. Once the biscuits are cooked through, serve immediately!
Notes
You can also use a rotissierie chicken to speed up this recipe!
Nutrition Information:
Yield: 6 servings
Serving Size: 1 serving
Amount Per Serving:
Calories: 222
Total Fat: 12g
Saturated Fat: 6g
Trans Fat: 0g
Unsaturated Fat: 5g
Cholesterol: 31mg
Sodium: 1382mg
Carbohydrates: 22g
Fiber: 1g
Sugar: 8g
Protein: 7g
Need Chicken and Dumplings in a hurry? This is the recipe you have been looking for! Make deliciously creamy Chicken and Dumplings on the stove top in just 30 minutes!
Chinese Dumplings (also commonly known as potstickers), are easy to make and taste so much better when you make them homemade!
Rum soaked cinnamon spiced apples are wrapped in tender dumplings, baked in a sweet buttery rum sauce and served with vanilla ice cream!
My family's favorite easy chicken and dumplings recipe with big fluffy dumplings that are made from scratch in just minutes! Don't miss the secret ingredient to make it extra creamy!
This Wonton Soup recipe is bursting with fresh flavors and loaded with homemade pork Chinese Dumplings to elevate this classic take out dish!
Our favorite chicken and dumplings recipe turned into an easy crockpot meal with homemade dumplings, made from scratch, in just minutes! Don't miss the secret ingredient to make it extra creamy!
Crisp green apples are wrapped in soft dumplings and baked in a sweet cinnamon sauce made of brown sugar, butter and mountain dew! You will be begging for more after just one bite!