White Chicken Chili
Almost all of my favorite comfort foods come in bowls. Soups, Cereal and Ice Cream. This soup was exactly that, a big giant bowl of comfort. I had spent all day answering emails, cleaning, doing laundry, making conference calls and grocery shopping.
By the time the day was over, all I wanted to do was eat and watch reruns of Girls on HBO (ps the new season starts in just a couple weeks – YAY). I had made plans to make Stuffed Flank Steak with Grits, but I just wasn't up for that much work! I wanted something delicious, easy and fast.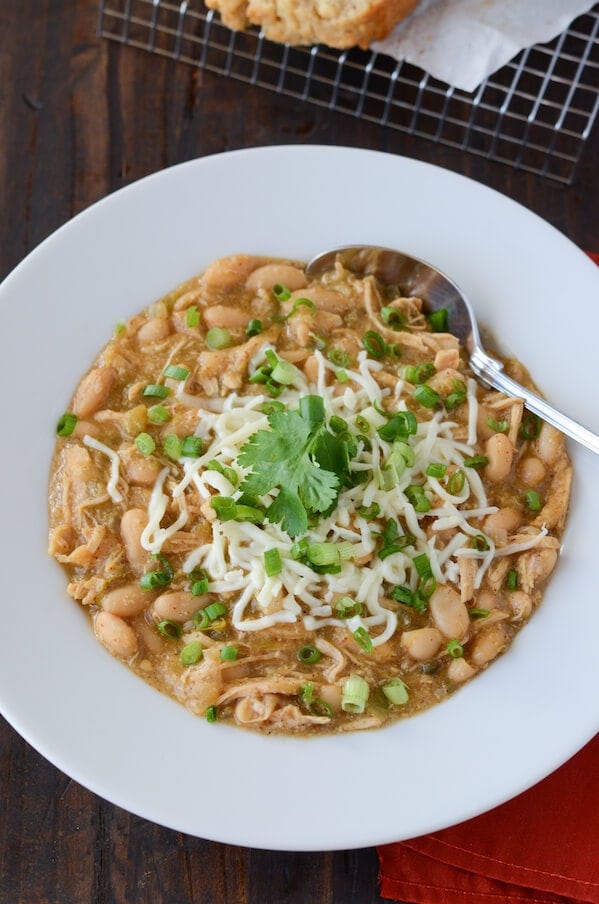 Sometimes, as much as I try to be, I am not up for an all day soup making affair. On a chilly Sunday afternoon, I am all for having a big pot of soup simmering on the stove all afternoon. But on a rainy Wednesday night, I just need dinner on the table fast enough that I don't eat chips and dip for dinner instead. Just tellin' ya how it is. 😉
By using a rotisserie chicken, this chili comes together quickly! It took me right around 40 minutes from start to finish. Not bad for a chili!
I served it with my all time favorite Buttery Beer Bread. The combination was so good, that Jorge and I both went back for seconds! If you are looking for a warm bowl of comfort food that is pretty healthy, this one's for you.
White Chicken Chili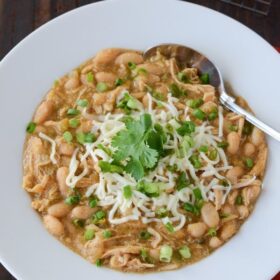 Ingredients:
1/4 cup cornmeal
1/4 cup milk
2 tablespoons butter
1 large yellow onion, diced
2 jalapenos, seeded and minced
4 cloves garlic, minced
1 8 oz can green chilies
2 teaspoons chili powder
2 teaspoons ground cumin
1/2 teaspoon cayenne pepper (or to taste)
1/2 teaspoon kosher salt
4 cups chicken stock
3 cups cooked & shredded chicken (about 4 breasts)
2 (14 oz) cans cannellini beans, rinsed and drained
green onions, chopped
mozzarella cheese, shredded
sour cream
Directions:
In a small bowl, whisk together cornmeal and milk. Set aside.
In a dutch oven (or a heavy bottomed pot), melt butter over medium-high heat. Add onion and jalapeno, cooking until soft – about 5 minutes.
Stir in garlic and green chilies and cook for 30 more seconds. Add spices (chili powder, cumin, cayenne pepper, kosher salt) and cook for 1 minute.
Add chicken stock, shredded chicken and cannellini beans. Bring to a low boil. Cover and simmer, stirring occasionally, for 20 minutes.
Stir in the cornmeal and milk mixture. Continue simmering for another 10 minutes, stirring occasionally. Remove from heat and let stand for 10 minutes to thicken before serving.
Divide among 4 bowls and top with green onions, mozzarella cheese and a dollop of sour cream! Enjoy!