This easy Creamy Parmesan Chicken recipe is a tasty LOW CARB dinner idea that is incredibly quick to make with just 4 ingredients you probably already have on hand!
An Easy Low-Carb Chicken Dinner Idea
Creamy Parmesan Chicken. Just 4 ingredients (plus salt and pepper). Low Carb/Keto/Gluten Free. Deliciously tasty.
Plus, it can be prepped ahead of time and tossed in the oven when you walk in the door from your long day.
What else are you waiting for? I'm pretty sure those are all the magic words you need!
This Creamy Parmesan Chicken is one of my families favorite easy weeknight dinner recipes.
It's always delicious, epically moist and full of flavor! Just don't tell my family how easy it is for me to make please. ;-)
If you like this recipe, make sure and check out some of my other low carb favorites: Lemon Caper Chicken, Best Creamed Spinach and Creamy Baked Brussel Sprouts!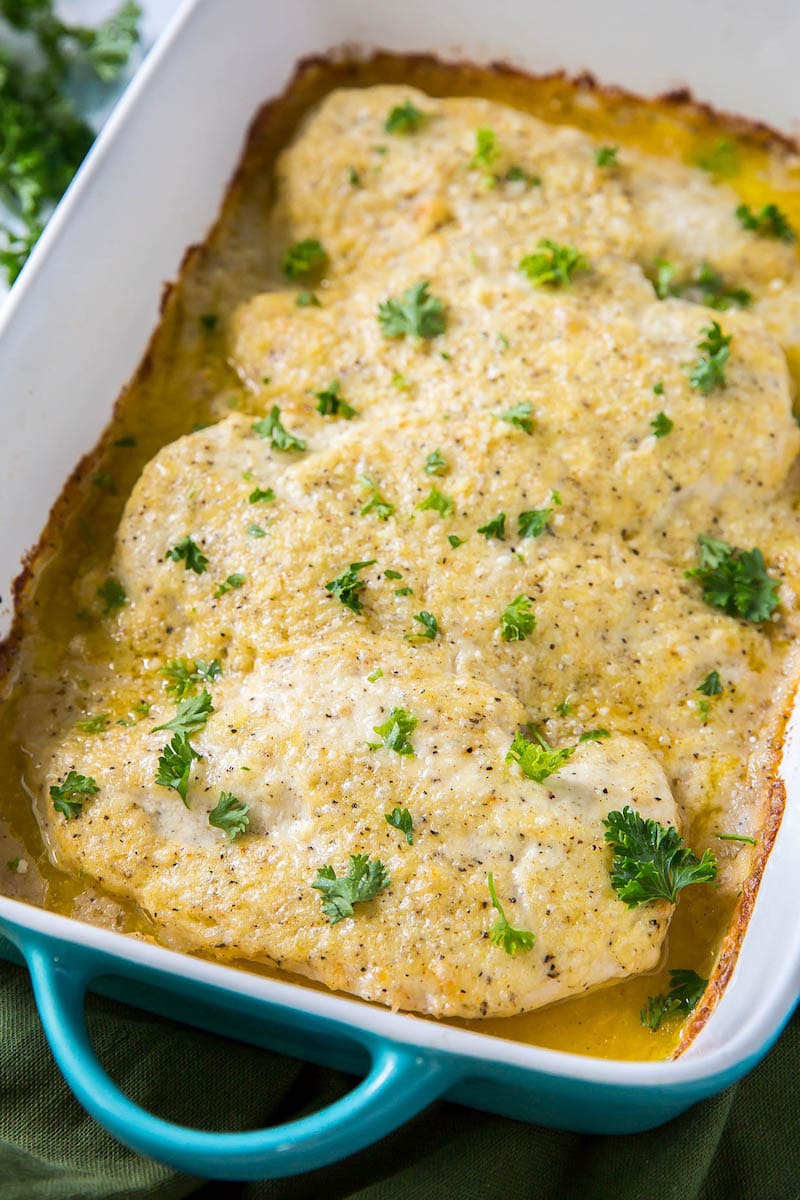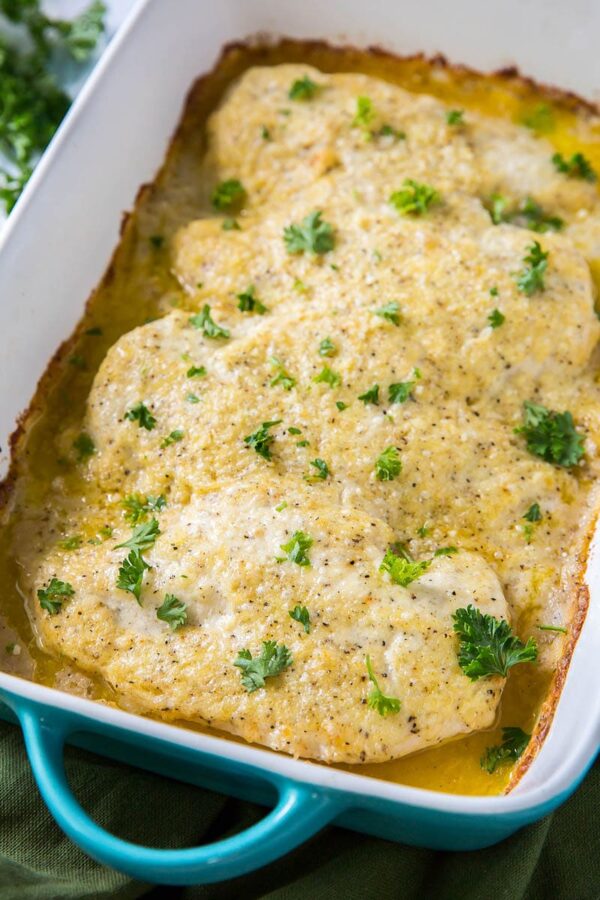 What is the secret ingredient that makes this Parmesan Chicken so creamy?
Unlike the Italian classic, Chicken Parmigiana, this Parmesan Chicken is in a creamy white sauce.
Can you guess the secret ingredient? I'll give you one hint, it is not alfredo sauce!
MAYO. I know, I'm shocked too. And my younger mayo hating self is even more shocked.
However, the first time I ever had "mayo chicken", I was hooked. Thankfully no one told me it was topped with mayo before baking, so I had no clue.
I just knew I was eating an epically moist chicken breast and was excited to ask the host how she had made it.
Turns out, it was something I thought I hated, mayonnaise. I was SHOCKED. I immediately came home and started experimenting.
I then made this Creamy Chicken Parmesan recipe for my dad, another self proclaimed "mayo hater", and guess who went back for seconds…and then thirds.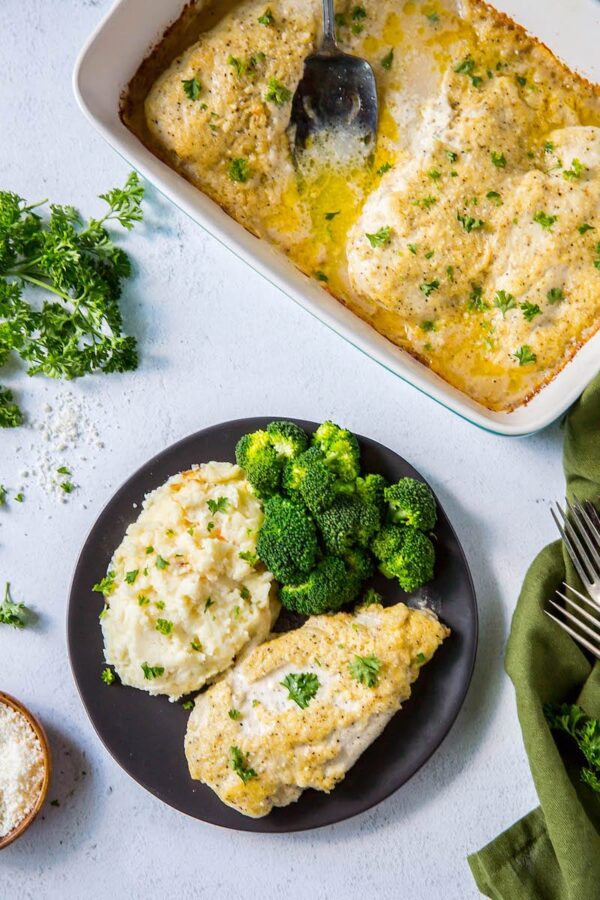 Creamy Chicken Parmesan Ingredients:
You only need a few ingredients for this chicken parmesan recipe and I bet you already have most of them in your kitchen!
Chicken Breasts: I use the thinly sliced chicken breasts because they cook faster.
Mayonnaise
Parmesan: I recommend shredded parmesan for the most flavor.
Garlic cloves
salt/pepper
I know this is technically 6 ingredients, and above it says 4 ingredients, however I never count salt and pepper because you should always have those on hand.
You can use regular table salt, but I like to use a seasoned salt (like Lawry's) to help add a little extra depth.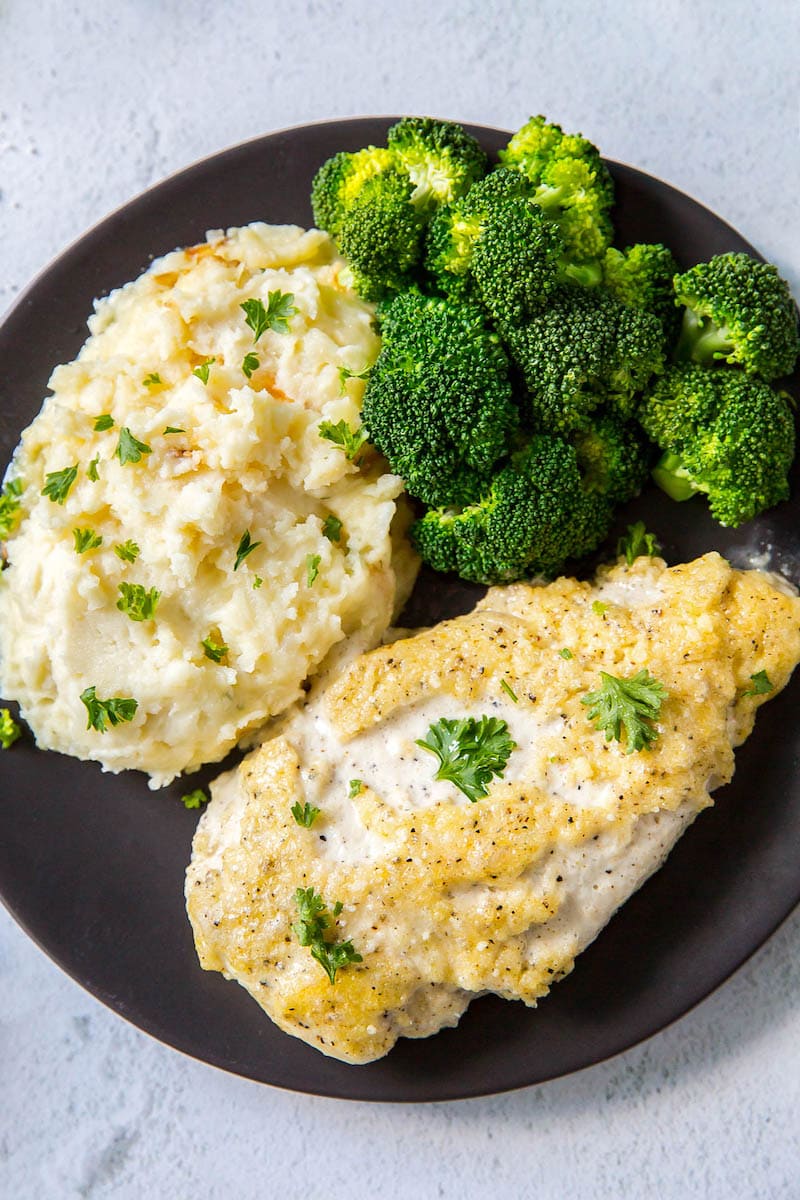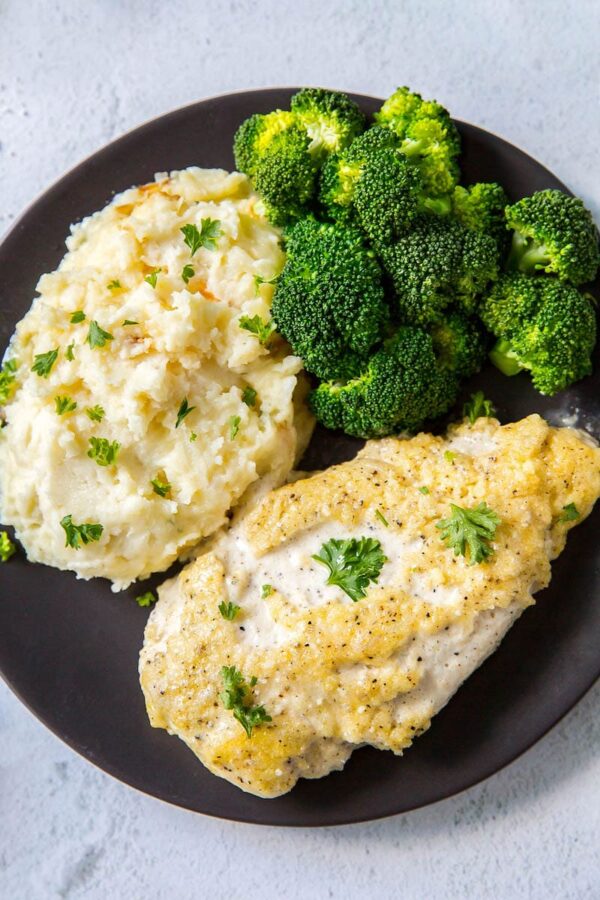 Can you prep this Creamy Parmesan Chicken ahead of time?
YES! This is an excellent meal prep recipe for a busy weeknight.
You can prep this recipe completely and then cover it with saran wrap (or foil) and pop it into the fridge.
Get home from a busy day and slide it into the oven and cook it according to the recipe directions! It should not take any additional cooking time!
You can prep this up to a couple of days before, just double check your sell by date on your chicken to be sure it has plenty of time left.
**If you are using a glass casserole dish, I recommend letting your casserole dish sit on the counter at room temperature while you preheat the oven.
This will allow the glass to warm up safely and prevent your glass from possibly shattering when going from the cold fridge to the hot oven.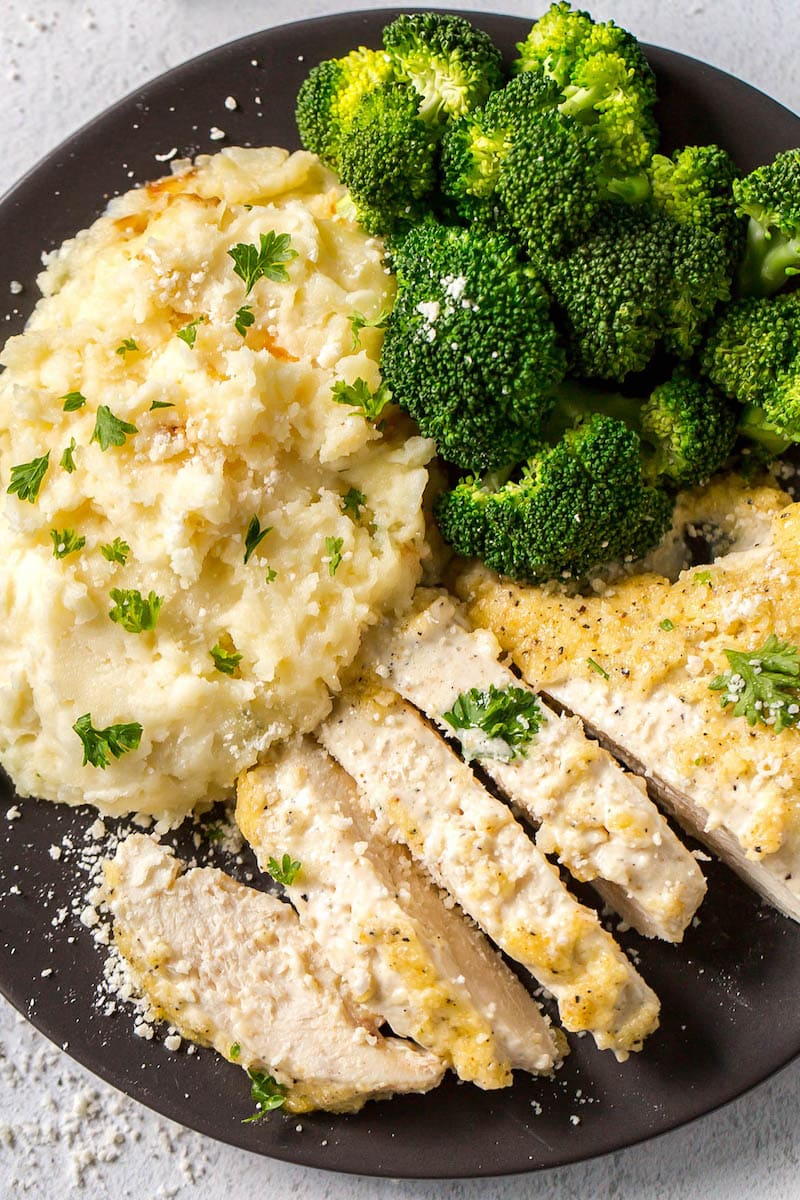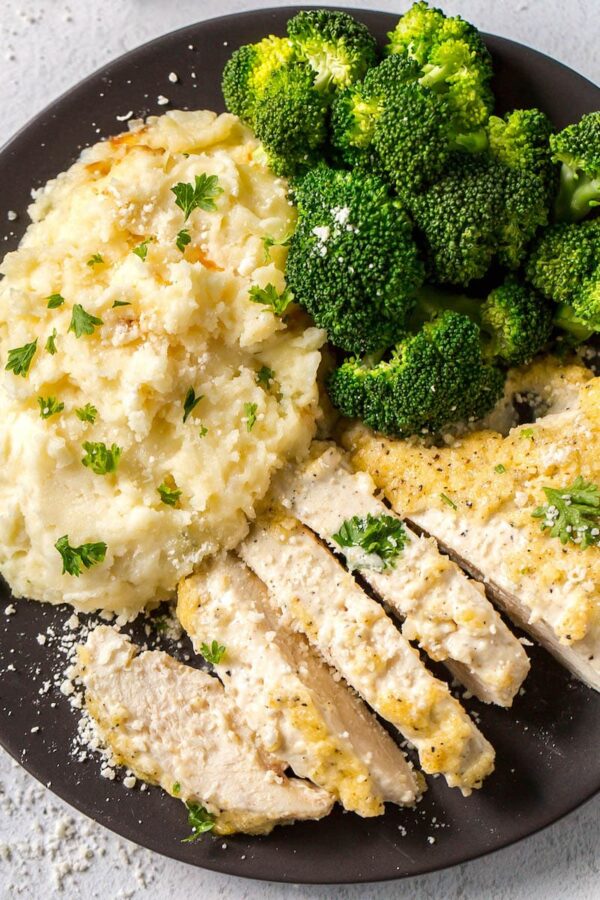 I am really excited for you to try this low carb Creamy Parmesan Chicken recipe. If you don't tell anyone this chicken recipe is low carb, I promise they will have no idea!
While I normally may not be a mayo fan, the mayo in this recipe really does make the chicken super moist and lets the parmesan cheese flavor shine through.
Once you try this Parmesan Chicken, please leave a review or comment below letting me know how it turns out for you!
Creamy Parmesan Chicken Recipe
This easy Creamy Parmesan Chicken recipe is a tasty LOW CARB dinner idea that is incredibly quick to make with just 4 ingredients you probably already have on hand!
Ingredients
1

lb

boneless

,

thinly sliced, chicken breasts

¾

cup

mayonnaise

1 ½

cup

shredded parmesan cheese

,

divided

2

garlic cloves

,

minced

1 ½

teaspoons

seasoning salt

1

teaspoon

freshly cracked pepper

chopped parsley

,

optional garnish
Instructions
Preheat oven to 375°F. Grease a 9x13 casserole dish. Place chicken breasts in casserole dish.

In a small bowl, whisk together mayo, 1/2 cup parmesan cheese, minced garlic, salt and pepper.

Spread mixture over chicken breasts. Sprinkle the reamining 1 cup parmesan cheese over the top.

Bake for 40 mins, or until an internal temperature of 165°F is reached. Serve hot and garnish with parsley, if desired.
Notes
You may also use regular chicken breasts, but they will take longer to cook through. I buy my thinly sliced chicken breasts at the grocery store right next to the regular chicken breasts. However, if they are unavailable, you can use a sharp knife to slice a chicken breast, lengthwise, into two!
Nutrition
Serving:
1
serving
,
Calories:
597
kcal
,
Carbohydrates:
2
g
,
Protein:
47
g
,
Fat:
43
g
,
Saturated Fat:
11
g
,
Polyunsaturated Fat:
31
g
,
Cholesterol:
135
mg
,
Sodium:
1425
mg
,
Sugar:
1
g
Categories:
This post may contain affiliate links. Read my disclosure policy.