Baked until juicy and tender, this easy salsa verde chicken is bubbling with flavor from the jalapeños, cilantro, garlic, and cumin. Served over rice or made into tacos, it's the perfect one-pan dinner.
Easy Chicken Verde Recipe
This easy salsa verde chicken is a one-pan dinner that'll put all your other weeknight dinners to shame. Oven-baked for maximum simplicity, this recipe still manages to come out super juicy and loaded with smokey spiciness.
To make things even easier (because who has time for complicated dinners?), I've made sure to incorporate enough store-bought elements like canned chiles and salsa verde. Even if you're falling asleep once you get home, I promise you'll have enough energy to whisk everything together and pop it in the oven. The crockpot's always an option too.
You'll be surprised by how quickly it's ready to be served without compromising on texture or flavor. I recommend you sneak a couple of bites before calling everyone to the table, though. It's so good it'll be gone in minutes.
If you love this recipe, make sure to also check out my favorite easy Crockpot Salsa Verde Chicken Tacos!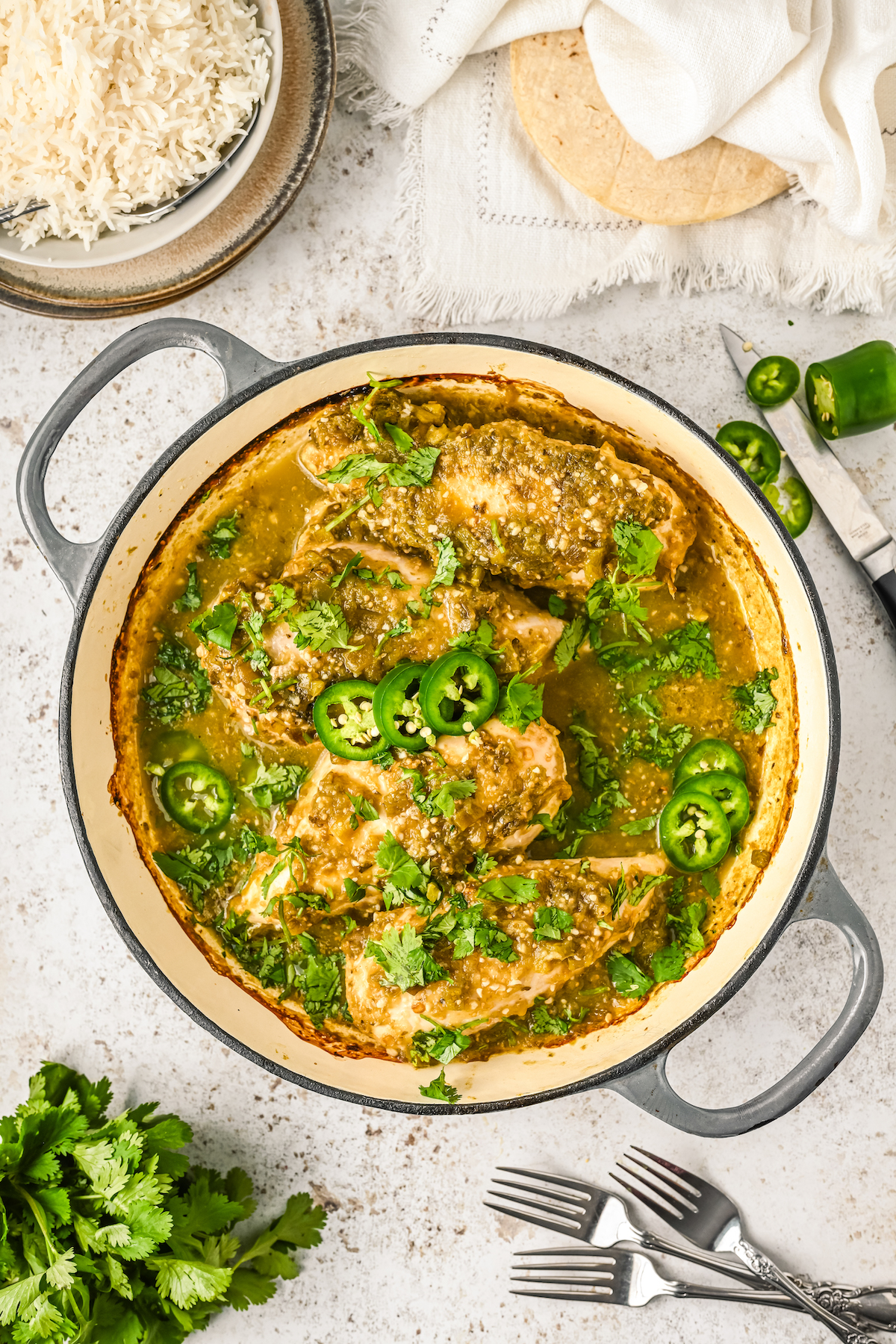 What Is Salsa Verde?
Salsa verde is a kind of traditional Mexican salsa made with primarily green ingredients like jalapeños, cilantro, and tomatillos. Recipes also usually include white onion, garlic, and a blend of spices and herbs. However, each household makes this salsa differently depending on the region.
While it's usually spicy, the level of heat can be toned down by removing the seeds from the chiles, changing the types of chile used, and even adding avocado or more tomatillo. Served in small bowls to add to tacos or used to make this delicious chicken, salsa verde is an important part of Mexican cuisine.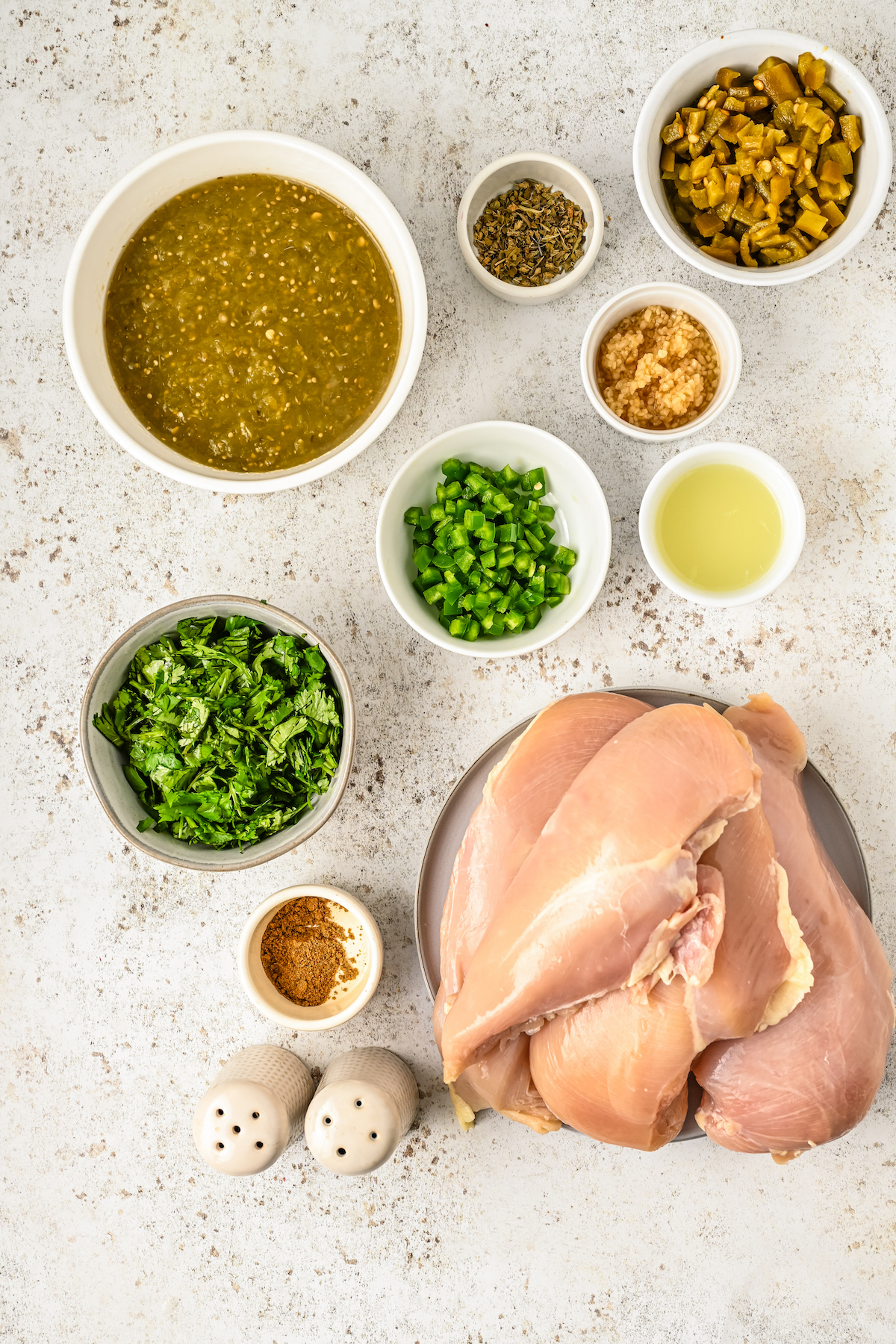 Recipe Ingredients
My secret to the tastiest chicken is using homemade salsa, but it's up to you whether you use it too. Check the recipe card at the bottom of the post for the complete recipe with ingredient amounts.
Chicken breasts – Make sure they're boneless and skinless to cut down on prep time.
Salsa verde – I love my Tomatillo Avocado Salsa (minus the avocado for this recipe) but use your favorite.
Canned green chiles – Please don't substitute them for fresh chiles because part of the recipe's flavor comes from the brine they're in.
Garlic – Fresh garlic is always best, but you can also add 1/2 teaspoon of garlic powder for every clove.
Jalapeno – Serrano chile is a good substitute. Reduce the heat by removing the seeds and veins.
Ground cumin – Feel free to remove it.
Mexican oregano
Lime juice
Cilantro
Salt and pepper
Optional Toppings
Tortillas – Corn or flour tortillas are okay.
Rice – Red or white rice will work.
Shredded lettuce
Avocado
Pickled red onion – Diced white onion also works.
Sliced jalapeños
Lime wedges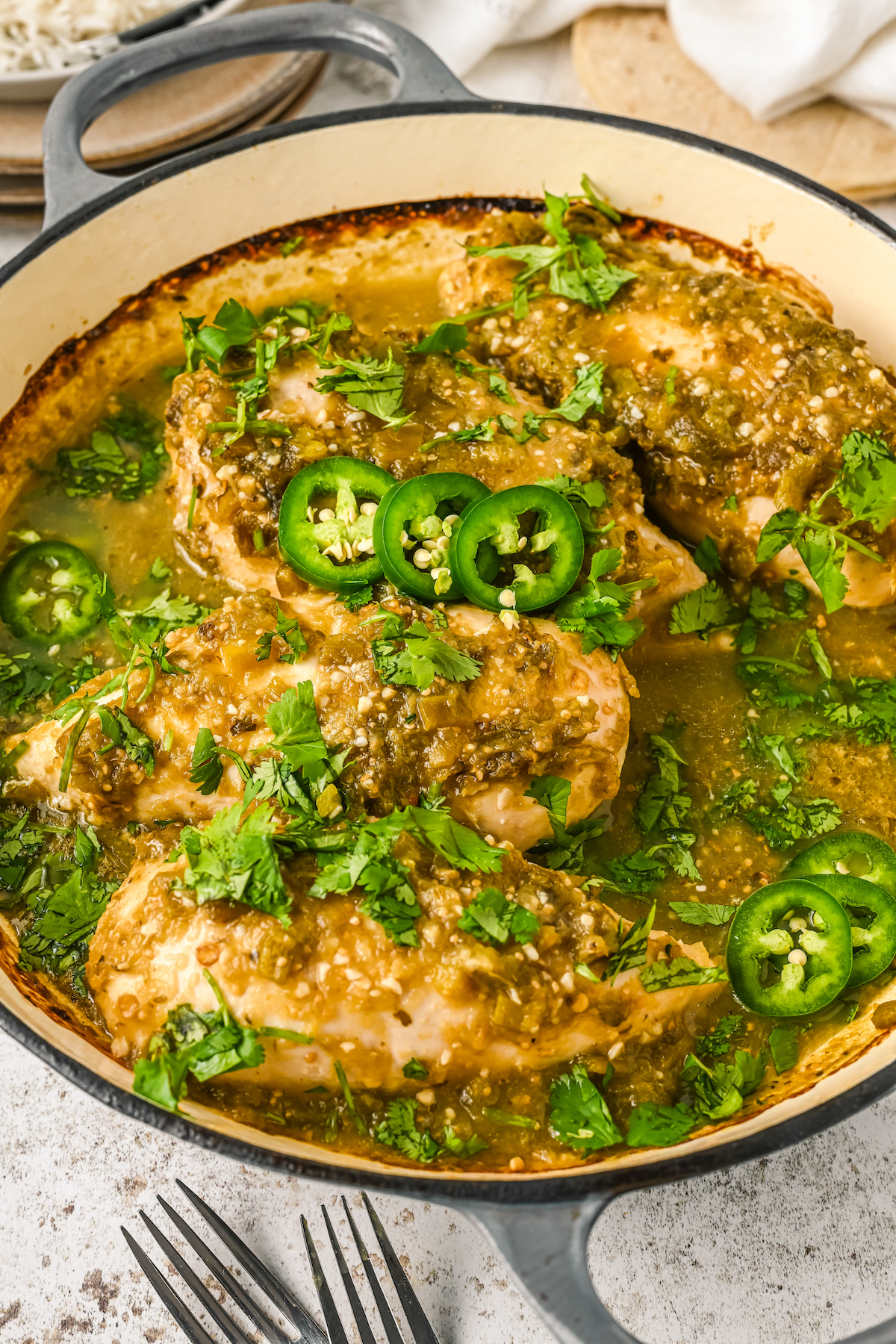 How to Make Salsa Verde Chicken
Can you really complain about this easy salsa verde chicken when all it takes is 5 easy steps?
Prepare the baking dish. Preheat the oven to 400 F. Grease a baking dish with cooking spray. Place the chicken inside.
Add the salsa. In a medium-sized bowl, whisk the salsa verde, canned green chiles, garlic, jalapeño, cumin, oregano, and lime juice until well combined. Pour the mixture over the chicken.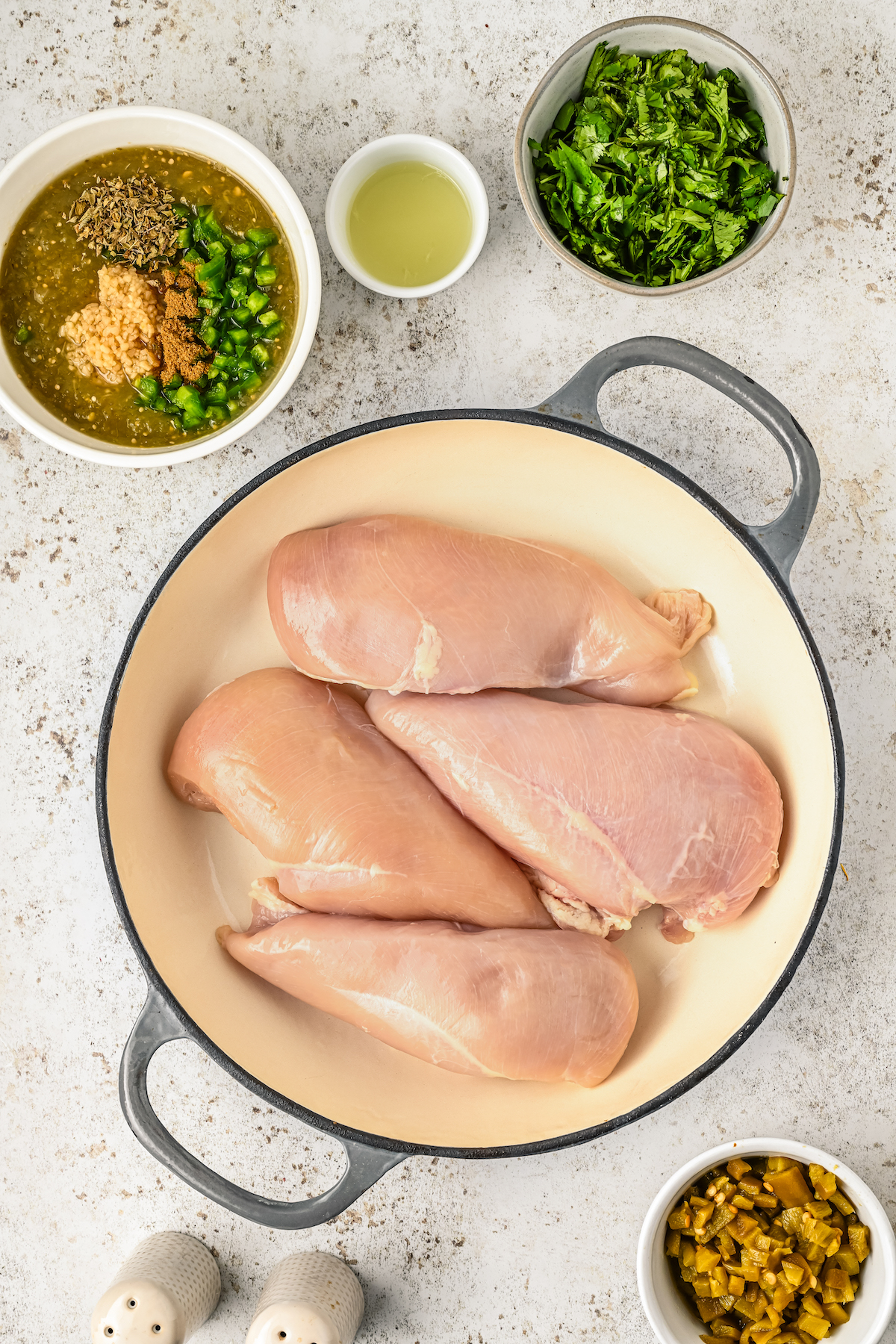 Bake. Cover the baking dish with foil and pop it into the oven. Let the chicken bake for 25 minutes. Remove the foil and let it continue baking for another 10 minutes or until the chicken is cooked through.
Let it rest. Remove it from the oven and let the chicken rest for 5-10 minutes. Use a spoon to carefully add more sauce from the baking dish to the chicken. Sprinkle with cilantro to taste.
Serve. Enjoy the chicken over rice or shred the meat and use it to make tacos.
Can I Make Crockpot Salsa Verde Chicken?
Of course! It's even easier than the oven version because you can set it before leaving for work in the morning and come home to a ready-made dinner. All you have to do is throw everything into the crockpot and cook it on HIGH for 4 hours or LOW for 8 hours.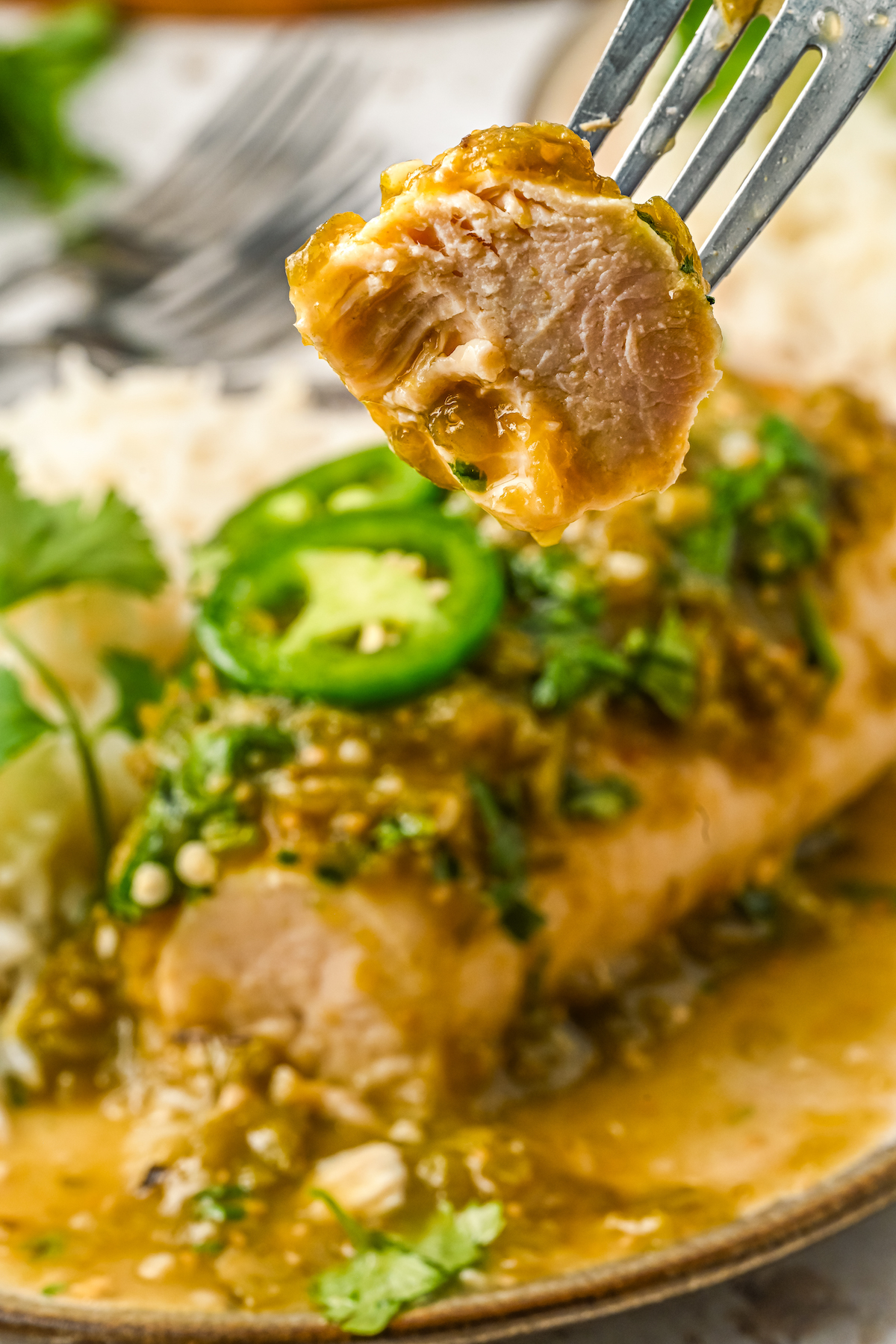 Tips for Success
Follow these tips to successfully make this easy salsa verde chicken every time:
Watch out for steam. Use kitchen tongs to carefully remove the foil from the baking dish. Also, keep your face away from the baking dish at all times. Sometimes hot steam escapes violently from under the foil, so be careful when removing it to avoid burns.
Use a meat thermometer. The chicken is ready once a meat thermometer inserted in the thickest part of the breast reads 165 F. Don't remove it from the oven before this or it'll be undercooked.
Reduce the sauce. If the sauce is too thin after baking, carefully pour it into a small pot and reduce it over medium heat for 5 minutes or until slightly thickened. Pour it on top of the chicken.
Make it mild. Substitute the canned green chiles for thawed frozen poblanos. Blend them with a little bit of water and use them in the sauce as usual.
Use homemade salsa. This gives you a chance to either use up leftovers or experiment with different salsa recipes while adding lots of flavor to this chicken.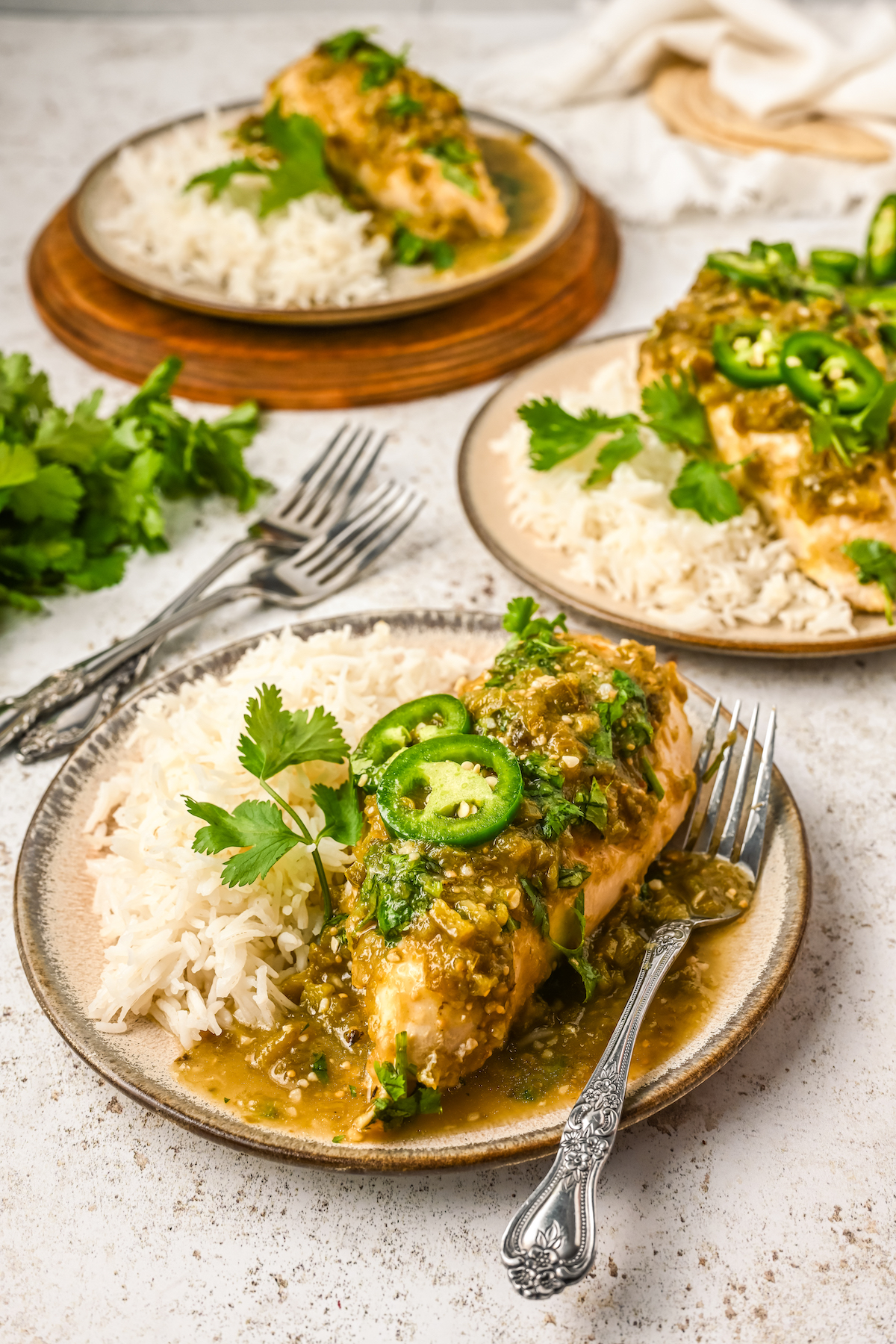 What to Serve with This Salsa Verde Chicken Bake
Once you've added your favorite toppings, don't forget to serve this easy salsa verde chicken over Mexican Red Rice or Puerto Rican White Rice. Some homemade corn or Flour Tortillas are also great for dunking into the sauce or even making tacos.
You can also enjoy it with a side of Refried Beans or a small bowl of Spicy Black Bean Soup. Generally speaking, I'd just steer away from saucy dishes because this chicken already has enough salsa, but feel free to pair it with whatever Mexican or Latino dishes you prefer.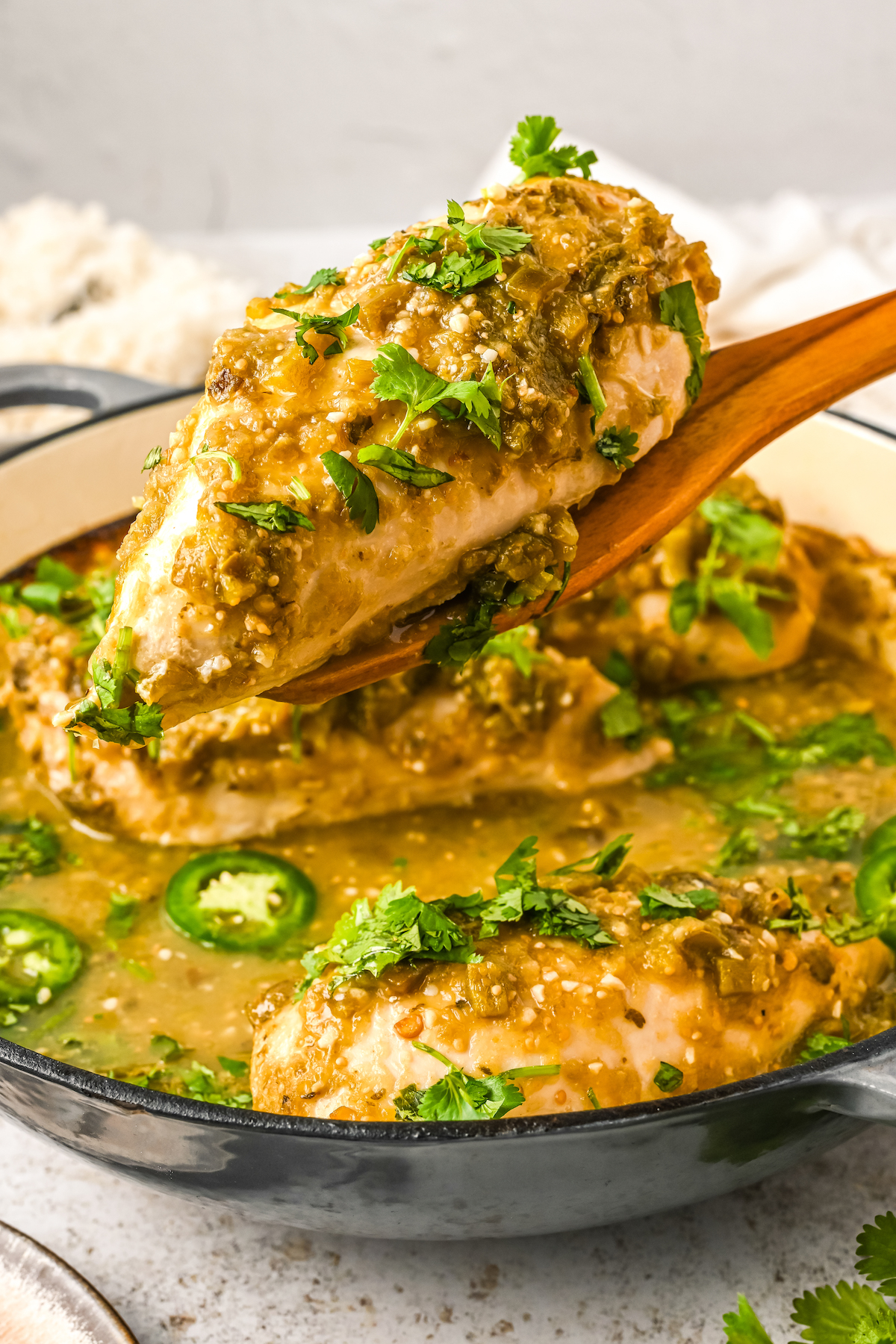 How to Store Leftovers
Refrigerate any cooled leftovers in an airtight container for up to 5 days. Reheat it by covering it in leftover sauce and popping it in the microwave for up to 2 minutes or until warm. You can also heat it in a pan over medium heat for 2-3 minutes on each side. Make sure to baste it with sauce to help prevent it from drying out.
Can I Freeze This?
Sure! Place any cooled leftovers in a freezer-friendly bag or container. Freeze it for up to 3 months.
Transfer it to the fridge a day before serving so that it thaws completely. Whatever you do, please don't add this salsa verde chicken to the pan while it's still frozen or partially frozen. It won't cook properly and the texture will be off.
More Easy Chicken Recipes
Yield: 8 servings
Salsa Verde Chicken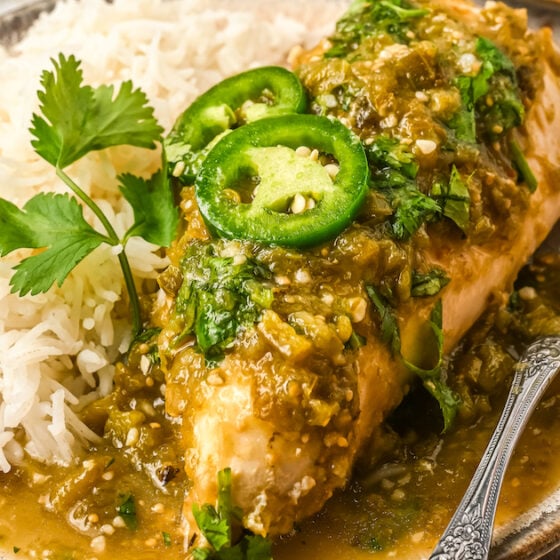 This easy salsa verde chicken is a juicy, spicy, and one-pan Mexican recipe that'll bring some excitement back to your weeknight dinners. -
Additional Time
10 minutes
Total Time
1 hour
35 minutes
Ingredients
For the Chicken
4 boneless, skinless chicken breasts
2 cups salsa verde
1 (7.5 ounce) can green chiles
2 tablespoons minced garlic
1 jalapeño, seeded and diced
1 teaspoon ground cumin
1 teaspoon Mexican oregano
2 tablespoons fresh lime juice
¼ cup cilantro, chopped
Salt and pepper, to taste
Optional Toppings
Rice

Shredded lettuce
Avocado

Pickled red onion
Sliced jalapeños
Lime wedges
Instructions
Preheat the oven to 400°F.
Spray an oven safe baking dish with non-stick cooking spray and place the chicken breasts into the dish.
Whisk to combine the salsa verde, green chiles, garlic, jalapeño, cumin, oregano and lime juice together in a bowl. Pour over the chicken.
Cover the pan tightly with tinfoil and place in the oven. Bake for 25 minutes, then remove the tinfoil and continue baking for another 10 minutes, until chicken is cooked through.
Remove from the oven and allow to rest for 5 minutes. Sprinkle it with cilantro.
Serve over rice, or shred and put in tortillas with your favorite toppings for tacos!
Notes
Storage: Refrigerate any cooled leftovers in an airtight container for up to 5 days. Reheat it by covering it in leftover sauce and popping it in the microwave for up to 2 minutes or until warm. You can also heat it in a pan over medium heat for 2-3 minutes on each side. Make sure to baste it with sauce to help prevent it from drying out.
Nutrition Information:
Yield:
8
Serving Size:
1
Amount Per Serving:
Calories:

225
Total Fat:

7g
Saturated Fat:

1g
Trans Fat:

0g
Unsaturated Fat:

5g
Cholesterol:

51mg
Sodium:

475mg
Carbohydrates:

19g
Fiber:

4g
Sugar:

4g
Protein:

22g
Categories
This post may contain affiliate links. Read my disclosure policy.