Made with just 4 ingredients, these Sweet Potato Fries end up super crispy and perfectly seasoned every time. An easy, healthy alternative to French fries that you can make in the oven or air fryer!
Why You'll Love These Sweet Potato Fries Recipe
Here are a few reasons why these baked sweet potato fries will soon become one of your favorite side dishes.
Healthier than regular fries. Fresh from the oven, these crispy fries are a delicious and nutritious alternative to regular french fries.

 

Packed with nutrients, this recipe is perfect for when you're craving fast food. Sweet potato fries are naturally gluten-free and vegan-friendly.
Pair with almost anything. These go great with burgers, chicken, steak, and all of your favorite dipping sauces.
Quick & easy. I love that they're low maintenance, needing just 4 ingredients and 30 minutes in the oven. Plus, you can chop the potatoes ahead of time and store them in a ziploc bag in the fridge for when you need a snack in a pinch!
Looking for more easy sweet potato recipes? Try my Air Fryer Sweet Potatoes or Instant Pot Mashed Sweet Potatoes.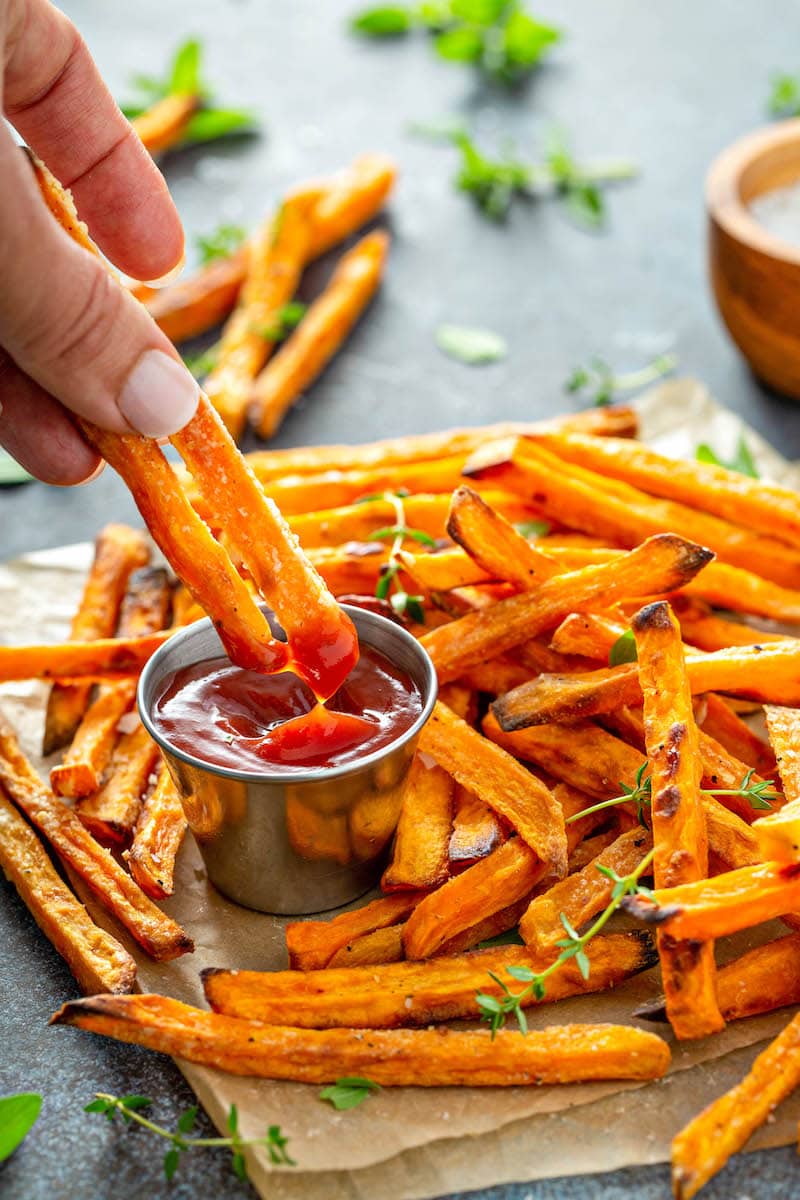 Are Baked Sweet Potato Fries Healthy?
I love this recipe because it's a healthy treat that kids actually love. Sweet potatoes actually have slightly more carbs and calories than regular white potatoes, but contain more antioxidants, fiber, and vitamins A, C, and B6.
Additionally, baking the fries uses significantly less oil than deep frying, which lessens the fat and calorie content.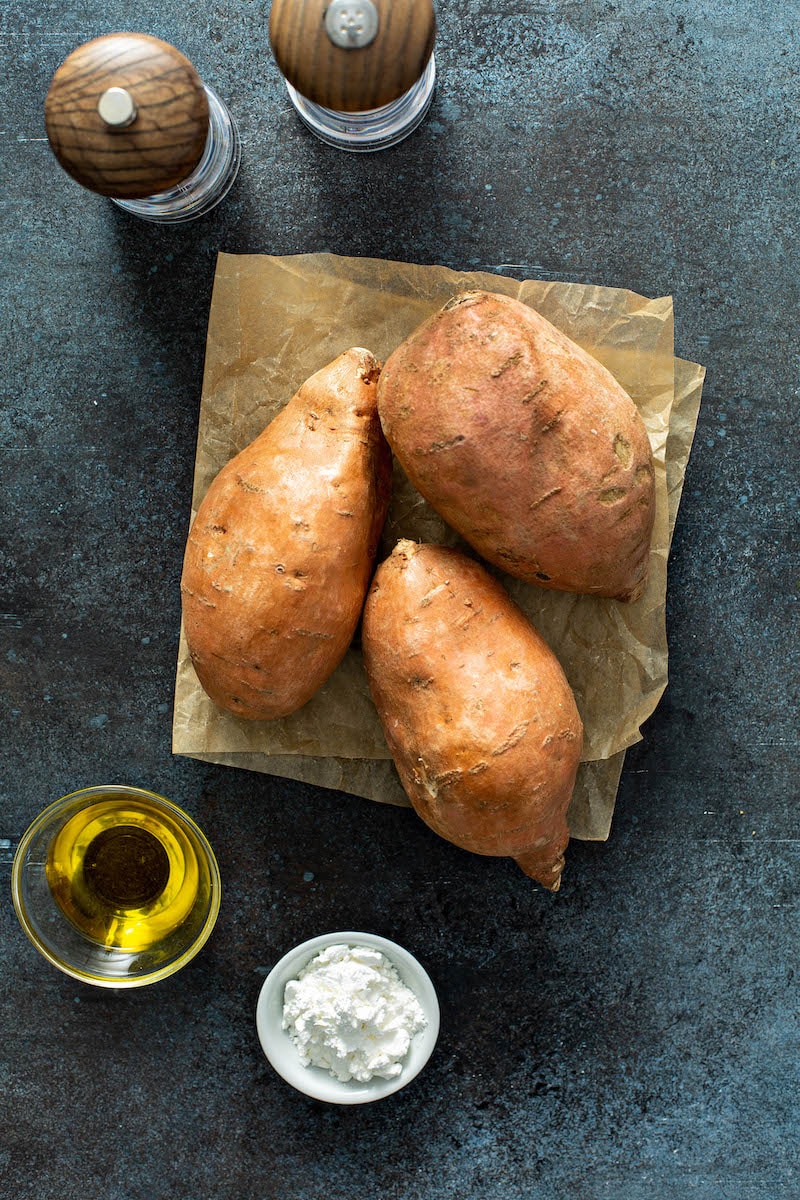 What You'll Need
This is all you need to make this recipe:
Sweet potatoes
Cornstarch – Cornstarch is the secret to super crispy baked sweet potato fries. Tossing the cut fries in olive oil and cornstarch acts as a coating that will adhere to the outside of the potato, crisping it up as it bakes.
Olive oil – Helps the seasonings adhere, and also helps the fries crisp up in the oven.
Salt and fresh cracked pepper – These are the only seasonings I use but see below for more ideas.
Other Seasoning Options
It doesn't take much to spruce up these fries. The light seasonings compliment the natural sweetness of the potatoes, but if you like a little extra flavor or heat, add a few pinches of your favorite seasoning to the finished fries. Here are a few ideas:
Garlic powder
Paprika
Parmesan cheese
Cayenne
Parsley
Ranch seasoning
Old Bay seasoning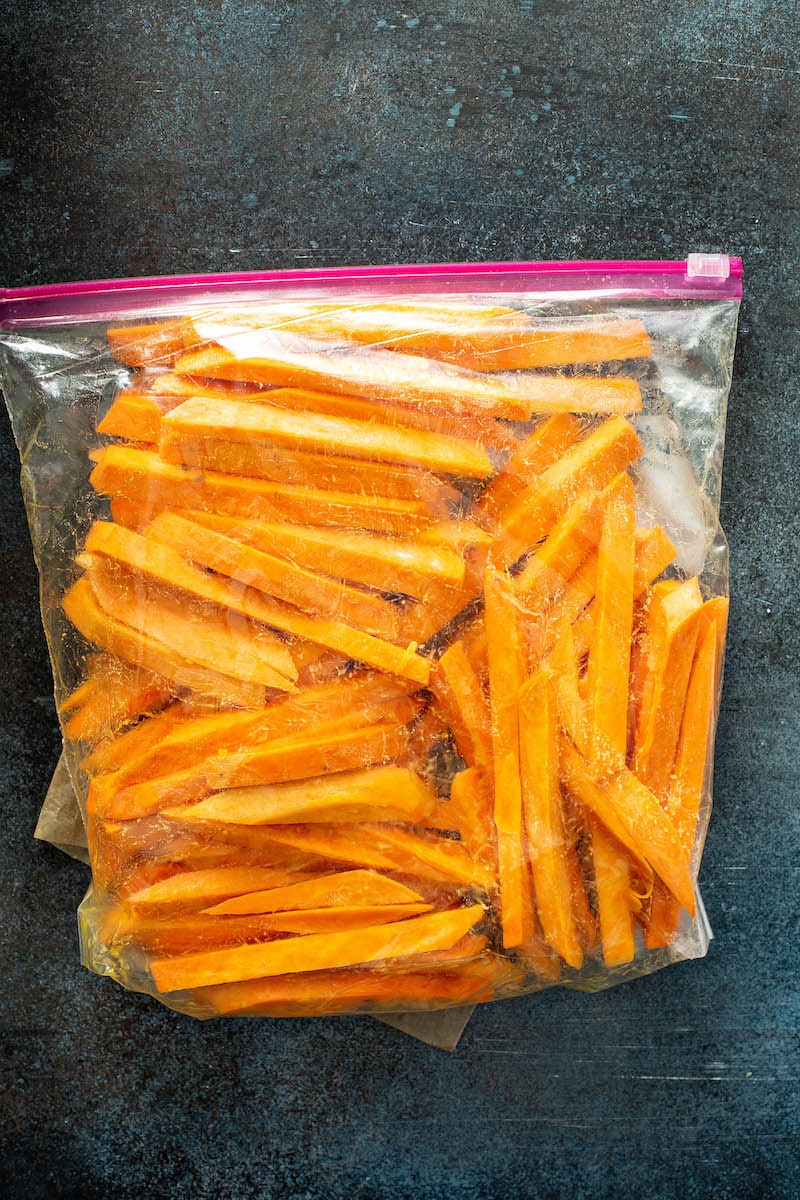 Preparing The Sweet Potatoes for Homemade Fries
These fries won't be soggy and will cook evenly as long as we follow each step precisely. Here's how I achieve super crispy sweet potato fries:
Peel The Potatoes: The potatoes will be able to soak in the oil, cornstarch, and seasonings easily once their skin is removed.

Cut The Fries Evenly: Slice the fries into even sizes and widths to allow for even cooking. If the fries are all different sizes, they're more likely to cook inconsistently (meaning burnt or undercooked fries).
Give Them A Bath: This step is optional, but once the fries are cut, you can toss them in a bowl with cold water. Letting them soak for up to 12 hours will remove any access starch and help them become more crispy in the oven. Once they're finished soaking, thoroughly rinse the fries and dry them well.

 

Lay Them Flat: Like I said, we have to be precise! Lay the fries flat and spaced apart on the baking sheet before roasting. If they're piled on top of each other, the fries on the bottom won't stand a chance of cooking properly.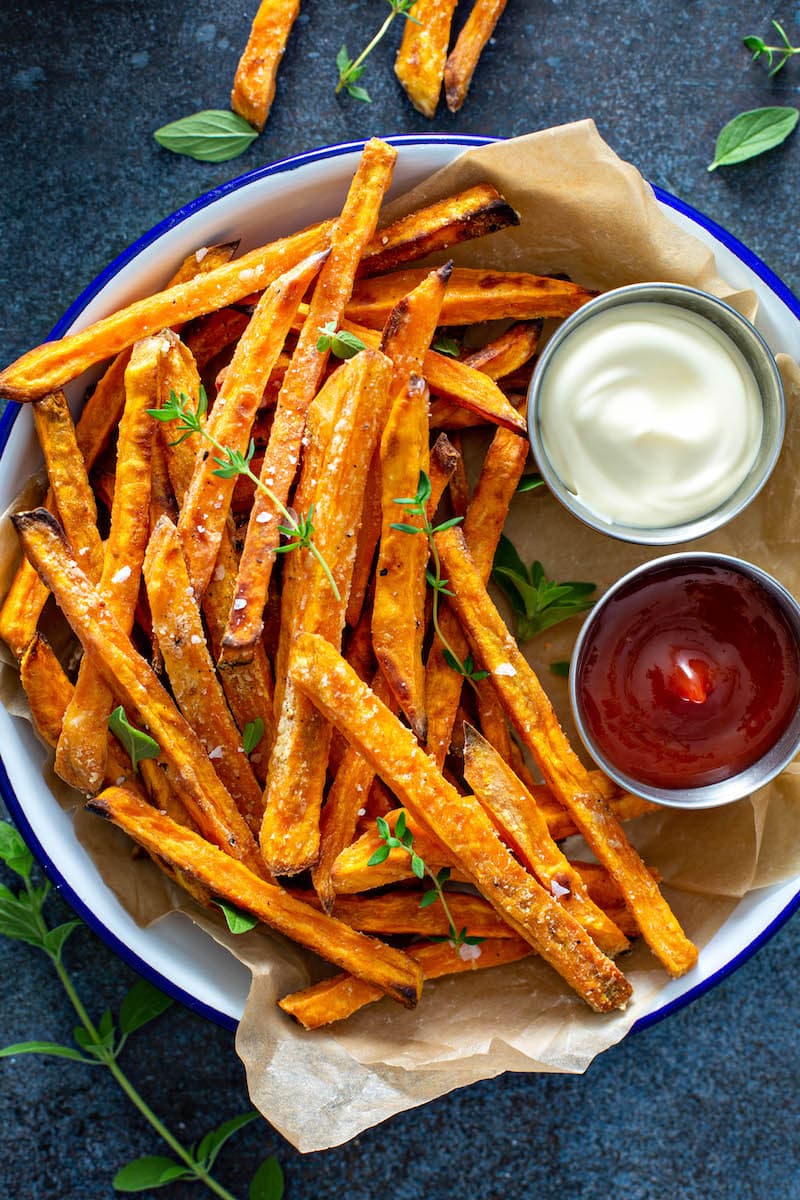 How to Make Sweet Potato Fries In The Oven
Baking your sweet potato fries is quick, and easy, and results in crispy fries every time. Here's how.
Coat the fries in cornstarch. Place the cut fries in a ziploc bag or bowl. Drizzle with 2 tablespoons of olive oil and shake to coat. Sprinkle in the cornstarch and shake to coat. Add the remaining olive oil and mix until the white from the cornstarch disappears.
Season the fries. Sprinkle in the salt and pepper and shake the fries again.
Bake. Transfer the fries to a baking sheet in a single layer. Bake for 25-30 minutes, flipping halfway through.
Enjoy. Add any additional seasonings if desired and enjoy hot from the oven!
How to Make Sweet Potato Fries In An Air Fryer
Spend a little less energy by making these fries in an Air Fryer instead of the oven.
Season the fries. To do this, prepare the potatoes as you would when baking the fries. However, use only 1 ½ tablespoons of olive oil when tossing the fries with cornstarch and seasonings.
Air fryer. Heat the Air Fryer to 375ºF, and lay the fries in an even layer on the tray (fry in batches if you need to). Cook each batch for 15-17 minutes, flipping the fries halfway.
Tips for Success
Here are a few helpful tips for this sweet potato fries recipe.
Cut the fries evenly. As noted above, you should attempt to cut the fries into equal sizes so that they all finish cooking at the same time.
Bake at a high temperature. You can't get crispy fries without high heat! 425ºF is the optimum temperature to bake sweet potato fries. Any lower and they'll turn out soggy.
Cook in a single layer. Spread the fries across your baking sheet so that they're in a single layer. You don't want them all touching each other or they won't crisp up properly.
Air fry in batches. Depending on the size of your air fryer, you will likely need to make your sweet potato fries in batches. Be sure to air fry them in a single layer so that the air can circulate and allow them to crisp up properly.
Can I Make These Ahead Of Time?
Sweet potato fries are a perfect snack to prepare well ahead of time. I like to cut up my potatoes and store them in a ziploc bag in the fridge until I need them.
This way, all I have to do is season, bake, and serve the fries an out-of-the-box after-school snack or a fun late-night treat in no time!
How To Serve Baked Sweet Potato Fries
These fries are excellent as a healthy alternative to regular junk food or as a side dish for both lunch and dinner. Whip up a few of my Crock Pot Pulled Pork Sandwiches with these fries on the side, or create a hearty and satisfying weeknight meal by enjoying them with my favorite juicy baked chicken.
Don't forget the dipping sauce! I love these super simple fries dipped in regular ketchup and mayonnaise, but they're also tasty with chipotle mayo, barbeque sauce, ranch dressing, or even marshmallow fluff if you're feeling crazy!
Proper Storage
Fridge. Leftover sweet potato fries can be kept in an airtight container or ziploc bag in the fridge for up to 3 days.
Reheat. To maintain the crispness, it's best to reheat the fries in the oven or the air fryer. However, the microwave will do in a pinch.
Can I Freeze Sweet Potato Fries?
Absolutely. Bake as directed then allow them to cool. I like to flash-freeze them on a baking sheet first to ensure they don't stick together.
Transfer to a ziploc bag and freeze for up to 3 months. You can cook them from frozen in the air fryer or oven until heated and crispy.
More Easy Sweet Potato Recipes
Baked Sweet Potato Fries
Made with just 4 ingredients, these Sweet Potato Fries end up super crispy and perfectly seasoned every time. An easy, healthy alternative to French fries that you can make in the oven or air fryer!
Ingredients
3

large sweet potatoes

1.5

tablespoons

cornstarch

2.5

tablespoons

olive oil

,

divided

salt and fresh cracked pepper

,

to taste
Instructions
Preheat oven to 425°F. Line a large cookie sheet with parchment paper or non-stick aluminum foil.

Peel sweet potatoes and slice into fries. You want fries to be as even in width as possible for even cooking.

Place sweet potatoes in one of those giant size ziplocks and drizzle in 2 tablespoons olive oil. Shake like crazy to evenly coat. Then sprinkle in the cornstarch and shake, shake, shake.

Drizzle in the last tablespoon of olive oil and shake until cornstarch disappears. Sprinkle in the salt and pepper and shake one last time!

Lay out the sweet potatoes in a single layer and bake 25-30 minutes, flipping half way through. Serve immediately.
Nutrition
Serving:
1
,
Calories:
231
kcal
,
Carbohydrates:
33
g
,
Protein:
3
g
,
Fat:
11
g
,
Saturated Fat:
2
g
,
Polyunsaturated Fat:
9
g
,
Sodium:
196
mg
,
Fiber:
6
g
,
Sugar:
9
g
This post may contain affiliate links. Read my disclosure policy.