Sweet Potato Cookies with Cinnamon Cream Cheese Frosting: pillowy soft, spiced sweet potato cookies are frosted with a rich, sweet cinnamon cream cheese icing!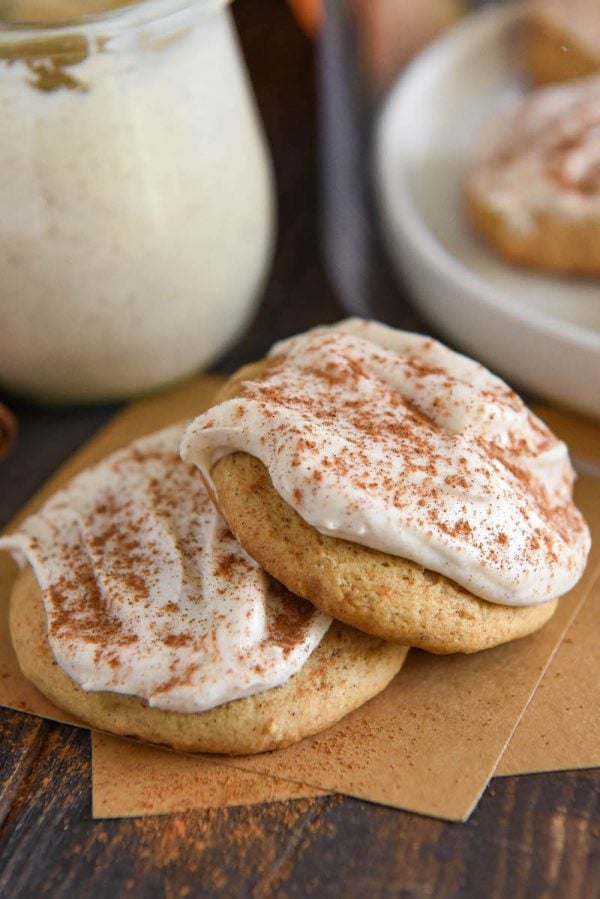 If you have been looking for the best Sweet Potato Cookie, look no further. These are going to win by a landslide!
The Sweet Potato Cookie base is super fluffy, soft and loaded with great sweet potato flavor from Bruce's Yams.
Their canned yams really make this recipe super easy to whip up. You just open the can, drain the syrup and mash them!
I topped my Sweet Potato Cookies with a super smooth and sweet cinnamon cream cheese frosting that is pure creamy deliciousness.
These are heavenly little cookies and I wish you could smell them through the screen! My whole house smelled like fall!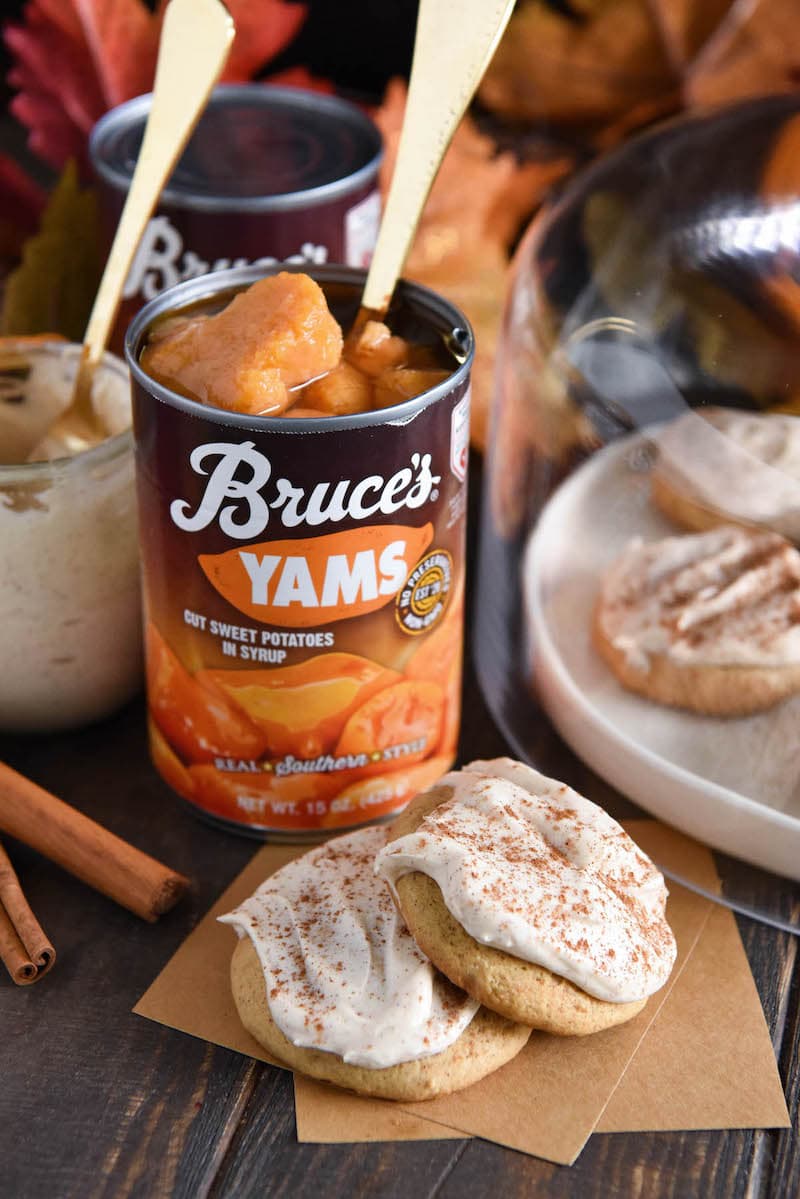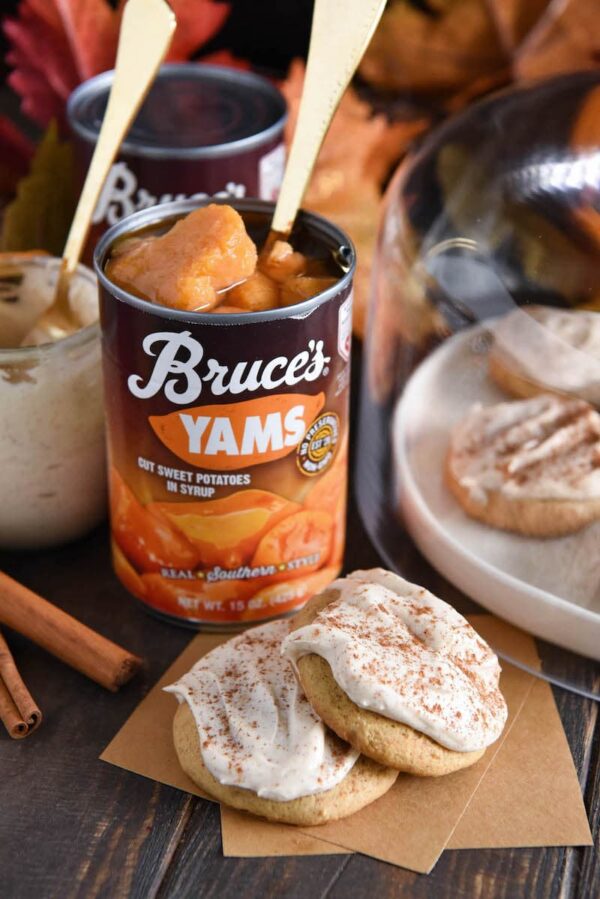 I really feel that sweet potatoes are super under utilized in desserts. They are just as good as pumpkin, maybe even better!
There are many pumpkin desserts that I like to swap sweet potatoes in place of the pumpkin.
To me, sweet potatoes have a milder flavor that lends itself to many more uses. For example, my Sweet Potato Bundt Cream Cheese Cake I make every year!
Plus, I always make sure and have a Sweet Potato Pie at Thanksgiving and it's usually the first one to go!!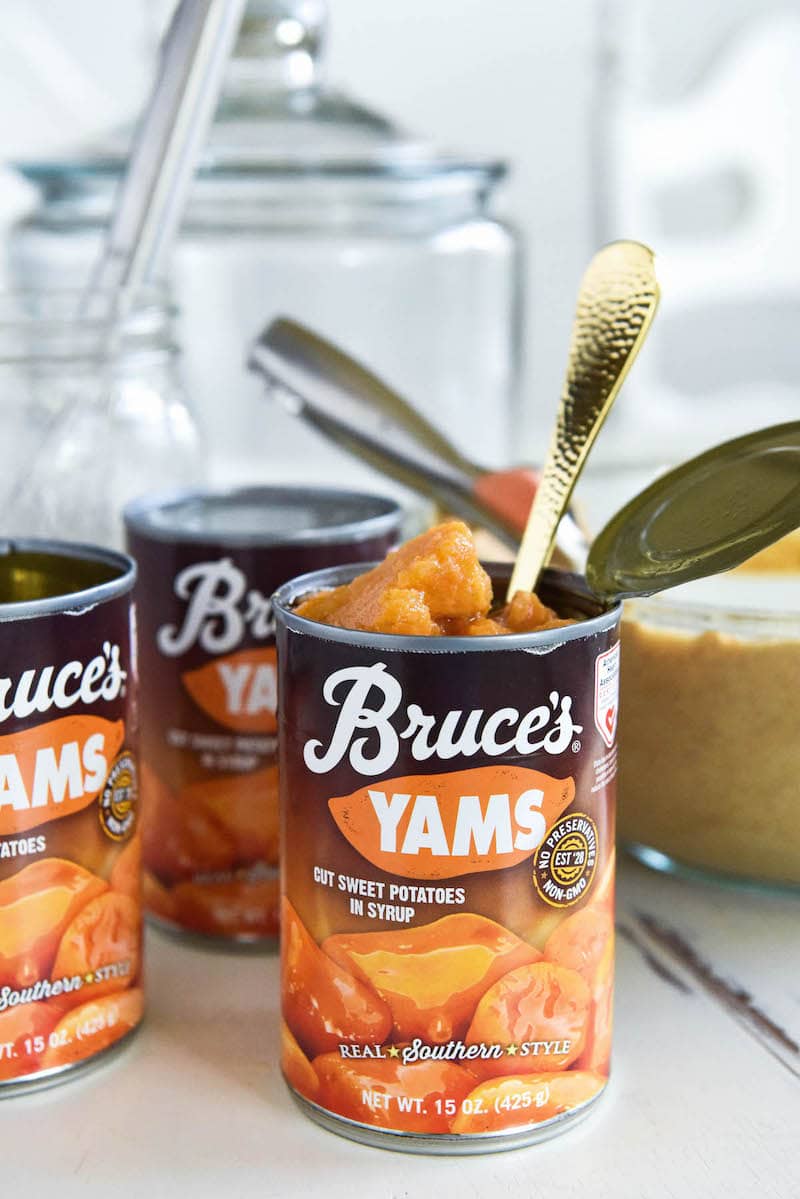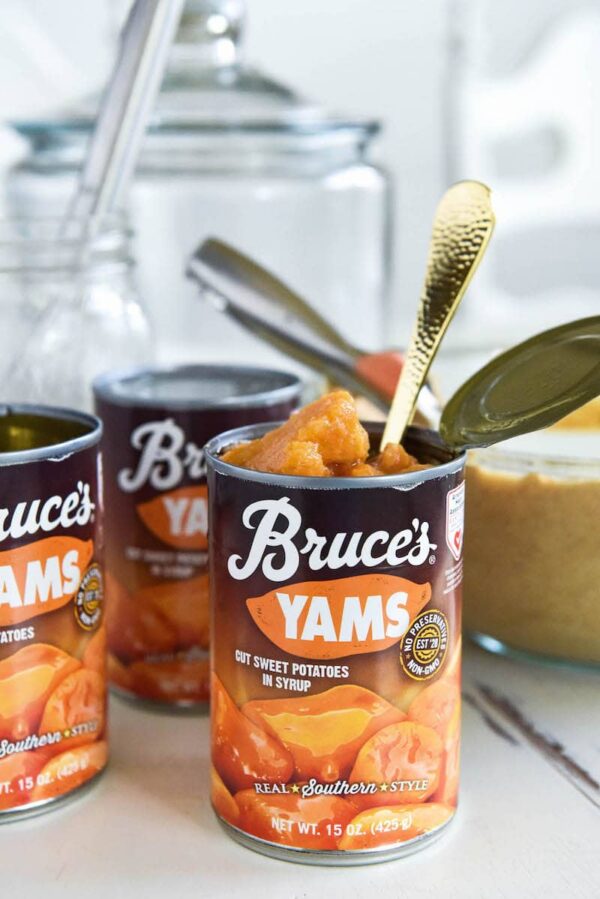 Bruce's Yams are the number one selling canned sweet potato in the United States.
Their sweet potatoes use only the freshest sweet potatoes from nearby farms and are triple-peeled and canned within hours of harvesting.
My personal favorite thing about Bruce's Yams is the simplicity of the ingredients and lack of names I can't pronounce.
In a can of Bruce's Yams Cut Sweet Potatoes, there are just 3 ingredients: Sweet Potatoes, Water and Sugar. Yup, that's it!!
Bonus: Bruce's Yams are certified by the American Heart Association!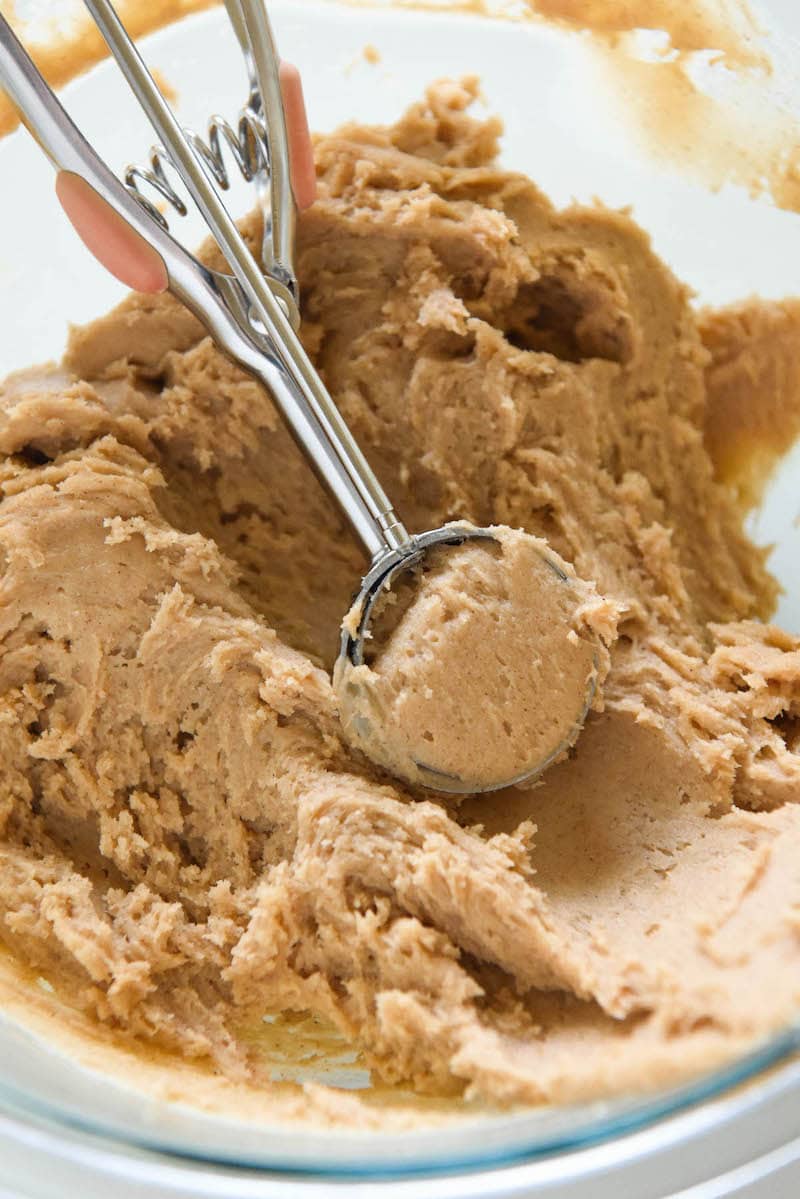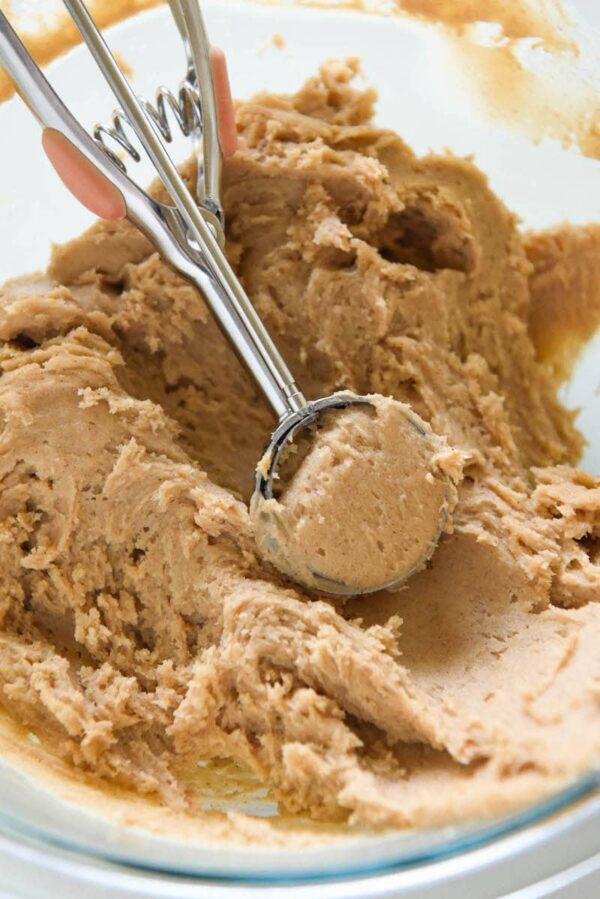 These Sweet Potato Cookies with Cinnamon Cream Cheese Frosting may sound hard to make, but I promise they are very easy.
The hardest part is the hour wait while the dough chills in the fridge!
The cookie dough itself uses melted butter and Bruce's Yams to keep them moist.
Then we spice them up with cinnamon, nutmeg and a little vanilla extract.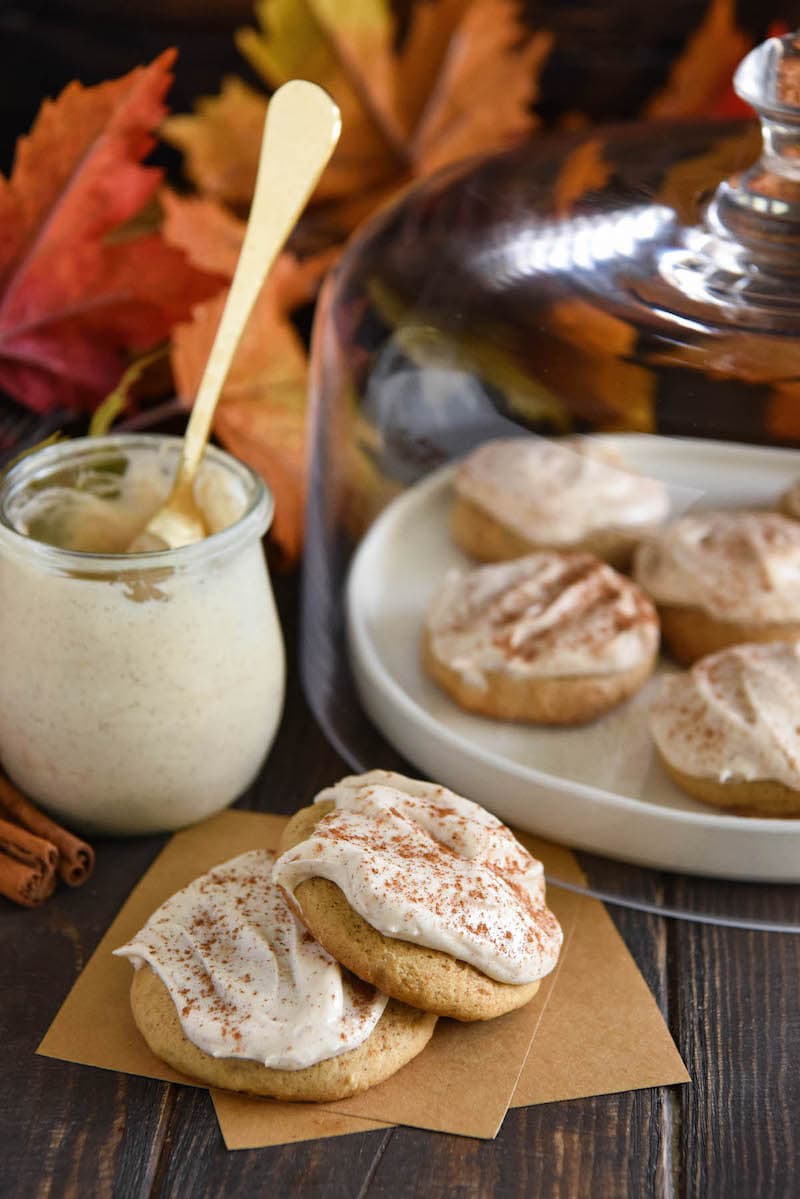 These Sweet Potato Cookies are extra soft and rise up a lot into a perfectly rounded cookie as they bake.
Then we load on that Cinnamon Cream Cheese Frosting, right on top, in a big generous thick layer! It is the perfect topping!
I can't wait to hear all of your reviews for these Sweet Potato Cookies with Cinnamon Cream Cheese Frosting!
For more great sweet potato desserts, make sure and check out Bruce's Yams!
Yield: 36 Cookies
Sweet Potato Cookies with Cinnamon Cream Cheese Frosting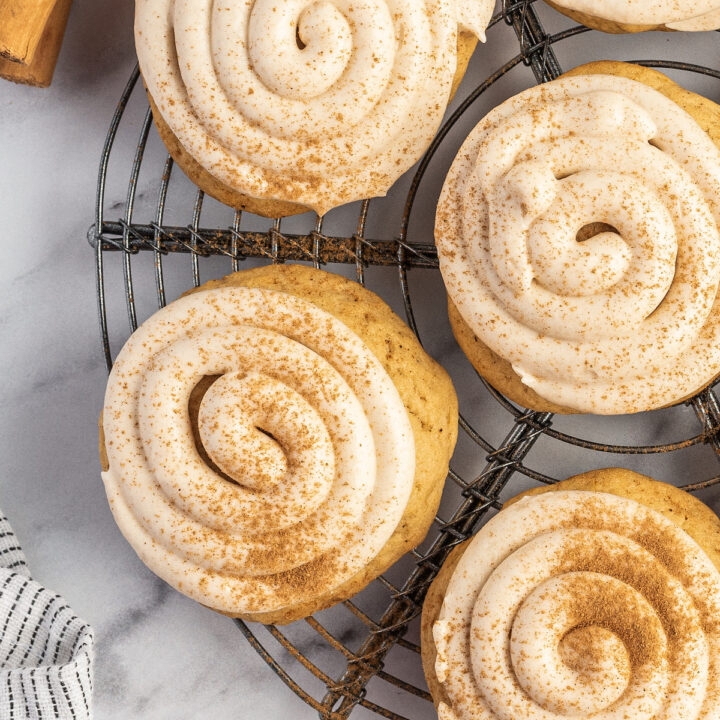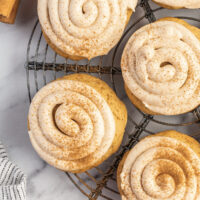 Sweet Potato Cookies with Cinnamon Cream Cheese Frosting: pillowy soft, spiced sweet potato cookies are frosted with a rich, sweet cinnamon cream cheese icing!
Total Time
1 hour
30 minutes
Ingredients
Sweet Potato Cookies:
3 cups all-purpose flour
1 tablespoon cornstarch
1 teaspoon baking powder
1 teaspoon baking soda
3/4 teaspoon ground cinnamon
1/2 teaspoon ground nutmeg
1 cup Bruce's Yams Cut Sweet Potatoes in Syrup, drained and mashed
1 cup (2 sticks) salted butter, melted
1 cup granulated sugar
1 large egg
2 teaspoons vanilla extract
Cinnamon Cream Cheese Frosting:
8 oz cream cheese, softened
4 tablespoons salted butter, softened
1 teaspoon vanilla extract
1 teaspoon cinnamon, plus more for garnish, if desired
3 to 4 cups powdered sugar (add until desired consistency/firmness)
Instructions
In a medium sized bowl, whisk together flour, cornstarch, baking powder, baking soda, cinnamon, and nutmeg. Set aside.
In a large bowl whisk together sweet potatoes, butter and granulated sugar. Add egg and vanilla extract.
Beat in flour mixture until well combined. Cover bowl with foil or parchment paper and refrigerate for one hour or overnight.
Preheat oven to 350 degrees. Line 2 large baking sheets with parchment paper.
Using a medium cookie scoop, drop dough by onto prepared cookie sheets. Grease the bottom of a flat glass with butter and gently press cookie dough into flat disks about 1/2 inch thick.
Bake for 10 to 12 minutes or until tops are set. Transfer to wire racks to cool.
For Cinnamon Cream Cheese Frosting: Beat together cream cheese, butter, cinnamon and vanilla until well combined. Add powdered sugar and beat until smooth.
Generously frost on top of each cookie and dust with extra cinnamon if desired. Serve immediately and store any leftovers in the refrigerator.
Notes
Storage: Refrigerate sweet potato cookies for up to 5 days, or freeze for up to 3 months.
Butter: If you use unsalted butter in this recipe, you will need to add 1/2 teaspoon of salt to the cookie dough.
Add Nuts: Sprinkle chopped walnuts or pecans into the cookie batter before chilling it for a lovely crunch.
Pie Spice: Cinnamon and nutmeg make a simple spice profile for this recipe, but feel free to substitute pumpkin pie spice instead for a more complex flavor.
Frosting: Sweet potato cookies can also be topped with a simple, crisp glaze (try the glaze from my Old Fashioned Iced Oatmeal Cookies). Let the glaze dry and they are good to go - and easier to store, too.
Marshmallows: Take a cue from your favorite candied yams recipe, and add some marshmallows to your sweet potato cookies. Press a few mini marshmallows into the batter before baking, and allow to cool before serving.
Nutrition Information:
Yield:
36
Serving Size:
1 cookie
Amount Per Serving:
Calories:

256
Total Fat:

4g
Saturated Fat:

2g
Trans Fat:

0g
Unsaturated Fat:

1g
Cholesterol:

16mg
Sodium:

87mg
Carbohydrates:

54g
Fiber:

1g
Sugar:

43g
Protein:

2g
Categories
This post is sponsored by Bruce's Yams. All opinions are, as always, 100% my own. Thank you for supporting the brands that I love!
This post may contain affiliate links. Read my disclosure policy.