Made with baked sweet potatoes and brown sugar, this Sweet Potato Pie recipe is perfectly creamy and dense. Top with whipped cream for the perfect addition to your holiday dessert table.
Why You'll Love This Sweet Potato Pie Recipe
This pie has become a holiday dessert table staple in our home, and for good reason. Here are a few reasons why.
Perfect for Thanksgiving. This sweet potato pie is a Southern classic that absolutely deserves it's prime spot on your Thanksgiving dessert table! It's similar to pumpkin pie, but with a softer flavor.
Perfectly spiced. My sweet potato pie recipe is sweet, creamy and perfectly spiced with cinnamon, nutmeg and a pinch of cloves. Brown sugar gives it a slightly caramel flavor that is beyond delicious.
Easy to make. If you can make sweet potato casserole, you can make this sweet potato pie! It takes just a few easy steps and you can even make a day in advance.
What is Better: Sweet Potato Pie or Pumpkin Pie?
This is the ultimate Fall dessert debate isn't it? If you ask me they are both must-make pies this time of year. Why not make a sweet potato pie and a pumpkin pie? Or if you want to mix things up slightly, you could make a Pumpkin Pie Cheesecake.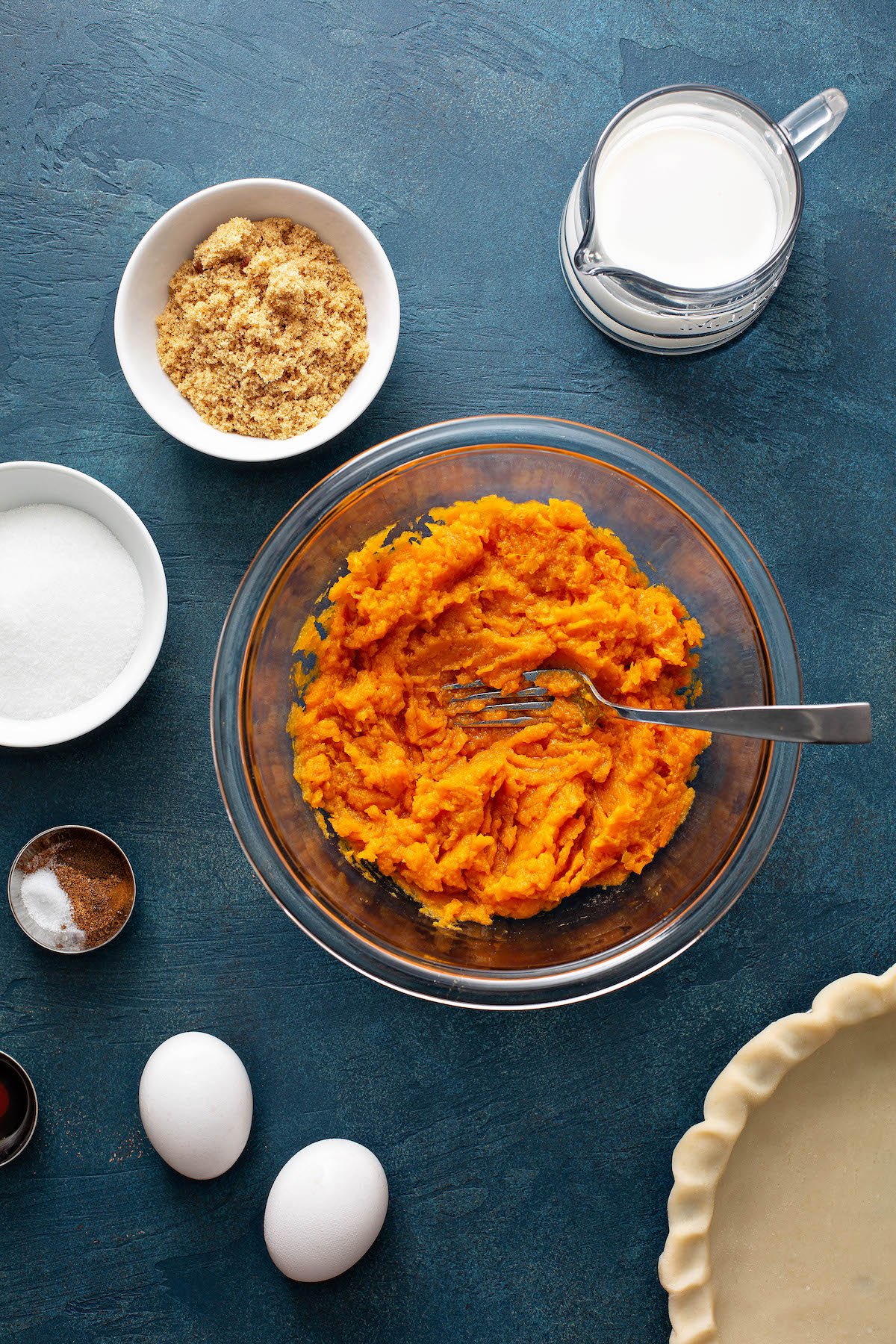 What You'll Need
There are a few key ingredients to ensure this Sweet Potato Pie recipe turns out perfect:
Sweet potatoes – I like to bake my sweet potatoes for sweet potato pie. Baked sweet potatoes are much more moist than boiled sweet potatoes. If you are in a time pinch, you can also make the in the instant pot (Instant Pot Sweet Potatoes). The instant pot makes them extra moist as well!
Unsalted butter – At room temperature so it is easier to mix in. If you have little butter lumps in your pie batter, don't worry, it will bake just fine!
Granulated sugar
Brown sugar
Whole milk or evaporated milk – Do not use a milk with lower fat content.
Eggs
Vanilla extract
Spices: Cinnamon, nutmeg (freshly grated is great if you have it), cloves, and salt. You could also use a little pumpkin pie spice instead. I recommend doing 1 1/2 teaspoons pumpkin pie spice in place of the cinnamon, nutmeg and cloves.
1 (9 inch) unbaked pie crust – I use my favorite homemade pie crust, but you can also use a store bought pie crust.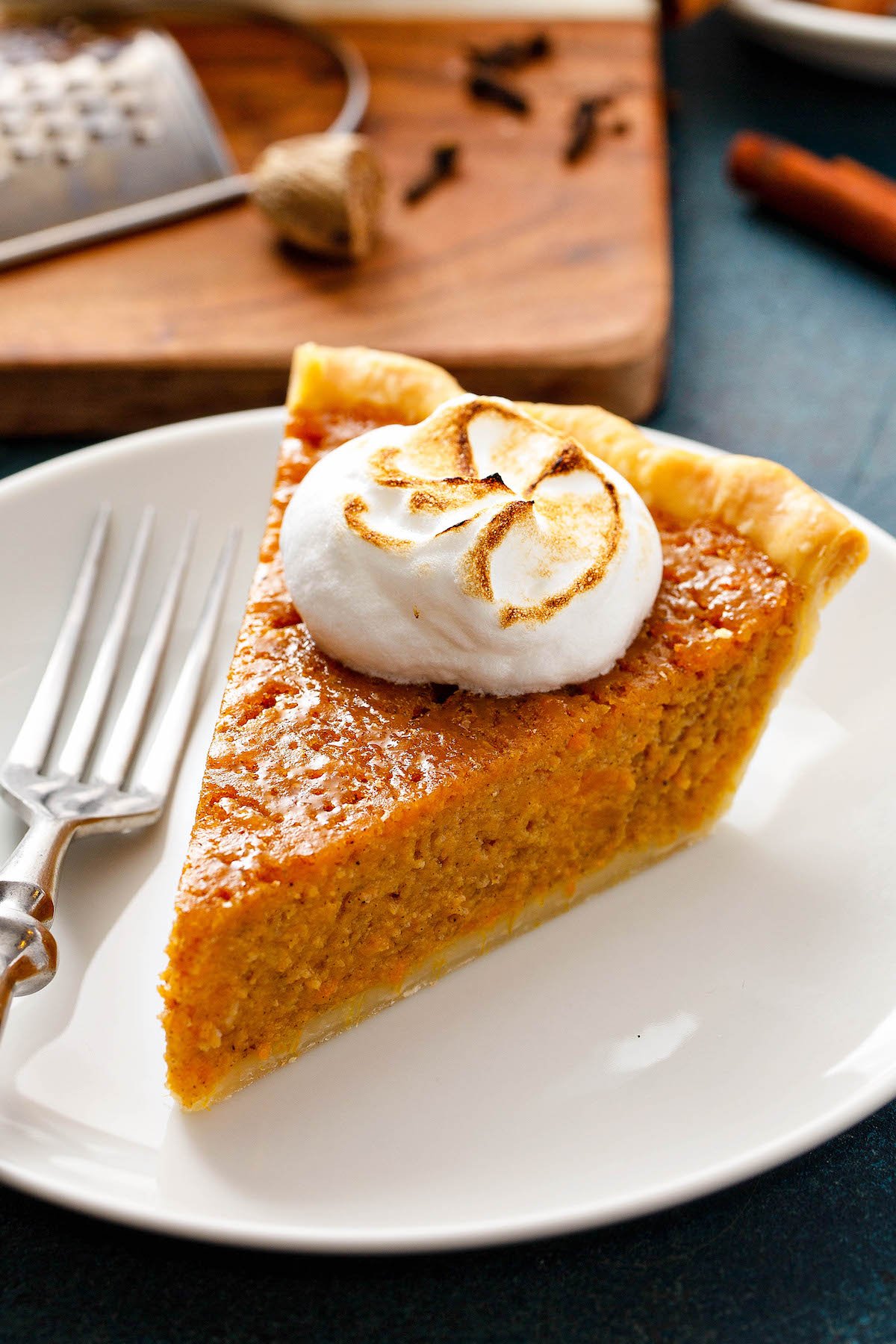 Why Bake The Sweet Potatoes?
I highly recommend you bake your sweet potatoes for this sweet potato pie recipe. Why?
Keeps your sweet potatoes moist: When you boil your sweet potatoes in water on the stove top, once you mash the sweet potatoes, they are actually much drier when compared to a baked sweet potato. By contrast, when you bake a sweet potato, the moisture inside the potato stays inside.
Less dishes to clean! Another bonus to baking your sweet potatoes — you won't dirty a big pot boiling them or have to watch them on the stove top as they boil. You just need foil and a baking sheet to bake the sweet potatoes in the oven! It's easy hands off prep time that you don't have to worry about.
More flavor: When you bake your sweet potatoes you get a hint of caramel that comes from sugars in the sweet potato cooking in the oven. It's an incredible combination with the brown sugar in this recipe!
Note: If you do decide to boil your sweet potatoes, you may need to add a little extra butter and milk to your pie mixture. Otherwise, the finished pie may turn out very dry.
How to Make Sweet Potato Pie from Scratch
This sweet potato pie is easy to make! Here's how you do it: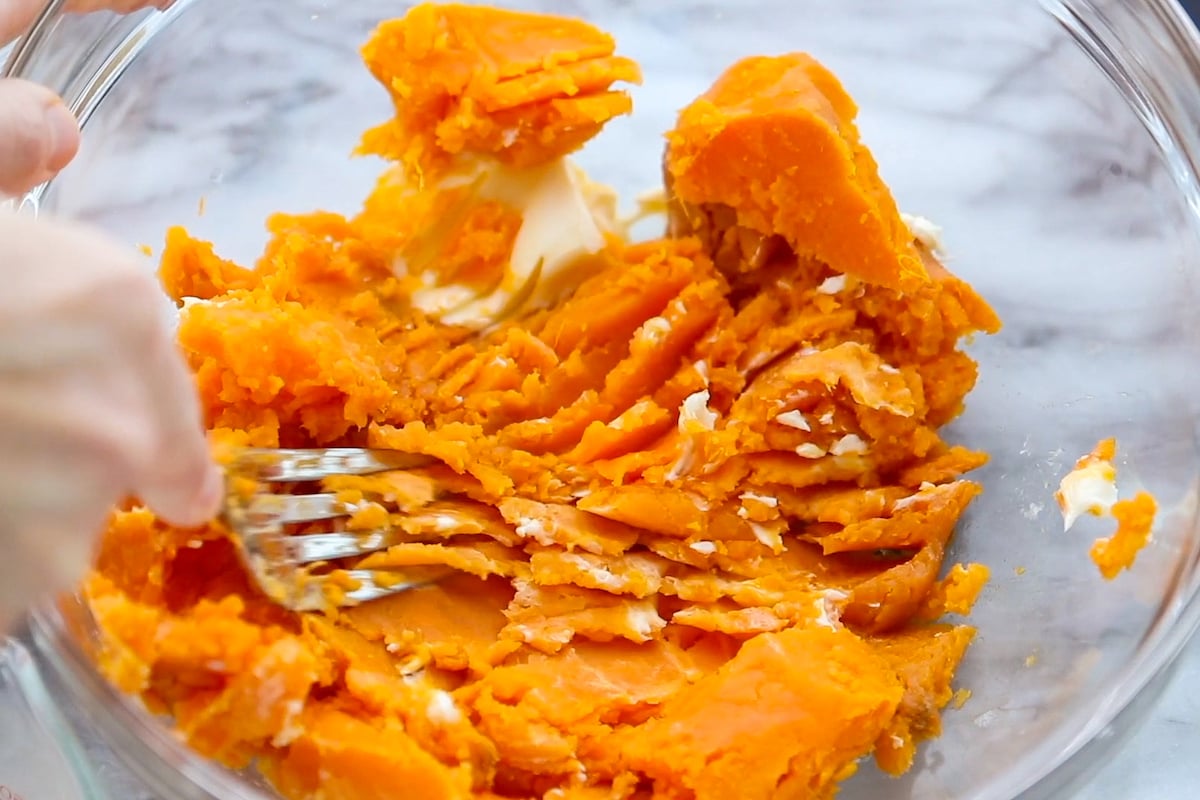 Bake the sweet potatoes: Heat your oven to 400F. Wrap the sweet potatoes in foil and bake them on a cookie sheet until soft, about 45 minutes. Allow them to cool when done.
Skin sweet potatoes: Once cooled, remove the skins from your sweet potatoes. You can do this by just pulling the skins back and scooping out the soft sweet potato flesh.
Heat oven to 350°F.
Make the sweet potato pie filling: Mash the sweet potatoes and room temperature butter together in a large bowl. Whisk in the sugars, milk, eggs, vanilla, spices and salt. Keep whisking until the filling is well combined.
Bake your pie: Pour the filling into an unbaked pie crust. Bake for 50-6o minutes. You will know your sweet potato pie is done when a toothpick inserted in the center comes out clean. The pie will rise while baking and then deflate after it cools.
Serve. You can serve it warm or chilled. If you chill your pie you can add a dollop of whipped cream or marshmallow fluff on top!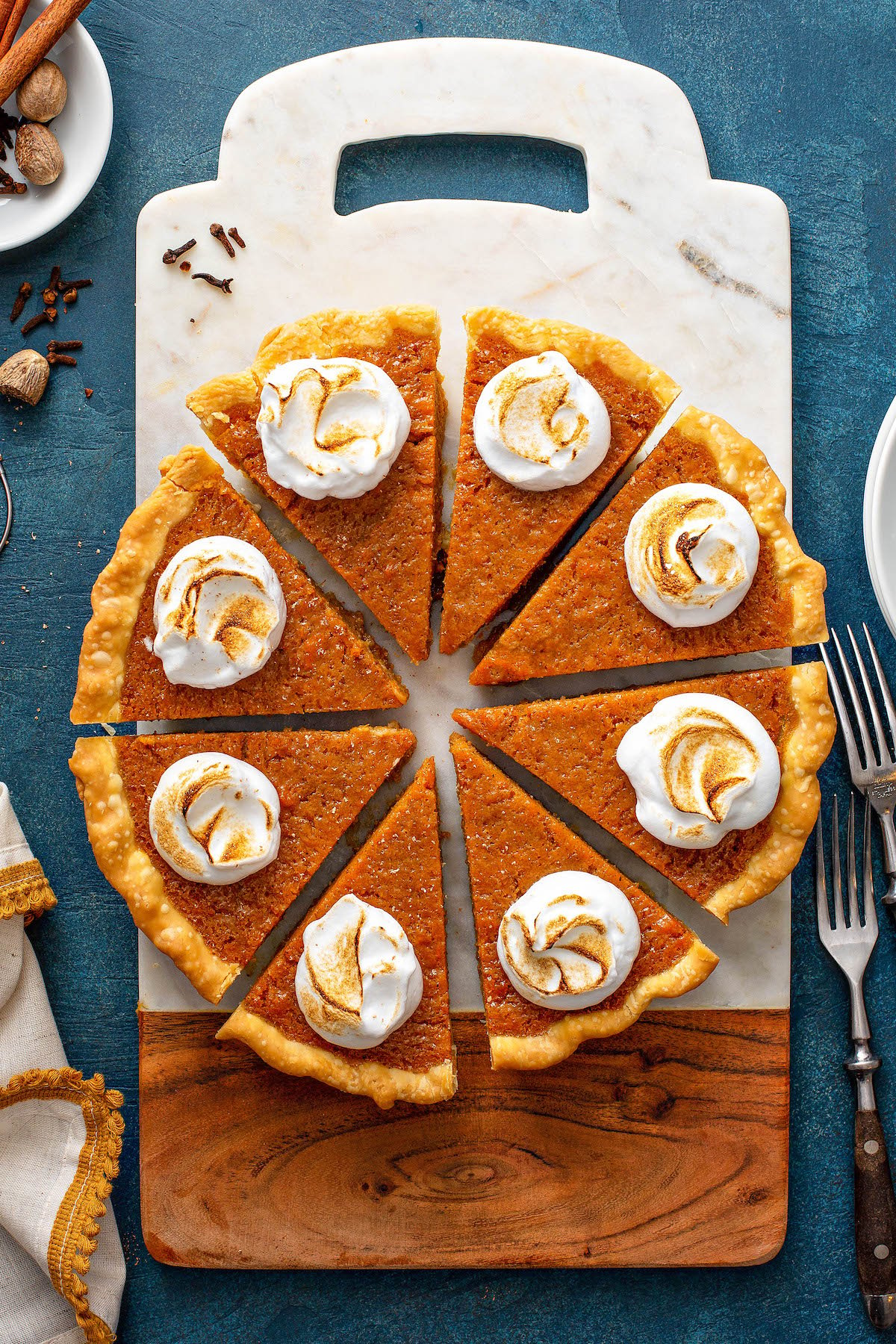 Tips for Success
Here are a few tips to help you perfect your sweet potato pie on the very first time!
Use whole milk. You definitely want to use whole milk for this recipe. Using 2% or skim will thin the following a bit more than desired.
How do you know when sweet potato pie is done? The easiest way to tell is to insert a toothpick in the center. If it comes out clean, the pie is ready.
Allow sweet potato pie to cool completely on the counter. If you try to put it into the fridge too early, the top can crack and condensation can form and ruin the top of the pie.
Can I add buttermilk? I wouldn't recommend it for this recipe, but it sounds like you are looking for my other classic recipe for a slightly tangy sweet potato pie. While very similar, my Buttermilk Sweet Potato Pie is made with buttermilk to give it a little different flavor.
Toppings Ideas
You absolutely do not need any toppings for this particular sweet potato pie recipe, it is perfect as is! However, I have a few suggestions of possible fun toppings you can add:
Whip Cream
Marshmallow Fluff (as seen in the photos)
Ice Cream
Cool Whip
I personally like mine best topped with a dollop of Marshmallow Fluff and then if I am feeling fancy I hit it with a cooking blow torch. Second best topping option, is a dollop of homemade whip cream. It's the most classic topping and always delicious.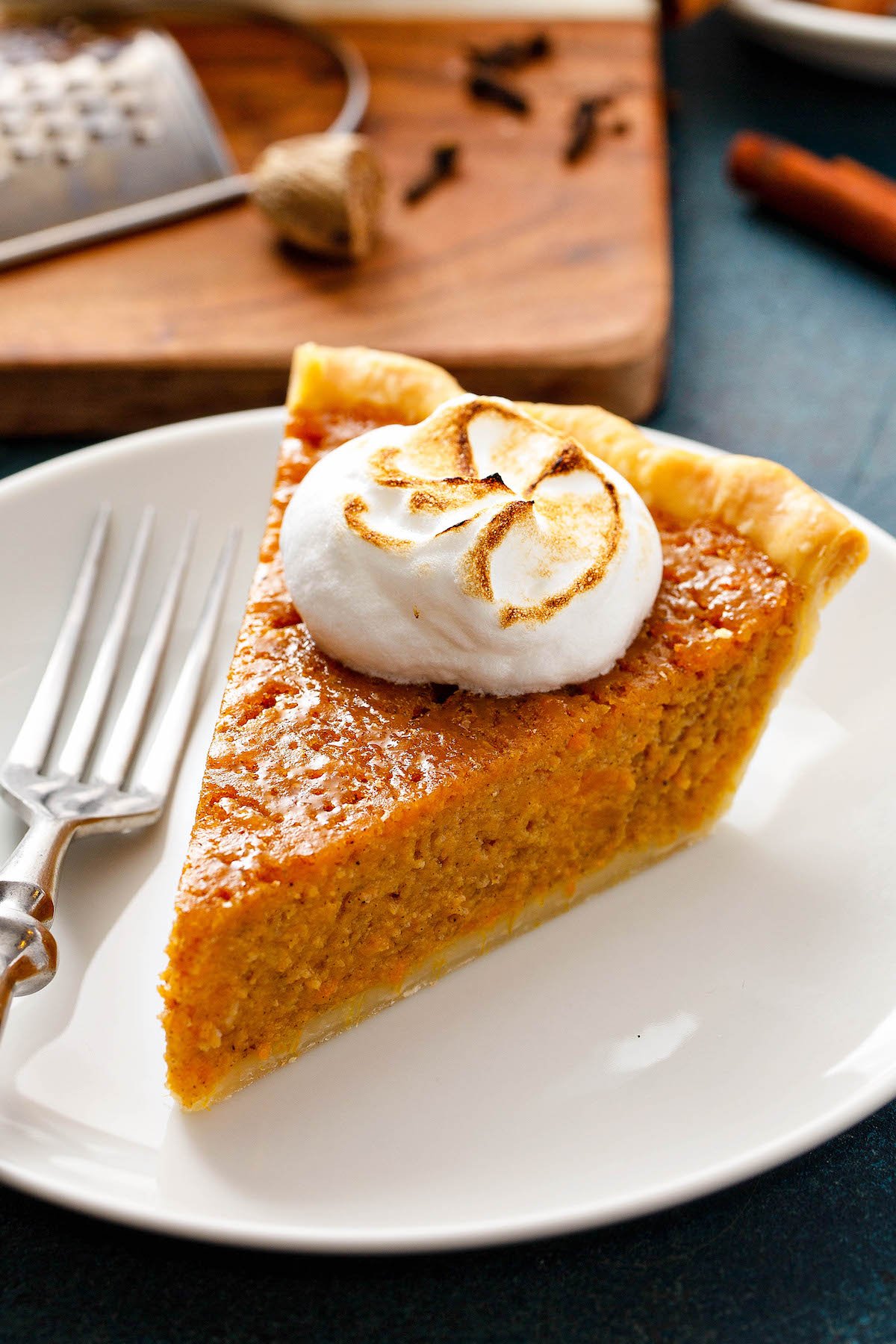 Can I Make This Pie In Advance?
Yes! Sweet potato pie is perfect for making in advance. Even if you don't want to bake the pie in advance, you can make the sweet potatoes themselves so you don't have to wait for them to cool before assembling the pie.
I would recommend making this up to 24 hours in advance.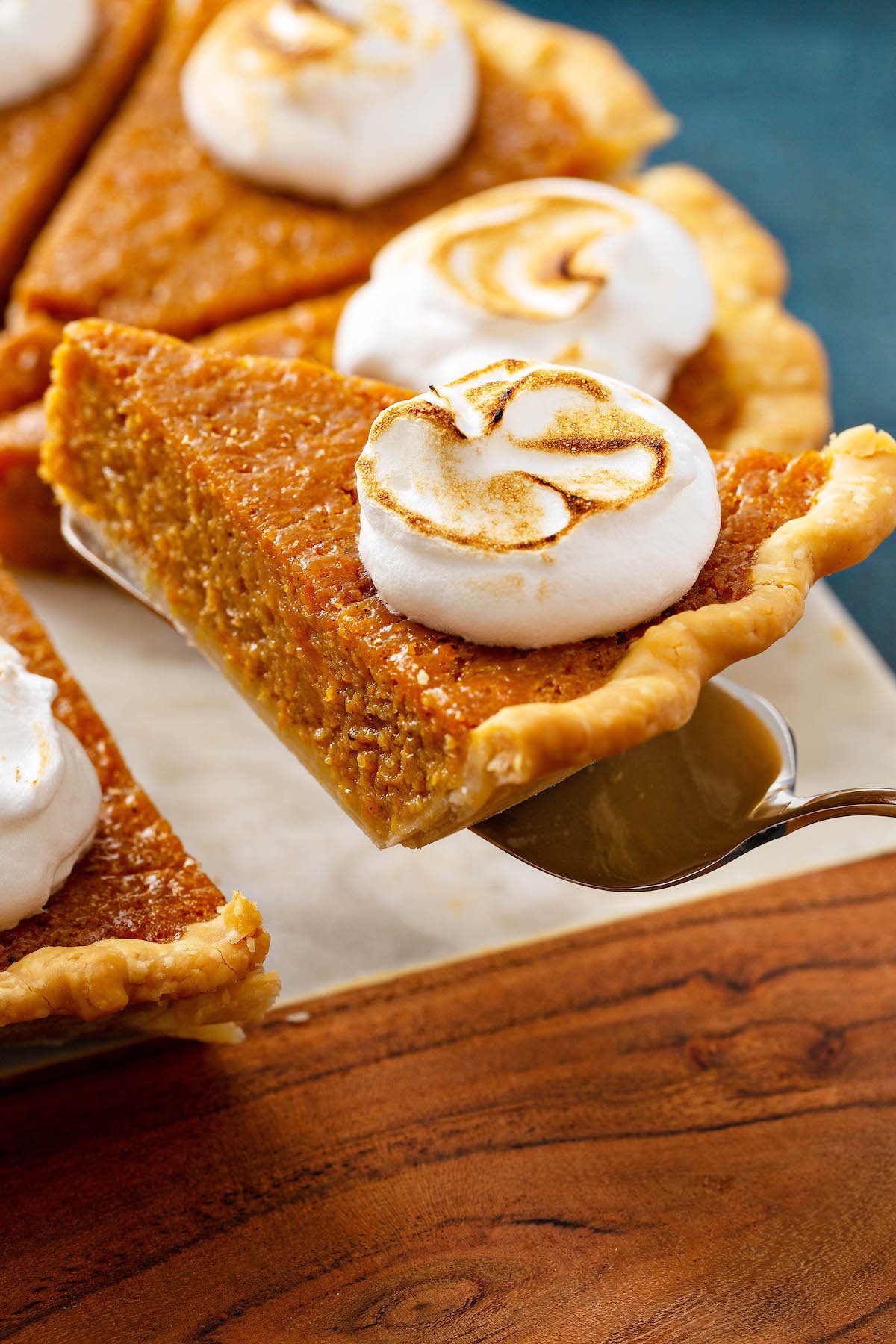 How to Store Homemade Sweet Potato Pie
Fridge. Wrap your sweet potato pie tightly with plastic wrap and/or foil. Refrigerate for up to 4 days.
Reheat. While you can definitely serve this pie chilled, you can also serve it at room temperature or pop it in the microwave for about 20 seconds.
Can I Freeze Sweet Potato Pie?
Yup, this sweet potato pie recipe freezes beautifully! Allow it to cool completely then wrap it tightly in plastic wrap and then again in foil. Freeze for up to 3 months. Thaw overnight in the fridge then serve as desired.
More Easy Thanksgiving Recipes
If you are looking for more awesome Thanksgiving recipes, make sure and check out these other classics that my family loves:
Sweet Potato Pie Recipe
Made with baked sweet potatoes and brown sugar, this Sweet Potato Pie recipe is perfectly creamy and dense. Top with whipped cream for the perfect addition to your holiday dessert table.
Ingredients
1

lb

sweet potatoes

½

cup

unsalted butter

,

room temperature

½

cup

granulated sugar

½

cup

brown sugar

½

cup

whole milk

2

large eggs

2

teaspoons

vanilla extract

1

teaspoon

ground cinnamon

½

teaspoon

ground nutmeg

¼

teaspoon

salt

a pinch of ground cloves
recommend topping options:
whip cream

,

or cool whip

marshmallow fluff
Instructions
Preheat oven to 400°F. Wrap sweet potatoes with foil and bake on a cookie sheet until soft, about 45 minutes (or longer if your sweet potatoes are extra large).

Remove from oven and allow to cool completely.

Once sweet potatoes are cooled, preheat oven to 350°F. Remove foil and skin from sweet potatoes.

In a large bowl, mash sweet potatoes and butter until completely smooth. Whisk in sugar, brown sugar, whole milk, eggs, vanilla extract, cinnamon, nutmeg, salt and cloves. Whisk until mixture is well combined.

Pour filing into unbaked piecrust. Bake for 50 to 60 minutes, or until a toothpick inserted in the center comes out clean. The pie will rise while baking and then deflate as it cools.

Serve warm or chilled with a dollop of whip cream or marshmallow fluff!

Nutrition
Serving:
1
slice
,
Calories:
299
kcal
,
Carbohydrates:
38
g
,
Protein:
4
g
,
Fat:
15
g
,
Saturated Fat:
8
g
,
Polyunsaturated Fat:
6
g
,
Cholesterol:
63
mg
,
Sodium:
165
mg
,
Fiber:
2
g
,
Sugar:
23
g
Categories:
This post may contain affiliate links. Read my disclosure policy.