This Crock Pot Pulled Pork recipe makes tender pulled pork that's packed with flavor. It makes the BEST pulled pork sandwiches! This easy recipe only uses 5 ingredients and can also be made in the Instant Pot.
Looking for more recipes like this? Check out my Slow Cooker Ropa Vieja, Crockpot Ham, and this Crockpot Pot Roast!
Tender Crock Pot Pulled Pork
Who loves easy meals? Right now, the easier the better for our family, I'm sure most everyone agrees! This Pulled Pork is such an effortless dinner idea. Just five ingredients and into the crock pot it goes. I don't always think ahead to use my crock pot, but when I do it really helps take a big weight off my shoulders.
This Crock Pot Pulled Pork is one of my family's favorite meals and makes enough leftovers for lunch or dinner the next day! If you're in a time crunch, it can also be made in the Instant Pot! However, I do have to admit, I find it gets a little more tender when it's slow cooked all day in the crockpot instead.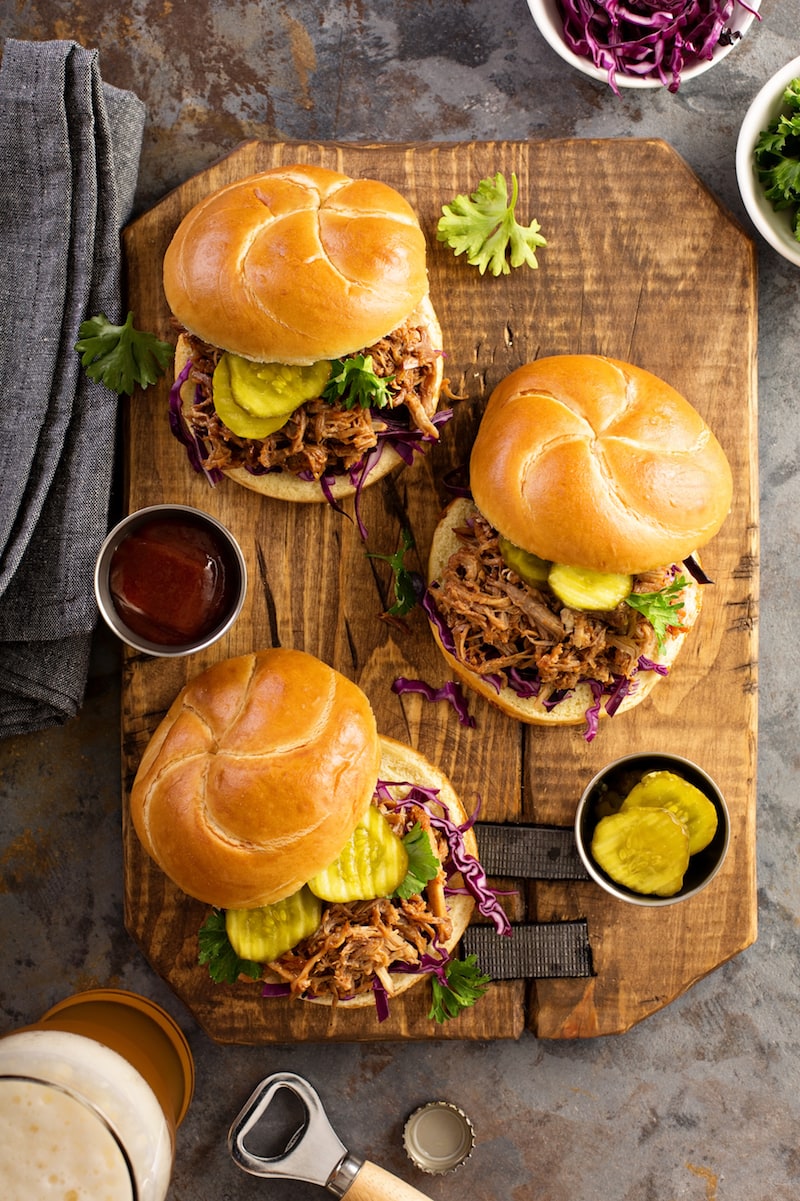 What You'll Need
One of the reasons I love this recipe so much is that it only uses FIVE ingredients. That's it!
Pork butt – You can also use pork shoulder.
Coke
Garlic salt
Chili powder
BBQ sauce – I recommend Sweet Baby Ray's Original
What Cut Of Meat to Use
For a classic pulled pork, a pork shoulder is the go-to. You might also see it referred to as a Boston Butt or pork butt. This will provide the moistest result for your pulled pork.
I personally prefer a boneless cut of pork, in my opinion, it's a lot easier to work with. However, I have even used pork tenderloin in the past. It shreds well, it is just a leaner cut of pork, so the final dish will be a little dryer. However, once you add bbq sauce, it's still delicious!
My motto is to use what you've got, but if you can, use a pork shoulder!
Can I use a different type of soda?
You don't have to use Coke to make this recipe! I have family members tell me they use diet coke, coke zero, dr pepper or any other dark soda! Use whichever soda you have on hand!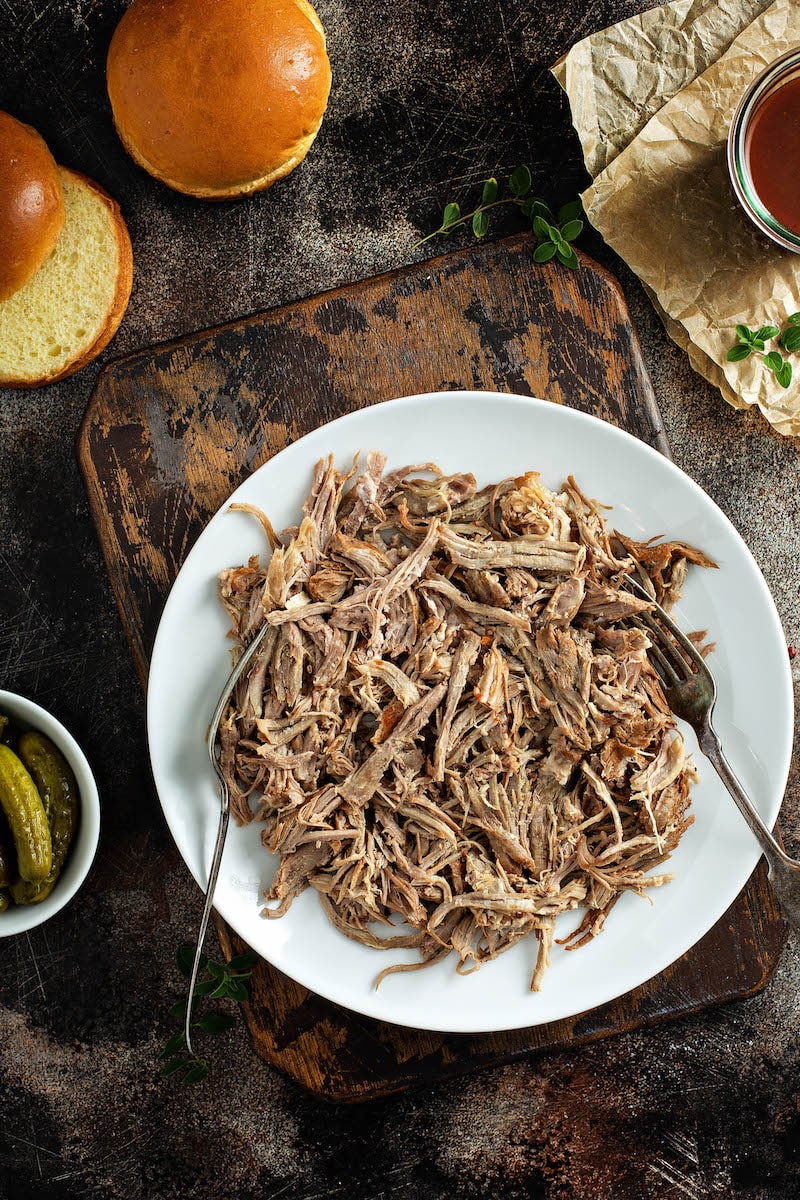 How to Make Pulled Pork in the Crock Pot
Seriously, I'm not kidding you when I say it is one of the easiest recipes, ever! This pulled pork is made in the crock pot and it does most of the work for you.
Place your pork into the crock pot and season with garlic salt and chili powder.
Pour the coke a cola into the crock pot. Try adding it to the sides to prevent losing most of the seasoning off your meat. Please note: the pork does not have to be fully submerged.
Cover the crock pot and set it to cook on low for 8 hours.
Remove most of the liquid. Once the pork has finished cooking, remove the pork from the crock pot and discard most of the liquid, saving some to help keep the pork moist.
Place the pork back into the crock pot and shred using two forks.
Add the BBQ Sauce and combine. Leave the crock pot on warm until you are ready to serve.
We love our pulled pork best when made with Sweet Baby Ray's BBQ sauce and served with tons of onions, pickles and on a potato bun.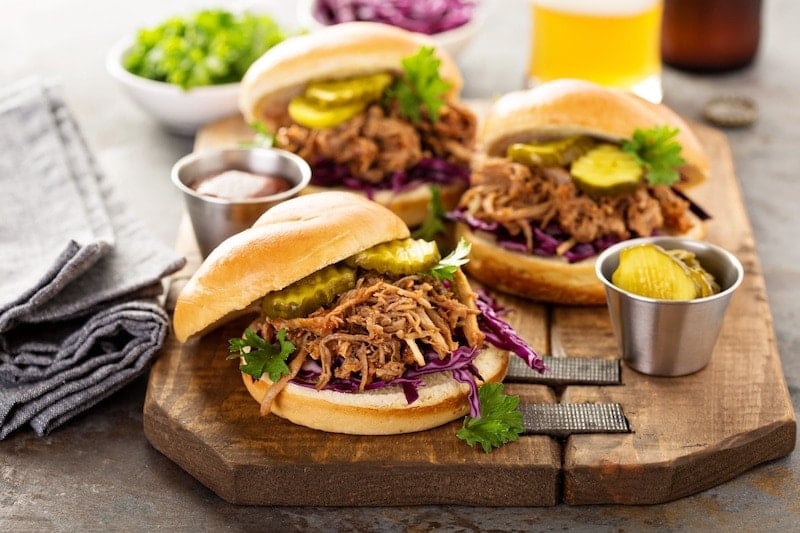 Can I Make this Recipe in the Instant Pot?
Yes! It is such a versatile recipe that it is easy to convert to the Instant Pot! Follow the standard directions, but instead of using a crock pot, cook on manual high pressure for 75 minutes with a natural pressure release!
Ways to Use Pulled Pork
If you happen to have any leftovers, there are so many ways you can use them up. My family is honestly always excited when we have leftover pulled pork, because it means some delirious dinners (or breakfast!) are coming!
Added to scrambled eggs or an omelet
Use it in tacos – top with onion and corn relish! You can also use this to make burritos or quesadillas.
On top of homemade mac and cheese for an epic dinner
Stuff it into popovers and top it with melty cheese. It's like a bready taco.
How to Store and Reheat Leftovers
Let your pulled pork come to room temperature, then store it in the fridge in an air tight container. It will keep for 4-5 days. When you're ready to reheat, you can heat it in the microwave. I like to put the amount I want to eat in a bowl, then cover that bowl with a plate to prevent splattering and to hold in extra moisture.
Can I Freeze Extras?
Yep! You can freeze it in an airtight container for up to 3 months, for optional freshness.
This is the easiest and most delicious pulled pork recipe I have made. Trust me, I've tried my fair share! Please leave a review or comment below letting me know how this recipe turns out for your family! Enjoy!
Crock Pot Pulled Pork
This Crock Pot Pulled Pork is my favorite easy recipe for sweet pulled pork. It can be made in a slow cooker or instant pot and only uses five ingredients!
Ingredients
3

pound

pork butt

,

or a pork shoulder

2

liter

coke

3

tablespoons

garlic salt

¼

cup

chili powder

1 to 1 ½

cups

BBQ sauce

,

I recommend Sweet Baby Ray's Original
Instructions
Place pork into crock pot and season entire pork with garlic salt and chili powder.

Pour the coke in adding just enough coke to almost cover pork — you do not need to cover meat completely.

Cook on low for 8 hours. It can cook longer, no worries if it has to sit a little longer.

Remove pork from crock pot and discard 97% of coke mixture…leaving just a little behind to help moisten the pork.

Place the pork back into the crockpot (or in a large bowl) and then use two large forks to shred the meat.

Add BBQ sauce and combine (above it says 1 to 1 1/2 cups BBQ sauce, which just means add as much, or as little, as you like).

Leave slow cooker on low, or warm, to keep things hot until you are ready to serve.

Store leftovers in the fridge, in an airtight conatiner, for up to 5 days.

INSTANT POT: Cook on manual high pressure for 75 minutes. Do a natural pressure release. Then follow directions from #4 down.
Nutrition
Serving:
1
serving
,
Calories:
579
kcal
,
Carbohydrates:
28
g
,
Protein:
41
g
,
Fat:
33
g
,
Saturated Fat:
12
g
,
Polyunsaturated Fat:
18
g
,
Cholesterol:
146
mg
,
Sodium:
2557
mg
,
Fiber:
2
g
,
Sugar:
21
g
Categories:
This post may contain affiliate links. Read my disclosure policy.