The BEST Baked Beans!
I really need to cancel my Netlifx subscription. The amount of tv that Jorge and I can re-watch is embarrassing. We rarely watch anything new on Netflix, but we constantly re-watch our old favorites.
Now that Friends is on Netflix, we have been slowly working our way all the way through it again. We used to be able to marathon shows and get through them in a matter of days. But, um, you know kids.
So this weekend, while I was contemplating how Jennifer Anniston manages to seriously NEVER age, I made another big batch of these baked beans. By the way, she probably manages to never age by never eating things like baked beans with brown sugar and bacon. Good thing I'm not on tv.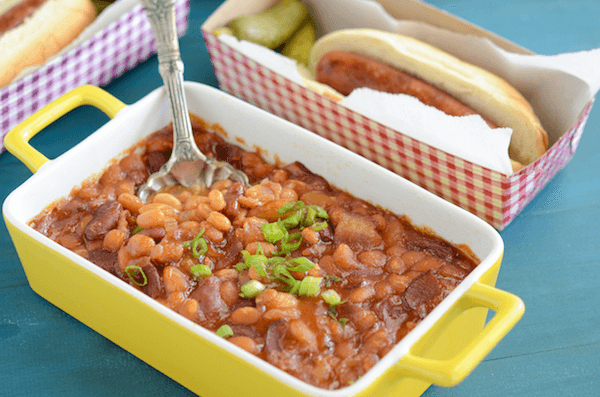 These beans are another recipe that I have gotten from my friend & neighbor Kerri. You know her by her amazing tuna pasta salad and her cheesy beef and orzo casserole.
The first time I had these beans was a few years ago and they truly are the BEST baked beans EVER. They are one of those semi-homemade type of recipes…using canned beans instead of dried to save lots of time. These are great to bring to a bbq or potluck — and don't be surprised when they are the first thing gone!
The BEST Baked Beans!
Ingredients:
1 lb bacon, sliced in small pieces
1 large onion, diced
1 1/2 cups packed brown sugar
1/3 cup apple cider vinegar
2 tablespoons spicy brown mustard
1 teaspoon garlic salt
1 53 oz can van camps pork and beans (undrained!)
1 16 oz can butter beans, drained
1 16 oz can light red kidney beans, drained
Directions:
Preheat oven to 250°F. Grease a 9×13 casserole dish with non-stick spray.
Fry bacon in a large, deep skillet. Once it starts to get crispy, add onions. Cook until tender, stirring often. Drain all extra bacon grease and return to heat.
Add brown sugar, vinegar, brown mustard and garlic salt. Bring to a simmer and cook for 20 minutes, stirring often.
Remove from heat and stir in all the beans. Pour into prepared casserole dish and bake for 1 1/2 hours. Let set for 10 minutes to firm up a little, then enjoy!