This recipe for Kerri's Tuna Pasta Salad is so delicious and can be made in less than 30 minutes! It's the perfect quick lunch or bbq side dish.
If you love pasta salad, be sure to also try my Bacon Ranch Pasta Salad and Pesto Bacon Pasta Salad.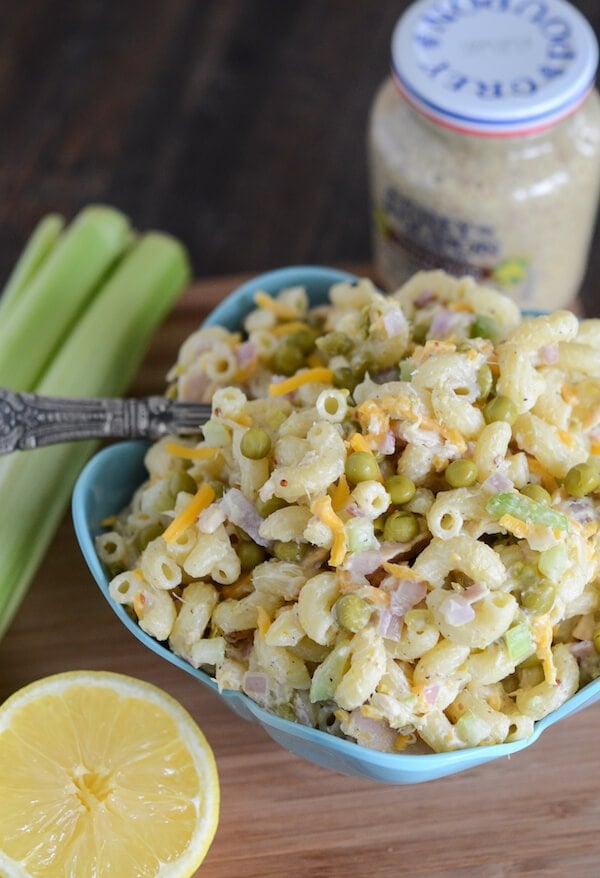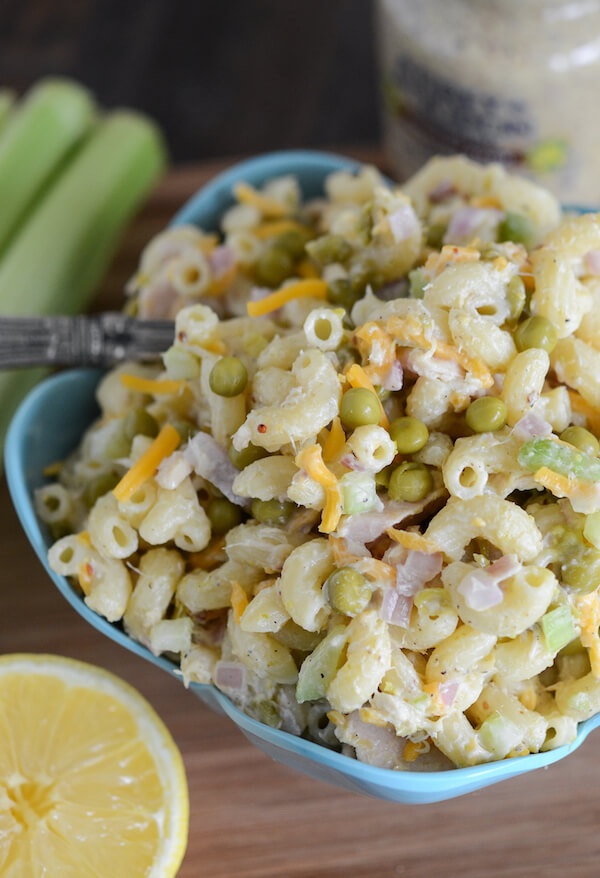 This Is One Of My Favorite Tuna Pasta Salad Recipes
I'm going to be honest. I don't like mayo and I don't like peas, but I do like both when they are put in Tuna Pasta Salad. It makes absolutely no sense and I have no good explanation for it…except that this is delicious and you must all try it immediately.
Thankfully, I have good friends like my neighbor Kerri who can overlook my idiosyncrasies. I had an incredibly random craving for Tuna Pasta Salad and Kerri happened to have all of the ingredients on hand. It was seriously meant to be.
She came over and we quickly whipped this up together and sat down and promptly ate half the bowl. It is THAT good.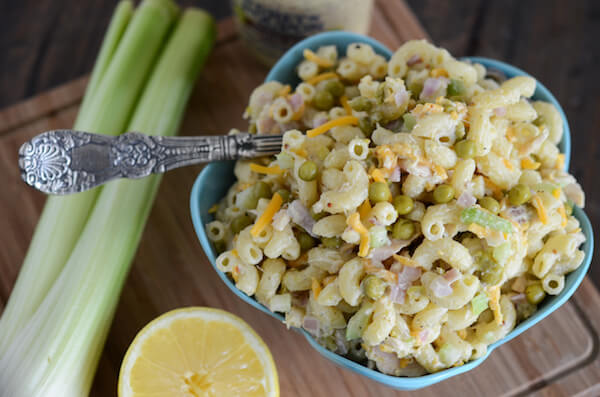 This Tuna Pasta Salad Is Even Great Leftover
This recipe makes a giant serving and it was so good leftover through the week. I begged her to let me share her recipe with all of you and thankfully she said yes.
I honestly had not had a good Tuna Pasta Salad in over 5 years until last week…and now I have had it twice since then. It's the ultimate comfort food for tuna lovers like me! I usually use my canned tuna to make tuna salad and do a hot sandwich with it when I am feeling fancy…but Kerri's Tuna Pasta Salad is my new go to!
You Can Make This Pasta Salad Ahead Of Time
This recipe is a great make ahead recipe that you can whip up and take to a potluck or party. I think it would be a great addition to a 4th of July party – just make sure and keep it chilled until serving time comes around.
If you are also a tuna lover — make sure and check out my Mexican Tuna Salad Stuffed Avocados.
Yield: 6
Kerri's Tuna Pasta Salad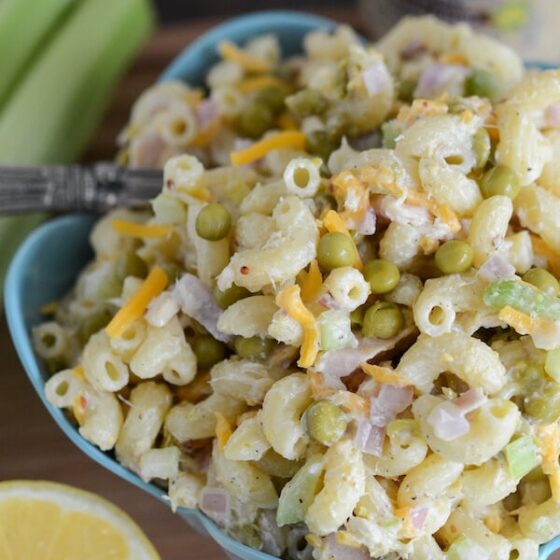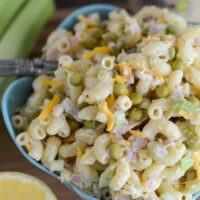 This recipe for Kerri's Tuna Pasta Salad is so delicious and can be made in less than 30 minutes! It's the perfect quick lunch or bbq side dish. 
Ingredients
1 lb (16 oz box) elbow macaroni
1 cup mayo
1/4 cup sweet relish
1 1/2 tablespoons stone ground dijon mustard
2 teaspoons lemon juice
1 1/2 teaspoon celery salt
1 teaspoon freshly ground black pepper
1 can (12 oz) albacore tuna, drained
1 cup sweet peas
1 cup shredded cheddar cheese
1/2 cup chopped celery (about 3 stalks)
2 shallots, minced
Instructions
In a large stock pot, cook elbow macaroni according to package directions.
While it is cooking, in a large bowl, whisk together mayo, relish, dijon mustard, lemon juice, celery salt and pepper. Add in tuna, peas, cheddar cheese, celery and shallots.
Once macaroni is cooked, drain it well and stir into the tuna mixture. Mix well. Serve immediately.
Kerri serves it warm and I have to agree, it's best that way. But it is also tasty cold leftover the next day. It just might need a little extra dressing of some sort stirred in to refresh it -- since the noodles like to soak up all the dressing.
Nutrition Information:
Yield:
6
Serving Size:
1
Amount Per Serving:
Calories:

428
Total Fat:

34g
Saturated Fat:

8g
Trans Fat:

0g
Unsaturated Fat:

25g
Cholesterol:

41mg
Sodium:

869mg
Carbohydrates:

18g
Fiber:

3g
Sugar:

6g
Protein:

12g
Want to Save This Recipe?
This post may contain affiliate links. Read my disclosure policy.