Pesto Bacon Pasta Salad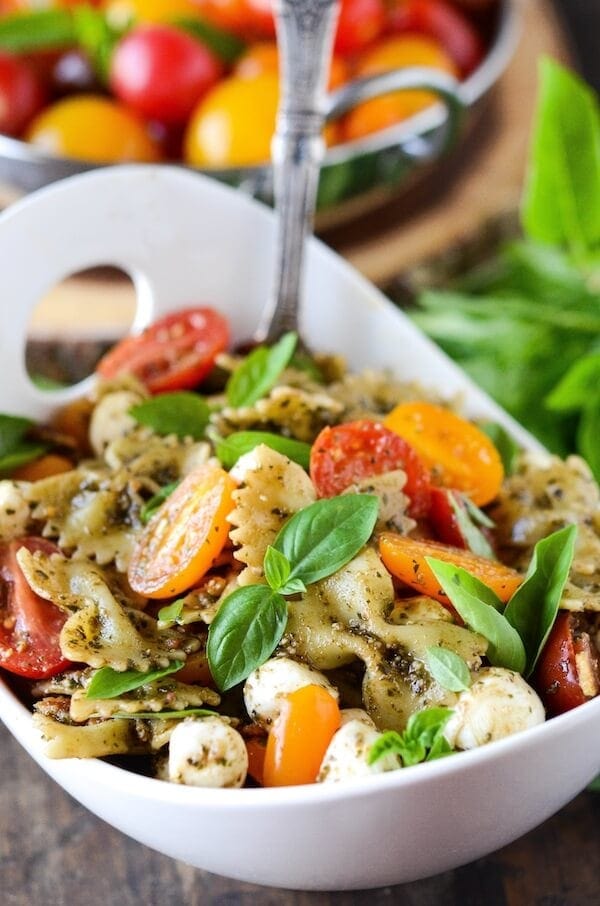 This Pesto Bacon Pasta Salad was the perfect way to use up all 500 tomatoes I had sitting on my counter last week. My garden has been overflowing and growing so much that we have been eating tomatoes and bell peppers with almost every meal.
I had two big box raised pallet gardens made this Spring and my veggies and herbs have been growing like weeds. We got so much rain with the tropical storm last week that my tomatoes were literally splitting down the sides. I used half of the ripe ones to make my favorite Caprese Chicken and the other half I used in this gorgeous pasta salad.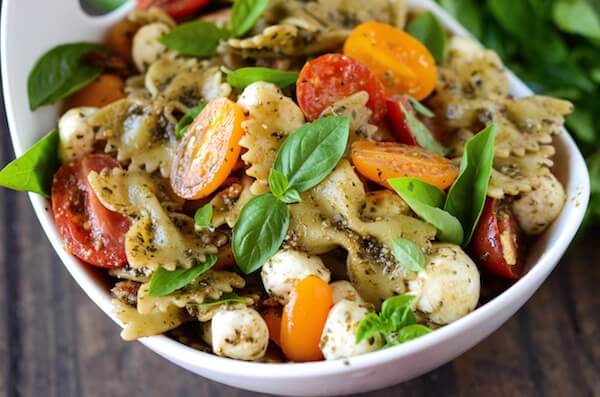 Speaking of my garden, my basil has grown so big that my Mom and I have both hacked at it multiple times in the past two weeks and it is still over 3 feet tall. I have seriously been eating Caprese Sandwiches for lunch for the past two months!
I would puree it and freeze it for Winter, but in Florida we can grow it year round. So at this point, I have started using it in little vases around the house. It's surprisingly cute and I love catching a whiff of fresh basil. Anyone else have some recipe ideas they want to share for me to use up my 500 pounds of basil??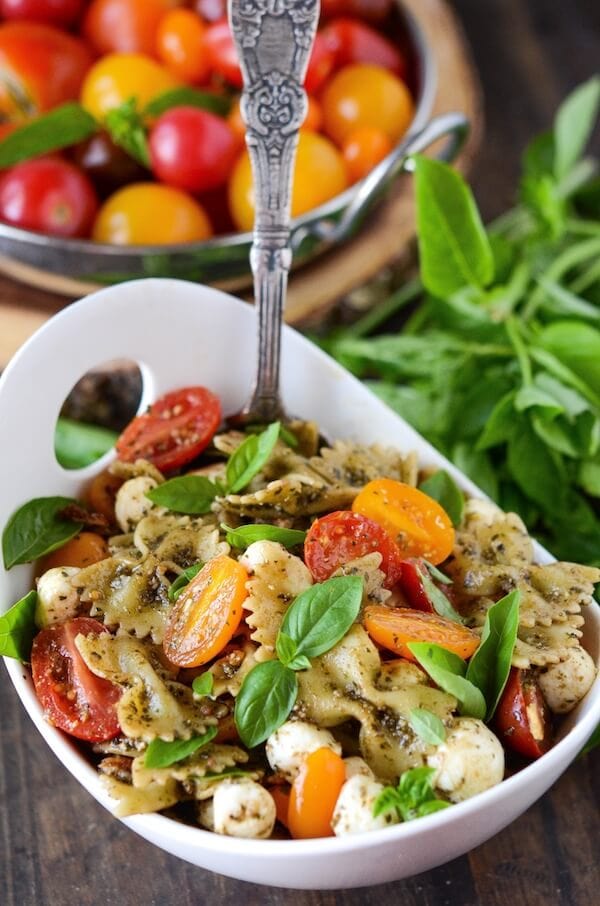 This Pesto Bacon Pasta Salad is the perfect way to use up some of the vegetables you are probably growing in your Summer garden — and if you don't garden, you can find gorgeous tomatoes and fresh basil at local farmer's markets this time of year.
I love how fresh and flavorful this pasta salad is. It's filled with my favorites — basil, cherry tomatoes, fresh mozzarella and bacon. Make it for a party, make it for lunch or bring it to a potluck, it's perfect for all of them! Hope you enjoy!!
Pesto Bacon Pasta Salad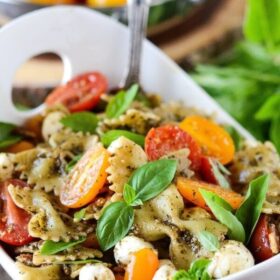 Ingredients:
3 cloves garlic
1/2 cup pine nuts
2 cups packed fresh basil leaves
3/4 cup olive oil
1/4 cup parmesan cheese
1 teaspoon salt
black pepper, to taste
1 box (16 oz) farfalle pasta, cooked and drained
6 slices bacon, cooked and crumbled
1 pint cherry tomatoes, halved
2 (8 oz) containers of fresh mozzarella, chopped
Directions:
In food processor, pulse garlic and pine nuts until fine paste. Add basil, olive oil, parmesan cheese, salt and black pepper. Pulse until smooth.
Toss cooked pasta in pesto. Add in bacon, cherry tomatoes and mozzarella. Serve immediately!