Caprese Chicken: chicken breasts are topped with garlic cherry tomatoes, mozzarella, basil and balsamic vinegar to create this one pan, 30 minute dinner.

I am in major big time whoa love with this Caprese Chicken. Just wait until you taste it!!
A few months ago Jorge and I happened to find ourselves in one of those chain Italian restaurants like Olive Garden or Macaroni Grill.
I honestly can't remember which, but I do know I ordered something called bruschetta chicken. It was good, but could use some improvements.
We are always looking for more chicken recipes for easy healthy weeknight dinners, so I immediately started brainstorming ideas.
For starters, I wanted to make it with cherry tomatoes and add some fresh buffalo mozzarella — my favorite. It also had to have fresh basil.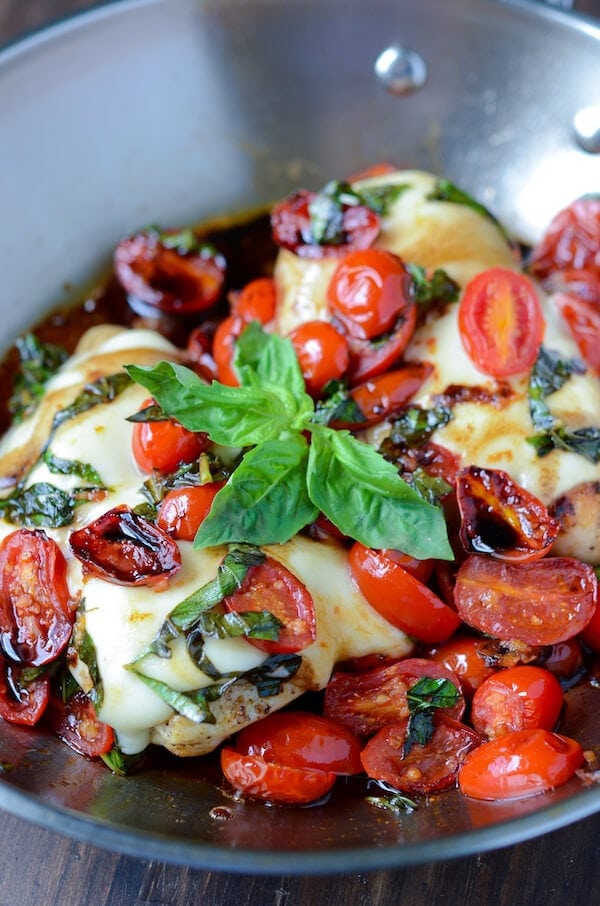 Then to finish it off, I would drizzle on a little bit of my favorite aged balsamic vinegar…but to be fair, I could just drink balsamic vinegar. I use it on my salad almost daily.
With the new additions, it would no longer be called a bruschetta chicken — instead it's a Caprese Chicken.
Either way, who doesn't love more cheese and balsamic vinegar?? I know I do!!
Despite having had this idea in the back of my head, it took me two months to actually make it.
That was the dumbest move on my part, because Jorge and I love it so much that we have already made this Caprese Chicken five times!
Delicious healthy dinner in 30 minutes or less? Count me in!
The recipe is easily divided and can be made just for two…and as long as you watch your cheese and olive oil — it's also healthy!
My favorite side dishes for this Caprese Chicken are some buttery noodles (with a squeeze of lemon) and possibly some garlic bread if we are feeling extra carby.
Of course – the garlic bread makes it much less healthy…but who cares. It's delicious.
If we are really watching our carbs, I like to make this with mashed cauliflower and a side arugula salad.
I hope you enjoy this dish as much as we have over the years!
Yield: 4 servings
Caprese Chicken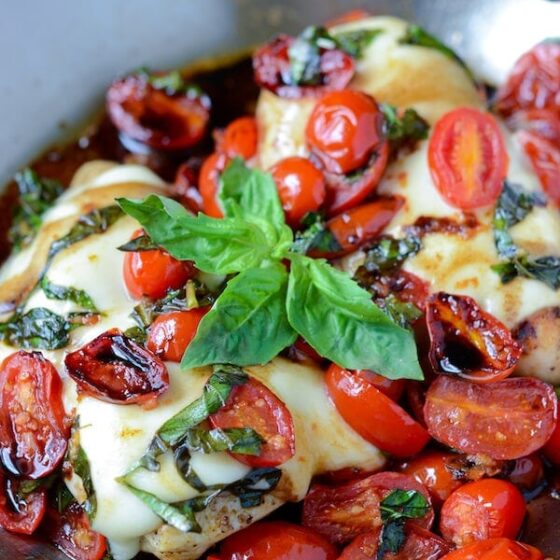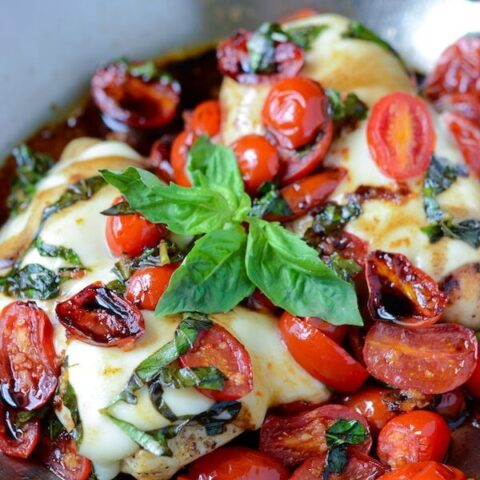 Caprese Chicken: chicken breasts are topped with garlic cherry tomatoes, mozzarella, basil and balsamic vinegar to create this one pan, 30 minute dinner.
Ingredients
4 skinless chicken breasts
kosher salt & freshly ground black pepper
2 tablespoons olive oil, divided
3 large garlic cloves, minced
2 pints cherry tomatoes, halved
10 large basil leaves, finely chopped
8 oz fresh buffalo mozzarella, sliced in 1/2 inch thick slices
balsamic vinegar, to taste
Instructions
Salt and pepper both sides of the chicken breasts and set aside.
In a large sauté pan over medium-high heat, warm 1 tablespoon olive oil. Add chicken, cover pan, and cook for about 10 minutes. Flip chicken breasts and continue cooking until the chicken is cooked thoroughly (or has reached an internal temp of 165°F).
Remove chicken and place on a plate and cover with foil. Add remaining 1 tablespoon of olive oil to sauté pan. Add garlic and cook for about 1 minute, or until fragrant, scraping up all the little bits of chicken left in the pan.
Add tomatoes and continue sautéing until tomatoes skin starts to soften/wrinkle, about 5 minutes. Stir in basil and quickly place chicken back in pan. Top each chicken breast with 2 slices of mozzarella.
Cover pan with lid and let the mozzarella melt, about 1-2 minutes. Drizzle with a splash of balsamic vinegar and serve immediately!
Nutrition Information:
Yield:
4
Serving Size:
1
Amount Per Serving:
Calories:

462
Total Fat:

24g
Saturated Fat:

10g
Trans Fat:

0g
Unsaturated Fat:

12g
Cholesterol:

147mg
Sodium:

527mg
Carbohydrates:

9g
Fiber:

2g
Sugar:

5g
Protein:

51g
Want to Save This Recipe?

This post may contain affiliate links. Read my disclosure policy.