Served over white rice, this easy bourbon chicken in a sweet-and-savory sauce is the perfect Asian-style quick meal. Ready in 30 minutes, why would you go back to take-out? Homemade is always better!
30 Minute Bourbon Chicken Chinese Copycat
Tossed in a thick, glossy sauce, this bourbon chicken is an easy take-out dish you'll be making at home from now on. Garnished with green onions for a pop of color, this 30-minute weeknight dinner only requires chicken (or beef) and a couple of sauces. Oh, and did I mention bourbon?
Aside from being perfectly juicy, every bite is sweet, savory, and a teeny tiny bit boozy. Packed with lots of garlic and ginger, the longer you simmer it, the more flavor it develops. The combination of brown sugar, soy sauce, and alcohol is just heavenly.
Sprinkled with sesame seeds and served over rice, this bourbon chicken will have you driving past your favorite Asian restaurant for a while. Once the smell gets around, it's not like anyone will miss it— especially if you double the sauce and add some veggies.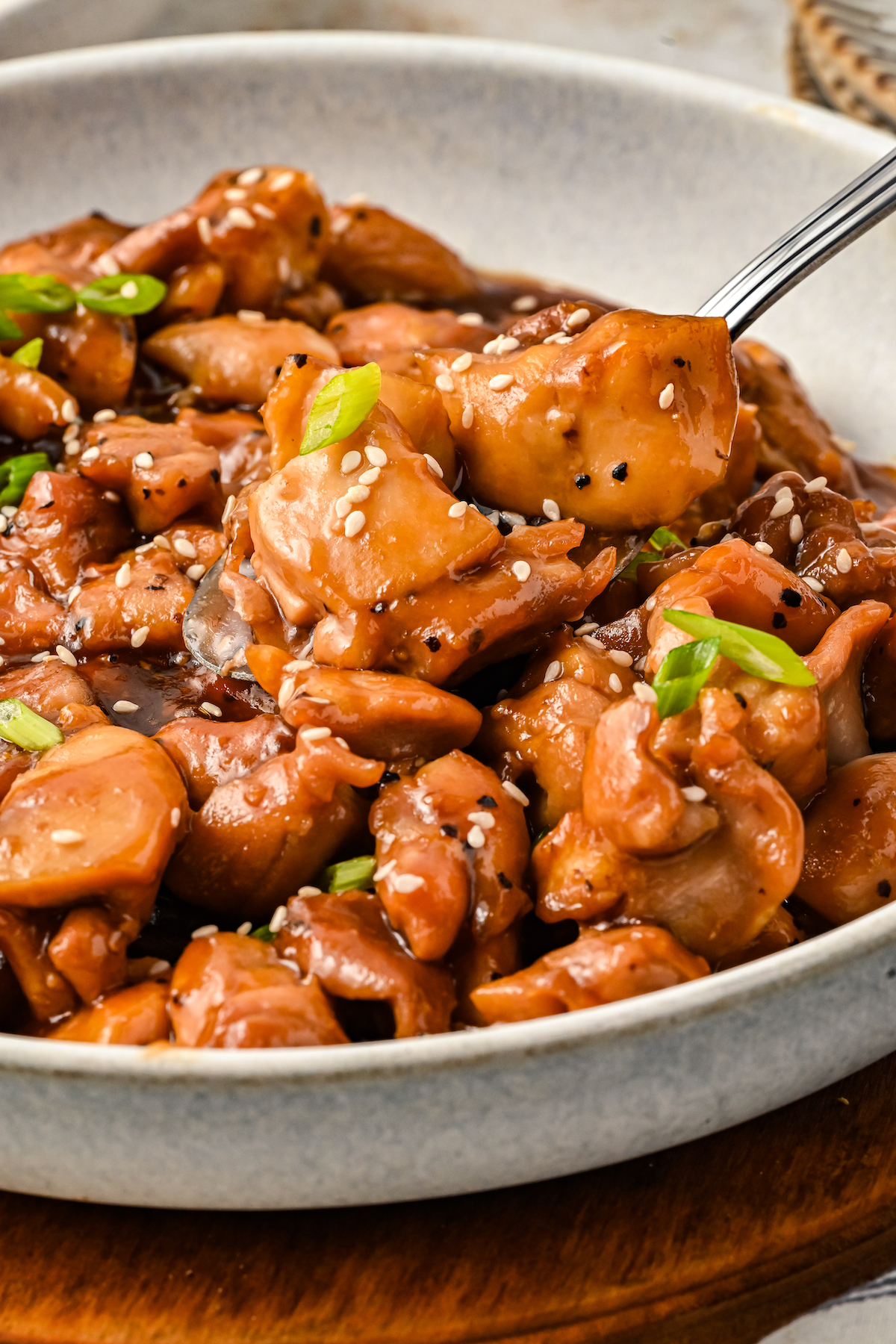 What is Bourbon Chicken?
Bourbon chicken is a New Orleans-inspired Chinese dish. It gets its name after Bourbon Street in the city and the booze in the recipe. It's a popular take-out dish consisting of small pieces of chicken cooked in a glossy sweet-and-savory sauce that's a lot like teriyaki. It typically doesn't have any vegetables and is served over white rice.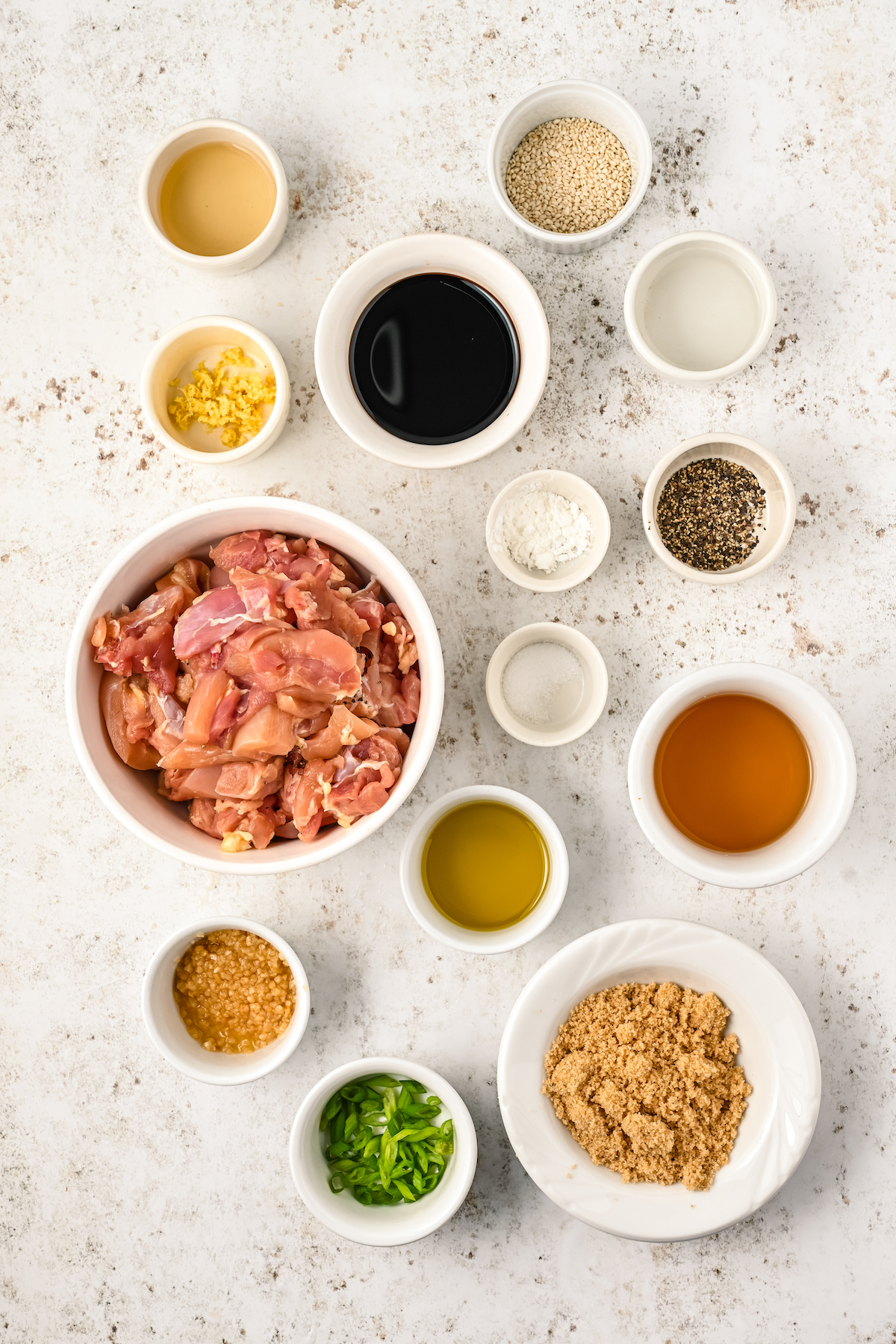 Recipe Ingredients
Aside from all your typical Asian ingredients like soy sauce, garlic, and ginger, you'll also need bourbon. Check the recipe card at the bottom of the post for full ingredient amounts.
Olive oil – Peanut, canola, vegetable, and corn oil are great swaps.
Chicken thighs – Chicken breasts are okay too.
Salt
Pepper – Feel free to use white pepper.
Garlic – If you want to use garlic powder, add in 3 teaspoons of it.
Ginger
Soy sauce – I prefer low-sodium.
Bourbon
Brown sugar – Light brown or dark brown sugar is great.
Rice vinegar – Cooking sake works too.
Water
Cornstarch – Don't use all-purpose flour for this.
Green onions – Optional topping, but they add a lot of flavor.
Sesame seeds – Black or white sesame seeds are both great.
Can I Make This Without Alcohol?
Don't worry about getting tipsy from this recipe. Although it's called "bourbon chicken," most of the alcohol is cooked off by the time it hits the plate. However, if you'd like a 100% alcohol-free version, swap the bourbon for the same amount of apple juice.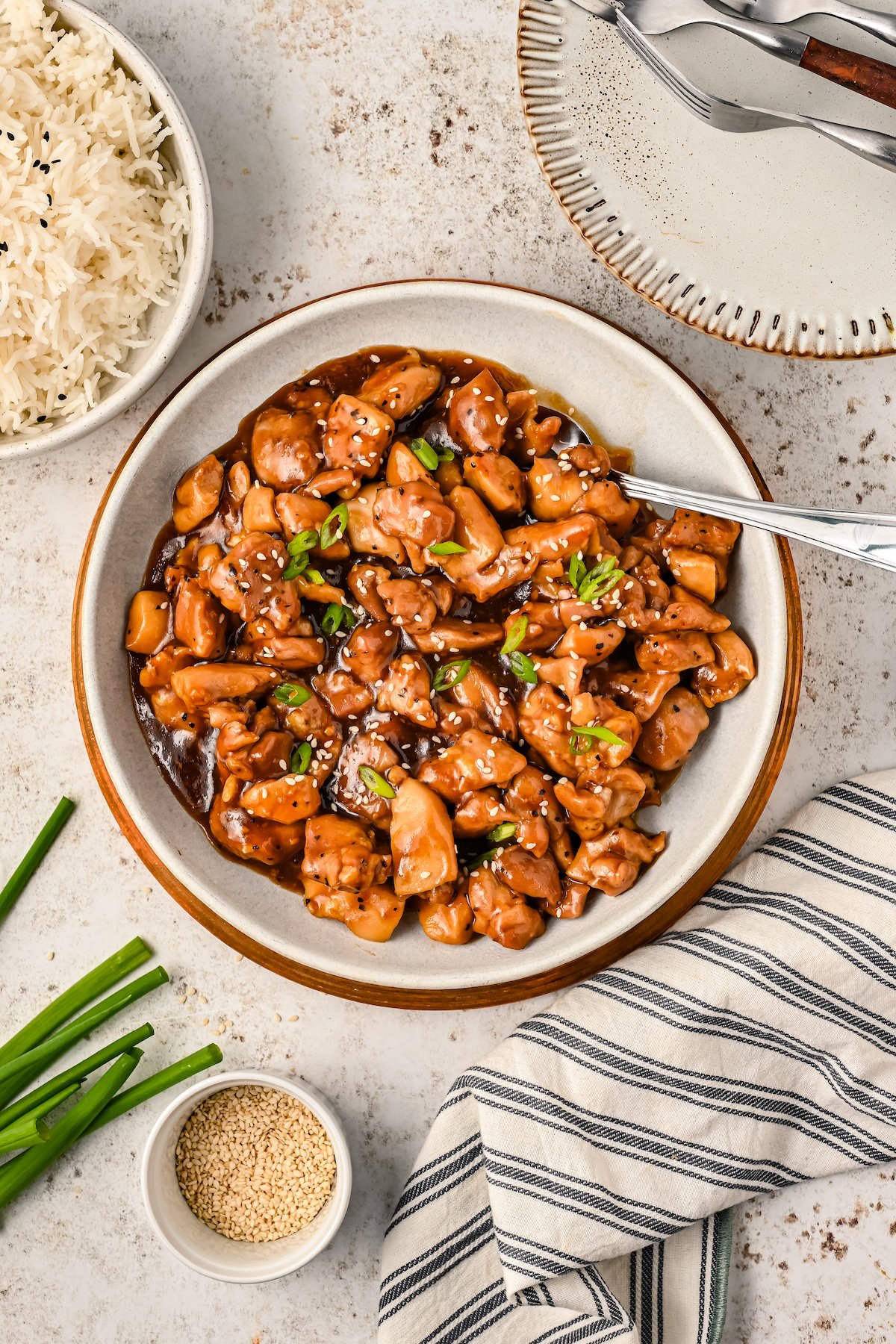 How to Make Bourbon Chicken
Cook the chicken, whisk a sauce, and pour it in. That's all there is to this 30-minute dish!
Cook the chicken. Add the chicken to a bowl and season it with salt and pepper. Pour the olive oil in a large pan over medium-high heat. Add the chicken and let it cook for 3 minutes. Flip it over and cook it for another 3 minutes. Don't cook it longer because you don't want it to dry out.
Add the garlic. Toss the garlic and ginger into the pan. Stir well and let everything cook for another 2-3 minutes or until fragrant.
Make the sauce. Add the soy sauce, bourbon, brown sugar and rice vinegar to a bowl. In a separate small bowl, whisk the water and cornstarch until you get a smooth mixture. Add the slurry to the prepared sauce. Mix well.
Simmer it. Add the sauce to the pan. Stir well until the chicken is completely coated. Let it simmer until the sauce begins to thicken.
Serve. Remove the pan from the heat and set it aside. Serve immediately with a sprinkle of green onions and sesame seeds.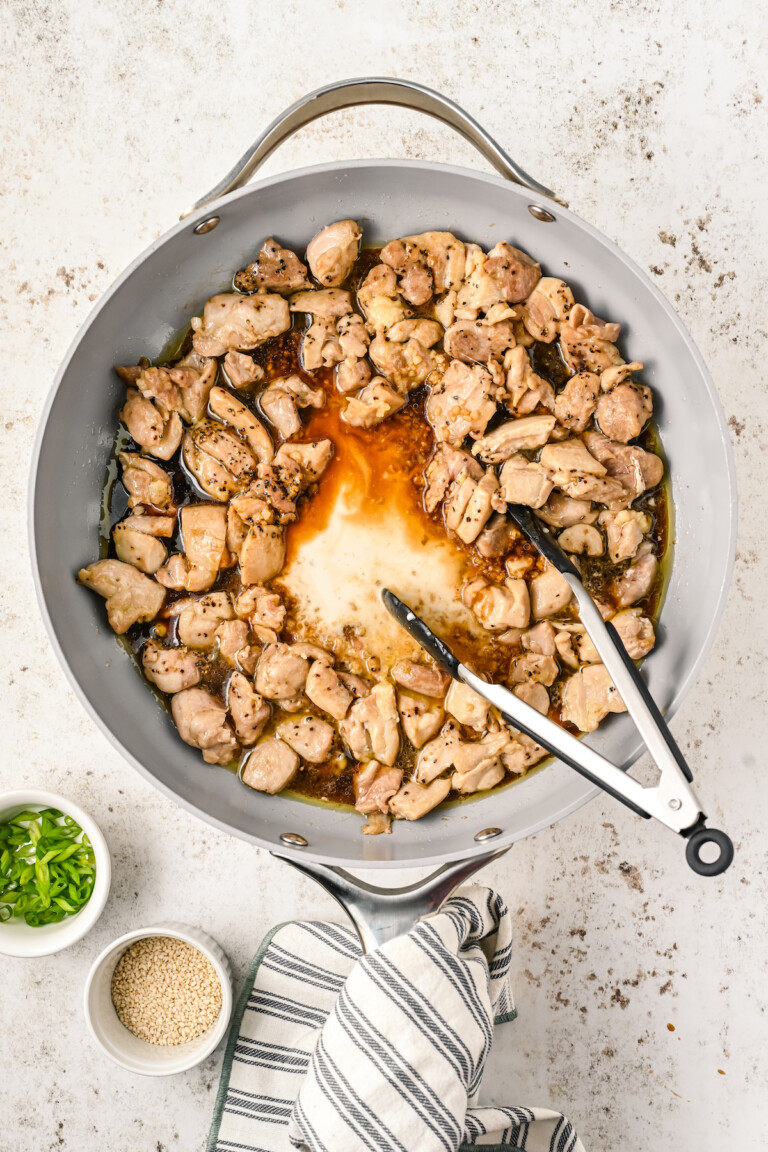 Tips for the Best Bourbon Chicken Recipe
Doubling the sauce and changing the protein in this recipe are just some of the tips you can use to give your bourbon chicken new life.
Add more veggies. Adding broccoli or bell peppers can make this meal healthier and give it more of a stir-fry feel.
Use other proteins. Swapping the chicken for thinly sliced beef, or pork, is a great twist on this easy recipe.
Double the sauce. For a saucier dish, double the ingredients for the sauce and cook the recipe as usual. This is also a good idea if you are adding in a good amount of vegetables.
Marinate the chicken. Make an extra batch of the sauce and use it to marinate the chicken overnight. Discard the marinade and cook the chicken as usual.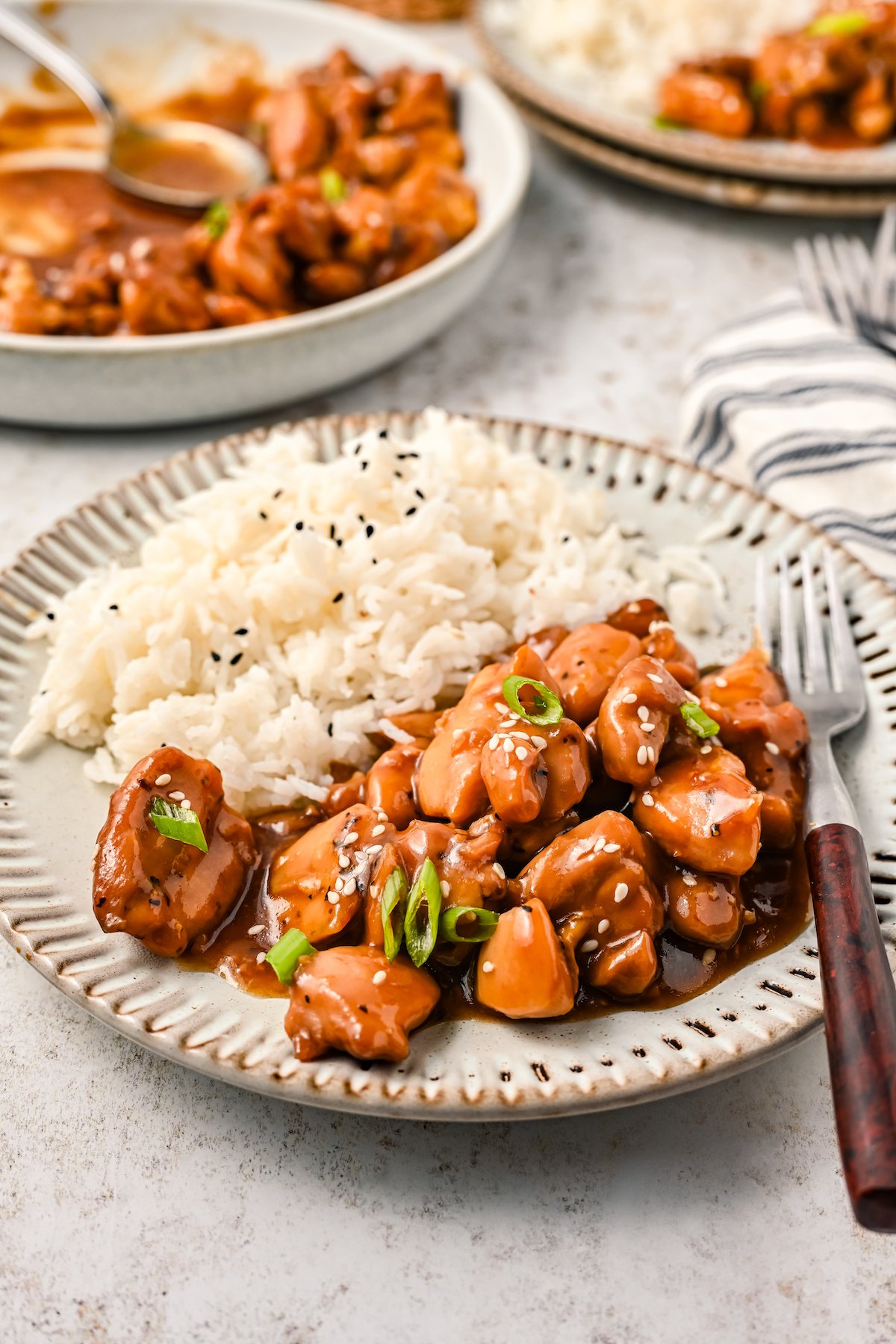 Serving Suggestions
This bourbon chicken is best over steamed white rice with a side of stir-fried veggies like broccoli, peppers, and mushrooms. For a more take-out style meal, you can also serve it over fried rice or Pan Fried Noodles.
My Air Fryer Asian Roasted Broccoli, Wonton Soup, and Easy Potstickers are also great sides to make your meal more filling.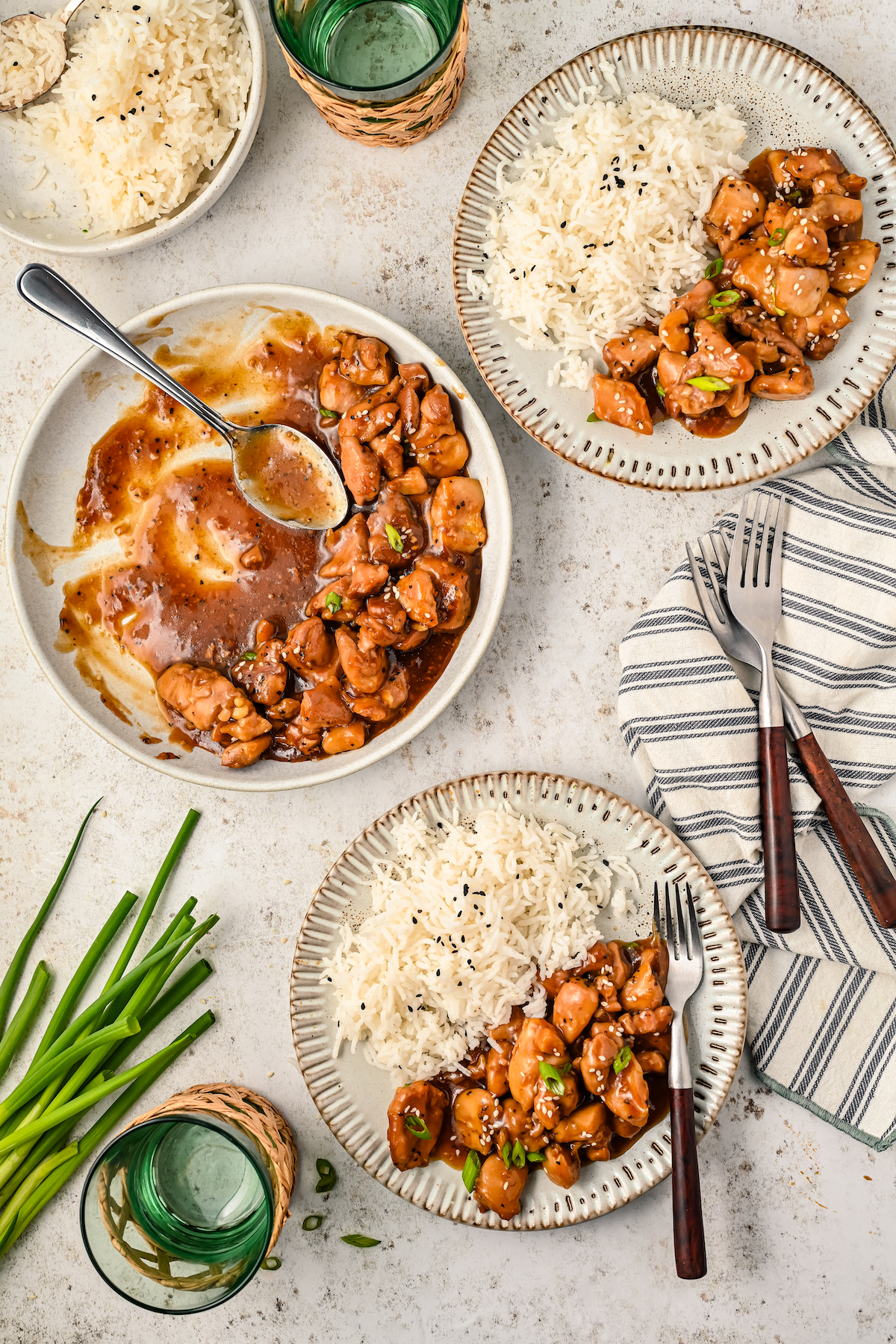 How to Store & Reheat Leftovers
Once fully cooled, refrigerate this dish in an airtight container for up to 5 days. Keep it away from heat and sunlight when it's on the counter. To reheat it, pop it into the microwave for 2-4 minutes. You can also heat it in a pan over medium heat for 3-5 minutes.
If you'd like to store it for longer, this recipe is also freezer-friendly. Transfer the chicken to freezer-friendly bags or containers in serving-size portions. Freeze it for up to 3 months. Transfer it to the fridge to thaw completely before reheating it as usual .
More Chinese Takeout Recipes
Yield: 4 servings
Bourbon Chicken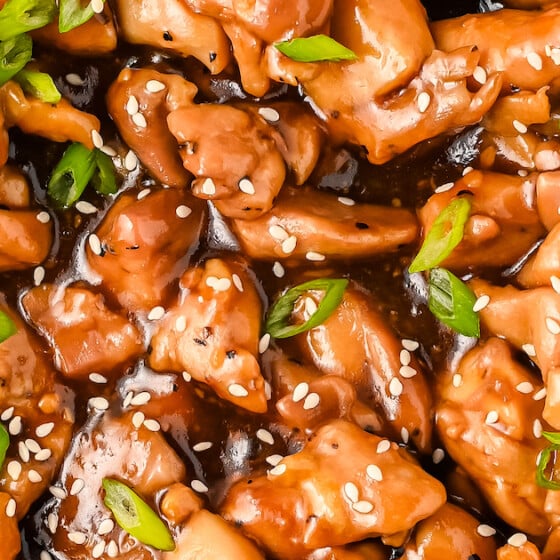 This 30-minute bourbon chicken in a homemade sauce is the perfect way to skip take-out and satisfy your weeknight Asian-food cravings. 
Ingredients
1 tablespoon olive oil
1 pound chicken thighs, cut into 1 inch pieces
1/2 teaspoon salt
1/2 teaspoon pepper
1 tablespoon minced garlic
1 teaspoon freshly grated ginger
1/2 cup soy sauce
1/4 cup bourbon
1/4 cup brown sugar
2 tablespoon rice vinegar
1 tablespoon water
1 teaspoon cornstarch
Green onions, optional garnish
Sesame seeds, optional garnish
Instructions
In a large sauté pan or wok, heat the olive oil over medium high heat. Add the chicken thighs to the skillet and season with salt and pepper. Cook chicken pieces for 6 minutes, flipping half way through.
Add the garlic and ginger to the pan and cook for another 2 minutes.
In a small bowl, whisk to combine the soy sauce, bourbon, brown sugar, rice vinegar, water and cornstarch. Pour into the pan. Bring to a simmer, cooking and spooning sauce over the chicken until thick and fully coating the chicken.
Serve immediately with a sprinkle of green onions and sesame seeds.
Notes
Storage: Once fully cooled, refrigerate this dish in an airtight container for up to 5 days. Keep it away from heat and sunlight when it's on the counter. To reheat it, pop it into the microwave for 2-4 minutes. You can also heat it in a pan over medium heat for 3-5 minutes.
Nutrition Information:
Yield:
4
Serving Size:
1
Amount Per Serving:
Calories:

407
Total Fat:

23g
Saturated Fat:

6g
Trans Fat:

0g
Unsaturated Fat:

17g
Cholesterol:

145mg
Sodium:

2218mg
Carbohydrates:

17g
Fiber:

1g
Sugar:

11g
Protein:

31g
Categories
This post may contain affiliate links. Read my disclosure policy.