These Sweet & Sticky Baked Chicken Drumsticks are the perfect appetizer! An easy drumsticks recipe that makes crispy, juicy dark meat chicken legs. The sticky Asian glaze makes this these so addicting! This just might be the BEST baked chicken drumsticks recipe ever.
One Of My Husband's Favorite Chicken Drumstick Recipes
Sometimes we do things for our significant others that we don't like. At least, that's what I told myself as I was standing over a bowl of chicken drumsticks. I don't know why, but I can't eat meat off a bone. Ribs, Drumsticks, Wings and anything else that you eat off a bone… ::shudder:: I just can't. I don't know what it is, but I just can not do it.
But Jorge, well that man can clean a wing in .2 seconds flat. Seriously, I have seen him do it. The wing goes in whole and comes out clean…it's like he's the official wing cleaner of the southeast. He proudly tells people about the time he beat the nuclear wing (read: hot as a muthertrucker wings) challenge at Beef O Bradys. And as a winner, he got to write his name on the wall and was given a free t-shirt! And obviously those totally awesome prizes made it soooo worth having fire come out of both ends for the next 2 days. TMI? Long story short, the man loves him some saucy dark meat.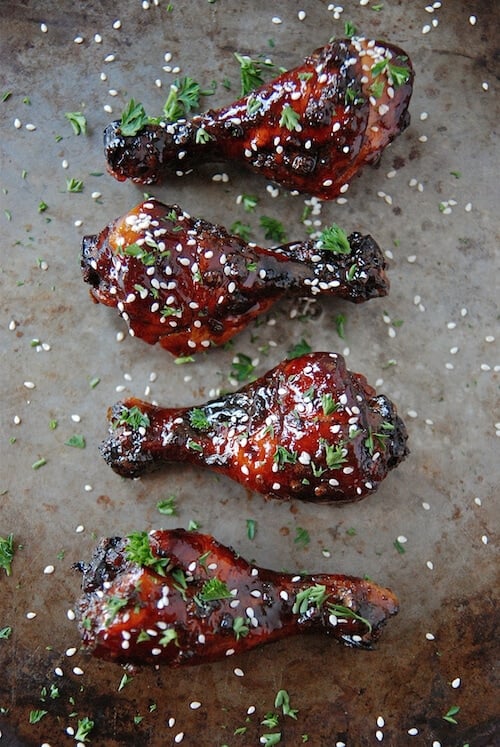 So being the good wife I am, I made him Sweet & Sticky Baked Chicken Drumsticks. And after witnessing his happy dance, I have concluded that the way to a man's heart is through the following combination:
Delicious Crispy Skin + Juicy Dark Meat + Coated in a Wonderfully Sticky Sauce = Happy Man 🙂
Yield: 6 Drumsticks
Sweet & Sticky Baked Chicken Drumsticks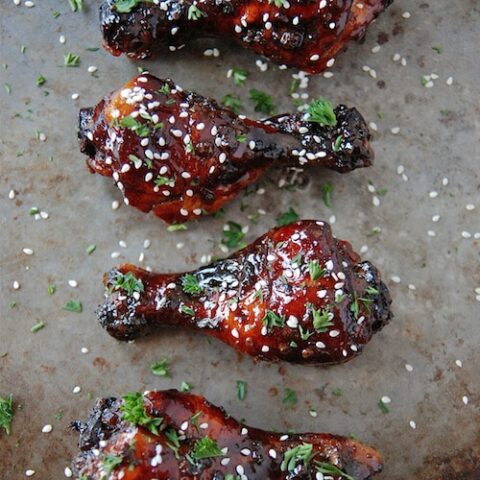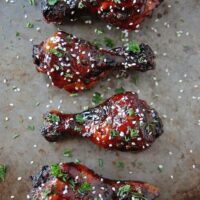 Sweet & Sticky Baked Chicken Drumsticks are the perfect appetizer recipe for crispy, juicy dark meat chicken drumsticks. The Asian glaze is so addicting! 
Additional Time
8 minutes
Ingredients
1/4 cup balsamic vinegar
1/4 cup honey
1/4 cup light brown sugar, packed
2 tablespoons low-sodium soy sauce
3 garlic cloves, minced
1 tablespoon minced fresh ginger
1/2 teaspoon fresh cracked black pepper
6 chicken drumsticks, about 1.25 pounds
1 tablespoon sesame seeds, lightly toasted
a few pinches chopped fresh parsley
Instructions
In a medium bowl, whisk together balsamic vinegar, honey, brown sugar, soy sauce, garlic, ginger and cracked black pepper. Pour into a large ziplock bag and add chicken drumsticks. Shake to coat chicken and refrigerate for 8 hours, or overnight, giving the bag a shake whenever you think about it.
Preheat oven to 400°F. Line a rimmed baking sheet with foil and place a Cooling Rack on top.
Remove the chicken from the bag, reserving the marinade, and place the drumsticks on the rack. Bake the drumsticks, on the middle oven rack, for 25 minutes.
While the chicken is baking, place the leftover marinade in a small saucepan. Bring the marinade to a boil, then reduce the heat to a slow simmer. Cook over low heat, stirring as needed, for about 15 minutes or until thickened.
Remove drumsticks from oven (after first 25 minutes of cooking) and heavily coat with the thickened marinade, using a silicone pastry brush. Return to the oven and cook for 10 more minutes. Coat the drumsticks again and return to oven to cook for 5 more minutes, or until an internal temperate of 160°F is reached.
Coat the drumsticks one last time, with any remaining sauce, and sprinkle with sesame seeds and parsley. Serve immediately.
Notes
I used a chicken breast instead of drumsticks for my dinner and loved this sauce! So feel free to change it up to fit your tastes!
Adapted from The Comfort Of Cooking., originally from Group Recipes
Nutrition Information:
Yield:
6 drumsticks
Serving Size:
1
Amount Per Serving:
Calories:

263
Total Fat:

9g
Saturated Fat:

2g
Trans Fat:

0g
Unsaturated Fat:

5g
Cholesterol:

116mg
Sodium:

269mg
Carbohydrates:

22g
Fiber:

0g
Sugar:

21g
Protein:

23g
Want to Save This Recipe?
This post may contain affiliate links. Read my disclosure policy.