You only need 5 ingredients — and 15 minutes — to make these Sweet & Spicy Sticky Chicken Tenders! Dip them in ranch dressing for an easy appetizer or dinner. Baked in the oven or made in the Air Fryer!
Looking for more easy chicken recipes? Try these family favorites: Dill Pickle Chicken, Chicken Souvlaki, and Creamy Parmesan Chicken.
Baked (or Air Fried) Sticky Chicken Tenders
Chicken Tenders take me right back to my childhood – every time we went out, it was me and a plate of tenders! I still get them at restaurants from time to time when the mood hits me. My taste for them has evolved over the years. I love them covered in a good sauce. Our kids LOVE Chicken Tenders. It is one of their favorite requests – tenders and mac and cheese!
These tenders are SO easy to make! You start with store bought chicken tenders and coat them in a deliciously sweet and spicy sauce – with just a hint of spice! They can be cooked in the oven, or even in an air fryer, for an extra crispy crunch!
I have whipped these up a many times for a quick and easy dinner! I even took them to a family get-together last weekend and they flew off the platter! Definitely a hit!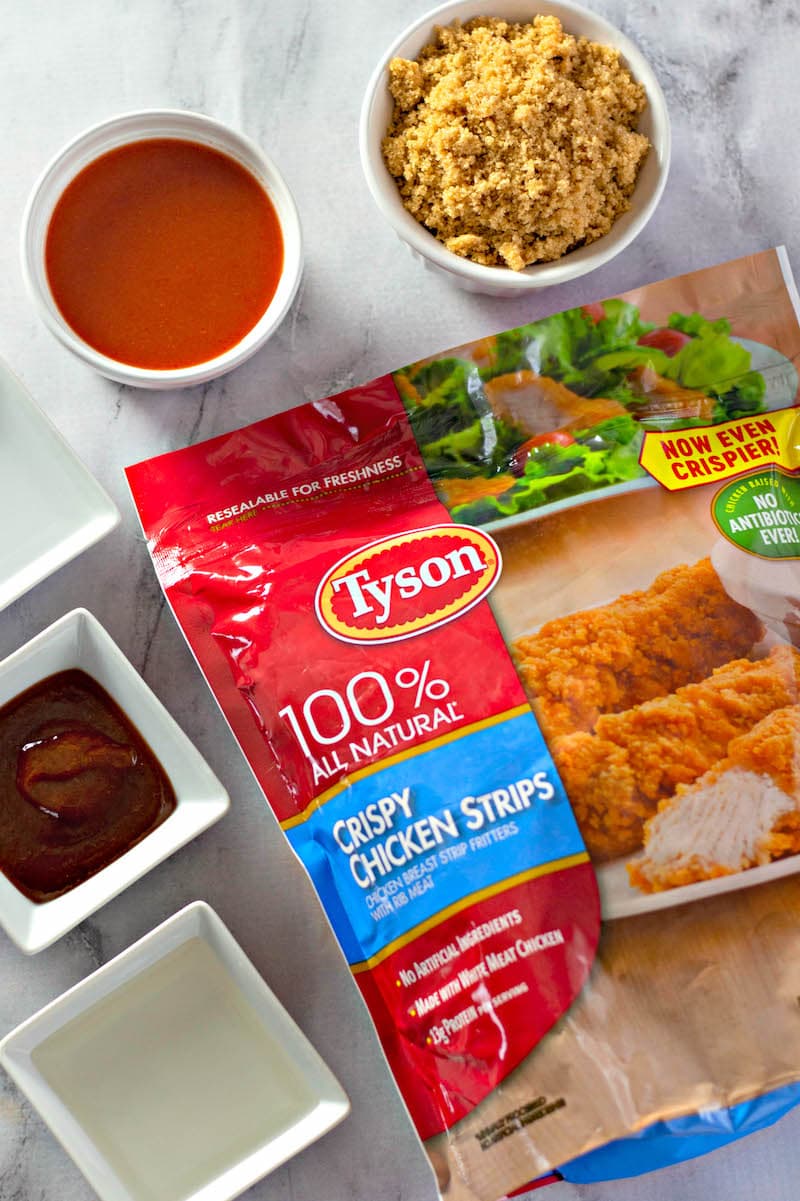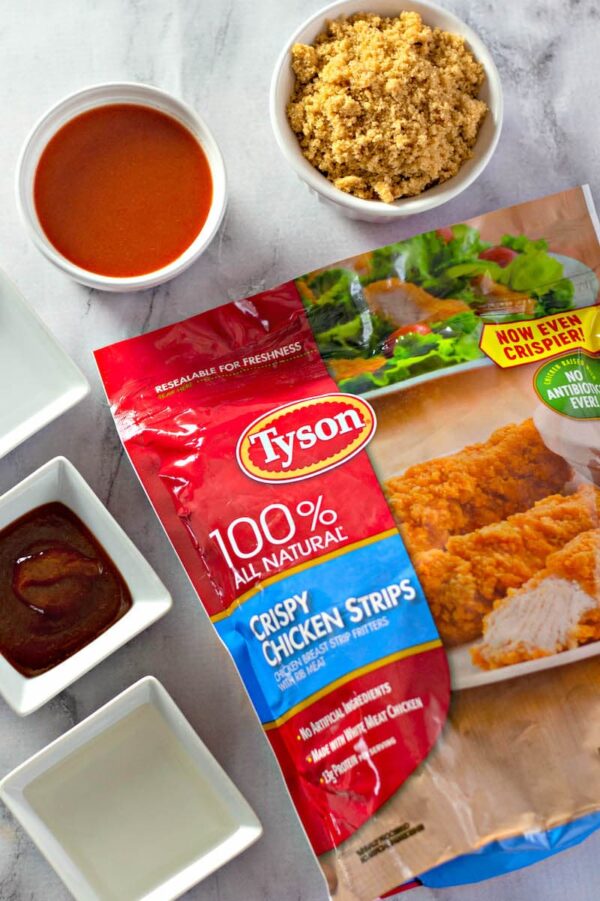 5 Easy Ingredients for these Baked Chicken Tenders
You are going to love how simple this recipe is. With just 5 ingredients (I don't count water!), you can have these Sticky Chicken Tenders ready to go and on your table in 20 minutes or less!
You will need:
A package of Crispy Chicken Strips
BBQ Sauce (I use Sweet Baby Ray's brand!)
Franks Red Hot Sauce
Brown Sugar
Corn Syrup
Water
Using store bought frozen tenders is a great way to save time and energy! You can use any kind of chicken tender you would like, but the crispy version has a perfect crust to allow a lot of the sauce to stick to the outside of the tender!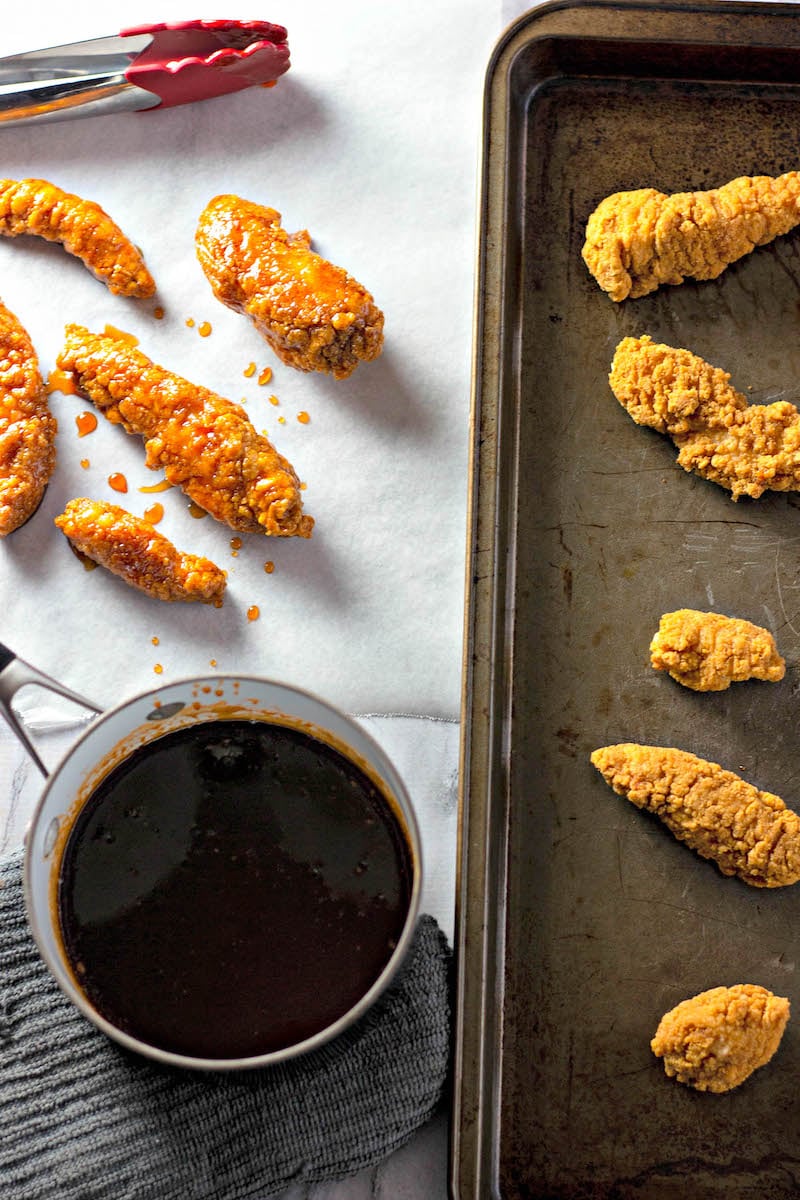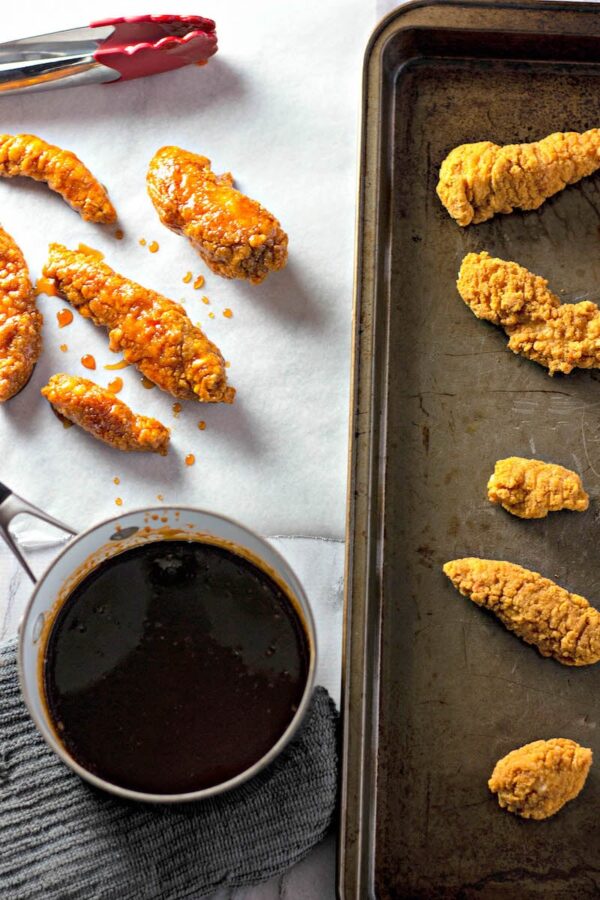 How to Make Sticky Chicken Tenders
The sauce is so quick to whip together — it will take you less than 5 minutes total — and can easily be made while the tenders are cooking! To prepare sauce:
Combine all sauce ingredients.
Bring to a boil, then reduce heat and simmer for 2-3 minutes.
Remove from heat and coat freshly cooked tenders in the sauce.
Air Fryer Chicken Tenders
If you have an air fryer, these tenders will be cooked quickly in 11-12 minutes! Meaning your whole meal can be done in less than 15 minutes! I love to use the Air Fryer for when I'm looking to get a crispier outside to the tenders.
Oven Baked Chicken Tenders
Baking the tenders in the oven is still a very quick way to get this meal on the table. Just remember to turn the tenders about half-way through baking for a more even cook on the chicken!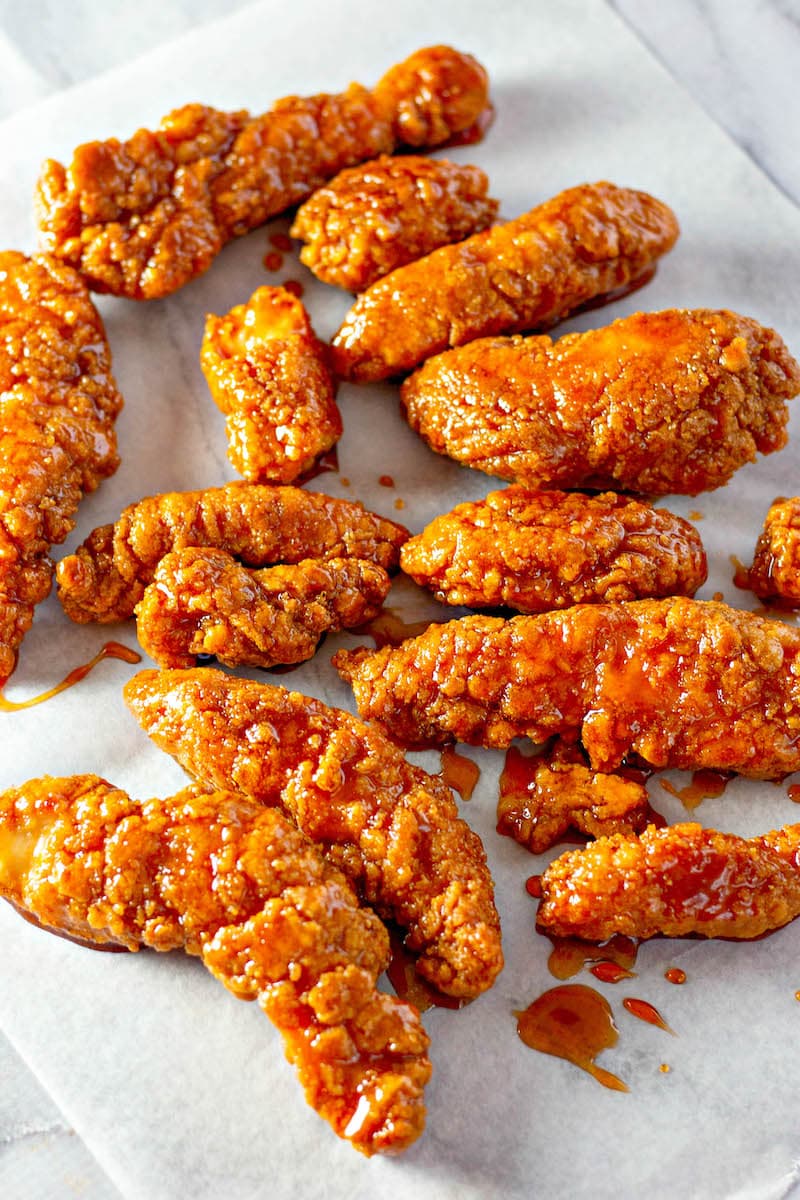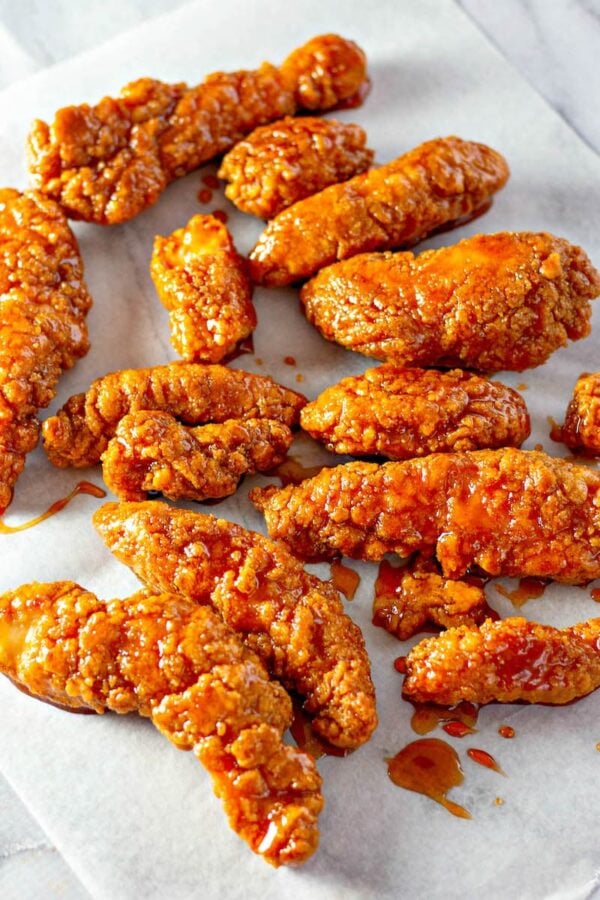 How Spicy are These Baked Chicken Tenders?
Even though this recipe uses a lot of hot sauce, it's not super spicy. I would say it's about a medium heat, not hot. People who like extra spice may want to add some cayenne pepper to the sauce.
Depending on your favorite flavor profile, there are multiple ways to kick up the heat on these tenders. Here are some of my recommendations if you like things extra hot:
sriracha
cayenne pepper
red pepper flakes
We love to use Franks Red Hot Sauce because it has a great flavor without making the chicken tenders too hot and inedible. Combined with the other ingredients, the final sauce has a nice sweetness with a subtle kick at the end!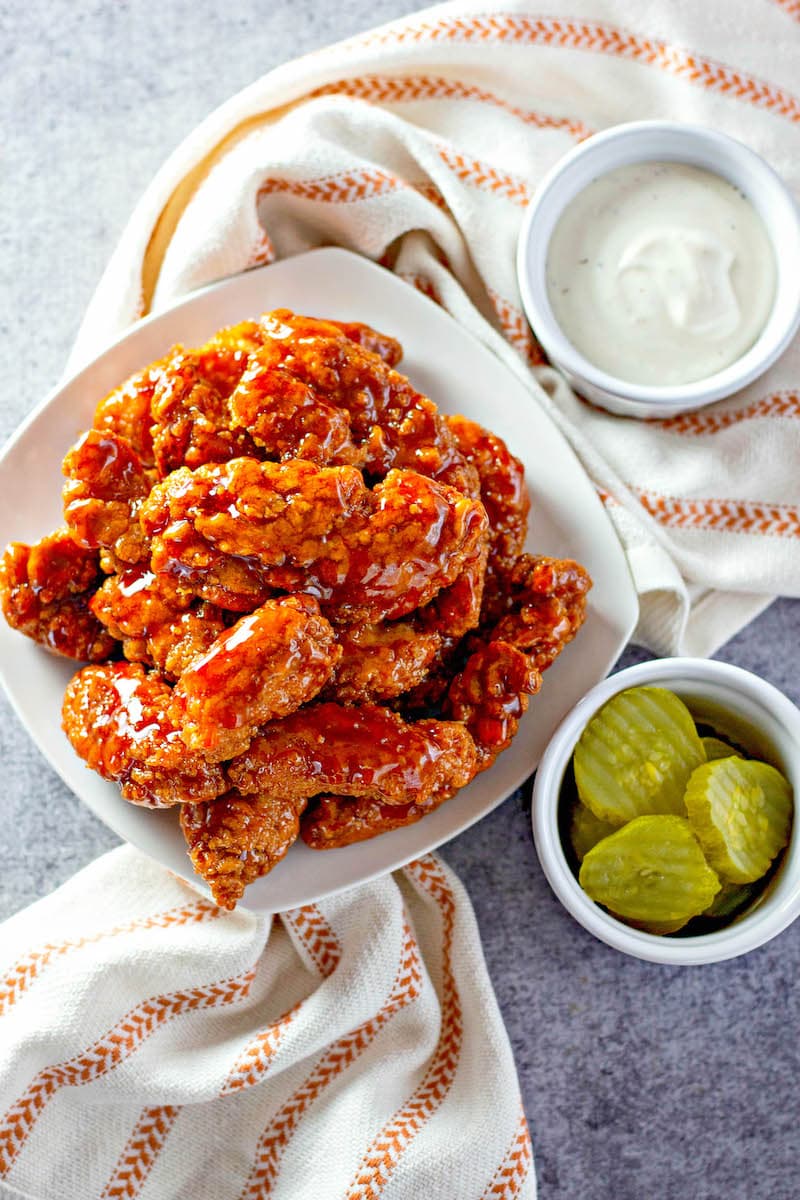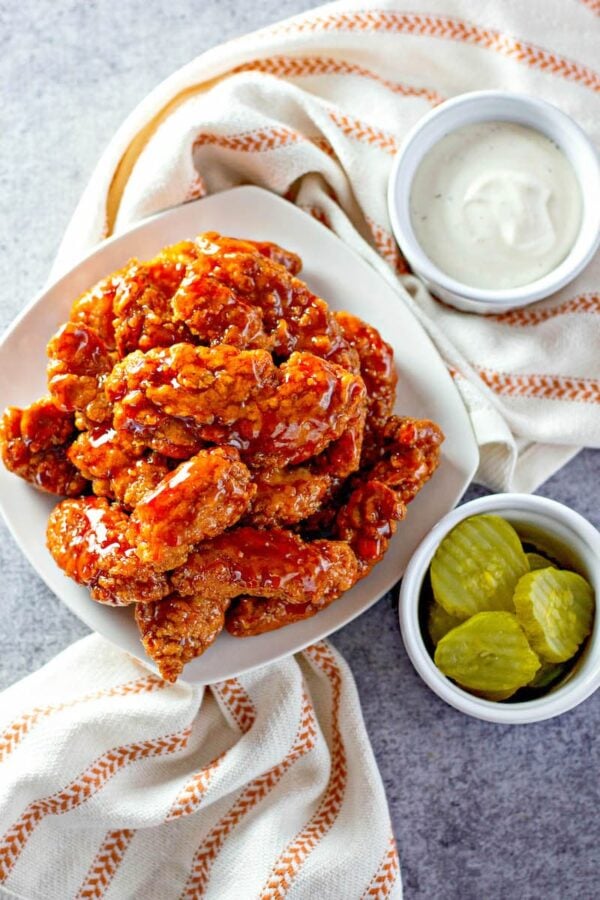 How to Serve Sticky Baked Chicken Tenders
My family eats these just as they are with ranch dressing for dipping and some dill pickles on the side. They could also be eaten on slider rolls for a fun sandwich. Blue cheese dressing is also a delicious sauce to dip these sticky chicken tenders in.
These tenders also make a great easy appetizer. We love to host game night at our house, and these are a hit with our guests. There are never any left over!
Snack Size: You can also use popcorn chicken in place of chicken tenders to make a quick bite size appetizer or snack!
Can I Make these Chicken Tenders Ahead of Time?
Unfortunately, no, these cannot be made ahead of time. They are best served fresh or they end up soggy.
However, you can make the sauce ahead of time and refrigerate it if you need to. Then when your tenders are hot and ready, nuke the sauce until it's hot, give it a quick whisk and toss in the hot chicken tenders!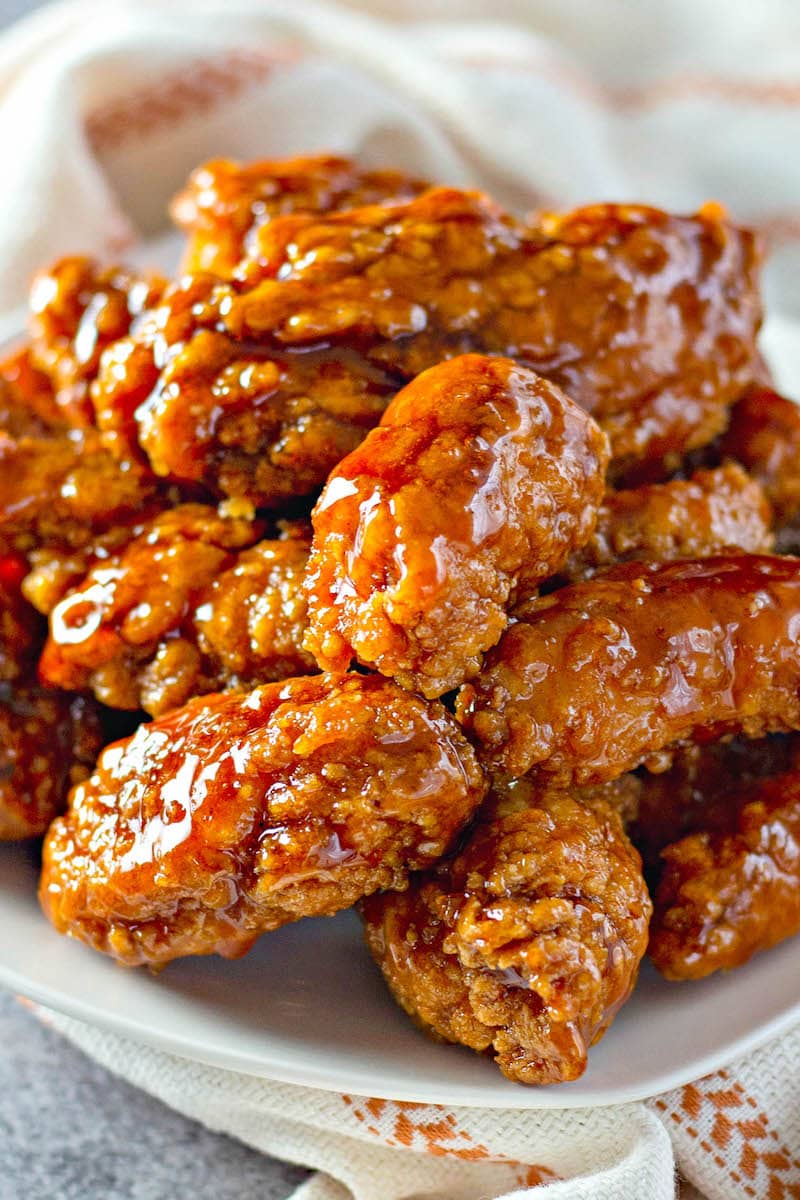 If you are looking for a quick and easy dinner recipe after a busy day, these Stick Chicken Tenders will definitely hit the spot. Or if you happen to be looking for a delicious appetizer for your next party, these should be at the top of the list! Watch how quickly they disappear!
The recipe below serves 4 people, but to be honest… it is so good that you can easily eat them with just 2 people! If you are feeding a hungry crowd, you may want to consider doubling the recipe!
Please leave a review or comment here to let me know what you think of this recipe!
Sweet and Spicy Sticky Chicken Tenders
You only need 5 ingredients -- and 15 minutes -- to make these Sweet & Spicy Sticky Chicken Tenders! Dip them in ranch dressing for an easy appetizer or dinner!
Ingredients
25

oz

package frozen Crispy Chicken Strips

⅓

cup

Franks Red Hot Sauce

1 ½

cups

brown sugar

2

tablespoons

BBQ sauce

1

tablespoon

corn syrup

1

tablespoon

water
Optional dips:
ranch dressing

blue cheese dressing
Instructions
OVEN: Preheat oven to 400°F. Bake the chicken strips on an ungreased cookie sheet for 18-20 minutes, flipping half way through baking.

AIR FRYER: Preheat air fryer to 385°F. Cook chicken strips in a single layer in air fryer and for 11-12 minutes, flipping half way through cooking.

While the chicken strips are cooking, make the sauce. In a medium sauce pot over meidum-high heat, combine the hot sauce, brown sugar, bbq sauce, corn syrup and water.

Bring sauce to a boil, then reduce the heat to low and simmer until the sugar is completely dissolved, about 2-3 minutes. Remove the sauce from the heat.

Dip the cooked chicken strips in the sauce to completely coat on all sides. Serve hot with dipping sauce if desired!
Nutrition
Serving:
1
serving
,
Calories:
682
kcal
,
Carbohydrates:
75
g
,
Protein:
43
g
,
Fat:
23
g
,
Saturated Fat:
6
g
,
Polyunsaturated Fat:
14
g
,
Cholesterol:
166
mg
,
Sodium:
735
mg
,
Sugar:
74
g
Categories:
This post may contain affiliate links. Read my disclosure policy.