Garlic Brown Sugar Chicken is juicy, tender, and bursting with garlic flavor. This quick and easy recipe is perfect for busy weeknights!
Juicy Garlic Brown Sugar Chicken
There are so many things that I love about this easy chicken. First, the contrast from the sweet brown sugar and spicy garlic makes for a really flavorful bite. But my favorite part of this recipe is the simplicity. All you need to remember is that there are 4 main ingredients and you need 4 of each ingredient. With just a few minutes and ingredients you will get this sweet, garlic-y chicken that goes with just about everything.
This recipe is also cheap, you probably already have all the ingredients in your kitchen, and it's ready in just 25 minutes. Plus, it's dang tasty.
If you're looking for more easy chicken recipes, make sure to check out my Easy Baked Chicken.
What You'll Need
This simple recipe uses 6 ingredients that you probably have on hand:
Chicken: I recommend using breasts for this recipe.
Butter: Adds and enhances flavor.
Garlic
Brown Sugar: Adds a subtle sweetness.
Salt & Pepper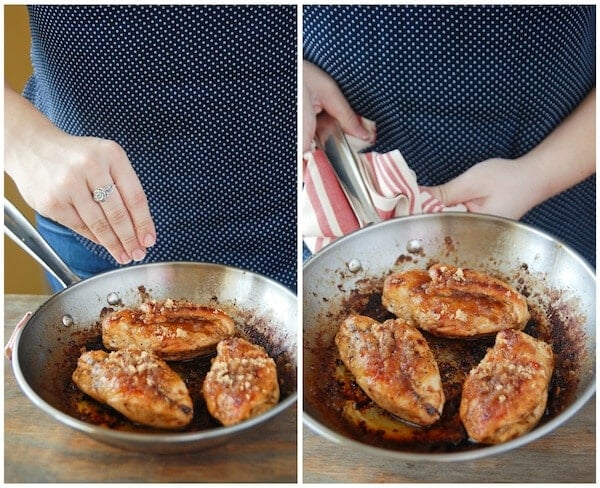 How to Make Garlic Brown Sugar Chicken
This quick chicken has just 4 easy steps! Here's everything you'll need to do:
Season the chicken. Salt and pepper both sides of the chicken breast and then set aside.
Prepare the pan. Melt the butter in a large sauté pan over medium-high heat. Add in the garlic and cook for about 2 minutes (or until fragrant and the mixture is just slightly starting to brown).
Cook the chicken. Add the chicken to the pan and cover for 12 minutes. After the 12 minutes, flip all breasts and continue cooking until the chicken is fully cooked (when all pieces have reached internal temp of 165°F).
Add the sugar. Sprinkle the tops of each chicken with brown sugar and then cover with the pan lid. Cook for about 1-2 minutes (this will allow the brown sugar to melt) and serve immediately.
Tips for Success
Although this recipe seems pretty simple, cooking meat can be challenging. Here are a few tips for making the best chicken:
Cover the pan: Covering your pans while cooking traps in more heat and moisture. This means a faster cook time and a jucier chicken.
Use a meat thermometer: It's a good idea to use a meat thermometer when cooking any kind of meat. That way you know that you are cooking your meat safely and not serving undercooked food. For this recipe, that means all of the chicken breasts should have an internal temperature of 165°F.
Serving Suggestions
This recipe goes with just about anything. I like to pair it with some kind of starch and vegetable for an easy and well-rounded meal.
This chicken pairs well with almost any kind of starch. I like to serve it with these easy Oven Roasted Potatoes or creamy Sweet Corn Risotto.
Feel free to serve whatever kind of veggie you want with this meal. Some of my favorite vegetable sides for this dish are Air Fryer Asparagus and Creamy Lemon Zucchini Noodles.
How to Store and Reheat Leftovers
This easy chicken can be refrigerated for up to 5 days if stored properly. Once it's cooked and cooled, just place any extra chicken and remaining sauce into an airtight container. Here are a few ways that you can reheat the chicken once you're ready to eat it:
Pan: The best way to reheat this chicken is by placing a skillet over medium heat and covering the bottom of the pan with water. Then, just add the chicken add flip occasionally. Pour some of the sauce on top and serve once fully warmed.
Oven: Place the chicken in a baking pan and heat in the oven at 350°F until warmed through. You can top the chicken with some of the extra sauce to keep it moist.
Microwave: If you want the best results, I recommend using a pan or the oven to reheat this chicken. However, you can use the microwave if that is what you prefer. Just place the chicken in a microwave-safe container and top with a little bit of water (this keeps the chicken juicy). Cover with a microwave-safe wrap and cook for 2 minutes. If the chicken isn't fully warmed flip and add another 30 seconds.
Can I Freeze Extras?
Yes, you can freeze leftover chicken! Make sure that you allow the chicken to cool before adding it and the sauce to a freezer-safe bag or container. Cooked chicken can be frozen for up to 3 months.
Garlic Brown Sugar Chicken
This juicy garlic brown sugar chicken recipe is an easy sweet and savory dinner. You only need 6 ingredients!
Ingredients
4

chicken breasts

,

appx 1.5 pounds

4

tablespoons

butter

4

cloves

garlic

,

sliced

4

tablespoons

brown sugar

salt and pepper

,

to taste
Instructions
Salt and pepper both sides of the chicken breasts and set aside.

In a large sauté pan over medium-high heat, melt butter. Add garlic and cook for 2 minutes, or until fragrant and the butter/garlic is starting to brown just slightly.

Add chicken, cover pan, and cook for 12 minutes. Flip chicken breasts and continue cooking until the chicken is cooked throughly (or has reached an internal temp of 165°F).

Sprinkle the tops of each chicken breast with 1 tablespoon of brown sugar. Cover pan with lid once more and let the brown sugar melt, about 1-2 minutes. Serve immediately.
Notes
Notice the pattern! Rule of 4's! 4 main ingredients and you need 4 of each! Super easy to remember when you are at the grocery store or in a rush. 
Nutrition
Serving:
1
,
Calories:
346
kcal
,
Carbohydrates:
12
g
,
Protein:
38
g
,
Fat:
16
g
,
Saturated Fat:
9
g
,
Polyunsaturated Fat:
6
g
,
Cholesterol:
133
mg
,
Sodium:
258
mg
,
Sugar:
11
g
This post may contain affiliate links. Read my disclosure policy.