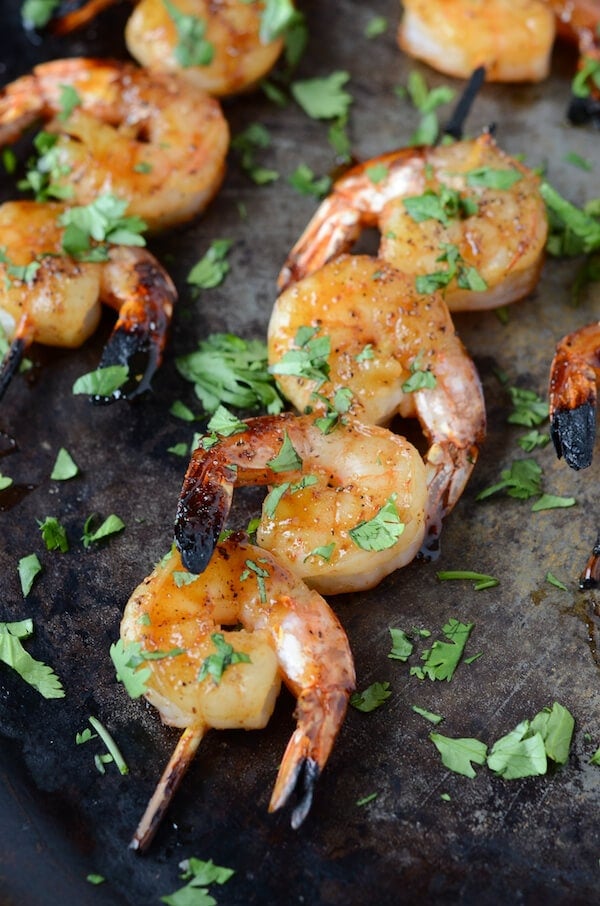 Sometimes we do things for other people that we don't like…or at least that is what Jorge keeps trying to convince me. 😉 So in good faith, I made him shrimp. I figure if I make him shrimp, he might turn the other way next time there is a shoe sale. It's a win-win.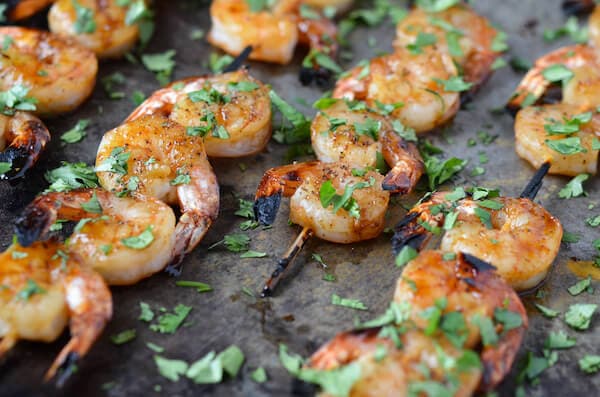 I wish I liked shrimp. I really, really do. Because those people who like shrimp? They LOVE it. They talk about it like it's the best dang protein ever and gobble up those little cocktail rings full of pink shrimp. Then they try to push them on everyone else and say "OMGawd, this is the best shrimp EVER. TRY IT." I of course turn them down and try to explain that shrimp just isn't my thing.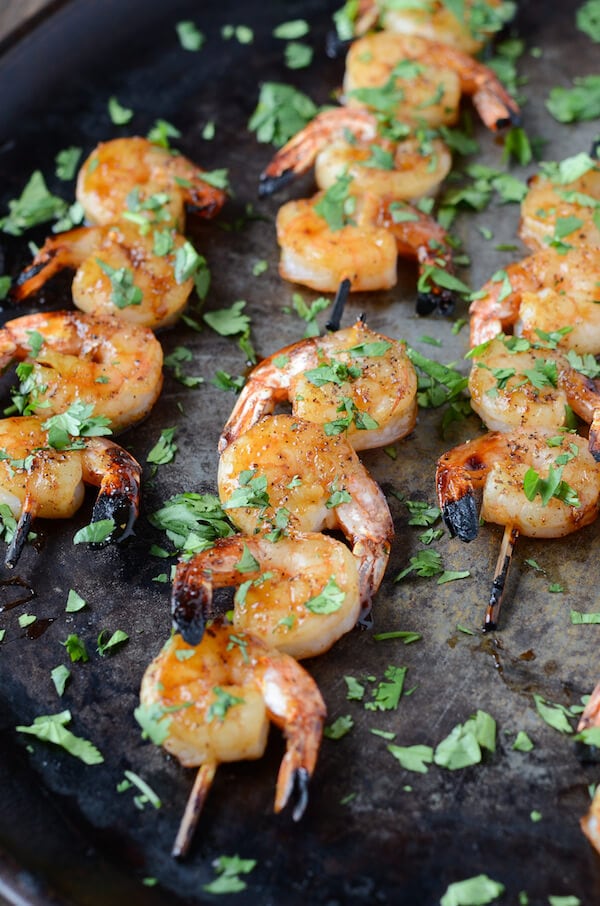 But Jorge, like most of America, is in the cool club and loves shrimp. So today at the store, shrimp was on sale. I picked some up for that shrimp lovin' man of mine and boy was he excited. I marinated them in a sauce that my Granny makes and uses on salmon. I changed it up a little bit by adding some lemon zest and cilantro at the end, but I mostly followed her measurements.
Best part about this recipe for me — they are a breeze to prep and you can grill them or broil them.
Best part about this recipe for Jorge — they are delicious & he ate a pound in one sitting. Enough said.
Yield: 1 lb shrimp
Sweet & Sticky Shrimp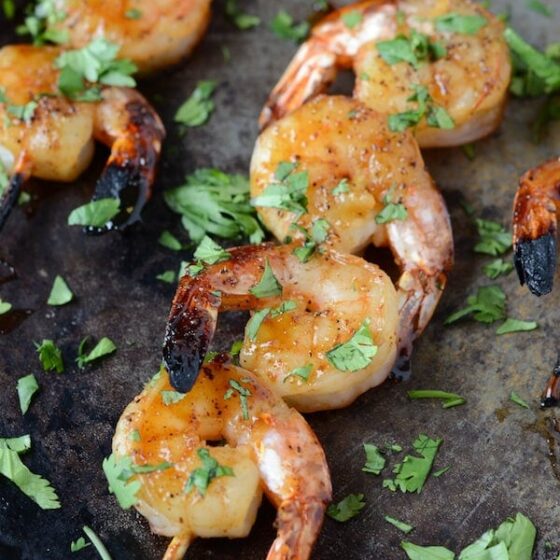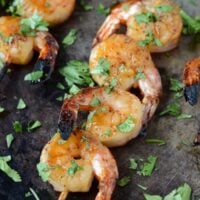 Sweet and Sticky Shrimp - a super easy appetizer or dinner that you can grill or broil. Once you've tried these shrimp skewers, you'll need more than just one pound of shrimp!
Additional Time
30 minutes
Ingredients
1 lb peeled and deveined shrimp
1/3 cup hoisin sauce
1/3 cup honey
juice of 2 Lemons
zest of 1 lemon
kosher salt & freshly ground black pepper, to taste
chopped cilantro as garnish
Instructions
In a large bowl, whisk together hoisin sauce, honey, lemon juice, lemon zest, salt and pepper. Toss Shrimp in sauce and allow to marinate (in an airtight bowl, in the fridge) for 30 minutes or up to 4 hours.
For the Grill: Heat grill for medium-high heat. Thread shrimp onto skewers, piercing once near the tail and once near the head. Lightly oil grill with non-stick spray. Grill for 6-7 minutes, flipping half way through, until shrimp are cooked through. Top with freshly chopped Cilantro and serve immediately.
For the Oven: Turn on the broiler. Grease a baking sheet so they won't stick (or cover with non-stick aluminum foil for easy cleanup). Spread shrimp in an even layer. Broil for 6-7 minutes, flipping half way through, until shrimp are cooked through. Top with freshly chopped Cilantro and serve immediately.
Notes
recipe note: Hoisin sauce is found in the Asian section of the grocery store.
Nutrition Information:
Yield:
4
Serving Size:
1
Amount Per Serving:
Calories:

317
Total Fat:

3g
Saturated Fat:

1g
Trans Fat:

0g
Unsaturated Fat:

2g
Cholesterol:

240mg
Sodium:

1528mg
Carbohydrates:

48g
Fiber:

3g
Sugar:

38g
Protein:

27g
Want to Save This Recipe?
This post may contain affiliate links. Read my disclosure policy.