This creamy Thai Shrimp Bisque combines the flavor of luxurious tomato bisque with savory tropical shrimp. A hint of ginger, coconut, and citrus elevates the recipe, while cream cheese adds a rich, velvety texture!
Creamy Shrimp Bisque with a Tropical Twist
Soup is always a good idea – yes, even in warm weather! All you need is the right recipe, and let me tell you, this creamy shrimp bisque is one of the best. Juicy pink shrimp are cooked up in an ultra-creamy tomato bisque, flavored with dry sherry, fresh ginger and garlic, lime, coconut, and more. It's the perfect dish for seafood lovers.
And although it may sound (and taste) like a gourmet masterpiece, it's also super easy to make. With a 25-minute cook time, this is a mouthwatering dish you can make even on a busy weeknight. Forget shrimp on the barbie, and make this Thai-inspired soup instead!
What's the Difference Between Soup and Bisque?
Is a bisque a soup? A chowder? Something else entirely? It's an interesting question! Basically, both bisques and chowders are thick, creamy soups (except Manhattan clam chowder, which is more of a broth-based soup). However, chowders usually have lots of chunky veggies, like potatoes, and don't often contain wine or spirits. Bisques are typically smooth without many (or any) chunks, and usually contain sherry or something similar.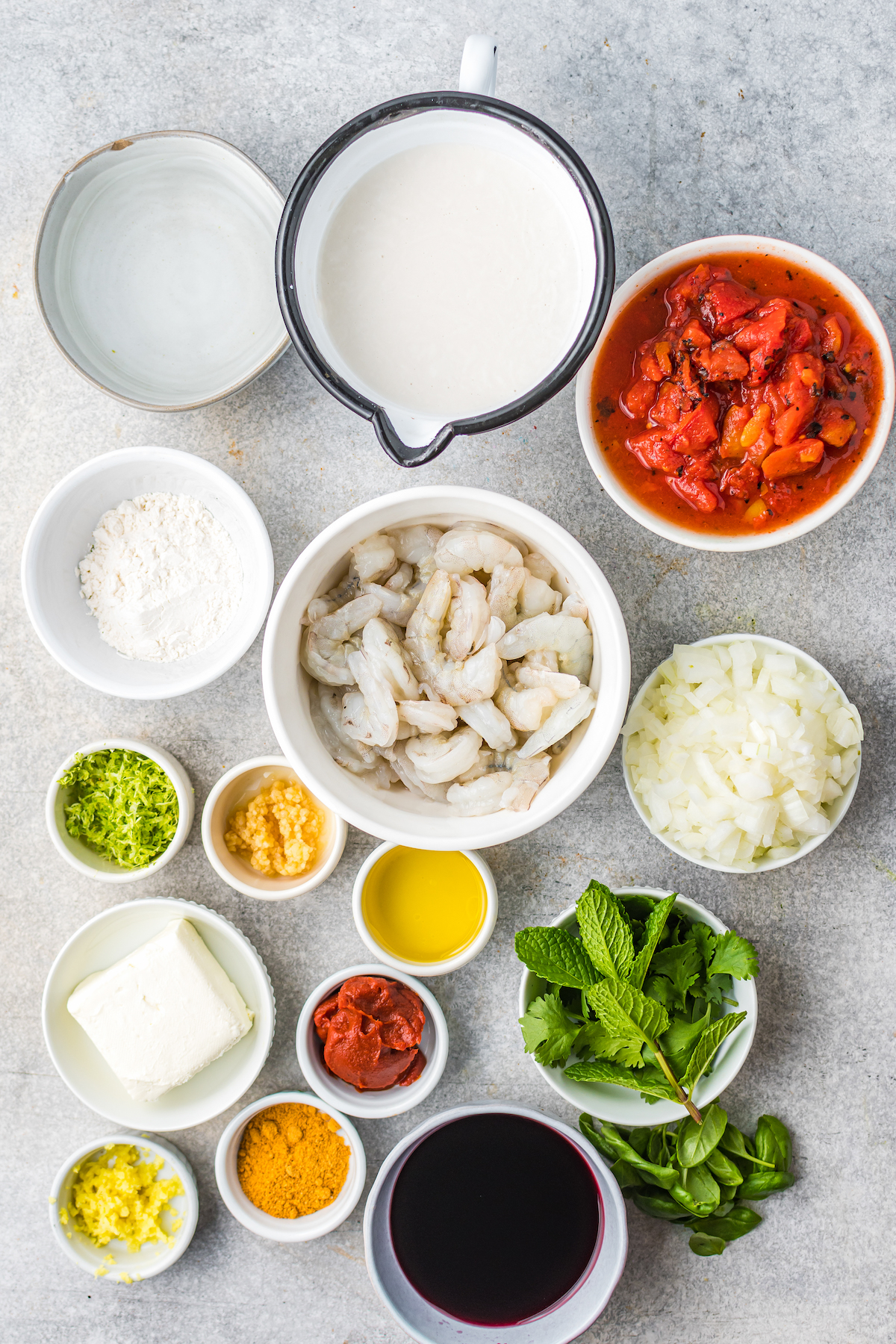 The List of Ingredients
Each ultra-creamy spoonful of this bisque is like a party in your mouth, thanks to the delicate shrimp, creamy tomato base, and vibrant aromatics. So good!
Oil: For sauteing. I use olive oil, but ghee or coconut oil would be fine, too.
Onion: Dice up about half a cup of onion to add savory sweetness.
Ginger and Garlic: Fresh minced garlic and finely grated ginger make this recipe so addictive!
Flour: For thickening. Cornstarch or arrowroot powder can be substituted instead.
Tomato Paste: Remember to use paste, not sauce, for a deep and rich taste.
Canned Diced Tomatoes: You can use regular tomatoes, but fire-roasted tomatoes are even better!
Shrimp Bouillon: If you don't have shrimp bouillon, you can use chicken bouillon instead.
Water: Water thins the bisque to the right consistency. If you want to add more flavor, try using clam juice in place of the water.
Dry Sherry: Spirits like sherry or brandy are traditional in bisques. If you need a substitution, I recommend clam juice or broth.
Shrimp: Peel and devein the shrimp, and then slice them in half lengthwise.
Cream Cheese: Cut half a block (4 ounces) of cream cheese into cubes. Heavy cream is also fine to use, instead of cream cheese, but it isn't as tangy.
Coconut Milk: Canned is fine.
Lime Zest: You'll need some for the bisque, and some for garnish.
Herbs: Minced fresh herbs are a fragrant and beautiful garnish. I recommend cilantro, mint, and/or basil.
Avocado: Also for garnish – cube or slice the avocado.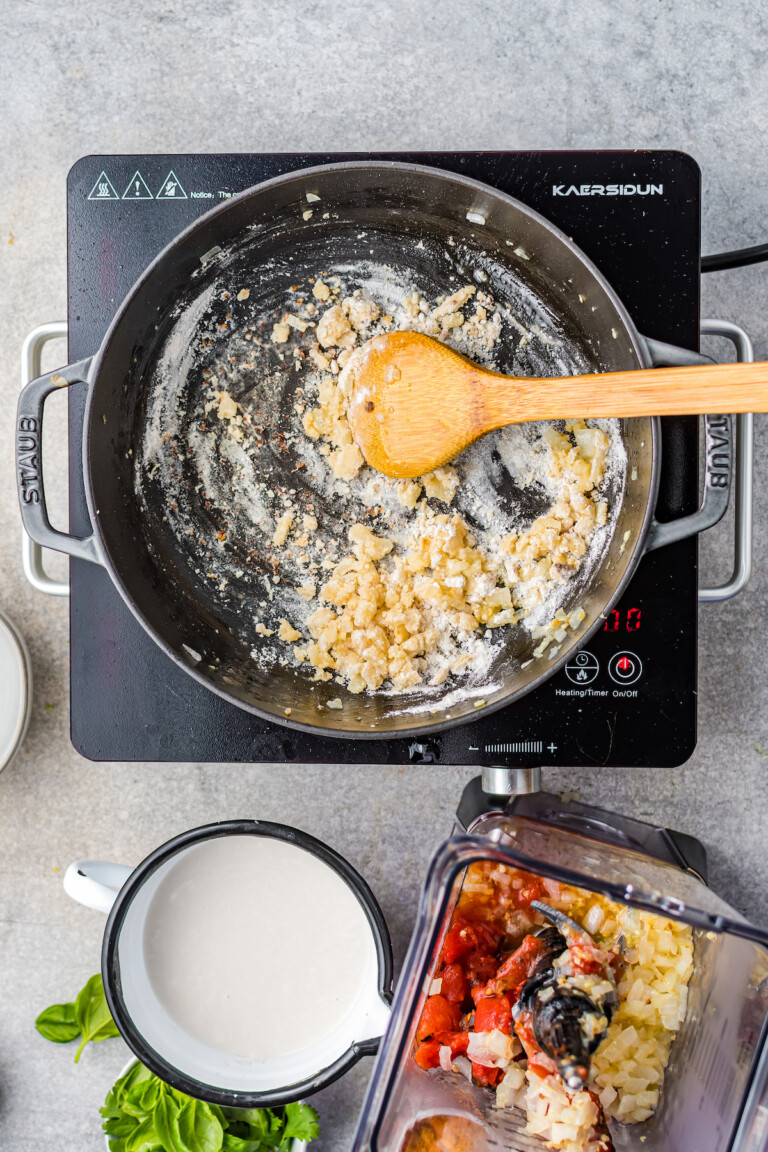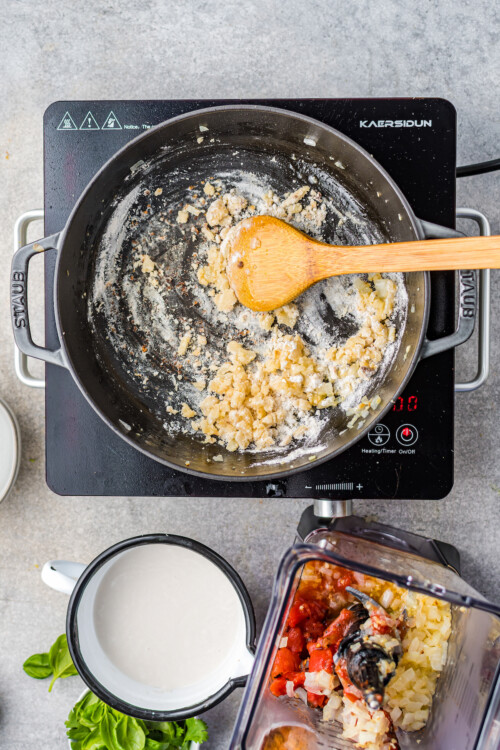 Step-by-Step Instructions
If you've never made bisque before, this is the perfect recipe to start with. It's incredibly easy and quick to pull together, and the taste is out of this world. Let's get cookin'!
Saute the Aromatics. To start, heat a small amount of oil in a large saucepan. Add the oil, garlic, and ginger, and saute for 3 to 4 minutes.
Add the Flour and Tomato Paste. Next, stir in the flour to make a sort of paste with the oil and other ingredients. Cook this for a minute or so, and then stir in the tomato paste as well. Stir well to blend everything together.
Add the Tomatoes. At this point, you'll want to add the can of undrained tomatoes. Give this a brisk stir to get the tomato and flour paste mixed in. Let the soup simmer for a couple of minutes, and then blend with an immersion blender if you want a smooth base for the bisque.
Add the Bouillon, Water, and Sherry. Stir the shrimp bouillon, water (or clam juice, if you're using that), and the dry sherry. Let this simmer for about ten minutes.
Finish the Soup. Now it's time to add the last few items! Add the cream cheese and let it melt, stirring to combine. Follow up with your coconut milk, and the shrimp pieces. Simmer the soup for about 7 minutes more, to let the flavors blend and the shrimp cook through. Don't let the shrimp overcook, or it will be rubbery and tough. Sprinkle half of the lime zest into the soup, and ladle into bowls.
Enjoy! Serve your soup with garnishes of the remaining lime zest, the fresh herbs, and the avocado.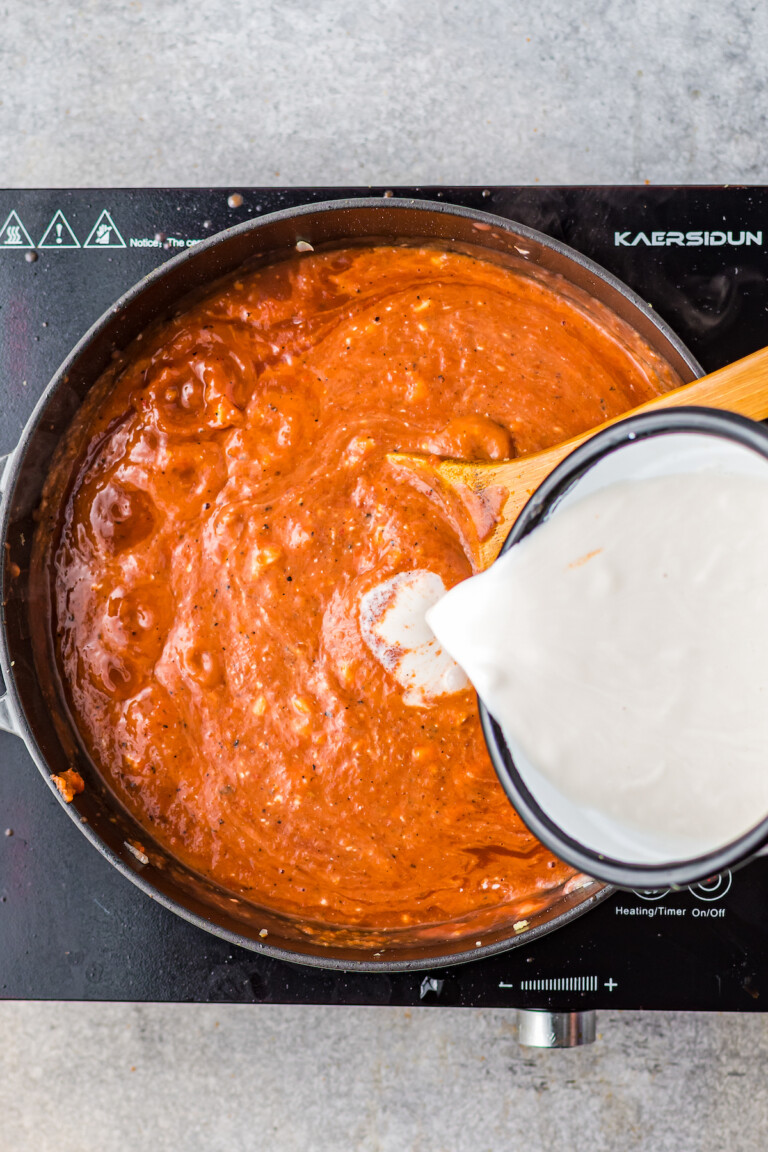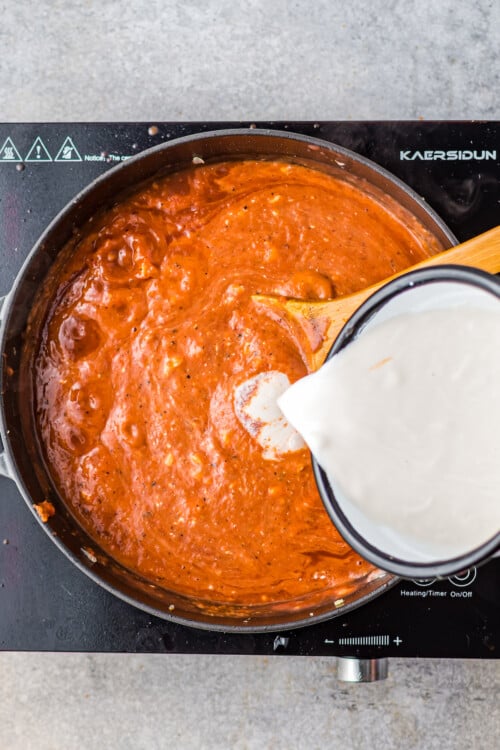 Can I Use Frozen Shrimp?
Definitely! Unless you live near the coast, you may struggle to find fresh shrimp that are truly fresh and good quality. If that's the case, there's no problem at all with using frozen!
In fact, frozen seafood is likely to be better quality once thawed than "fresh" seafood that's been sitting behind the counter all day. Just thaw your shrimp in the fridge before you use them.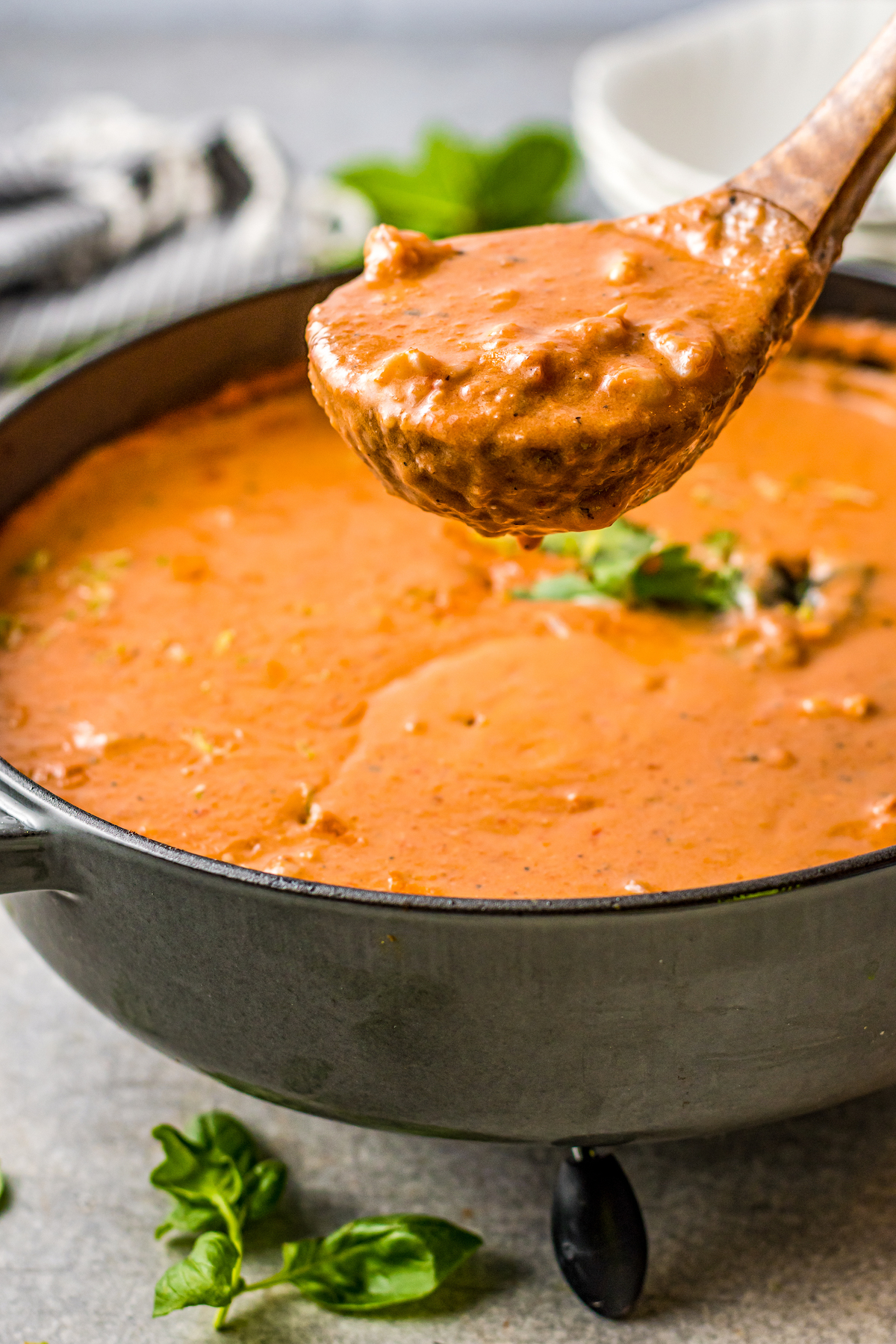 Helpful Hints
While some recipes for shrimp bisque can be complex, this one is very straightforward. If you make it once, you'll definitely add it to your list of favorites! Plus, these helpful tips will give you even more inside info to keep this recipe as simple (and tasty) as possible.
To Peel or Not to Peel: Authentic bisque is made with shellfish, so using shrimp with their shells on is totally fine. The shells will even add flavor to the soup. However, the shrimp will then have to be taken out of the soup and peeled, so I think it's easier to make the soup with peeled and deveined shrimp, and add shrimp bouillon to boost the flavor.
Sherry Substitutes: Although bisque is usually made with dry sherry, you can substitute clam juice or broth instead. Clam juice is usually found near the canned tuna and shrimp in most grocery stores.
Blend It Smooth(er): If you like your bisque completely smooth, you can blend it after adding the shrimp to make an ultra-creamy dish with no chunks.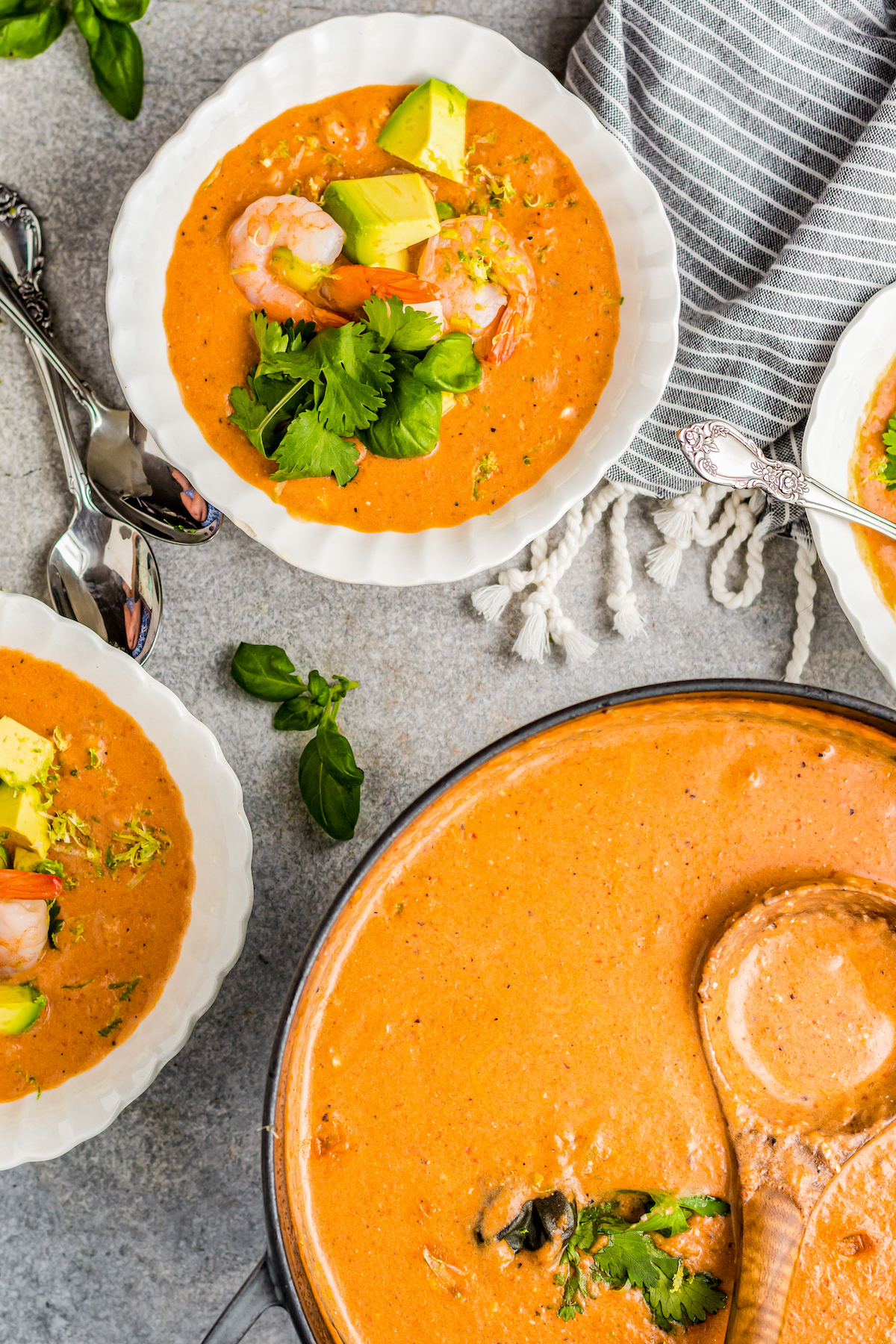 Serving Suggestions
Shrimp bisque is a special meal, and with its tropical notes, this version is especially flavorful and fragrant. It is best served with simple sides, or maybe a starter and a side of bread. These easy recipes will make your meal deliciously memorable:
Salad: A plain green salad can be served before or alongside the soup – but if you'd like to do something a little different, try making this Creamy Waldorf Salad and serving it as a light, sweet starter. Yum!
Bread: A thinly-sliced and toasted baguette would be just right with this recipe, or maybe some crunchy croutons for dropping right in your bowl. Never made your own croutons? Try these Garlic and Herb Homemade Croutons and enjoy!
Veggies: Boost the veggie content of your meal by serving Air Fryer Asparagus, steamed broccoli, or a luscious coleslaw.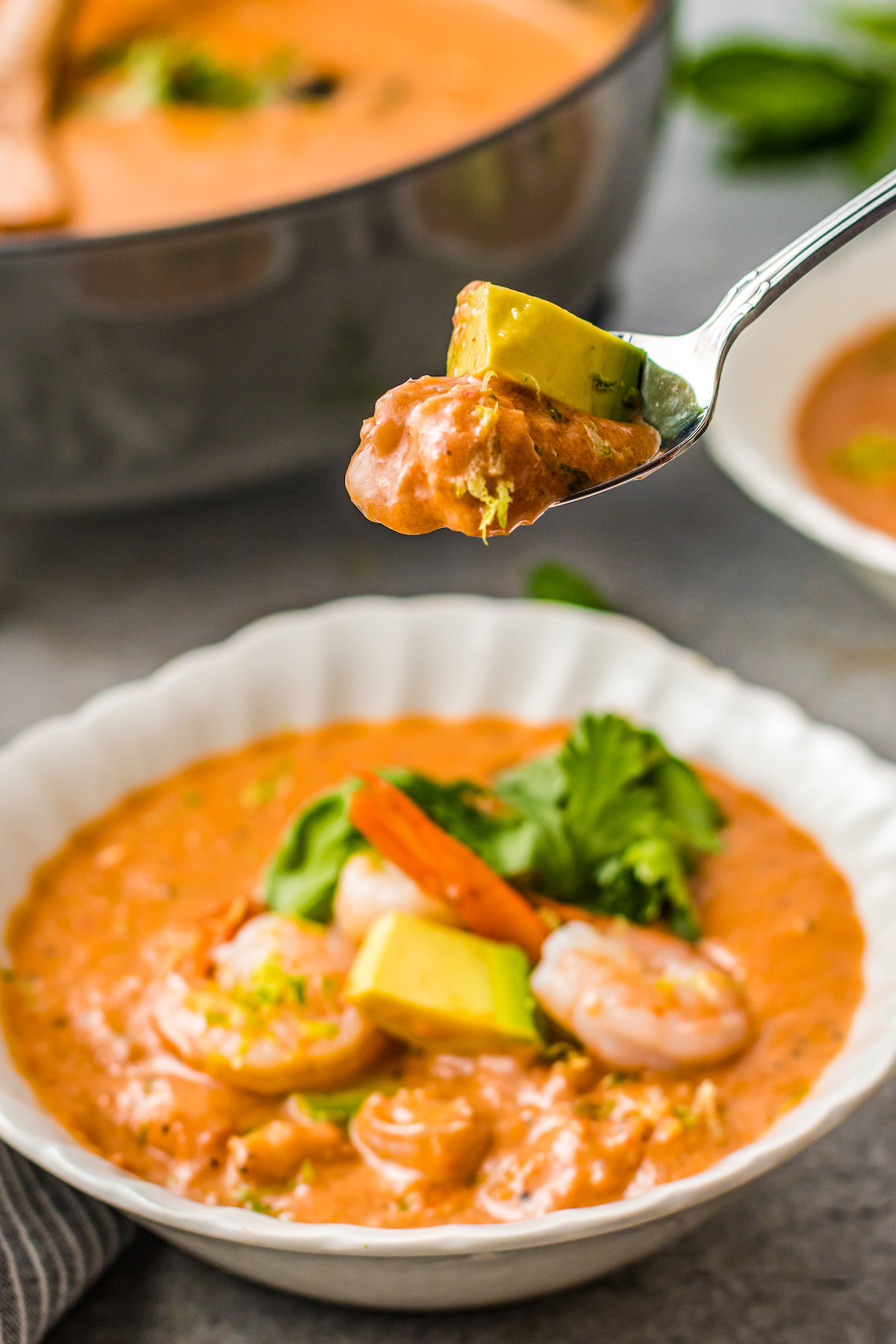 How to Store and Reheat Leftover Shrimp Bisque
Leftovers can be stored in the fridge for up to 5 days. An airtight container will keep the soup fresh and prevent it from absorbing other scents and tastes!
Can I Freeze This?
Yes, you can freeze shrimp bisque – just cool it down and then store it in freezer containers. It will keep in your freezer for up to 6 months. Thaw in the fridge before reheating. The texture may not be quite as creamy when reheated, but stirring well as it heats will help.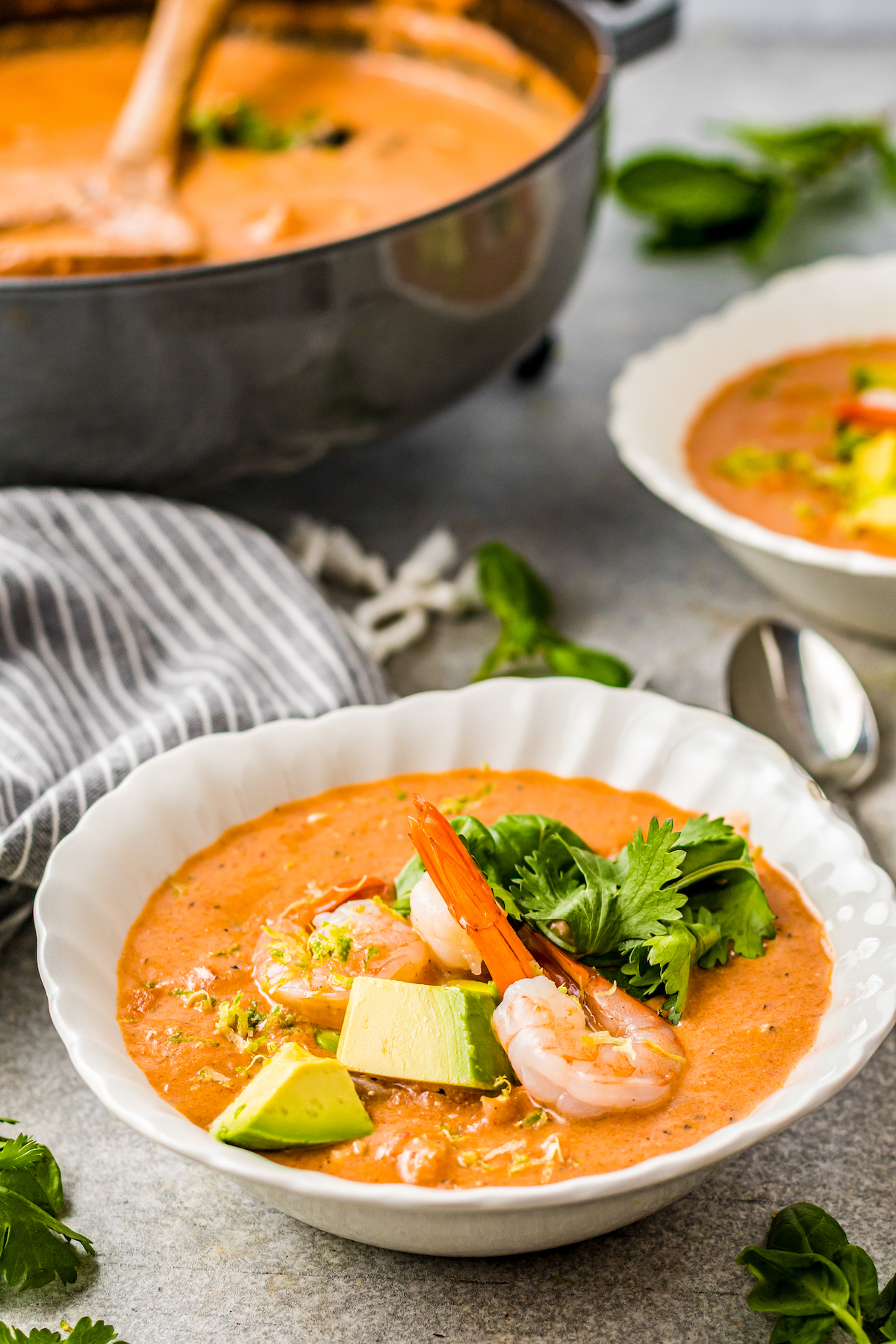 Creamy Thai Shrimp Bisque
This creamy Thai Shrimp Bisque combines the flavor of luxurious tomato bisque with savory tropical shrimp. A hint of ginger, coconut, and citrus elevates the recipe, while cream cheese adds a rich, velvety texture.
Ingredients
2

tablespoons

olive oil

½

cup

diced onion

1

tablespoon

minced garlic

1

tablespoon

minced fresh ginger

¼

cup

all-purpose flour

2

tablespoons

tomato paste

1

14 ounce jar diced tomatoes (fire roasted are great)

2

teaspoons

shrimp bouillon

1

cup

water,

or clam juice

½

cup

dry sherry

,

or clam juice

1

pound

medium shrimp

,

peeled and deveined, then sliced in half lengthwise

4

ounces

cream cheese

,

cubed

1

15 ounce can coconut milk

1

tablespoon

lime zest

,

divided

4

tablespoons

minced fresh herbs

,

cilantro, mint, and/or basil

1

avocado

,

cubed/sliced, for garnish
Instructions
Heat the oil in a large saucepan on the stove. Add the oil, onion, garlic, and ginger, and saute for 3 to 4 minutes.

Add the flour, and stir for a minute. Then stir in the tomato paste.

Add the diced tomatoes and let the soup simmer for a couple of minutes. If a smooth bisque is desired, blend the soup with an immersion blender at this point.

Add the bouillon, water (or clam juice), and dry sherry. Simmer for 10 minutes.

Add the cream cheese and let it melt, stirring to combine. Pour in the coconut milk, and add the shrimp pieces. Simmer for 7 minutes, or until the shrimp are firm and opaque, but not rubbery.

Sprinkle half of the zest into the soup, and stir.

Serve each bowl with garnishes of zest, herbs, and avocado.
Notes
Store in an airtight container in the refrigerator for up to 5 days. To freeze, cool the soup completely and transfer to an airtight container. Freeze for up to 6 months. Defrost and reheat to serve.
Nutrition
Serving:
1
,
Calories:
564
kcal
,
Carbohydrates:
24
g
,
Protein:
32
g
,
Fat:
38
g
,
Saturated Fat:
19
g
,
Polyunsaturated Fat:
16
g
,
Cholesterol:
271
mg
,
Sodium:
1554
mg
,
Fiber:
5
g
,
Sugar:
6
g
Categories:
More Flavorful Seafood Recipes
This post may contain affiliate links. Read my disclosure policy.